The Ultimate Nights of Adventure VIP Tour Disney's Animal Kingdom Experience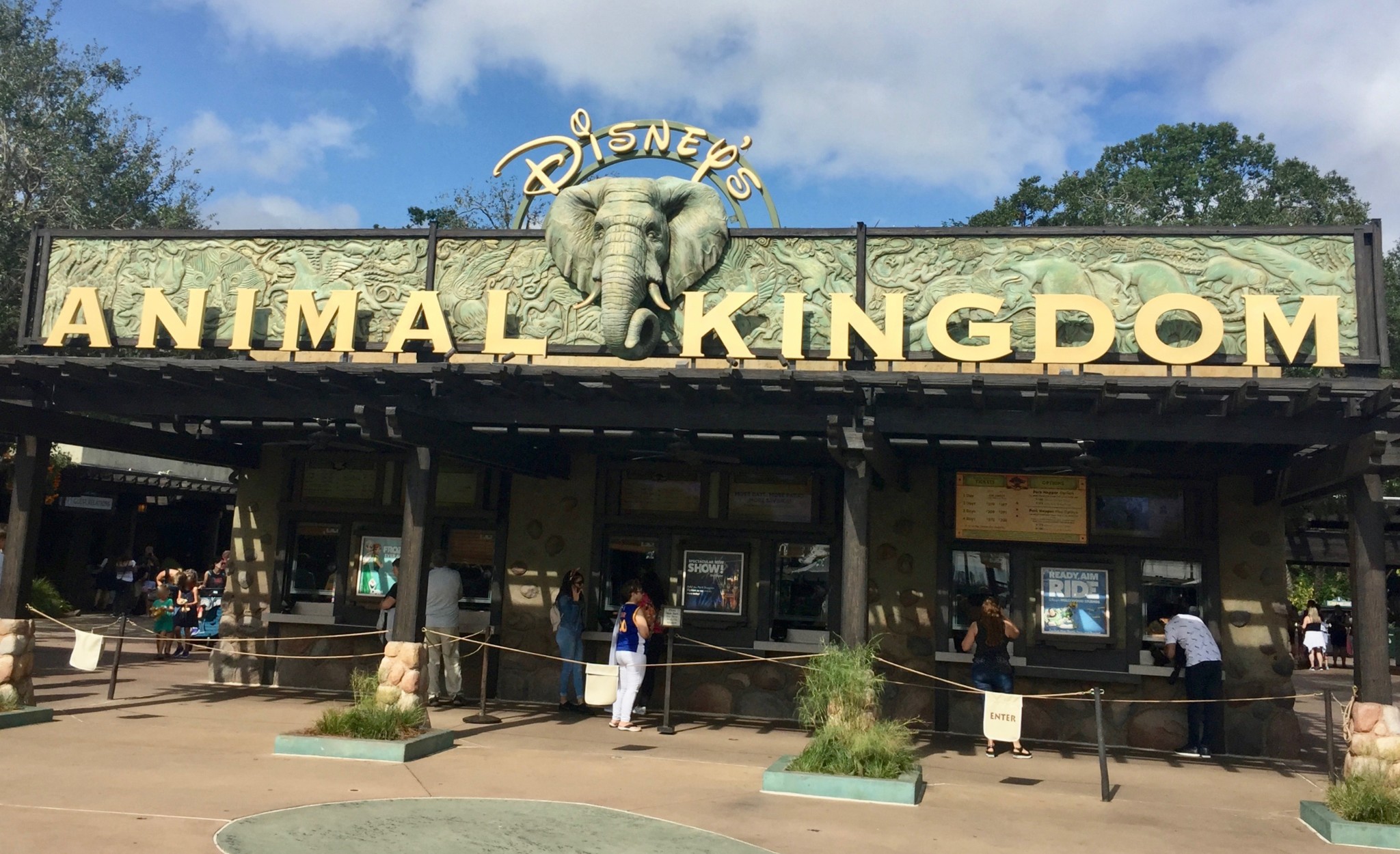 Our family has visited Disney World many times but it has been 6 years since our last visit. Over the years we have taken and enjoyed almost all of the VIP tours available in the parks so we were excited to find a new Animal Kingdom tour this time around! The Ultimate Nights of Adventure VIP tour is a $249/person four hour afternoon/evening guided tour that takes you through the highlights of the Animal Kingdom park including, of course, Pandora – The World of Avatar land. This tour is not great for small children as they have to be 44″ tall for the Avatar Flight of Passage & Expedition Everest rides.
 "Prepare for an adventure like no other as this tour gives you the opportunity — as the park transitions from day to night — to experience the magic of nature in a totally unique way. Your tour guides treat you like a VIP as they impart their detailed knowledge while you explore the Disney's Animal Kingdom lands to observe the critters, creatures and other denizens of the park."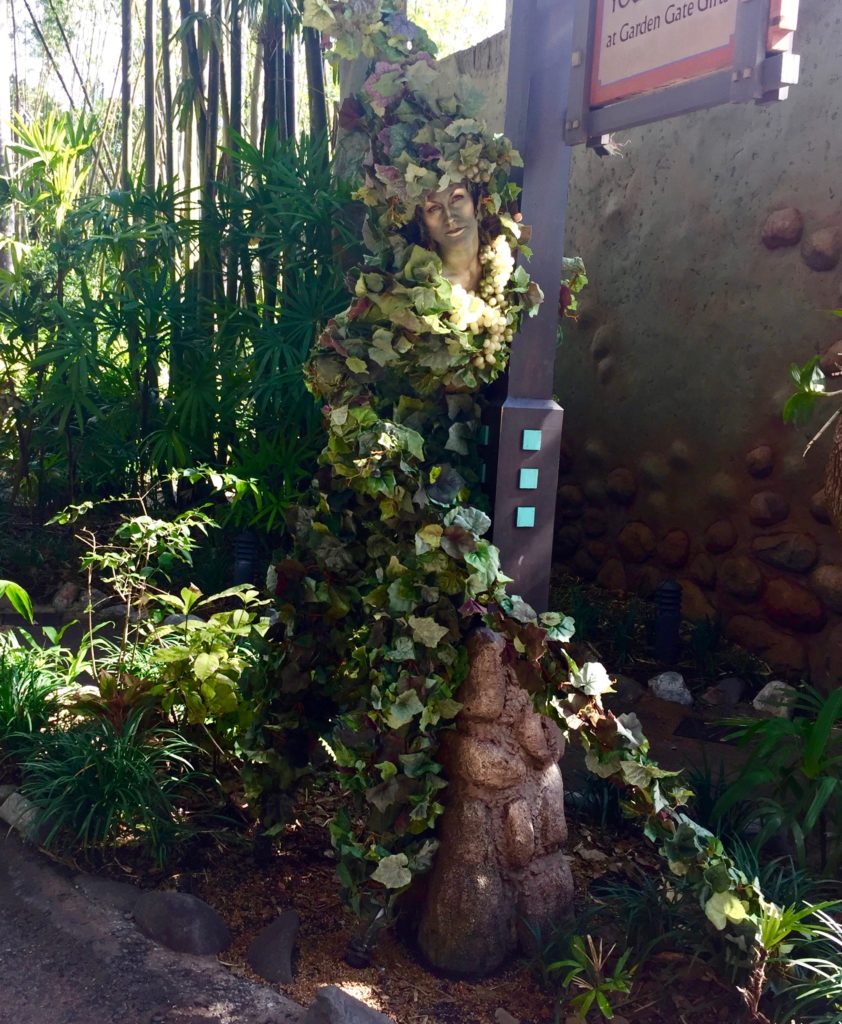 The lovely and graceful DiVine provided a beautifully welcoming sight for us at Animal Kingdom's entrance. Look how well she blends in to the foliage! DiVine is most often found on the pathway between Africa and Asia, but this is the first time we have ever spotted her in many visits to this park over the years!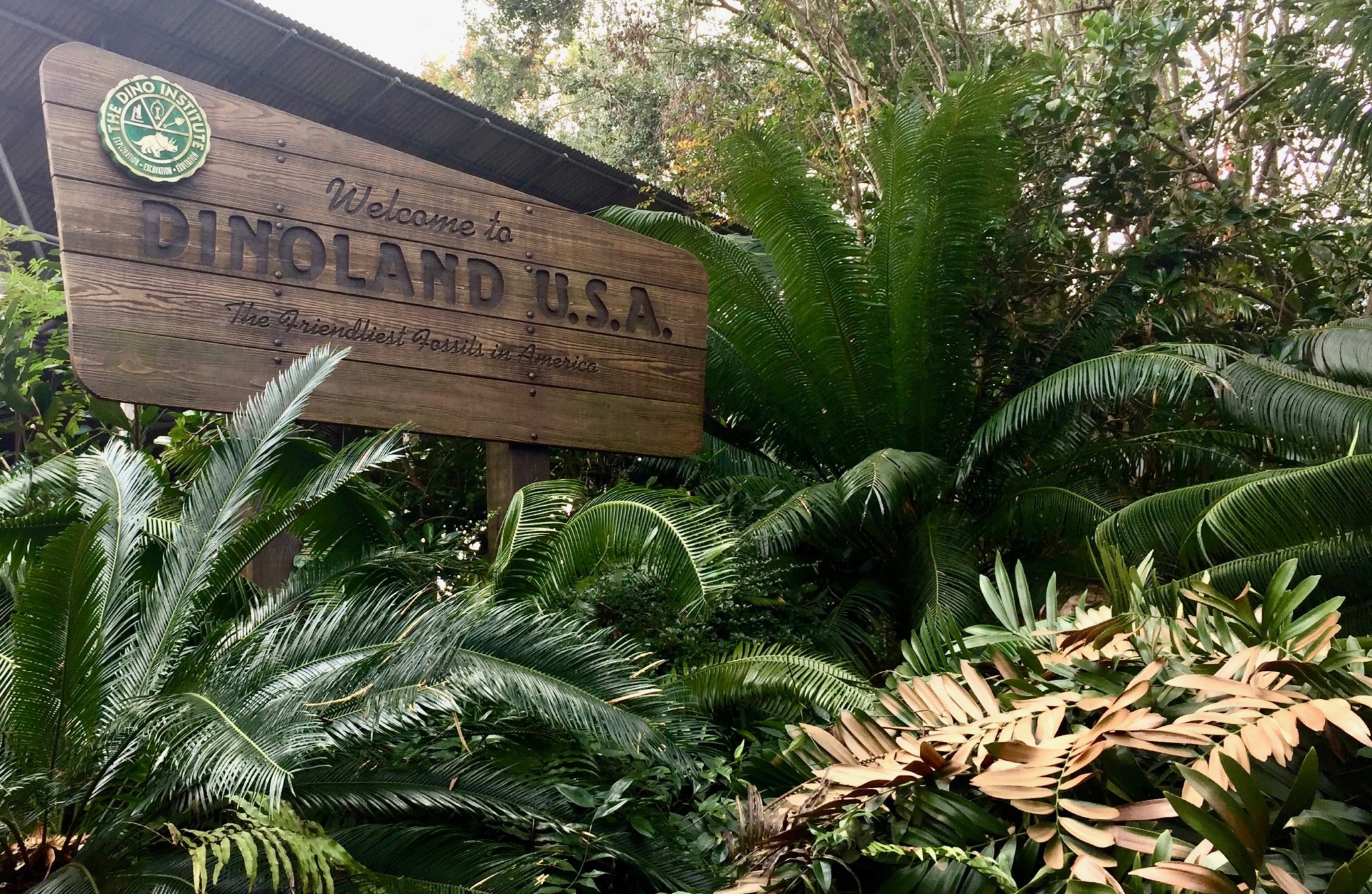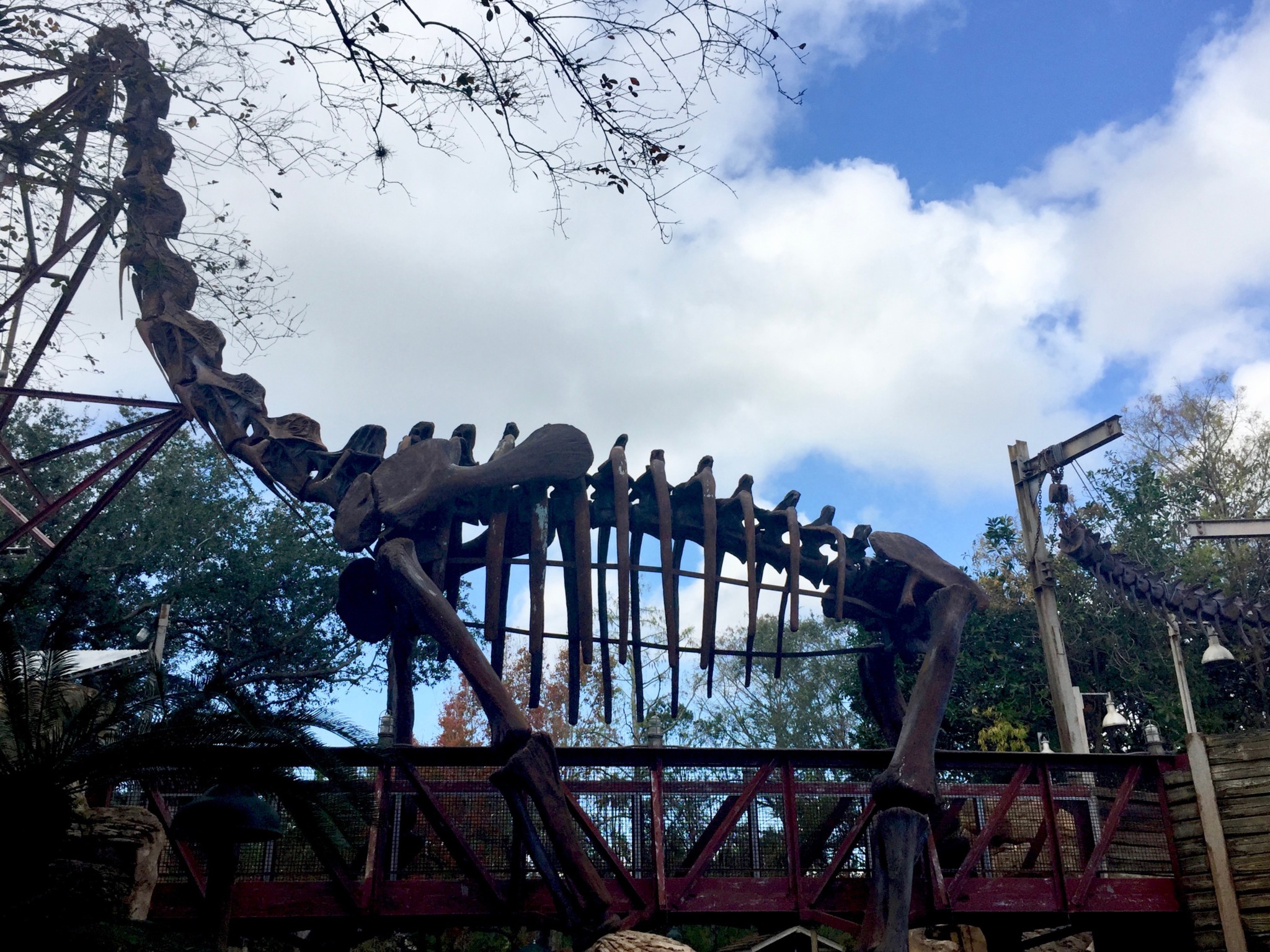 The tour starts in Dinoland, full of monkey-puzzle trees, cycads, Magnolias, and all things both quirky and educationally dinosaur-related.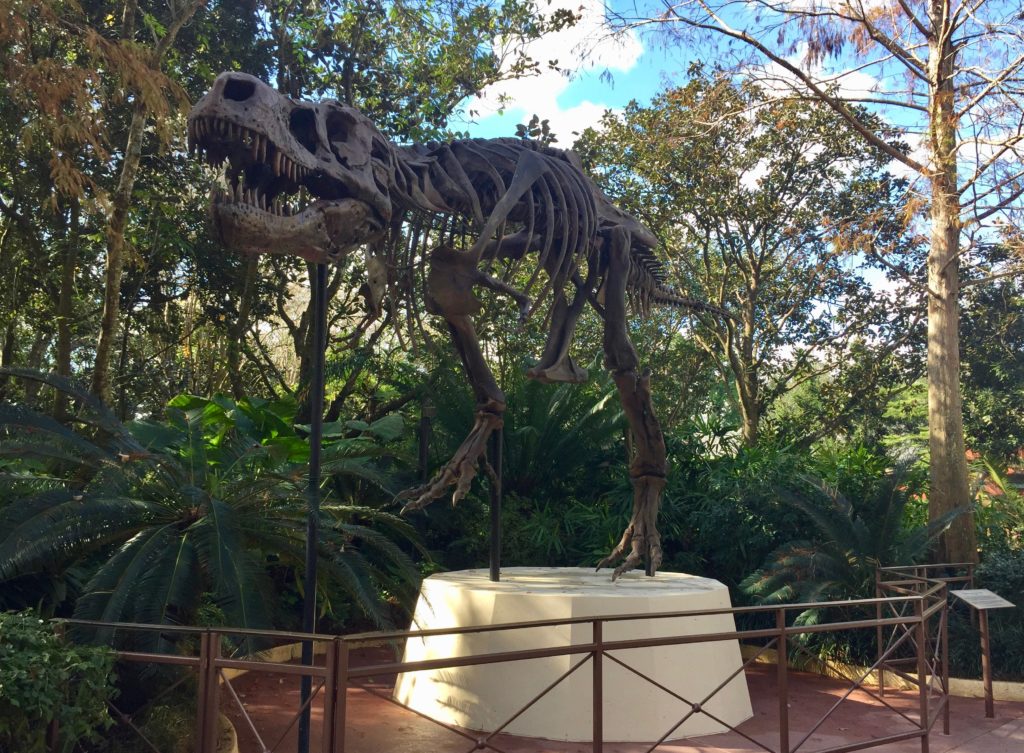 You will meet your tour guides in front of Dino-Sue, the dinosaur who towers over the walkway to the Dinosaur ride.  This tour consists of 25 guests plus guides (we had 4). You will receive your VIP lanyards, sign up for your choice of dessert and drink (wine, beer, or non-alcoholic), and meet your fellow tour members at check-in. The friendly and knowledgeable guides have plenty of bottled water available and seem to enjoy answering any and all questions.
You can't miss Dino-Sue! She is a 40 foot long, 13 foot tall exact replica of the largest, most complete Tyrannosaurus Rex discovered to date.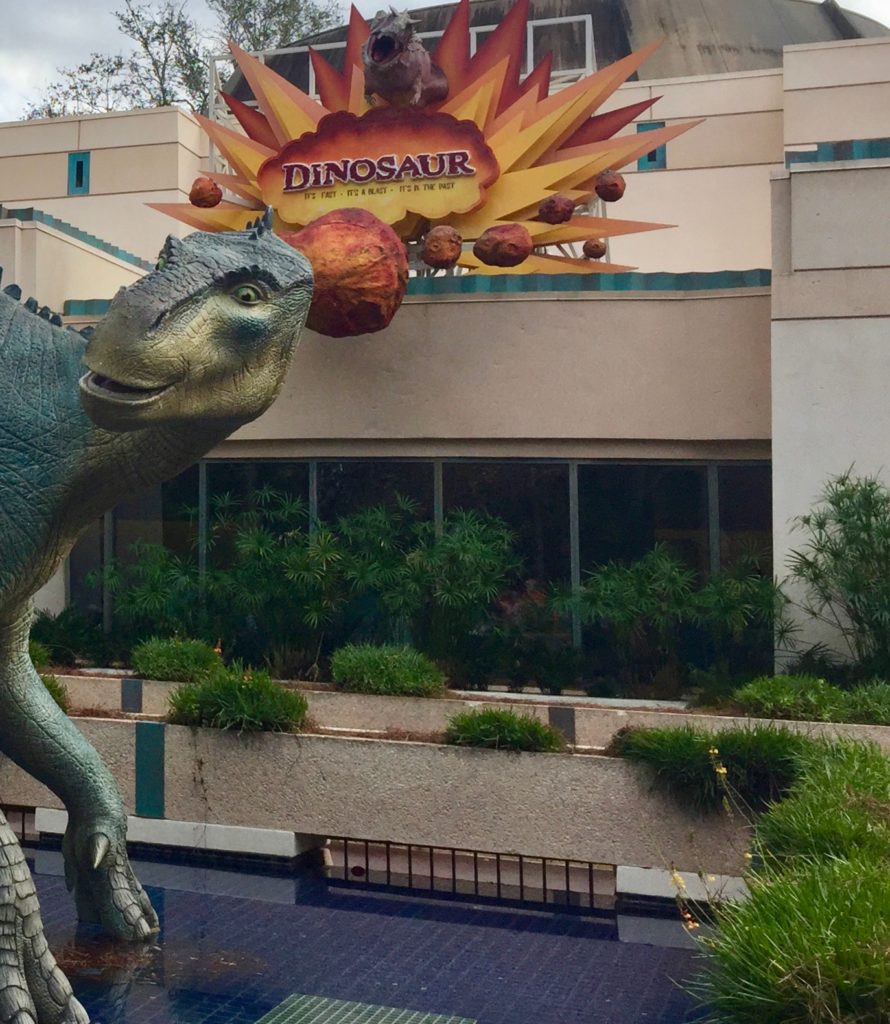 Dinosaur, originally named Countdown to Extinction, has always been a favorite of mine. It has been recently refurbished but the attraction remains the same – a dark ride that takes you on a fast, wild journey in black light through the Cretaceous period and features dinosaur audio-animatronics. Not a roller coaster, but might be a bit scary for some kids.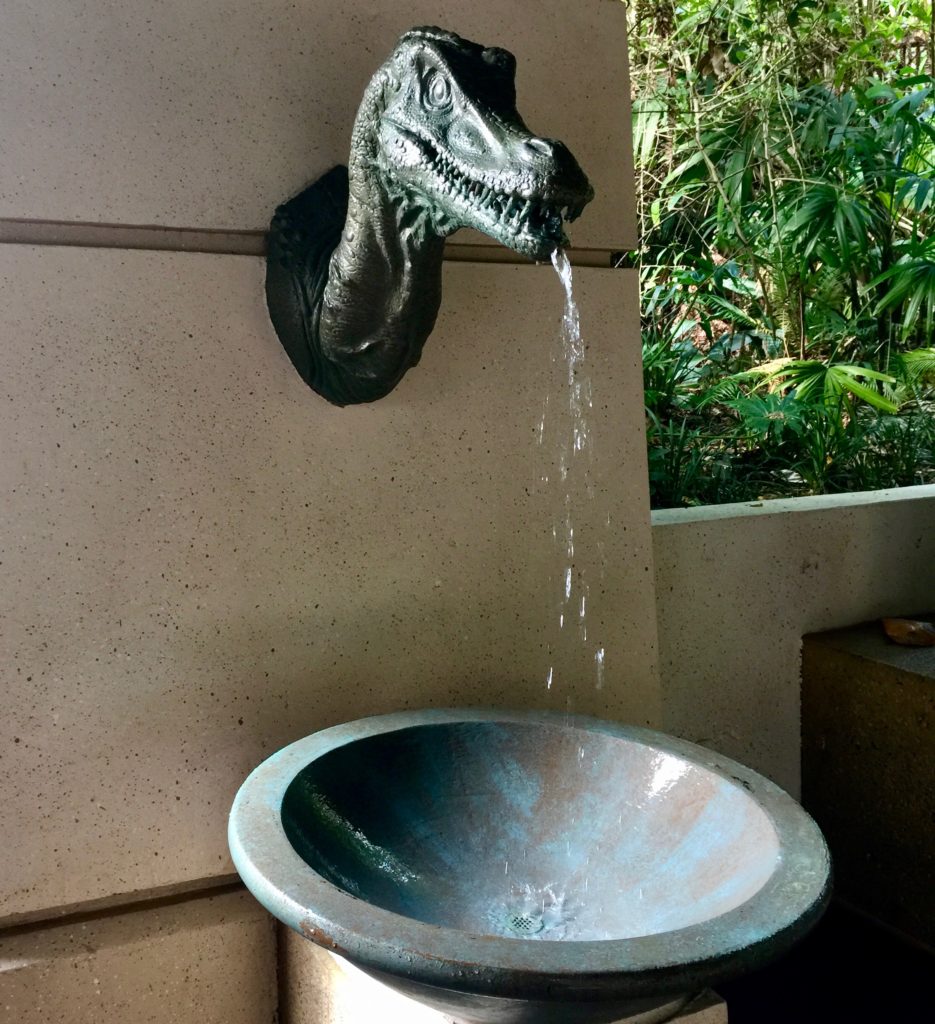 A little dino-spit, anyone?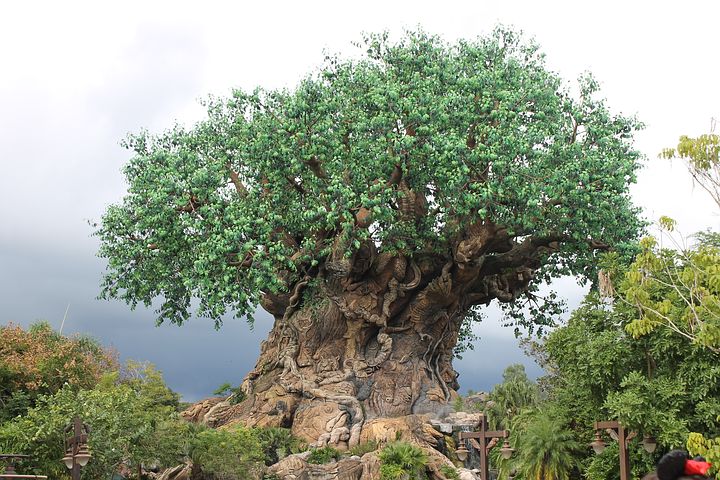 "This iconic centerpiece is the symbol of Disney's Animal Kingdom park…At an impressive 145 feet tall and 50 feet wide at its base, the Tree of Life is home to over 300 meticulously detailed animal carvings throughout its massive trunk, gnarling roots and outstretched branches—invoking the diversity, beauty and interconnected nature of earth's many creatures."
On the way to the Valley of Mo'Ara we walk past the impressive Tree of Life and learn a bit about it from our tour guides.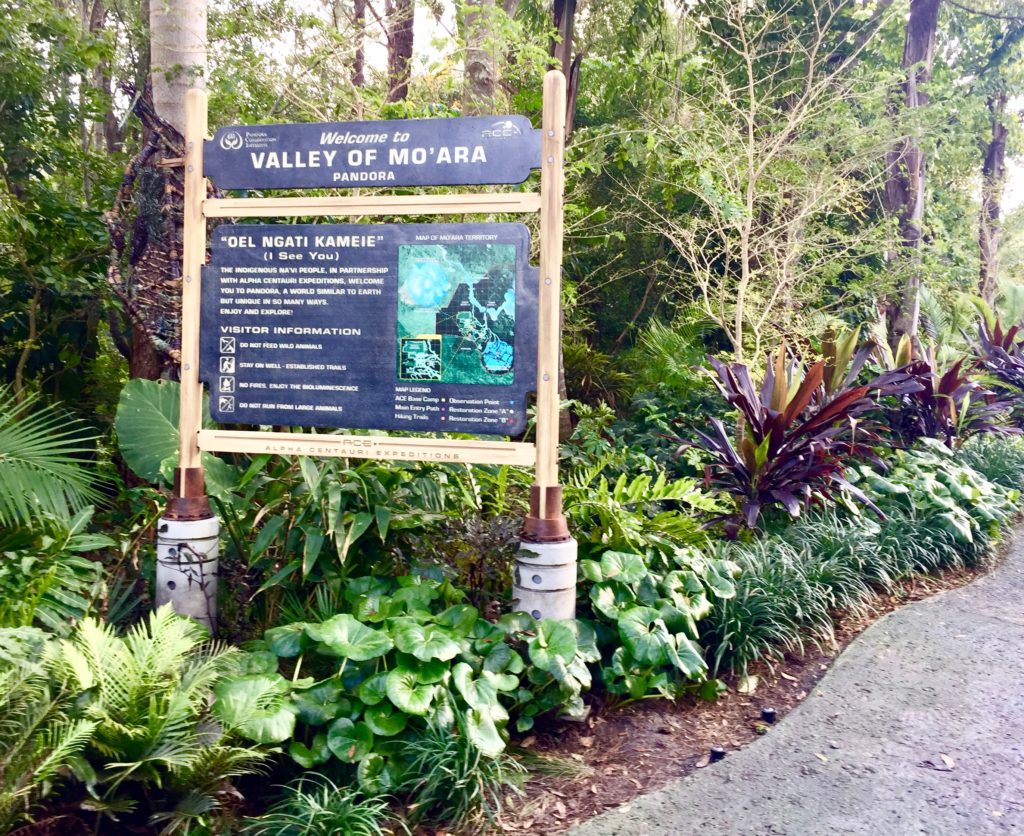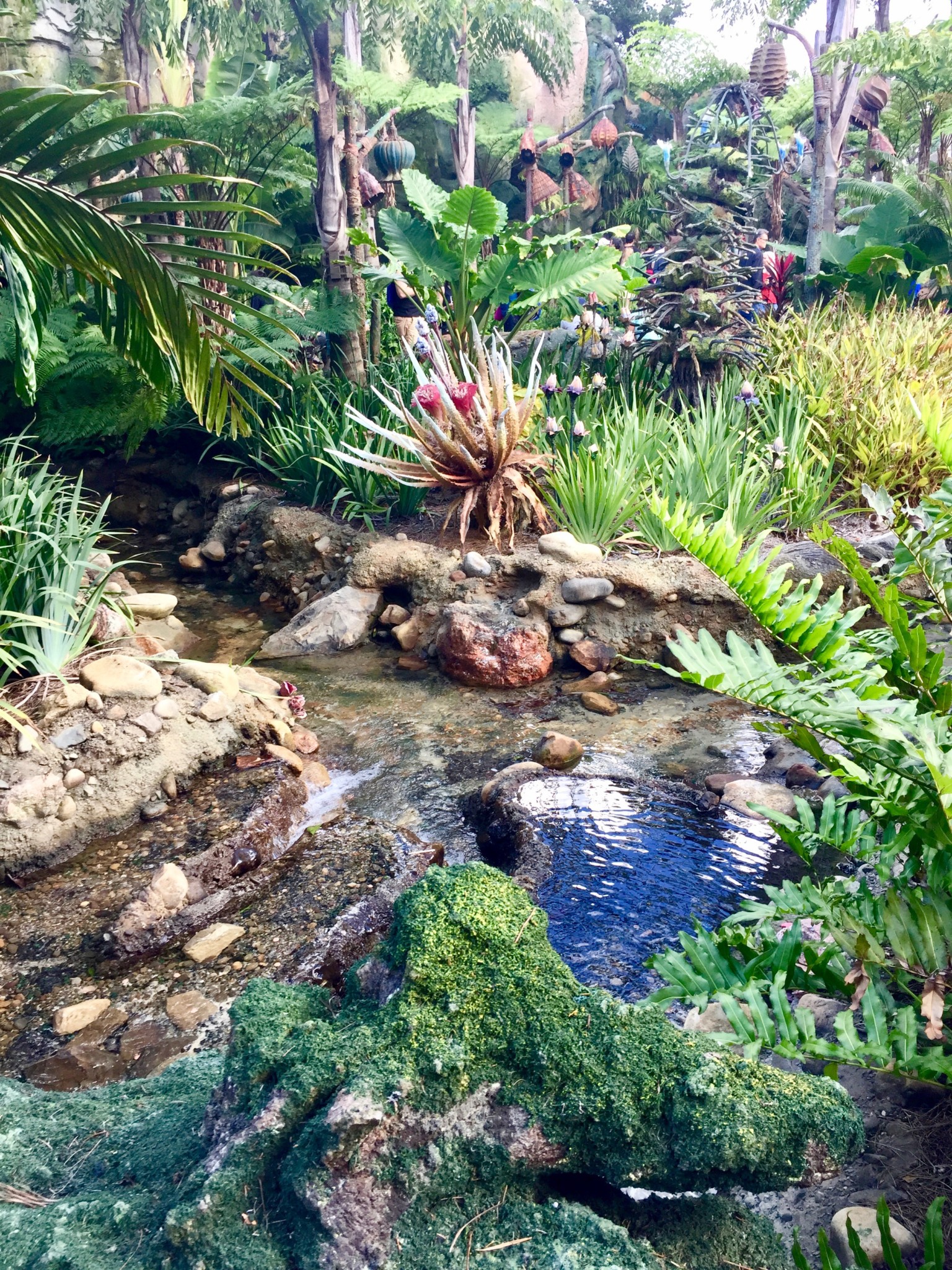 Pandora, the World of Avatar,  is a new 12 acre land that opened in May 2017 and contains two attractions – Avatar Flight of Passage and Na'Vi River Journey.
The Avatar Flight of Passage is a 3D augmented reality simulator ride on a banshee that our tour guide described as Soarin' on steroids. Kids must be 44 inches tall to ride and the wait time is apparently always hours. FastPasses are booked months in advance. It was an incredibly beautiful and wild ride and even with Sea Bands and dramamine on board I only made it  half way through before the motion sickness hit. Not to be missed and I have to say it was wonderful to walk right on when people were waiting several hours to ride.
The Na'Vi River Journey is a peaceful boat ride down a dark river in a bioluminescent rain forest. There are glowing plants, exotic alien animals, and even lizards playing overhead. The FastPasses for this attraction are not hard to get and the ride will get you off your feet, cool you off, and help you get centered in the crazy crowded land of Pandora.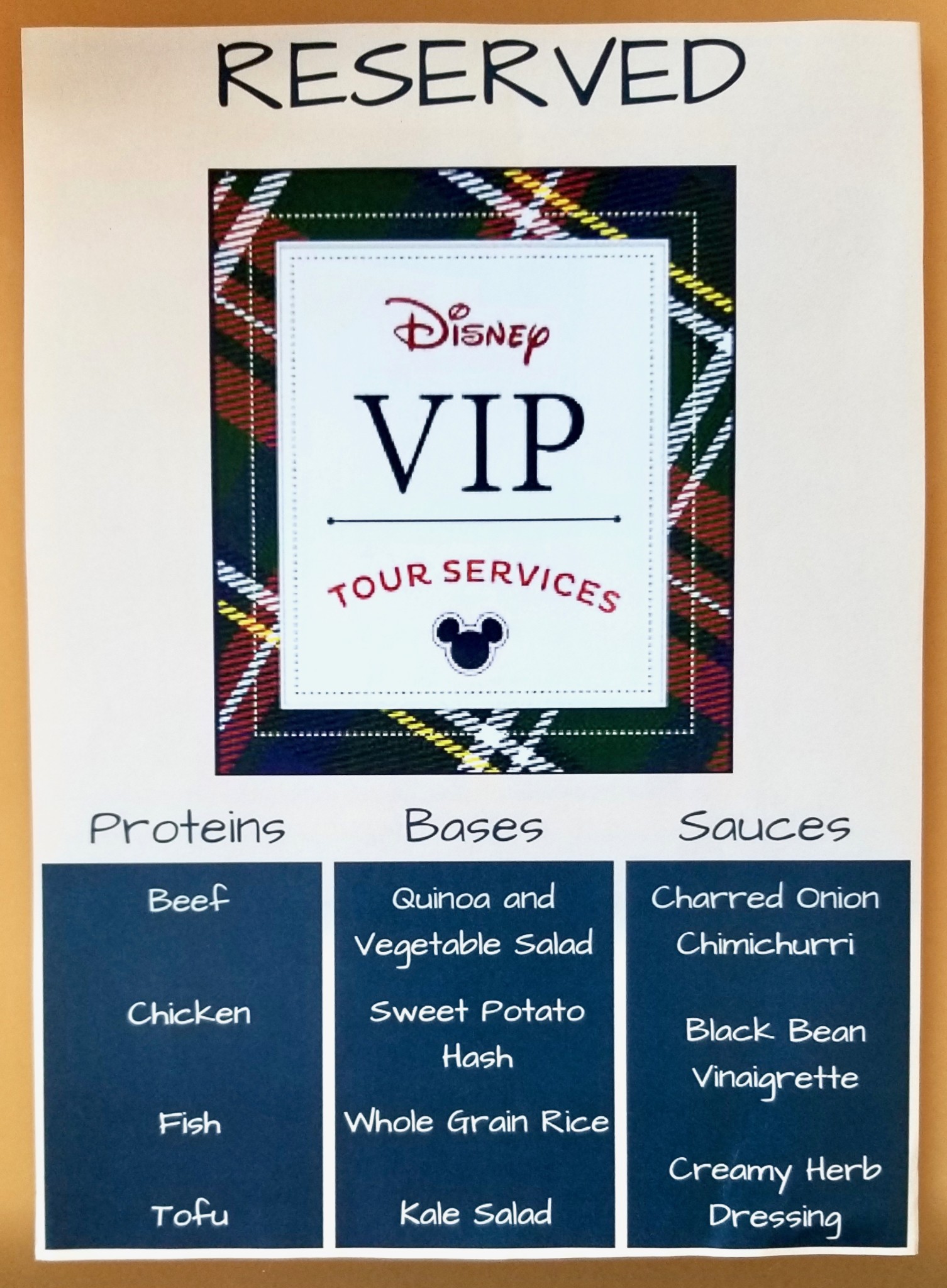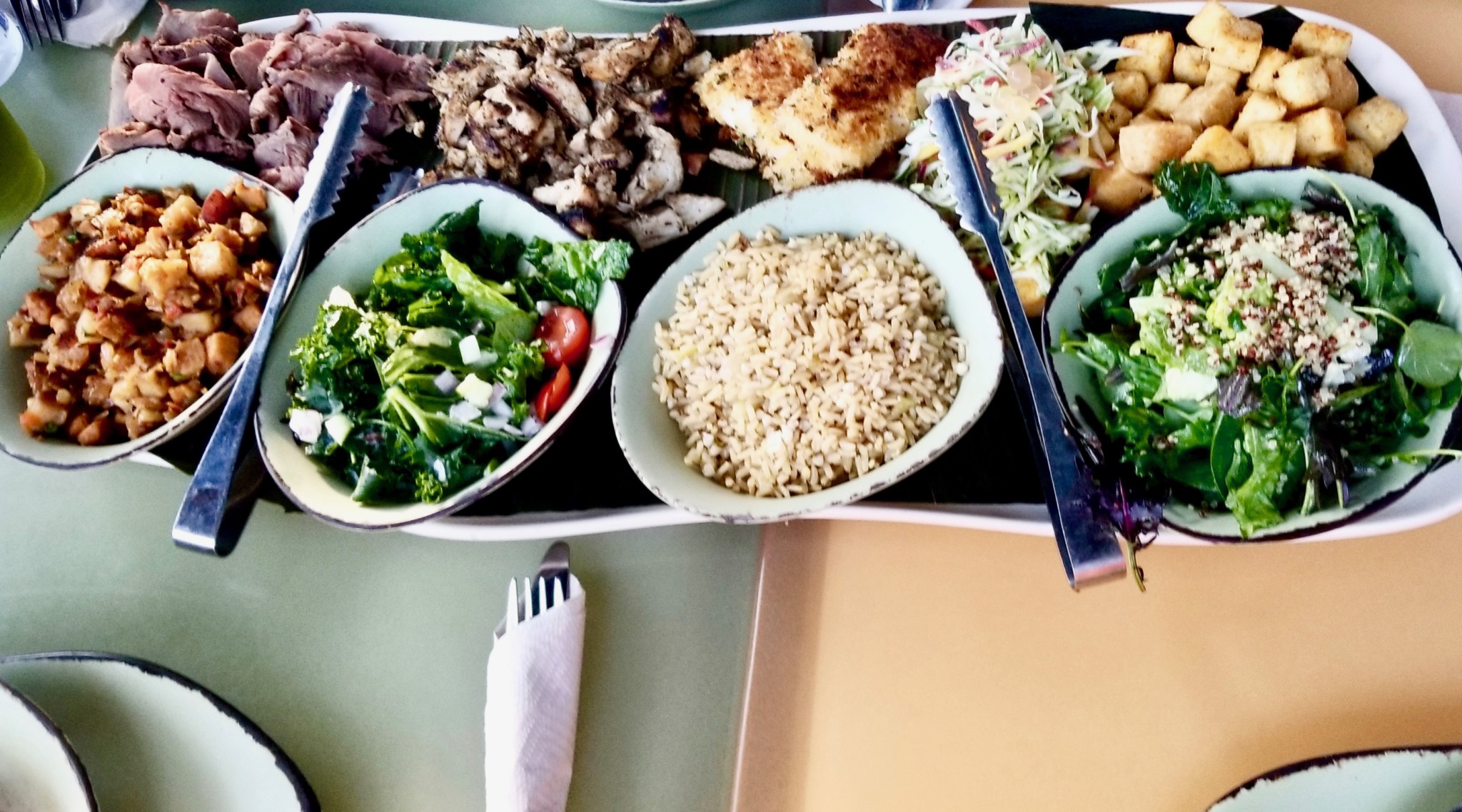 Dinner was included as part of the tour price, though we were only told that we would be receiving a drink and a dessert! Our surprise meal at the Satu'li Canteen was waiting for us and we passed the serving platter around with our fellow tour guests, sharing like a family at Thanksgiving. It was really tasty food and I would not hesitate to eat there again.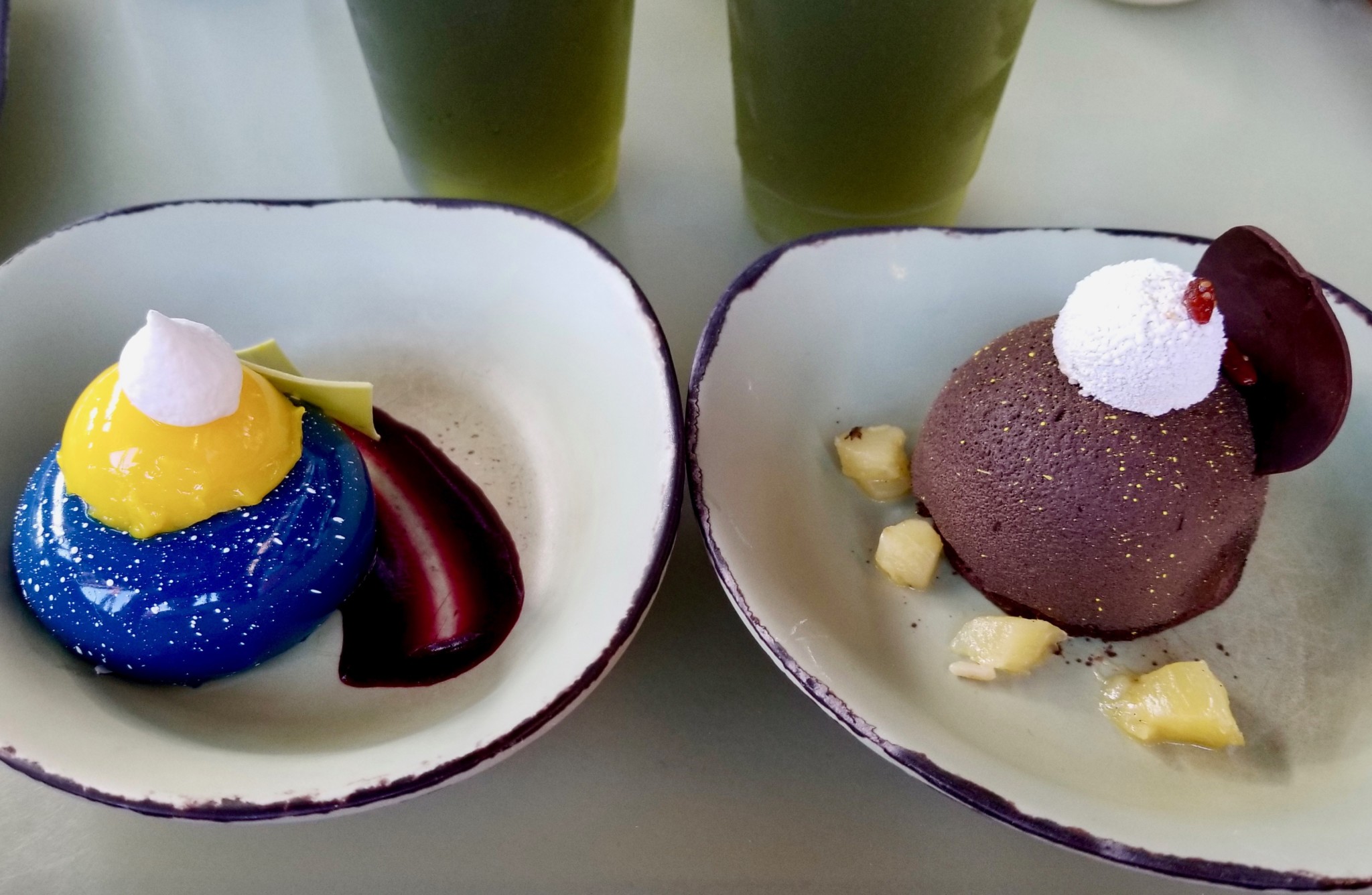 Our chosen desserts were Blueberry Cheese Mousse and Chocolate Cake. Both were decadently delicious!!!! And we had green beer, too.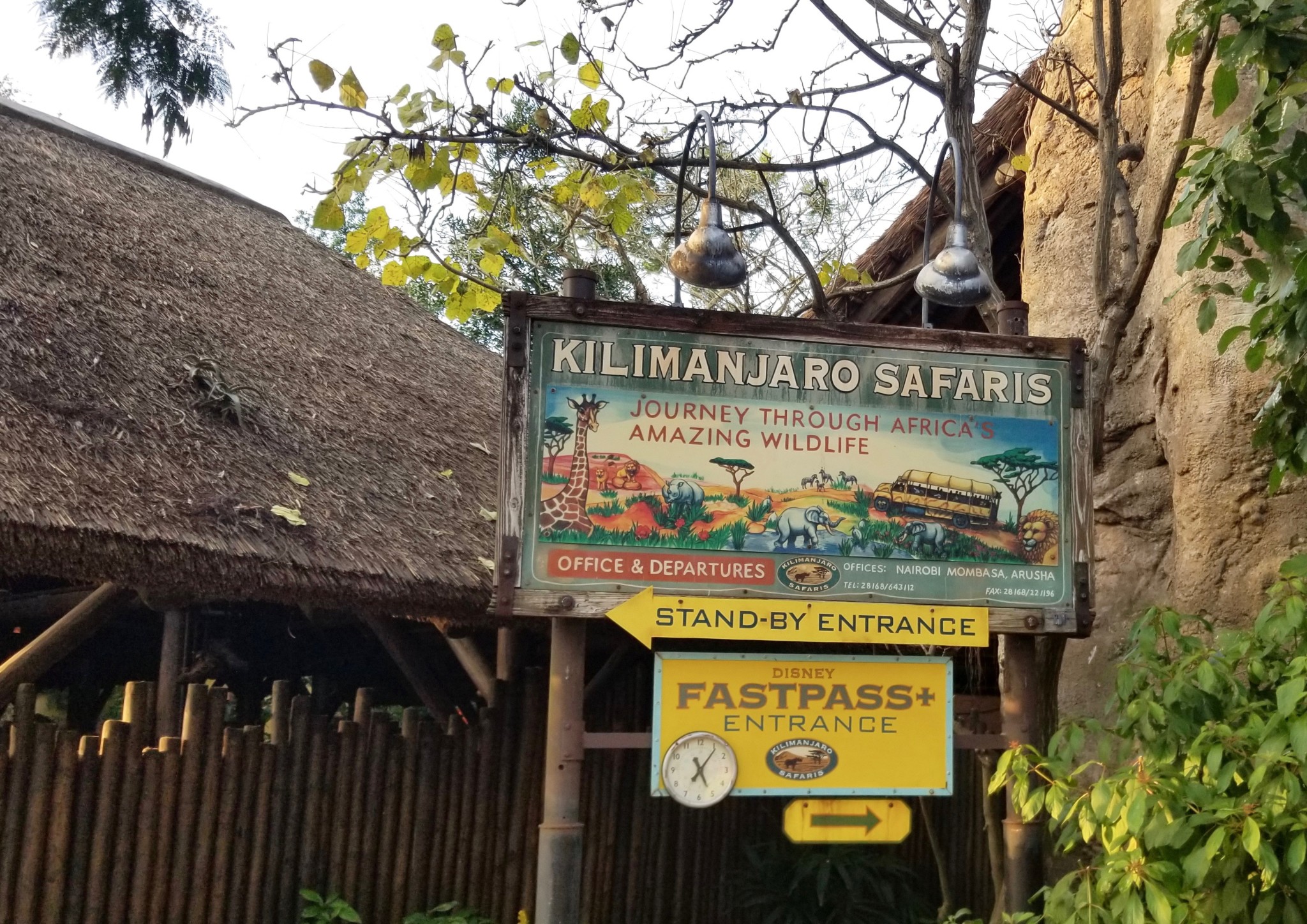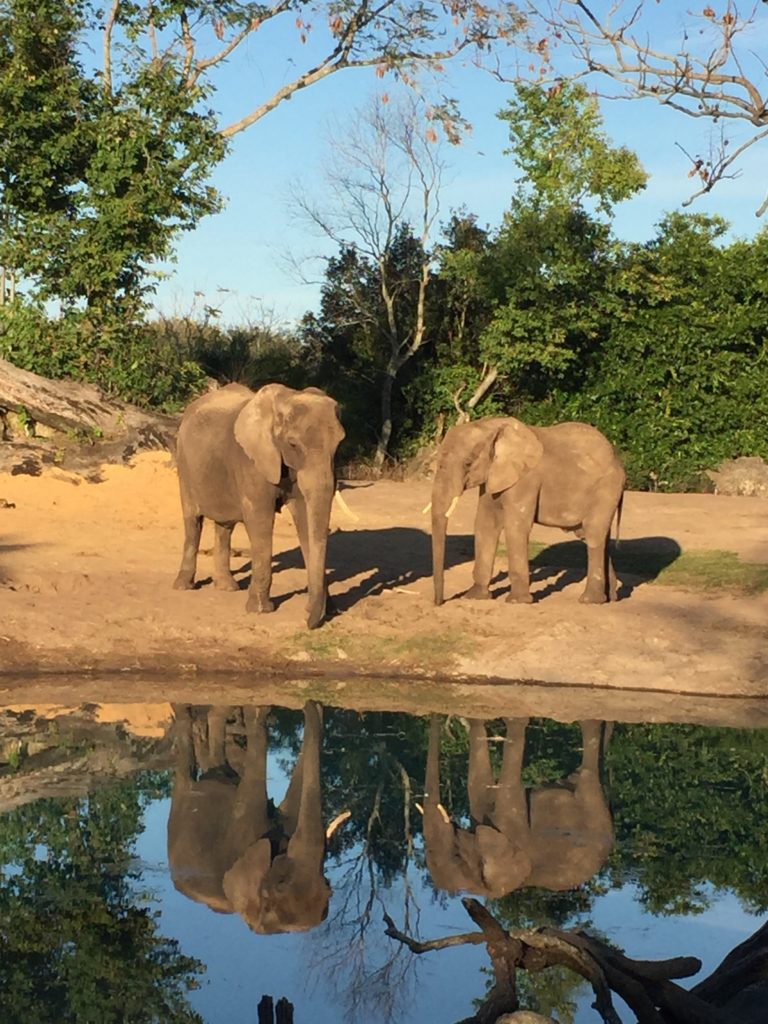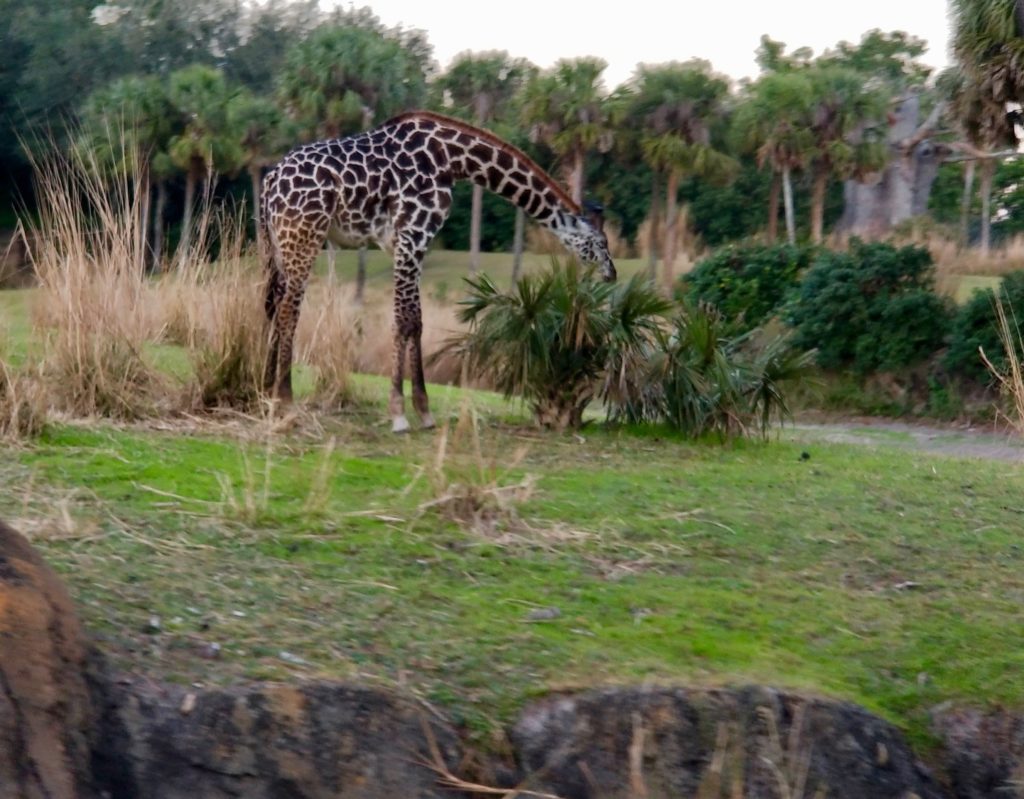 Our next attraction was the Kilimanjaro Safari tour, an open air truck ride through the Harambe Wildlife Preserve, Animal Kingdom's wild animal park designed to be like the African savannah. By the time we arrived it was dusk, a perfect time to see animals being more active than they would be in the heat of the day. The ride is bumpy and you never know what animals you might get to see, but it is fun to look for them like on a real safari.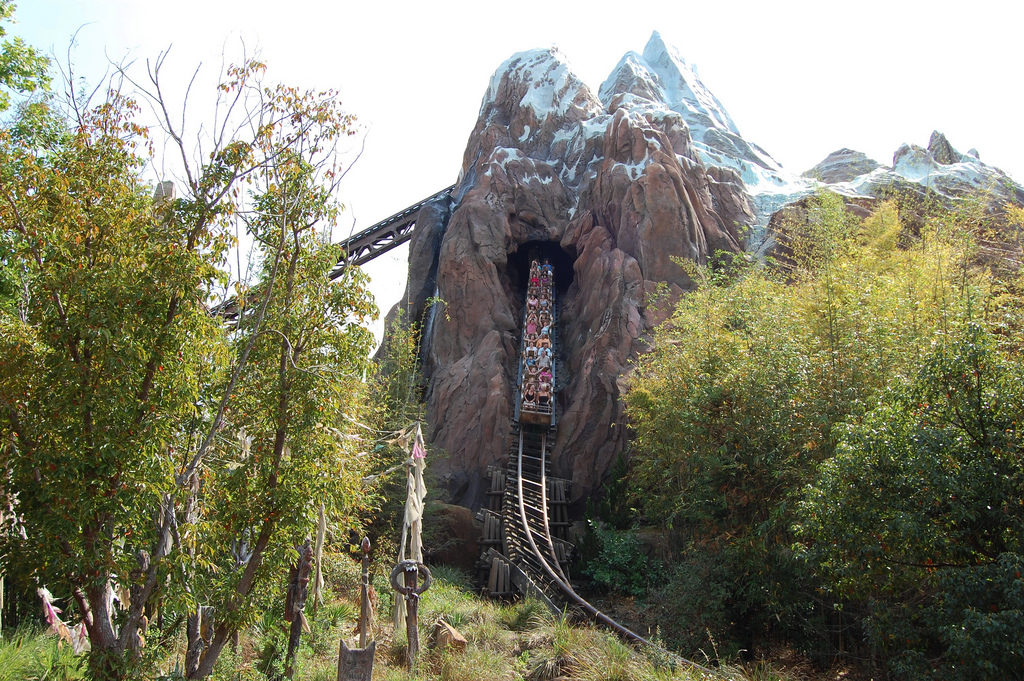 Then it was off to Expedition Everest – Legend of the Forbidden Mountain, the last ride in the VIP tour. This is a roller coaster with an 80 foot drop and the 2nd ride in the tour where you must be 44 inches tall to participate. I have never been on this ride even though it is one of my husband's favorites but I usually get a FastPass so he can ride twice. They say it is a whole different experience to ride it after dark and that is what the timing of the tour plans on.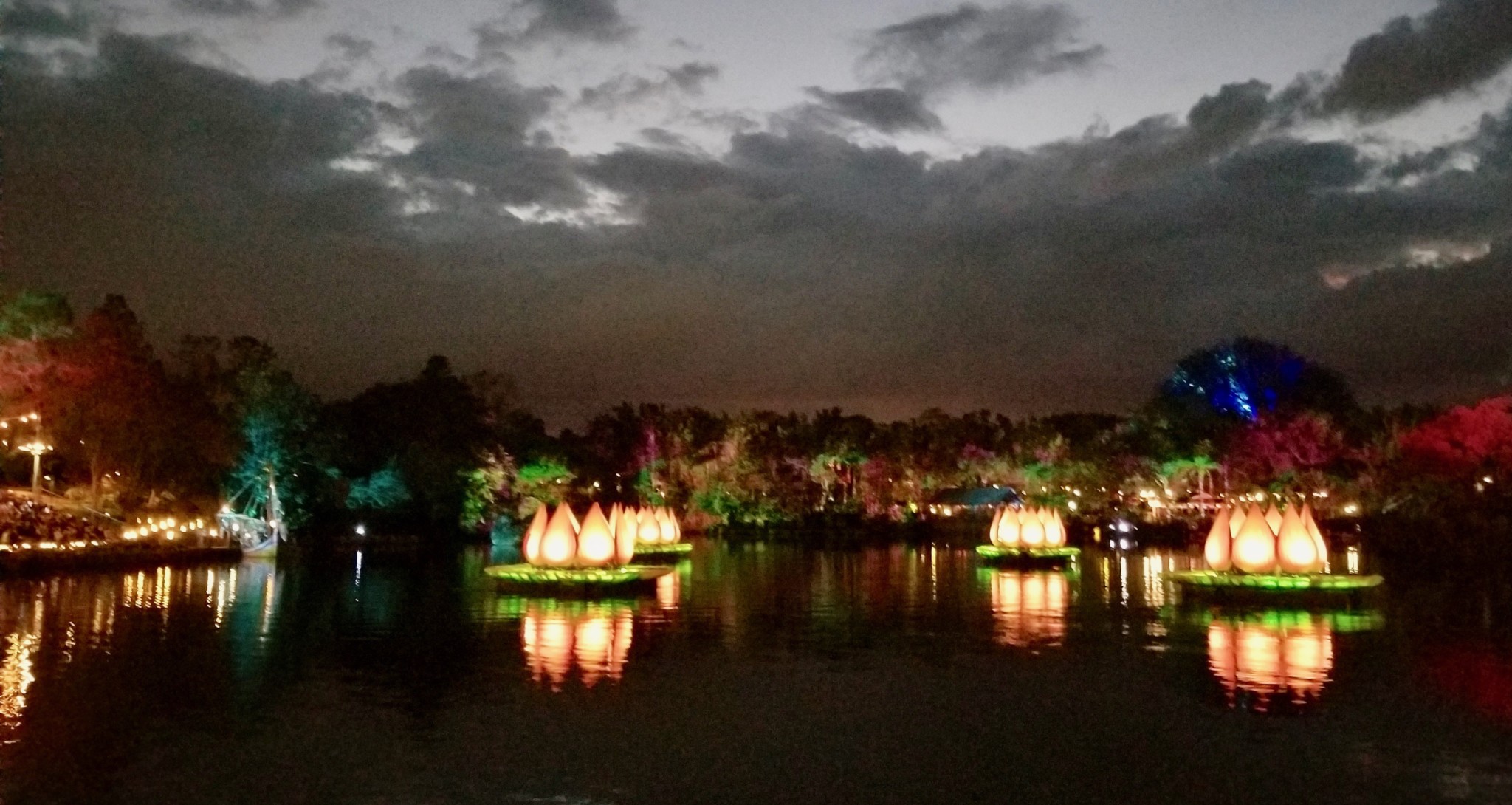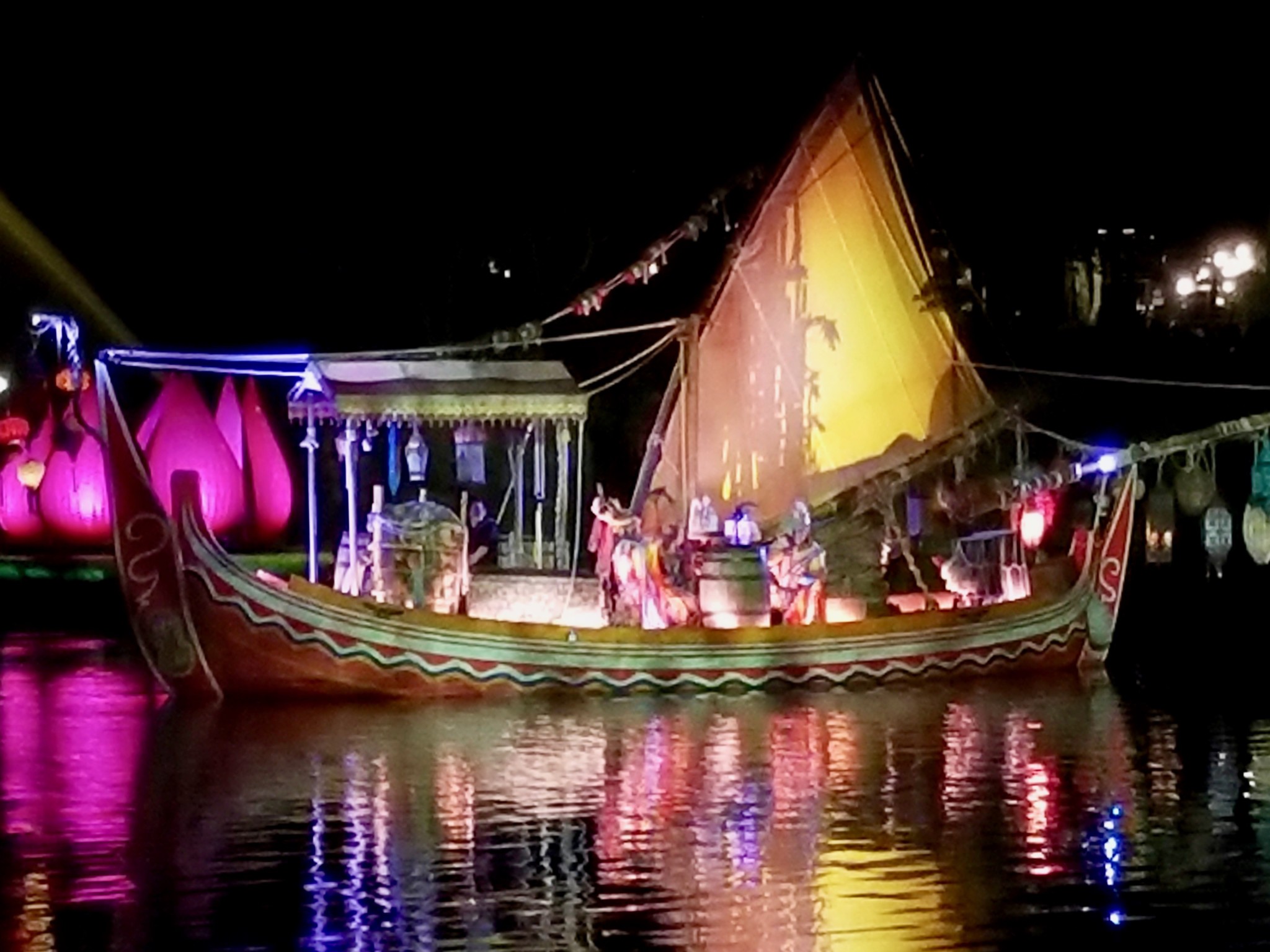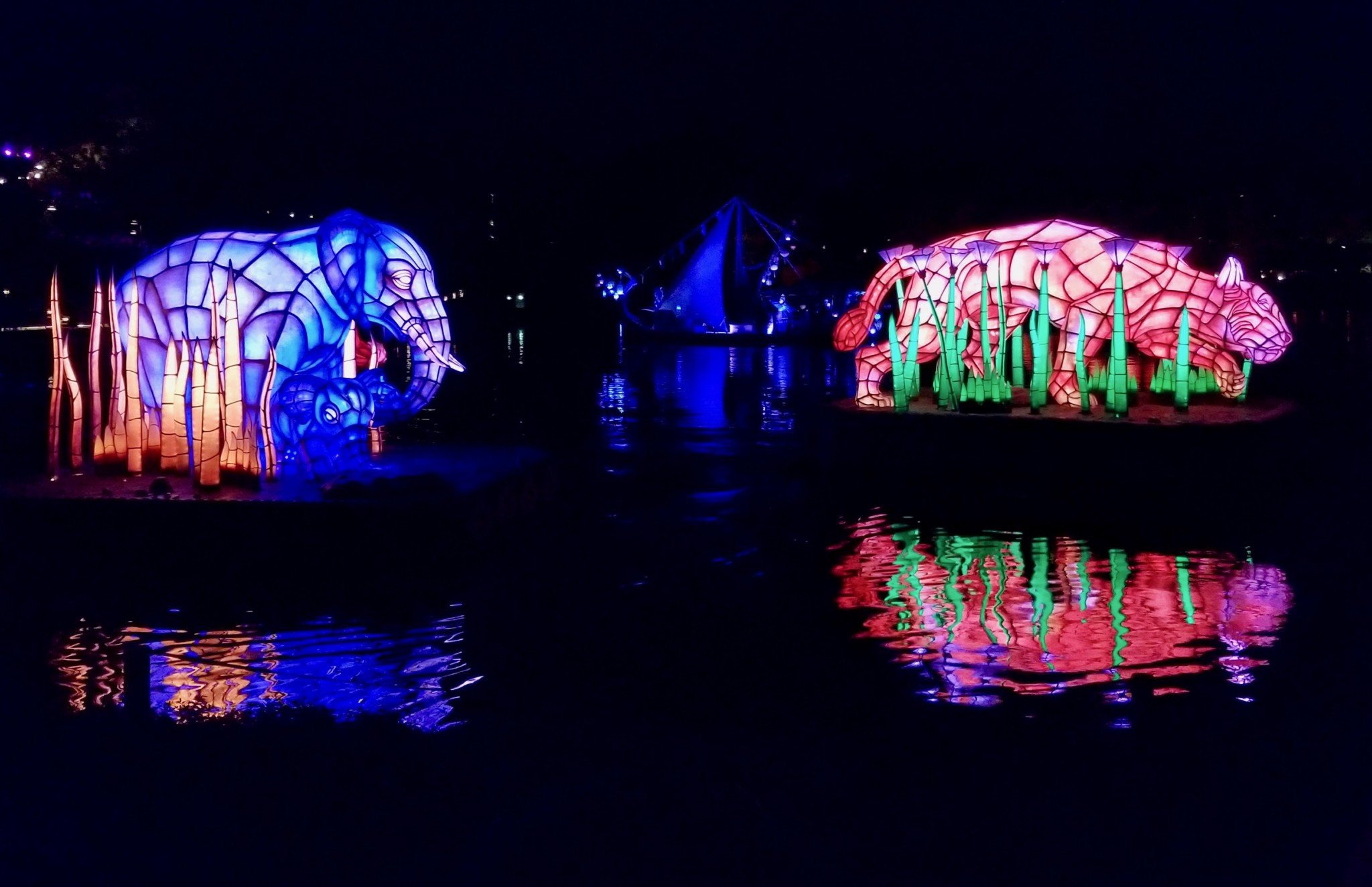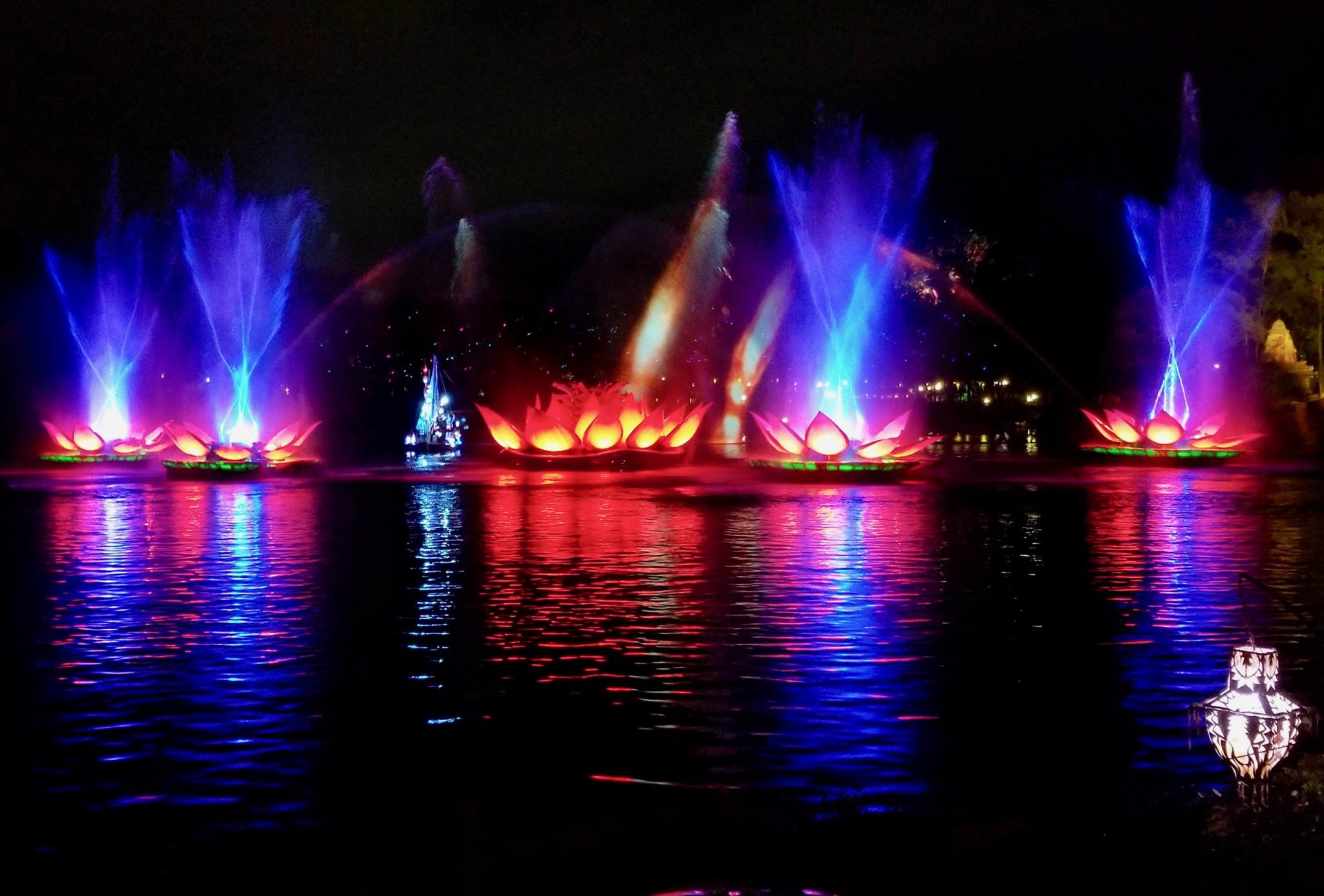 While most of the tour group was going down Everest, the remaining group of us (ladies) were escorted over to our reserved front seats for the Rivers of Light at the Discovery River lagoon. The stone benches can fit 5,000 visitors and there are, as of this post, two shows each night. The concept is all about the animals and the displays use laser lights, water, live performers, and other effects. There is music and no fireworks. I found the nighttime show a bit long and mildly interesting but it did not captivate me like the fireworks at the Magic Kingdom.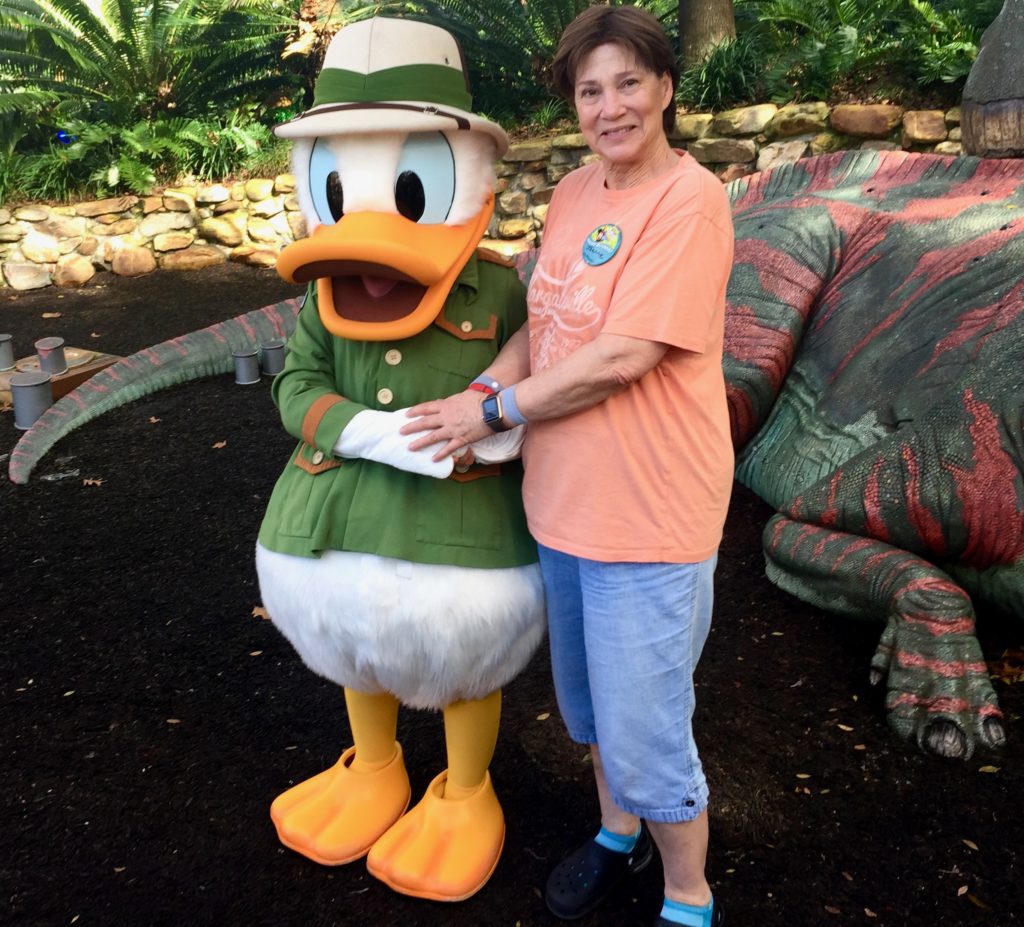 Was the Ultimate Nights of Adventure VIP tour worth the price tag? Everyone's situation as far as time, finances, age, and family structure are different so I can only answer for us. And it was. We got to experience the main attractions at Disney World's Animal Kingdom totally stress-free, bypass all the crowds, learn the back stories on each area we walked through, and enjoyed a wonderful dinner.
What do you think? Have you been to Disney World's Animal Kingdom?