Two Onion Tricolor Pasta with Spinach and Shaved Parmesan
I received some wonderful Della Casa Pasta's Campanelle Tricolor Pasta, McClure's Family Farm's Roasted Garlic Sea Salt, and Texas Hill Country Olive Company's Sola Stella Olive Oil in my February 2016 My Texas Market box and just had to put them together for what I knew would be a delicious lunch for the hubby! And they did not disappoint! We all love pasta and when you mix together high quality ingredients and fresh vegetables, you can't help but turn out a great meal even if you aren't the best cook on the block!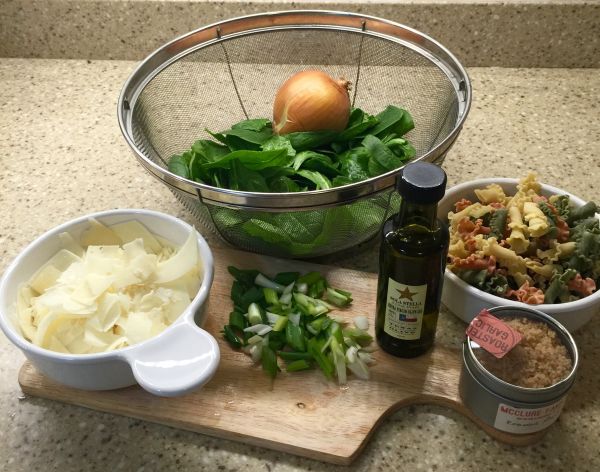 Ingredients:
½ of a 14 0z. pkg Campanelle Tricolor Pasta
3 Tbsp. Sola Stella Olive Oil
1 yellow onion, chopped
1 cup fresh organic baby spinach
½ cup shaved parmesan cheese
3 green onions, sliced diagonally
1 tsp Roasted Garlic Sea Salt
Adding spinach to the sauteed onions.
Directions:
Cook the pasta in boiling salted water 8 minutes for al dente, or longer if you like it softer.
Saute the chopped yellow onion in 1 tbsp olive oil until translucent and browning around the edges to give it sweetness. Then add the spinach and cook until wilted, adding a little more olive oil as needed.
Meanwhile, in another pan, sauté the green onion in 1 tbsp olive oil until soft and browning as much as you like it.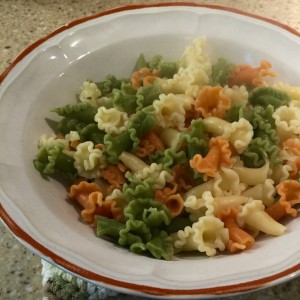 Steaming cooked pasta!
Drain the pasta and mix it together with the yellow onion/spinach mixture, Parmesan cheese and roasted garlic sea salt. Be careful with the salt as Parmesan can be a bit salty so don't overdo. Top with the sautéed green onions. Makes 2 servings.
This recipe was quick and tasty! The delicious pasta was enhanced by the wonderful olive oil and garlic sea salt and it all worked well with the spinach, cheese and onions. Give it a try!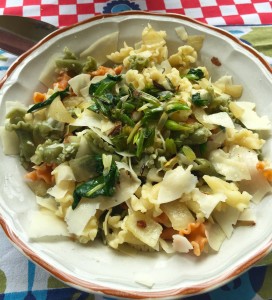 It's LUNCH!