The French Broad River Park in Asheville, NC
Asheville's French Broad River Park was a wonderful place to take Little G for a morning stroll! Situated right along the flowing French Broad River, the beautiful 0.5mile paved loop path is not too far or too strenuous for little feet to enjoy and there was a lot to see on our walk!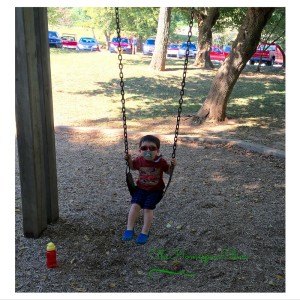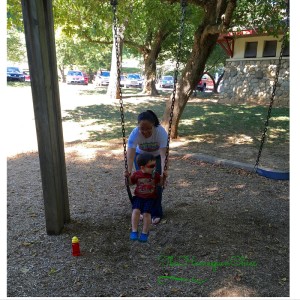 It was a rather warm day, as September sometimes is here in the mountains, and we all appreciated the shade from the greenery throughout the park. The lovely trees were just beginning to show the fall colors that bring so many people here to the NC mountains. We just had to stop at the swings for a little fun before going very far!  Everyone loves swings, no matter how old you are!

As the trail meandered along, we found a large gazebo, picnic tables, many benches for tired feet and lots of open green spaces for families to enjoy and kids to run in. The river was tranquil and low, as we are in drought conditions this year, but we when we found a cool wooden overlook just off the path it was still fascinating to watch the water flow by and look for wildlife while we relaxed on the bench. The French Broad River, third oldest river in the world, flows through 117 miles of our very ancient NC mountains and was named by early explorers because it flowed into French Indian Territory. It was not named after a French woman, much to my husband's disappointment!        
There were quite a few people at the park and we saw joggers, dog walkers, and bike riders. At the north end of the park is a large dog park where all kinds of dogs were playing and Little G especially enjoyed this part of the walk! The dog park is separated into several fenced spaces so the large dogs can be kept separate from the smaller ones. A dirt trail just off the paved one leads to easy river access for a boat or just to dip your toes in the water.
We had a great visit to the park and will definitely return to walk with Little G or to just get some fresh air and exercise on our own!