Stickii Club Mega Giveaway + November 2016 Cute Pack Review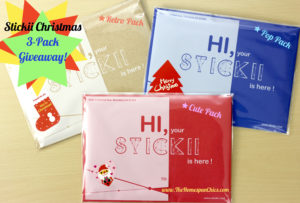 Stickii Club is a new monthly sticker subscription that curates a variety of stickers from across the world. Each sticker pack includes 5+ BIG sticker sheets, 10+ small to medium size stickers, and 1-2 washi tape samples. There are three sticker packs to choose from (or choose all three!):  Cute Pack (kawaii, warm, pastel), Retro Pack (vintage, earthy, nostalgic), Pop Pack (bright, trendy, cool). Subscriptions start at $10.00 per month, per pack.
The Homespun Chics received this subscription box for review. All opinions are 100% our own. Giveaway prize generously provided by the super fabulous Stickii Club!
---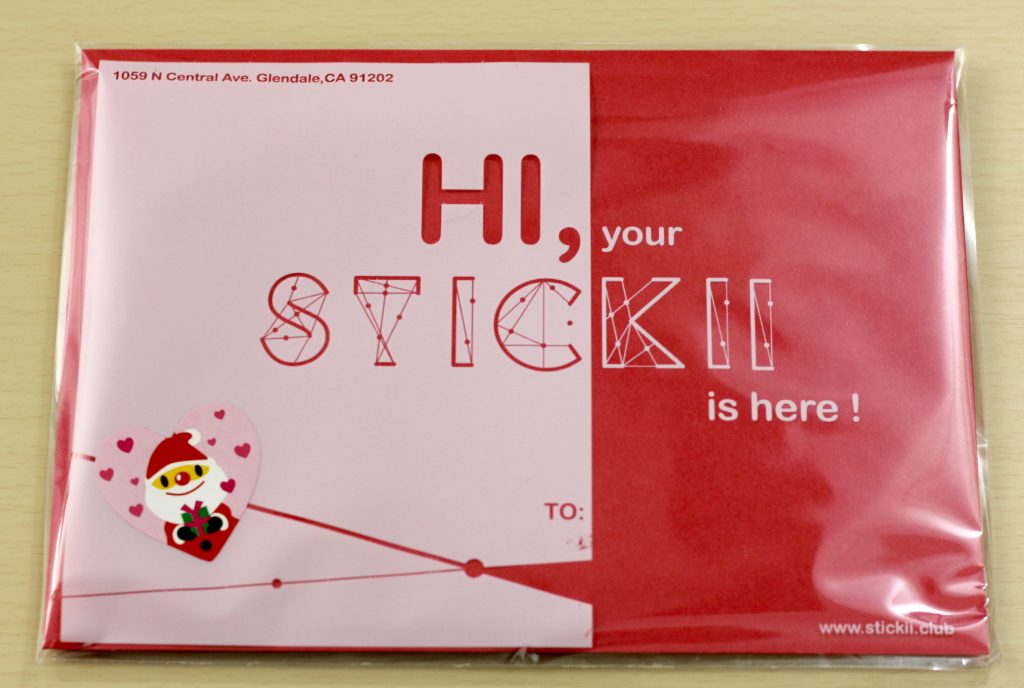 November 2016 Stickii Club Cute Pack
Christmas is my JAM, people. We go all out with the Christmas decorations, but we definitely wait until Dec. 1st to throw down because… patience is a virtue… so they say… This year is extra special since Little G has finally learned about the magic that is Santa Claus. He absolutely cannot wait, so naturally I can't wait either!!
I have had the great pleasure of reviewing Stickii Club over the last several months and this is the first time I've seen a common theme across all three sticker packs that are offered. In case you couldn't tell, the theme is totally CHRISTMAS! I had a tough time choosing my pack since they were all holiday-themed. Luckily, Stickii Club knows Little G's infatuation with puffy "pillow" stickers runs deep so I was encouraged to select the Cute Pack this month. *wink wink*
Cute Pack

| kawaii, warm, pastel
Retro Pack

| vintage, earthy, nostalgic
Pop Pack

| bright, trendy, cool
Save 20% Off Your First Month with Code:  HOMESPUNCHICS
Coupon is valid for month-to-month subscriptions only (first time purchase). Subscribers can choose 1, 2, or all 3 sticker packs and use our code to save 20% off!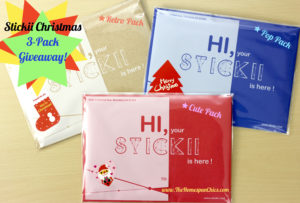 Be sure to enter our giveaway at the bottom of the page for your chance to win this amazing set of ALL THREE Christmas-themed sticker packs from Stickii Club!!
Sneak peeks of the Pop Pack and Retro Pack at the end of my review!
(That's $30 worth of jaw-dropping sticker goodness!)
---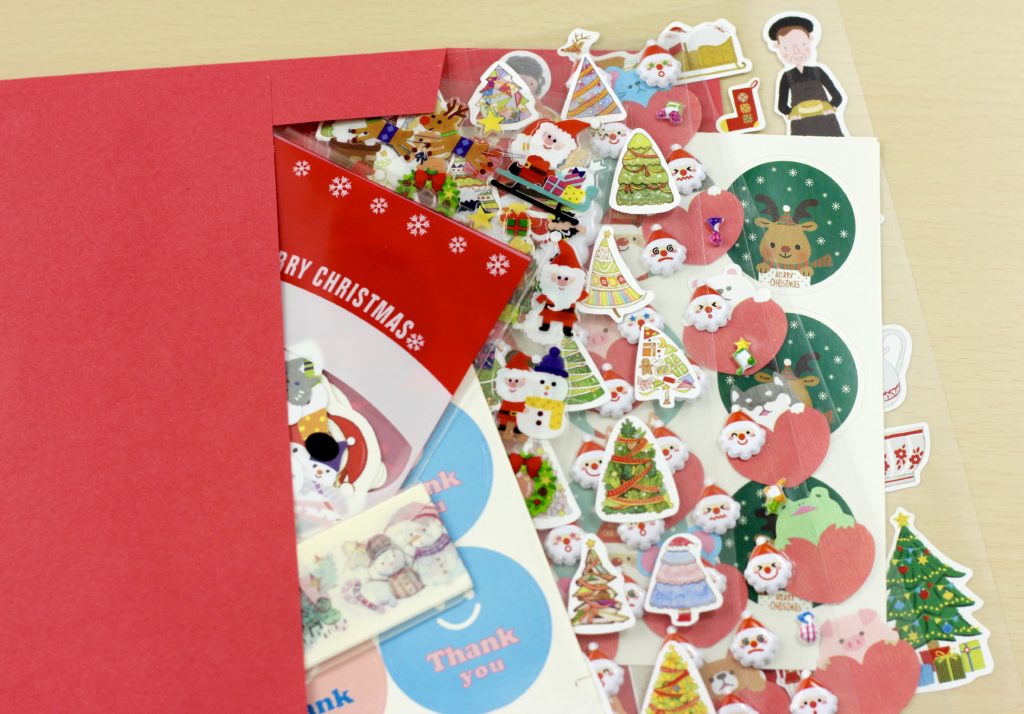 First peek! Who's freakin' out right now? Tell me it isn't just me…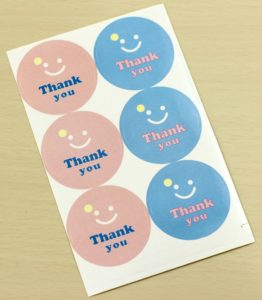 This was an extremely thoughtful bonus inclusion in November's sticker packs. Stickii Club announced on Instagram that they reached 1,000 subscribers in the beginning of November. As a token of appreciation to all of their subscribers, each November pack included a sweet set of  'thank you' stickers! The Cute Pack received these adorable pink and baby blue smily faces!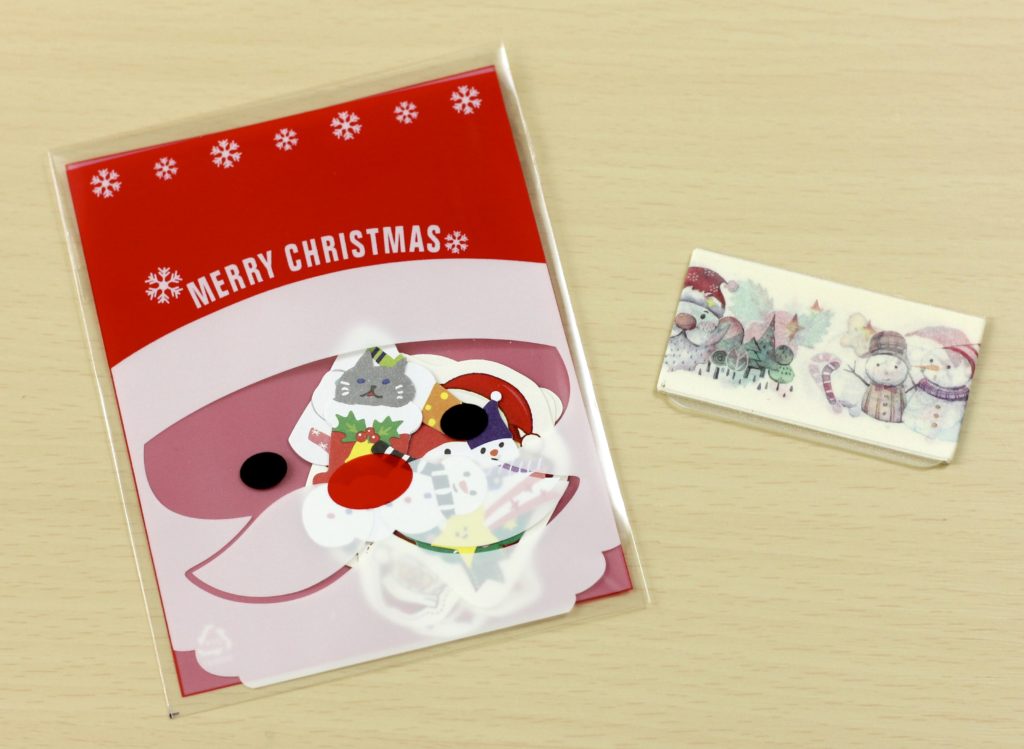 Stickii Club always includes a packet of small stickers and at least one washi tape sample in every sticker pack. This month's loose stickers arrived in a very happy Santa sleeve! How cute!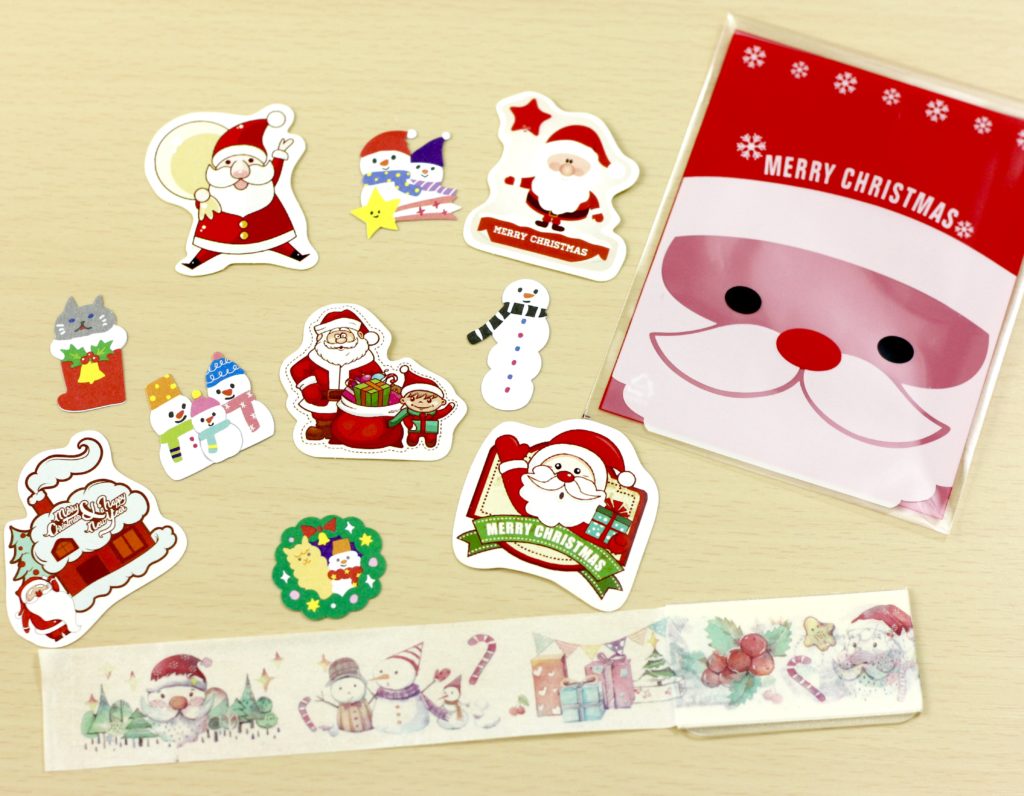 These stickers would be perfect to adorn Christmas cards or decorate presents! I am a HUGE fan of repurposing brown paper grocery bags to use for wrapping paper. Little G will have a ton of fun decorating the gifts with all of the stickers we received! These little Santas are so sweet! The washi tape is beautiful and reminds me of Christmas cards I received when I was younger. We will be using the washi to help wrap presents as well!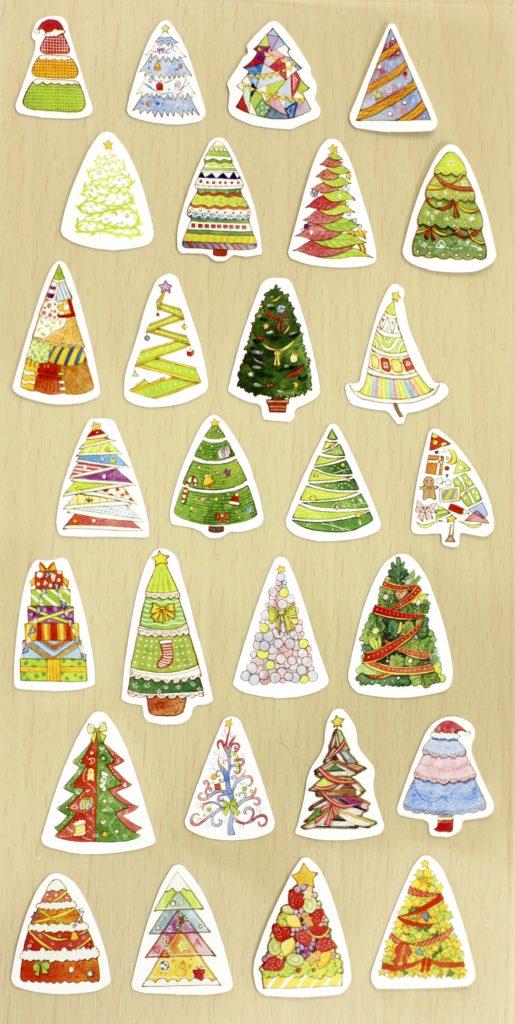 Stickii Club also guarantees full-size sticker sheets in their envelopes. I am in love with all of the Christmas tree variations! I'm going to have a tough time not hoarding these guys.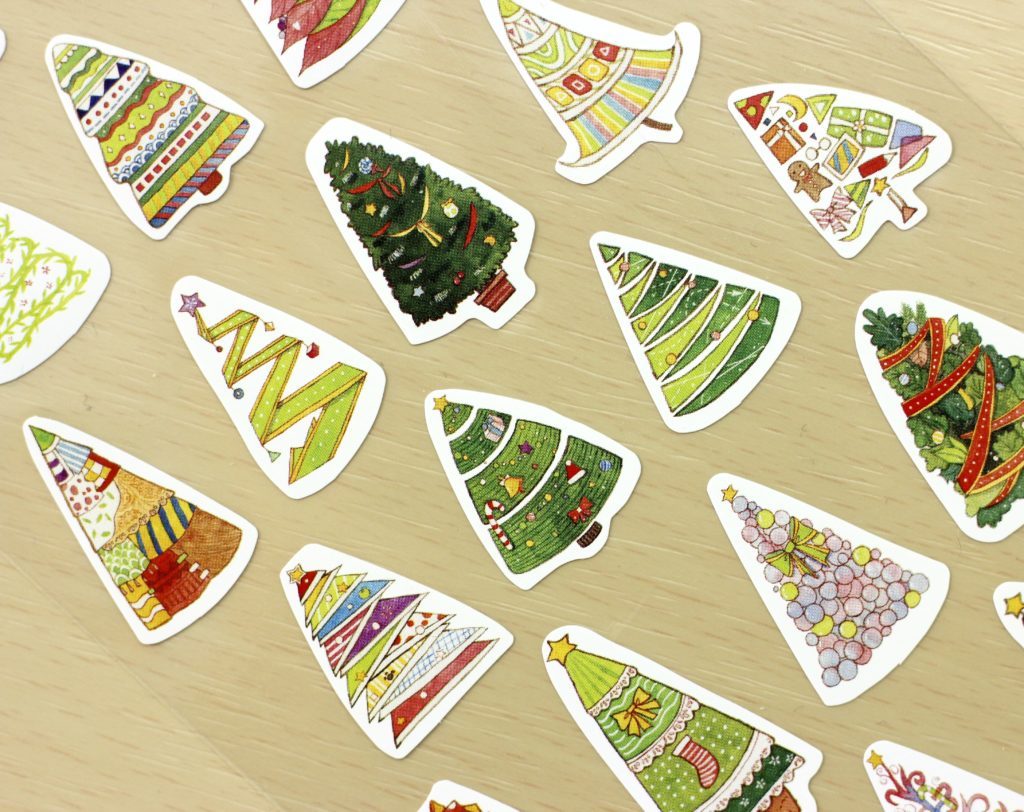 Here they are up close. I wanted to show you all the little details!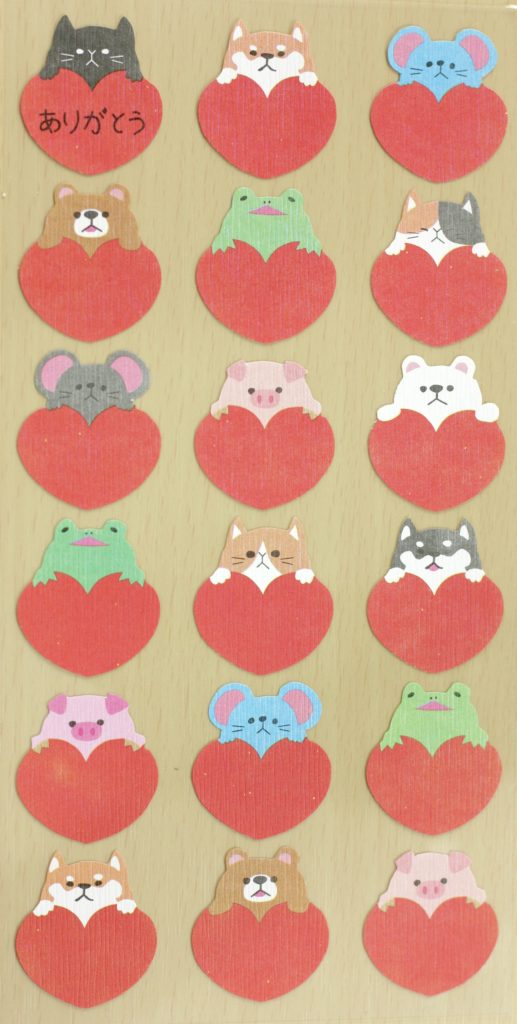 I have no idea what this sheet has to do with Christmas… nor do I care!  These animals are too sweet. I want to take them all home and pinch their little cheeks! My favorite has to be the corgi.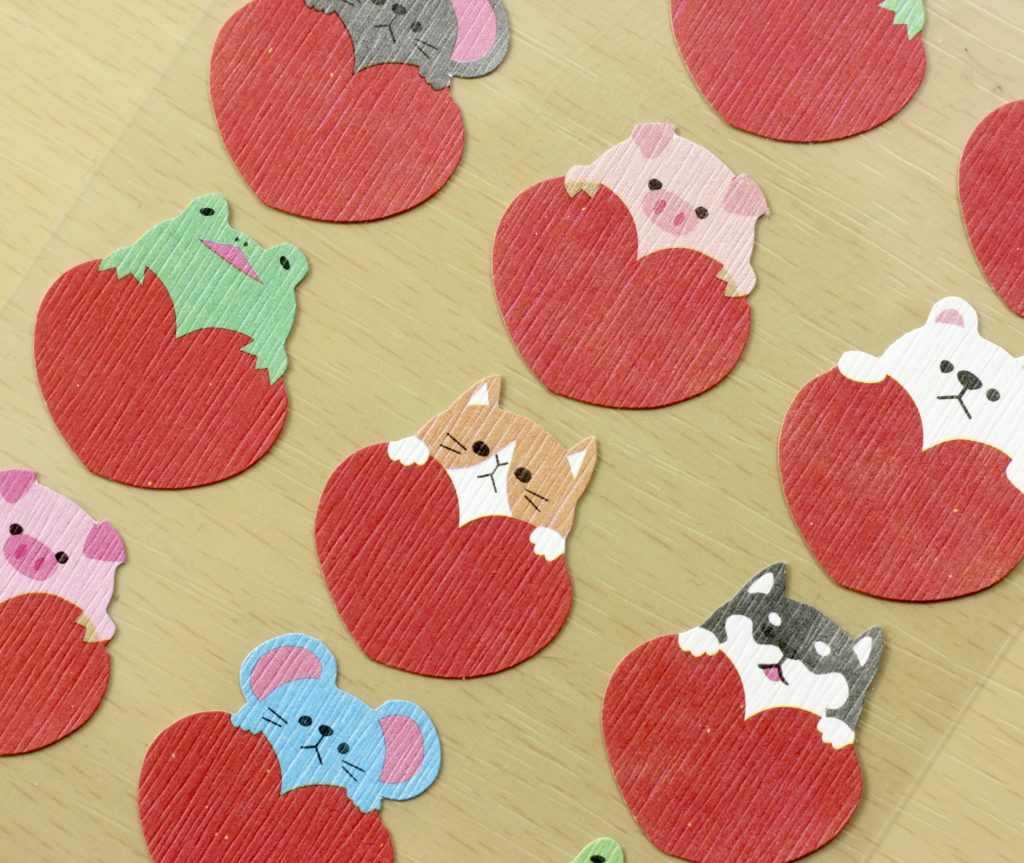 I really like the texture here. It's almost like a wood grain, yet the stickers are paper thin!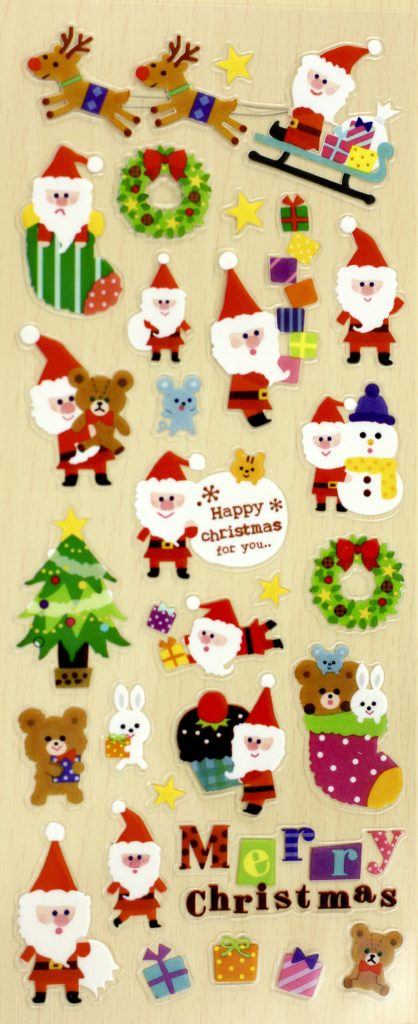 Silly Santa stickers! This was one of Little G's favorite sheets. It's a miracle I managed to grab a picture before he started peeling them off to stick to his Strider bike. Do any of you have kids who use their bike as a mobile sticker book? Geeze.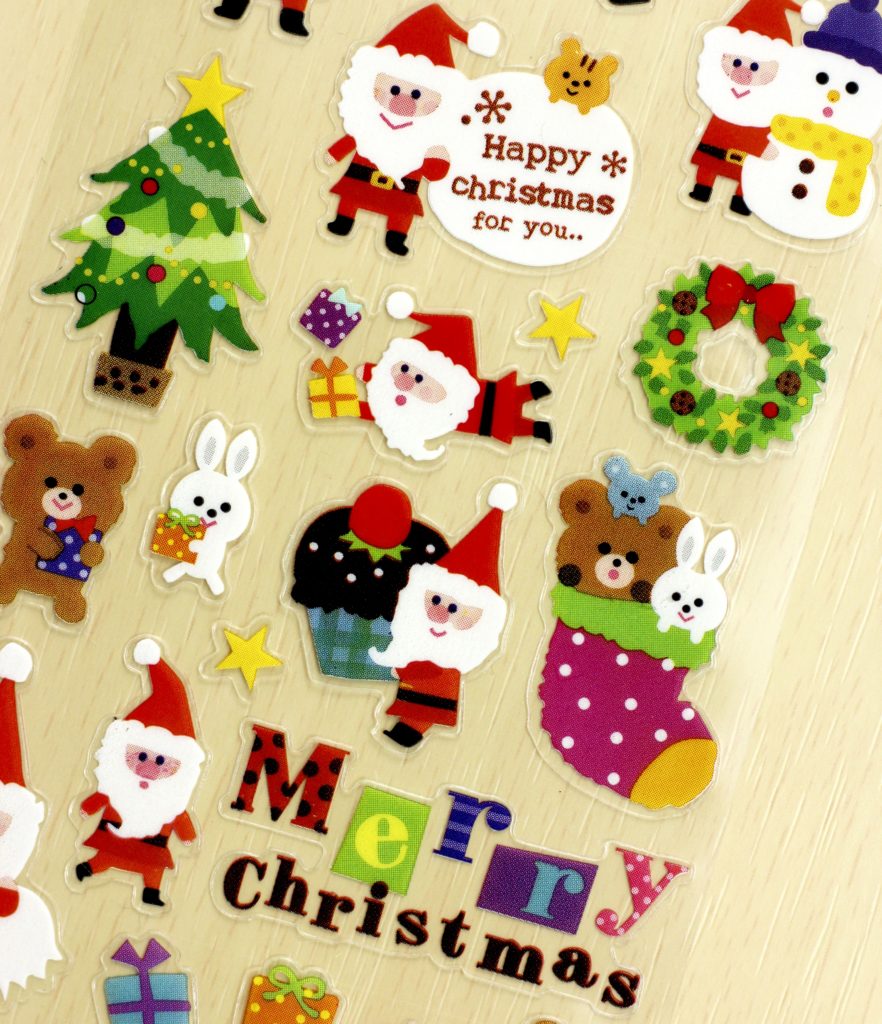 Favorite Santa? Obviously the one holding the giant cupcake. Who needs cookies when you have a cupcake the size of a small car?!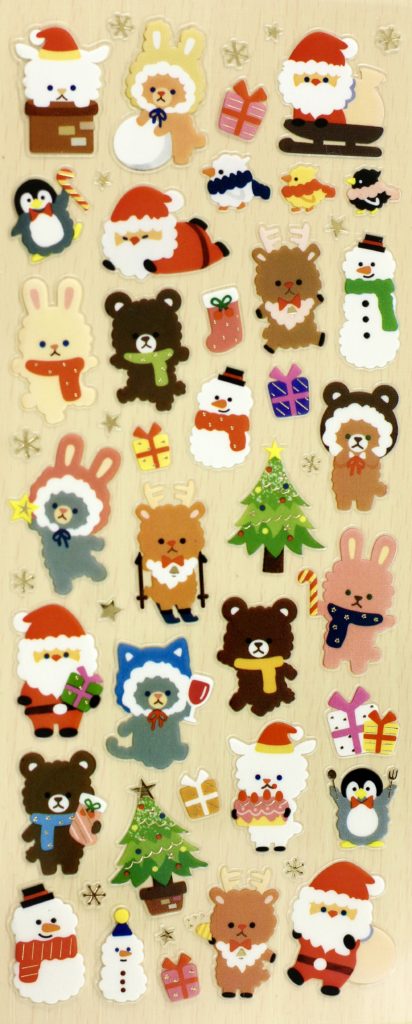 Next up we have a similar style sticker sheet, but this one is filled with some incredibly cute animals (and Santa)! Some of the stickers have gold foiling which adds a pretty sparkle!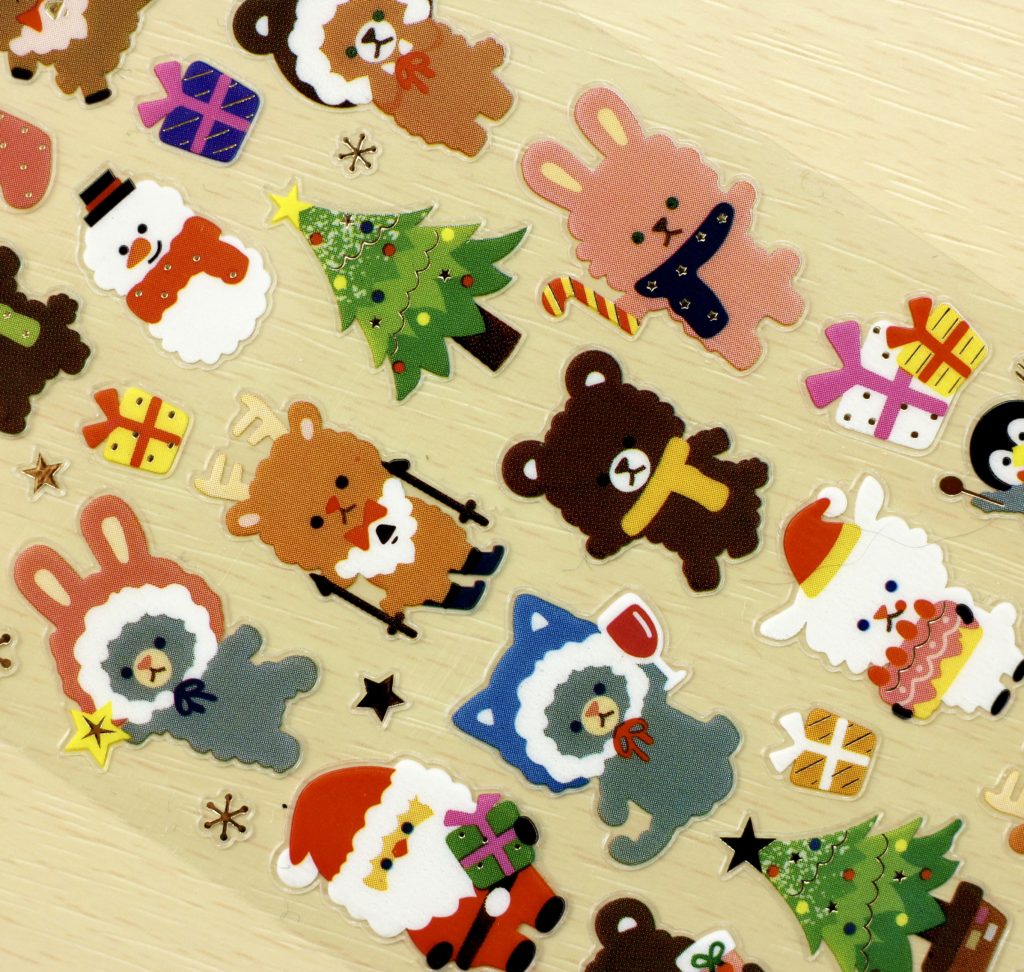 Favorite sticker? The cat with a cat hat holding a glass of wine, DUH! Seriously, it's like Stickii Club found this cat and said, "Yes, Sarah would want this one."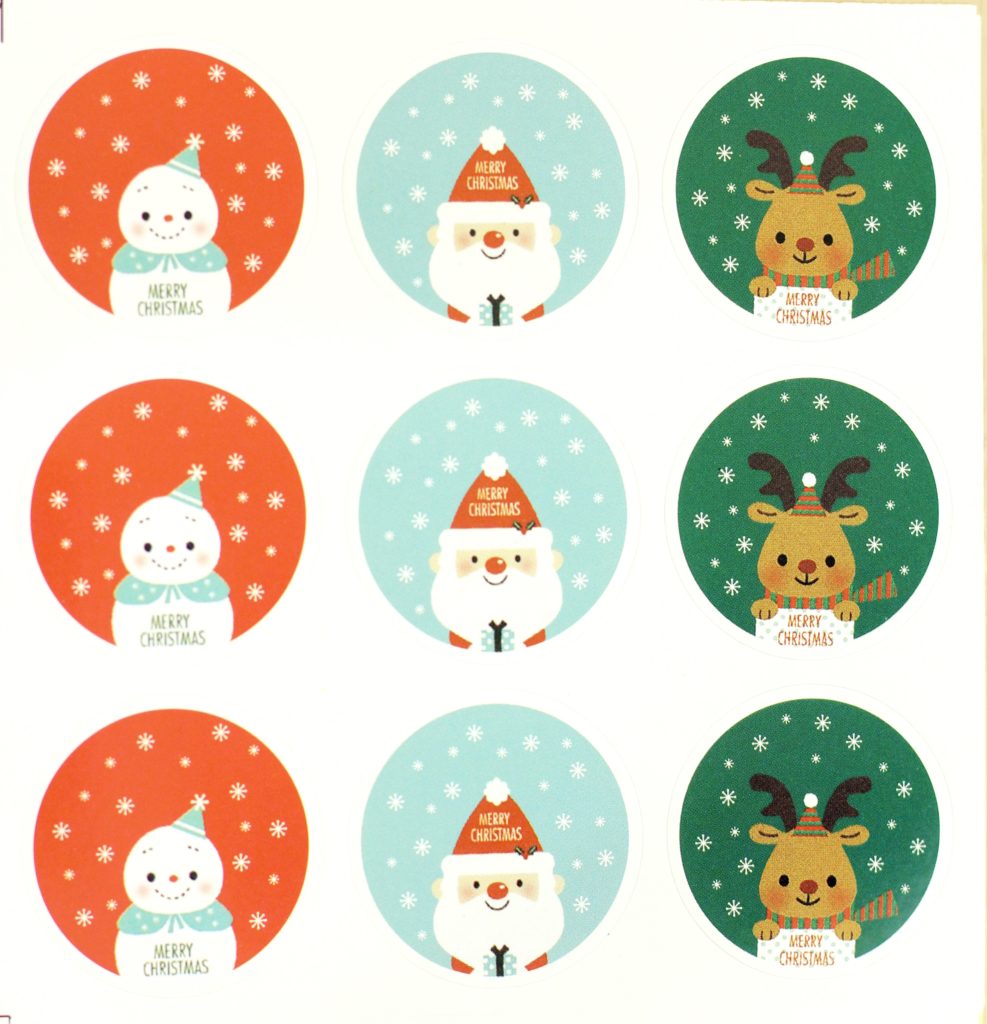 These are fairly large circular stickers that would look great sealing Christmas card envelopes. I can also see them working to secure the sides of gift-wrapped packages. These will be put to good use this year. I love the rosy-cheeked reindeer! Does that little red nose mean he's Rudolph?? Was that a dumb question?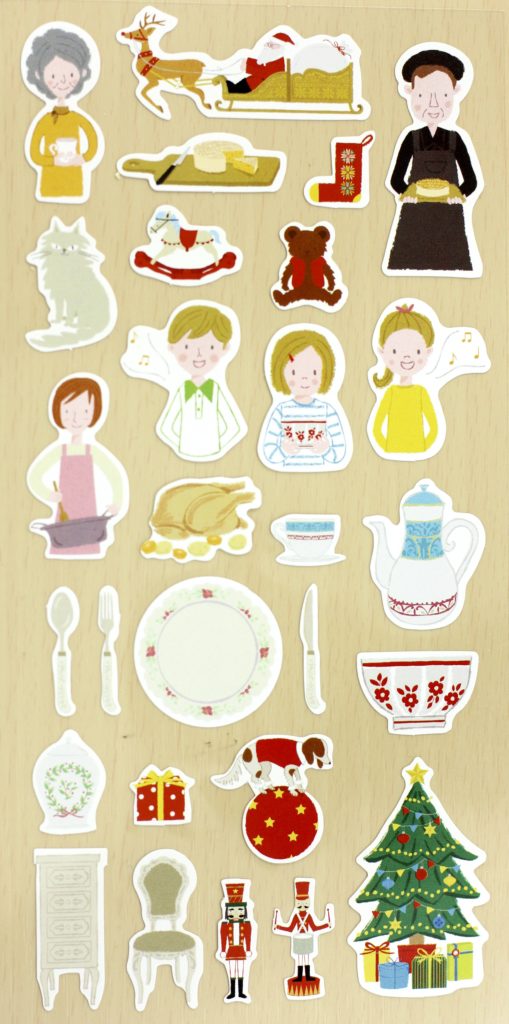 This is probably the most obscure sticker sheet I've received in a cute pack, but I still love some of the stickers here. I don't scrapbook, so I am unsure what I will do with the chair, table setting, etc. but I do like the tree a lot!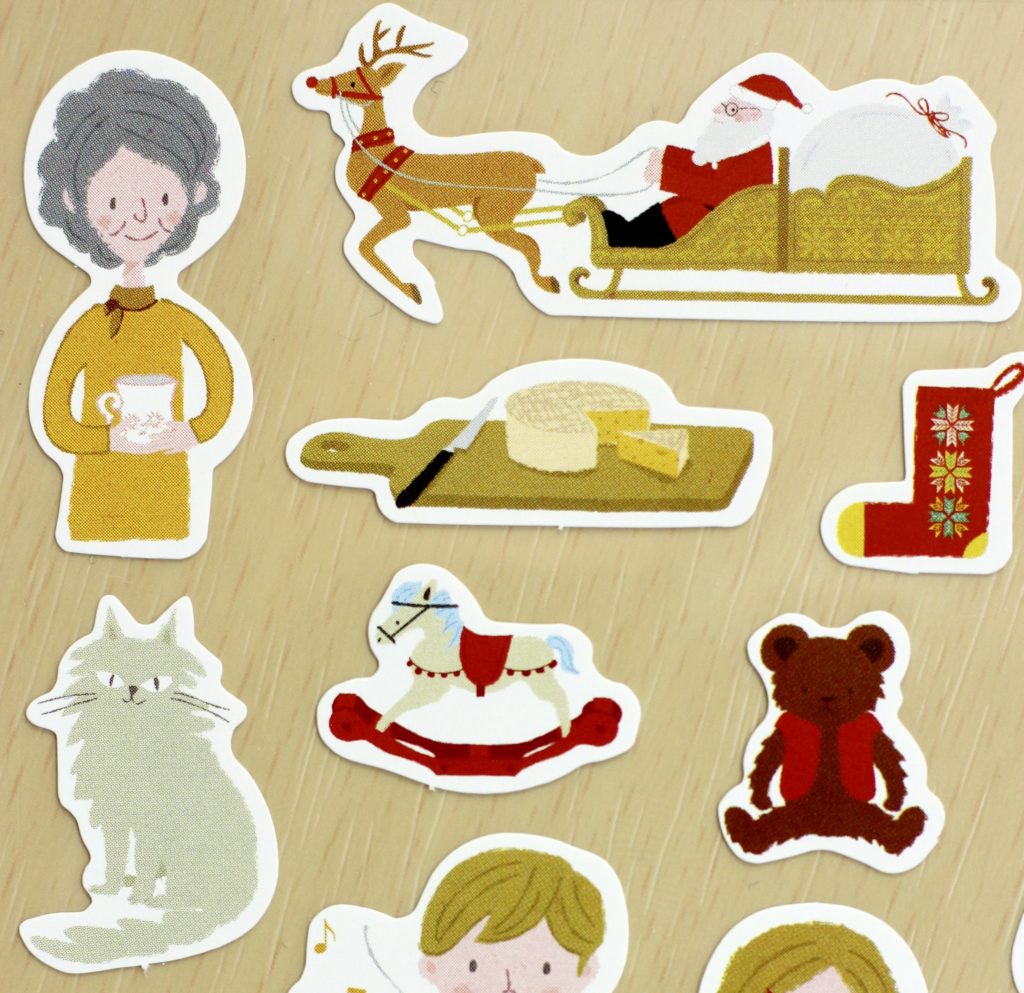 Aah, there it is. Clearly they must have included this sheet because… CAT. You're forgiven, Stickii Club. I totally get you now. Hey kitty!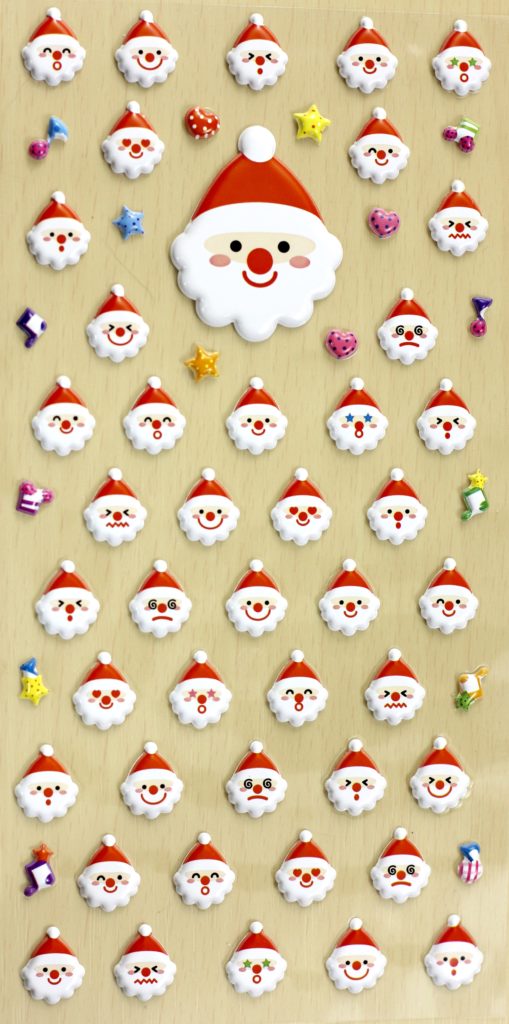 "SANTA PILLOWS!!!" <– My son's first reaction. This is Little G's most favoritest sticker sheet in the entire pack! Stickii Club is so awesome for hinting at me to get the Cute Pack this month! I wish I was quick enough to grab a video of Little G's reaction when he pulled out these puffy Santas. His eyes dilated and his jaw dropped with a bit of drool falling onto his shirt. It was almost like he was seeing the real Santa Claus!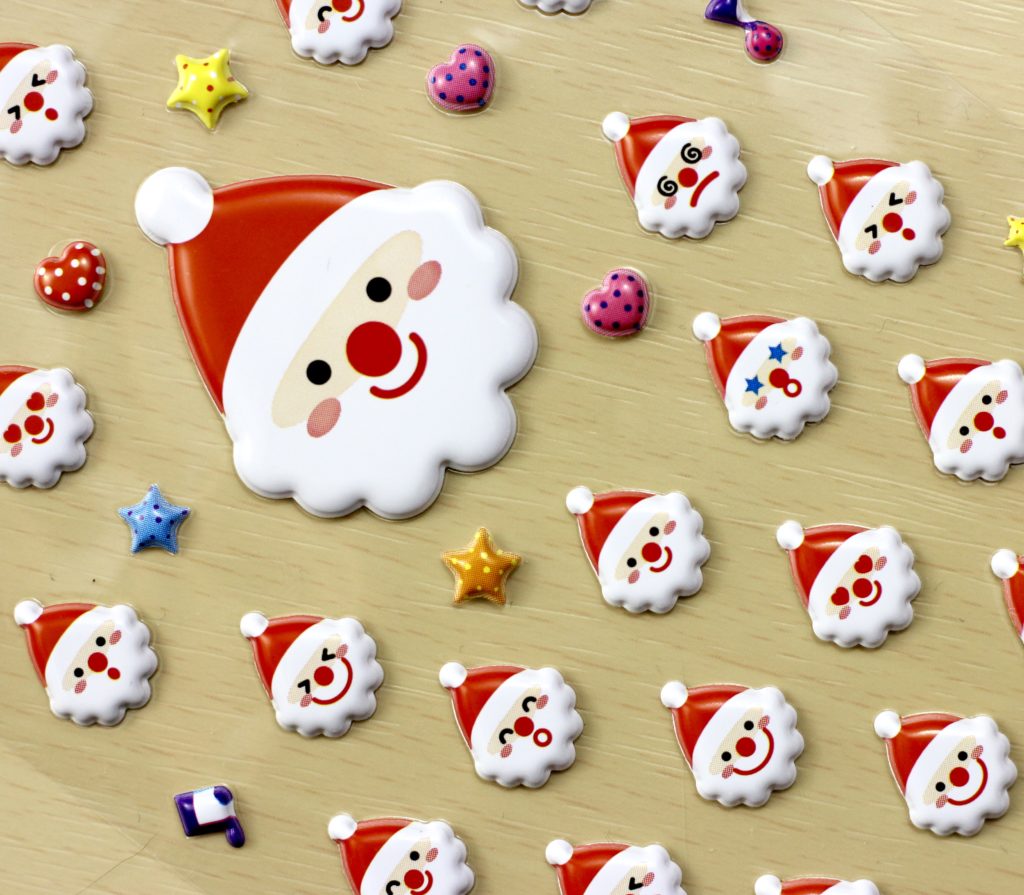 Did you notice the jumbo Santa?? Well take a good long look because he is GONE now.
I have no clue what Little G did with him but I turned around after snapping this photo and the sticker sheet had a gaping hole where he once was positioned. Ha! Glad I got the shot…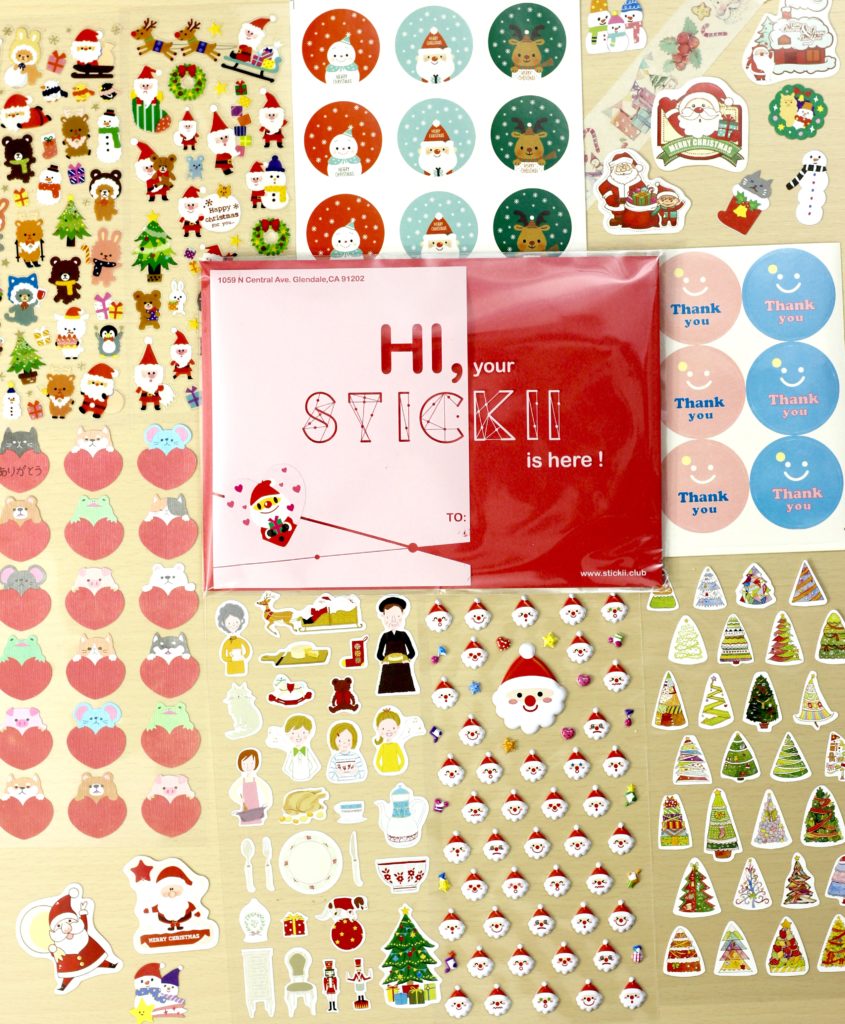 This was an excellent month for me! Little G and I really enjoyed going through our envelope of cuteness. We are SO pumped up for Christmas now! I cannot wait to use these stickers on gifts and cards to our friends and family! My favorite item has to be the trees, but a close second is the washi tape!
xo
Sarah
As promised, here are your sneak peeks into the other two packs:
Pop Pack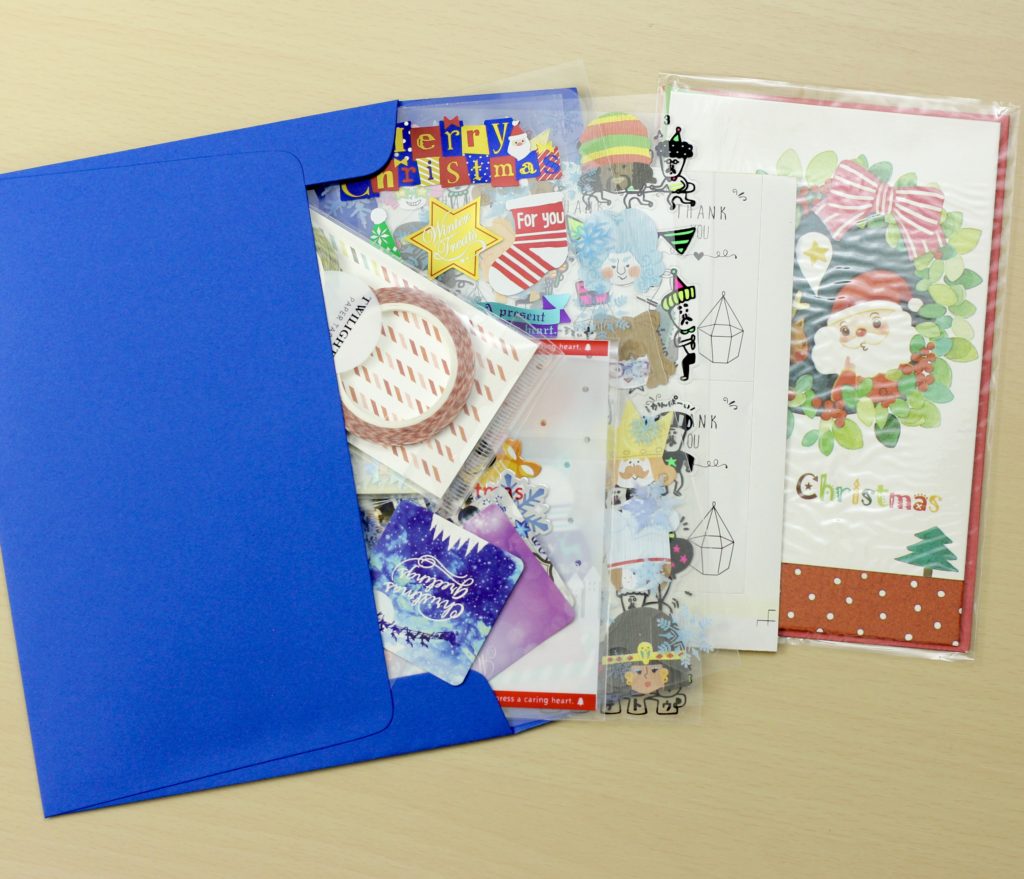 Retro Pack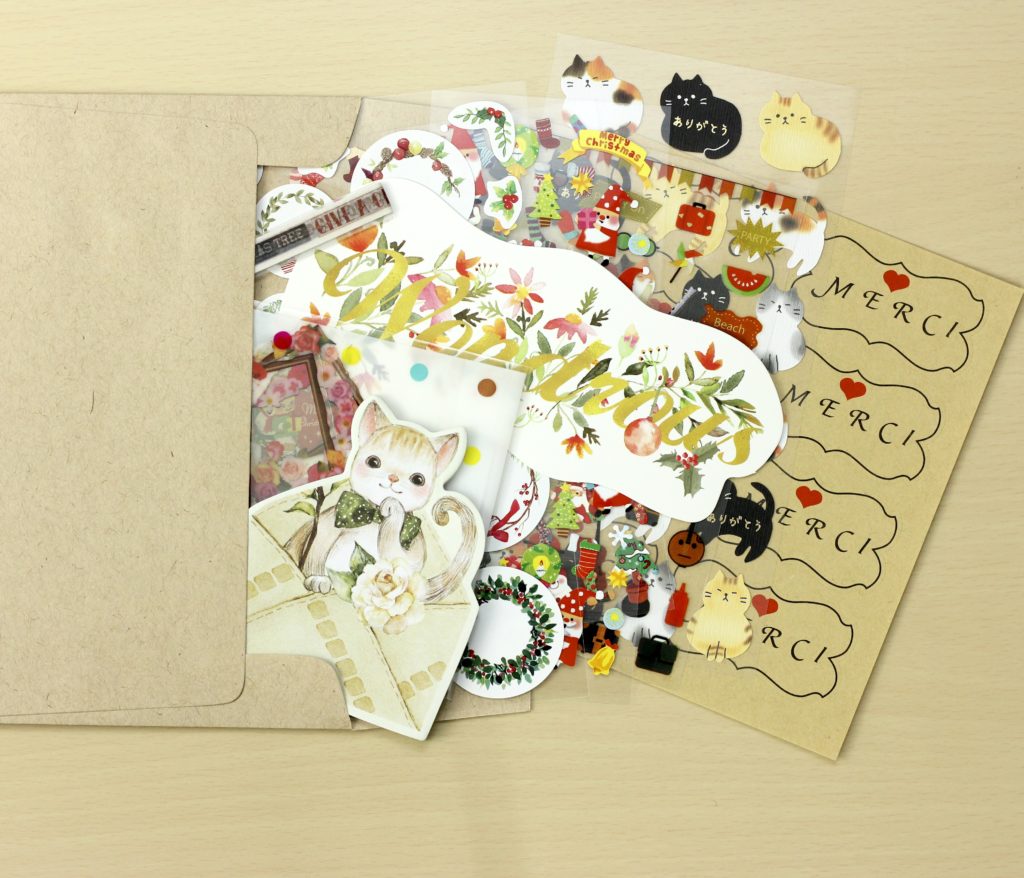 ---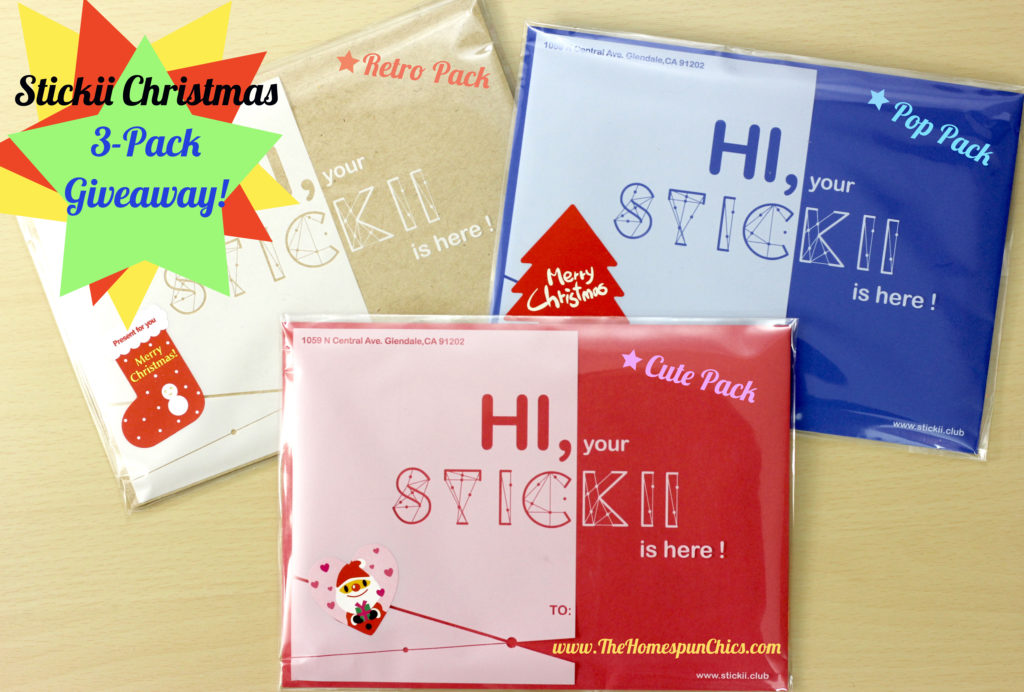 Enter for your chance to win the full set of all three Christmas-themed packs from Stickii Club! Good luck, everyone!
A huge shout out to Stickii Club for making this possible!
 
Welcome to the Stocking Stuffer Giveaway Hop!
Join us as we get ready for the 2016 holiday season with this fun giveaway hop. Each stop has a prize that is sure to please. At this bottom of this page you will find a clickable form with other blogs hosting their own giveaway. If you cannot see a form look for a small blue button which will provide you with the clickable list of blogs. Come back daily to increase your chances of winning!
Feel free to like our Facebook page! It is never required but truly helps us to continue bringing exciting giveaways for our awesome readers to win. 
Contest is open to US 18+ and will end on December 15, 2016 at 11:59 PM EST. Winner will have 48 hours to confirm their win, after we email them, or a new winner will be chosen. Only one entrant per mailing address, per giveaway. Enter using the Giveaway Tools entry form below.
Disclosure: This giveaway is not associated with Facebook, Twitter, Instagram, Pinterest, or Google. Please read our Giveaway Rules page. MamatheFox and all participating blogs are not held responsible for sponsors who fail to fulfill their prize obligations.