Sticker Swaps: March 2017 Edition Review + Coupon!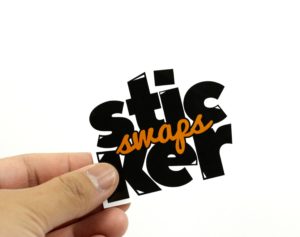 Sticker Swaps is a new vinyl sticker subscription service created in the UK by two best friends who are obsessed with stickers! Each month, subscribers will receive a minimum of TEN high quality vinyl stickers designed by international artists and designers. Subscriptions start at $9.99 US per month (free shipping worldwide).
The Homespun Chics received this subscription box for review. All opinions are 100% our own. This post contains affiliate links. 
---
A quick note to my bloggy friends: I don't know if you've noticed but… I kind of disappeared for a little while on the blog in order to focus on getting my house ready to be put on the market! I have missed you SO much and am pleased to report that all of my blog neglect has finally paid off. We have officially sold our house so somebody please pop the champagne!!

I will still be a wee bit preoccupied away from the blog until we find the perfect house to buy. (Feel free to send the good vibes my way!) So even though the journey is but halfway over, I am delighted to come back to share this amazing vinyl sticker subscription service with you once more! You know I'm a sucker for stickers…

xo -Sarah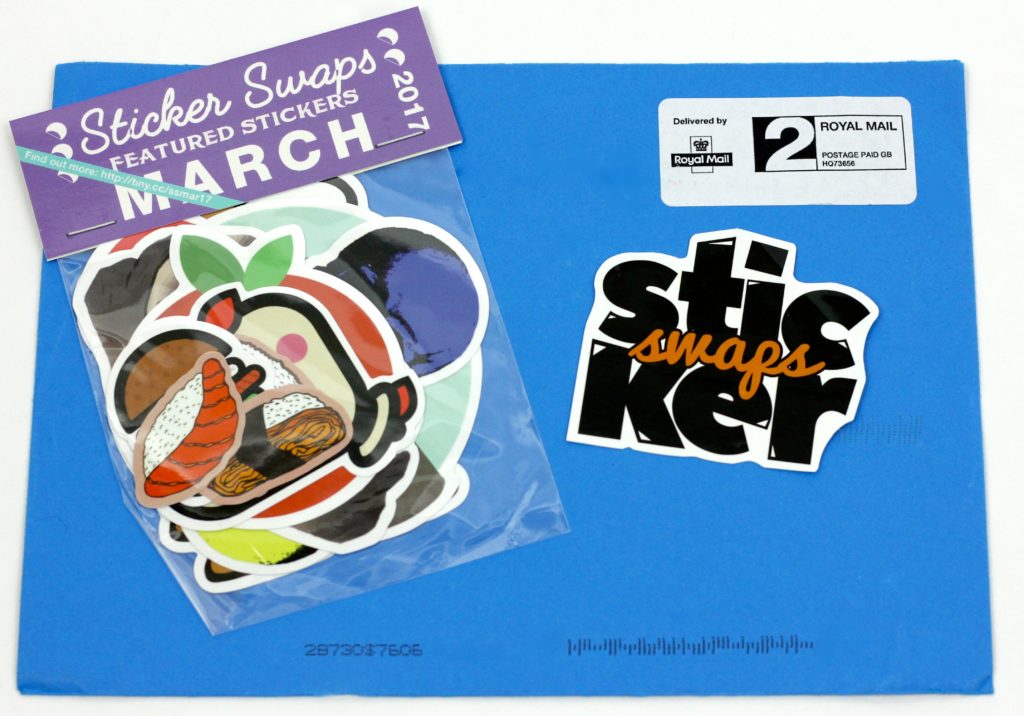 Sticker Swaps:  March 2017 Edition
For those of you who missed my first Sticker Swaps review last year, you can find it HERE. Sticker Swaps is a unique sticker subscription geared toward anyone interested in urban art, modern design, vinyl stickers, and pop culture. Each monthly edition is different, featuring fantastic artists and quirky graphics on high quality vinyl.
Sticker Swaps recently changed things up a bit by doing away with the "random stickers" included in members' individual editions. Now, each subscriber receives ten featured artist stickers which allows more people to become members of Sticker Swaps while keeping the quality of the stickers consistently high. I'm really pleased with this change and hope that you're as excited as I am for what's in store in this edition!
3-month Subscription = $27.99  ($9.33 per month)
6-month Subscription = $53.99  ($8.99 per month)
(Save 50% off your first month of any length subscription!)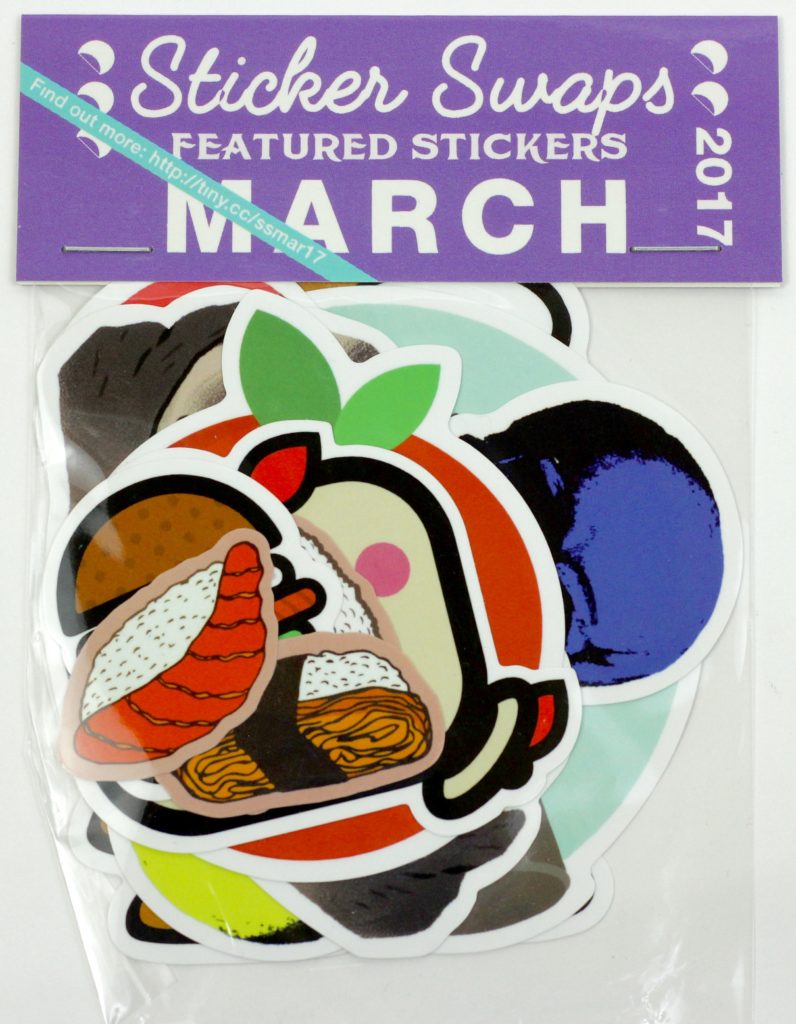 The March Edition arrived in the beginning of April and came in fantastic packaging! The label is clean and straightforward with a small teal ribbon clearly stating where you can find out more information on the sticker selection. (You can access it here:  http://tiny.cc/ssmar17)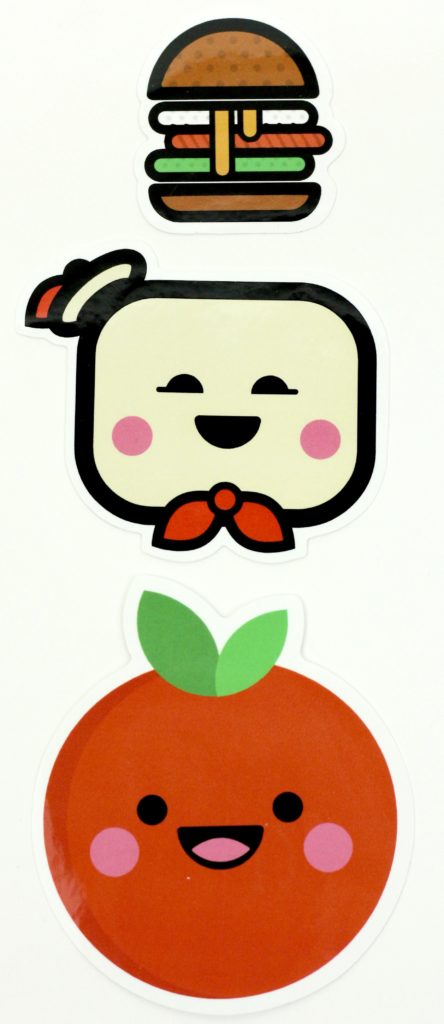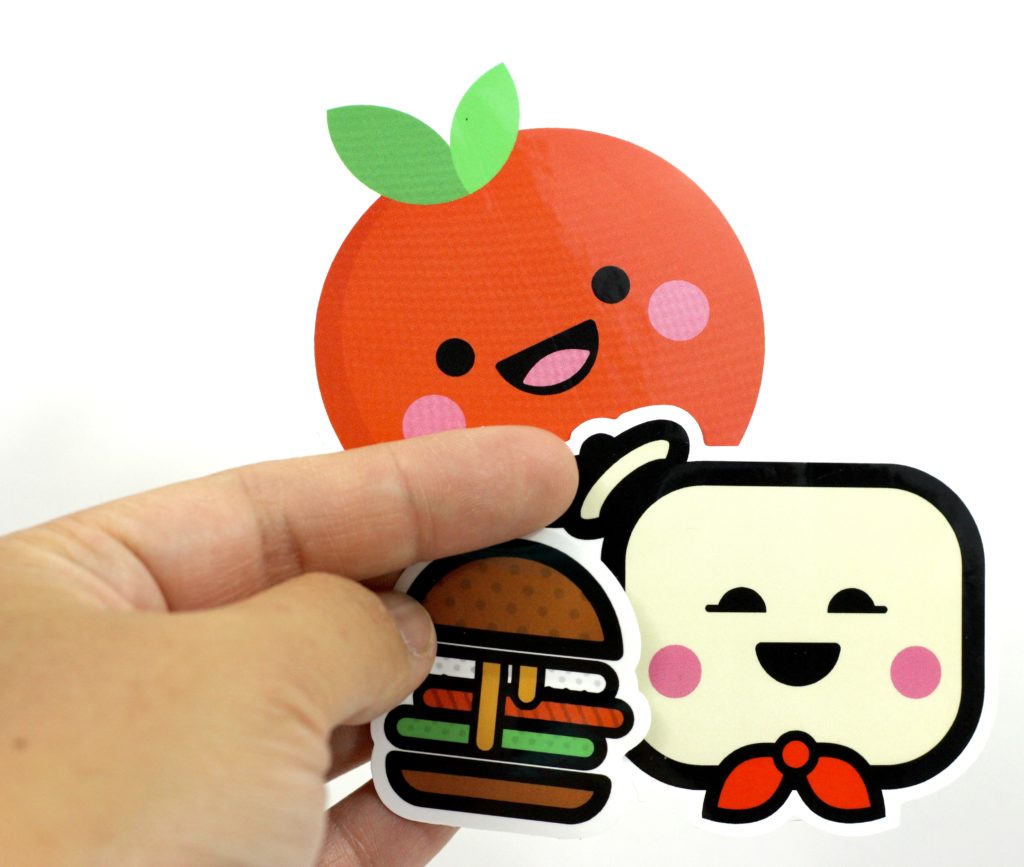 "As well as creating designs for impressive global brands like Apple, Heineken, and Mercedes Benz— this Italian-born designer dabbles with character design, icon design and, of course, wickedly cool stickers."
I really love this set of stickers by Cocorino. The clean lines and straightforward design is right up my alley. And who doesn't love the Stay Puft marshmallow guy from Ghost Busters?! I have already favorited the CocorinoArt Etsy shop and have my eye on the 10 Limited Edition Die-Cut Movie Stickers pack that's available for only $8.01 US.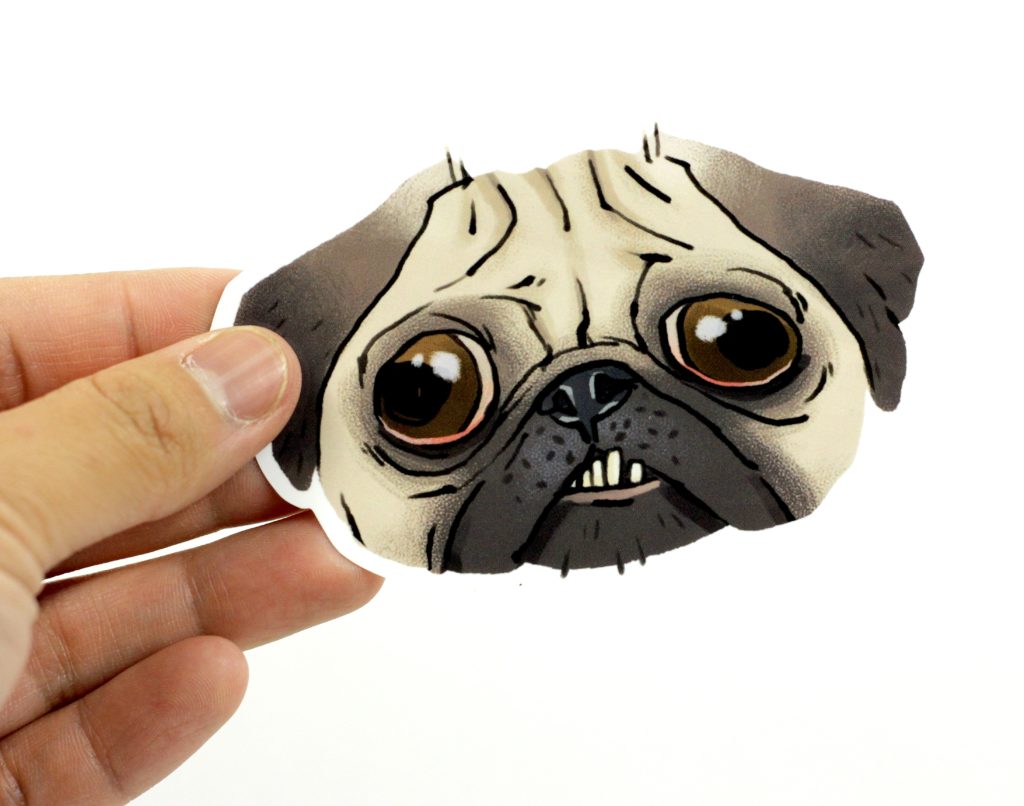 "Incase you hadn't heard — pugs are all the rage right now. That's why I wanted to include this quirky design by Illustrator & Comic artist Karina Rehrbehn."
I suppose pugs are all the rage, but I'm more of a corgi kind of gal. (Those little heart-shaped bottoms are adorable!) Karina is an extremely talented artist based in Hamburg, Germany. This sticker truly depicts a pug, down to it's slightly bloodshot eyes and crooked teeth… I think this is a perfect instance of "so ugly it's cute," don't you agree? Karina's Etsy shop features pins, postcards, comics, pouches, stickers, and more. I really love her robins!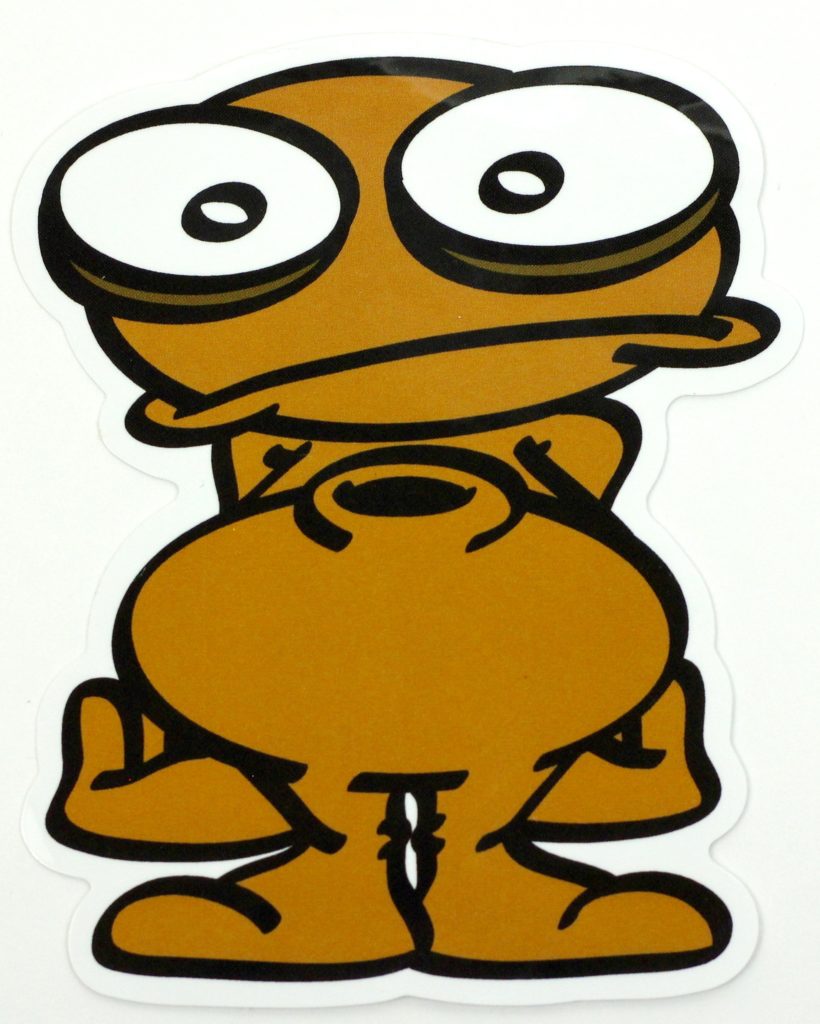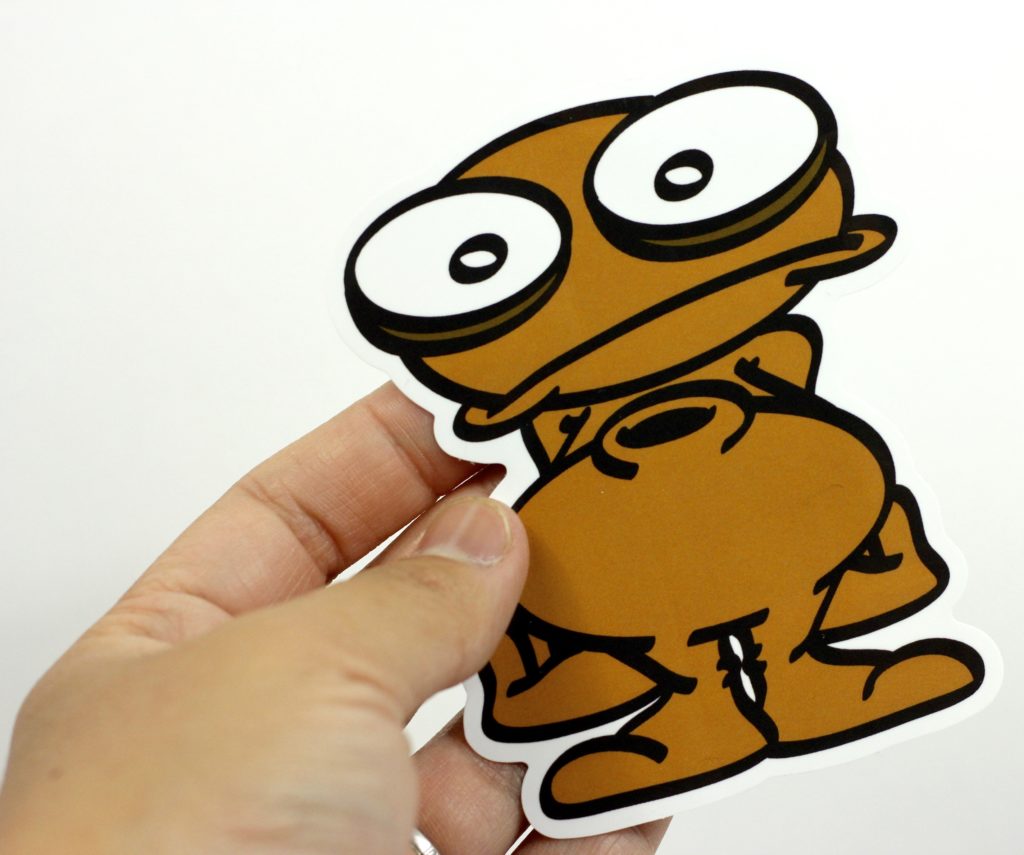 "The next sticker we featured in this month's edition was designed by an artist from the Netherlands, whose designs take me back to my skating days."
This is the quirkiest sticker I think I have ever received. The style makes me think of all the street art that can be seen in downtown Asheville. Nol named this guy "Quee" which makes me literally laugh out loud. Look at his huge bellybutton! You can check out Nol on Instagram to get a feel for the type of art he creates or you can even buy some of his art on his website!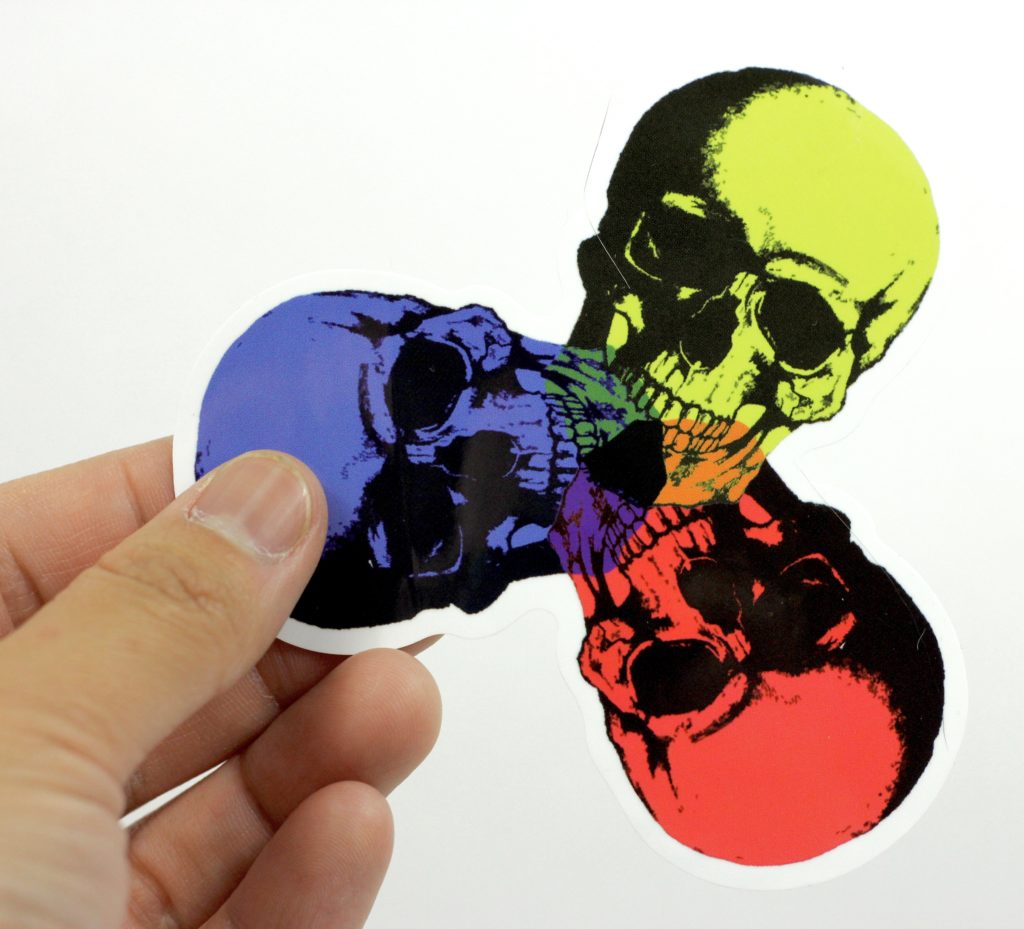 "This sticker by Emma Brett also really brings me back to my skate days. I really love the vibe and am looking forward to seeing more art from Emma in the future."
Emma Brett is an artist who emphasizes and broadcasts diversity as a main theme of her art. Her Instagram page is inspiring and showcases her talent in capturing pride in individuality. I don't know where this skull design came from, but I already know that my brother, Jamie, is definitely going to be receiving it. He loves skulls… and death metal… and being an all-around badass. He's on a hotshot crew in New Mexico right now and I'm sure will be stoked to get Emma's sticker when he ends the season.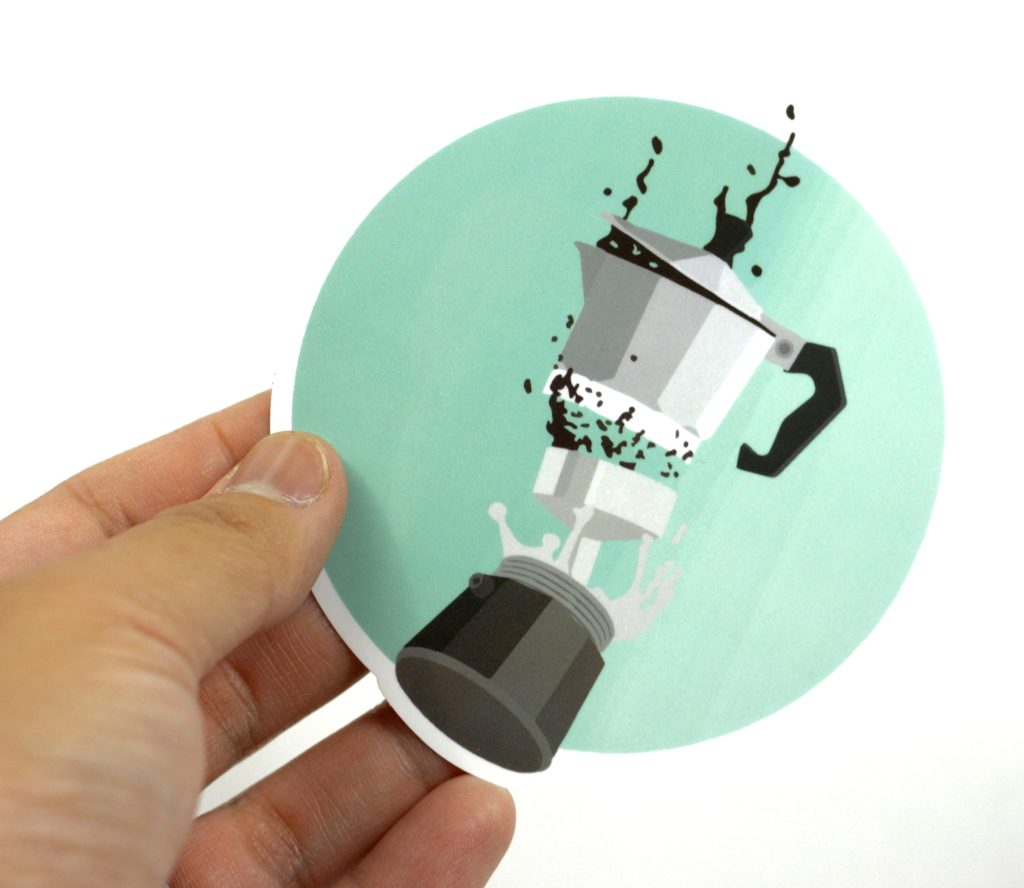 "I was super excited when Steve Hind, a British designer now residing in Australia, agreed to be part of our March edition. This design really took my eye as myself and Simone love having coffee brewed in a Moka pot!"
Mmm, coffee! Despite the coffee exploding here, this sticker is making me want to invest in a Moka pot. I love the colors and design and have favorited the 8×8″ print of this art piece in Steve's Etsy shop. Hopefully someone (*cough cough* Jonathan *cough*) will take a look at my favorites and buy it for me soon!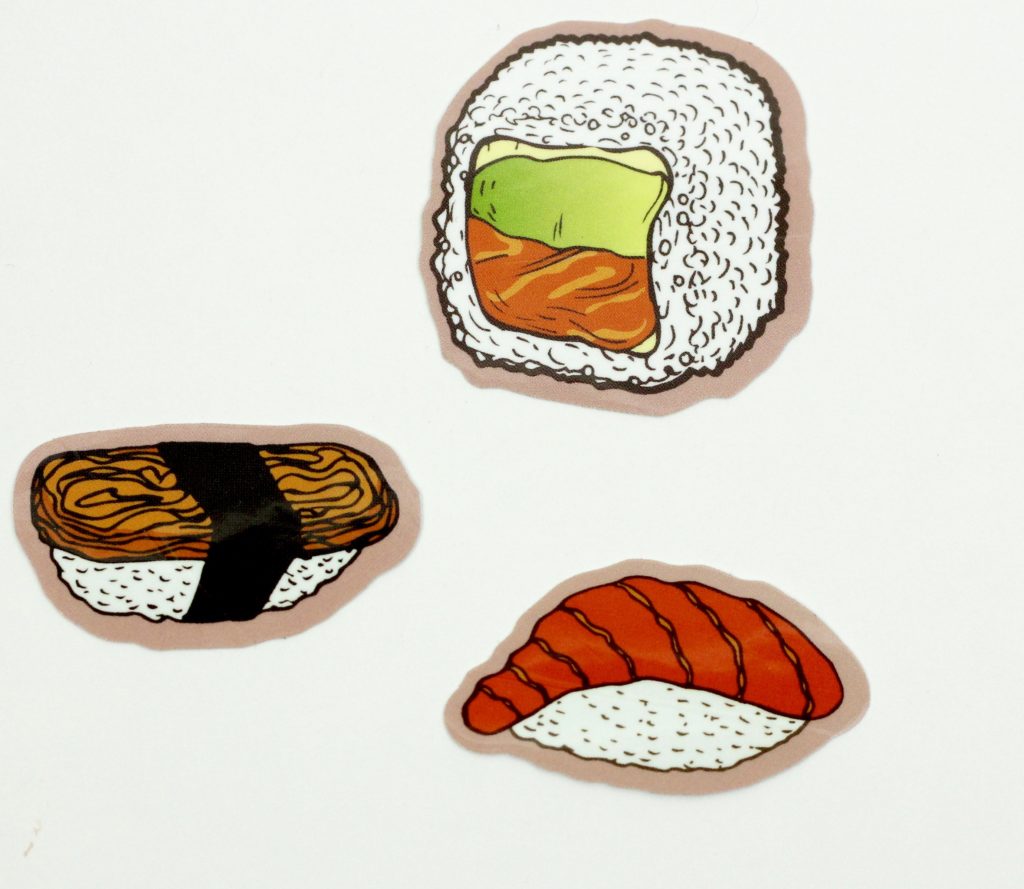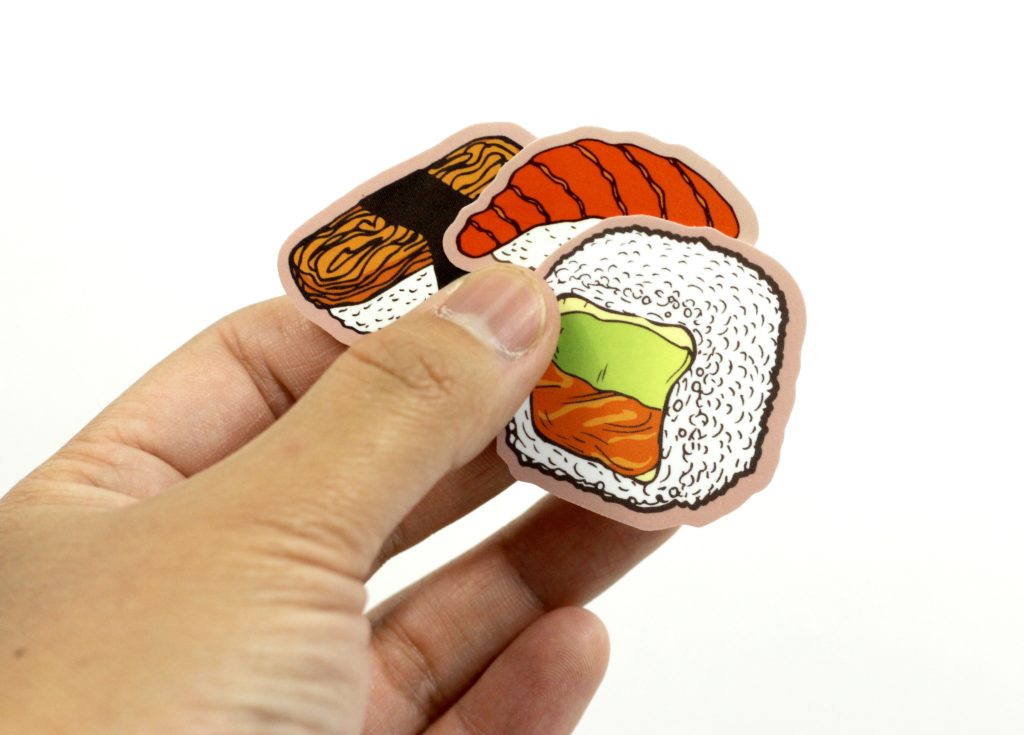 "We recently featured US-based designer, Kvachi's work on our Instagram page, and were delighted when she agreed to submit her amazing sushi designs for the March edition! I love her colourful illustrative style and definitely hope that this won't be the last time that we collaborate with her!"
Kvachi is from Tbilisi, Georgia and creates Pop-Surrealistic illustrations and pattern designs. Her artwork ranges from cute and kawaii (like these sushi stickers) to whimsical, mystical, and quirky. I love her style and am fascinated by her artistic range. I spent the better part of a half hour just looking at her Instagram page and am still in awe by her talent and creativity. This is definitely one of my favorite designers and I hope to see more of her creations!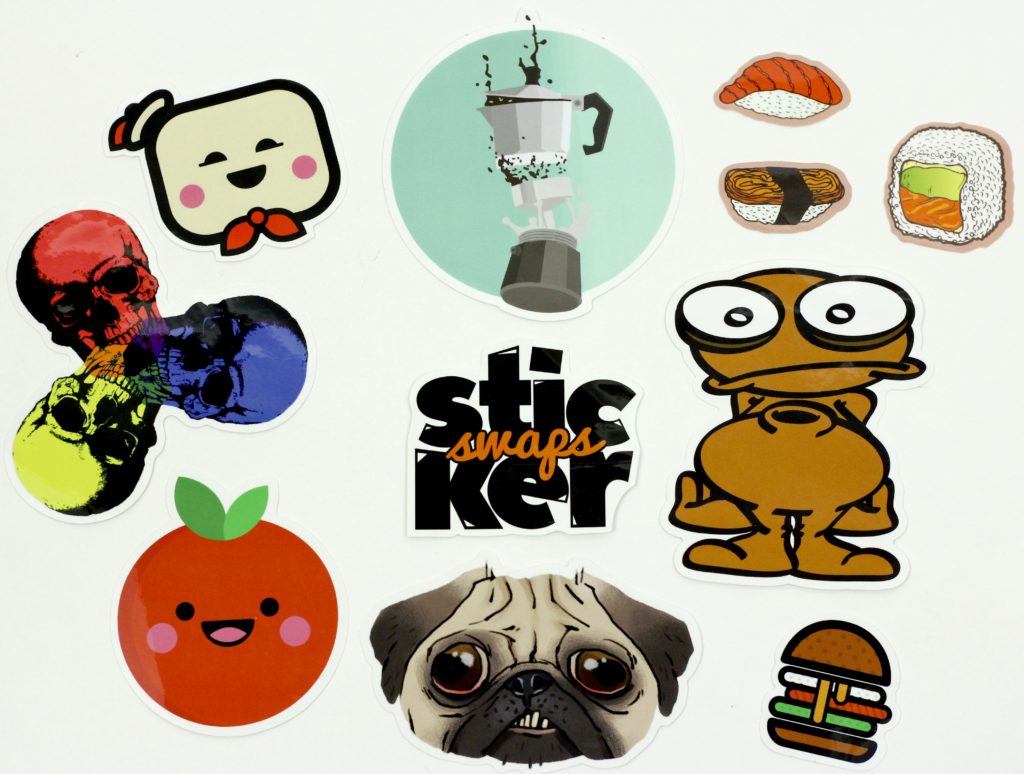 Final Thoughts
The March 2017 Sticker Swaps edition was seriously strong, bringing a wide range of creative artists to the front from across the globe. THIS is what makes Sticker Swaps a contender in the sticker subscription genre. All of the vinyl stickers are of excellent quality and each design is unique and has its own story. I am more than impressed with this month's edition and hope to see more fantastic stickers from Sticker Swaps in the future!
Oh and what, might you ask, was my favorite sticker?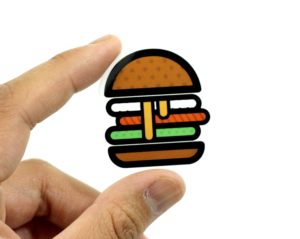 Cocorino's hamburger!
(I have no idea why I love this guy so much, but there you have it!)
Don't forget to grab your first Sticker Swaps edition for just $5 by using our exclusive code at checkout:  CHICS50