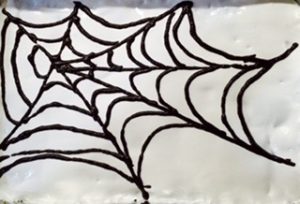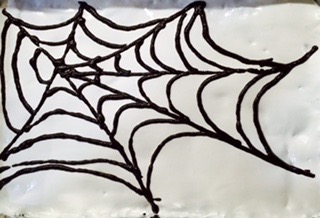 Here is another of my family recipes from one of the old yellowed newspaper clippings that I still keep in my recipe box. It is a "One Bowl" recipe from Baker's Chocolate and my kids got so excited when I fixed this on Halloween – even if I am not the world's most professional cake decorator!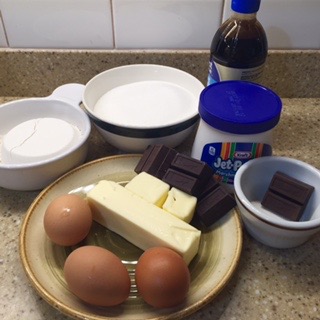 Gather your ingredients so you have them nearby like those chefs on TV – they make it look so easy!! Plus you will know if you are missing something before you reach for it.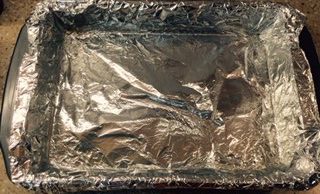 Line your 9X13 pan with foil and grease the foil. I used cooking spray.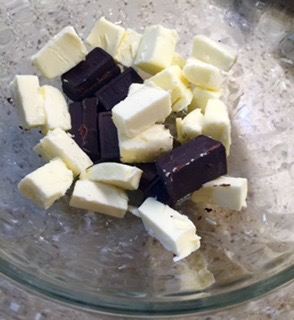 Cut your butter and chocolate into small pieces before putting the bowl in the microwave.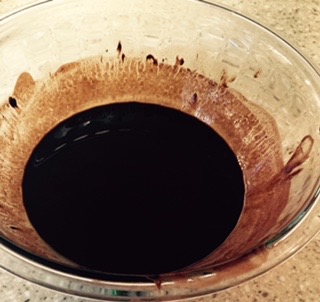 Chocolate and butter are melted, sugar is mixed in.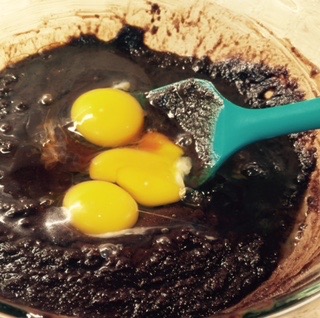 Now add the 3 eggs and vanilla…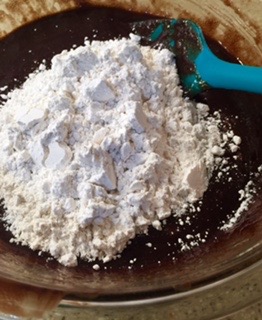 and then mix in the flour. It really is a one bowl recipe!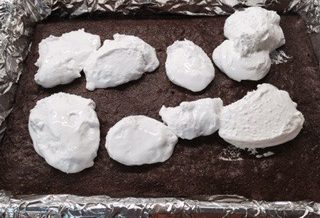 The brownies are fresh out of the oven and very hot. Put the marshmallow creme on in large dollops and as they melt you can cover the brownies fairly evenly.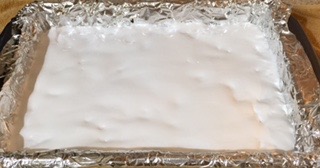 Like this!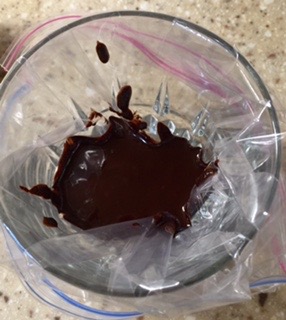 Once the brownies are cool, you can make the chocolate drizzle for the spider web. Put the zip lock bag inside of a tumbler to hold it while you put the melted chocolate inside the bag. Snip off the end – and you have to use it right away.
One Bowl Spider Web Brownies
Ingredients:
4 squares of unsweetened baking chocolate
¾ cup (1 ½ sticks) butter
2 cups sugar
3 eggs
1 tsp vanilla
1 cup flour
1 jar (7 oz) marshmallow crème
1 square semi-sweet baking chocolate, melted
Directions:
Heat oven to 350 degrees (325 degrees for glass baking dish). Line 13X9-inch baking pan with foils extending over edges to form handles. Grease foil.
Microwave chocolate and butter in large bowl on high for 2 minutes (this only took about 1 ½ minutes for me) until butter is melted. Stir until chocolate is completely melted.
Stir sugar into chocolate until well blended. Mix in eggs and vanilla. Stir in flour. Spread into prepared pan.
Bake 30-35 minutes or until toothpick inserted in center comes out with fudgy crumbs. Do not overbake.
Immediately drop marshmallow crème by spoonfuls over hot brownies. Spread evenly over top of brownies. Cool in pan.
Lift out of pan onto cutting board. Remove foil. Place on serving tray. Drizzle melted chocolate over marshmallow crème to create a spider web design. Cut into squares.
To make chocolate drizzle:
Melt chocolate in a bowl in the microwave about 30 seconds. (I did not have semisweet chocolate squares so I used 1 square of unsweetened chocolate and 1 tbsp sugar.)
Place a ziplock sandwich bag inside a tumbler to hold in place and put melted chocolate in ziplock bag. Snip the end off one corner of the ziplock and squeeze chocolate out to make design.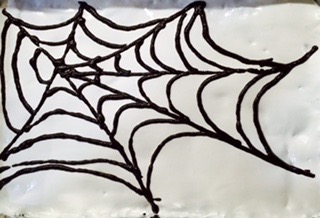 Not a professional cake decorator – but did my kids mind?  They LOVED it!!