Santa's Little Helper Coffee Release at Dynamite Roasting!

Santa's Little Helper Returns To Dynamite Roasting Co.
It's here! It's finally here! The time has come for 24/7 Christmas carols, twinkly lights and, most importantly, the return of SANTA'S LITTLE HELPER to Dynamite Roasting Company!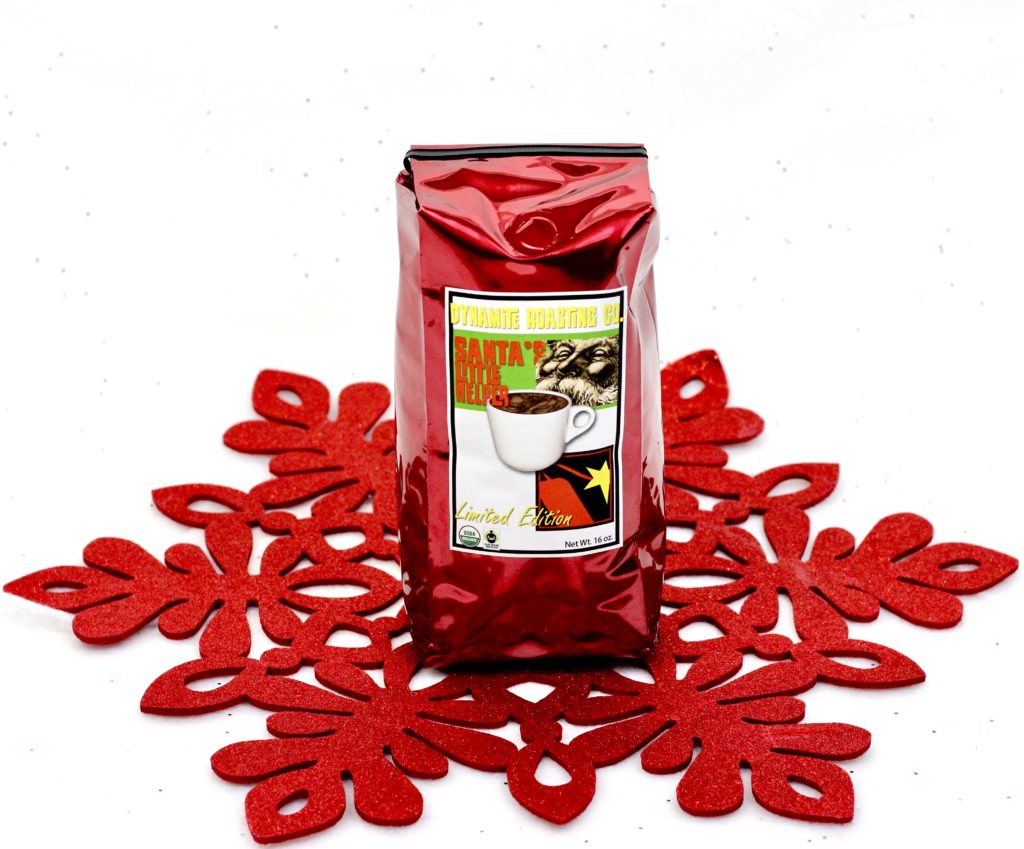 Santa's Little Helper is a *Limited Edition* seasonal coffee blend created by Dynamite Roasting Company. It is released right after Thanksgiving and is guaranteed to be available through Christmas.
This year's blend consists of light Timor and dark roasted Honduran coffees. It tastes of creamy vanilla and butterscotch balanced with roasted, caramelized sugars. The light and dark roasts balance perfectly for a really smooth cup of coffee.
Santa's Little Helper is now available in full 1 LB bags for only $13.95!

Visit Dynamite Roasting's online store HERE to pick one up!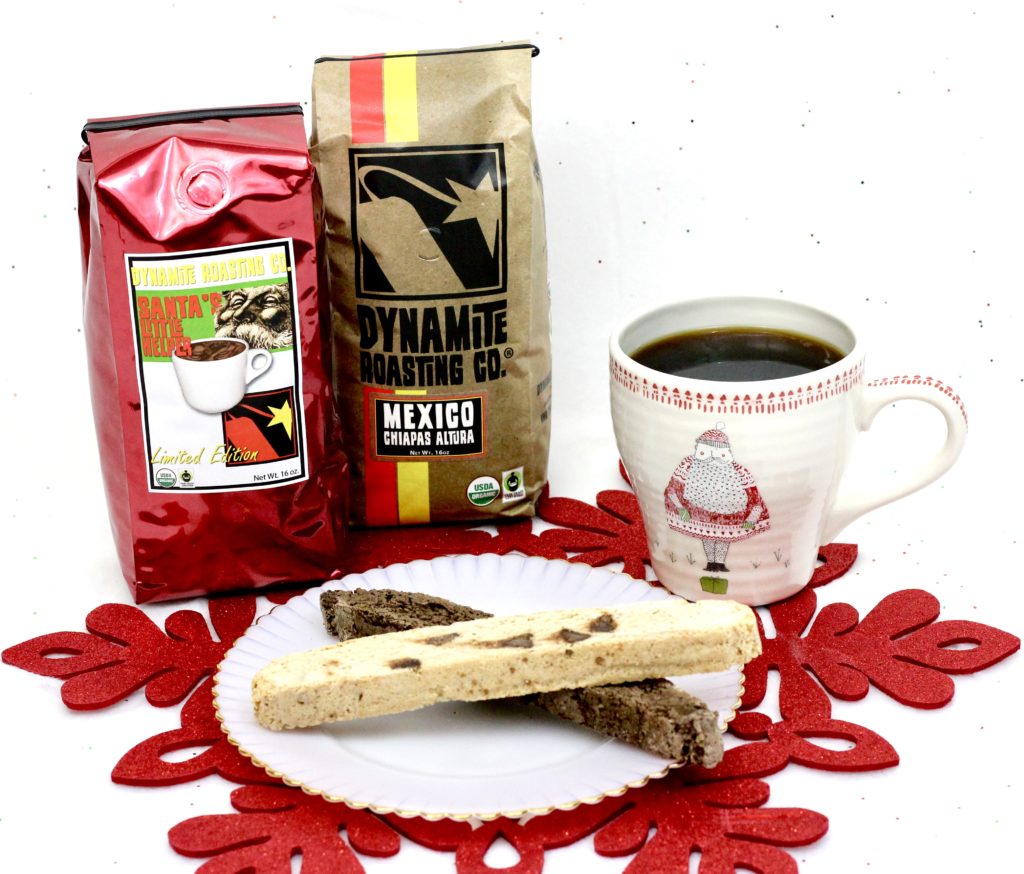 Dynamite Roasting offers a fantastic variety of coffee and merchandise in their online store. I can always find the perfect holiday gifts for my coffee fiends! Did I say fiends? I meant… friends… 
The best part? Dynamite offers $7.00 flat rate shipping in the U.S. for ANY size order. You heard me right! Whether you order 1 bag or 100 bags, your shipping cost is only $7.00.
Oh, and I should mention that a 1 LB bag of Dynamite coffee has proven to be an *excellent* White Elephant or Secret Santa gift! For only $20.95 all in, you can stay on budget while knowing you brought the best gift of the night!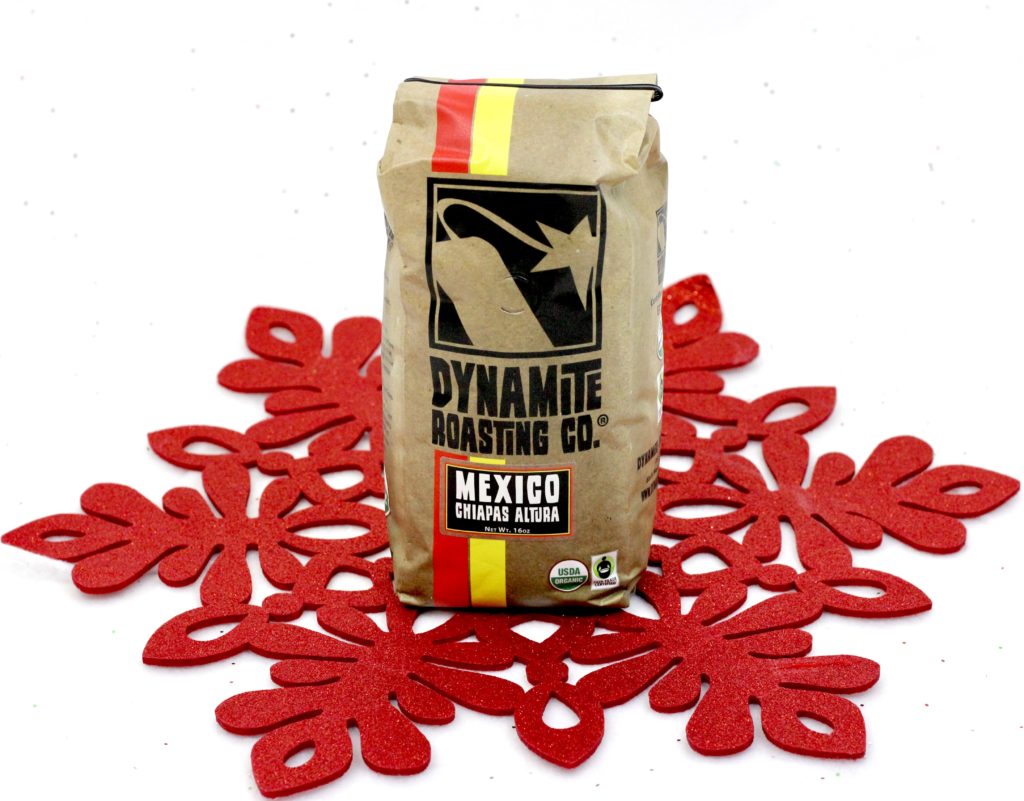 Sometimes one bag just isn't enough! Take advantage of Dynamite's flat shipping and grab one bag for gift-giving and an extra bag for yourself! There are many varieties to choose from, but there is just ONE coffee that truly stands out to me as the All-Around Crowd Pleaser.
Dynamite's Mexico Chiapas Altura is a year-round coffee that is extremely popular in cafes, restaurants, hotels, and homes across our region. It is comfortingly sweet, boasting a medium body with milk chocolate flavors interlaced with light spice and a sweet, mild finish.
To put it lightly, this coffee is the bomb (dot) com. Yeah, I just said that… Pair it with some fresh vanilla choco chip biscotti and you have yourself a fine start to the morning!
What Makes Dynamite Coffee So Unique?
The simple act of buying a cup of coffee can drive social change in the communities where our coffee is grown, and here at home. We've been 100% certified organic and fair trade since day one, but we strive to go beyond that. It's really about relationships. We're committed to our customers, our growers, our environment and to each other. Plus, we really like coffee. Our mission is to track down the best coffee in the world. We work closely with our partners and growers to ensure the very best quality beans at a great price for our customers. These close relationships also allow us to make sure we're best benefiting the communities that grow our coffee. That means providing a fair and living wage to our farmers, putting back as much goodness as we take from the soil, and having the smallest footprint we can.  – Dynamite Roasting Co.
Andy Gibbon and Josh Gibbs have been working with the same group of farmers for over 7 years, cultivating lifelong friendships along the way. The duo take biannual visits to places like Honduras, Peru, Mexico, Rwanda, and Kenya. Andy and Josh meet with their farmers and source beans that will be used for that year.
Best of all, Dynamite Roasting's coffee is roasted fresh in small batches every day. That means you can order a pound online and know it was roasted just days before you received it in the mail!
So order a pound of Santa's Little Helper & Mexico Chiapas Altura today!
Then just sit back and enjoy those holiday tunes on your local Christmas radio station and wait for your delicious package to arrive.
Happy Holidays!
xo
Sarah