Salted Caramel Maple Pecan Pie Bars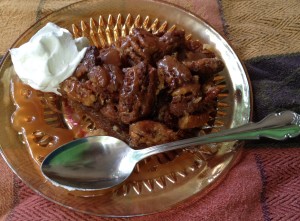 Our dessert this evening was truly to die for! The recipe came from averiecooks.com (I only tweaked it just a smidgen…) and it was a winner! The original recipe is here:
http://www.averiecooks.com/2014/10/salted-caramel-maple-pecan-pie-bars.html
A shortbread crust and lots of pecans melded in a sweet maple syrup filling – what's not to love?  And, as she suggests in her recipe, I topped it off with her delicious and easy to make home made salted caramel syrup.  You can get the recipe for that here:
http://www.averiecooks.com/2014/06/the-best-and-easiest-homemade-salted-caramel-sauce.html
Ingredients:
Crust
1 cup all-purpose flour
1/3 cup packed brown sugar
1/2 cup soft unsalted butter
Filling
1 large egg
1/3 cup packed brown sugar
1/3 cup maple syrup
1 tablespoon vanilla extract
pinch salt
1 1/2 cup pecans raw unsalted
Preheat oven to 350F. Line an 8-by-8-inch baking pan with aluminum foil, spray with cooking spray. Don't skip lining the pan with foil because bars are sticky.
Crust:  To a large bowl, add the flour & brown sugar. Cut in the butter using two forks or a pastry cutter. Keep working until butter is evenly distributed and pea-sized lumps and sandy bits form.The softer the butter is, the quicker and easier it is. If you use firm butter you can grate it with your large grater before adding.
Turn mixture out into prepared pan and pack it down to form a smooth, even crust.
Bake for 17 to 18 minutes, or until crust is just set. Don't overbake because pan is going back into the oven after filling is added. While crust bakes, prepare the filling.
 Filling:  Combine the egg, brown sugar, maple syrup, vanilla, salt in a large bowl. Stir in the pecans.
After crust has baked, gently and carefully pour filling over crust (give filling one last quick stir before pouring it), smoothing & evenly distributing the pecans.  Make sure they're not clustered in one area and they're as flat as possible to minimize the chance of burning.
Bake for about 16 to 19 minutes, or until center is set and not jiggly. The bars will set up more as they cool. Place pan on a wire rack to cool for at least 1 hour before drizzling with salted caramel, slicing, and serving. Bars will keep airtight at room temperature for up to 5 days, or in the freezer for up to 6 months.
The leaves are turning and there is a definite nip in the air here in the mountains.  This recipe was a tasty welcome to the autumn baking season!