Poor Man's Stroganoff – My Way!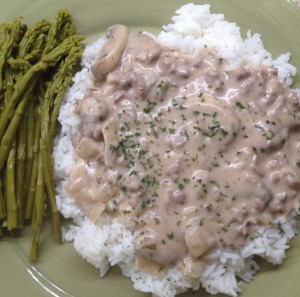 This lovely "Lost Recipe" can be found on the Lost Recipes Found website. It was named "Frederick & Nelson Poor Man's Stroganoff" and there is a sweet history of the recipe on the site. I had been muddling around there just before my husband wandered through the kitchen asking "What's for supper??" and I blurted out the first thing that came to mind – Hamburger Stroganoff! Great choice, said he, and off he went to watch the news. So I was committed. I used the Frederick & Nelson recipe as a base and had my way with it as I usually do when I cook.

Ingredients:
¼ cup butter
¼ cup olive oil
1 large onion, diced
1 lb hamburger – low fat as you don't drain the grease off unless you prepare this differently from the directions.
1 pkg fresh mushrooms, sliced – (you can use whatever amount/type that makes you happy here)
3 cloves minced garlic
2 tbsp flour
½ tsp paprika
½ tsp pepper
2 tsp salt
1 can cream of mushroom soup, undiluted
½ cup beef bouillon (I used the whole bouillon cube in ½ cup boiling water)
¼ cup Marsala wine
1 Tbsp Worcestershire sauce
1 cup sour cream
Dried parsley as garnish (use fresh if you have it!)
Directions:
Saute the onions in the butter/olive oil mix until soft.
Mix in hamburger, mushrooms, garlic, paprika, pepper, salt and flour.  Saute 5 minutes or until the meat is no longer pink.
Reduce heat to low and add soup and broth.  Stir and simmer 5-10 more minutes.  Stir in sour cream.
Serve over noodles, rice or potatoes.  Sprinkle with parsley if you want a garnish.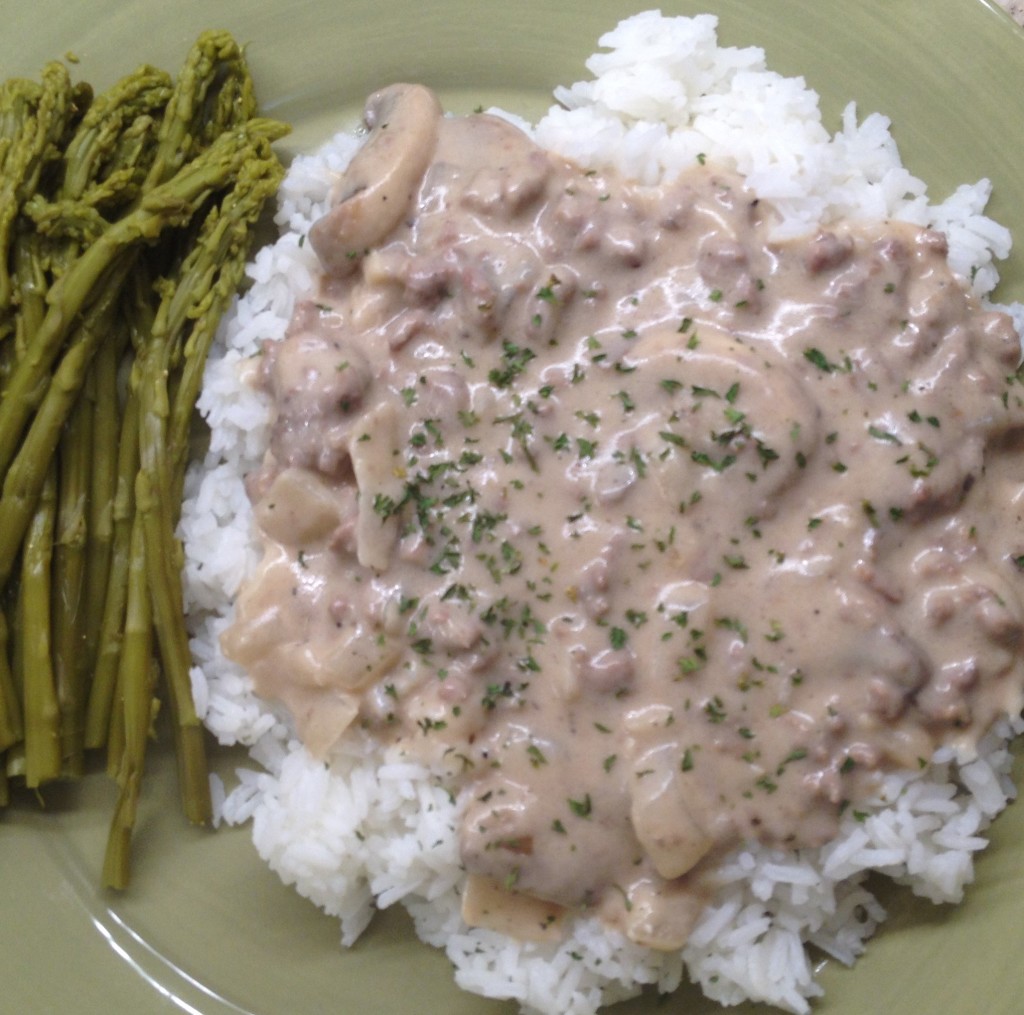 This dish was a HUGE hit with my husband!  We both thought it was delicious!  And in spite of a pretty long list of ingredients, it was easy to make and quick to cook. Nothing out of the ordinary here, just the kind of ingredients easy to find in a kitchen larder and put together to make tasty greatness!