Plum Deluxe Tea Revew and Giveaway! Ends 3/21
The Homespun Chics received tea from Plum Deluxe for review purposes. All opinions are 100% our own. Giveaway prize is generously provided by Plum Deluxe.
---
Tea has become my go-to drink of choice for my afternoons and evenings. I discovered the vast and mystifying world of tea during my pregnancy with Little G. It took a lot of self-discipline to cut back on coffee. I found that hot tea was much, much better than just a replacement for my cuppa joe and loved trying the different flavors available to me.
In the four years that I've been enjoying tea, I've discovered a few things:
Fresh tea tastes WAY better than most tea found in boxes at the grocery store.
Black and green tea are my favorite. (I'm still a caffeine addict.)
We need more organic, non-GMO, and fair trade teas in the world.
Flowers make everything better, especially in my tea.
Caffeine in tea is much smoother than in coffee, which is surprisingly pleasant.
This brings me to this week's discovery of a wonderful tea company based in Portland, Oregon. I am delighted to introduce you to Plum Deluxe, self described as "not just a tea company, we are a community on a mission to make moments that matter."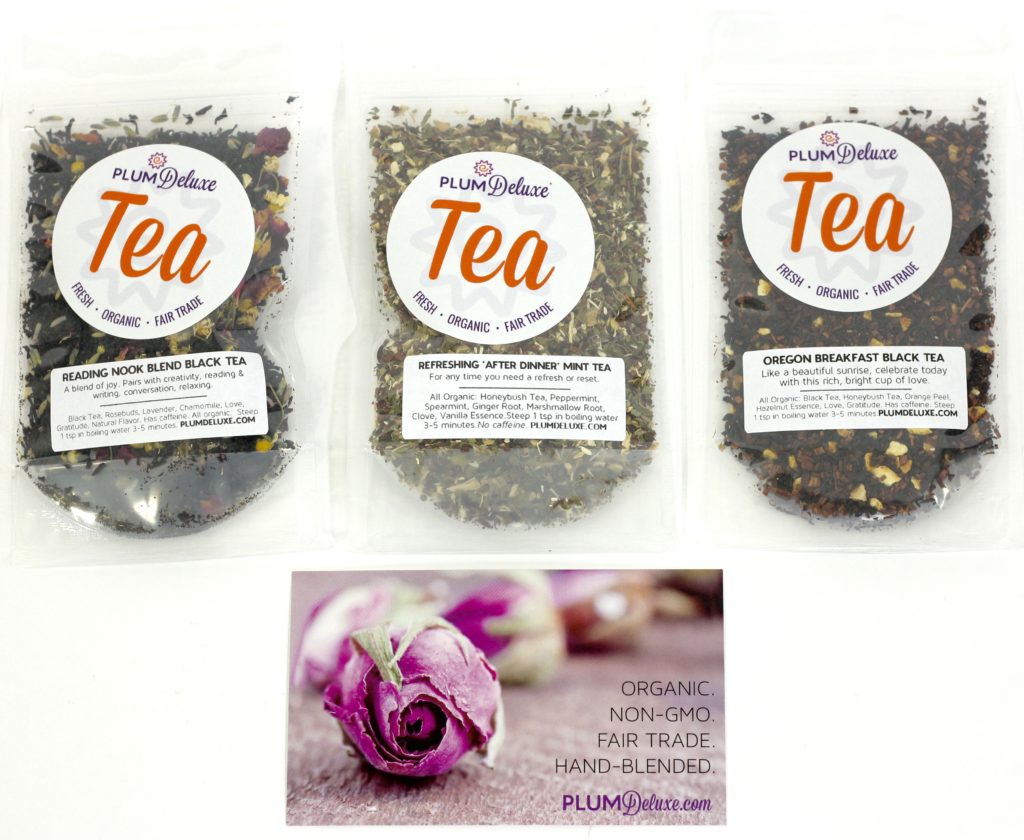 Plum Deluxe
Hand-blended in small batches at our studio in Portland, Oregon, Plum Deluxe's line of signature loose leaf teas will help you to slow down for a mindful moment and enjoy the luxurious feeling of a premium tea, perfect for a warm exchange with friends and family or a few quiet minutes of solitude, reflecting on the good life. All of our tea blends are organic, non-gmo, and free of chemicals and sulfites – we support local and USA farmers wherever possible.
Offerings
Plum Deluxe teas are available exclusively through their website: www.plumdeluxe.com/teashop. Here you can find a wide variety of unique Black, Green, White, Chai, Oolong, and Herbal tea blends to try out on your own. There are also wonderful tea gifts and accessories available. Teas are available in 1 oz bags for $7 each (plus shipping).
You can also sign up for the Plum Deluxe Organic Tea of the Month Club. Each month, Plum Deluxe hand blends special, limited edition teas that are exclusive to tea club members. Members receive 1-2 ounces of tea with brewing instructions, a free sample of an additional tea plus access to the members-only website and private Facebook group. Subscriptions start at $10 per month (free shipping).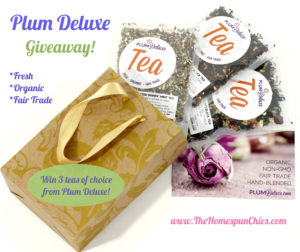 After checking out my review below, be sure to enter our giveaway at the bottom of this page for your chance to WIN 3 teas of your choice from Plum Deluxe!
($28 Total Value!)
---
Plum Deluxe Tea Review
I had the great pleasure of connecting with Plum Deluxe founder, Andy Hayes, via email and discovered that Plum Deluxe was truly "not just a tea company," as stated on their website. Andy's mom, Pam, passed away after battling breast cancer for over five years. During that time, she spent her days taking full advantage of what life has to offer — making every moment count. Andy took this piece of wisdom and ran with it by developing Plum Deluxe with a robust blog (that is out-of-this-world good), plentiful tea offerings, and an online community of like-minded tea drinkers nationwide.
Andy picked out three totally different and unique tea blends that he felt I would enjoy, all of which sounded amazing. After tasting everything, I can say with certainty that Plum Deluxe is the most unique and creative tea I've tried thus far. The blends are courageous and beautiful, bold yet delicate, and utterly delicious. It's okay to step out of your comfort zone of Celestial Seasonings and Twinings from time to time. Try Plum Deluxe and you'll see what I mean.
Here's what I received:
I decided to try them in the order of what time of day I would most likely be enjoying them. I began with the Oregon Breakfast Blend, followed by the Reading Nook Blend and ending with the Refreshing "After Dinner" Mint tea. 🙂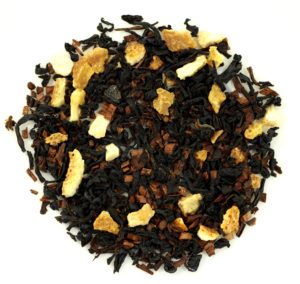 Oregon Breakfast Blend | This breakfast tea is how Plum Deluxe folk like to start their day. The earthy base helps center you; the ping of orange helps wake you and get you excited about today's possibilities. It's a simple tea and yet it is rich with subtle flavors. 
Hazelnut — in its oil essence form — has tons of great anti-inflammatory and anti-oxidant benefits, as well as vitamin E. Paired with some orange, you're getting a true boost from this tea in every cup.

Ingredients:  Black Tea, Honeybush Tea, Orange Peels, Hazelnut Essence, Love, Gratitude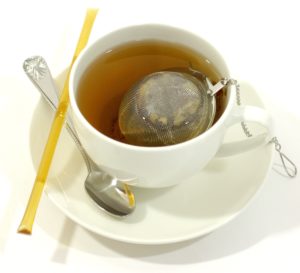 Thoughts:  Since I will probably never give up my morning coffee, the Oregon Breakfast Blend seemed like a great way to stave off my post-lunch coffee cravings at work! This blend came highly recommended because I am such a coffee freak. Andy explained that many of his coffee folk love it because the hazelnut reads like coffee. After having a cup (or two), I never quite got the coffee taste; perhaps it's because I've guzzled more coffee in my 30 years than any human should in their lifetime.
I really enjoyed the mellow blend of the black and honeybush tea. The brewed tea was a golden apricot color and had the distinct aroma of hazelnut. The orange peel came through at the end, though faint. Overall, I enjoyed this blend with my usual honey stick, but next time I think I'll try it with a tiny bit of cream and sugar instead.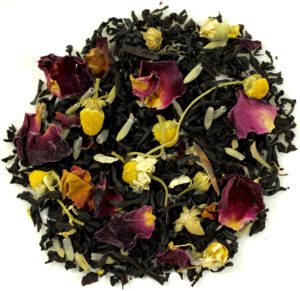 Reading Nook Tea Blend | The reading nook blend is our signature organic tea created for enjoying while perfecting some of our dearest passions: reading, writing, and enjoying conversation with friends.
One needs a touch of caffeine to keep the conversation flowing, the pages turning, or the pen on the move, so we start this blend with a wonderful cream black tea. We then added rosebuds for creativity and sustenance, lavender for flavor and aroma, and top it off with a bit of chamomile which adds a calming balance to it all.
Ingredients:  Black Tea, Rose Petals, Lavender, Chamomile, Vanilla Essence, Love, Gratitude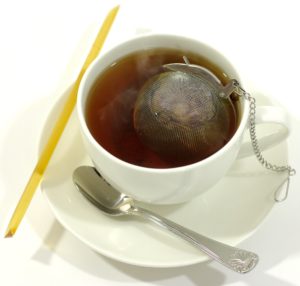 Thoughts:  Wow, what a gorgeous tea blend! It looks and smells like a bouquet of potpourri and was the shade of rich copper when brewed. I could taste every ingredient singularly in each sip and was surprised at how smoothly the tea came together as a whole. This was a perfectly delightful cup of tea and is definitely my new favorite to keep around.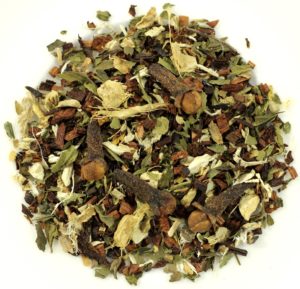 Refreshing "After Dinner" Mint Tea | Looking for a refreshing organic mint tea?  Then try our "after dinner" mint – perfect for a post-party digestive, but wonderful no matter the moment.
We start with pinches of fresh mint and fresh spearmint, for a bright + balanced mint flavor. We add an earthy honeybush tea to give it calming body, and then the trio of ginger, clove, & marshmallow root accent the mint to perfection. A splash of vanilla seals the deal and bring it all together. You might find that the addition of sweetener accents the overall flavor profile, but we like it as-is.
Ingredients:  Honeybush Tea, Peppermint, Spearmint, Ginger Root, Marshmallow Root, Clove, Vanilla Essence, Love, Gratitude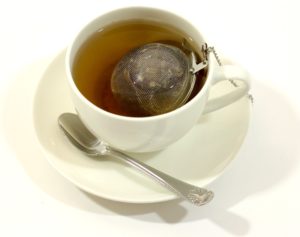 Thoughts:  The "After Dinner" Mint was a unique take on my favorite summertime tea. The addition of honeybush tea, ginger root, cloves and marshmallow root provided a depth of earthy tones that complimented the light spearmint and peppermint leaves. I could smell and taste the cloves immediately, though their presence was pleasantly muted by the honeybush tea. I wish the mint tea had more of the "tingle" that I usually feel when sipping a traditional mint tea, but still found the experience to be thoughtful and well presented.
---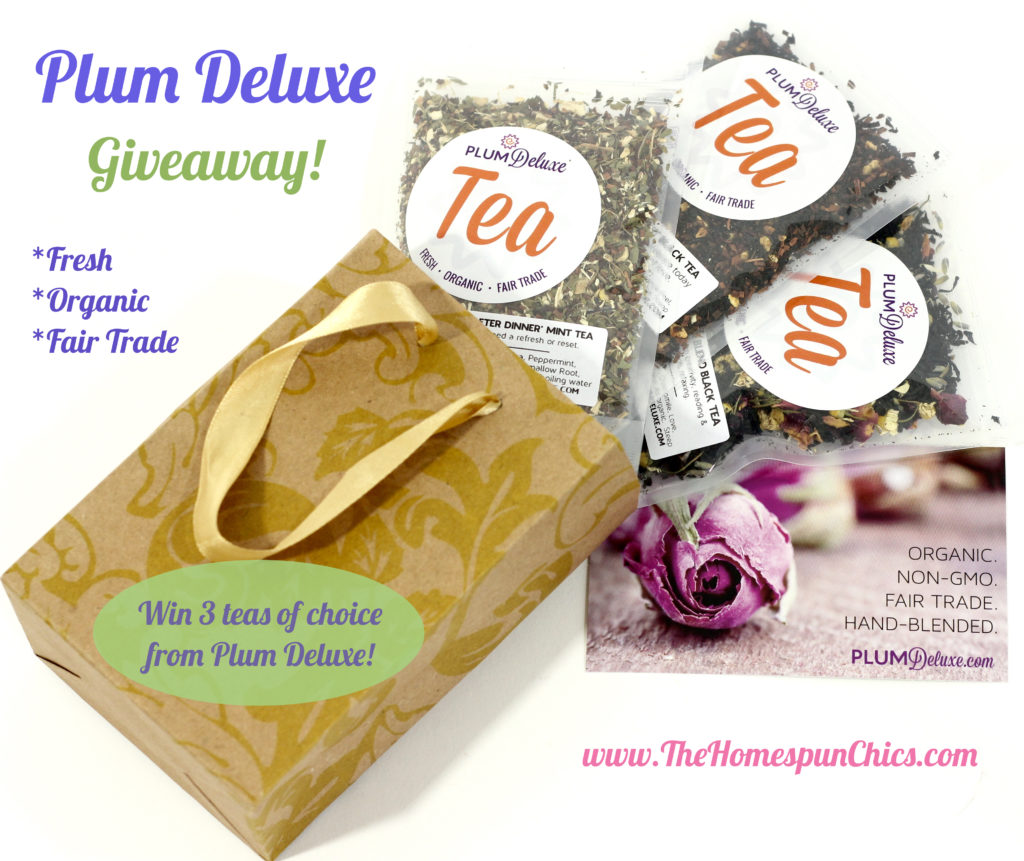 Enter to win your choice of 3 teas from the Plum Deluxe Tea Shop!
Each 1 oz. bag is lovingly blended in small batches by hand using only fresh, organic, and fair trade ingredients.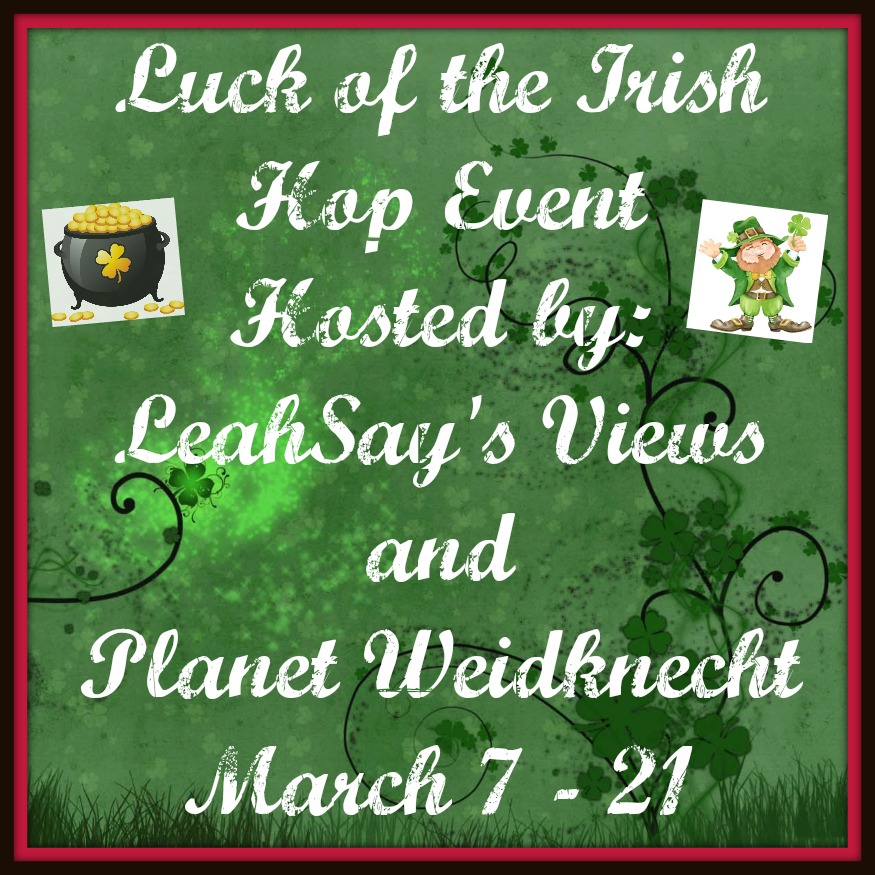 Welcome to the Luck of the Irish Giveaway Event hosted by LeahSay's Views and Planet Weidknecht! After you have entered our giveaway, scroll down to the bottom of the page to find lots more great blog giveaways to enter, each one with a value of $25 or more!
Good luck!!
Feel free to like our Facebook page! It is never required but truly helps us to continue bringing exciting giveaways for our awesome readers to win. 
Contest is open to US 18+ and will end on March 21, 2017 at 11:59 PM EST. Winner will have 48 hours to confirm their win, after we email them, or a new winner will be chosen. Only one entrant per mailing address, per giveaway. Enter using the Giveaway Tools entry form below. 
Disclosure: This giveaway is not associated with Facebook, Twitter, Instagram, Pinterest, or Google. Please read our Giveaway Rules page. LeahSay's Views, 

Planet

Weidknecht

, and all participating blogs are not held responsible for sponsors who fail to fulfill their prize obligations.