Pear Butter in My Crockpot Makes Me Happy…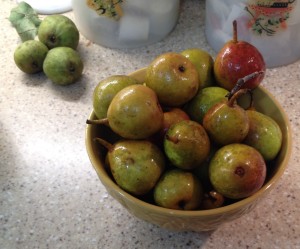 With a whole bag of ripe pears muttering threats at me every time I opened the refrigerator, I had to make a quick decision about what to do with them. Enter Pear Butter and my crockpot. I love them both so it sounded like a marriage made in heaven. A little Pinterest research sealed the deal and I decided  1.I can do this but 2. I needed to make a trial first batch.  Once I had refined the recipe and I could potentially preserve the next. My husband does not like "dark, murky" apple butter so I had to be careful here.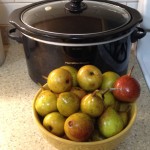 I peeled and cut up approx. 60 small (verging on tiny) pears and put them in the food processor until they were applesauce consistence. This gave me approx. 5 cups of pear mush. Then into the crockpot with 2 Tbsp. lemon juice and ½ cup sugar, on low heat for 8 hours. At the end I added another ½ cup of sugar and a tablespoon of vanilla.  The hubby nixed any cinnamon, cloves or any other "dark" spices.
The end result you want is something you can put on bread, not something drippy to eat with a spoon. Unfortunately this ran late into the evening so instead of leaving the lid off the crockpot the last hour or so to evaporate off the liquid, I just used a slotted spoon to drain it off.  This worked just fine and I ended up with about 3 cups of pear butter.  We had it on biscuits for breakfast.  And he LOVES it!  Yay!!
Pear Butter in the Crock Pot
Fresh pears – about 5 lbs
1 cup sugar, divided
2 Tbsp lemon juice
1 Tbsp vanilla
Wash, peel and cut up pears. Process in blender or food processor until they are the consistency of apple sauce.
Put a crock pot liner in  your crock pot!!
Place in crock pot with lemon juice & ½ cup sugar, stir well.
Cook on low heat until done, 6-8 hours. Take the lid off the last hour or so.
Add additional sugar (1/2 cup or to taste!) and vanilla.  Stir.  Use slotted spoon to drain off additional water so the consistency of the pear butter is thick.
Refrigerate and enjoy!