October 2017 Pet Treater Box Review & Coupon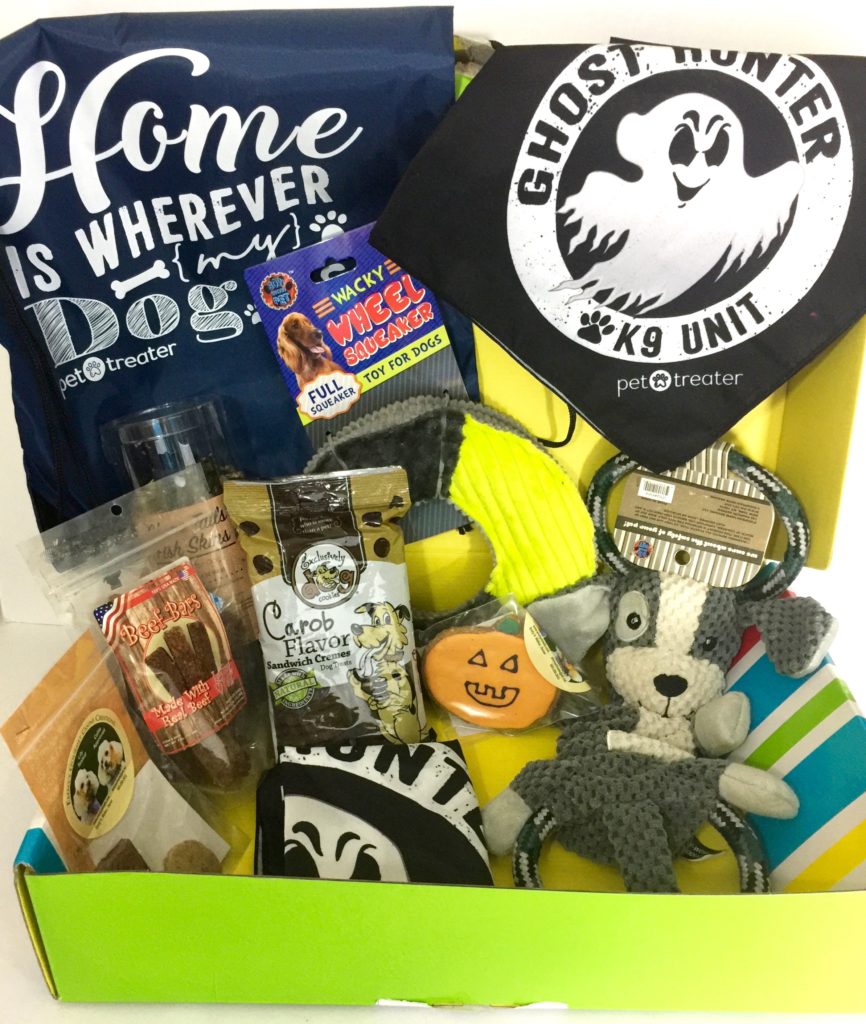 October 2017 Pet Treater Box
Pet Treater is a monthly subscription box for dogs that contains quality items for a fraction of the retail value. Box contents may include treats (made in USA or Canada only), interactive toys, accessories, grooming supplies, and more!
For every box that ships, Pet Treater donates a toy, bag of treats, or blanket to an animal shelter in need.
The Homespun Chics received this box for review. All opinions are 100% our own. This post contains affiliate links.
---

How It Works:
Dog Sizes:  Small (0 – 20 lb), Medium (21 – 50 lb), Large (51+ lb)
Pricing:  $34.99 TRY IT OUT Box (does not auto-renew), $24.99 for Month-to-Month, $22.99 for 3-Month, $21.99 for 6-Month, and $19.99 for 12-Month.
What's Inside:  Each month, subscribers will receive a fun, themed box filled with goodies like U.S. and Canada-made treats, plush toys, gadgets, grooming supplies, doggy wearables, and more! There's even a "human treat" included in every box.
*FIRST TIME subscribers will receive a first time box which will include past favorites and not the new items of the current month. Themed boxes will begin the following month.
SHIPPING SCHEDULE!
Monthly boxes ship between the 5th – 10th of each month.
*If you were billed after the 10th of the month, a box will not be shipped until the following month.
TRY IT OUT boxes (non-renewing purchase) will be shipped right away and items will include past favorites and not the new items from that current month.
Coupon!
For a limited time, get 20% off of your first month! Use code PT-20 at checkout.
(Offer is good for NEW subscribers.)
---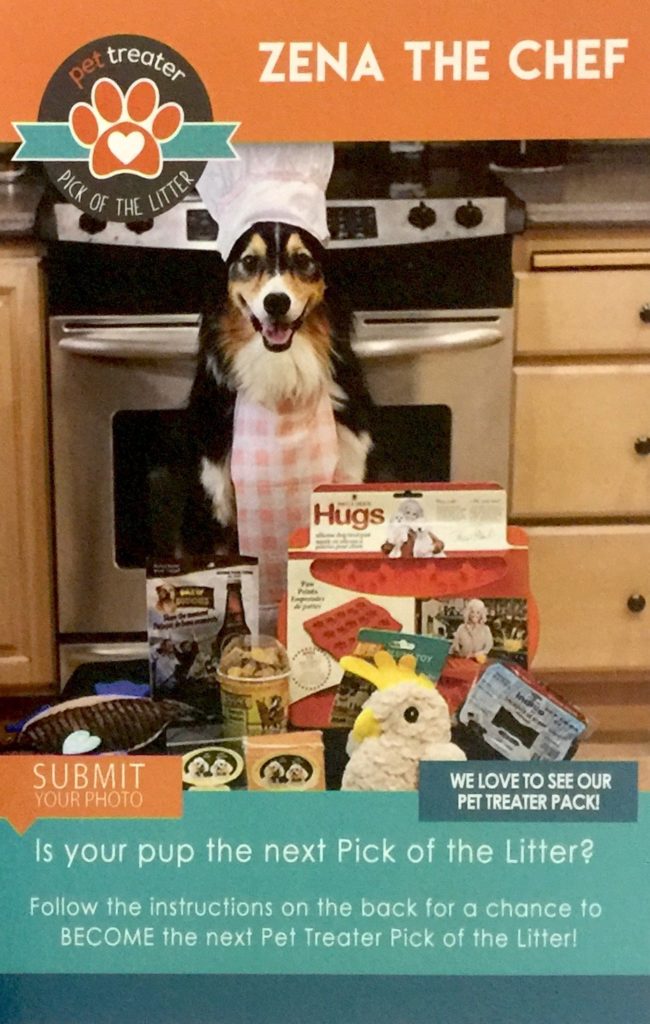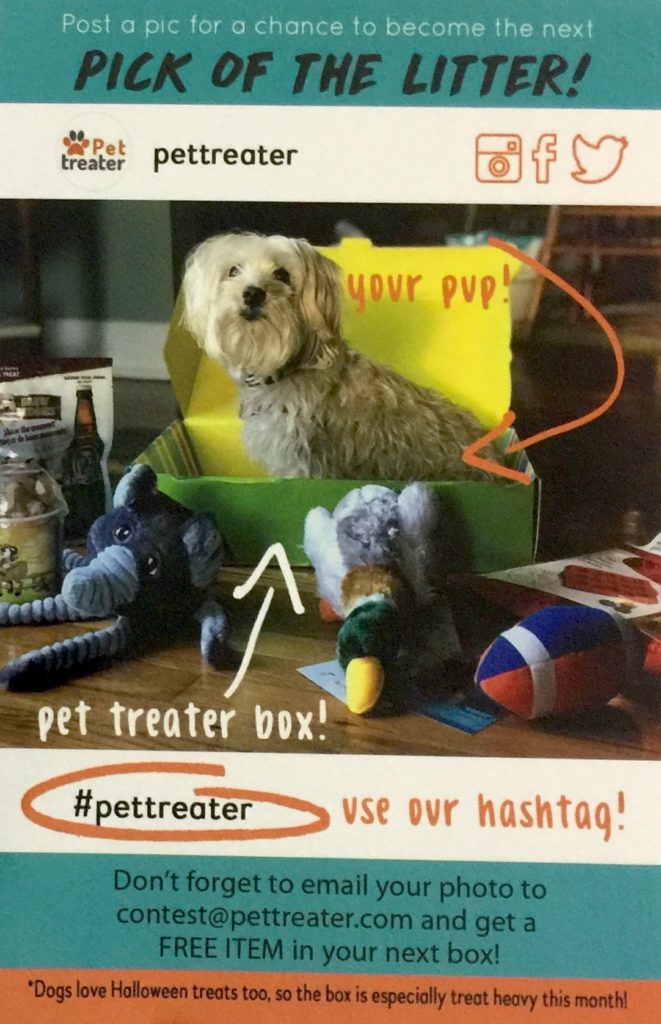 Share a picture of your dog with your Pet Treater box on social media for a chance to be chosen as the next Pick of the Litter! Use hashtag #pettreater.
Email your photo using the instructions above to get a free item in your next Pet Treater box!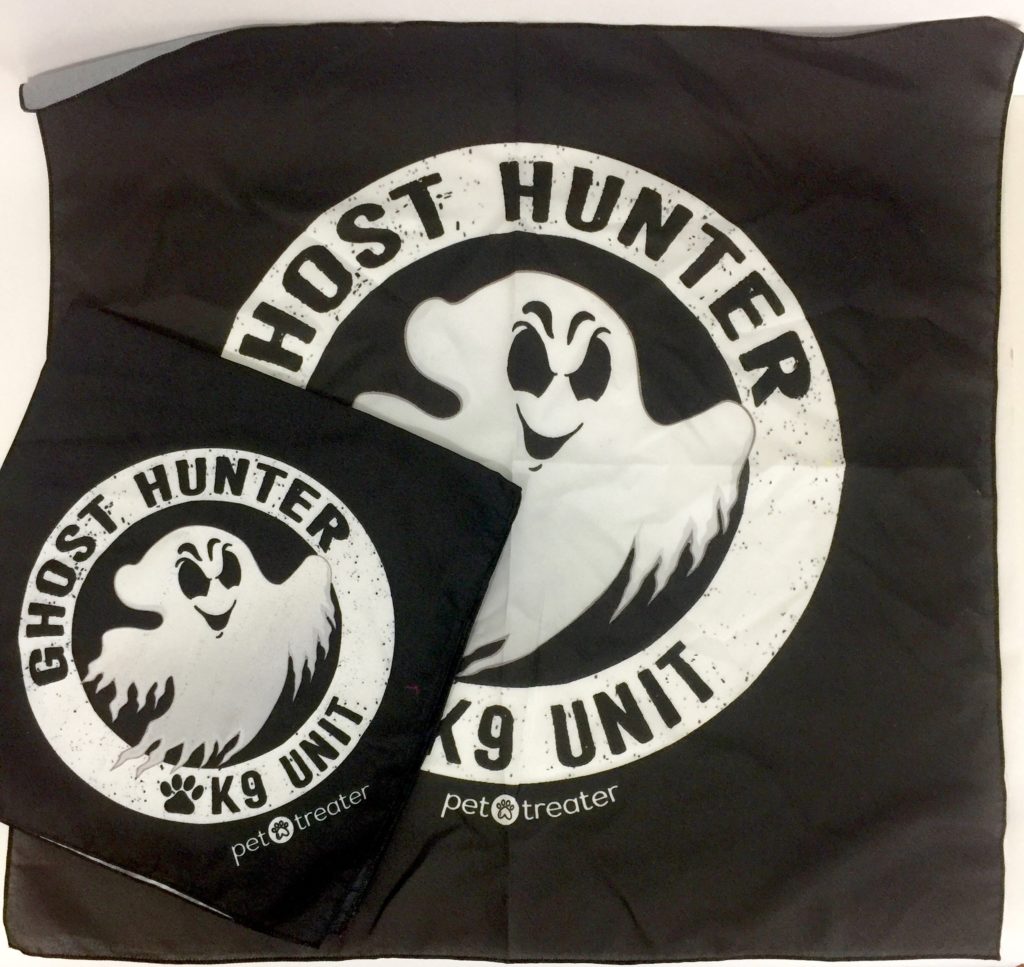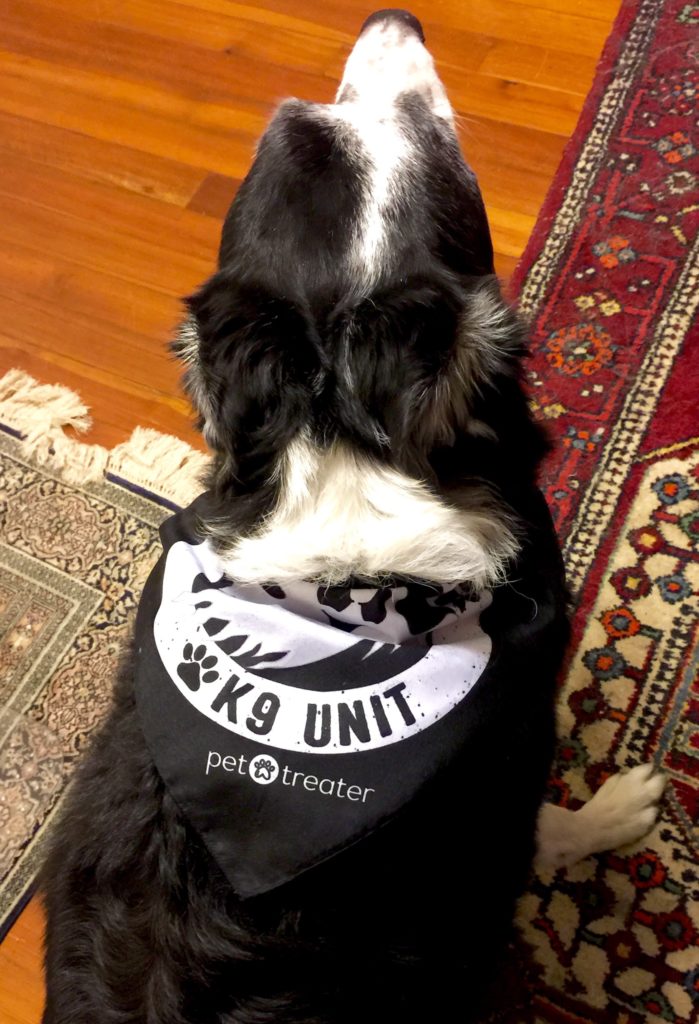 Pet Treater – Ghost Hunter K9 Unit Kerchiefs (2)
These are such soft, cute kerchiefs and perfect for the October box! I didn't find a fabric tag on them but they feel like a poly blend, much more comfortable for the pups to wear around their necks.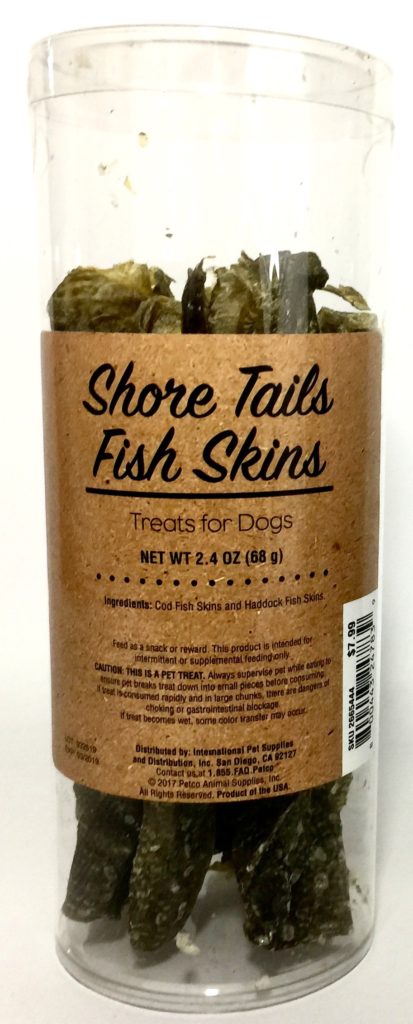 Petco – Shore Tails Fish Skins for Dogs 2.4 oz ($7.99)
My dogs LOVE these crunchy, tasty cod fish skins and haddock fish skins! I couldn't find this particular brand but have purchased the dried, rolled up fish skins in the past because, even though I always have lots of treats around the house, my pups get so excited by this particular kind of treat!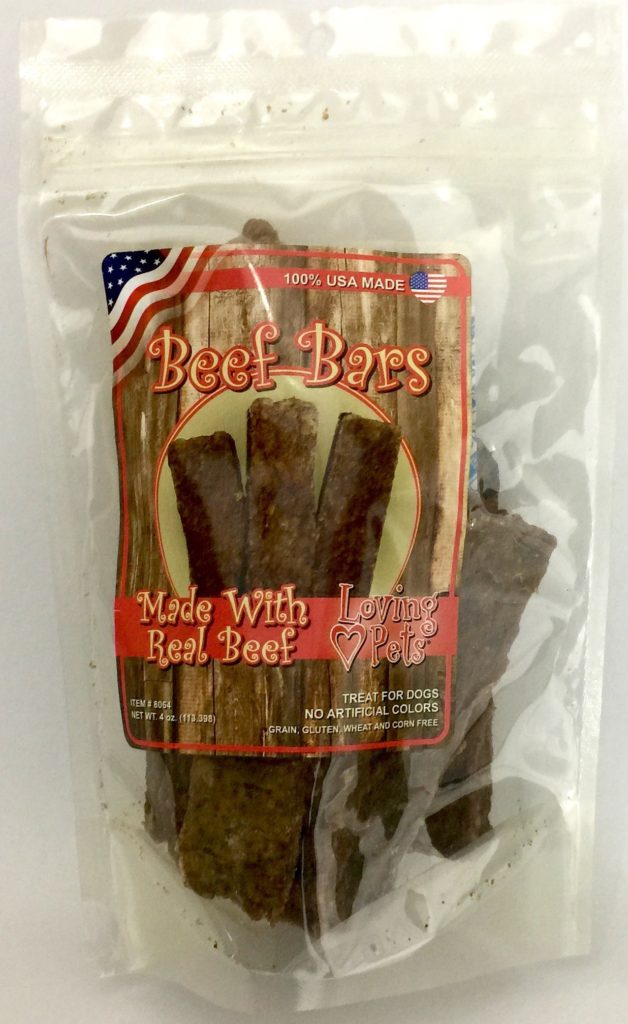 Loving Pets – Beef Bars Treats for Dogs 4 oz
These are beef bars made in the USA and are grain, wheat, and corn free, cooked on open grilling racks to give them a flavor that dogs love!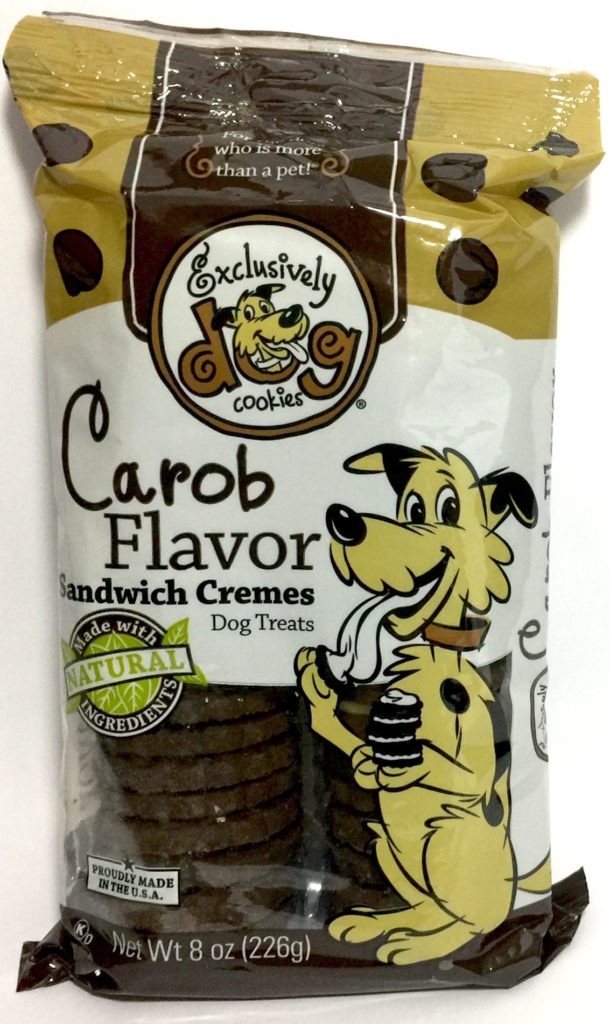 Exclusively Dog Cookies – Carob Flavor Sandwich Cremes 8 oz ($7.61)
These treats are carob cookies with creme filling, made with natural,  human grade ingredients and free of animal parts or by-products.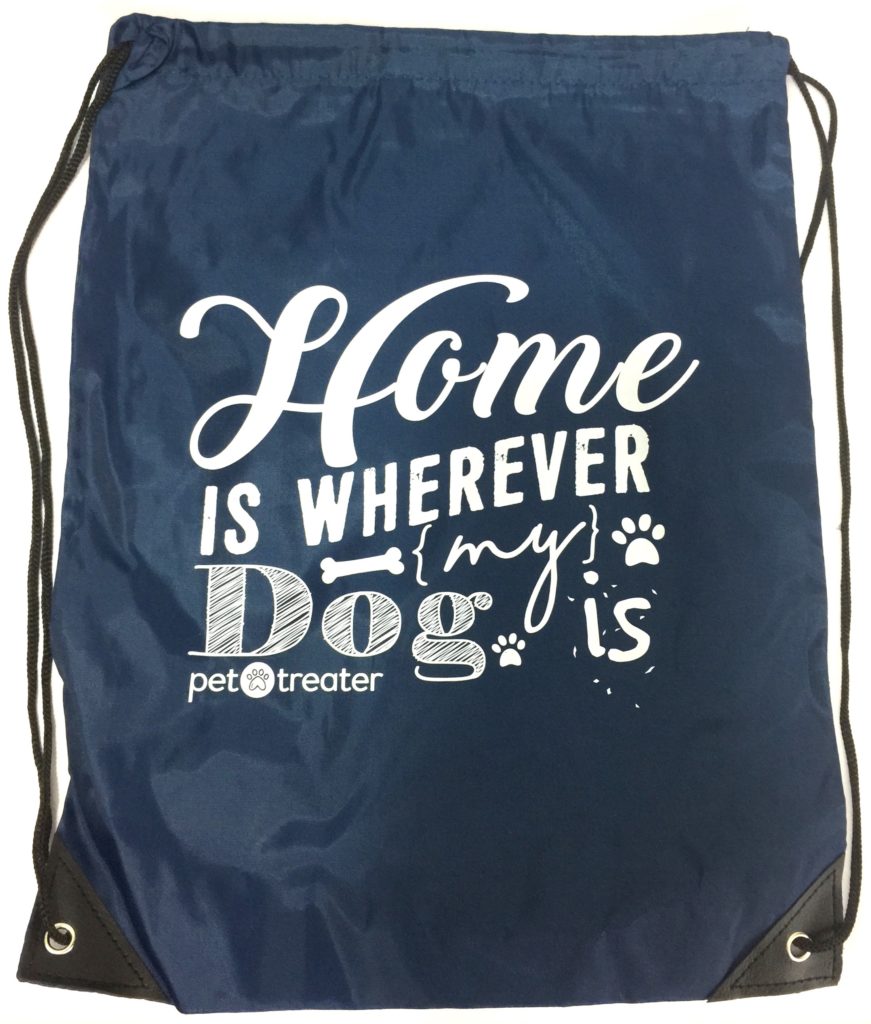 Pet Treater – Cinch Sack "Home is Wherever My Dog is"
This drawstring backpack is handy for anytime you might need to pack things up. The drawstrings can be resized to fit you and the whole thing can be folded up and put in your pocket or bag until  needed.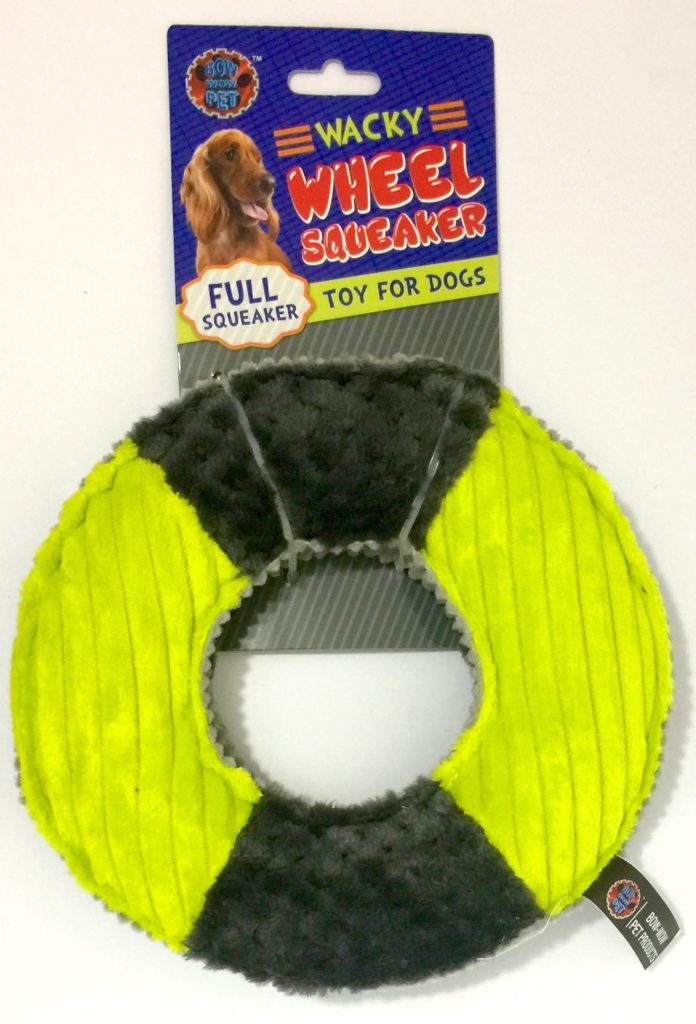 Bow Wow Pet – Wacky Wheel Squeaker Toy for Dogs
This is a sturdy squeaker toy with a soft chenille fabric cover and four separate interior squeakers. Great for a throw toy or a pull toy.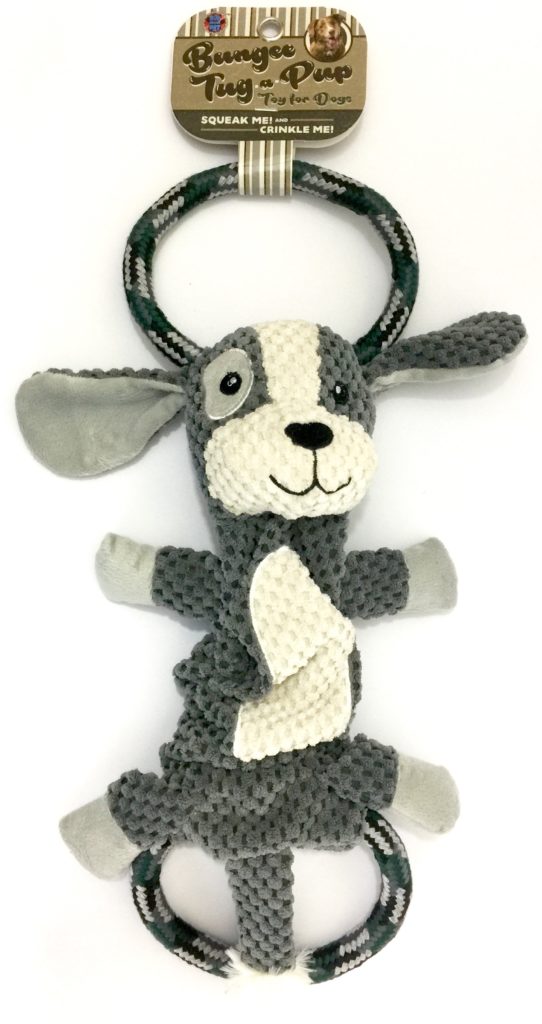 Bow Wow Pet – Bungee Tug A Pup Toy for Dogs
This is a crunchy, squeaky toy with a rope tugger on each end. I couldn't find either of the toys in the October 2017 Pet Treater box anywhere online but there are so many dog toys available – just like kids' toys – that as companies put out new toys the older ones fade away.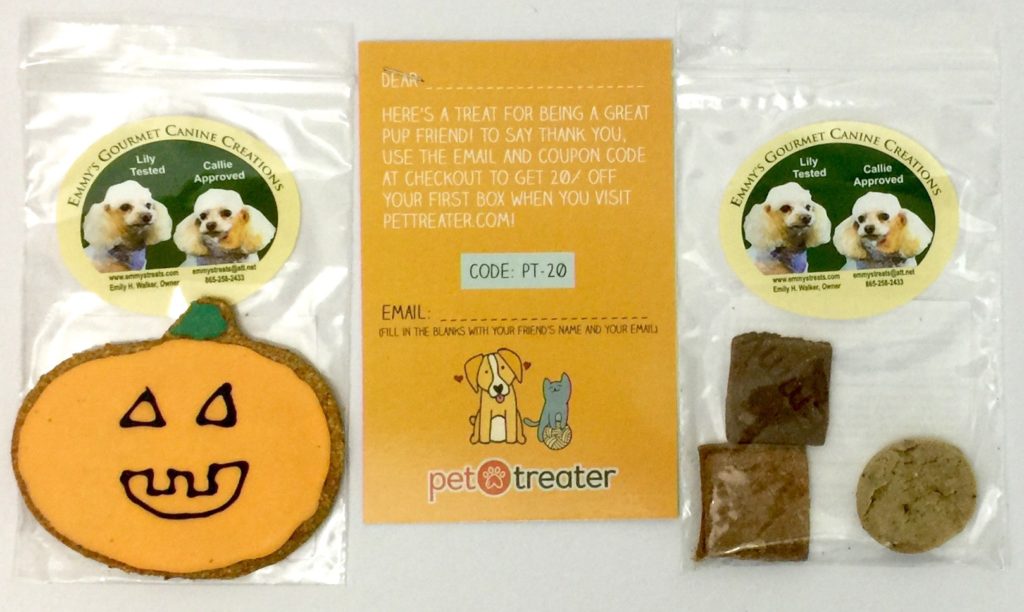 Emmy's Gourmet Canine Creations – Three Cheese Pleasers ($2.50 each)
All of Emmy's treats are made in Tennessee using fresh, high quality ingredients. The pumpkin cookie is so cute! There are almost always Emmy's dog treats in the monthly Pet Treater box.
Included is a subscription referral card that was attached to the package of three small Emmy's treats to pass on to a friend.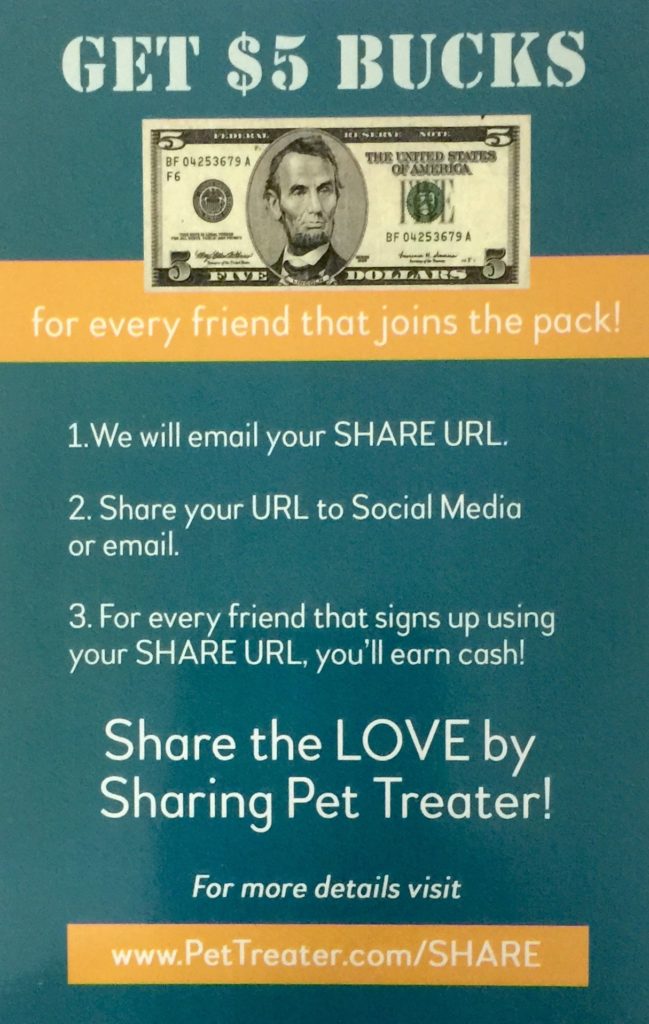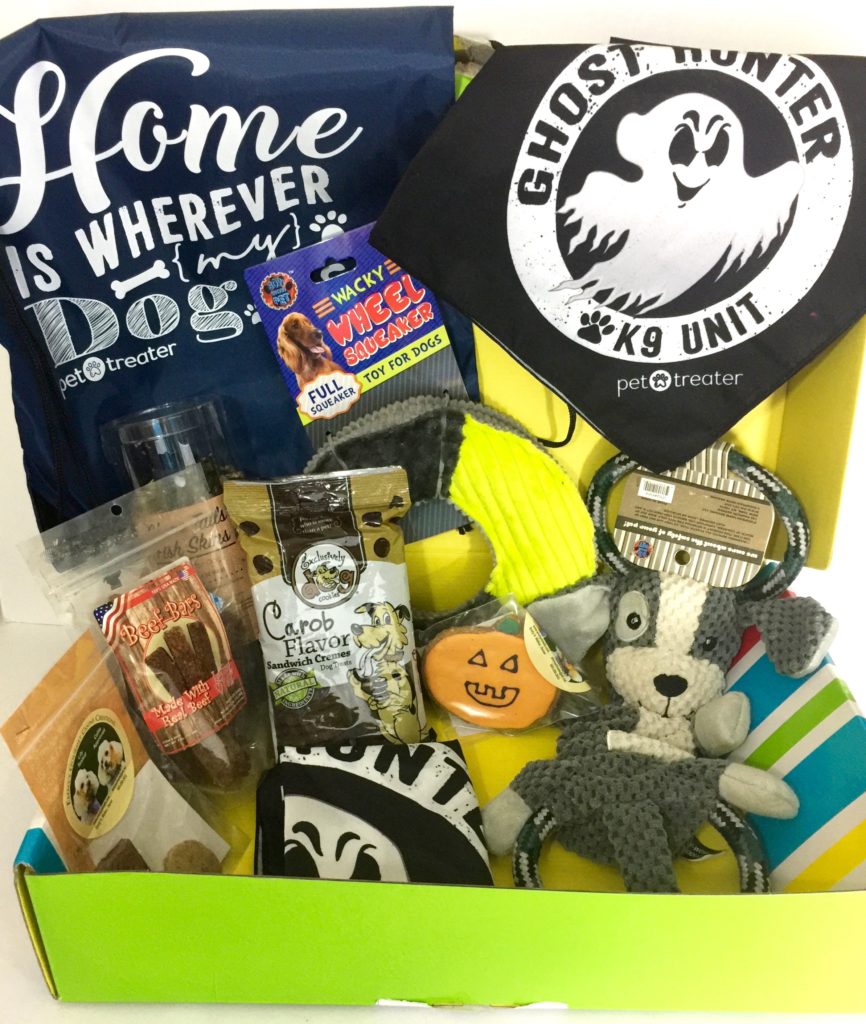 I couldn't calculate a retail product value for the October 2017 Pet Treater box because several of the items were Pet Treater exclusives and several others just didn't show up in any kind of online search, but I have no doubt that the value far exceeded the price paid for the box. Pet Treater included an extra bag of treats this month to celebrate Halloween, too!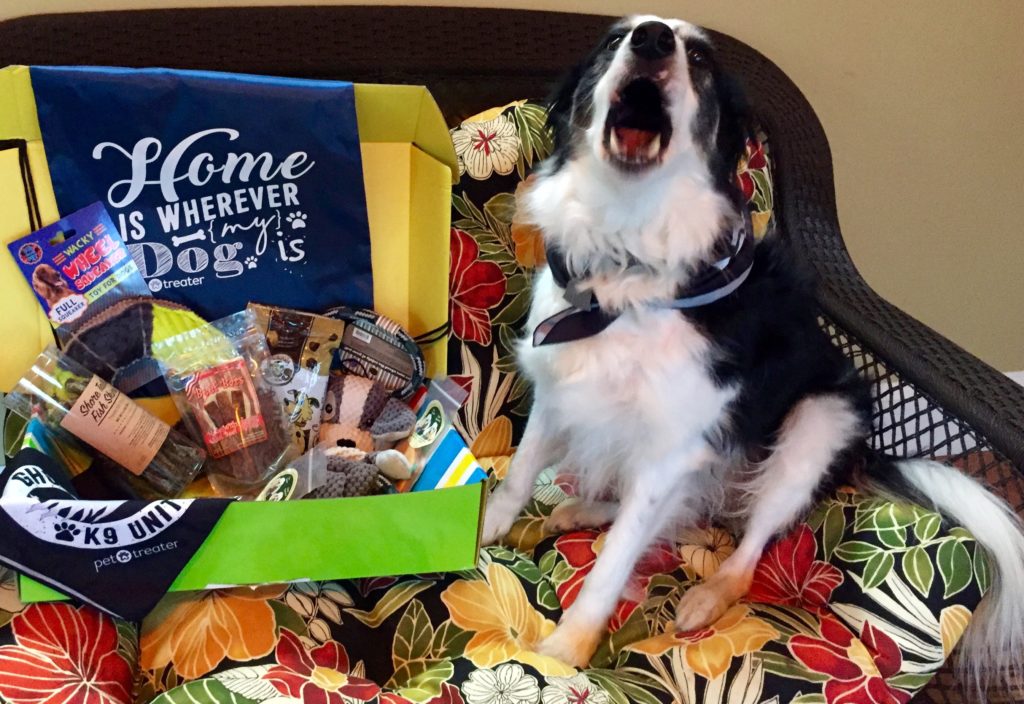 What did you think of the October 2017 Pet Treater box?