November 2017 CrazyCatLadyBox Review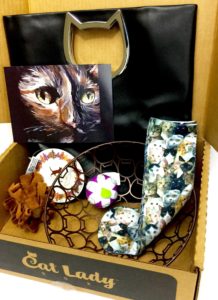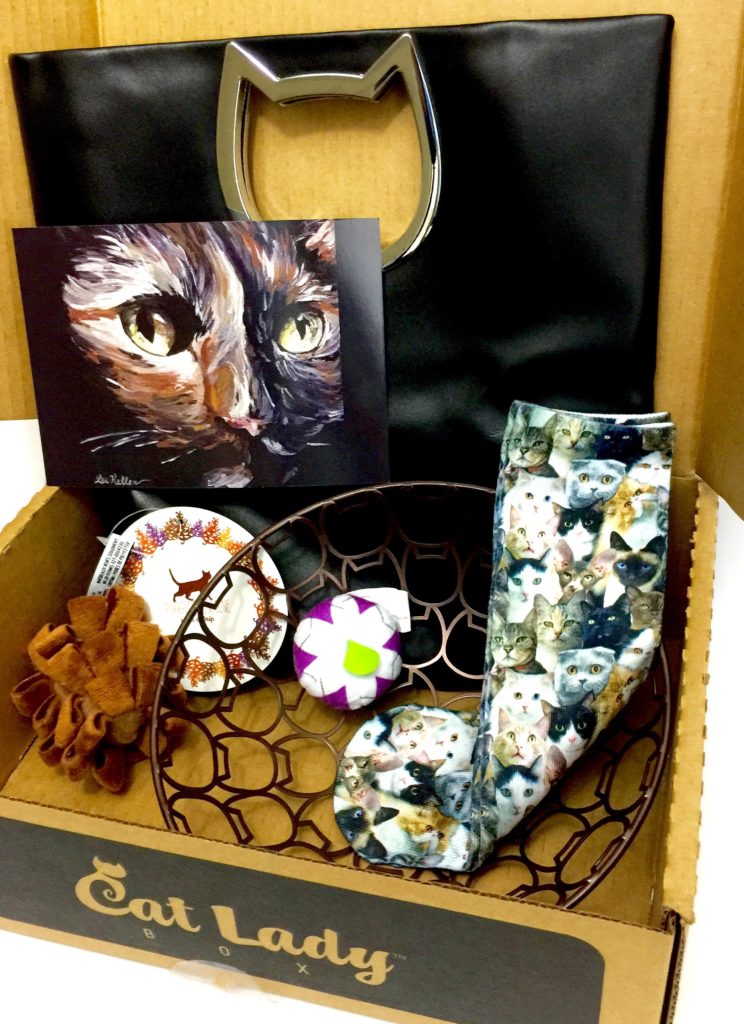 November 2017 CrazyCatLadyBox
CatLadyBox is the first-ever monthly subscription box "purrfectly curated just for cat ladies"! Each box contains 2-3 unique cat-themed items for the modern day cat lady (jewelry, clothing, tchotchkes, art, home décor, and more) and if you upgrade to the CRAZY CatLadyBox, your felines will also receive 2 or more delightful gifts to tickle their whiskers.
CatLadyBox donates 5% of all profits to a different cat rescue organization each month plus supports independent artists and small businesses with their box contents.
The cost of the subscriptions: (the value will always be much more than what you paid)
The regular CatLadyBox – $34.99/month
The CRAZY CatLadyBox – $39.99/month
With all of them, you can sign up month-to-month or with a 3-month or 6-month plan where you prepay for that many boxes at a time. "The more you pay for ahead of time, the cheaper per box! The regular CatLadyBox can go as low as $31.33/month and the CRAZY CatLadyBox can be as low as $36/month." You can cancel any time or just skip a subscription period if you want.
The Homespun Chics received this subscription box for review. All opinions are 100% our own.
---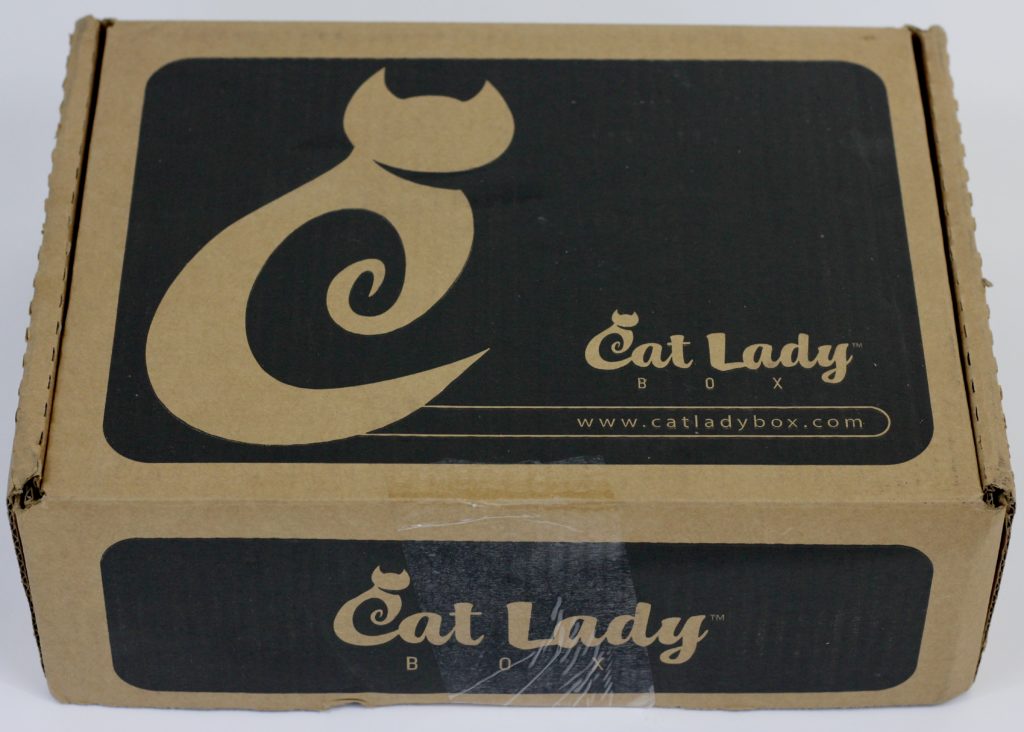 Theme: The Cat Lady Collection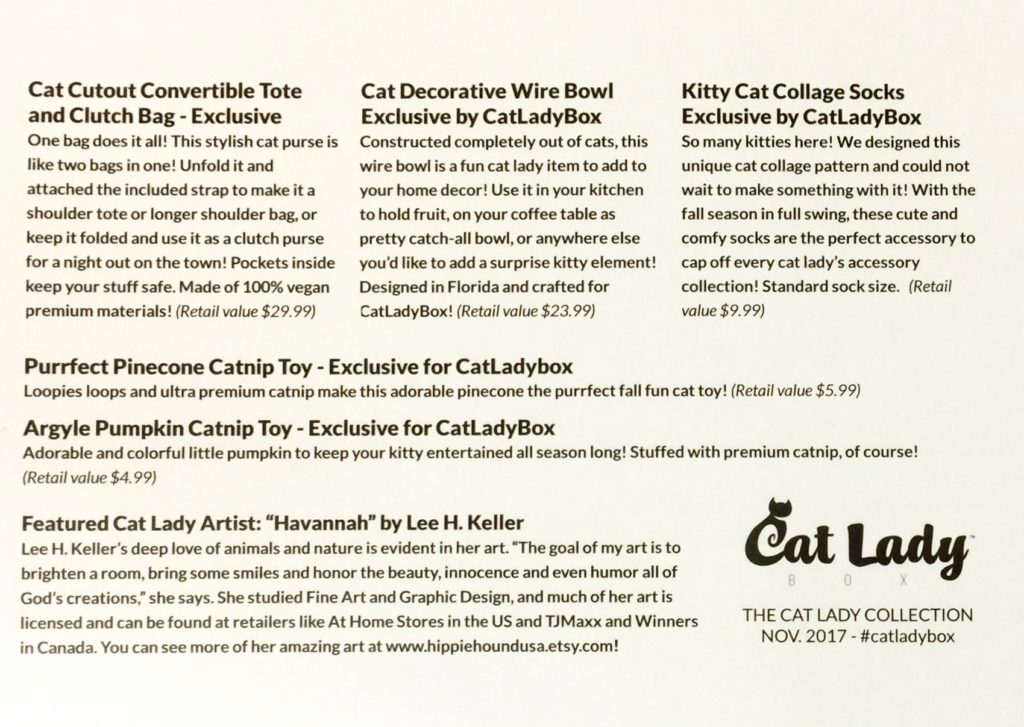 The product information card details everything in the box, including retail values. Everything curated for this month's theme was exclusive for CatLadyBox.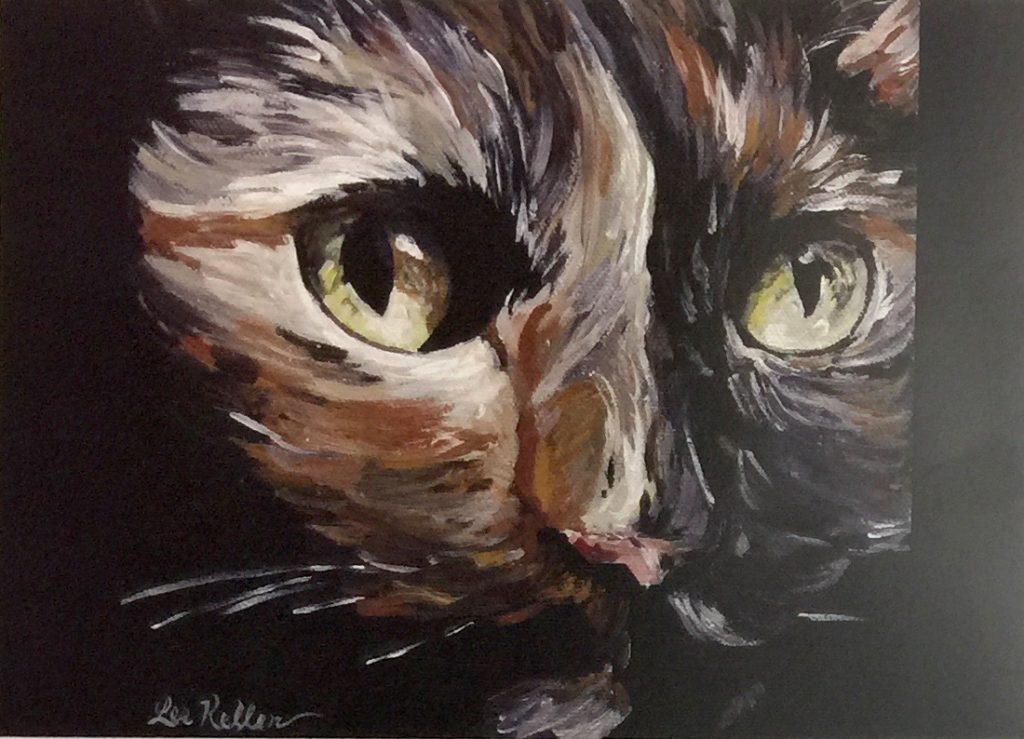 "Havannah"
This month's featured cat lady artist is Lee H. Keller. Her art displays her deep love of animals and nature.
You can find her work at www.hippyhoundusa.etsy.com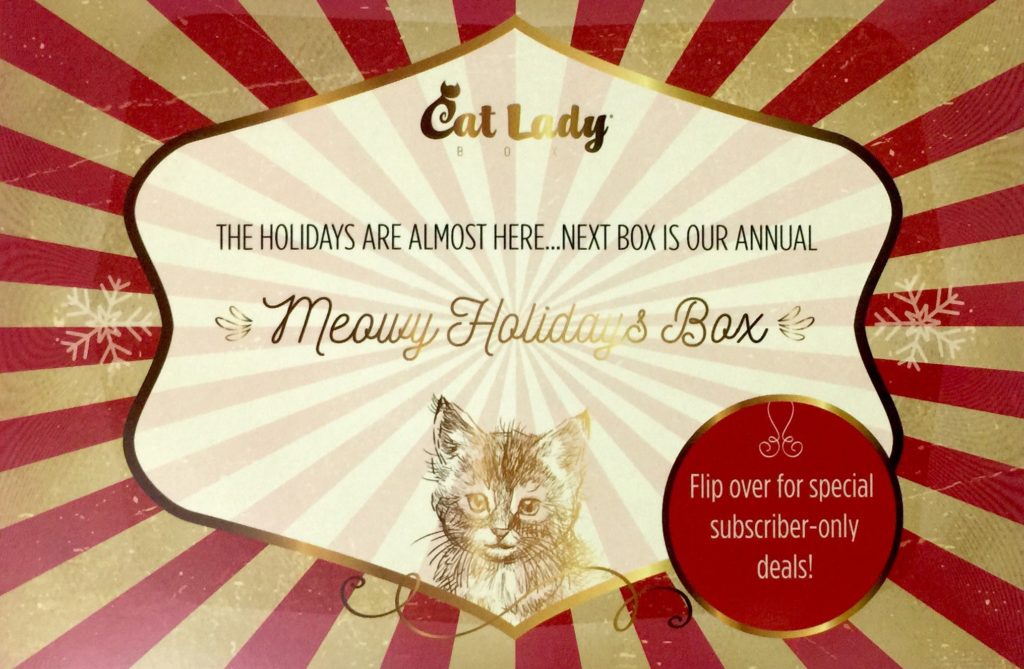 Are you ready for the Meowy Holidays Box??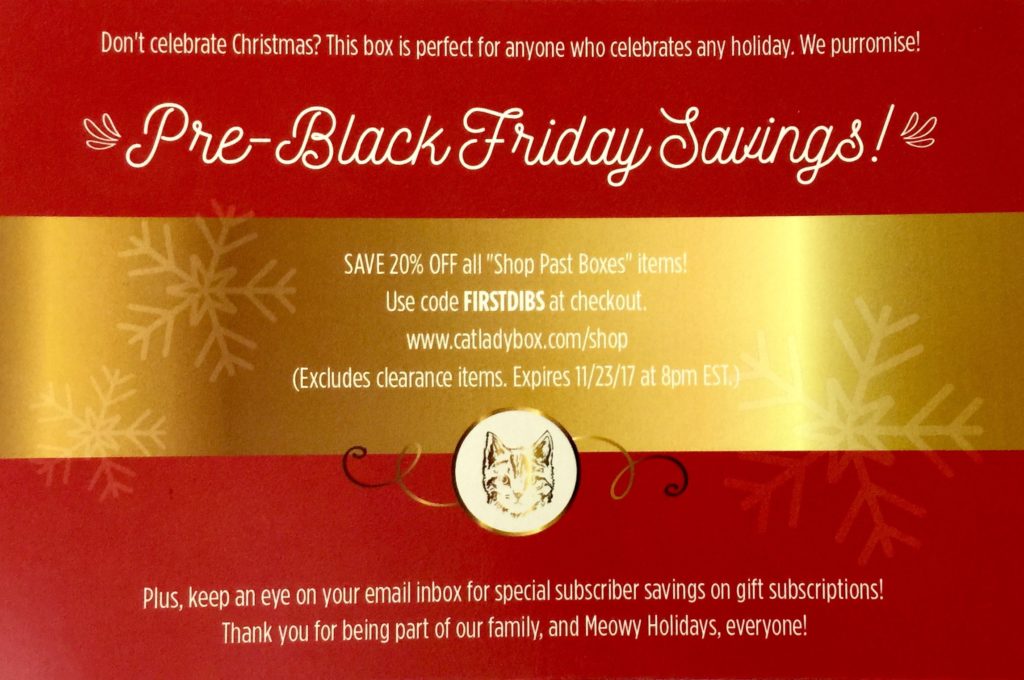 Looking for a gift for your favorite cat lover? Check out this code for 20% off all "Shop Past Boxes" items! Expires 11/23/17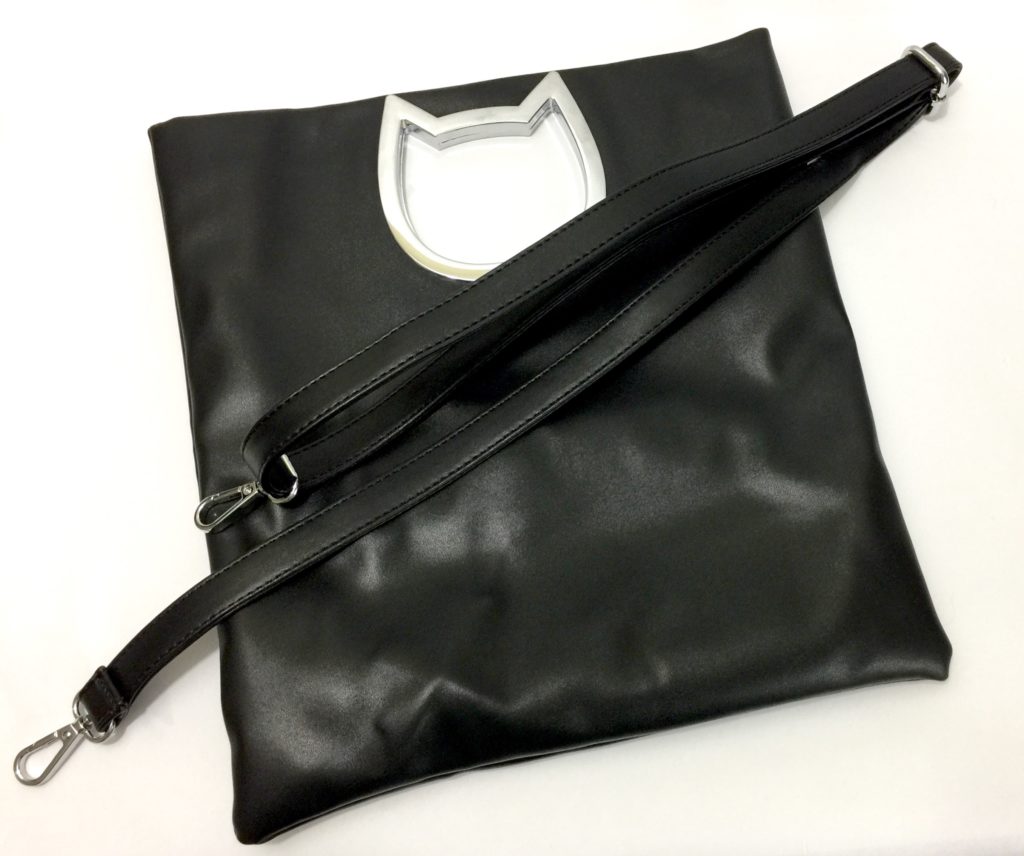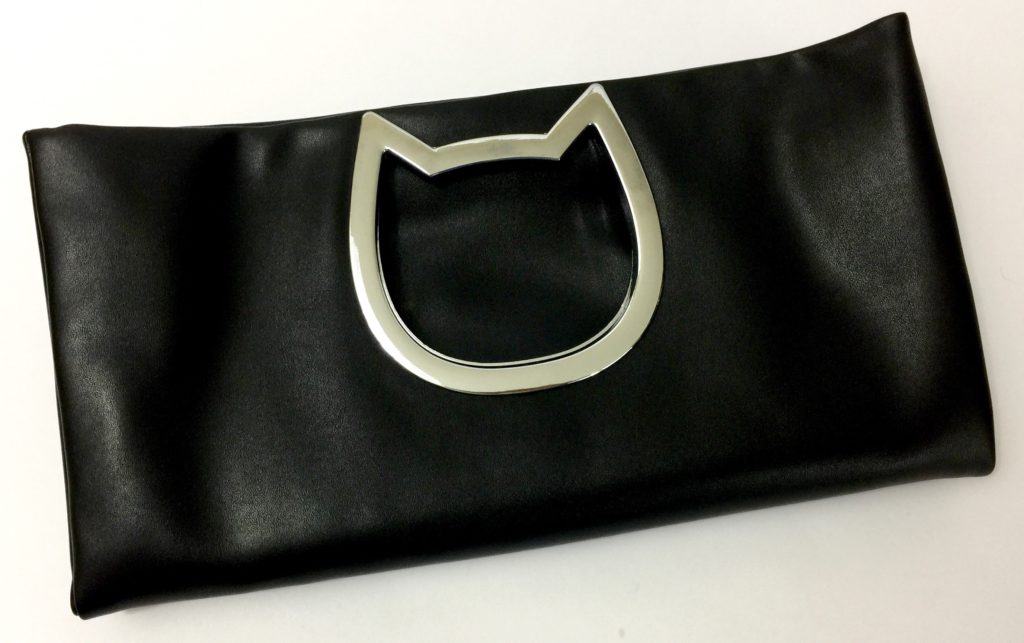 Cat Cutout Convertible Tote and Clutch Bag ($29.99)
This stylish black bag with a cat head cutout is perfect for the season! It can be a tote or purse (with or without its ample-size adjustable and sturdy strap) and just as easily folds over into a clutch bag for more special occasions. The bag measures 13″ long X 12″ wide and has 3 inner pockets, one of which is zippered. It is made from 100% vegan premium materials.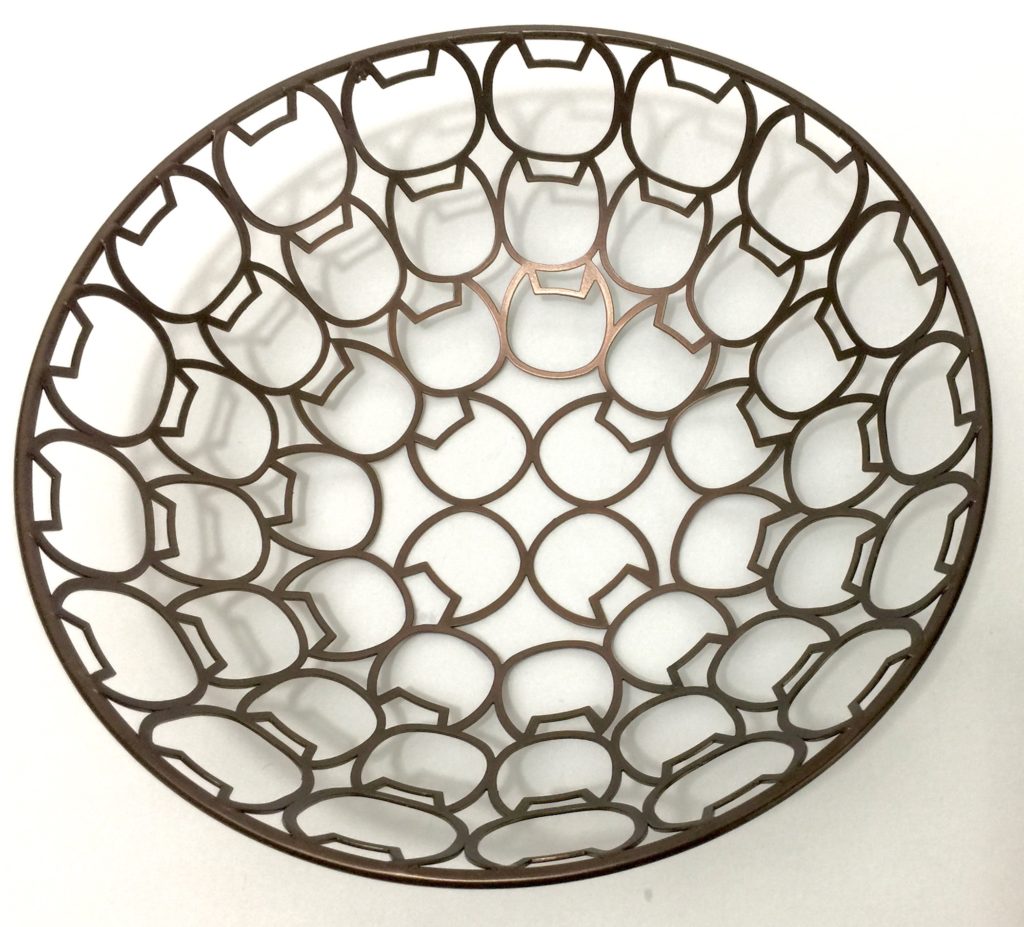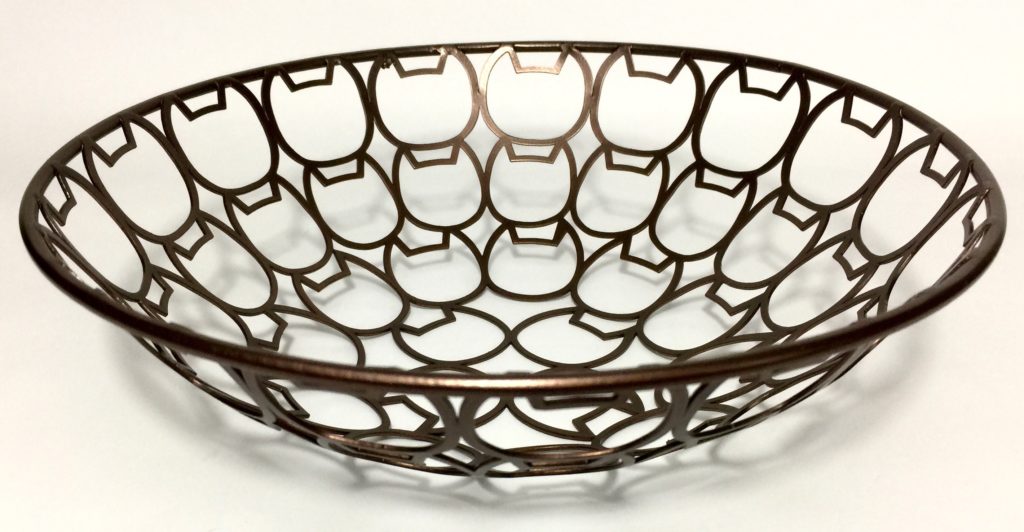 Cat Decorative Wire Bowl ($23.99)
I LOVE this bowl! It is copper colored with kitties all over & measures 8 3/4″ across. There are just so many uses for this cute bowl, not the least is as a decorative piece on a table or mantle. I will most likely use it for a fruit bowl in the kitchen – or maybe put bags of cat treats in it on the shelf near where I treat my kitties every morning when I get up!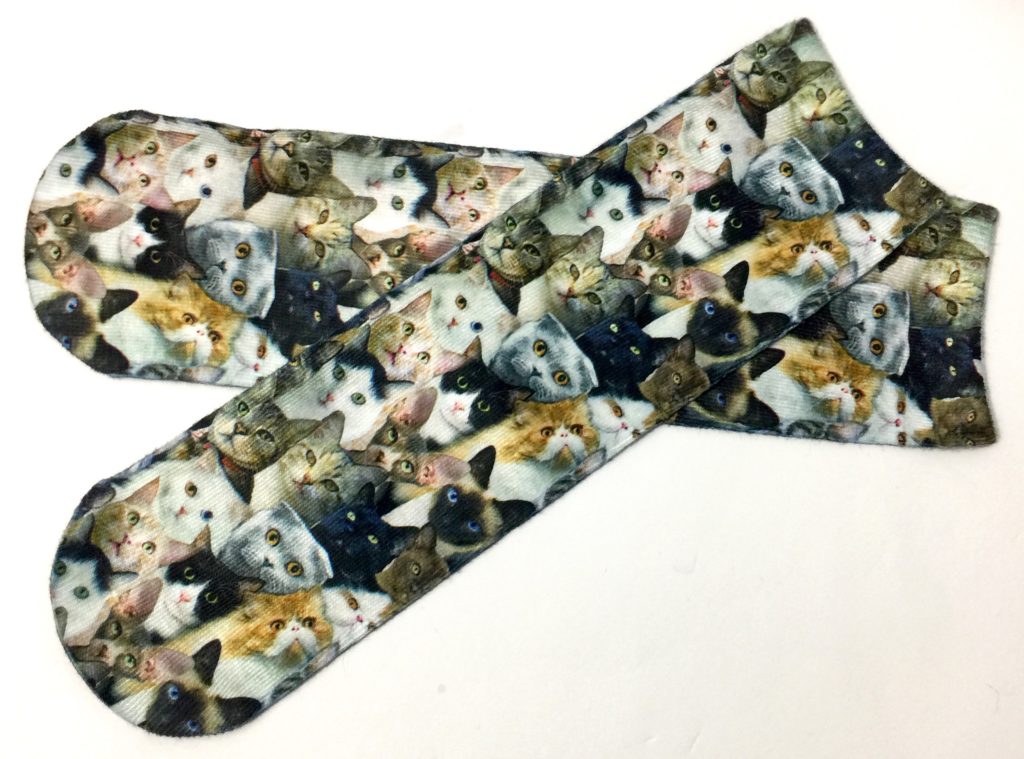 Kitty Cat Collage Socks ($9.99)
You can ask anyone who knows me and they will tell you that I LOVE my socks! And here is a gorgeous pair designed with a collage of all kinds of cats – soft, stretchy, and purrfect to be worn with just about any pants outfit this season!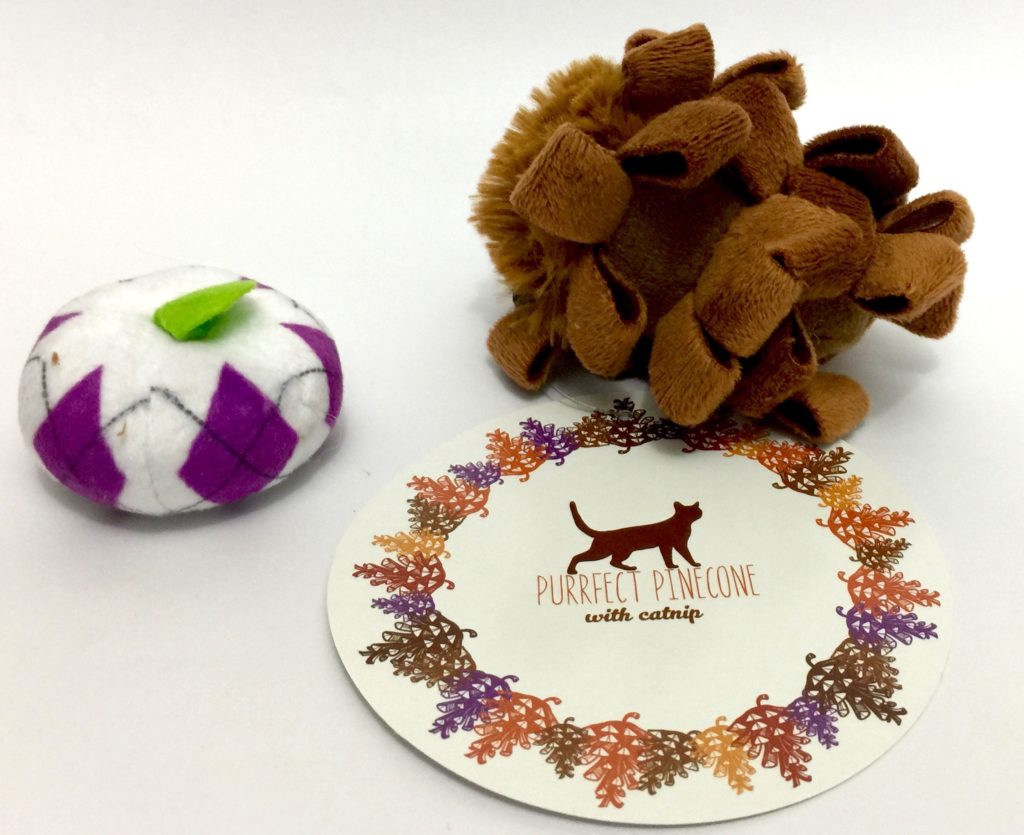 Argyle Pumpkin Catnip Toy ($4.99)
This is a great 'batting around the room' toy filled with catnip that will keep my guys busy. And the design is reminiscent of a few of my favorite pairs of socks, too!
Purrfect Pinecone Catnip Toy ($5.99)
A very cute toy with lots of loops and rather mouse-body shaped.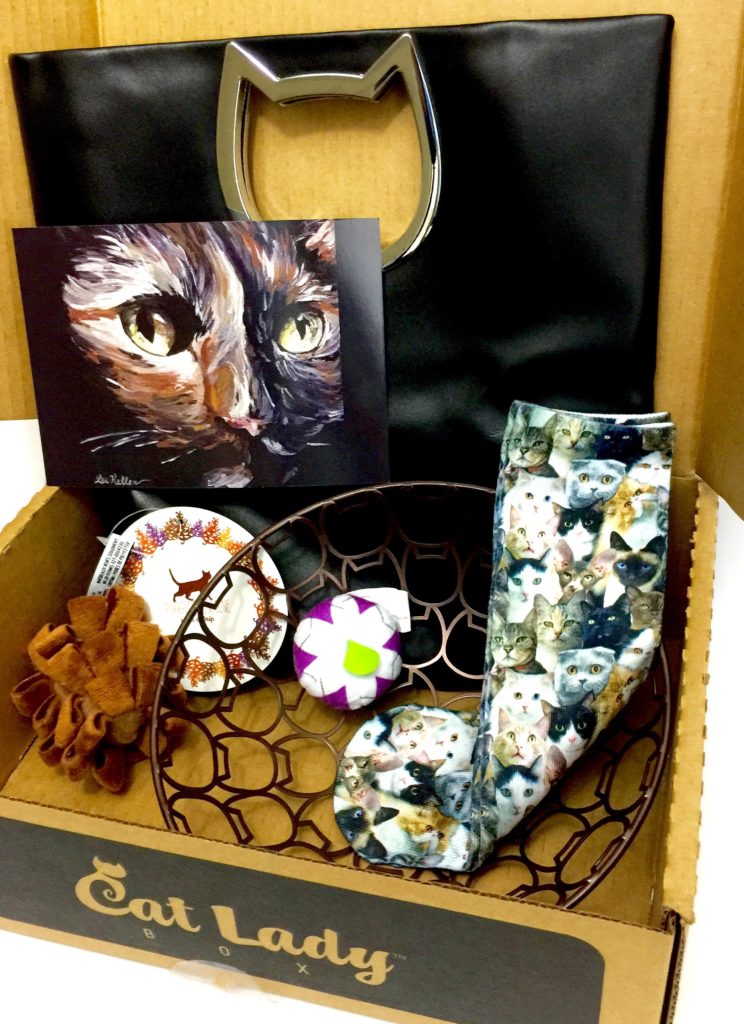 The retail value of the products in the November 2017 CrazyCatLadyBox came to $74.95. This was a great box for me and for the kitties, too. They all loved playing with their new toys, though my orange boy is always the one who takes over!
Take a look at (just a few…) photos of the playtime!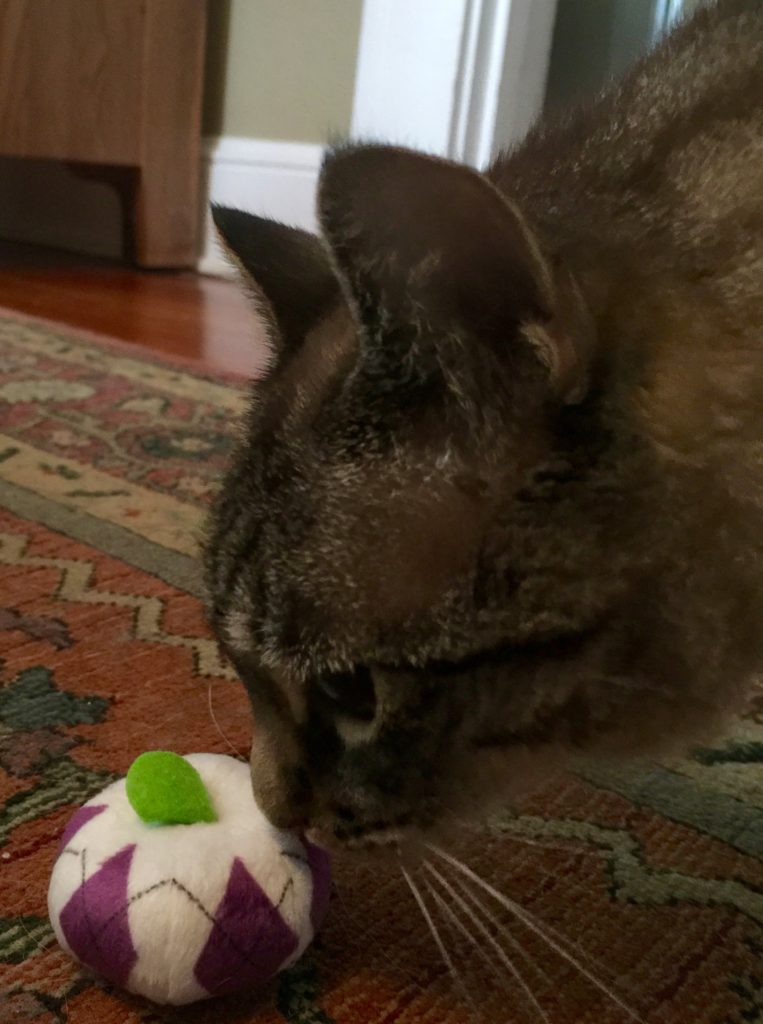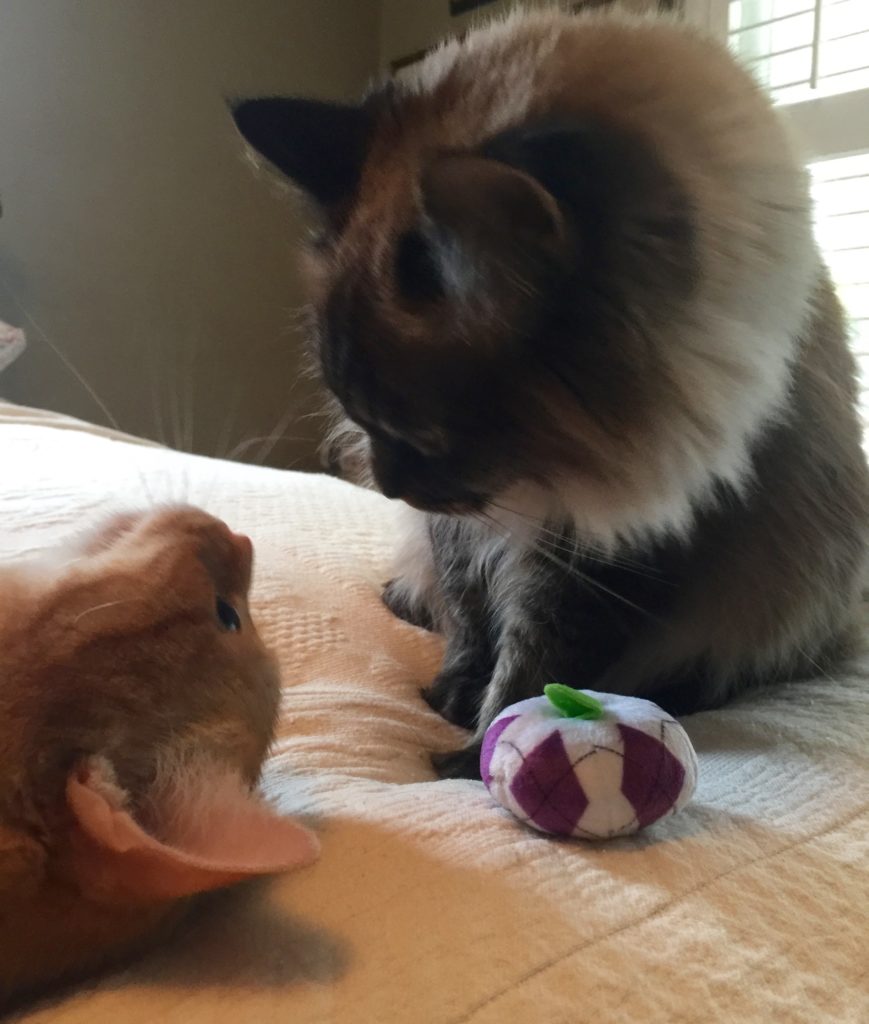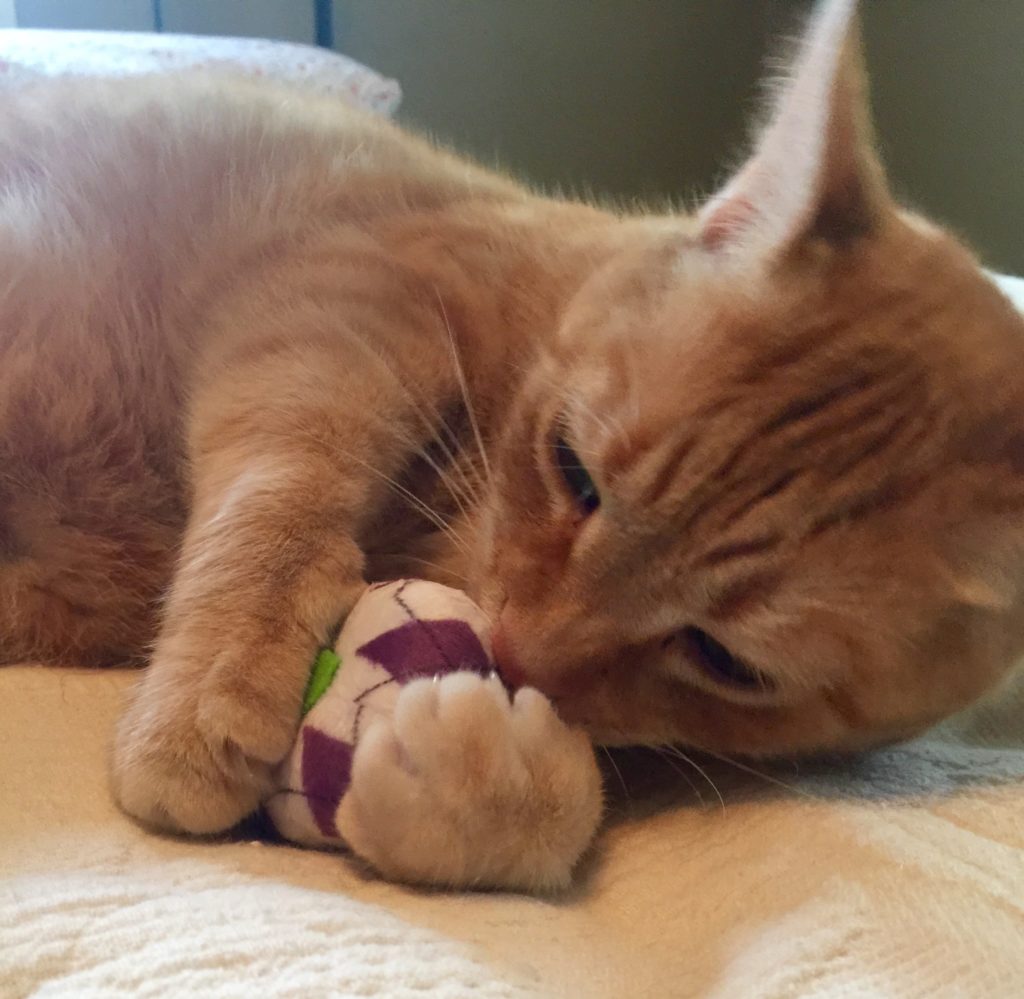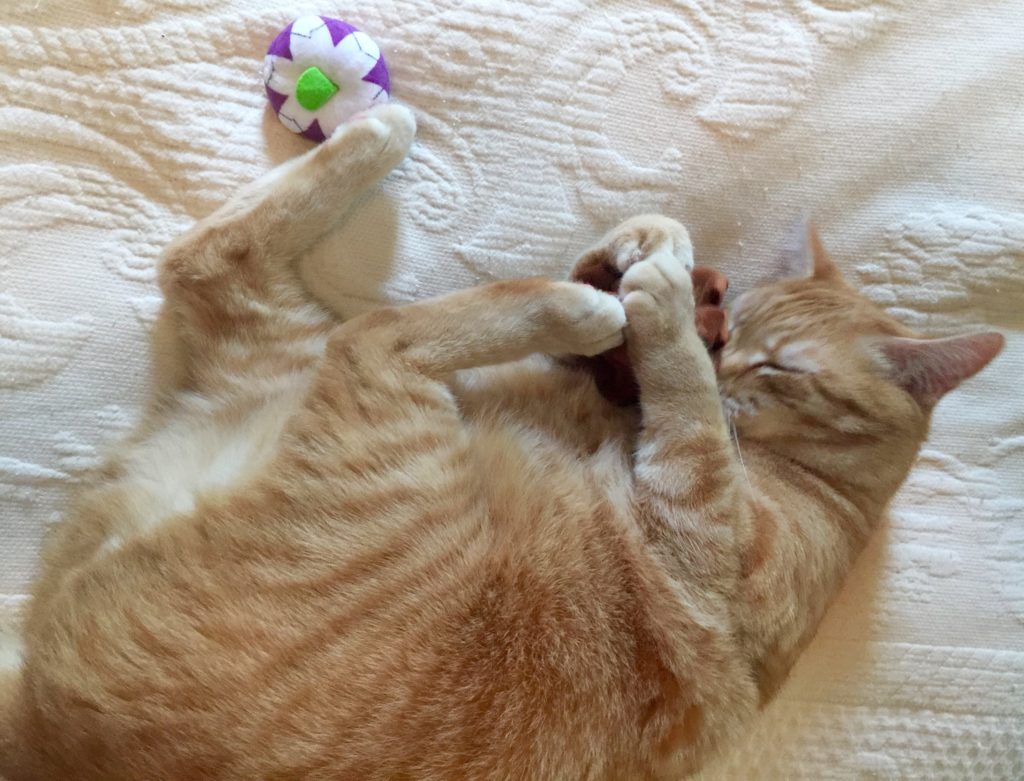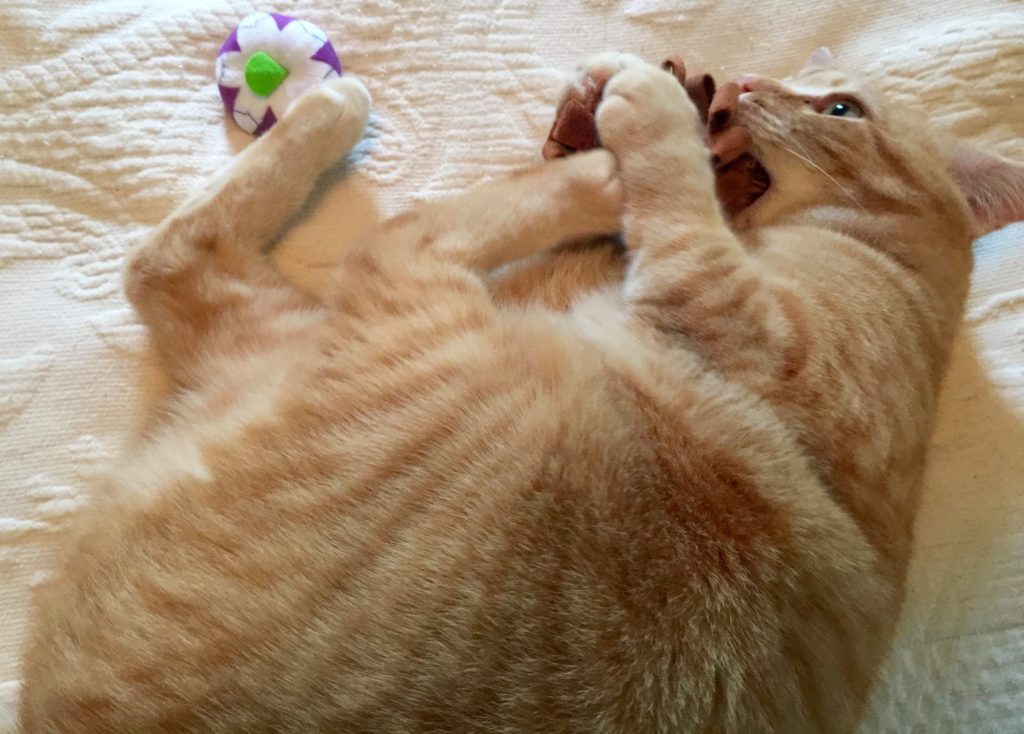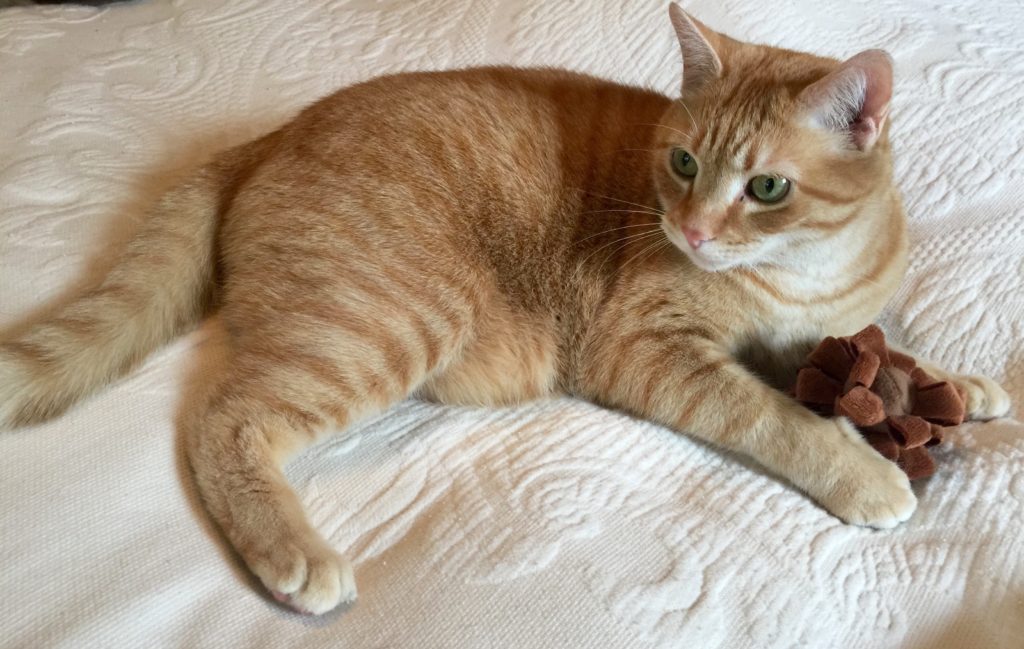 Have you tried CatLadyBox? Check out our reviews of past boxes! Head over to the CatLadyBox website to subscribe or to just order something from past boxes that you would love to have!