November 2016 Birchbox Review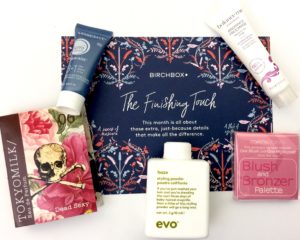 Birchbox is a monthly beauty subscription box that contains five beauty samples curated for different categories, including skin, hair, makeup and fragrance. You complete a Beauty Profile when you create your customer account to help them choose what to include in your box. For $10 each month or $110 for an annual subscription, this thrifty little box lets you try new beauty products for a very low cost and always meets or exceeds the value of the price paid.
The Homespun Chics paid for this subscription box. All opinions are 100% our own. This page contains affiliate links.
---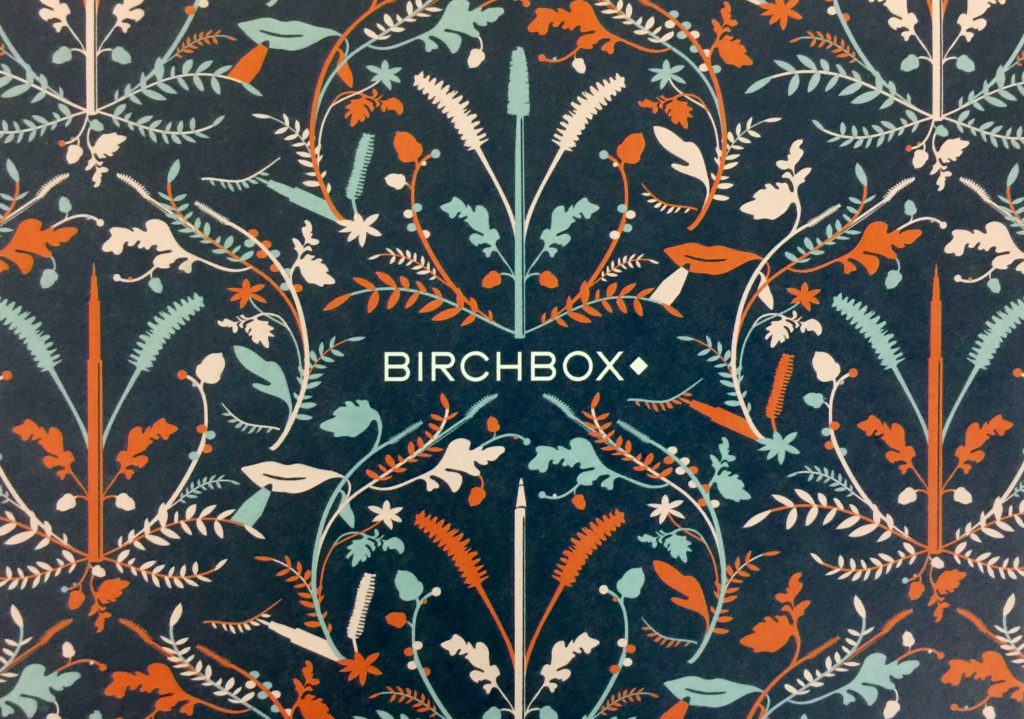 The theme of the November 2016 Birchbox is 
The Finishing Touch
"This month is all about those extra, just-because details that make all the difference."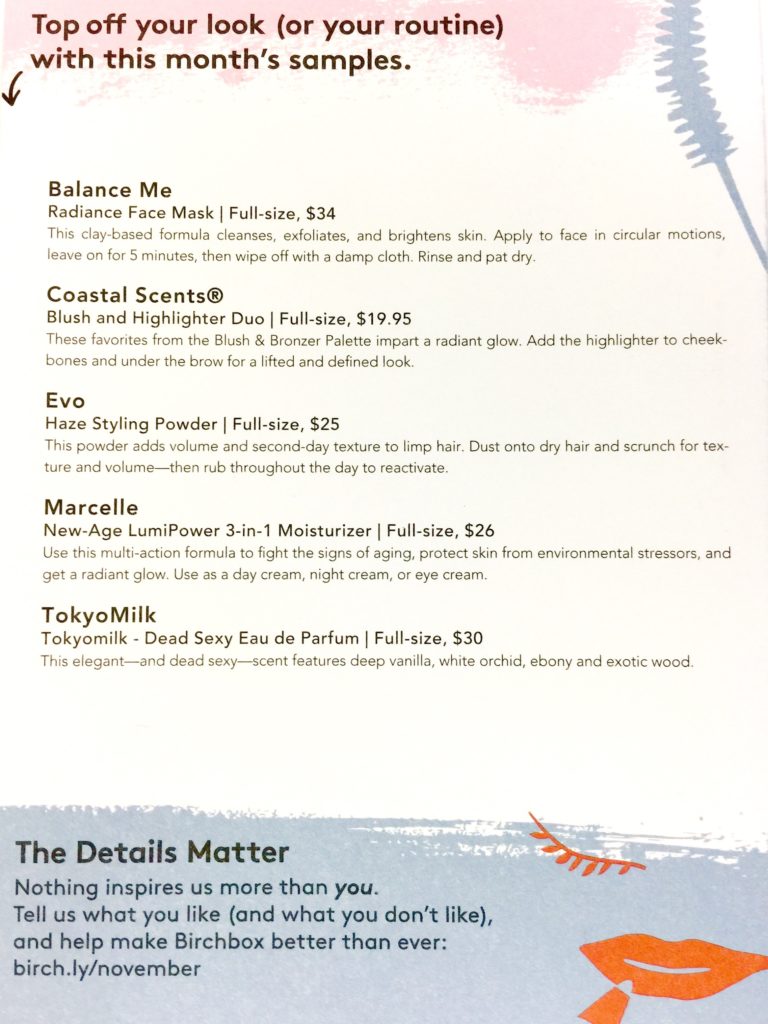 This month Birchbox had a nice mixture of product samples to try – 2 for skin care, 1 for hair care, 1 cosmetic, and 1 scent. They included their product information card and the prices are for full size items but even so, Birchbox usually always exceeds the price paid for the subscription box in their selection of samples. And sometimes they send a full size product, but not this month.

Balance Me – Radiance Face Mask sample size .5 oz ($6.80)
This is a smooth-on face mask that you leave on for only 5 minutes. Made with kaolin clay, walnut shells and fruit acids, it is designed to cleanse, exfoliate and brighten skin.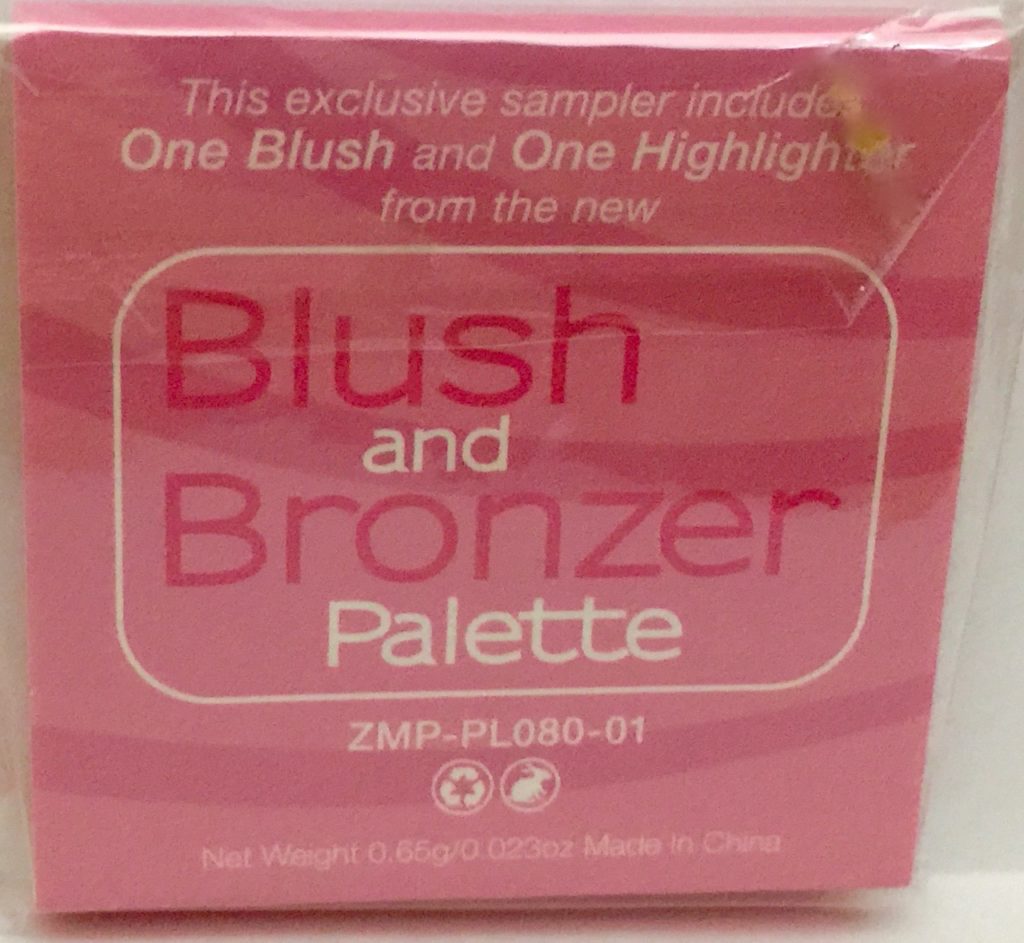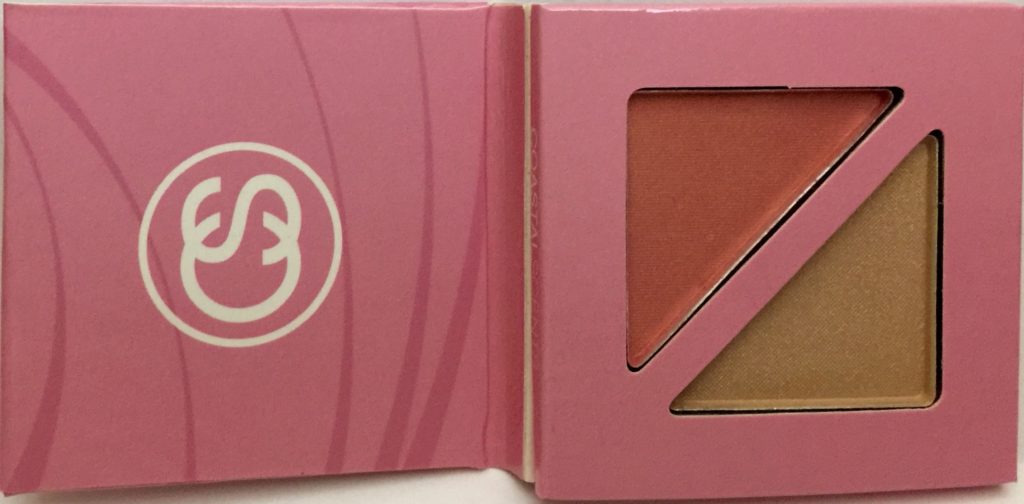 Coastal Scents – Blush and Bronzer Duo sample size (?$5)
This is a pretty little set with a peachy blush and a shimmery tan highlighter to give a radiant glow to your face when you head out the door. It is subtle enough for every day wear and the colors are really perfect for me. It does not come with a brush but I do have extras.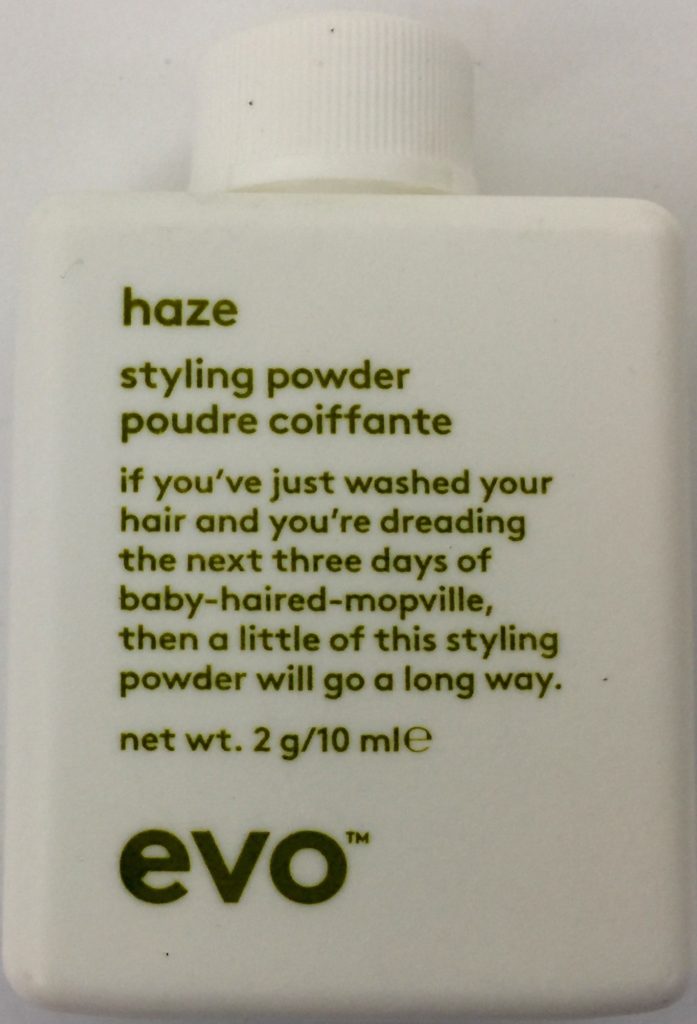 Evo – Haze Styling Powder sample size 2 g/10 ml ($5.25)
This is a powder to add texture and volume with a matte finish to limp hair. I always have limp hair so I would need a truckload of this stuff!
"This old school powder will give your hair some bulky texture to play with when it's suffering from the flop."

Marcelle – New-Age LumiPower 3-in-1 Moisturizer sample size .23 oz ($3.64)
This is an anti-aging + anti-fatigue moisturizer that can be used for day, night, and around the eyes (3-in-1). It gives your face a radiant glow and is safe for sensitive skin.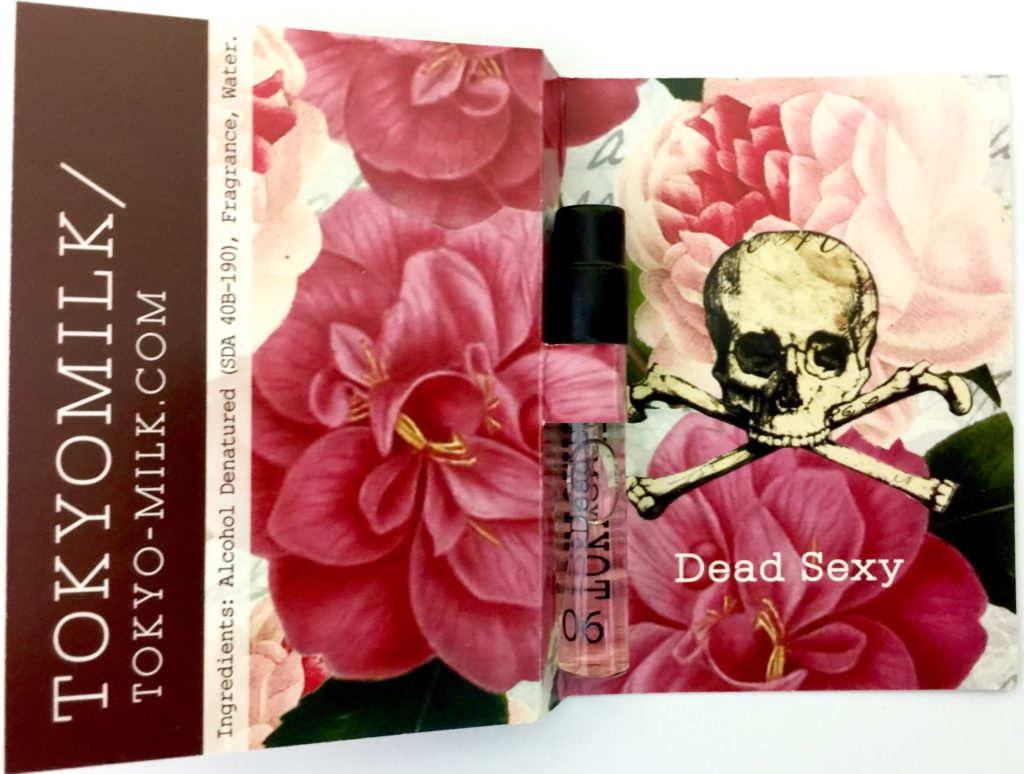 TokyoMilk – Dead Sexy Eau de Parfum sample size (?$2)
This is a tiny spray bottle of scent (I couldn't find the amount anywhere) that is a combination of deep vanilla, white orchid, ebony, and exotic wood. It does have a nice earthy smell, more a daytime fragrance than an evening one IMHO.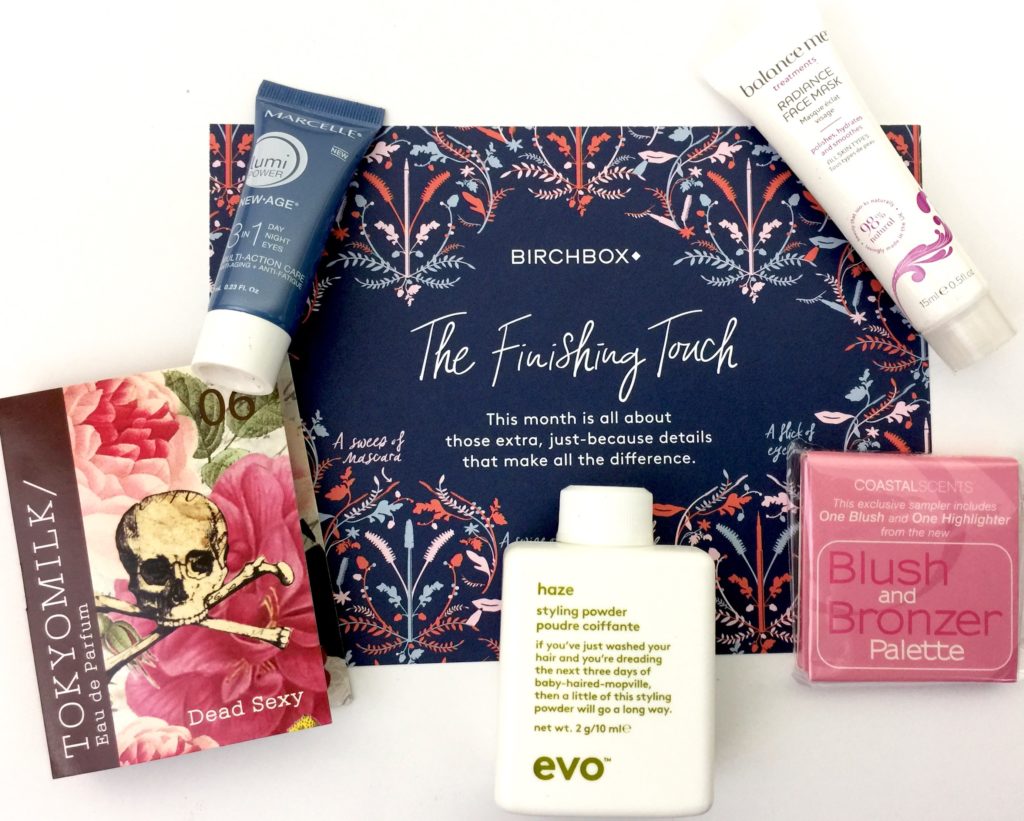 The retail value of the beauty samples curated for the November 2016 Birchbox added up to approximately $22.69. This is not as good as September's $43, but still more than twice the cost of the subscription box. I especially liked the Balance Me face mask (a five minute mask is about my patience speed!), the blush and bronzer duo that is going to be put to immediate use, and the Marcelle moisturizer.
Don't forget to check on Black Friday if you are interested in trying out a Birchbox subscription for the next year. I don't know if they will have a one-day deal this year, but last year's Black Friday annual subscription was a great price!