Mom's Old Fashioned Chicken and Dumplings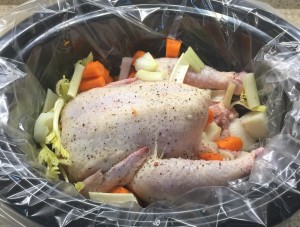 This is a recipe that my whole family loves. In fact, it would be passed around from kid to kid – "Mom's making chicken and dumplings!!" It is not difficult but is time consuming, often a 2 day process depending on my time constraints. I know there are many faster, easier versions to be found. These are good (how could they be bad??) but just not quite the same.
I use Bisquick biscuit mix for my dumplings. There are many dumpling variations out there and every family has a preference. This is ours! Southern Comfort Food at its best!
Ingredients:                                                                                            
1 whole chicken (I use free range, hormone/antibiotic free.)
Several onions
Bunch of carrots
6-8 stalks celery, a few with leaves
Small bag of frozen green beans or equivalent of fresh
1 bay leaf
Dried parsley flakes, about 1 tsp. If using fresh, use sparingly to keep the flavor from overpowering the stew.
Salt and pepper to taste
Ingredients for dumplings:
2 cups Bisquick
2/3 cups milk
Step 1: Cook the chicken and make the stock
Take the chicken out of the bag and take the bag of livers etc. out of it. Check it over for feathers. I cut off the obviously fatty parts of the skin around the opening and around the neck. I feel safe washing my chicken as it should be at lower risk for salmonella – make your own choice on this.
Cut up about 3 stalks of celery with leaves, 3 carrots and an onion. Place them in a large pot with the chicken and cover with water. Add a little salt. You can use a crock pot or a large pot with lid. Be generous with the water so you have left over chicken stock (broth) to freeze. Take your vegetable scraps out to the compost pile.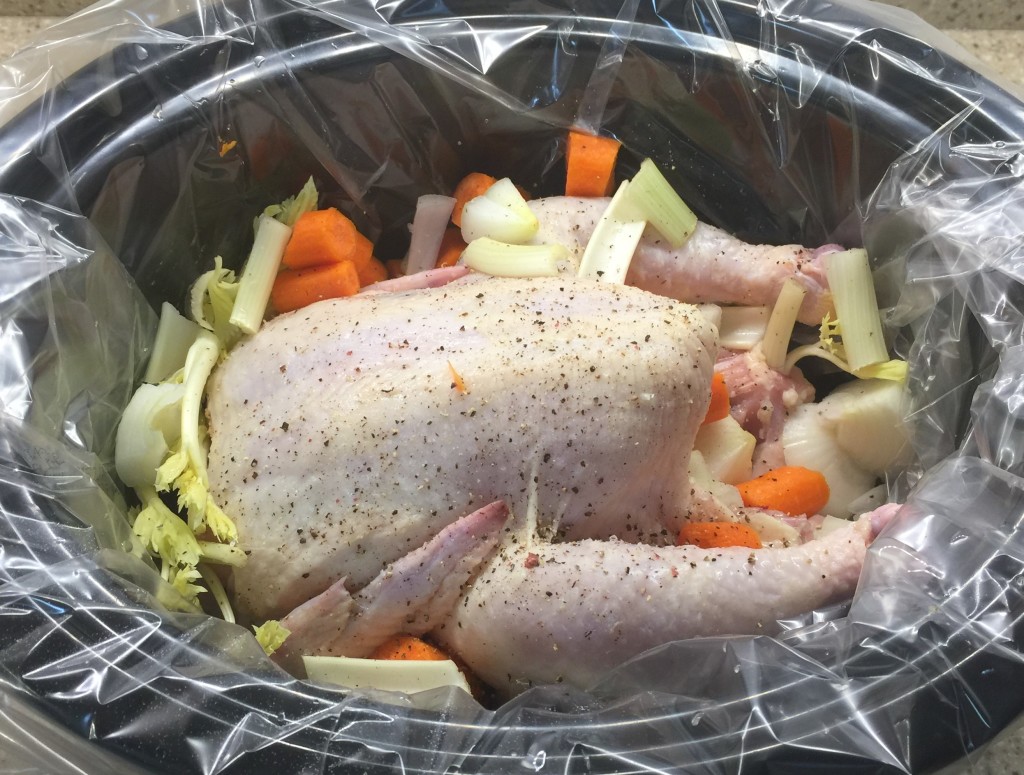 Crock pot method: I use a crock pot liner and am able to cover my chicken with 8 cups of water. Start the chicken on high for the 1st hour, then cook on low for about 9 hours.
Stove top method: Bring chicken to a boil, then reduce heat to low. Cover with a lid and let it simmer for at least one hour.
Your chicken is done when it is falling apart when you try to lift it out of the pot. Be patient. When the time is right, turn off the heat and place the chicken on a plate to cool. It will cool faster if it is in pieces.
Let the stock cool so you can deal with it without burning your fingers. Strain it if you want a clearer stock. Use a slotted spoon to remove the cooked veggies.  Then put it in the refrigerator and when it is cool, the fat will have risen to the top and congealed. You can just scrape it off with a spoon, easy peasy! Use the amount of stock you need for your dinner and freeze the rest in batches.
Step 2: Make the chicken and dumplings
Take the chicken meat off the bones. Pull it apart into pieces with your fingers.
Cut up your onions, remaining carrots and celery (no leaves). I like them fairly chunky.
Place chicken, fresh veggies, green beans, bay leaf & parsley in pot with a lid. Cover with chicken stock.  Add salt and pepper to taste. Bring to a boil and then reduce heat to low and cover. Simmer for about 30 minutes.
While the stew is cooking, make the dumplings.
Mix Bisquick baking mix with milk so that it is a soft dough. When the stew is done, drop the biscuit mix by large spoonfuls on top of the stew. Cook for 10 minutes uncovered, then cover and cook for 10 more minutes.
You probably won't need to call your family at this point because they will all be in the kitchen, waiting!