May 2017 Pooch Perks Review & Coupon!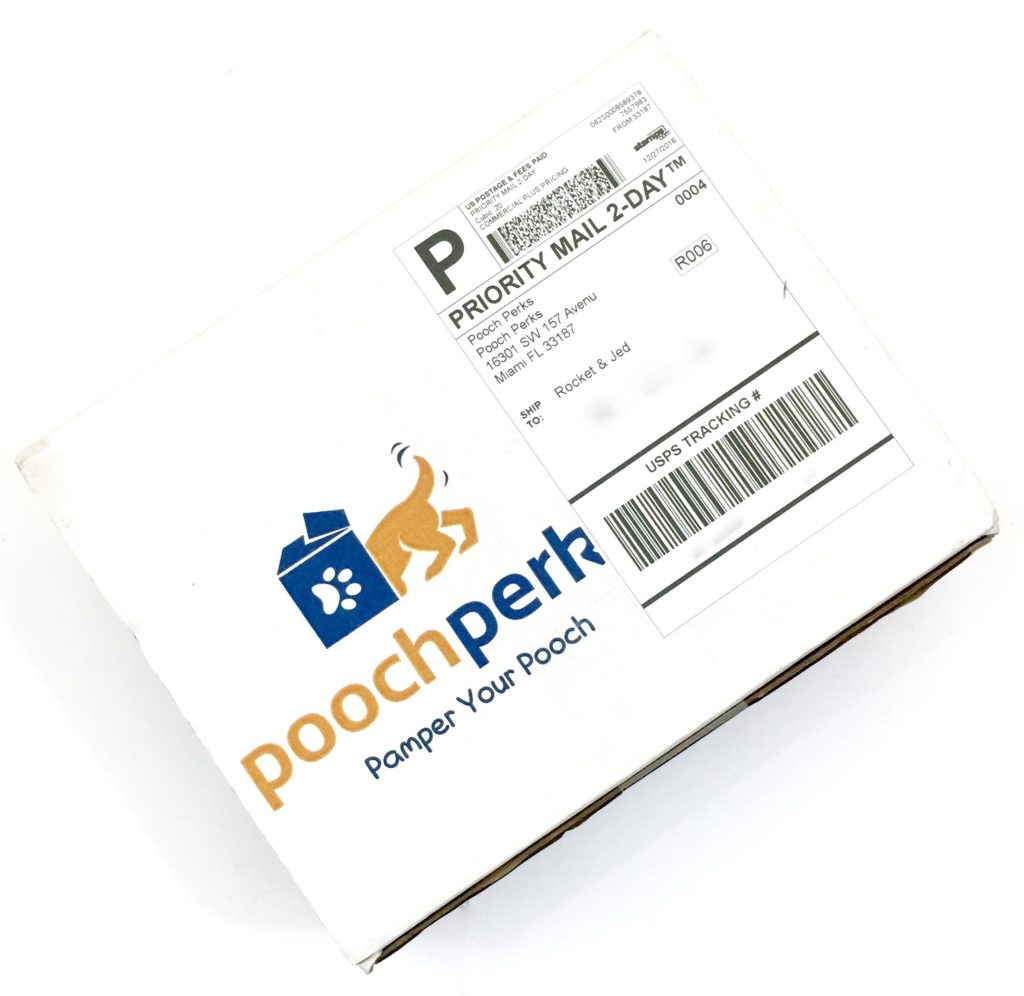 Pooch Perks is a monthly subscription box of toys and treats for your dog. You let them know the size of your dog(s) and any issues such as food sensitivities or heavy chewing. Shipping is free. Toys and treats are made in USA. Pooch Perks now has an updated website and has changed their subscription options:
Sample Pooch ($11.95) – 2  items from previous month's box
Popular Pooch ($27.95) –  4 to 5 items
Custom Box (starting at $31.95) – price depends on your dog's size and the contents you choose.
The Homespun Chics paid for this subscription box. All opinions are 100% our own. This post contains affiliate links.
---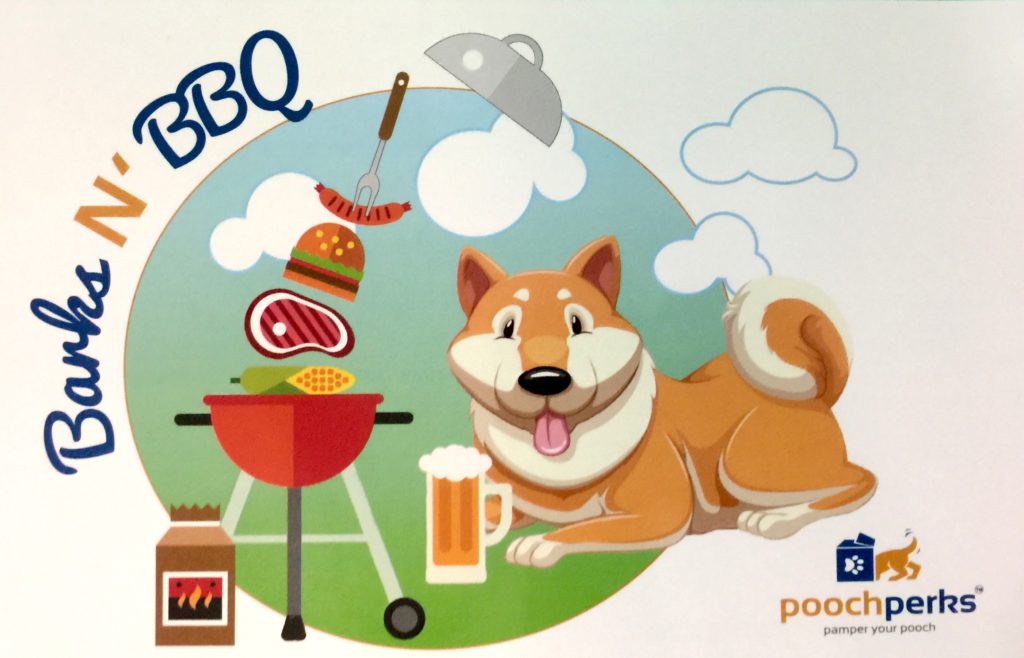 The May 2017 Poochperks box has a theme!!
Barks N' BBQ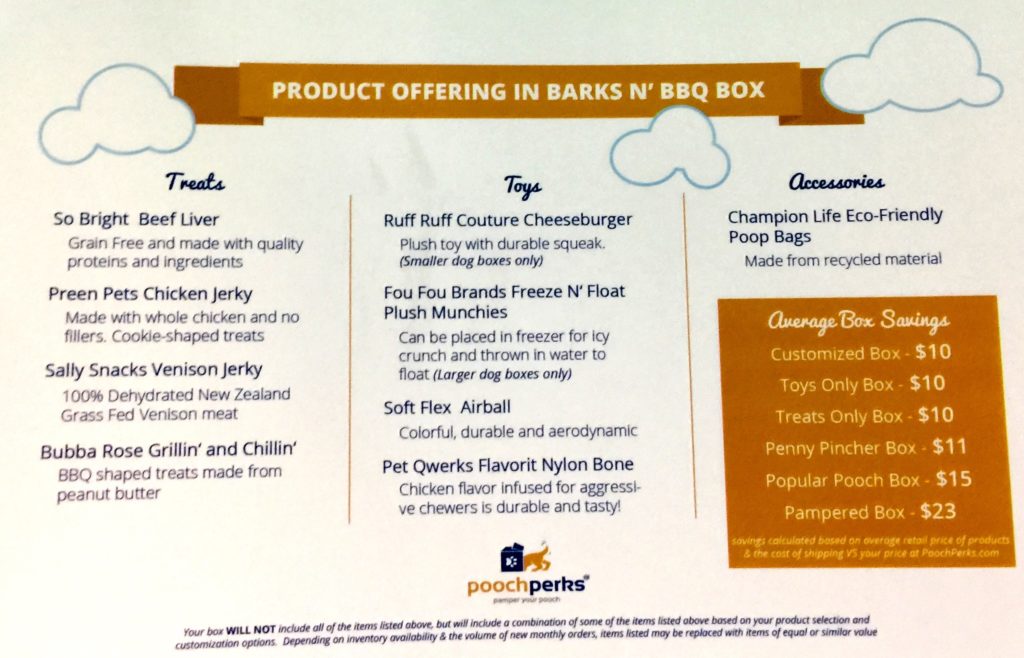 The flip side of the theme card lists all the products that Pooch Perks included for their May box. Subscribers will receive some, but not all, of these items depending on the level of their subscription and their customization options. This is the first time Pooch Perks has had a product information card, too!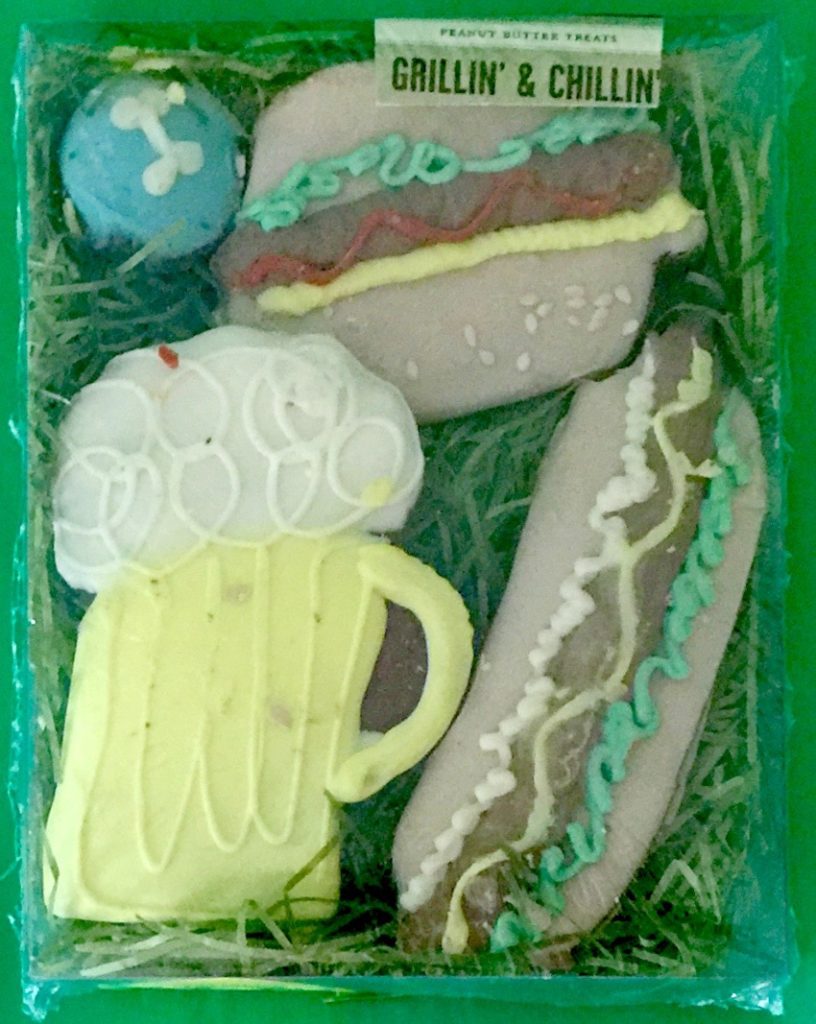 Bubba Rose Biscuit Co. – Grillin' & Chillin' Peanut Butter Treats 2.9 oz ($13.99)
These were small-batch hand made treats with all natural ingredients including cage-free eggs, wildflower honey, and natural peanut butter. The 4 shapes were all barbecue themed and topped with a yogurt icing. Beautifully packaged and perfect for gifting, too!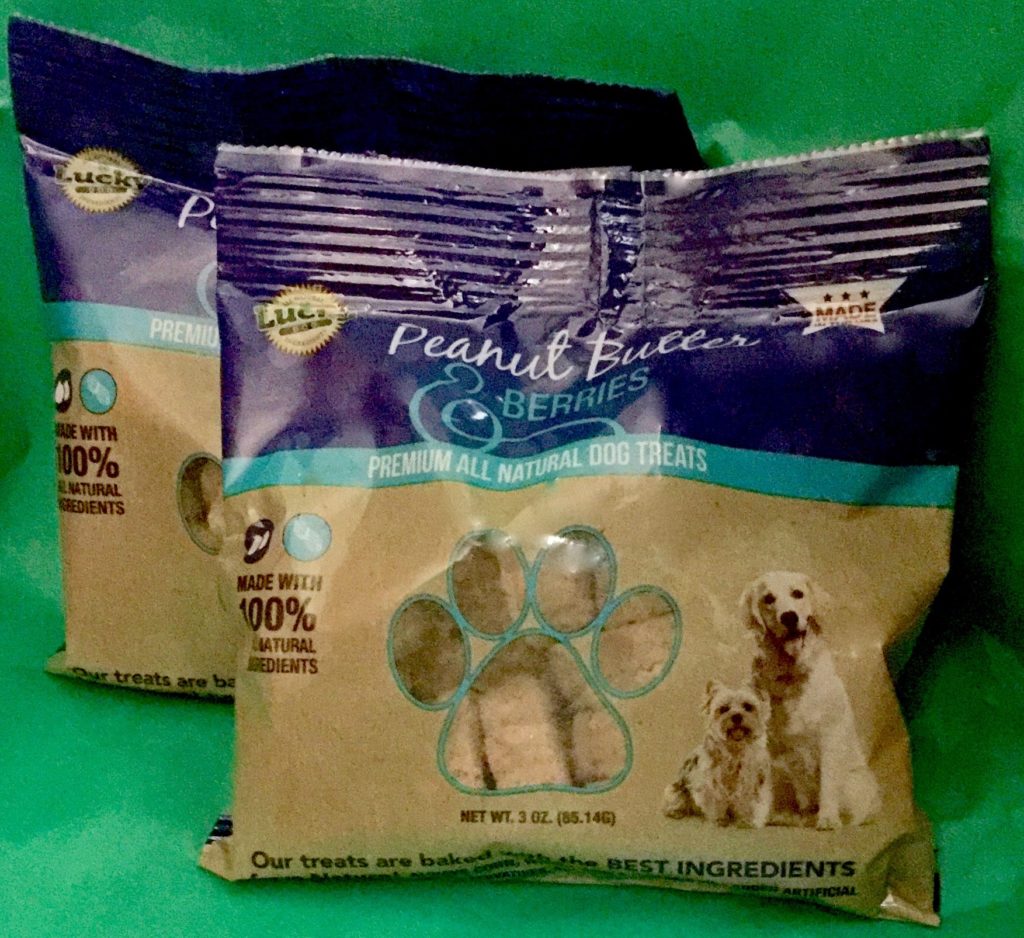 Lucky Dog  – (2 bags) Peanut Butter & Berries Premium All Natural Dog Treats 3 oz each ($6)
These all natural treats contain oatmeal, peanut butter, flaxseed, blueberries, & cranberries. Healthy & tasty – the best kind of treats!

Champion Life – Eco-Friendly Poop Bags 60 bags
These degradable bags are made from 10% recycled material and are extra strong. Who can't use more poop bags? And these have a cherry blossom scent, too!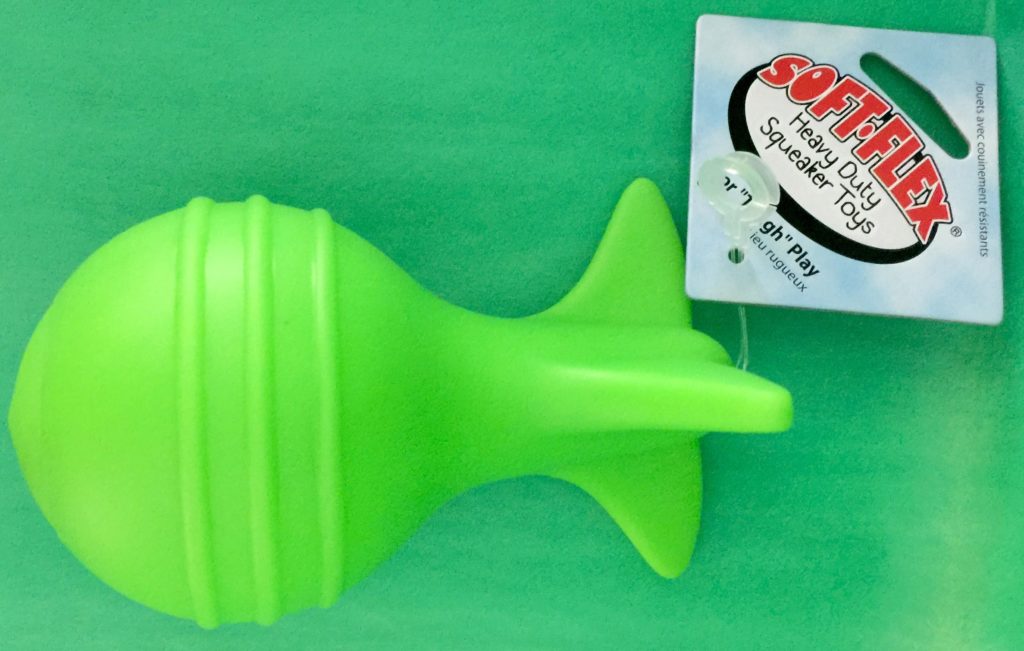 Hueter Toledo – Soft Flex Air Ball 5″ ($4.98)
This is a "Heavy Duty" squeaker toy for tough play. It is designed to squeak without an added plastic piece inside for dogs to accidentally swallow. Rocket had the wings torn off in about 5 minutes. Both dogs love this toy, so my husband cut the protruding part off with his saw and we will use the round end as a ball until they start eating it.

Pet Qwerks Flavorit Nylon Bone Medium ($7.99)
This dense nylon bone has a textured surface with "flavor cells" that can be used to smear on peanut butter or other tasty goodies. It is designed for tough chewers. And that is exactly what I have!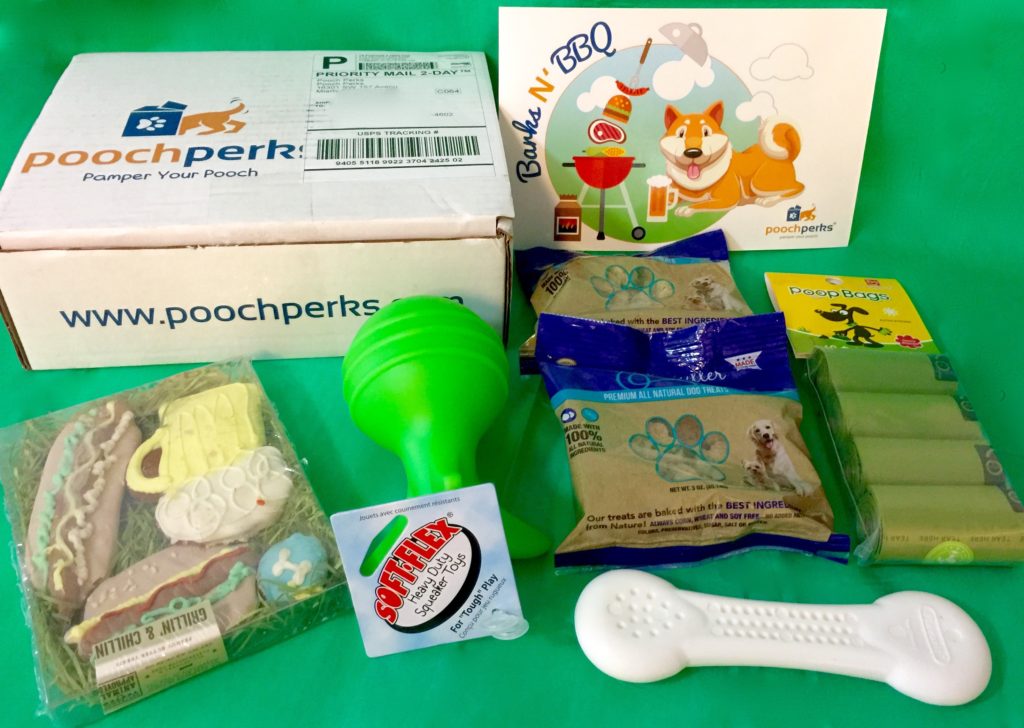 This is the first month that Poochperks has curated to a theme! I always love to have a product information card in a sub box, too. Both the theme and the product list point to a more organized management of the subscription service – never a bad thing in this oversaturated subscription box world. And the May 2017 Pooch Perks box was a very good one for the boys – no chicken to make Rocket itch and no plushies to disembowel!
Interested in giving Pooch Perks a try? For a limited time get 10% off any order using code "SEA10" at checkout!