May 2017 Degustabox Review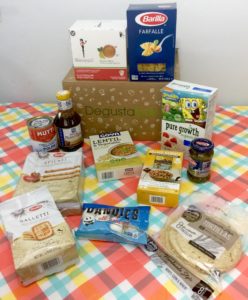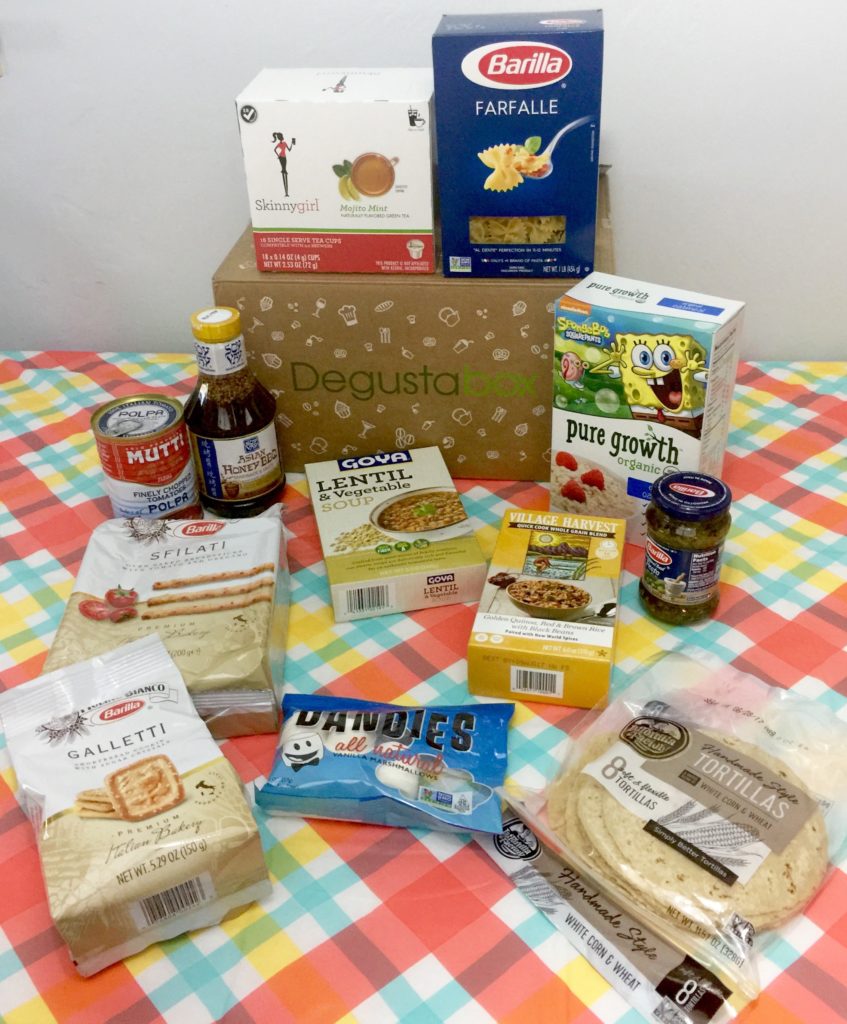 May 2017 Degustabox
Degustabox is a food subscription box that began mid 2016 and sends you 10 to 15 full-size surprise products each month at a price less than you would pay at the store for the items. The monthly cost is $19.99 with free shipping, charged on the 19th of each month.
There is no commitment and you can cancel the next month if you notify Degustabox before the 15th of the month.
The Homespun Chics received this subscription box for review. All opinions are 100% our own. This post contains affiliate links.
---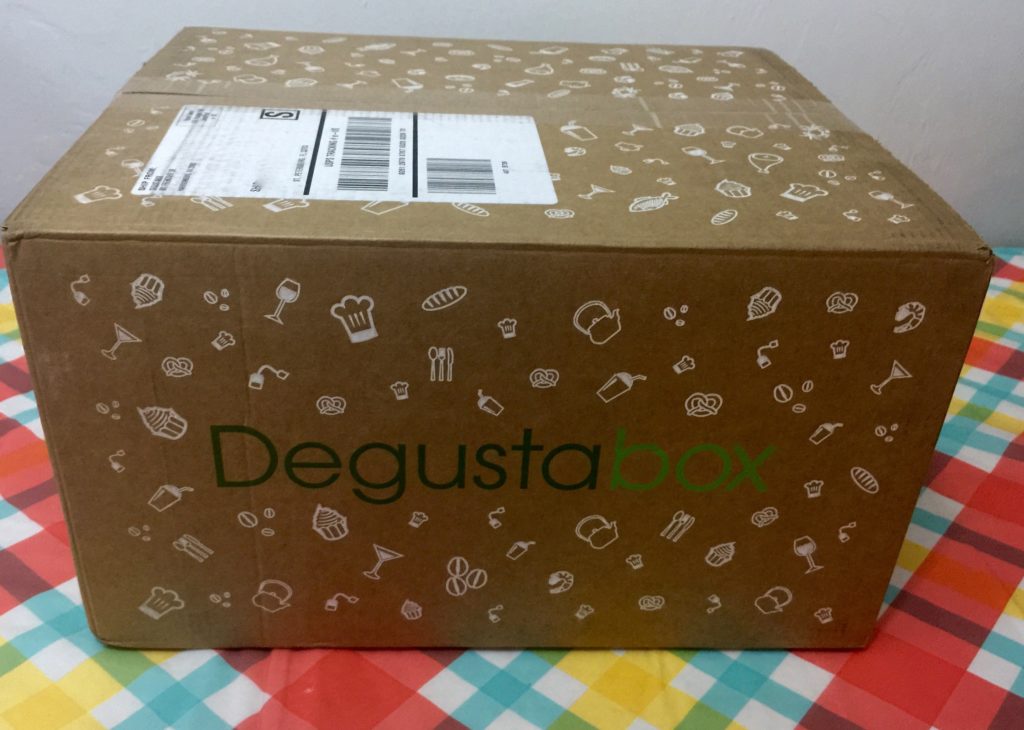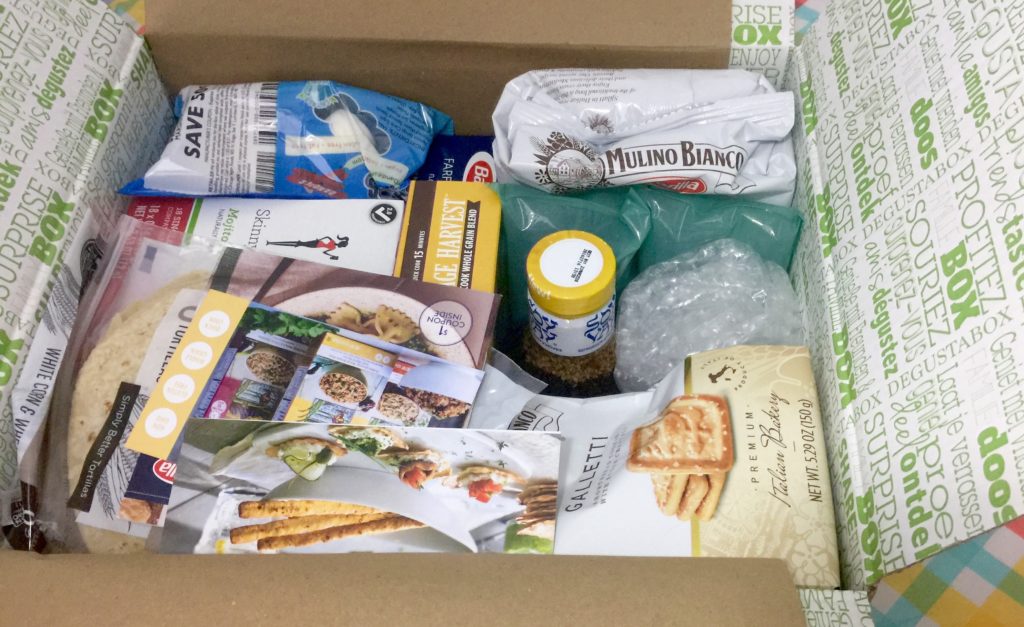 First peek! Degustabox always sends a full box of all kinds different foods! I have never received anything broken or crushed. Note – not everyone will receive the exact food items that I am reviewing.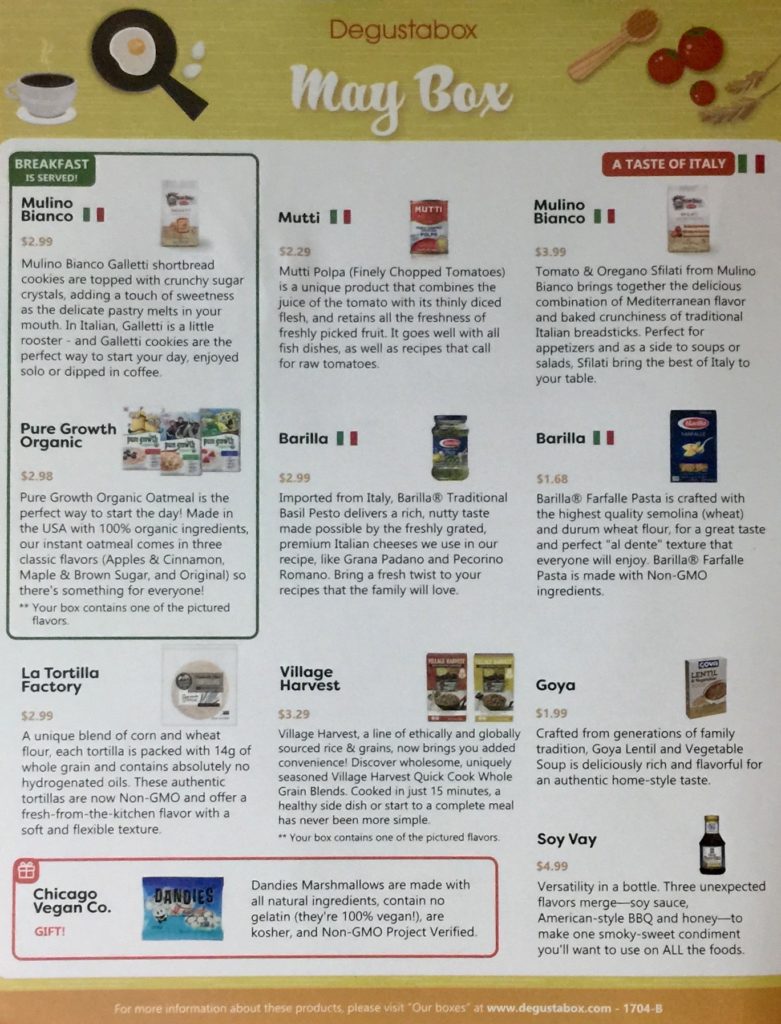 My May 2017 Degustabox includes a great full page glossy information sheet that gives you photos, accurate prices, and descriptions of each product curated for the box.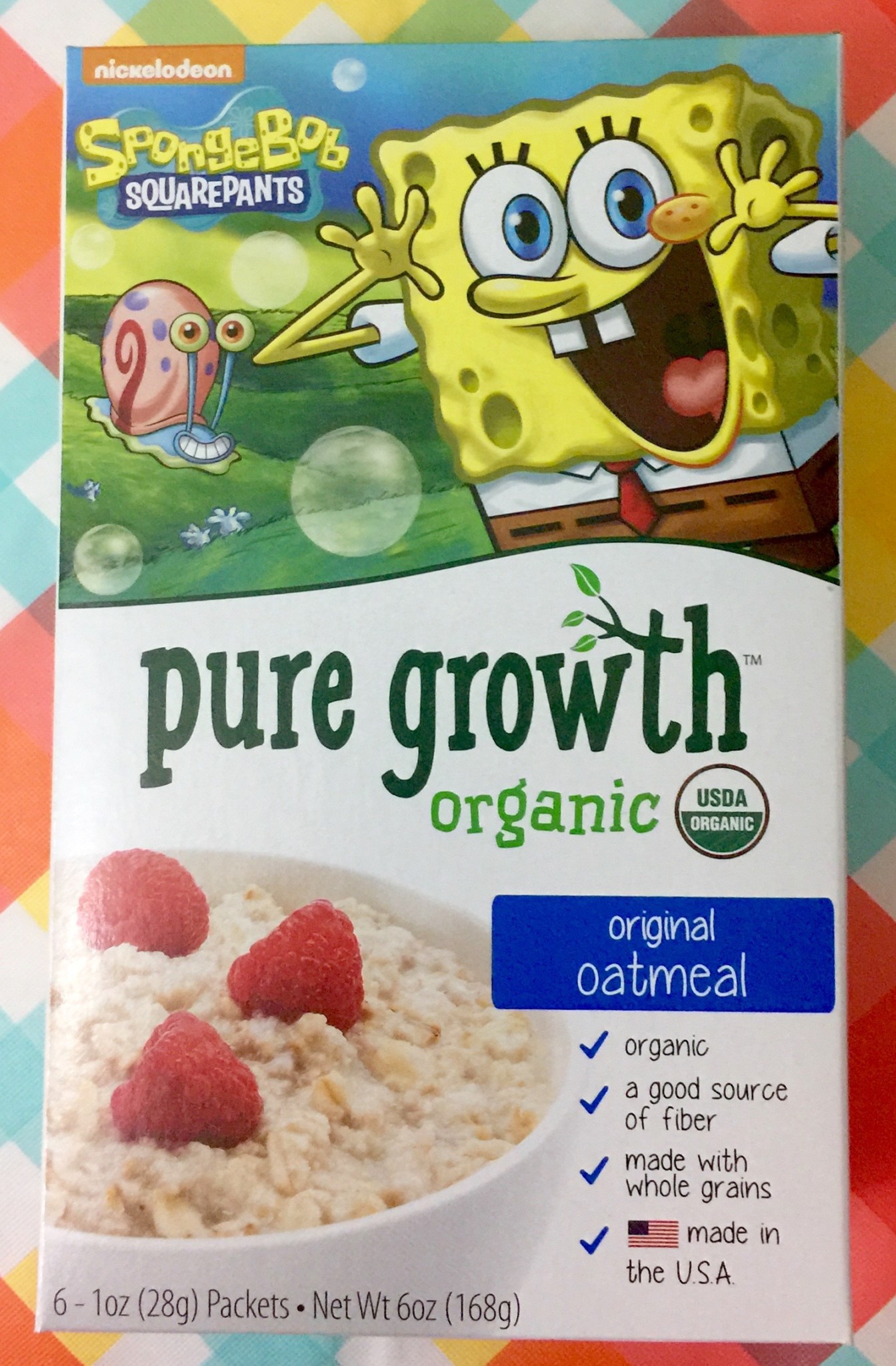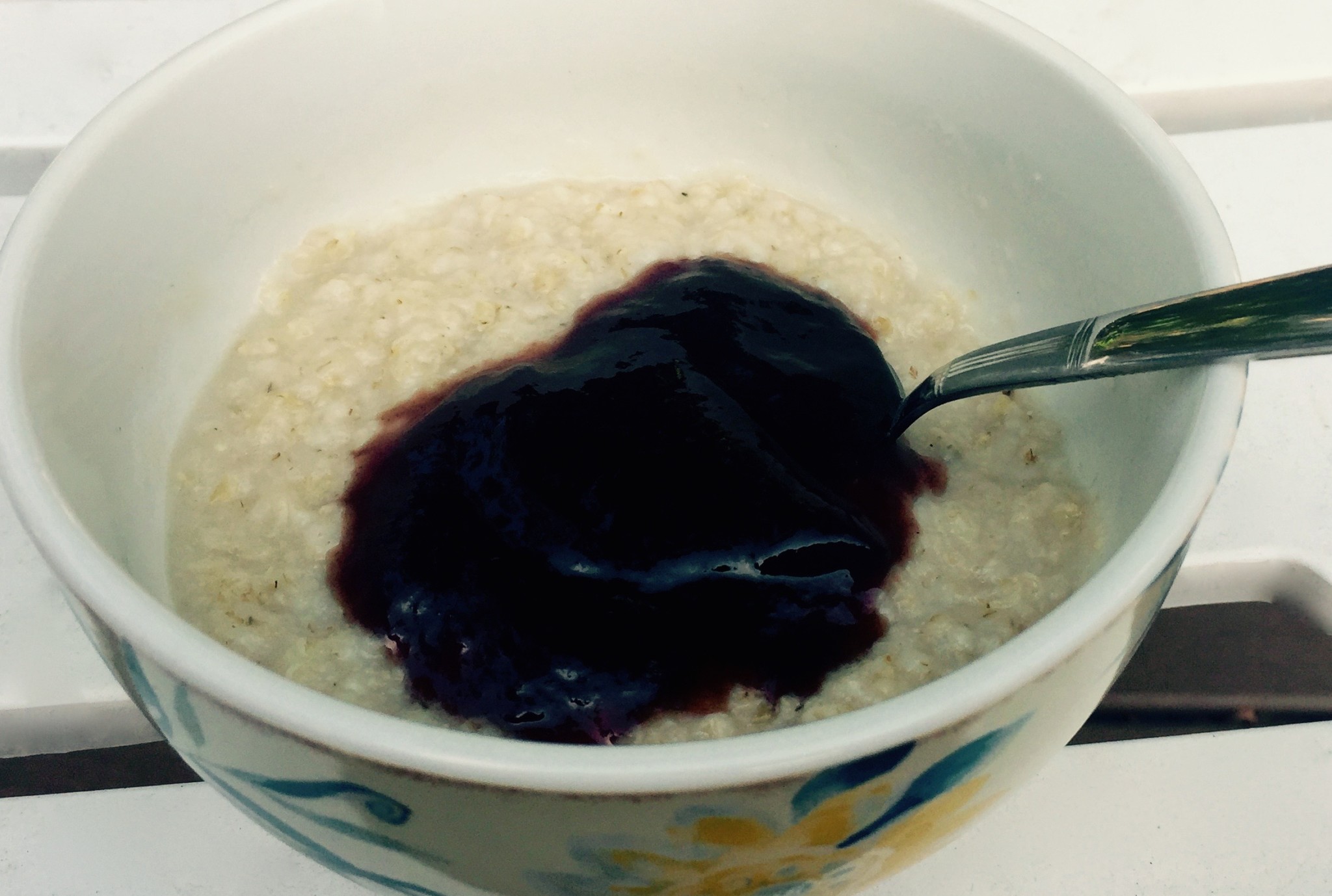 Pure Growth Organic – Original Oatmeal 6 oz ($2.98)
You can't go wrong starting your day with organic oatmeal made in the USA from whole grains. These oatmeal packets are in a kid-friendly SpongeBob Squarepants box and are original flavor but some subscribers received apple-cinnamon or maple & brown sugar flavor instead. You can mix the oatmeal with milk or water, and fix it in the microwave or just let it sit in hot water for a few minutes. I like mine with just a little dollop of jelly on top!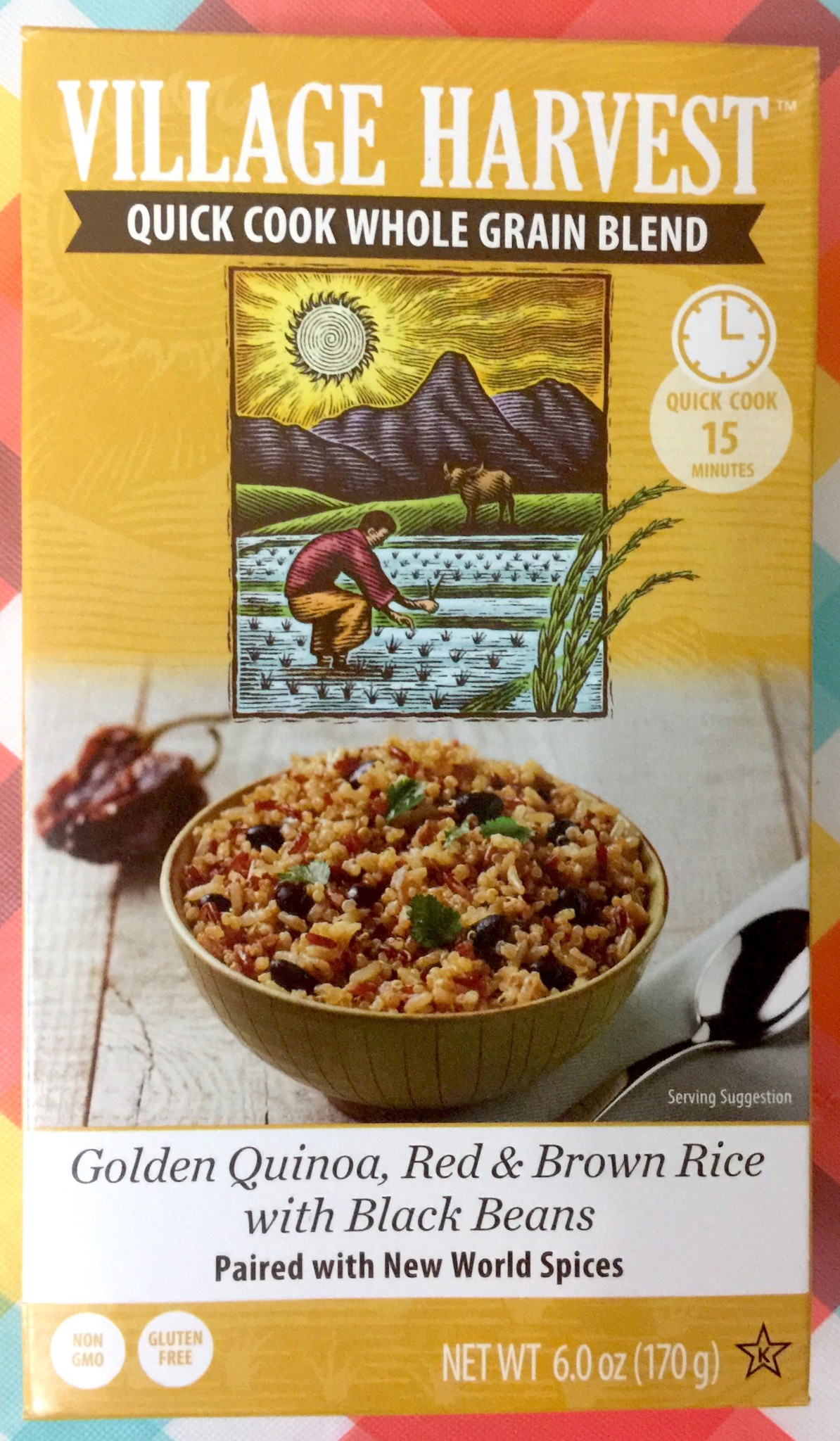 Village Harvest – Quick Cook Whole Grain Blend ($3.29)
This is a whole grain blend of  quinoa, red & brown rice, and dried black beans combined with spices. It cooks in just 15 minutes and is gluten free and non-GMO. You can eat it the way it comes in the box or dress it up a bit – think roasted garlic cloves and roasted broccoli florets!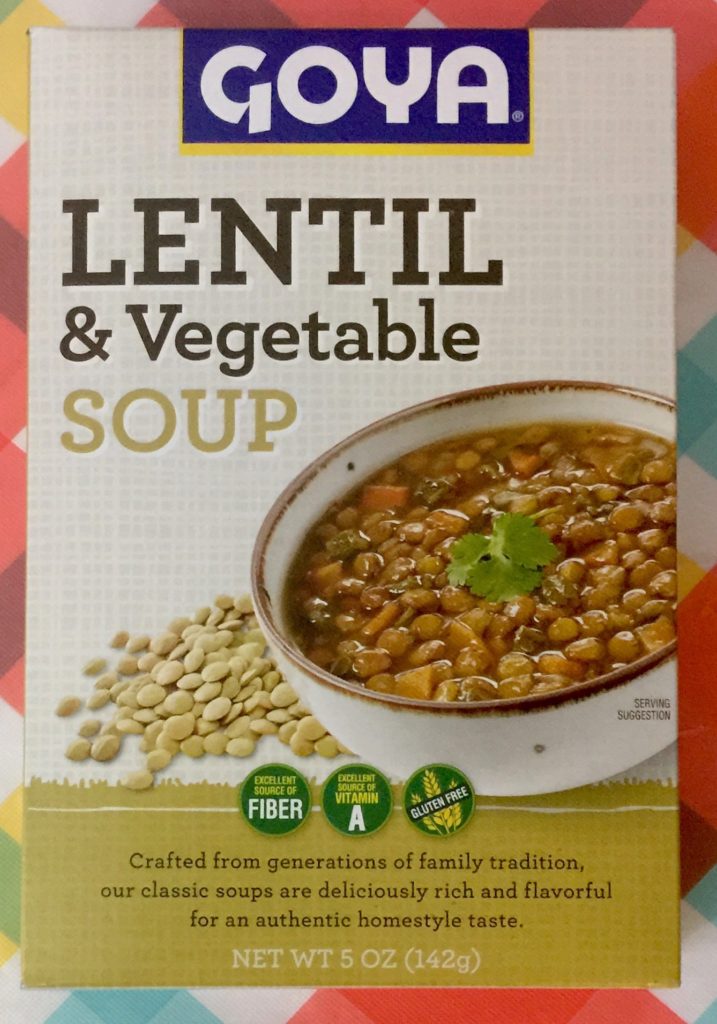 Goya – Lentil & Vegetable Soup Mix 5 ox ($1.99)
Diced carrots, green bell peppers, onions, garlic, and cilantro are added to this classic lentil soup for a Latin twist. Just add water and olive oil and you have home made soup in 30 minutes. A great source of fiber, vitamin A, protein, and iron.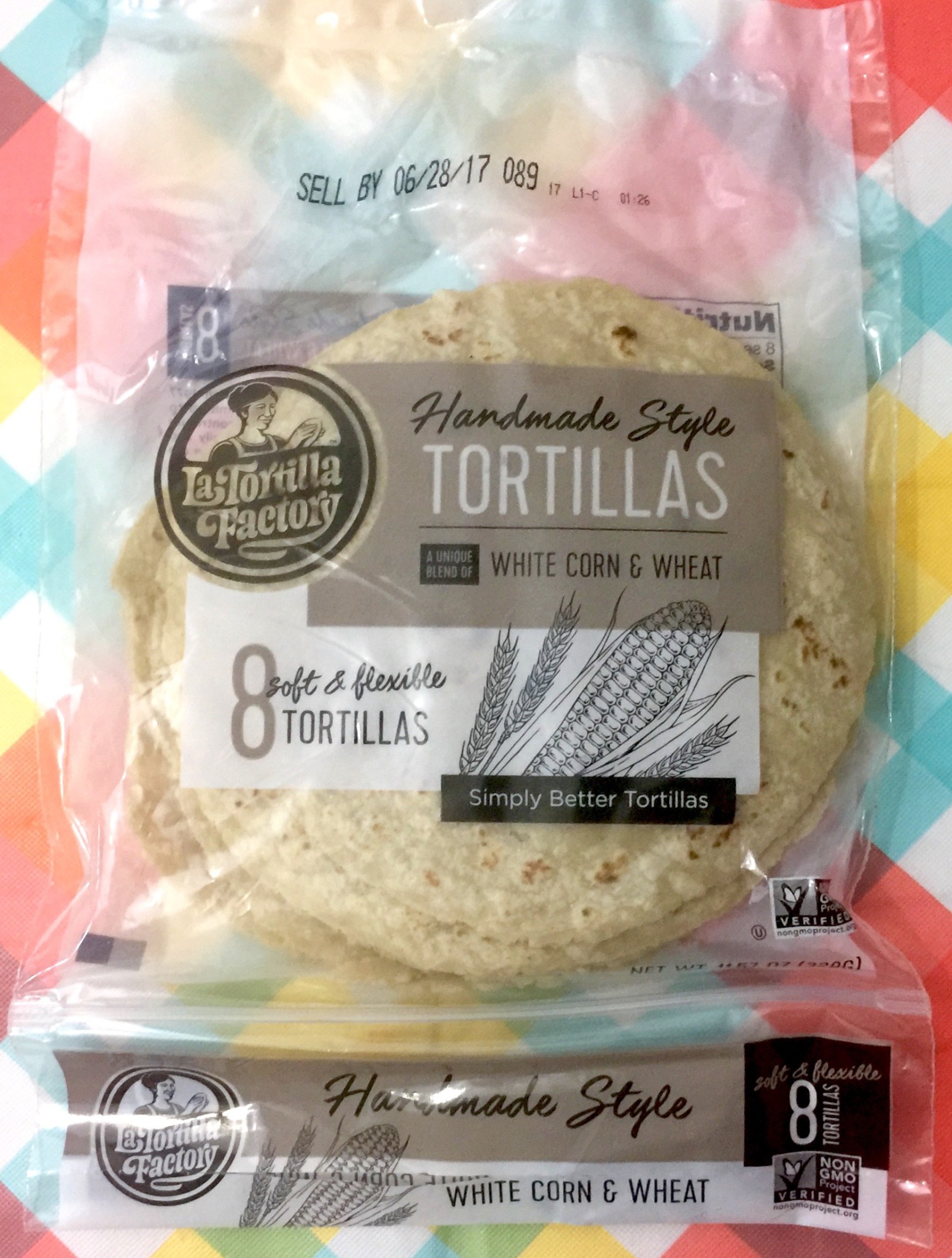 La Tortilla Factory – White Corn & Wheat Soft Tortillas ($2.99)
This package of 8 tortillas is non-GMO and made from corn and wheat flour. They are flexible but very strong to resist breakage. Plus they contain no hydrogenated oils.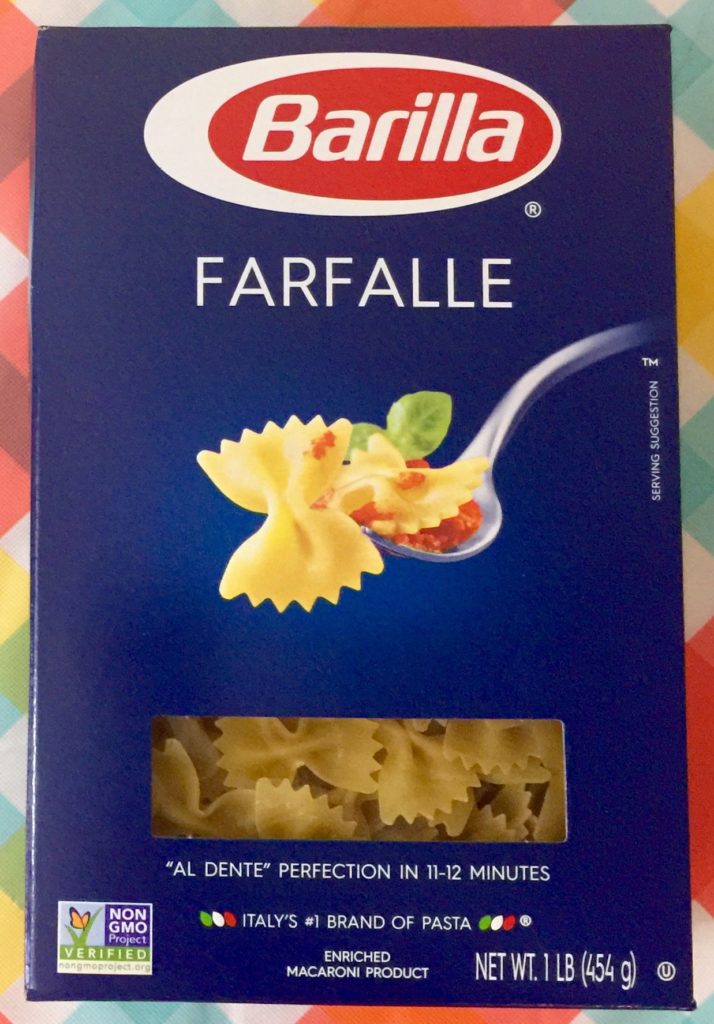 Barilla – Farfalle Pasta 1 lb ($1.68)
We would starve at my house without pasta! It is really one of my favorite forms of food and these are bowtie pastas that cook in 11 minutes. They are Kosher and you can pair them with any of your favorite sauces.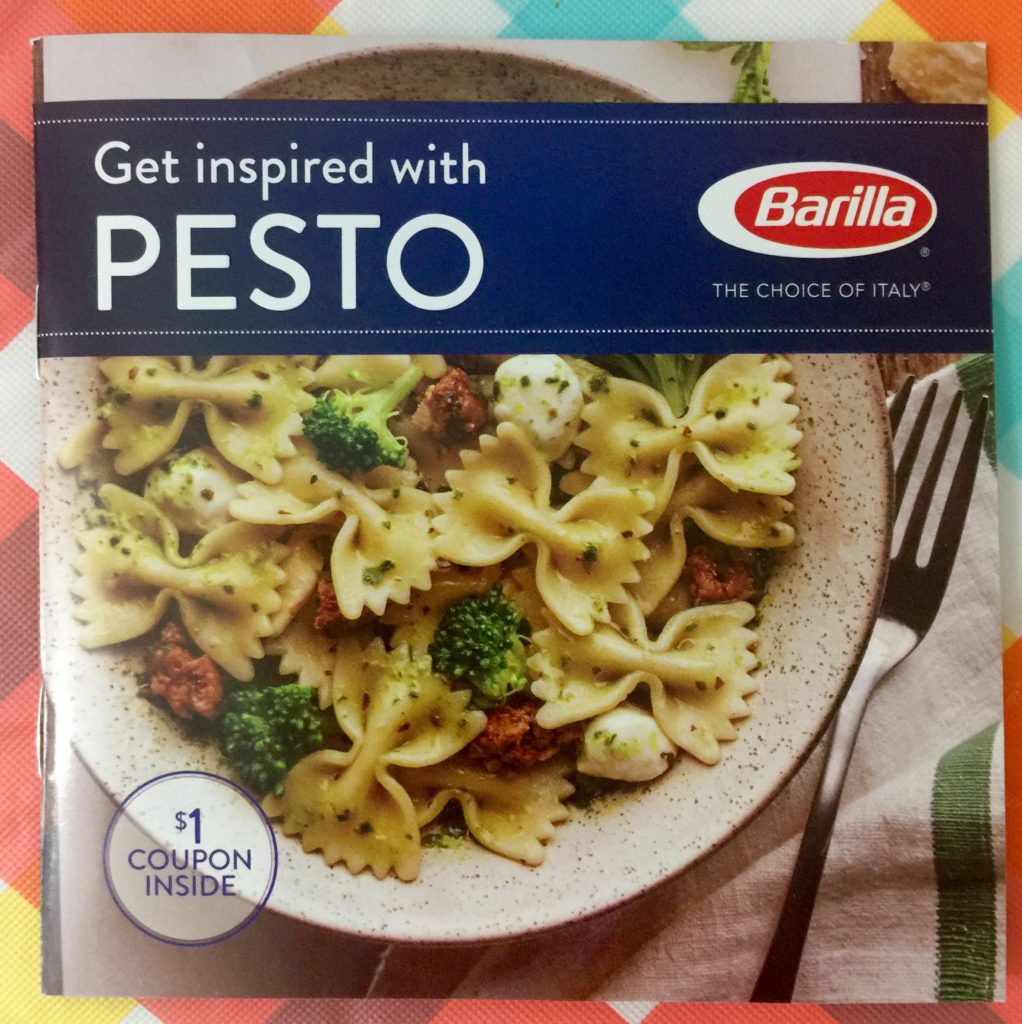 Degustabox included a little Barilla recipe book with pasta ideas. The little booklet includes a $1 off Barilla pesto sauces.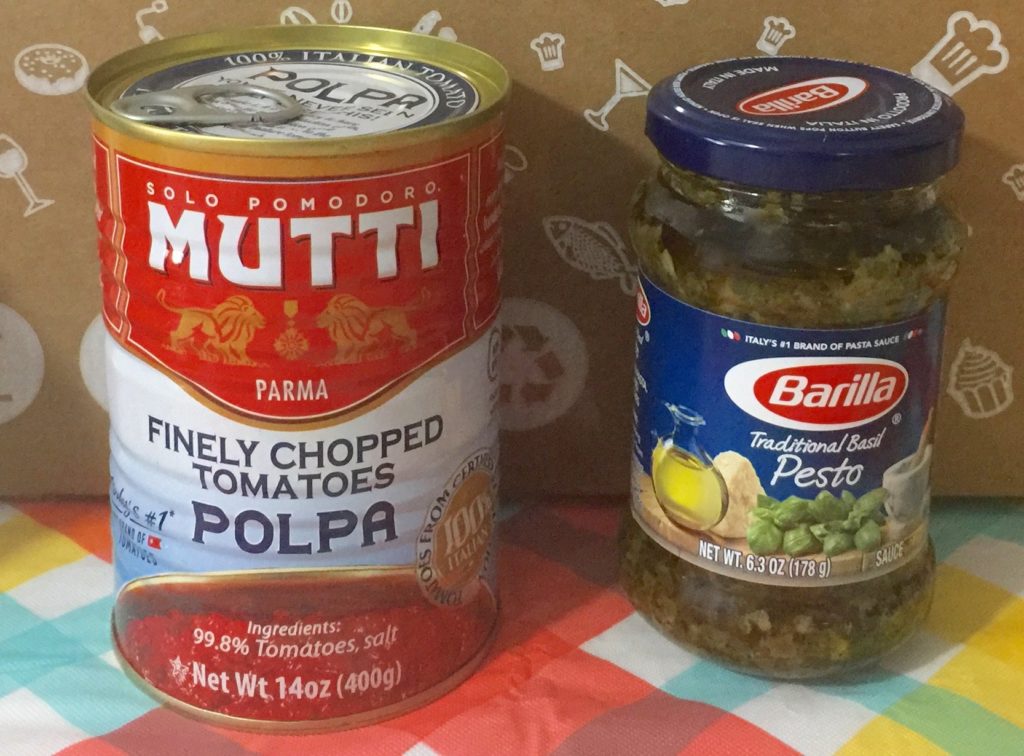 Barilla – Traditional Basil Pesto 6.3 oz ($2.99)
If you like pesto sauce, this is the original flavor that comes to mind. The main ingredients are basil, spinach, garlic, cheeses, and cashews and you can serve it right out of the jar for whatever pesto recipe you want to fix.
Mutti – Finely Chopped Tomatoes 14 oz ($2.99)
Pulpa means finely chopped tomatoes and you can use these for any type of pasta sauce or on pizza.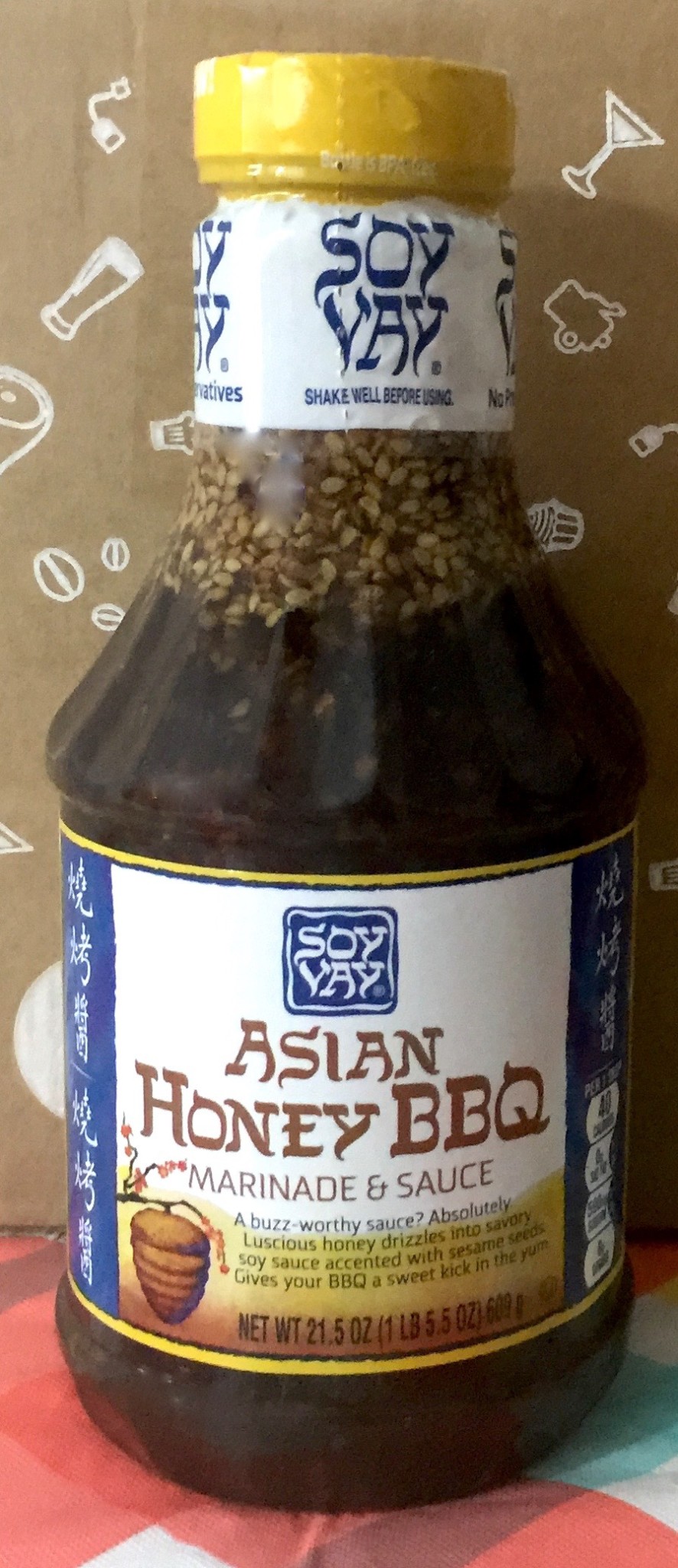 Soy Vay – Asian Honey BBQ Marinade & Sauce 21.5 oz ($4.99)
American/Asian fusion best describes this tasty sauce. The flavor is a blend of soy sauce, American barbecue sauce and honey and you can use it on anything you want – hamburgers, salmon, etc. The website has quite a few recipes in case you need some creative help, but I think it would be great no matter what you use it in.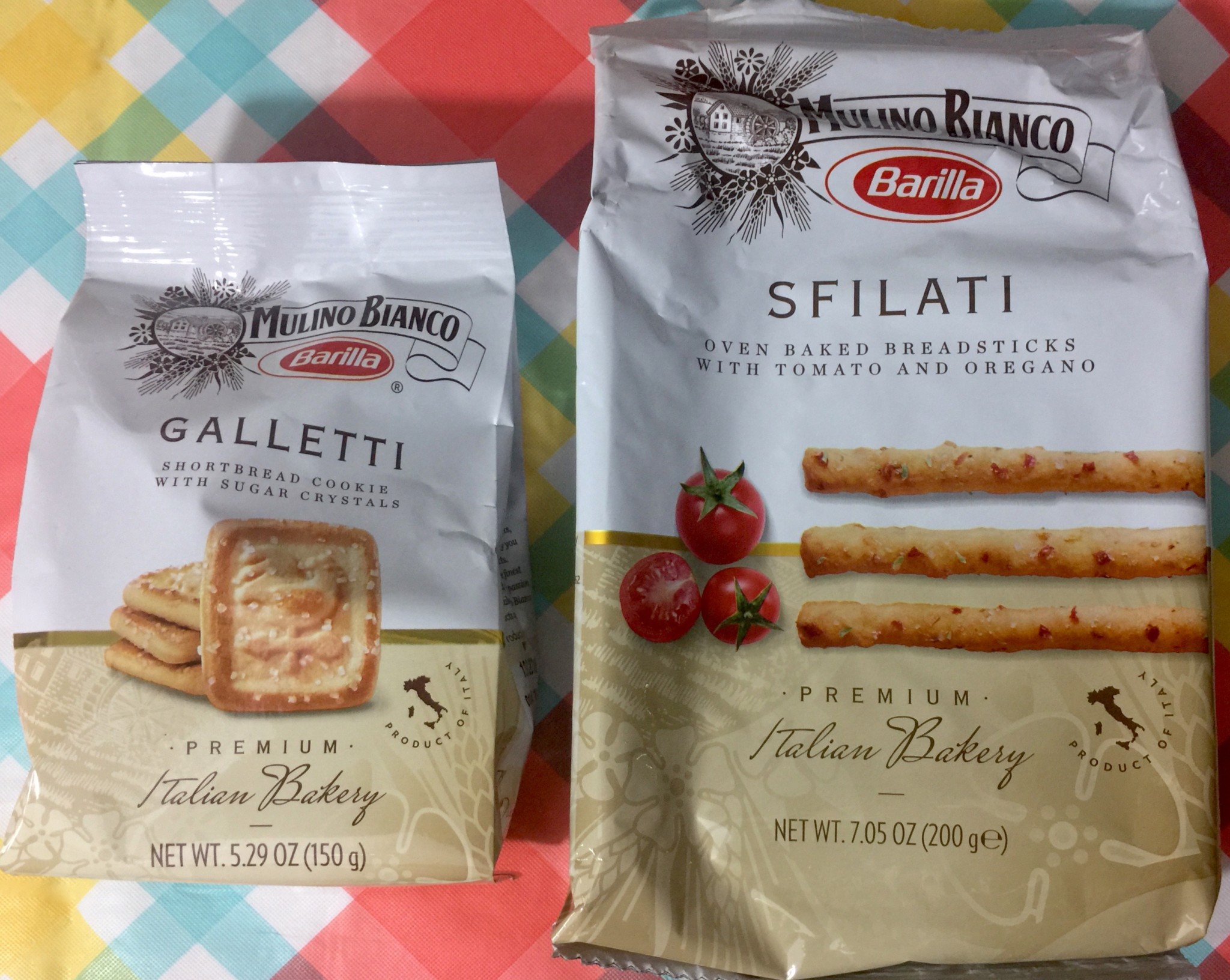 Barilla Mulino Bianco – Galetti 5.29 oz ($2.99)
These delicious cookies are shortbread topped with sugar crystals. They have no artificial colors, hydrogenated fats, or artificial sweeteners. If you love shortbread, you will love these!
Barilla Mulino Bianco – Sfilati 7.05 oz ($3.99)
These oven baked breadsticks with tomato & oregano have no artificial preservatives or colors. They are crunchy snacks with a Mediterranean flavor.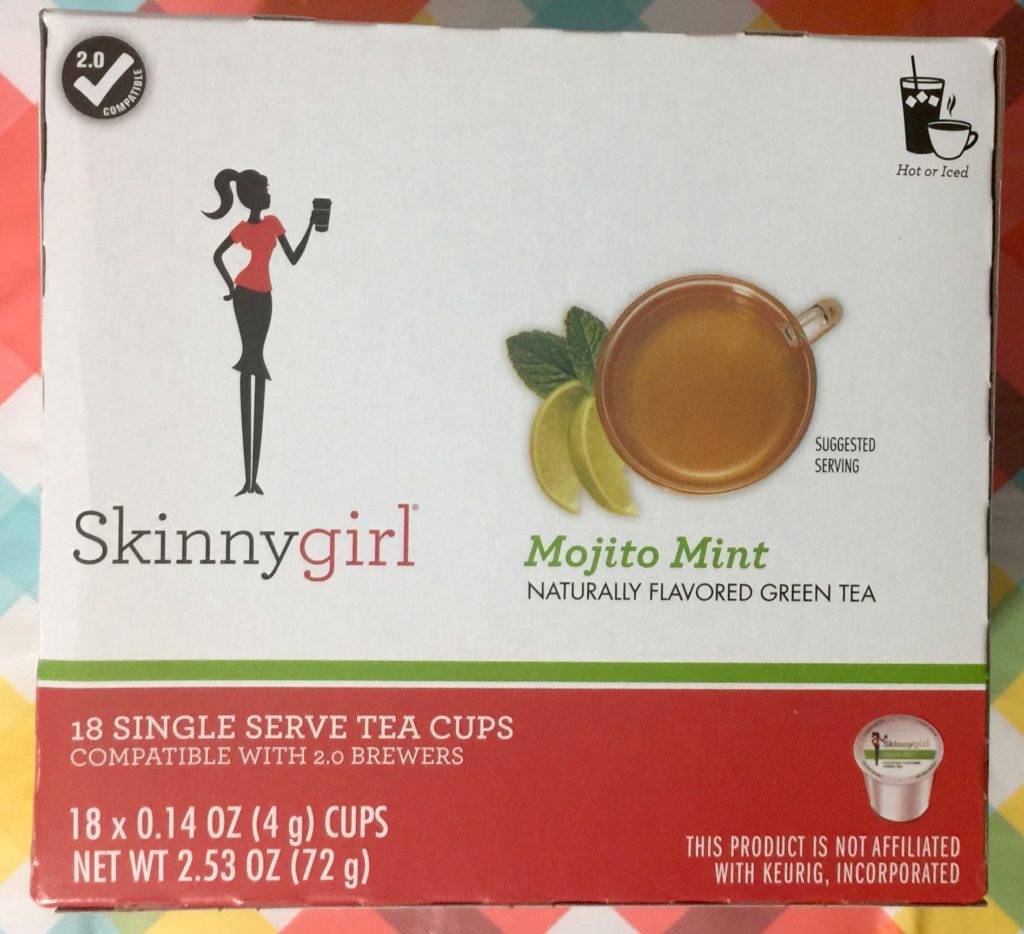 Skinnygirl – Mojito Mint Naturally Flavored Green Tea 2.53 oz ($4.99)
This is lime/mint flavored green tea (18 cups) for your Keurig original or Keurig 2.0 brewer. It has 0 calories and is subtly sweetened with Stevia. Great either hot or cold! No artificial flavors, colors or sweeteners.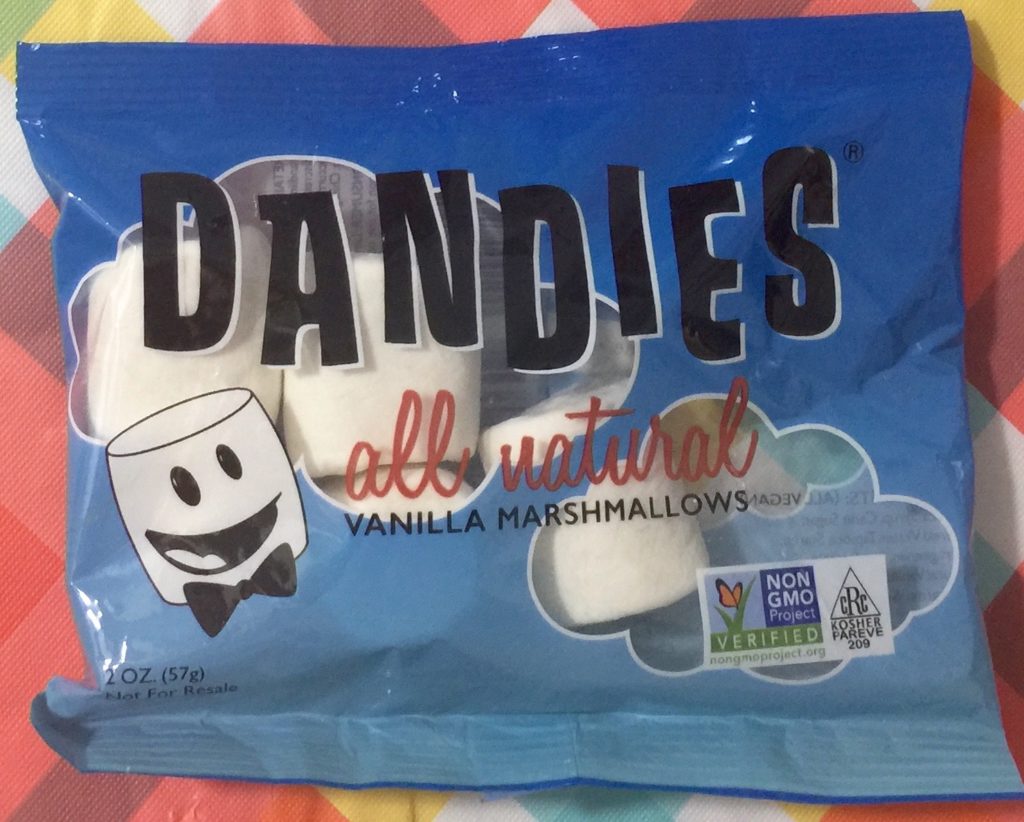 Chicago Vegan Co. – Dandies Marshmallows 2 oz (GIFT!)
Theses are vegan marshmallows made with tapioca syrup instead of traditional gelatin. They are soft & fluffy, gluten free, non-GMO, corn and corn syrup free, and Kosher.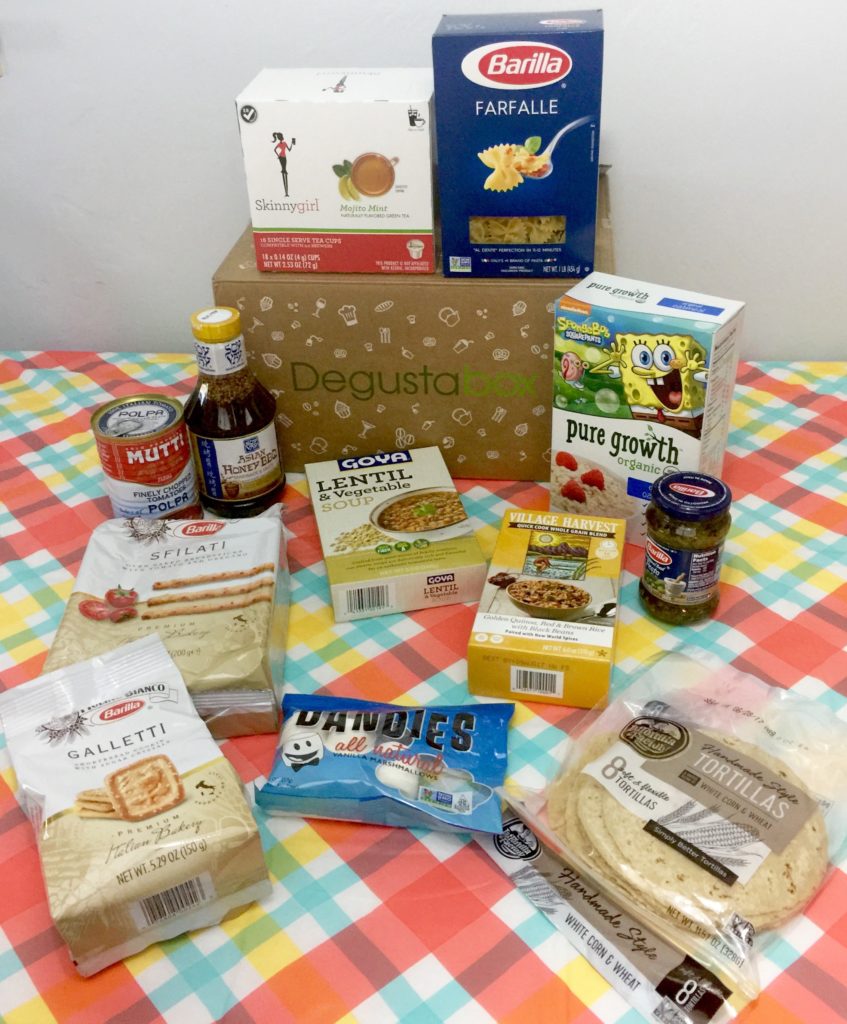 The retail value of the groceries in my May 2017 Degustabox came to $36.17. It was really a full box of food for a lot less than I would have paid in the grocery store. Keep in mind that my blogger box contained one of everything for the month and that subscribers might have had a different combination of things, but even so it is a heck of a good deal for the cost!
You can take a look at the Degustabox website to see all of their past boxes if you want to get a feel for what you can expect. And no comittment if you want to give it a try!