May 2016 GREAT Kids Snack Box Review + Coupon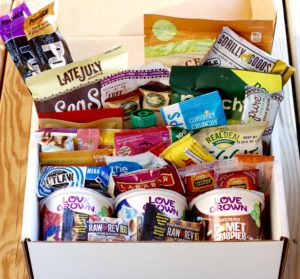 GREAT Kids Snack Box is a snack subscription box filled with a variety of individually wrapped snacks made with organic and natural ingredients and delivered to your door every month. Each box contains enough snacks for your child to try a unique snack once a day for a month! If you find something that works for you and your child, GREAT Kids Snacks even has an option for you to purchase the snacks in bulk directly through their website! This approach takes the guesswork out of shopping for picky eaters and ensures your child gets the nutrition they deserve. The monthly subscription cost is $39.95 per month.
The Homespun Chics paid for this subscription. All opinions are 100% our own. This post contains affiliate link.
---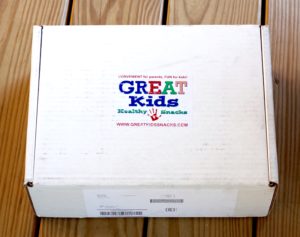 May 2016 GREAT Kids Snack Box
Last month's GREAT Kids Snack Box was a huge success with Little G! I have become a big fan of this subscription box company and love how excited Little G has become opening his subscription box and getting to choose his own snack each day. He has (almost) completely stopped whining at the grocery store for all of the super sugary snacks and treats that line the shelves, conveniently at toddler-level… The boxes contain 30 different perfectly healthy and delicious snacks for Little G to choose from each day and lasts a full month! Fortunately the May box arrived at the end of April so we did not run out of snacks before receiving our next box. (Whew!)
25% OFF COUPON:  HOMESPUN
*Use our coupon code to save 25%  off your first box! (That's 30 snacks for only $29.96!!!)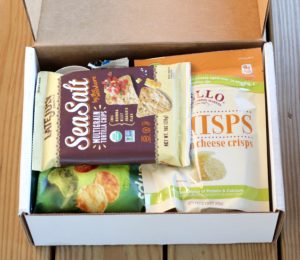 First peek and just like last month, we found a some good sized packages of snacks right on top! We knew this box would be filled to the brim with goodies and Little G couldn't wait to dig in. Fortunately, I was able to grab shots of all the snacks before he ate them!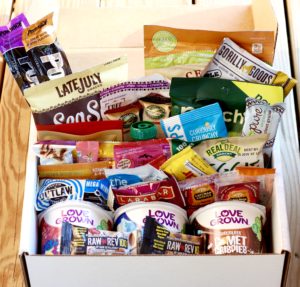 Just LOOK at all of those snacks! The best part about this box is the variety between all of the items. There is truly something for everybody and all of the items are individually wrapped and made with natural and organic ingredients.
Here's what's inside: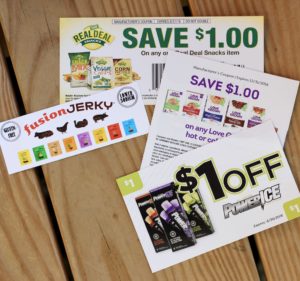 We found some awesome coupons and info sheets at the bottom of the box for some of the featured products. I love coupons!!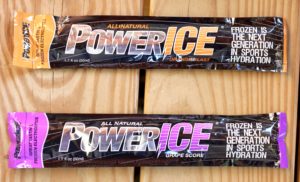 PowerICE | Orange Blast & Grape Score
This is basically frozen gatorade-type icee pops that are packed with electrolytes. I quickly popped these in the freezer for Little G to try out. He is constantly running around like crazy and always needs a quick cool-down and re-hydration.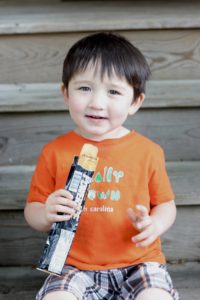 He really loved these icee treats and told me that the orange flavor was his favorite!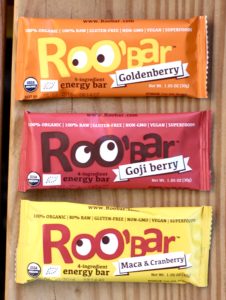 Roobar | Goldenberry, Goji Berry, Maca &Cranberry
Little G really, really loved these Roobars! All of the bars are completely organic, raw and made with simple ingredients to keep you energized and healthy! It is safe to assume that all three of the bars we received were Little G's favorite snacks this month. He kept searching the box asking for them once they were gone!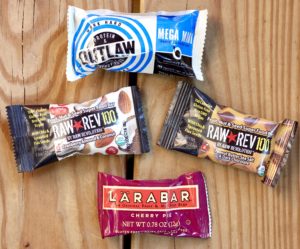 Larabar, Raw Rev 100 (2), & Outlaw
Little G ate two of these and Jonathan ate the other two while working a 14-hour day. I like the 100 calorie Raw Revolution bars especially. They're perfect for tiding over Little G until dinnertime. These mini bars are great to tuck in a backpack when out running errands too!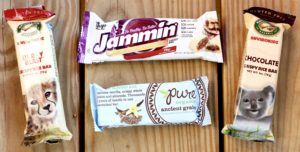 EnviroKidz (2), B-Jammin', & Pure Bar
Little G flipped out over the cute animals on the EnviroKidz bars! We are already huge fans of the tasty Pure bars and Little G  gobbled up the PB&J flavored B-Jammin' bar that we took to the baseball game last weekend!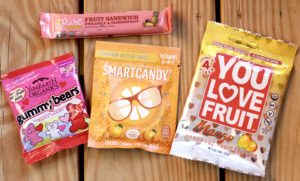 Pure Bar, YumEarth Organics, SmartCandy, & You Love Fruit
Now these are real prize snacks for Little G! He absolutely LOVES fruit snacks and was quick to search for one of these sweet treats until they were gone!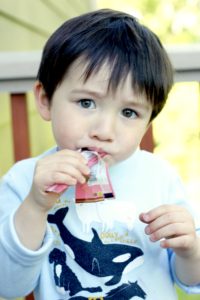 Sticky yet delicious, this fruit sandwich by Pure Bar was super yummy for my boy. He savored every last bite!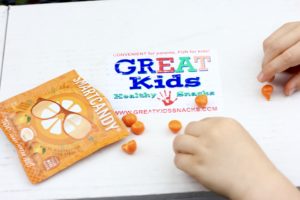 The SmartCandy orange bits were coated in yogurt and candy, which were far too tempting for Little G to keep alone during our photo shoot… I tried one and it was really good! Crunchy on the outside and chewy on the inside with just a little tang.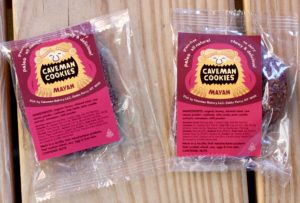 Caveman Cookies (2)
These are raw cookies made with honey, almond meal, raw cacao powder, cashews, chia seeds, pure vanilla extract, cinnamon, and chili powder.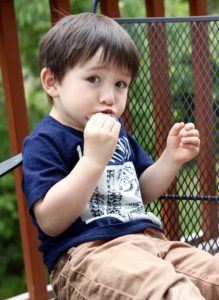 This Caveman Cookie is 100% toddler-approved! 🙂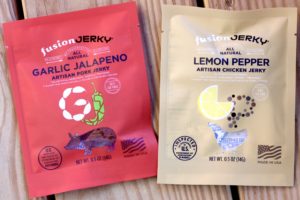 Fusion Jerky | Garlic Jalepeno Pork Jerky & Lemon Pepper Chicken Jerky
 These little 0.5 oz bags went straight to Jonathan. Little G does like jerky, but it has to be super soft and I still worry about him choking (or gagging) on the tough bits of meat. Jonathan says that the jerky was really good but there was not a lot in either bag. Definitely not a full-grown-adult-man snack!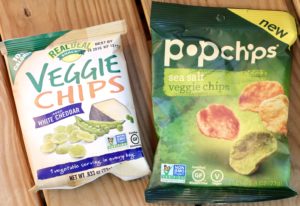 Real Deal Snacks & Popchips
Little G ate the Popchips pretty soon after we received the May box and loved them! Especially the green ones, for what it's worth. He is very familiar with the Popchips brand thanks to my serious addiction to chips and chip-like snacks.. We have not yet tried the Real Deal Snacks, but am thinking tomorrow will be the day! White cheddar sounds yummy!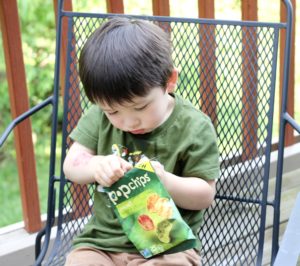 Seriously getting down on some Popchips right there…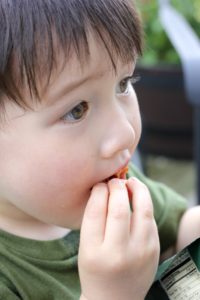 "That's tasty, mommy!" Pretty much the only thing he said the entire time he was munching.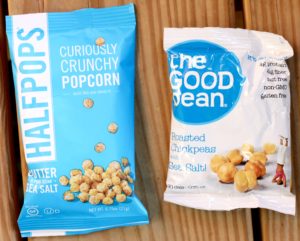 Halfpops Curiously Crunchy Popcorn & The Good Bean Roasted Chickpeas
We have not tried the Good Bean roasted chickpeas yet, but I'm positive they're going to be amazing. If Little G does not want them, I'll definitely enjoy them during my post-workout nom session. Little G and I ate the heck out of those halfpops one day after work/school and I had to stop myself from immediately purchasing another bag or seven of these dangerously delicious half-popped popcorn bites of heaven. Little G was getting annoyed at having to share his special treats with his mom. There is NO shame here! Those were dang good!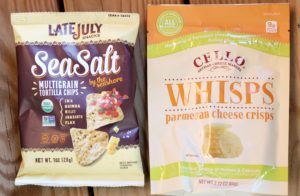 Late July Tortilla Chips & Cello Whisps Parmesan Cheese Crisps
Little G wanted nothing to do with the parmesan cheese crisps, which was WONDERFUL for me!!! These delightful little crunchy things are made with only parmesan cheese and are utterly divine and super addicting! The multigrain tortilla chips will be great with some fresh mashed avocado. I hope Little G loves the fresh snack when I make it for him tomorrow!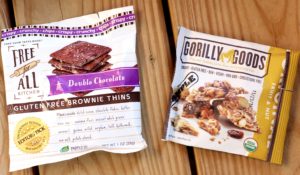 Free For All Kitchen Brownie Thins & Gorilly Goods Original Fruit & Nut Things
It took my son a while to figure out that these are sweet and yummy. The double chocolate brownie thins were a total no-brainer for Little G, but the fruit & nut things were equally as enjoyed! Surprising for him and even more surprising for me!!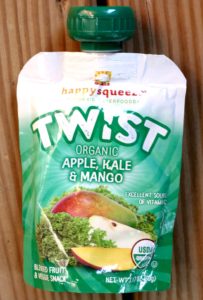 Happy Squeeze Twist Fruit & Vegetable Pouch
This is the very first item that Little G pulled out of the box! He wanted to eat it before I even grabbed photos, so I had to work quickly so he could get at this pouch!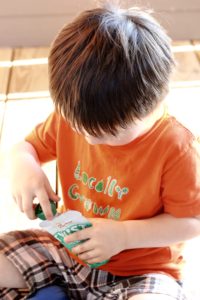 It took him a little while to get the cap off, though…

Love Grown Cereal | Sea Stars, Polar Puffs, Comet Crispies
We have not heard of Love Grown cereal before now and I am so glad we received three different kinds to try out! Little G loved all three varieties (without milk!) and he was none the wiser to the fact that Love Grown cereal is made with… BEANS and is gluten-free and corn-free!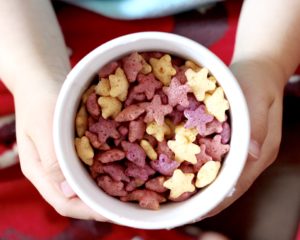 Look at that bright colored cereal! This is the Sea Stars cereal which actually tastes as good as it looks! Lightly sweet and fruity with a perfect crunch!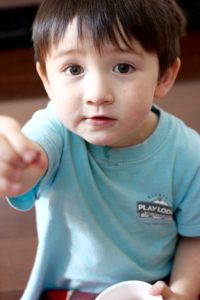 "Want to try one?"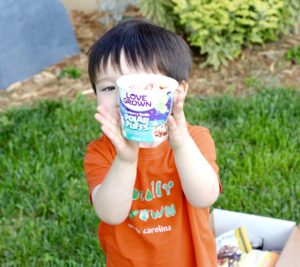 He loved the Polar Puffs as much as the Sea Stars and carried them all around the yard, down the slide, and through the garden! Yum! The Comet Crispies were much more difficult to munch without milk (they look kind of like a chocolate rice crispies cereal), but he loved the chocolatey taste!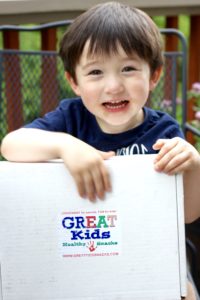 Our Thoughts
This was a FANTASTIC month of snacks! Little G knows the drill for getting his "special treat" out of his box and genuinely gets excited about picking out his afternoon snack (and eating all of it)! We have become HUGE fans of the GREAT Kids Snack Box and encourage anyone to give it a shot! This is a wonderful subscription for little picky eaters who want something different everyday (but not too different, mind you). I feel wonderful knowing that absolutely everything in this box is natural, organic, and kid-approved!
We already received the box for June and I have been waiting until we finished the May box before we open it. (We're about three snacks from being done!) At $39.95 per month, Little G received a daily afternoon snack for around $1.33 each. This is such an extremely great value for getting a wide variety of individually-wrapped all natural, organic snacks delivered to the door.
Grab your first GREAT Kids Snack Box for 25% off using code HOMESPUN!!
xo
Sarah & Little G