Martha Stewart's Perfect Cream Cheese Frosting Recipe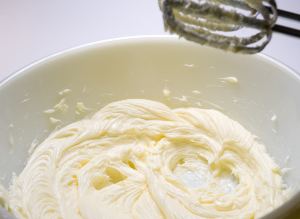 Martha Stewart's cream cheese frosting recipe is our go-to for so many of our baked goods. We just love the tangy sweetness and the ease of preparation! For Little G's pirate birthday party we used this recipe to frost the cupcakes and to fill the insides of the little Baby Clam cookies.
Ingredients:
2 pounds cream cheese, softened

2 sticks unsalted butter, softened

3 cups confectioners' sugar
Directions:
Beat cream cheese, butter, and 1 cup sugar with a mixer on medium speed until combined. With machine running, add remaining 2 cups confectioners' sugar, 1/2 cup at a time, beating well after each addition. Add vanilla, and beat until pale and fluffy, about 4 minutes more.