March 2016 The Willie Wags Box Review + Coupon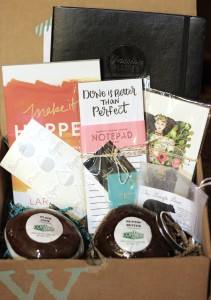 The Willie Wags is a new women's lifestyle subscription box containing carefully curated items sourced from women-owned small businesses that help empower, motivate, inspire, and encourage professional women. A portion of the proceeds from each box subscription goes directly back to help fund growth opportunities for female small business owners in need of assistance. The cost is $59.99 monthly + s/h.
The Homespun Chics received this box for review. This post contains referral codes. All opinions are 100% our own.
---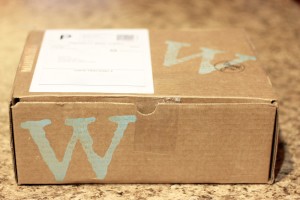 I am ridiculously excited about The Willie Wags and was overjoyed to receive this inaugural box! "But Sarah, why is this box so special?" Excellent question, and here is the answer:
The Willie Wags is a quirky and fun subscription service for professional women based on two core values:  women supporting women and discovering those must have essentials that are hidden off the beaten path… or as we refer to it, The Willie Wags.
"Women supporting women" and supporting small businesses are both a HUGE part of my personal ideals. The Willie Wags has really taken this to the next level by creating a subscription service that sources all of their materials directly from women-owned businesses (i.e. crinkle papers, business cards, stickers, plus all of the featured items!). This is a seriously inspiring box for me and I couldn't be happier to dig in.
The Cost:  $59.99 month-to-month* (less for 3- and 12-month prepay plans)
*Shipping costs are calculated at checkout and will vary depending on location. Currently ships to US only.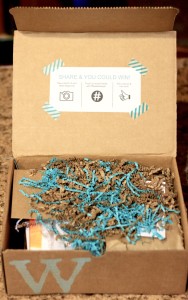 First peek! The box was hand-stamped with the cutest light blue W's I have ever seen. I also should point out that this was a very heavy box filled to the brim with goodies!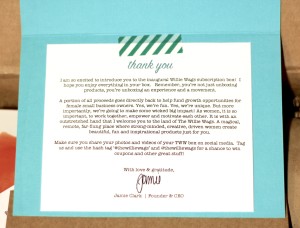 Jamie Clark, founder & CEO, included this lovely personal note welcoming subscribers to the inaugural Willie Wags box! 🙂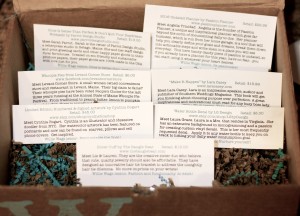 Every item came with a small info sheet that briefly described the item, its retail value, the company behind it and a "Willie Wags lesson". This is such a unique way to introduce all of the products in the box and ensure subscribers get the full story on their presents!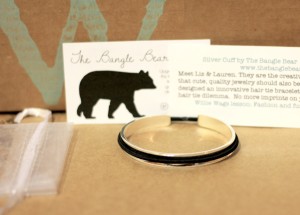 Silver Cuff by The Bangle Bear – Value:  $15.00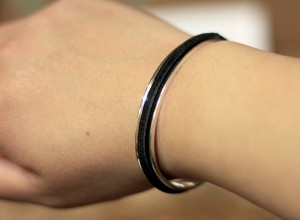 I saw this bangle on The Willie Wags Instagram account and instantly fell in LOVE. I am notorious for wearing hair ties on my wrist, even when my hair is cut super short (like now). I never think about how unprofessional they look until I see pictures of myself performing concerts with hair ties stuck on my wrist. THIS is such a must-have item for me and I love it. LOVE love it.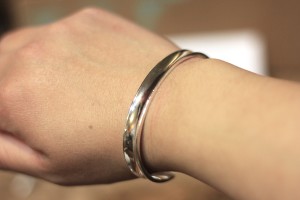 One of the best parts is that the bangle looks great without the hair tie too, so I can be classy! (Winning!)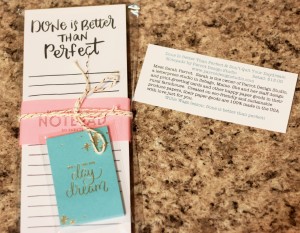 Done Is Better Than Perfect Notepad by Parrott Design Studio – Value:  $9.00
Don't Quit Your Daydream Mini Sticky Notepad by Parrott Design Studio – Value:  $4.00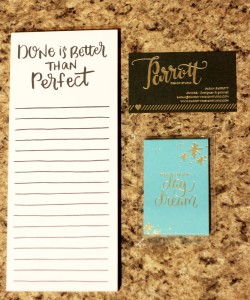 The "Done is better than perfect" long notepad will be perfect for writing our grocery lists. I love the character of the hand drawn lines…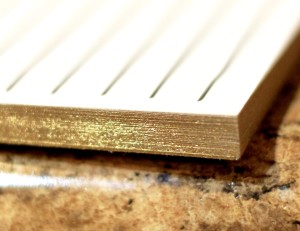 …and just look at the gold foil painted detail on the edges! Gorgeous!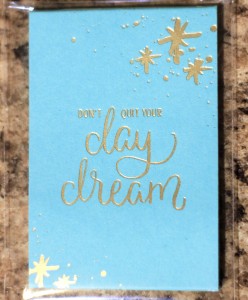 The "Don't quit your daydream" mini sticky notepad is way too cute with gold foil printing and fun star accents. The notepad is 3″ x 2″ and contains 25 sticky notes. This saying really speaks to me and will be extremely motivational every time I need to grab a sticky to jot down a thought, phone number, or to mark a page!
Limited Edition Numbered & Signed Artwork by Cynthia Bogart – Retail:  $45.00

This is an extremely high quality giclee print of an original watercolor designed for Cynthia Bogart's playing cards, to be released in her Etsy shop soon! This painting is called "You are your fiercest warrior," which speaks volumes to women empowerment and inner strength.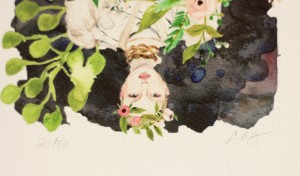 Cynthia Bogart created these signed and numbered prints just for The Willie Wags inaugural box. I am excited to get this matted and framed for my office!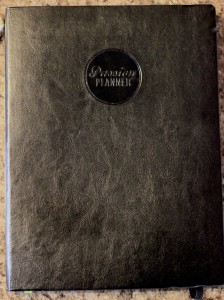 Undated Planner by Passion Planner – Value:  $29.99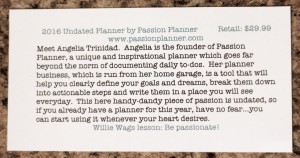 This is a standard size A4 planner (8.5″ x 11″) that has a soft black faux leather cover and contains 200 pages (100 leaves). The paper is about twice as thick as standard printer paper to resist ink bleeding when using fountain pens. The best part? It's undated, so you can begin using the planner when ever you'd like!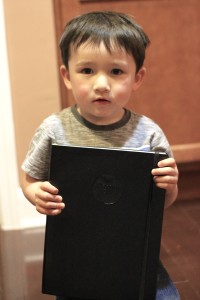 Little G is helping show you the size of this planner! (This was the best picture of the bunch. I kept asking him to hold it up for mommy and he kept raising it above his head! This is Little G being confused as to what I'm asking of him.)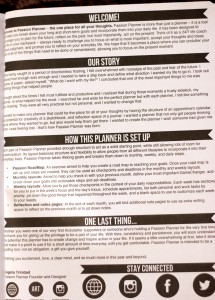 Passion Planner is more than just a planner — it is a tool that helps you break down your long and short-term goals and incorporate them into your daily life. It has been designed to encourage you to plan for the future, reflect on the past, but most importantly, act on the present.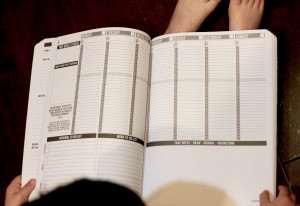 I love the large weekly layouts. Each day is structured by the half hour with separate sections for personal & work to-do lists, notes, weekly focuses and an area to jot down the "good things that happened." SO cool.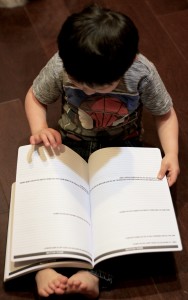 There are also full pages at the end of each month that are for your reflection, with questions like:
What were the three biggest lessons you learned in this past month?
Review your planner for the past month and assess your priorities. Are you happy with how you spent your time? If not, what steps can you take this next month to adjust them?
What or who are you especially grateful for this past month?
Name three things you can improve on this coming month. What are concrete actions you can take to work towards these improvements?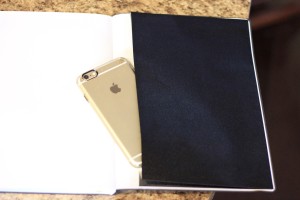 There is even a back pocket to store work papers, receipts, notes, etc. Passion Planner is an excellent tool to help you stay focused and meet your goals. I'm not sure it is perfectly for me, but I really appreciate the concept and will most likely gift this to someone that can use this beneficial tool! (A gem like this does not deserve to collect dust on my shelf!)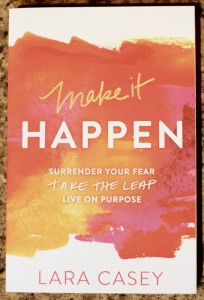 "Make It Happen" by Lara Casey – Value:  $15.00 (Available on Amazon for $10.00)

Make It Happen is the story of how I surrendered my fear, took the leap, and got a life. In my case, a perfectly imperfect, fulfilling life as a mama, a working woman, and a grateful wife. This is the story of how I chose to make "it"―a greater purpose than mine―happen, and how you can too.  – Lara Casey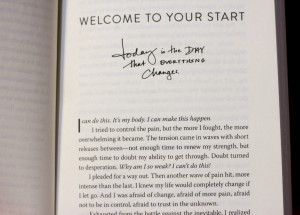 I am not typically prone to read motivational books and was pleasantly surprised to be drawn into Lara's relaxed, friendly writing style. I ended up reading quite a bit into this book. Lara writes as though we've been friends for years and are sharing our experiences over a good cup of coffee. "Make It Happen" is far more interesting and thought-provoking than other motivational books I've tried to read in the past; ones that provide suggestions and tools to help you improve upon yourself or push you to succeed in something. If Little G will let me, I plan on finishing this book for some (much needed) inspiration and perspective!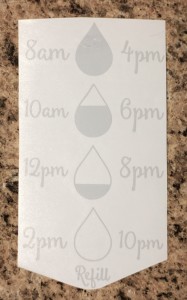 Water Bottle Decal by LG By Design – Value:  $6.00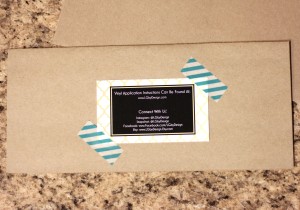 I received a cute white vinyl water bottle decal which is designed to keep you on track with your daily water consumption. Luckily, this came with a card directing me to LG By Design's website for application instructions. I am SO grateful for this because I had no clue what I was doing.

Thankfully I had the perfect water bottle that was itching for a new makeover!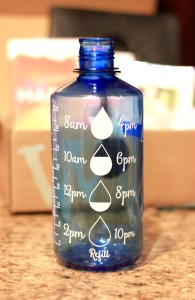 I think the end result turned out really well! Sure it's a little crooked, but doesn't that just give it character? (The answer is yes. Yes it does.) I was surprised at how easy it was to apply the vinyl sticker and even more surprised to see how much water I'm supposed to drink each day! I need to get to work on my hydration!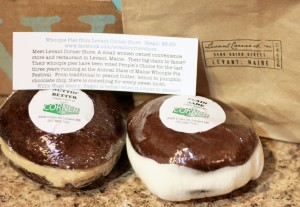 Whoopie Pies from Levant Corner Store – Value:  $6.00
Levant Corner Store is a small convenience store and restaurant in Levant, Maine known for their award-winning whoopie pies. Oh. My. Yum. The Willie Wags brought me award-winning, freshly baked nummies all the way from Maine! These babies are HUGE and incredibly dense. And delicious. Did I mention, DELICIOUS? Augh, my hips so totally hate me now. (It was worth it… No judging.)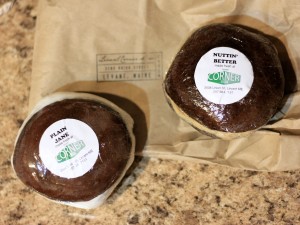 How about a view from the top? 🙂
I'm almost ashamed to admit this but I don't believe I've had a whoopie pie before now. I am so glad my first experience was with Levant Corner Store and The Willie Wags! You know, Jonathan and I have been toying with the idea of planning a family vacay up north to NYC, Boston, and Philadelphia… but now it looks like we're going to have to add Levant to our list!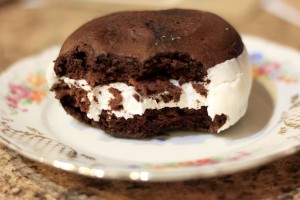 You think I'm just being silly, don't you? Well take a look at this kid here and you tell me if these whoopie pies aren't worth a trip to Maine…
That whoopie pie was practically as big as his whole face (and equally as sweet)!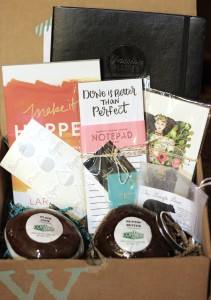 My Thoughts
Wowza! This inaugural box totally knocked it out of the ballpark for me! Not only is the value extraordinary (double the cost!), but the quality and curation are top of the line. I am enamored by the company's mission of supporting fellow women entrepreneurs. This box makes me proud to be a professional woman and has provided SO much encouragement and motivation to pursue my dreams, get out there and just have fun! (Plus eat massive sugar treats!)
The cost is a little steep for my personal monthly budget, but I could (probably most likely) totally justify a quarterly-type subscription! The Willie Wags has everything I'm looking for in a subscription box and more. The items I received are all unique and extremely usable in daily, practical life. This would make a wonderful gift (mom, are you listening?) for any occasion, and there are even gift cards available that can be redeemed for products in their online shop as well as for the monthly subscription boxes!
I highly recommend The Willie Wags for any woman with a desire for inspiration, encouragement, and amazing products!
xo
Sarah
Save 10% off your first subscription box using code HOMESPUNCHICS10 at checkout!