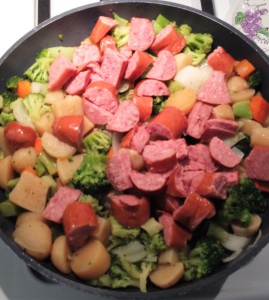 Let me start out by admitting that this recipe is not my creation. I don't know who initially published it but I have been making this dish for at least 20 years. It is an easy and fairly quick dinner that everyone in my family seems to love. I also believe it is gluten free.
Ingredients:
1 large onion, cut up.
Some carrots, cut into pieces– I used 4 tonight but that is because my husband doesn't like carrots and I do!
1 bag of broccoli florets.  Mine were frozen.
1 large can of whole potatoes, cut into pieces. You can use fresh potatoes but you should cook them first, or even better if you have left over cooked potatoes in your refrigerator.
1 package of Polish sausage, cut into pieces.
Several strips of bacon, how much you use is up to you.
Cook the bacon in a large frying pan until you render several tablespoons of bacon grease. Then take the bacon out and plan to finish cooking it in the microwave.
Precook the carrots and broccoli in the microwave to speed things along. Tonight I thawed the broccoli in the microwave until it was room temperature but left the carrots uncooked. It took the carrots about 30 minutes to cook on the stove during the dinner process, leaving my husband to constantly ask me how soon dinner would be ready!
Put the carrots, broccoli, onion and potatoes in the large skillet and cook, covered, on low until the veggies are done to your taste. I use a wonderful silicone leaf to cover my skillet.
Then add the sausage and the cooked, crumbled up bacon to the pan. Re-cover for about 5 minutes to heat up the sausage, then take the lid off the pan, turn the heat up to med high and continue cooking, stirring often, until all the liquid from the veggies has cooked off and things are looking and smelling like dinner!
Serve your family, who are probably standing around you in the kitchen by now! Enjoy!