June 2017 Pet Treater Box Review + Coupons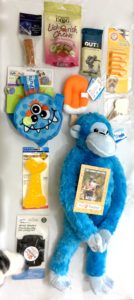 June 2017 Pet Treater Box
Pet Treater is a monthly subscription box for dogs that contains quality items for a fraction of the retail value. Box contents may include treats (made in USA or Canada only), interactive toys, accessories, grooming supplies, and more! For every box that ships, Pet Treater donates a toy, bag of treats, or blanket to an animal shelter in need.
The Homespun Chics received this box for review. All opinions are 100% our own. This post contains affiliate links.
---

How It Works:
Dog Sizes:  Small (0 – 20 lb), Medium (21 – 50 lb), Large (51+ lb)
Pricing:  $34.99 TRY IT OUT Box (does not auto-renew), $24.99 for Month-to-Month, $22.99 for 3-Month, $21.99 for 6-Month, and $19.99 for 12-Month.
What's Inside:  Each month, subscribers will receive a fun, themed box filled with goodies like U.S. and Canada-made treats, plush toys, gadgets, grooming supplies, doggy wearables, and more! There's even a "human treat" included in every box.
*FIRST TIME subscribers will receive a first time box which will include past favorites and not the new items of the current month. Themed boxes will begin the following month.
SHIPPING SCHEDULE!
Subscribers asked and Pet Treater listened! Pet Treater has officially simplified the shipping schedule from 3 cycles per month down to just one! 🙂
Monthly boxes will now be shipping between the 5th – 10th of each month.
*If you were billed after the 10th of the month, a box will not be shipped until the following month.
TRY IT OUT boxes (non-renewing purchase) will be shipped right away and items will include past favorites and not the new items from that current month.
Coupons!
Enter this code at check-out to receive a FREE pet bed with your first subscription box! The bed size depends on the size of the dog you selected for your plan. If you set up multiple plans for your household, you'll receive a FREE pet bed with every plan!
$5.00 Off First Box:  LOVE-PT5
*Enter this code at check-out to receive $5.00 off your first box of any length subscription!
(Note:  Offers do not combine and are only good for NEW subscribers.)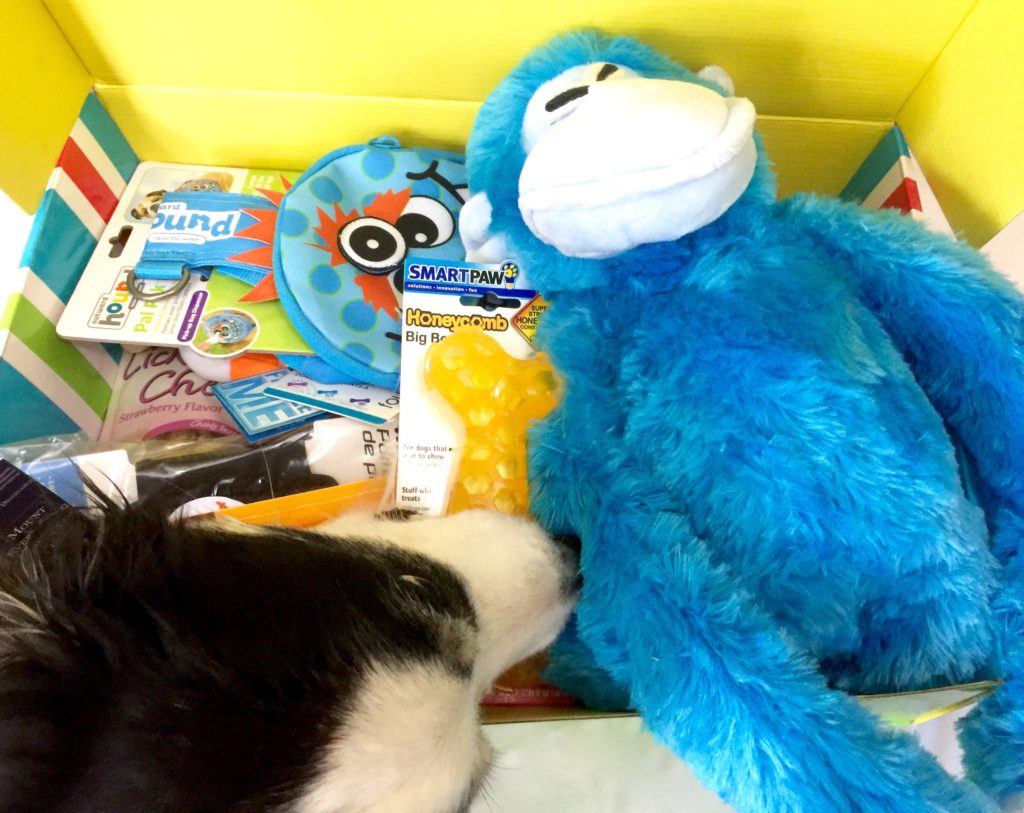 First Peek! My dogs know their Pet Treater box!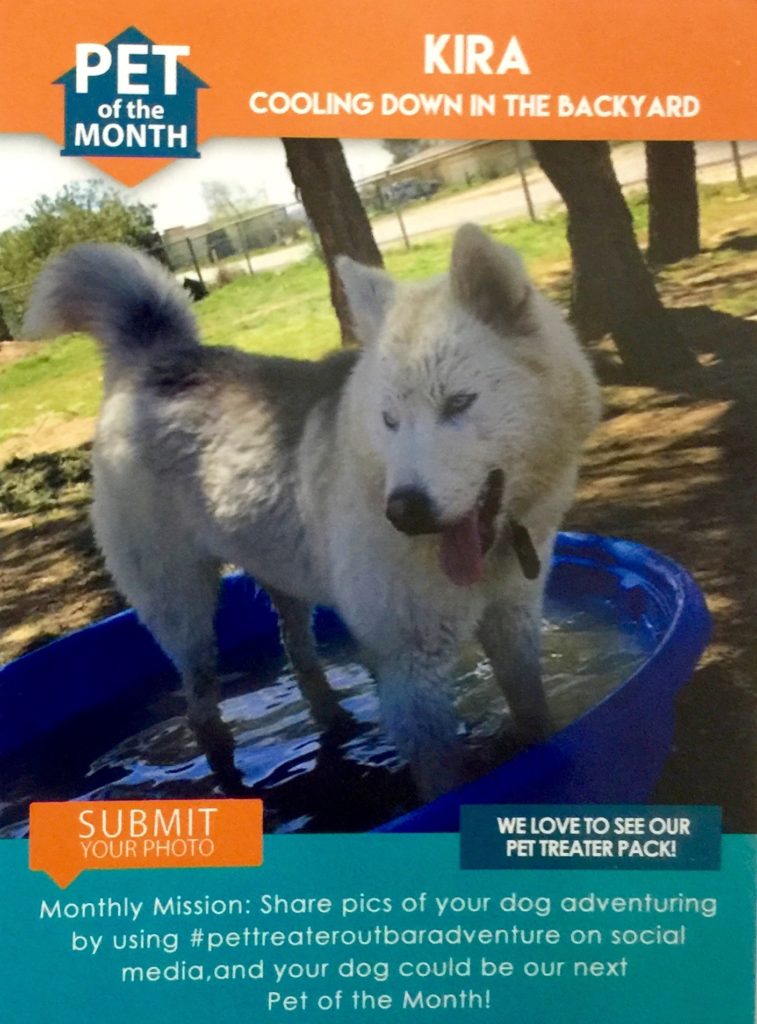 June's Pet of the Month is the beautiful Kira! Subscribers can email a photo of their pet enjoying the current month's bounty for a chance to be the next featured Pet of the Month!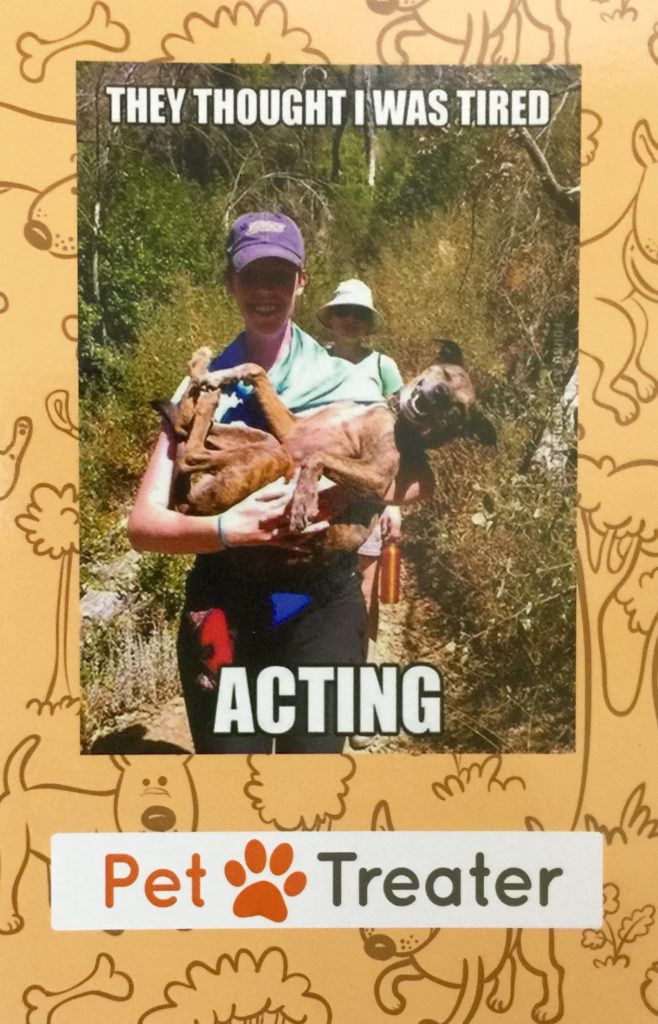 Enjoying summer outdoor adventures with your dog is the June 2017 Pet Treater box monthly theme!
Fun In The Sun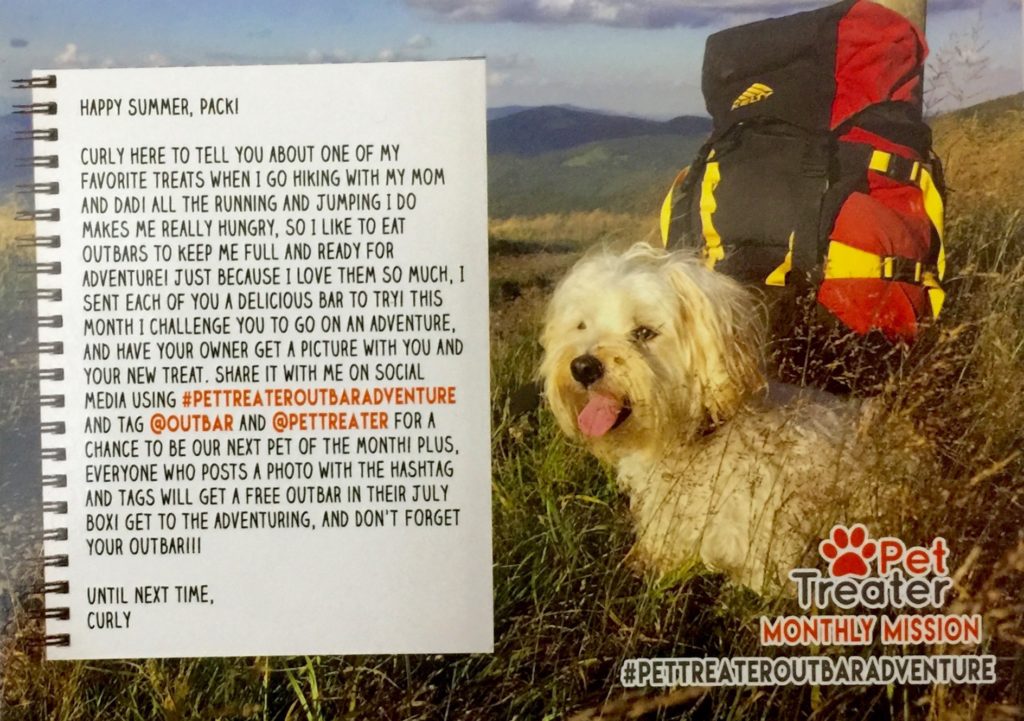 You can get a free Outbar in your July box when you take your pet on an adventure and share on social media using @TheGreatOutdogs (different tag from what the card says) & @Pettreater using #PettreaterOutBarAdventure!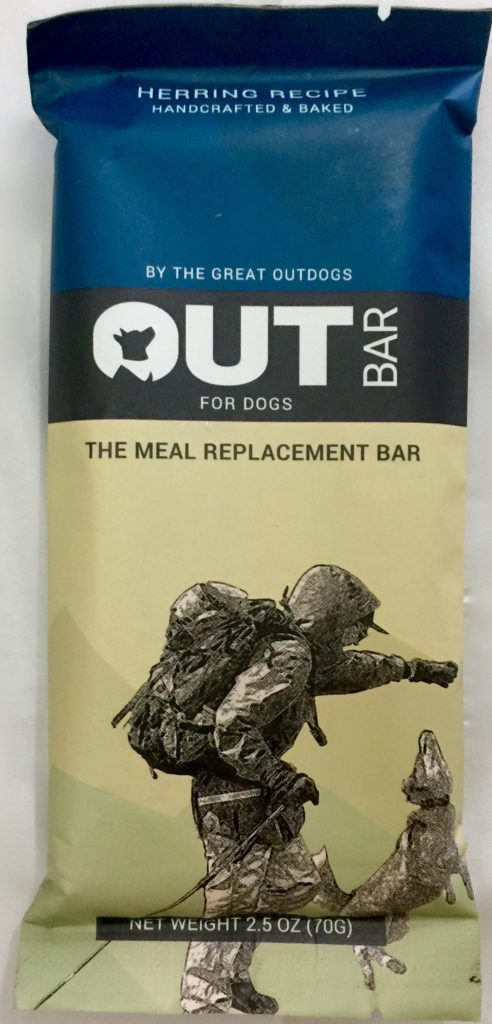 The Great Outdogs – Out Bar For Dogs 2.5 oz ($3.33)
This is a Herring Recipe handcrafted and baked meal replacement bar for dogs specifically designed for whatever adventure you and your dog take. These compact meal bars are shaped like granola bars so you can easily toss them into your backpack. One bar is a daily meal for a dog approx. 10 lbs. A 50 lb dog would need 3.5 bars daily. The size is smaller than taking a bag of kibble, so even though the nutritional value is there I think splitting 3 1/2 bars into two meals in a day would leave my dog feeling hungry. Plus the cost – for my two dogs (Rocket would need 3.5 & Jed would need 4) these would cost me $25 each day.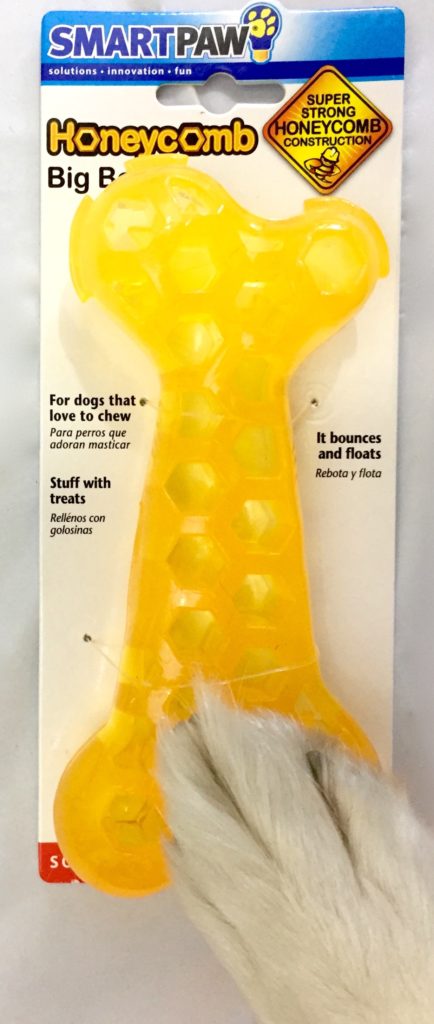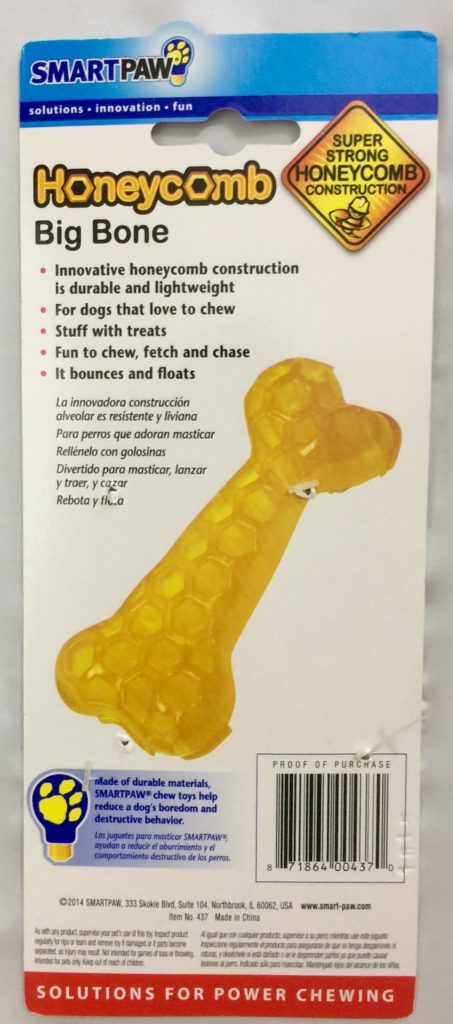 Smartpaw – Honeycomb Big Bone
This is a non-toxic synthetic rubber dog chew toy with honeycomb-type holes that you can stuff with treats. My dogs have had this toy in the past and Rocket recognized it immediately after I opened his box! The honeycomb bone bounces and floats but is not particularly durable – I have to watch the boys with it because once they start chewing on it the bone comes apart very quickly. Right now they are just enjoying having me throw it and using it as a tug toy!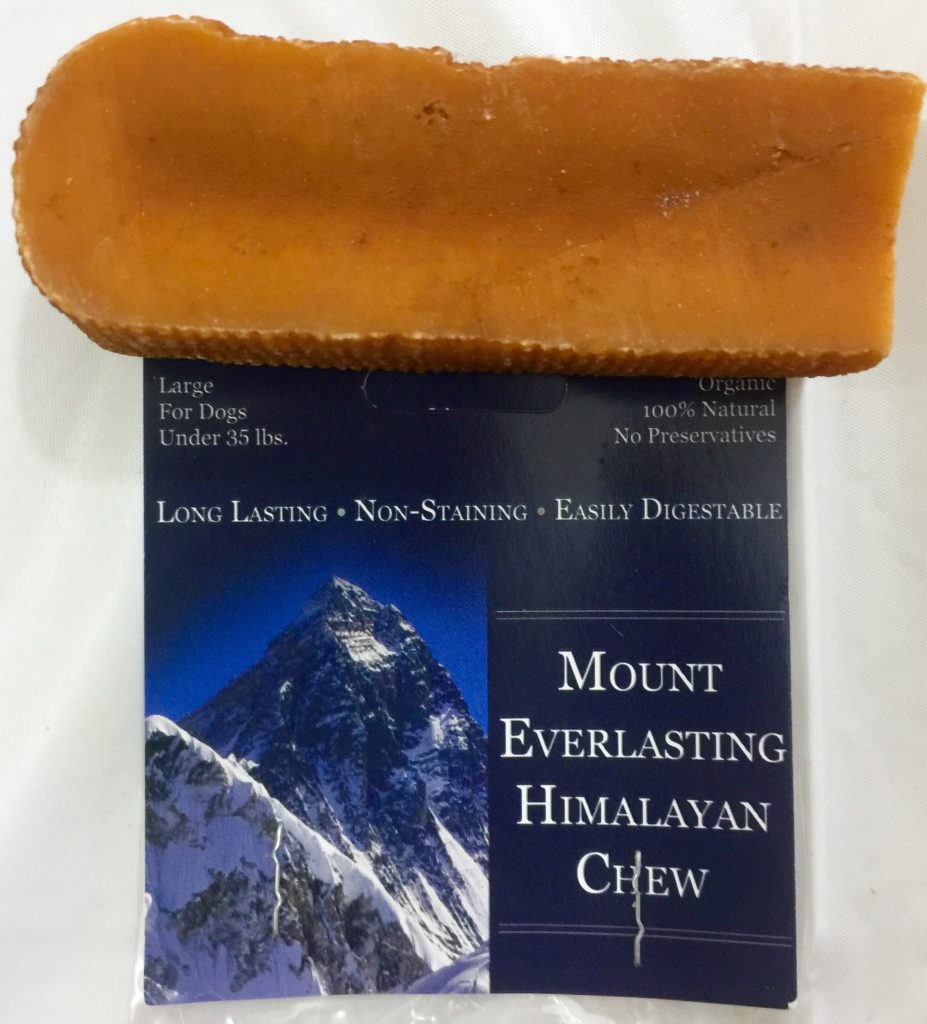 Mount Everlasting – Himalayan Chew Large ($11.11)
This is a long lasting hard chew made with yak and cow milk, salt, and lime juice. It does not contain any chemicals or additives. Both of my boys have had a turn with it and each dog gave it two paws up for both flavor and durability!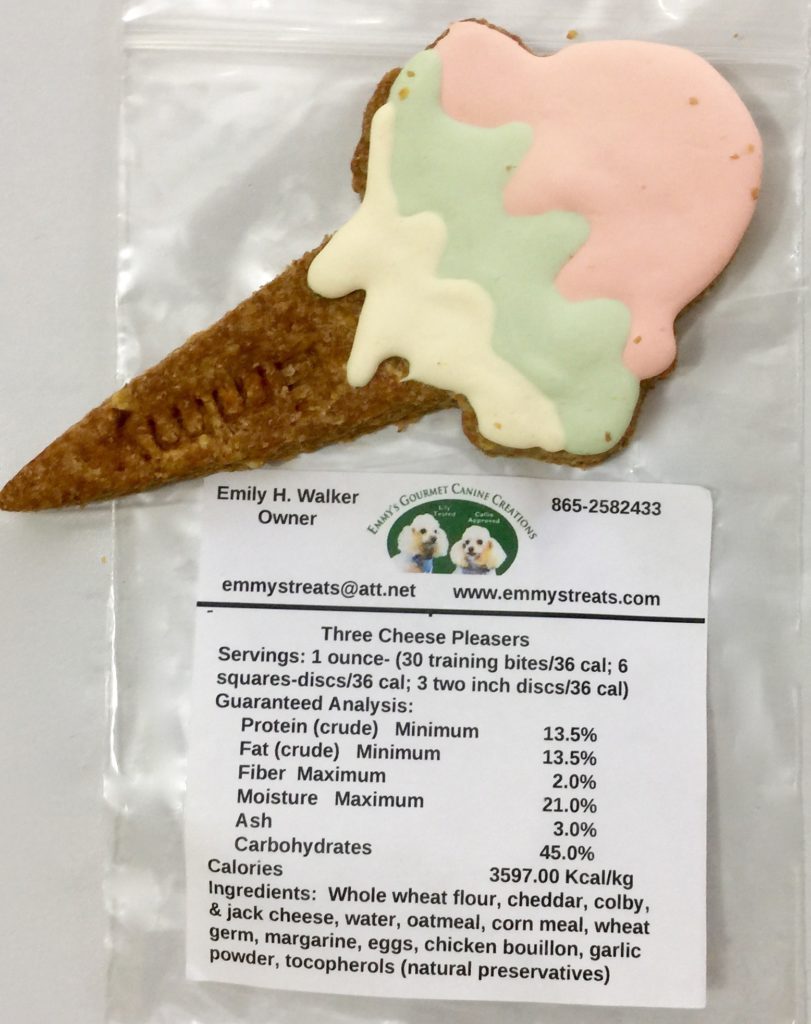 Emmy's Gourmet Specialty Treats – "Three Cheese Pleasers"  ($2.50)
All of Emmy's treats are made in Tennessee using fresh, high quality ingredients. June's design is a perfectly appropriate ice cream cone and the boys loved the flavor!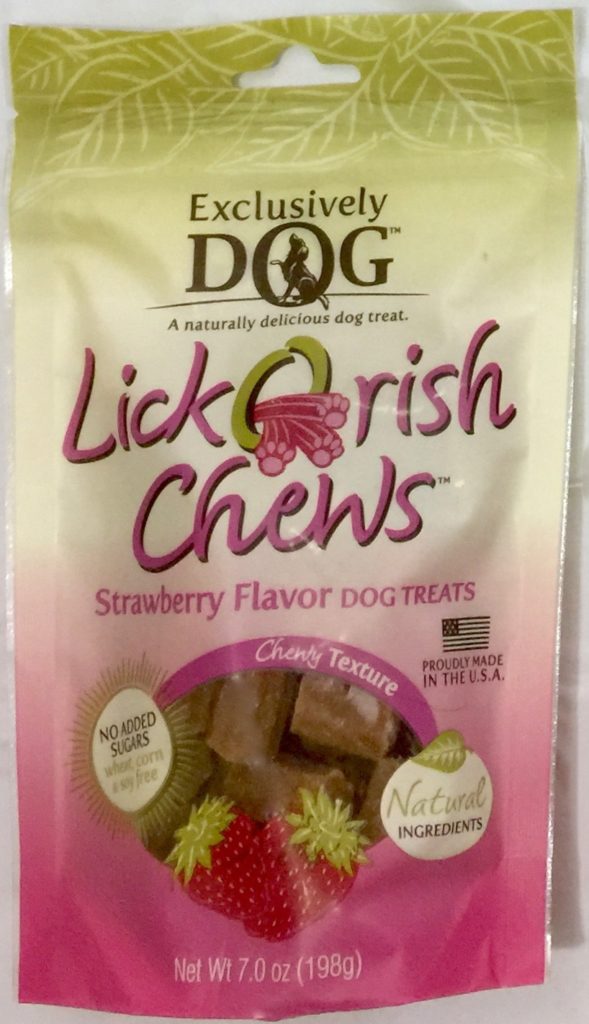 Exclusively Dog – LickOrish Chews Strawberry Flavor Dog Treats 7 oz ($4.59)
These all natural dog treats have a strawberry scent and a chewy texture. My boys just snarf them up whole so I doubt they have any idea what they taste like. But because I am the one who cares what they eat, I liked that these treats have no added sugars, are wheat, corn and soy free, and have no chicken or coconut to irritate Rocket's allergies.

Arm & Hammer – Clinical Pet Care Gum Hugging Finger Pack
This is a pack of 3 finger brushes designed to cover the area of the whole tooth to the gumline. These make it easier to brush your pet's teeth than a traditional toothbrush and have gentle ridges that can reach and clean the front, back and top of all your dog's teeth. With the cost of a dental cleaning at the vet and the associated dangers of the anesthetic, these are truly worth a try!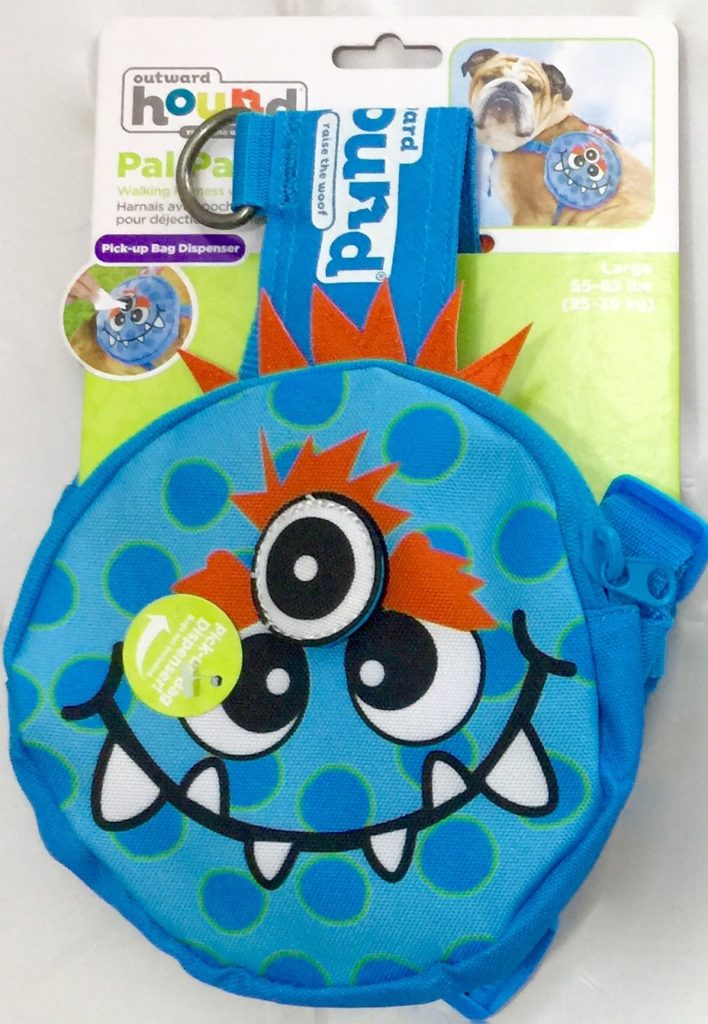 Outward Hound – Pal Pak Harness Large ($12.73)
This is a walking harness that has a D-ring for attaching the leash, adjustable harness straps, and two zippered pockets. They come in 5 whimsical characters, 3 different sizes, and hold all of your essentials when you take your dog for a walk. They also have a secret pick-up bag holder and dispenser.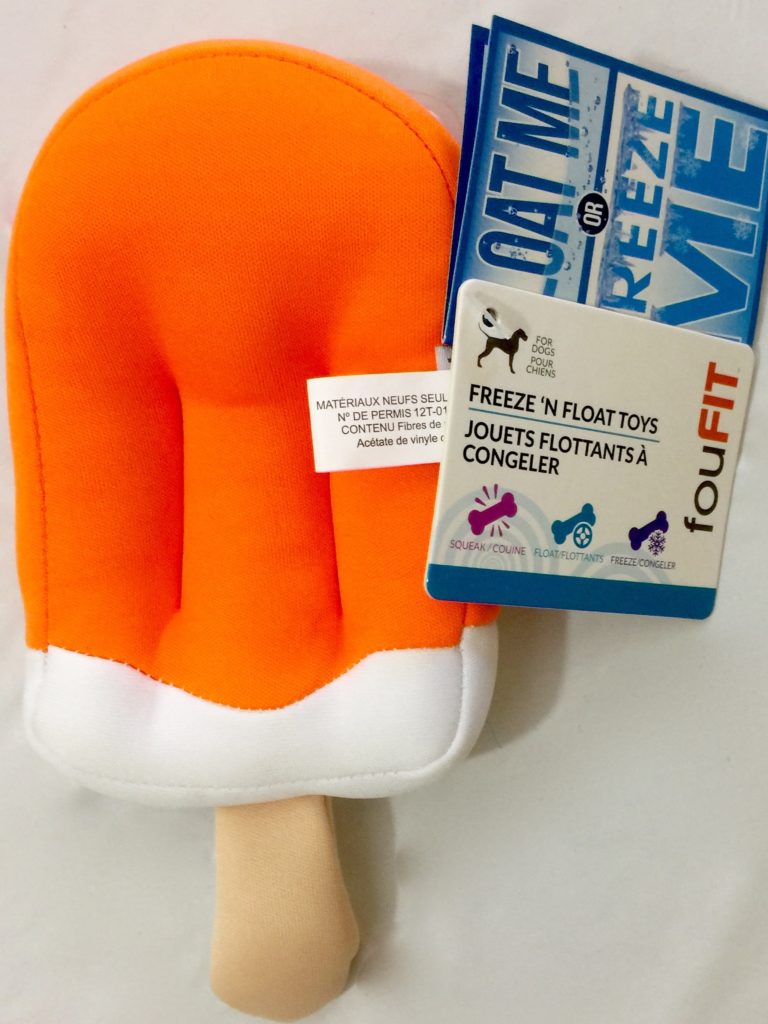 FouFit – Pupsicle Freeze 'N Float Toy ($7.99)
This is a dog toy that floats for use in a pool. You can also soak it in water and freeze it for a cold chew on a hot day. It would be best for outdoor use as the water could leak as it thaws. It also has a squeaker inside. Designed for small breed dogs. My boys would have this toy apart in 30 seconds.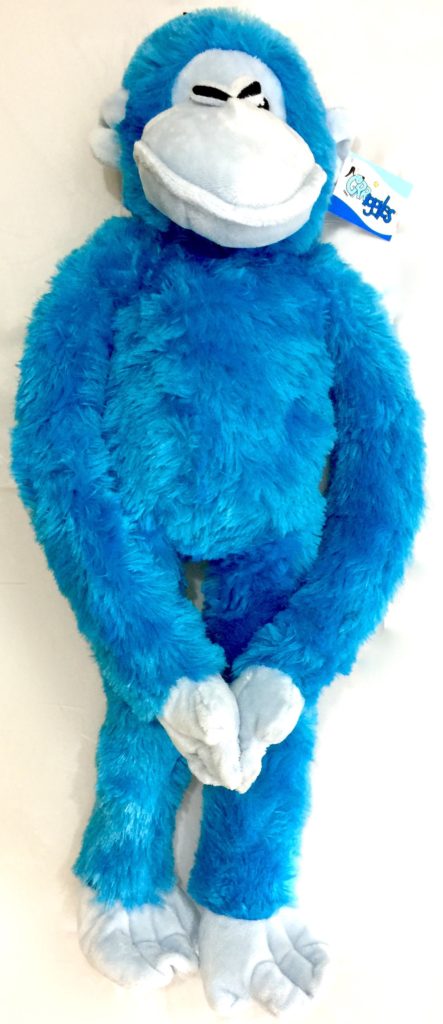 Griggles – Awesome Ape Pet Toy, Blue ($12)
OMG! This is a HUGE plush dog toy that measures 23″ tall with its arms down and if you extend the arms over its head, the ape measures 32″! It is a soft, fuzzy blue color with long arms and legs, looking much more like a cute child's toy than a dog toy. The squeaker has a sound like a mouse caught under a fence, making Rocket's ears stand straight up when he heard it!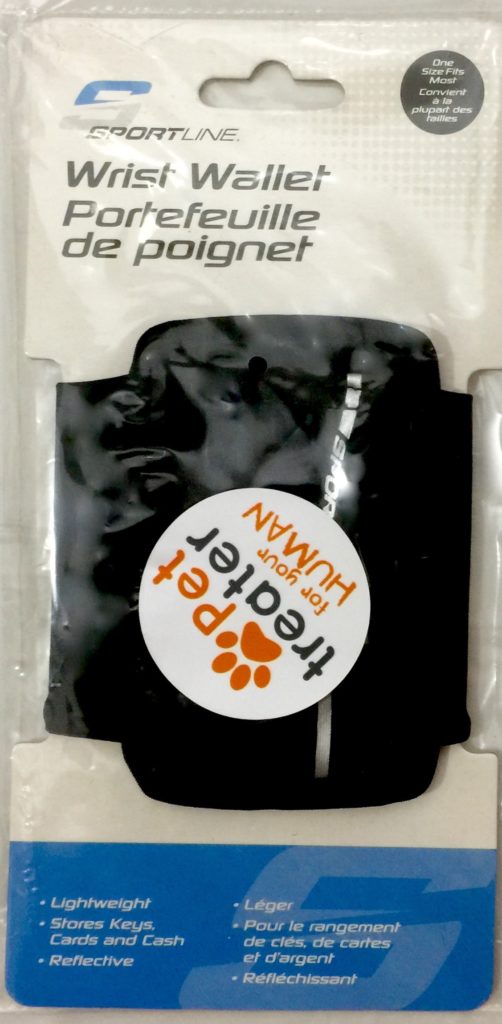 Sportline – Wrist Wallet ($13.88)
This is a low profile wrist wallet with reflective printing to carry your key, credit cards, and other necessities when you run. It is water resistant and conforms to your wrist with a stretch band and soft pocket.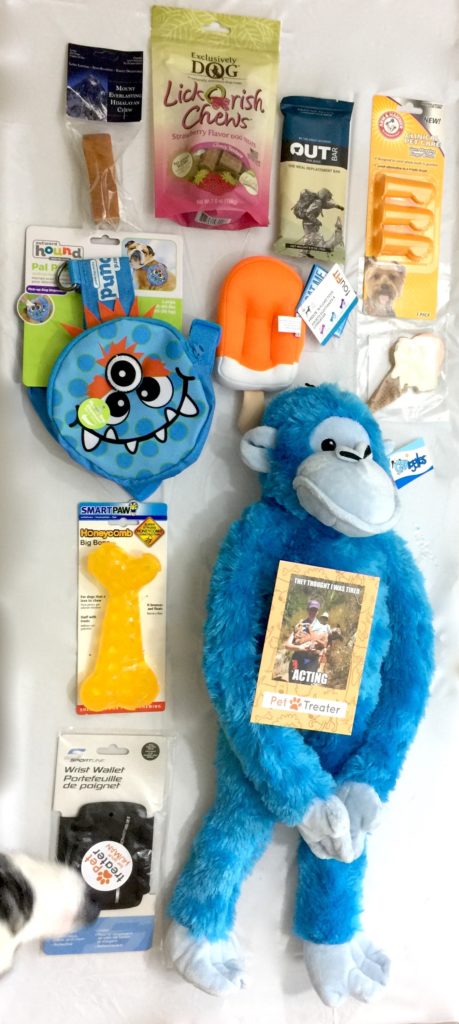 The June 2017 Pet Treater box was truly just packed FULL of stuff for the pups! I could not find every item for pricing purposes, but I came up with $68.13 PLUS the price of the Honeycomb Bone and the Finger Toothbrushes. Wow! This was one of the best boxes I have received from Pet Treater and an excellent value for the price of the box!
What did you think of the June 2017 Pet Treater box?
Think you want to give it a try?