June 2017 CrazyCatLadyBox Review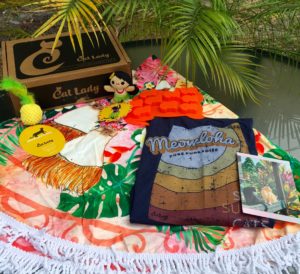 CatLadyBox is the first-ever monthly subscription box "purrfectly curated just for cat ladies"! Each box contains 2-3 unique cat-themed items for the modern day cat lady (jewelry, clothing, tchotchkes, art, home décor, and more) and if you upgrade to the CRAZY CatLadyBox, your felines will also receive 2 or more delightful gifts to tickle their whiskers.
CatLadyBox donates 5% of all profits to a different cat rescue organization each month plus supports independent artists and small businesses with their box contents.
The cost of the subscriptions: (the value will always be much more than what you paid)
The regular CatLadyBox – $34.99/month
The CRAZY CatLadyBox – $39.99/month
With all of them, you can sign up month-to-month or with a 3-month or 6-month plan where you prepay for that many boxes at a time. "The more you pay for ahead of time, the cheaper per box! The regular CatLadyBox can go as low as $31.33/month and the CRAZY CatLadyBox can be as low as $36/month." You can cancel any time or just skip a subscription period if you want.
The Homespun Chics received this subscription box for review. All opinions are 100% our own.
---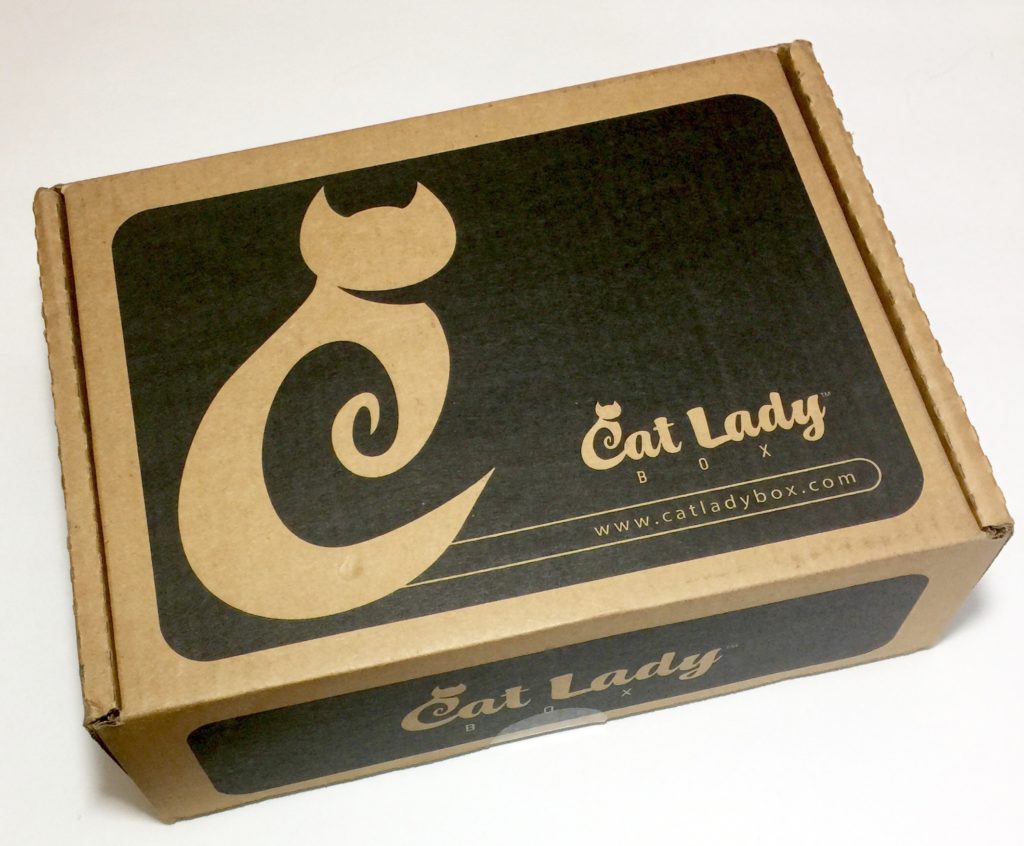 Theme: Meowloha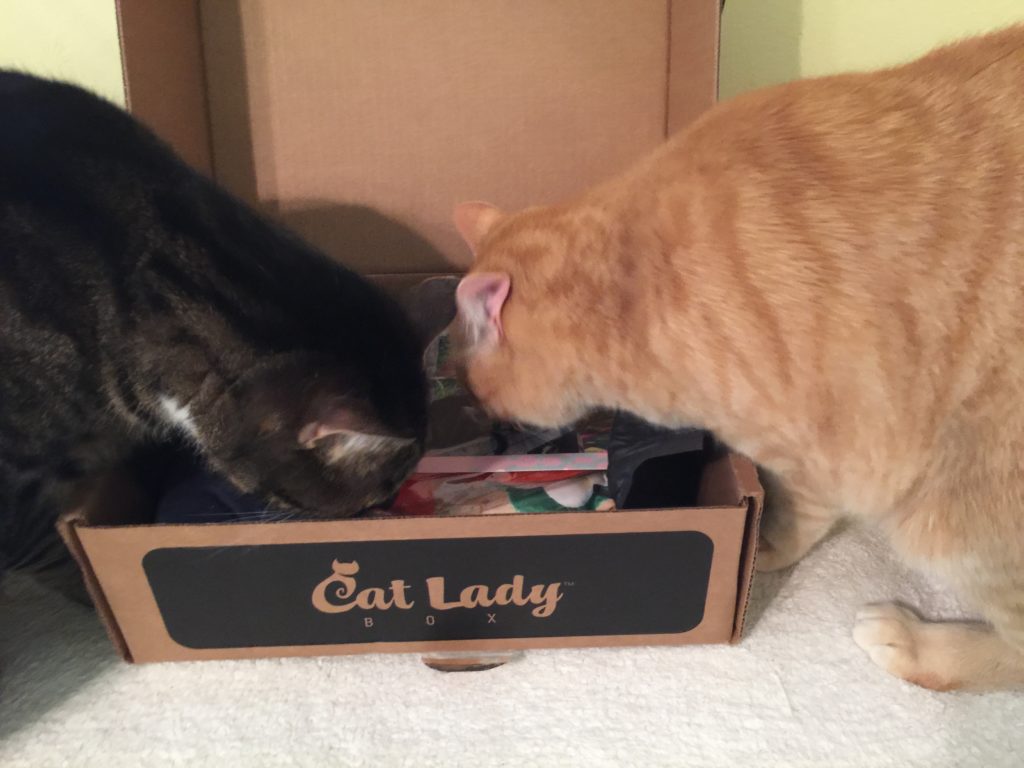 First Peek! The boys checked it out and asked me to please move all the cool people stuff so they could get to their toys!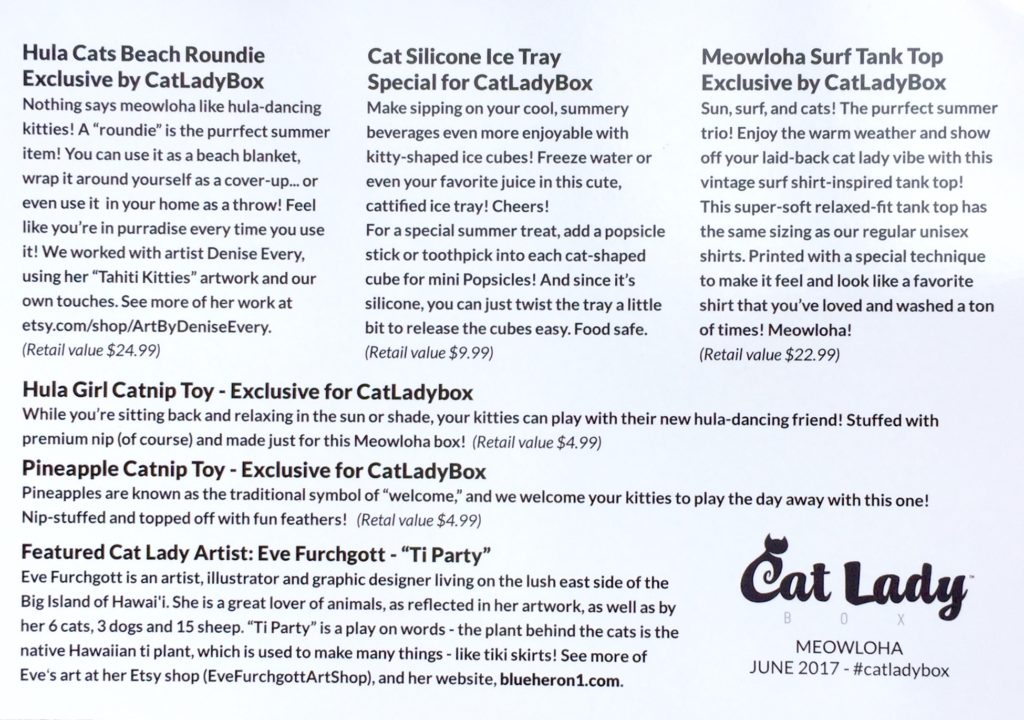 The product information card details everything in the box, including retail values.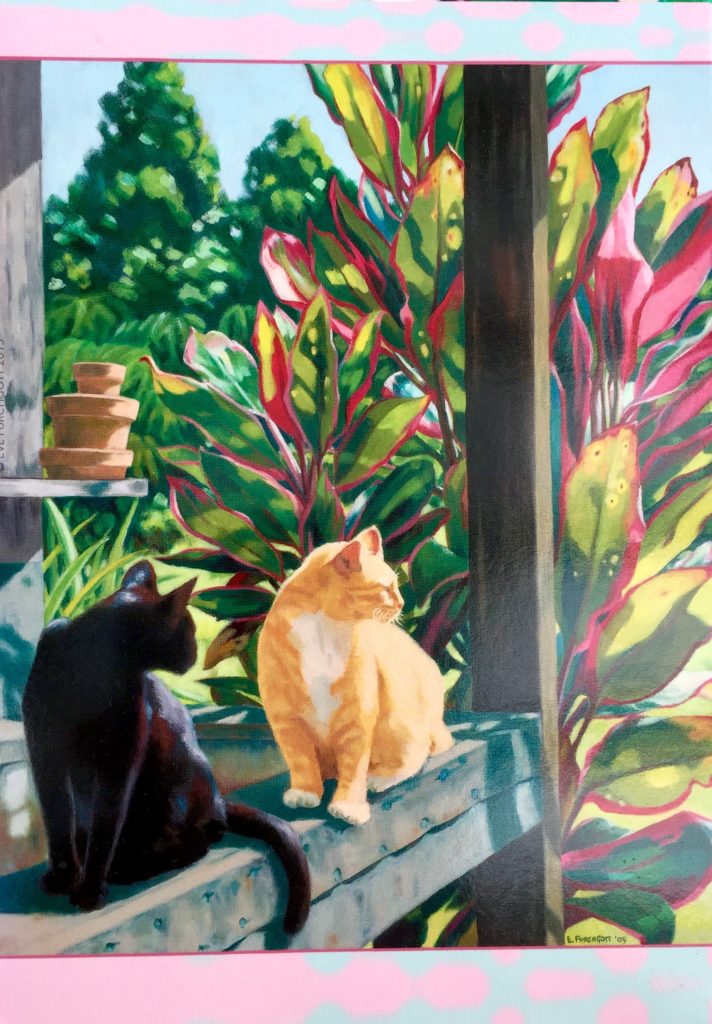 "Ti Party"
June's CatLady artist is Eve Furchgott, a Hawaiian-based artist, illustrator, and graphic designer. You can find more of her work at her website www.blueheron1.com.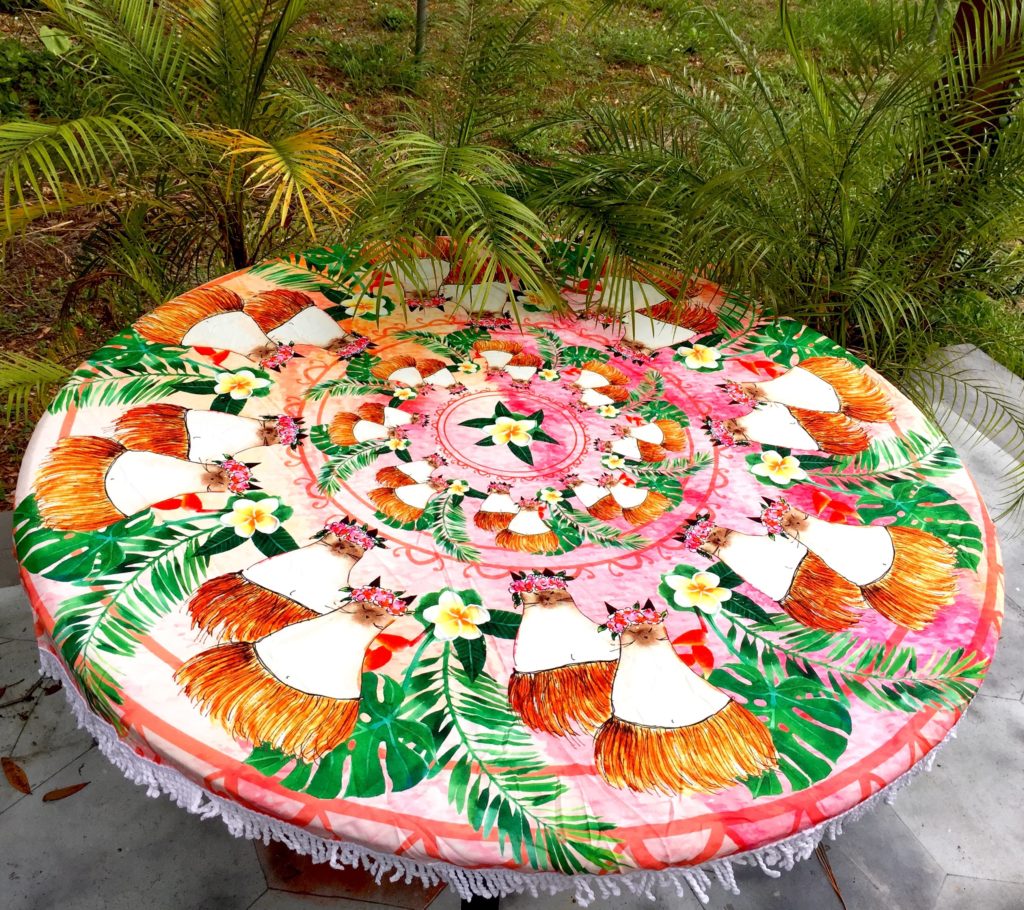 HulaCats Beach Roundie – Exclusive by CatLadyBox ($24.99)
You can use this round fringed cloth for all kinds of things – take it to the beach, use it as a throw or, like me, as a table cloth! The cheery summer design of hula dancing cats amid palm fronds and flowers is perfect for my outdoor table under the arbor!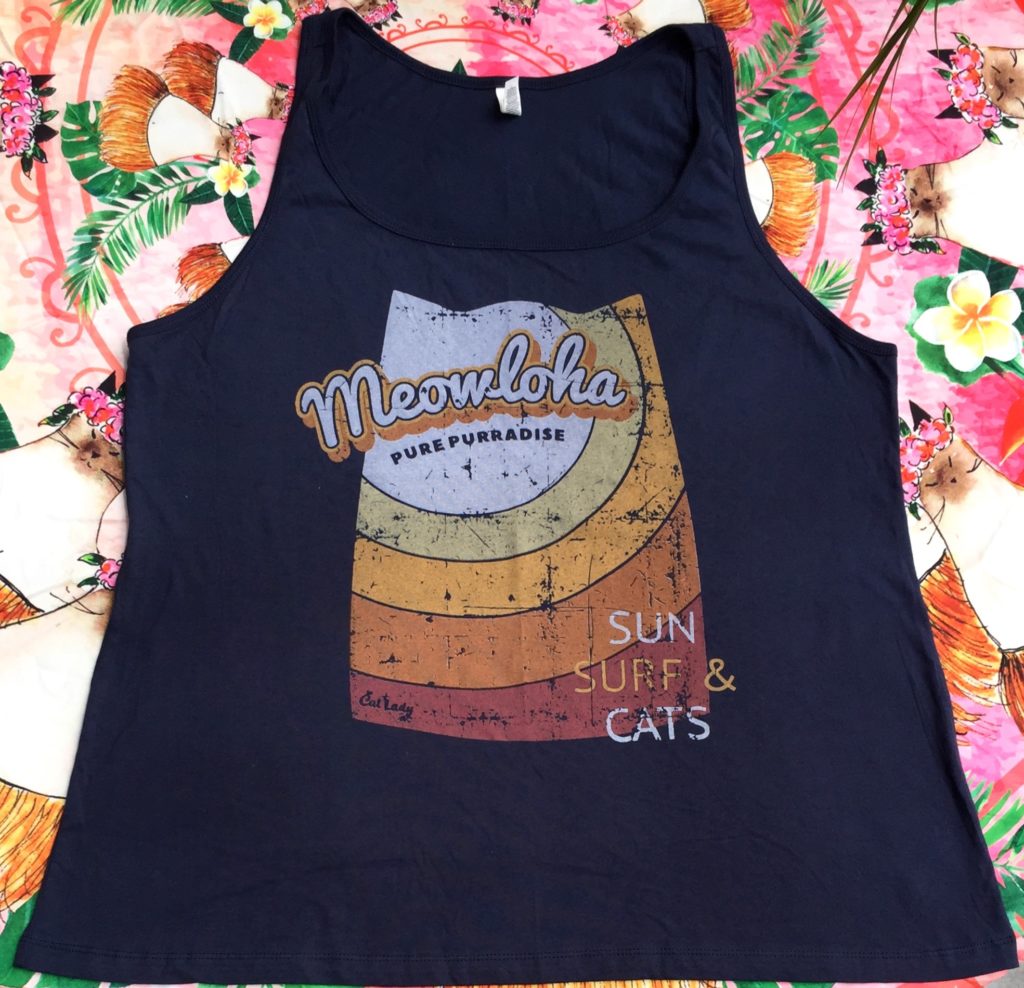 Meowloha Surf Tank Top – Exclusive by CatLadyBox ($22.99)
This is the perfect tank top for laid-back summer weather, especially here on the coast. It is loose fitting, soft, and goes with just about anything. And I love the sun design on the front!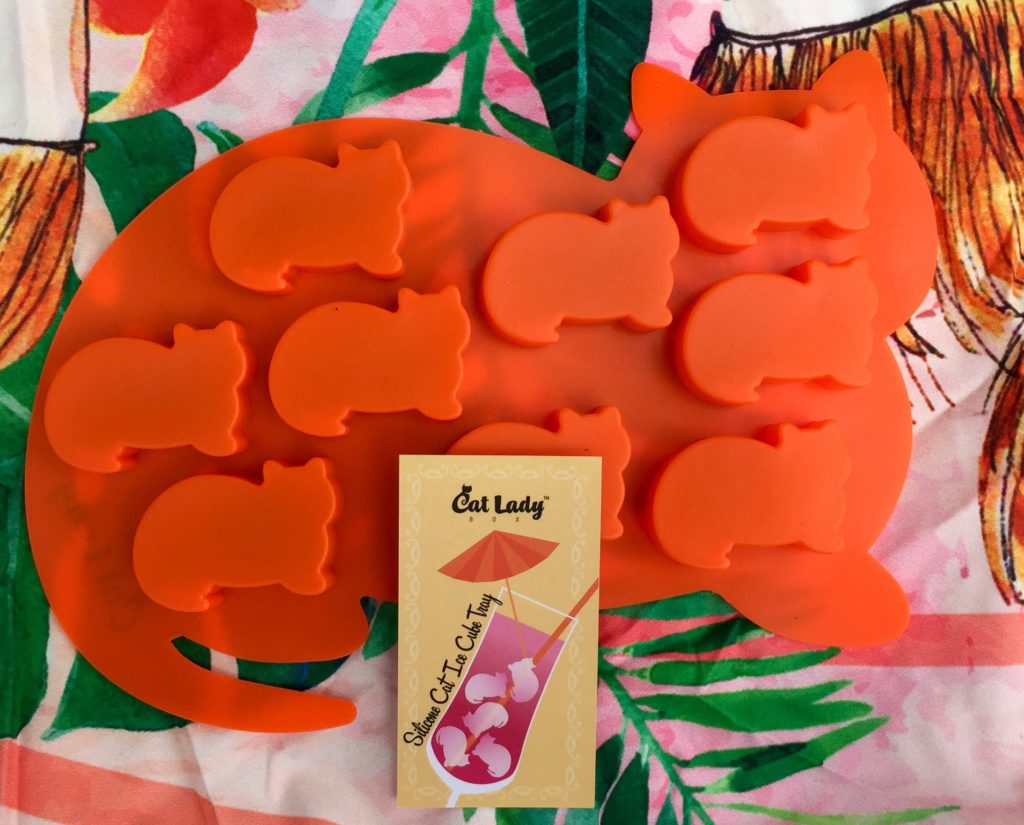 Silicone Cat Ice Cube Tray – Special for CatLadyBox ($9.99)
Silicone kitchen items are a wonderful invention since they are so easy to work with. Just twist and the ice cubes pop out – and now they are kitty shaped! Or you can make juice into popsicles when you add a toothpick as they freeze.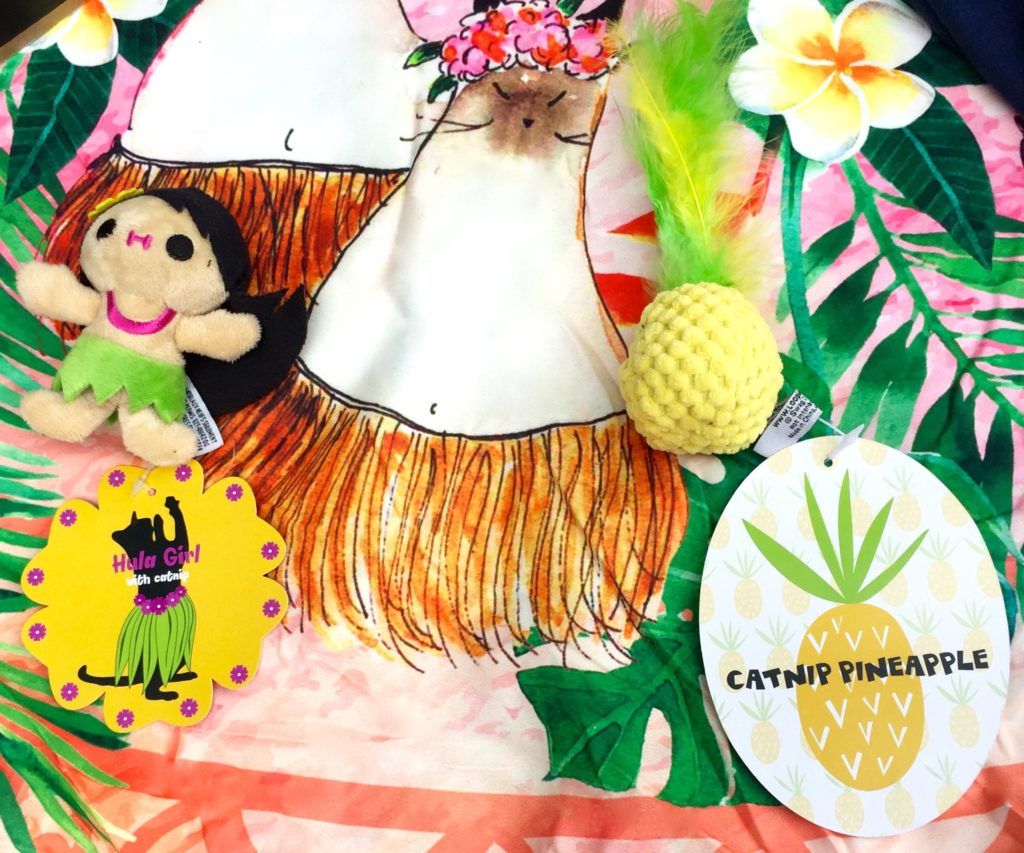 Pineapple Catnip Toy – Exclusive for CatLadyBox ($4.99)
This toy was the most fought-over item in the box! I don't know if it was the feather or the scent of the particular catnip used, but all 4 of my cats loved this and it was passed from paw to paw all day.
Hula Girl Catnip Toy – Exclusive for CatLadyBox ($4.99)
This hula girl toy was batted around as well and withstood the abuse with stuffing intact!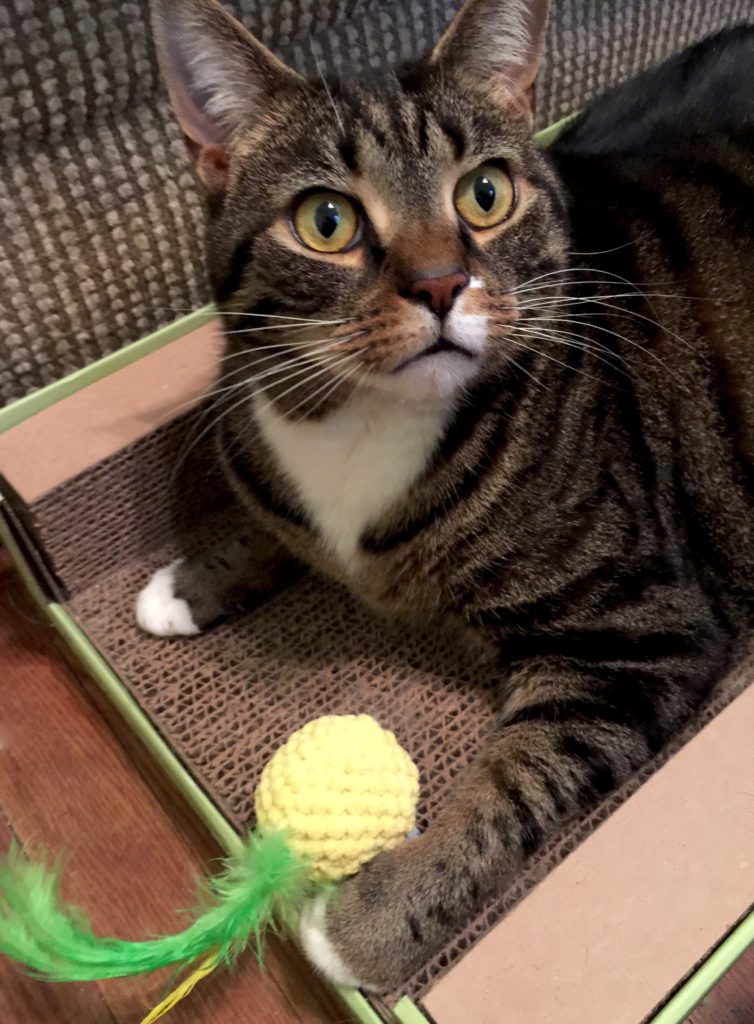 For me??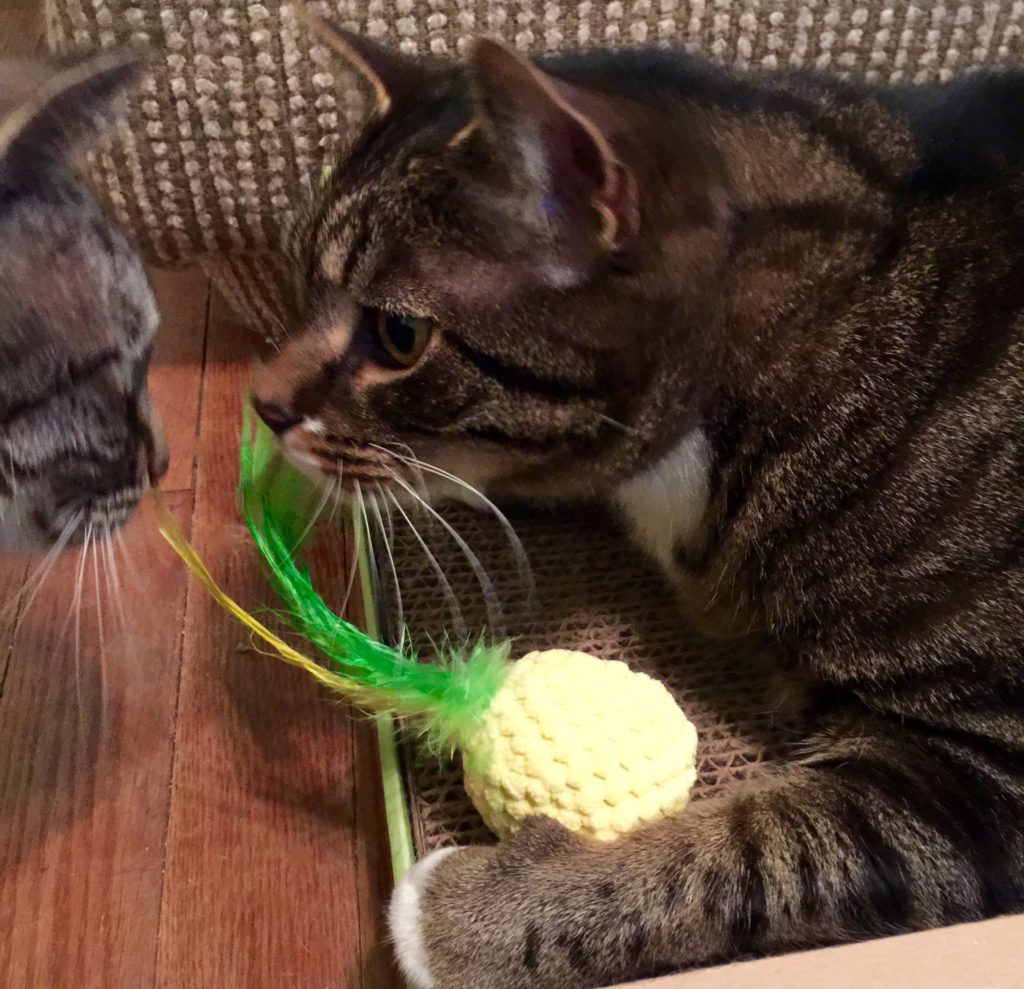 MINE!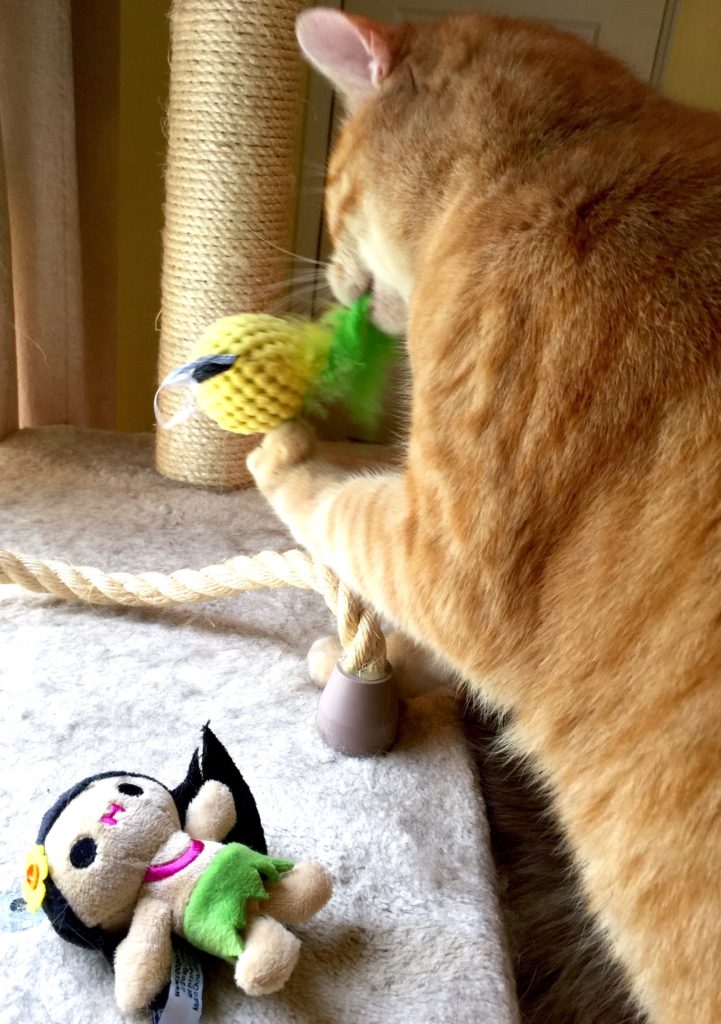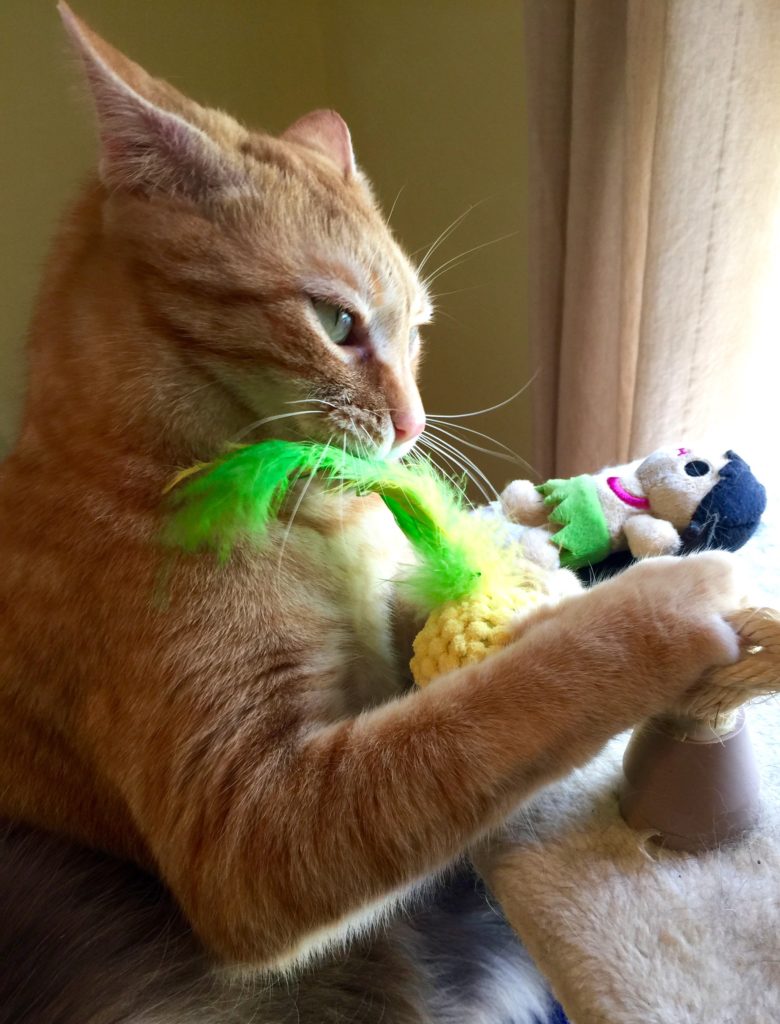 NO – They're MINE!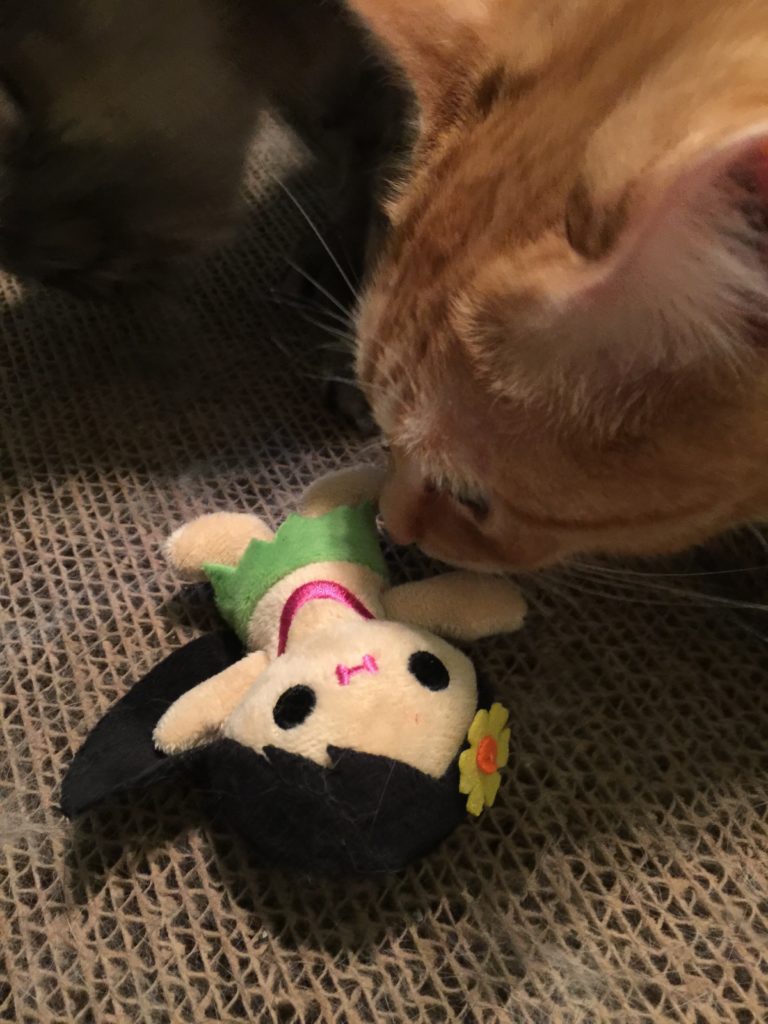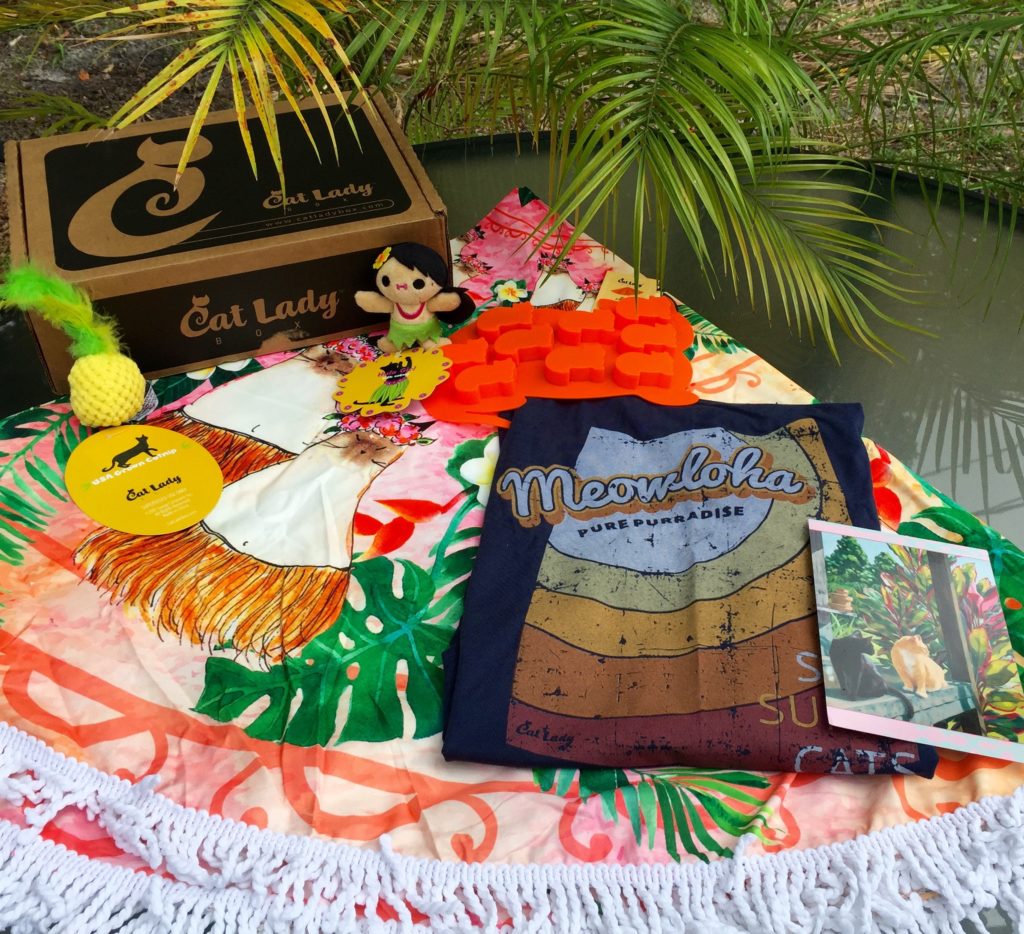 The retail value of the products in the June 2017 CrazyCatLadyBox came to $67.95.  The value of the products in the CrazyCatLadyBox is always much higher than the subscription cost and every box is just so fun to explore! You never know what kitty-themed items will show up and you always received high quality products – never any dollar store junk! The June box was curated perfectly to fit the month's theme. Everything in the box was perfect for us and I'm already planning a cook-out to showcase the new tablecloth!
Have you tried CatLadyBox? Check out our reviews of past boxes! Head over to the website to subscribe or to just order something from past boxes that you would love to have!