Jewelry Candles Review + Giveaway! Ends 12/21

The Cost:  $24.95
Amazing scents, and a beautiful Jewel that will dazzle just like you, darlin'! Like buried treasure, burn the candle & find your surprise! A Necklace, a Pendant, Earrings, a Ring, or a Bracelet.. it's a total surprise! With jewelry valued from $10, to $7,500 (yes, $7,500!) You may choose the "surprise me" option and your jewelry be a total surprise OR choose the jewelry piece of your choice! The choice is all yours!
I have definitely heard of jewelry candles before but have never tried my hand at them. I'm thinking it has something to do with needing patience to get to the prize inside… I had a ton of fun trying out the Cash Money Candles last month (see post with giveaway HERE), so luckily I knew what to expect! These jumbo soy candles are well worth the $25 price tag for their delicious scents and exceptional burn quality alone, though I couldn't help getting really excited for the piece of jewelry hidden inside!
A huge thank you to JewelryCandles.com for providing us with a candle to review and for sponsoring this giveaway! Be sure to enter our giveaway at the end of my review for your chance to win a Jewelry Candle of your own!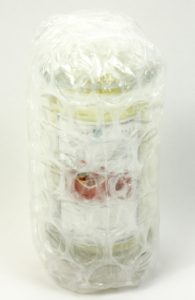 Just like my Cash Money Candle, the Jewelry Candle arrived completely protected in large bubble wrap that was securely taped to ensure safe delivery to my doorstep. The candle was shipped in a standard brown shipping box that was filled with packing peanuts.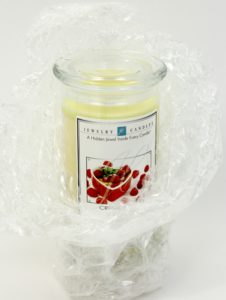 As expected, my candle was in pristine condition upon arrival!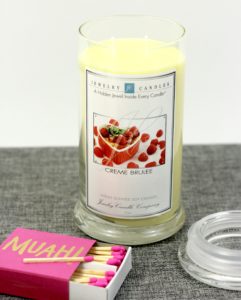 Jewelry Candles are made using 100% soy wax and premium quality fragrances. There are currently a whopping 66 different scents in the collection to choose from! I received the crème brûlée scent, which smells as heavenly as the actual dessert. I was grateful that the candle was so large, measuring at 21 ounces. I really like that each Jewelry Candle comes with dual wicks to ensure even burning without tunneling.
Random (Slightly Useless) Anecdote:  Jonathan treated me to a super fancy dinner at Ruth's Chris Steakhouse for my 30th birthday last year — it was unbelievably good — and we ended the meal with a divine crème brûlée for two. When we left, I felt so inspired that within two days I had purchased everything I needed to create this dessert at the house. Crème brûlée is surprisingly simple to make; the hardest part is waiting on the custard to chill in the fridge before sprinkling it with finely ground sugar and torching it. Oh my goodness, now I'm hungry.. Good thing I'm making crème brûlée for Christmas!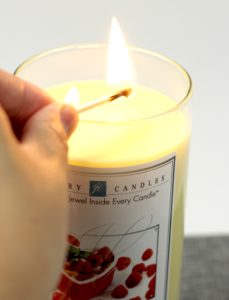 The wicks lit pretty quickly, though I did end up burning myself with the matches at least twice… On the bright side, I have a much greater appreciation for multi-purpose lighters with the long neck and now know what I want from Santa for Christmas. 😉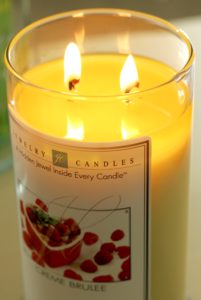 The wax melted into a beautiful golden pool and managed to remain at about 1/2″ deep. The wicks burned evenly and going just off the quality of candle alone, I can say Jewelry Candles produces a very fine product. The candle was able to fill our great room with the delicate scent of crème brûlée without being overpowering.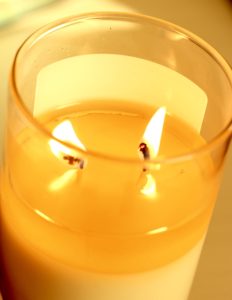 SEVERAL hours into burning, I was finally able to peek at the little foil packet teasing me from inside the glass jar. Jewelry Candles certainly tested my patience — Jonathan kept reminding me around now that I'd ruin my candle for eternity if I got out my knife and started digging…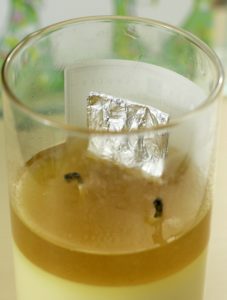 After several, several more hours of candle burning, I finally was able to get a good peek at the foil packet lying in wait. The package was adhered to the glass with what looked like a glue dot. Please note, my candle was absolutely NOT ready for such abuse, but I wanted to give you a full reveal of the jewelry during this review!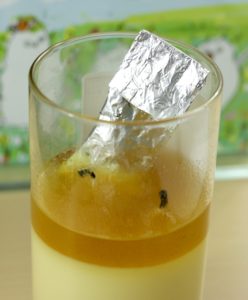 I had no idea what type of jewelry I was going to receive. Still, I was surprised to find myself extracting this huge package from my partially burnt candle!
Sarah Recommends:  Don't be like me, kids. Wait very patiently until the candle burns down far enough to see almost the entire foil packet before pulling out the jewelry so as not to damage your candle or your prize inside!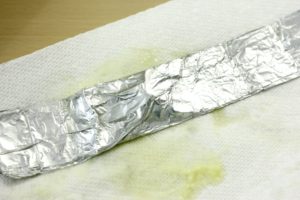 The soy wax was very slippery, but not greasy. I wiped off the foil as best I could with paper towels and eventually took it to the sink to rinse off the excess wax in hot tap water before opening it up.
Sarah Recommends:  If you're going to rinse off the wax before opening the foil, be sure to use very hot water. Cold / lukewarm water did not have much of an effect during my experimentation. (The wax seemed to just smear around the foil.) I waited until the water was extremely hot and even used a dab of soap to clean off the foil in no time at all.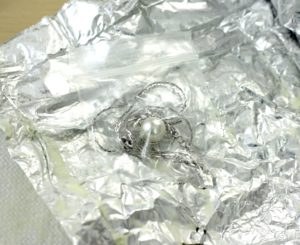 Here it is! I didn't really know what I was holding at this point, but it definitely has a chain!
Sarah Recommends:  If you're using tweezers to pull the foil packet out of the candle, please use caution since your pointy tweezers could easily pierce the plastic bag through the foil and cause wax to ruin your new jewelry!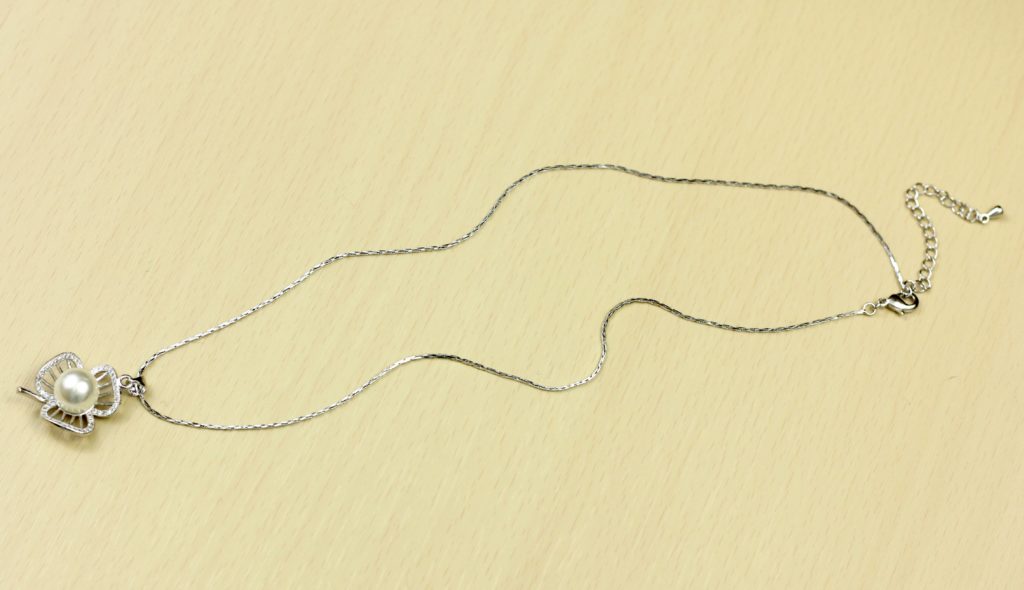 Here it is! I was very relieved to see that the plastic bag protected the jewelry from the wax. This is a very pretty necklace with a clover pendant on a silver-colored chain! There were no markers on the chain or pendant indicating it was made with precious metals. Still, I am pleased to see a piece of fashion jewelry that I would actually wear! It's not too large and looks quite elegant!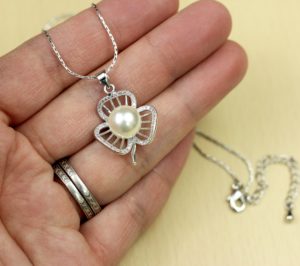 Here's a close-up on the pendant. The pearl really shines and the clover has the prettiest little crystal border. The chain is slightly adjustable with additional links that are secured with a lobster clasp. The necklace fell right around my collarbone without using the extra links. It's a wee bit too short for my taste, measuring probably around 16″ in length.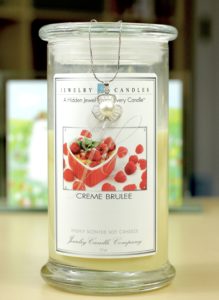 Overall, I really enjoyed the experience! It would have been much less stressful had I waited until the candle burned down to an appropriate height before extracting the foil packet, but that is certainly no fault of my Jewelry Candle! Luckily, I did not ruin the candle's integrity and we are still enjoying the warm, delicious scent of crème brûlée in our house. I really like the necklace I received and loved the anticipation leading up to discovery!
With 66 different scents to choose from and a beautiful variety of jewelry to hidden inside, JewelryCandles.com has really won me over! The best part?  Each candle is only $24.95 and includes a piece of jewelry that has a value of at least $10.00!!! Amazing value and high quality products = HUGE thumbs up from this gal!
I know what you're thinking… This would make a perfect gift this holiday season!  Order before December 12th at Midnight EST to make sure your order arrives on time for Christmas!! JewelryCandles.com has a bazillion different (and extremely fun) products to choose from and at a price point perfect for all of your holiday gift-giving needs. (Think:  sister, mother, best friend, boss lady, neighbor, Secret Santa)
---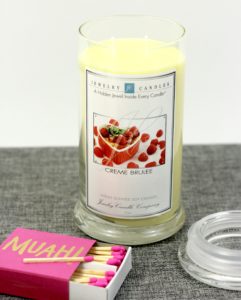 Jewelry Candle Giveaway!
Here's your chance to win your very own candle! JewelryCandles.com is generously giving (1) Jewelry Candle to (1) lucky winner! Enter the giveaway below for a chance to win your very own Jewelry Candle! ?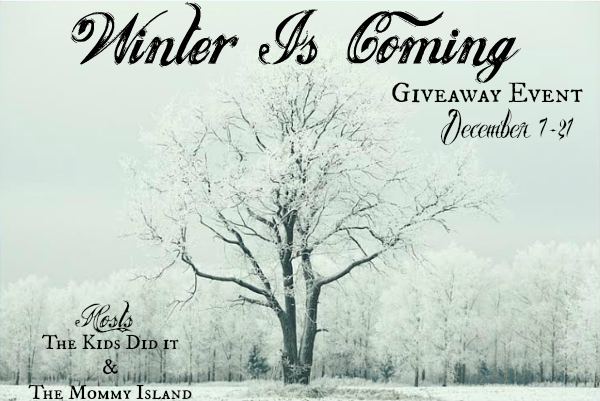 Welcome to the Winter is Coming Giveaway Event hosted by The Kids Did It and The Mommy Island. After you enter our giveaway, scroll down to the bottom of the page to find lots more great blog giveaways! Who knows what you might win?
Good Luck!
Contest is open to US 18+ and will end on December 21, 2016 at 11:59 PM EST. Winner will have 48 hours to confirm their win, after we email them, or a new winner will be chosen. Only one entrant per mailing address, per giveaway. Enter using the Giveaway Tools entry form below.
Disclosure: This giveaway is not associated with Facebook, Twitter, Instagram, Pinterest, or Google. Please read our Giveaway Rules page.The hosts and all participating blogs are not held responsible for sponsors who fail to fulfill their prize obligations.