January 2017 Love With Food Review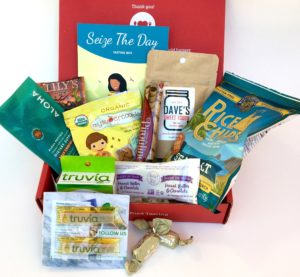 Love With Food is a monthly food subscription box that sends you a box of healthy snacks every month and donates to a food bank with every box that you purchase. The snacks they send are organic or all natural. "Snack Smart. Do Good." is the company's motto!
They have 3 levels of subscription boxes to choose from and you can cancel any time:
Tasting Box – $7.99 with 8+ snacks
Deluxe Box – $16.50 with 16-20 snacks
Gluten-Free Box – $19.99 with 10-12 celiac-safe and mostly dairy-free snacks
The Homespun Chics paid for this subscription box. All opinions are 100% our own. This post contains affiliate links.
---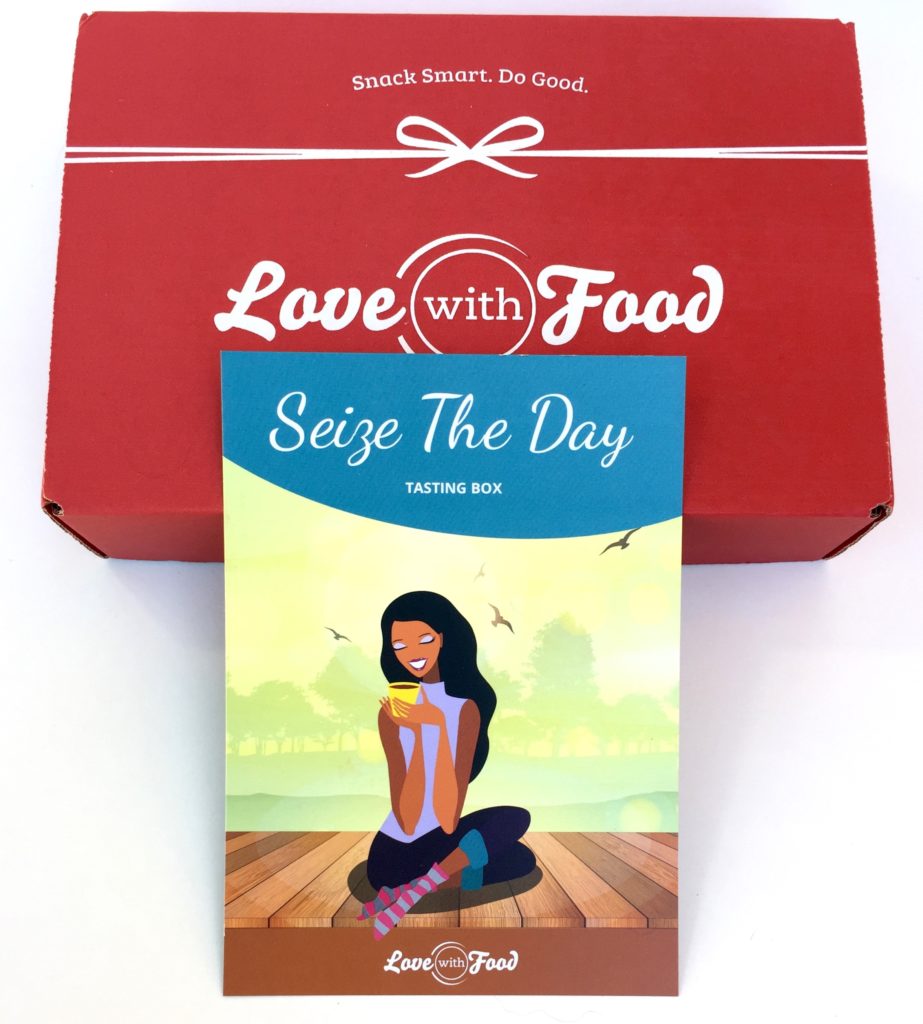 This review is for the January 2017 Love with Food Tasting Box. No product information sheet was included but many of the snack items were pretty familiar.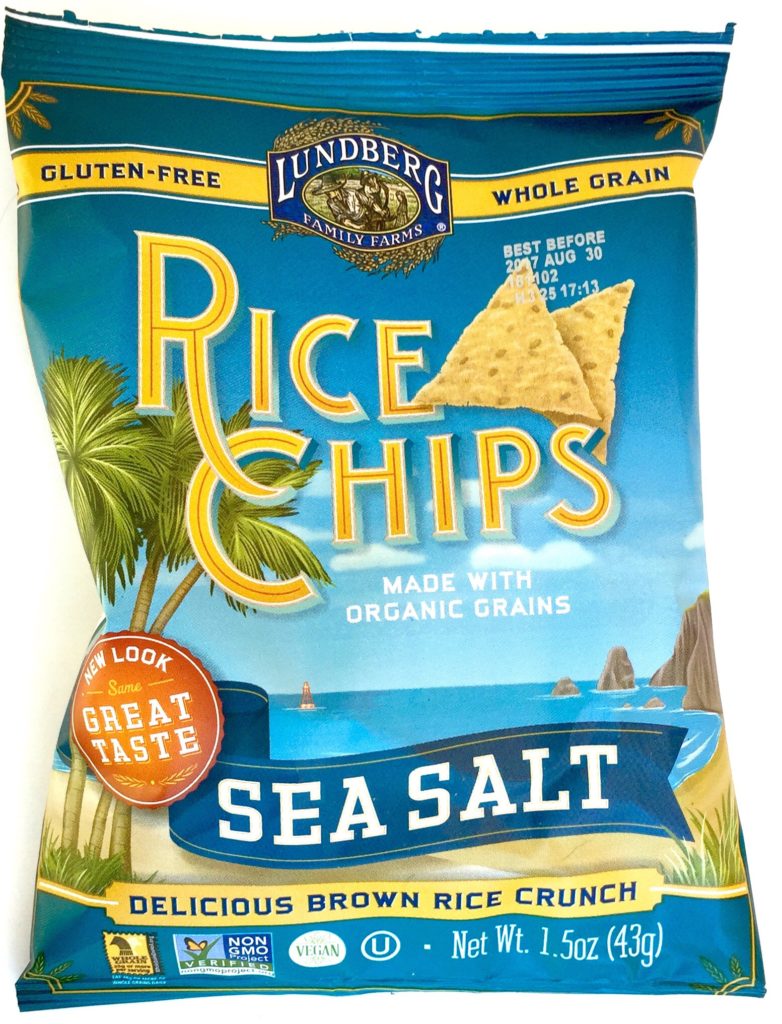 Lundberg Family Farms – Sea Salt Rice Chips 1.5 oz ($1.24)
This bag of crunchy chips is made with organic grains and is gluten free. These are great with salsa, dip, or just by themselves.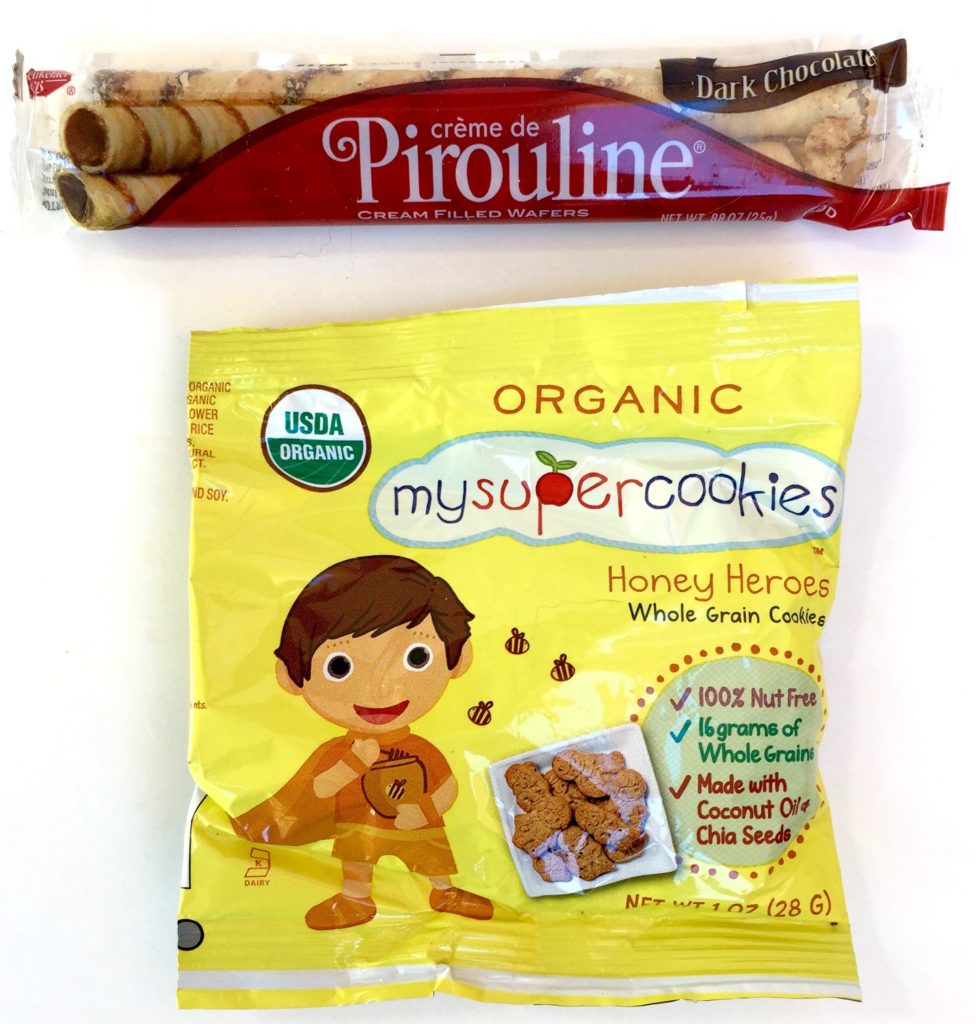 Creme De Pirouline – Dark Chocolate Artisan Rolled Wafers .88 oz ($1.40)
I just love these all natural cream-filled wafer cookies! They are crunchy, sweet, and very chocolaty!
MySuperCookies – Honey Heroes Cookies 1 oz ($1.92)
These little organic cookies are made with whole grains, coconut oil, and chia seeds. Plus they are completely nut-free. How do they taste? They are great – I gave them a try and ate the whole bag!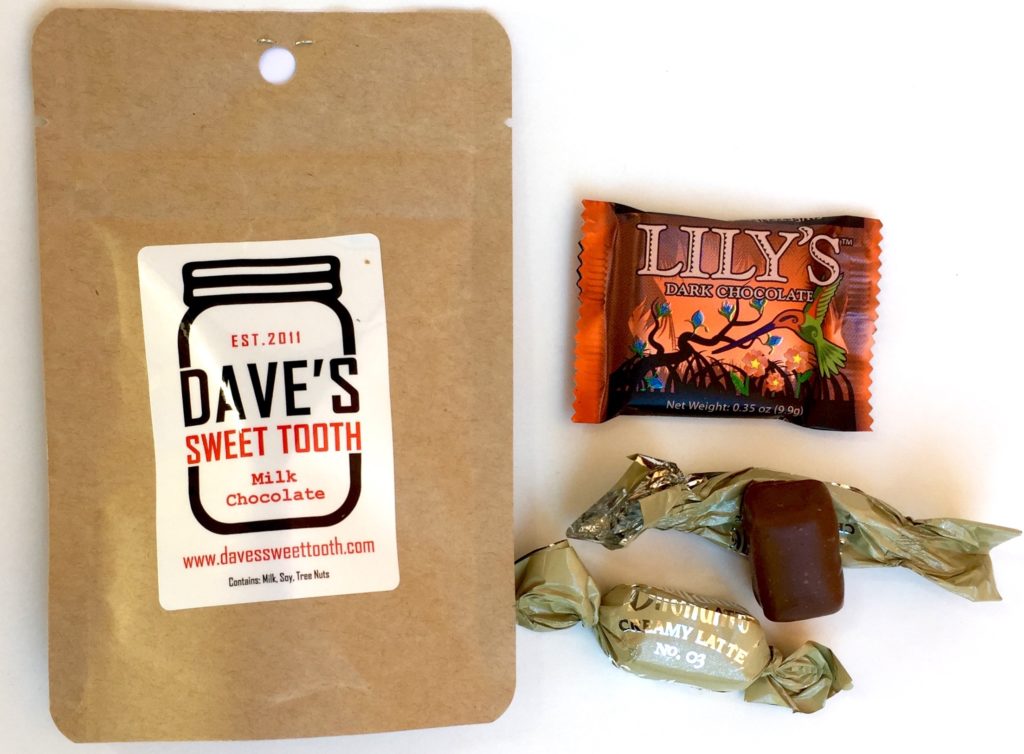 Dave's Sweet Tooth – Milk Chocolate Toffee 1 oz ($1.83)
Now we are talking candy!! This milk chocolate toffee melts in your mouth and you can't put it down!
Lily's – Dark Chocolate .35 oz ($.71)
This is a little bite of dark chocolate sweetened with stevia.
Silettante – Creamy Latte #3 Chocolate Pieces (2)
And these were 2 wrapped pieces of divine chocolate – past tense!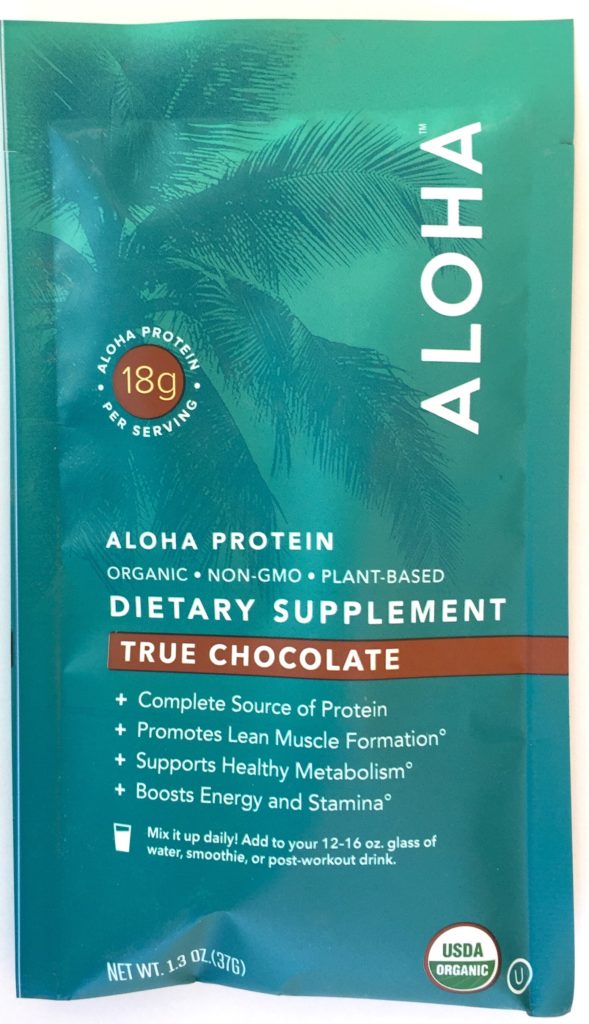 Aloha – Dietary Supplement in True Chocolate 1.3 oz
This is a a powder to mix in with water, your smoothie, or other drink. It is organic, plant based, and a complete source of protein.

Bakery on Main – Peanut Butter & Chocolate Bar ($1.00)
This gluten free bar is a combo of 4 gm of protein, 4 gm of fiber, and 8 gm of sugar. It would be a good energy bar for after your workout.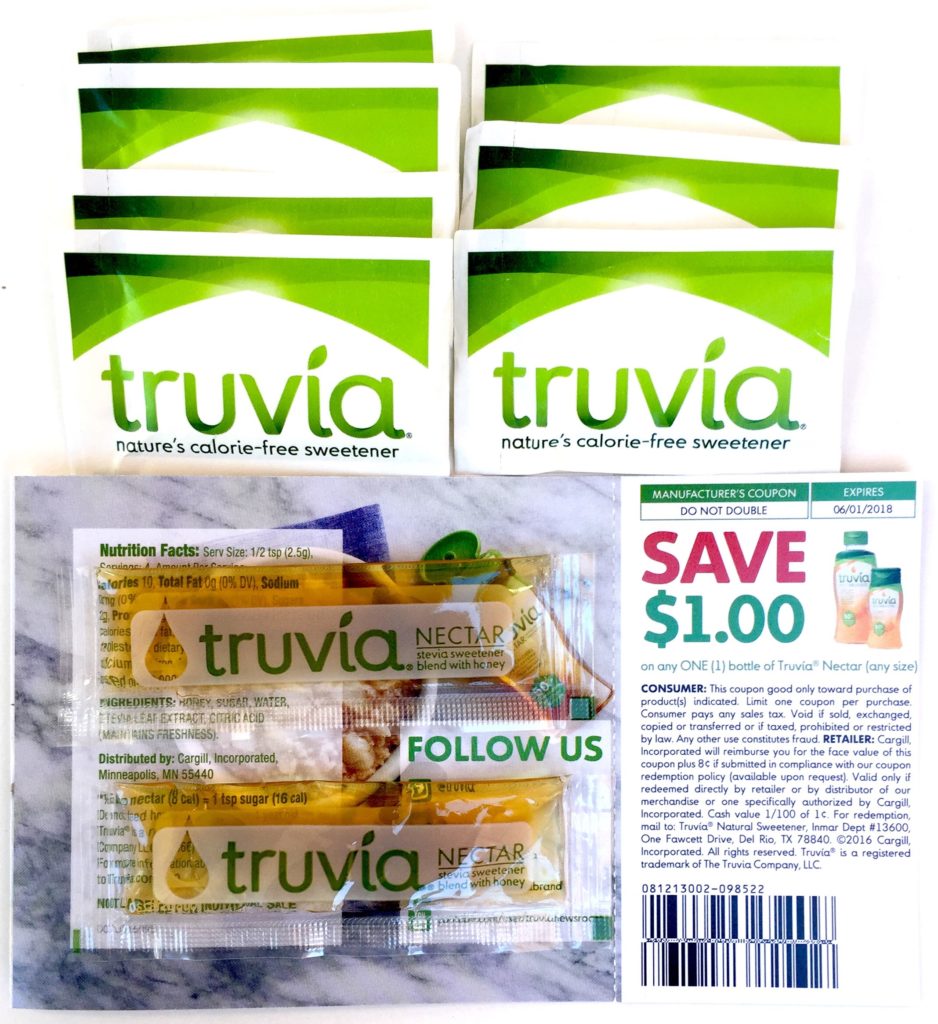 Truvia – samples
Love with Food included a small box with 5 packets of Truvia and a card with 2 samples of Truvia Nectar. I am a Splenda user so I had to find another home for these, but it was a good inclusion if you used this as your sweetener.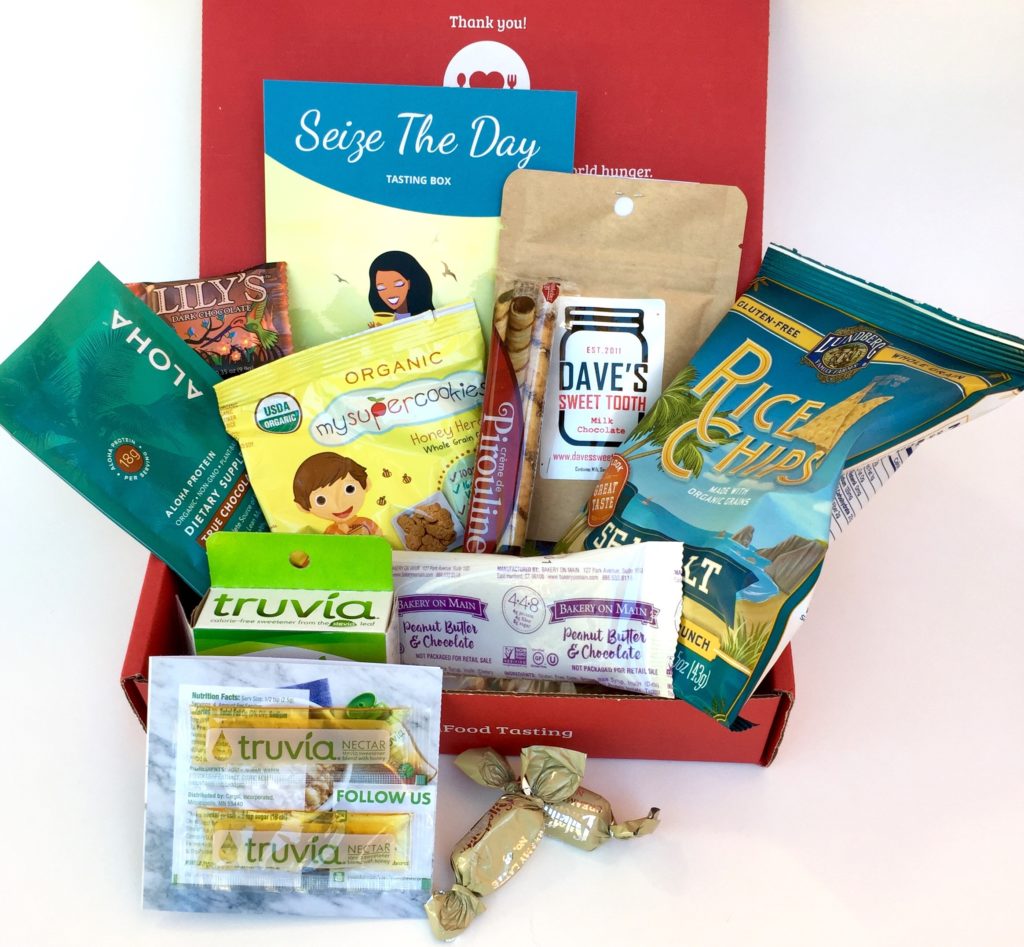 The retail value of the snacks in the January 2017 Love with Food box came to over $8. I could not find some of the snacks online but the value is there and almost everything was gluten-free.