January 2017 Japan Crate Review + Coupon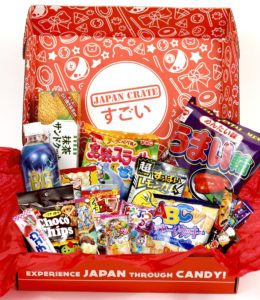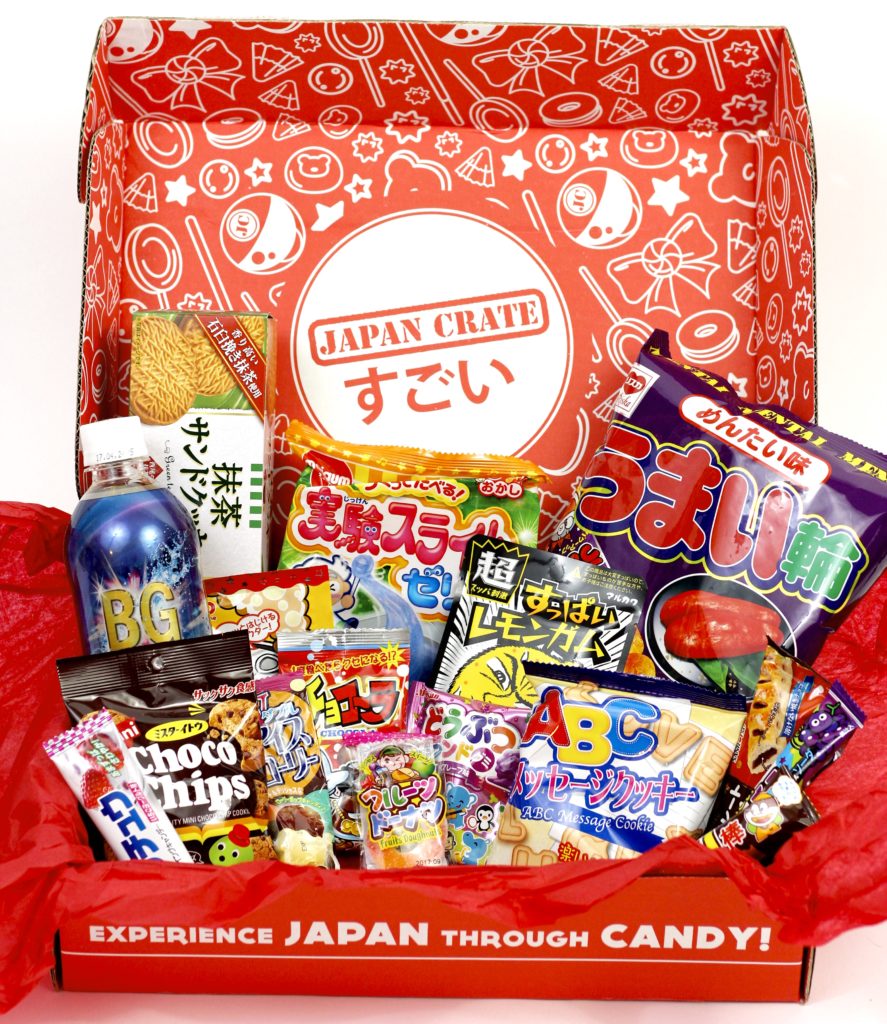 Japan Crate is a monthly subscription box where subscribers can "experience the excitement of Japan every month through fun candy and snacks." The Japan Crate team works directly with Japanese manufacturers and attends seasonal candy trade shows in Tokyo & Osaka to ensure that subscribers receive the newest and most exclusive products available. Starting February 2017, Japan Crate ships directly from Japan! Japan Crate comes in three different sizes with subscriptions starting at $12.00 per month (+ free worldwide shipping).
The Homespun Chics received this subscription box for review. All opinions are 100% our own. This post contains affiliate links.
---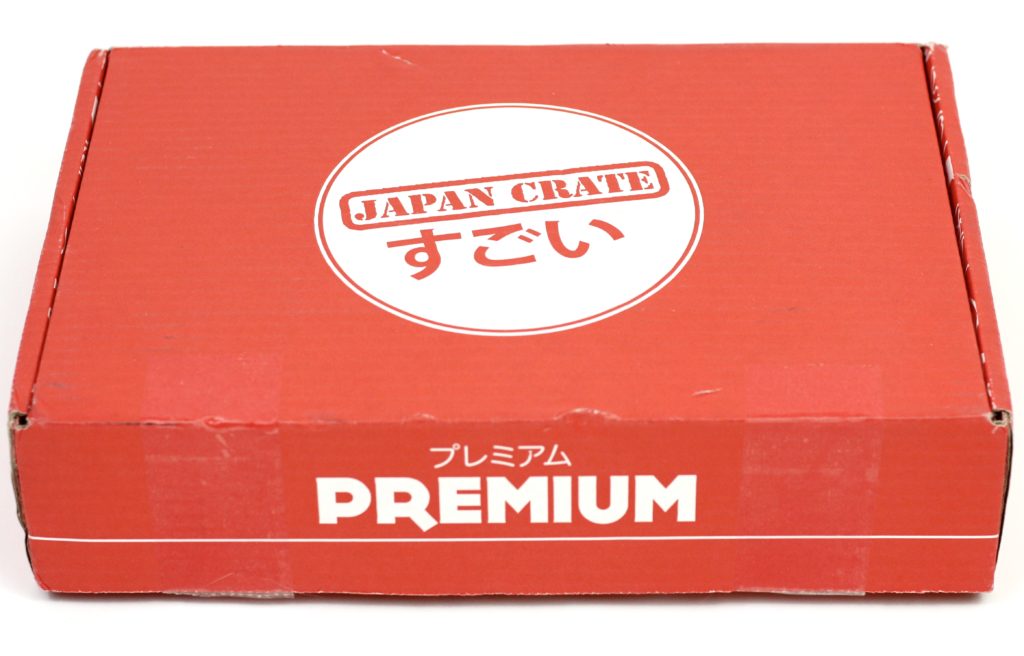 January 2017 Japan Crate (Premium)
Japan Crate features CRAZY & EXCLUSIVE Japanese candy and comes in three different sizes:  Mini, Original, and Premium. The box is bright red and positively stuffed with all sorts of unique and tasty treats heralding from Japan!
The Costs:
Mini ($12) 5 items; Half Pound Crate
Original ($25) 10 items; 1 DIY Kit Guaranteed; 1.5 lb Crate
Premium ($30) 15 items; Includes Japan-exclusive Drink; 1 DIY Kit Guaranteed; Revolving Bonus Item; 2.5 lb Crate
All crates come with FREE worldwide shipping! Starting February 2017, Japan Crate will begin shipping directly from Japan, meaning more reliable shipping and a wider variety of Japanese snacks and candy inside each crate!
*Save $3.00 off your first PREMIUM CRATE with code HOMESPUNCHICS!
---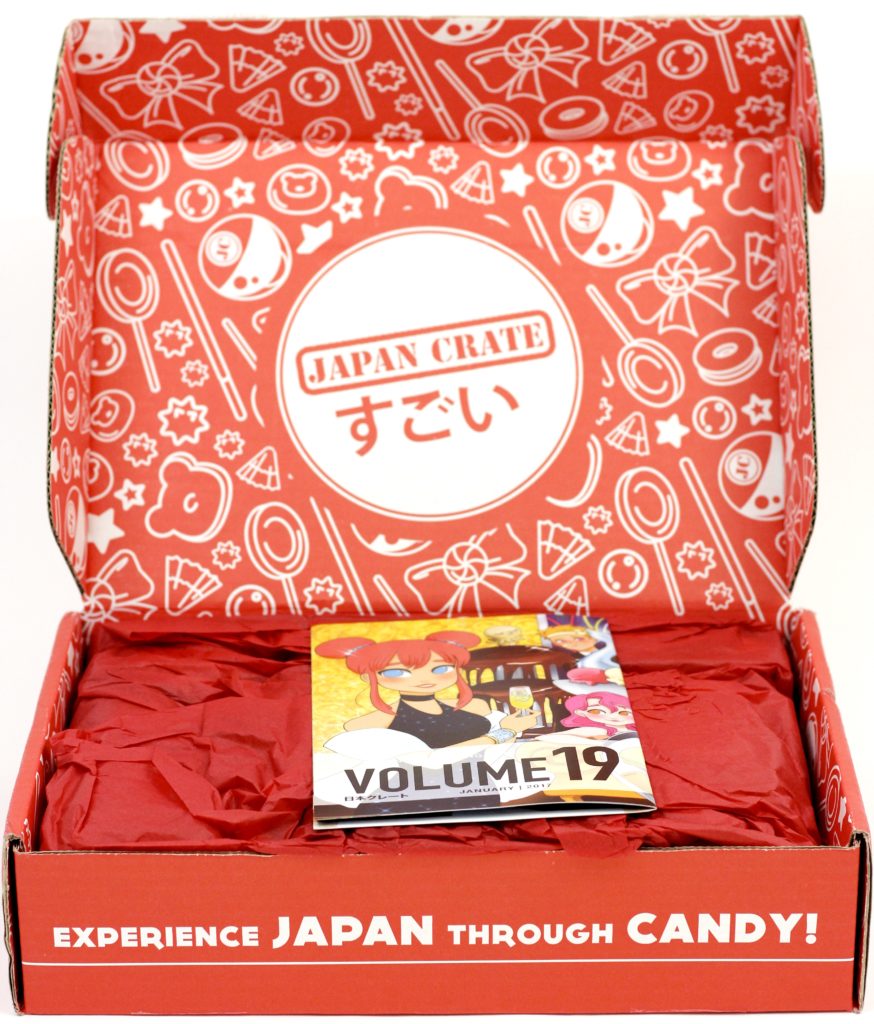 I received the Premium Japan Crate and was shocked when I saw what looked like a bright red suitcase sitting on my front porch!
First impression:  This box is HEAVY! Holy moly!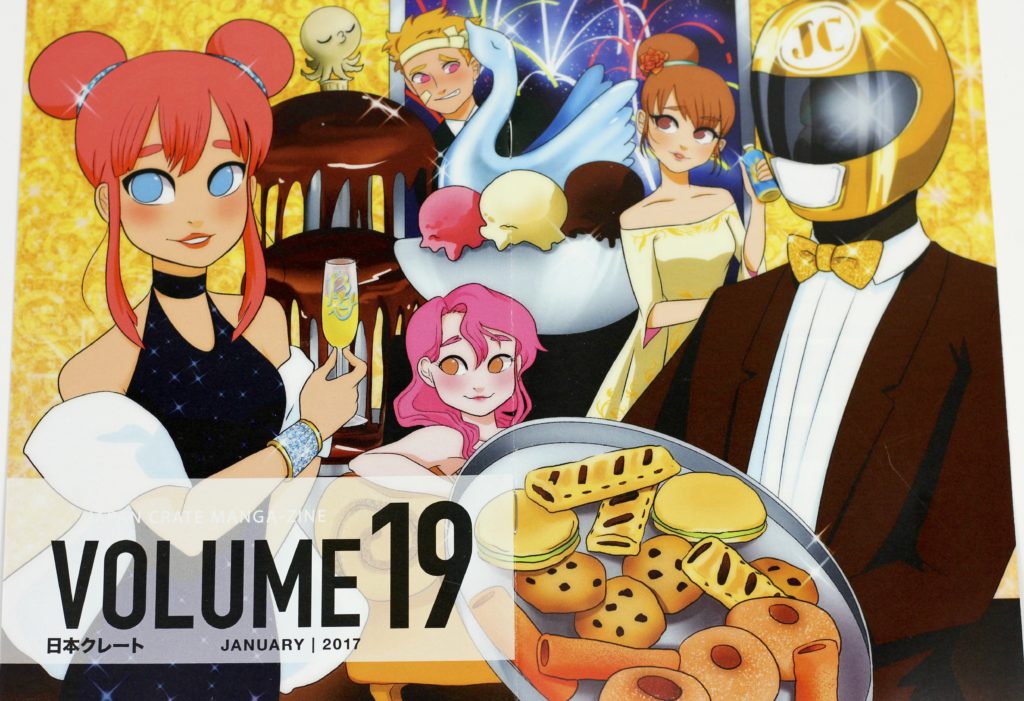 Every crate comes with a manga-style magazine that opens from left to right.The cover opens flat to reveal an illustration that features some of the items included in that month's crate! (So cool.) Can you spot the reflection of the person taking the picture?
Since this is my first Japan Crate, I want to show you exactly what you can find inside the magazine. It's quite impressive and well worth the read while you are enjoying your goodies!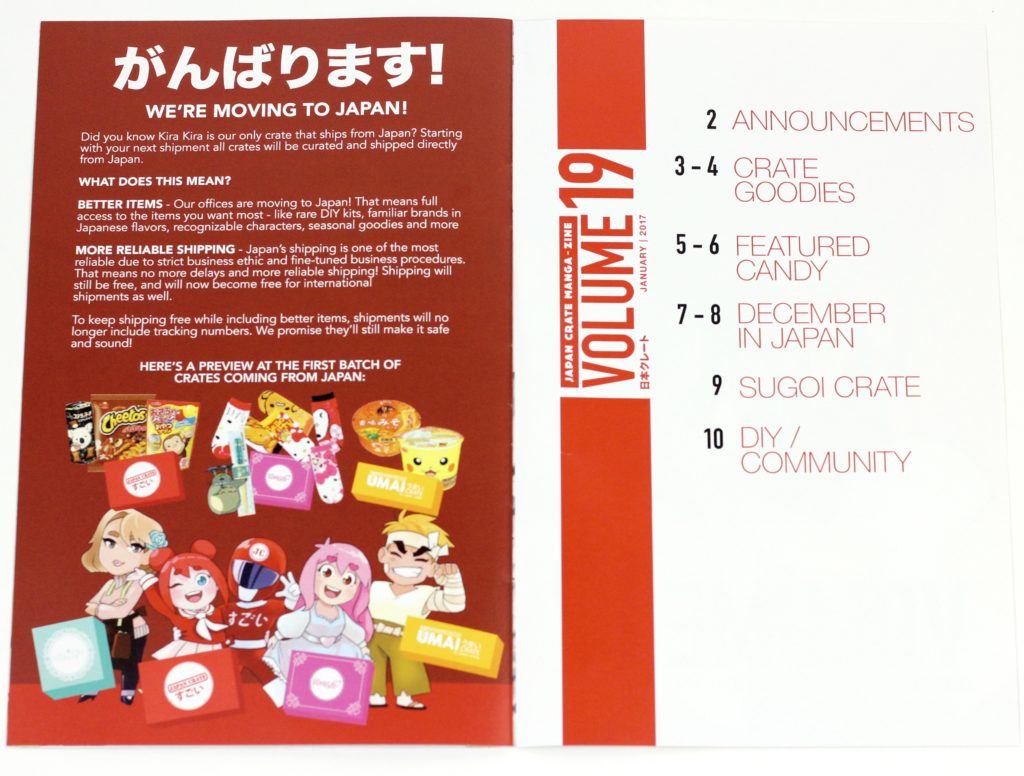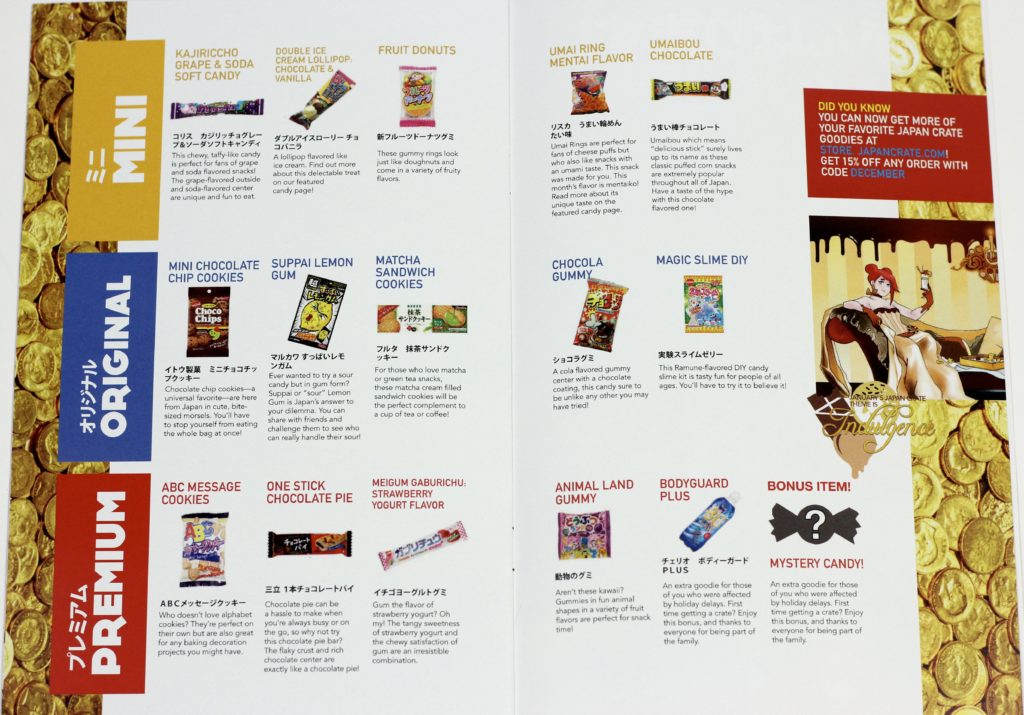 The crates are tiered so that the larger sizes build upon the smaller ones. The Mini Crate comes with five treats (shown at the top); the Original has everything included in the Mini plus five more treats (middle row) and the Premium contains everything shown on the two-page layout!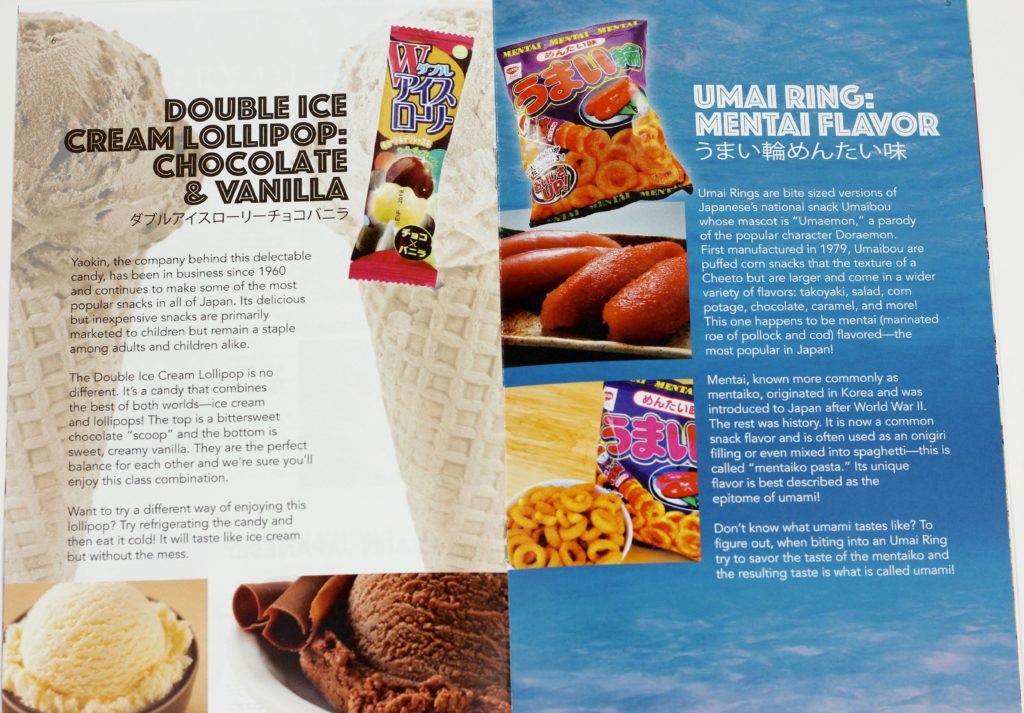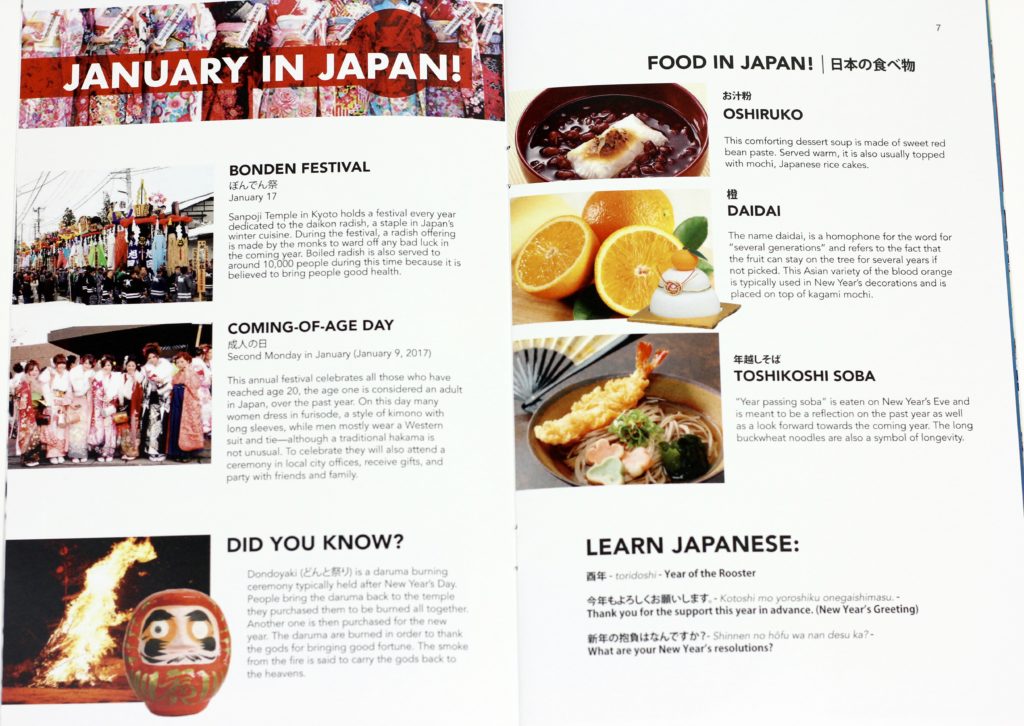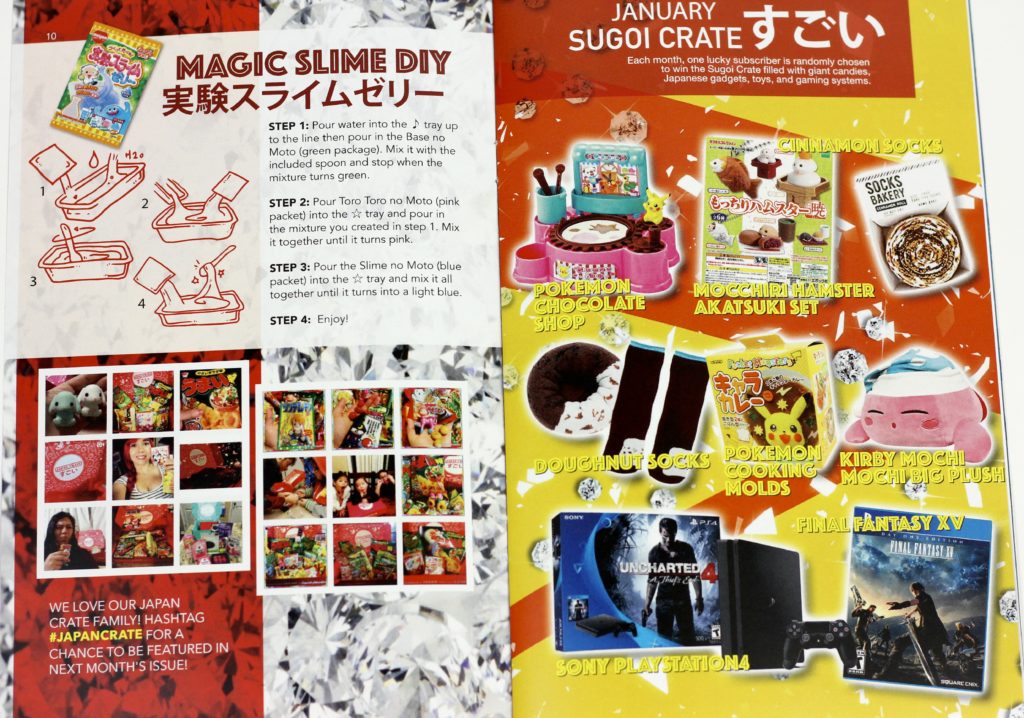 All Japan Crate current subscribers are automatically entered to win the monthly Sugoi Crate, which is a giant prize crate filled with Japan-exclusive collectibles, oversized candies, gaming consoles and more! 
The January Sugoi Crate included a PS4 Slim (Uncharted 4 bundle) and Final Fantasy XV (which Jonathan is currently playing as I type… he's obsessed.)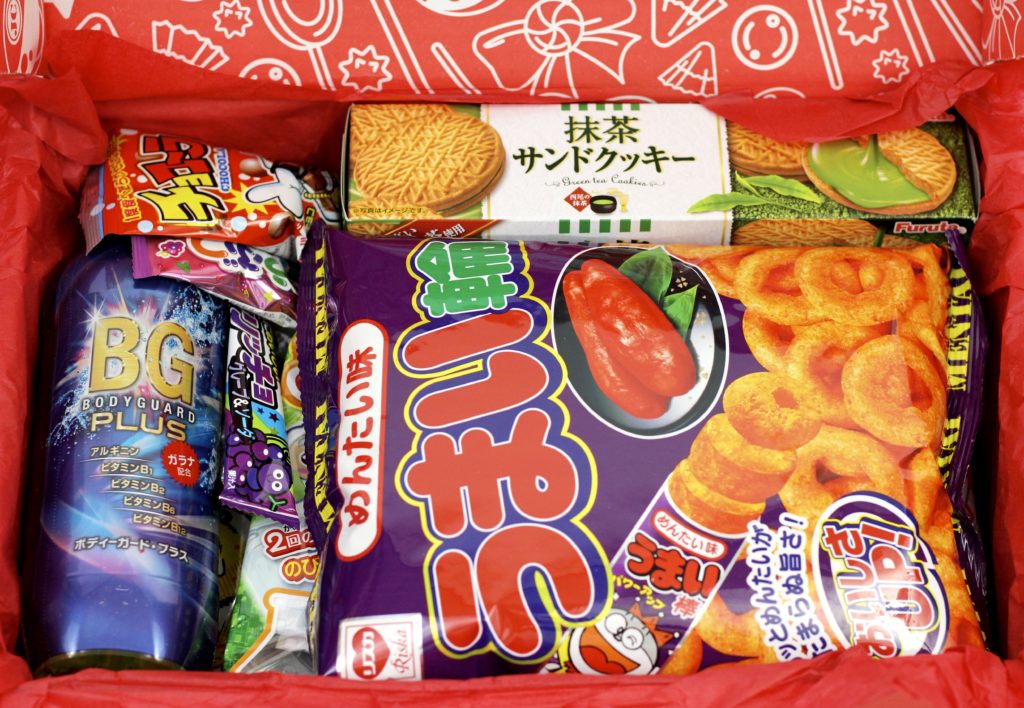 What's Inside the January 2017 Japan Crate!?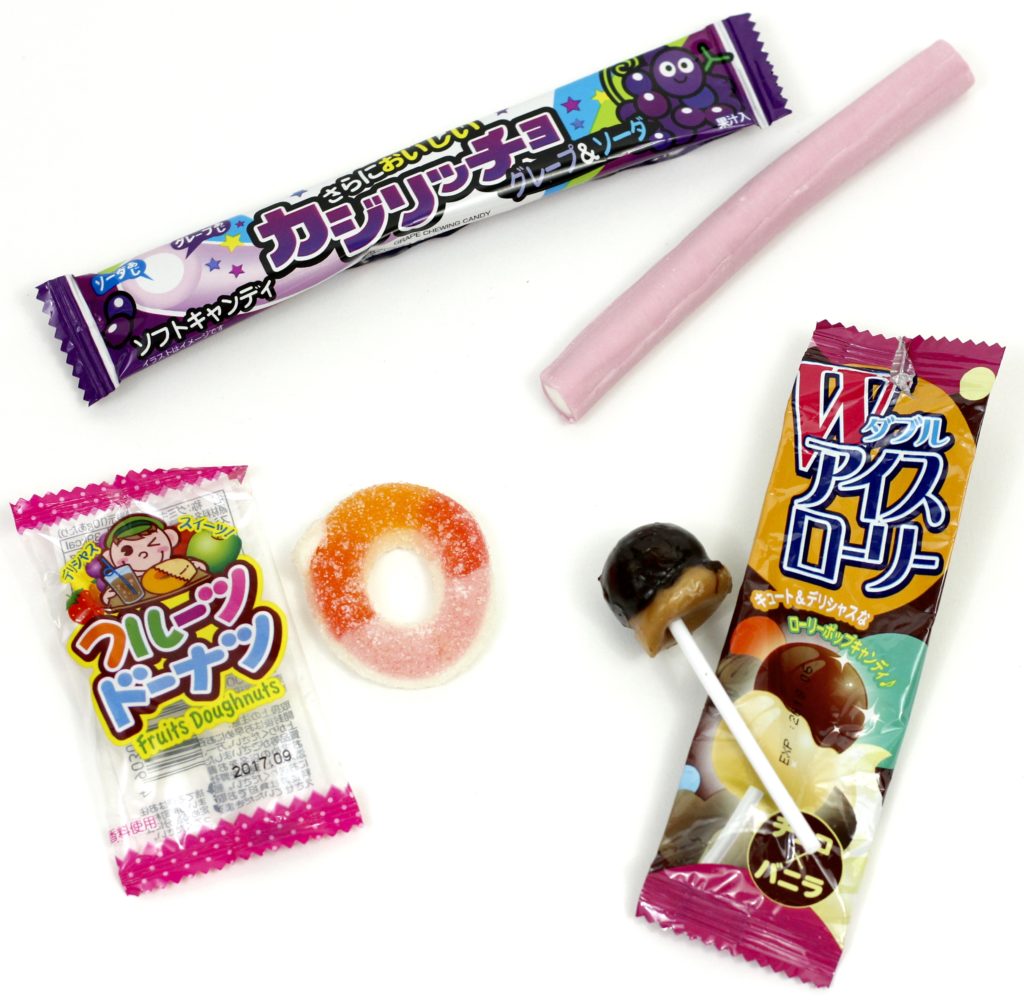 Kajiriccho Grape & Soda Soft Candy |  This chewy, taffy-like candy is perfect for fans of grape and soda flavored snacks! The grape-flavored outside and soda-flavored center are unique and fun to eat.
Double Ice Cream Lollipop: Chocolate & Vanilla |  A lollipop flavored like ice cream. The top is a bittersweet chocolate "scoop" and the bottom is sweet, creamy vanilla.
Fruit Donuts |  These gummy rings look just like doughnuts and come in a variety of fruity flavors.
The scent of artificial grape goodness filled my office as soon as I opened the Kajiriccho grape candy. The flavor mostly reminds me of the Grape Big League Chew in smell and taste, but then has a citrus-like "soda-flavored" center. It's interesting… I am saving the lollipop for Little G's "special treat" that he gets after school on Friday. The actual lollipop does NOT look like the picture, but smells great! I let Little G try the fruit donut during photos and he liked it so much that he scoured the box and then my entire office looking for more!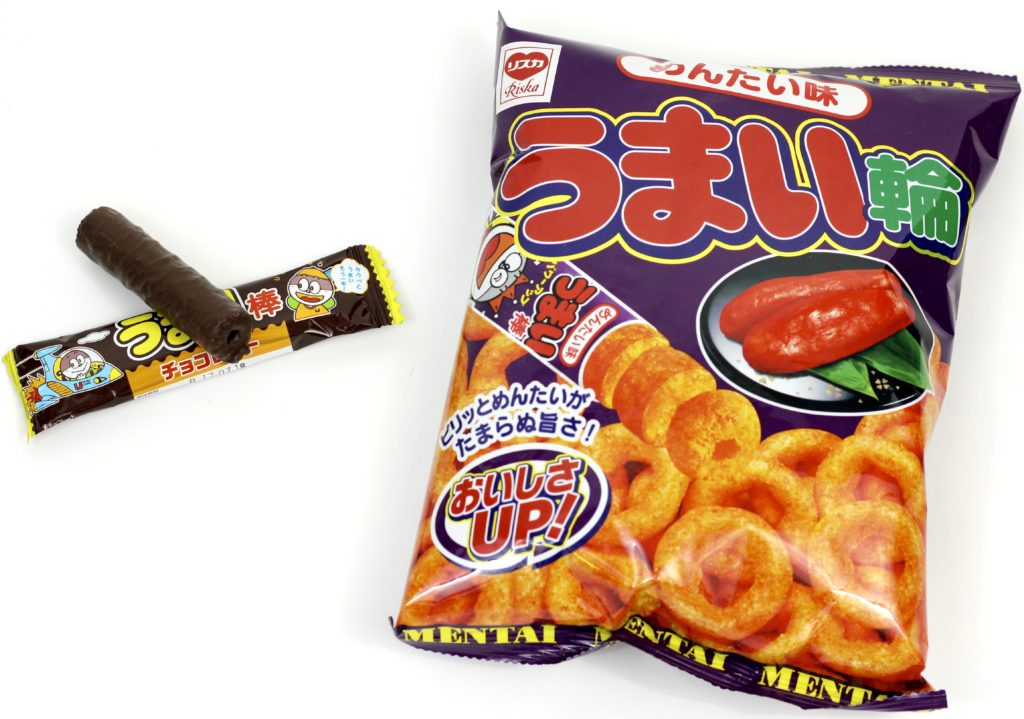 Umaibou Chocolate |  Umaibou which means "delicious stick" surely lives up to its name as these classic puffed corn snacks are extremely popular throughout all of Japan. This one is coated in chocolate.
Umai Ring Mentai Flavor |  Umai Rings are perfect for fans of cheese puffs but who also like snacks with an umami taste. This month's flavor is mentaiko (marinated roe of pollock and cod) — the most popular flavor in Japan!
The chocolate Umaibou really is a "delicious stick" (haha!) that is pretty much a plain corn puff hollow tube that is coated in chocolate. The corn puff sticks to the teeth like cheese poofs, so be warned. Super yummy and a perfect little snack that's slightly sweet and not salty. I had to do a google search for the mentai flavored Umai Rings before trying them (I'm allergic to shrimp). Luckily these guys are flavored with cod powder, paprika, sugar and red pepper. They are extremely addictive, slightly sweet, and not really "fishy." My waistline would be in trouble if these were readily available in the U.S.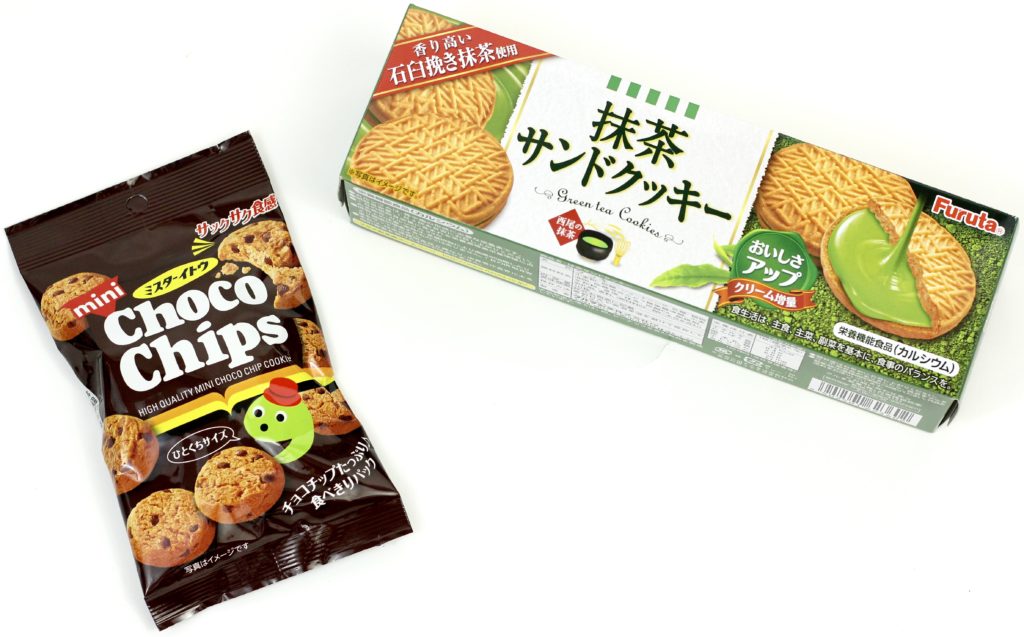 Mini Chocolate Chip Cookies |  Chocolate chip cookies — a universal favorite — are here from Japan in cute, bite-sized morsels. You'll have to stop yourself from eating the whole bag at once!
Matcha Sandwich Cookies |  For those who love matcha or green tea snacks, these matcha cream filled sandwich cookies will be the perfect complement to a cup of tea or coffee!
In the wise words of Cookie Monster, "C is for cookie, that's good enough for me!" YUM. I'm saving the choco chip cookies for my road trip, but I'm positive I will eat the entire snack bag in one sitting… *Don't you judge.* Jonathan and I sampled the matcha cookies and they are SO delicious! I could smell the green tea as soon as I opened the package; the green tea taste was subtle and blended well with the creme center.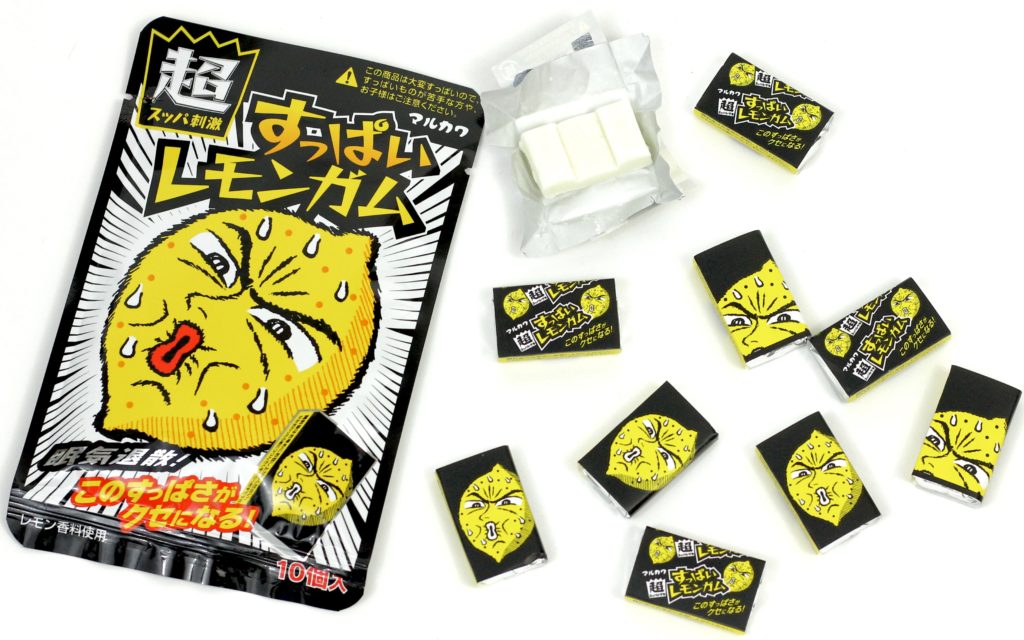 Suppai Lemon Gum |  Ever wanted to try a sour candy but in gum form? Suppai or "sour" Lemon Gum is Japan's answer to your dilemma. You can share with friends and challenge them to see who can really handle their sour!
I'm just not brave enough to try this gum… but Jonathan was! (I love using my hubby as a test taster.) As soon as he popped a piece of the lemon gum in his mouth and his eyes immediately began watering. Jonathan said it was intensely sour for about two minutes. Sadly, the gum was too soft for making bubbles. The flavor was was completely lost after another two minutes but the gum was still nice and soft for chewing.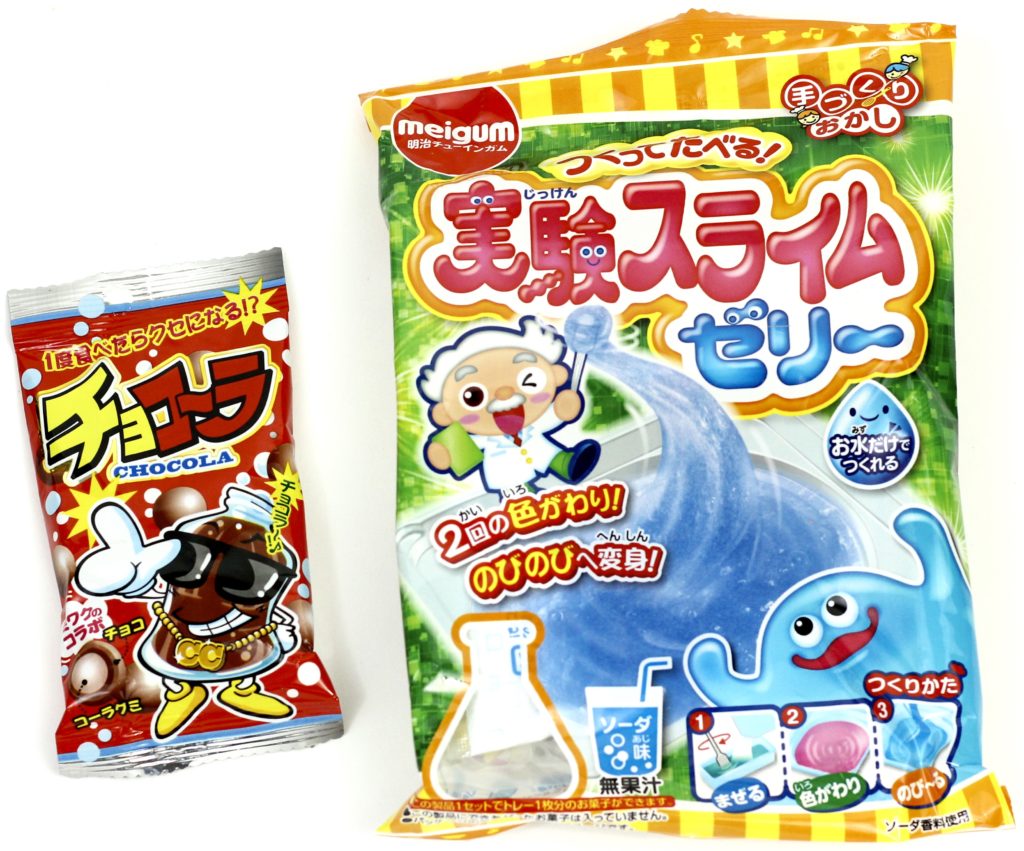 Chocola Gummy |  A cola flavored gummy center with a chocolate coating, this candy is sure to be unlike any other you may have tried.
Magic Slime DIY |  This Raume-flavored DIY candy slime kit is tasty fun for people of all ages.You'll have to try it to believe it!
Jonathan and I decided that the Chocola gummies taste like what happens when you eat a piece of candy out of your Halloween stash… after all of your candy has been hanging out for a long time and the flavors have completely combined. (The Snickers bar tastes like Twizzlers and your Starbursts taste like Tootsie Rolls. I know you know what I'm sayin'.) The chocolate shell is crunchy like a Sixlet and contains a cola-flavored gummy center. The sudden texture shift between the two was a little disturbing despite knowing that there was a gummy inside… We are waiting to do the Magic Slime DIY with Little G on a rainy day… Sorry, but there's only so much candy I can give the kid without regretting it.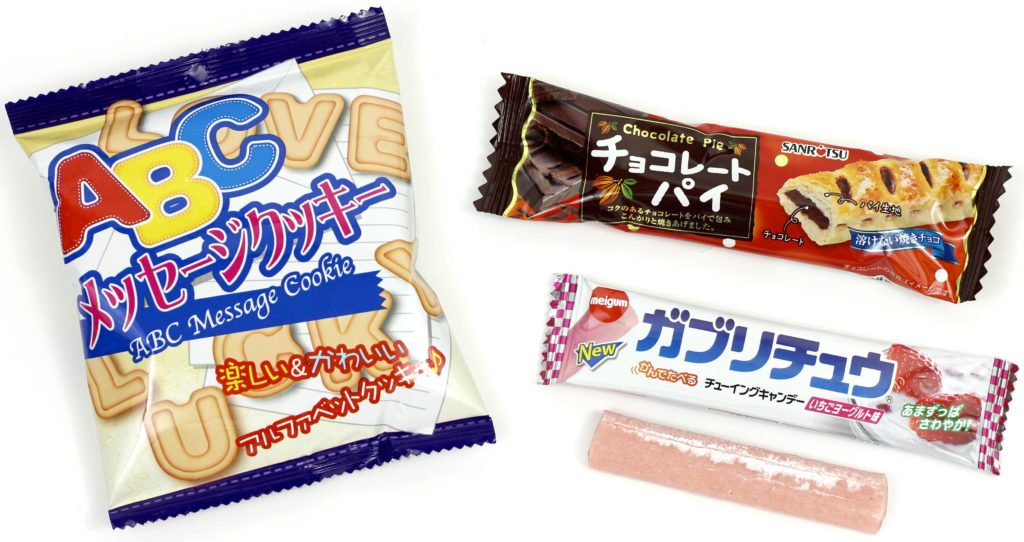 ABC Message Cookies |  Who doesn't love alphabet cookies? They're perfect on their own but are also great for any baking decoration projects you might have.
One Stick Chocolate Pie |  Chocolate pie can be a hassle to make when  you're always busy or on the go, so why not try this chocolate pie bar? The flaky crust and rich chocolate center are exactly like a chocolate pie!
Meigum Gaburichu: Strawberry Yogurt Flavor |  Gum the flavor of strawberry yogurt? Oh my! The tangy sweetness of strawberry yogurt and the chewy satisfaction of gum are an irresistible combination.
The ABC Message Cookies are being saved for another Friday "special treat" for Little G. He is going to love spelling words with the letter shapes! The One Stick Chocolate Pie is the size of a small candy bar. The crust is harder than I expected, is glazed on top, and has the perfect balance of salty and sweet. The chocolate center has a slightly odd aftertaste, but this thing is scrumptious. The strawberry yogurt gum was interesting. My brain can't seem to understand that a yogurt-flavored item should not be ingested. Creamy gum, really?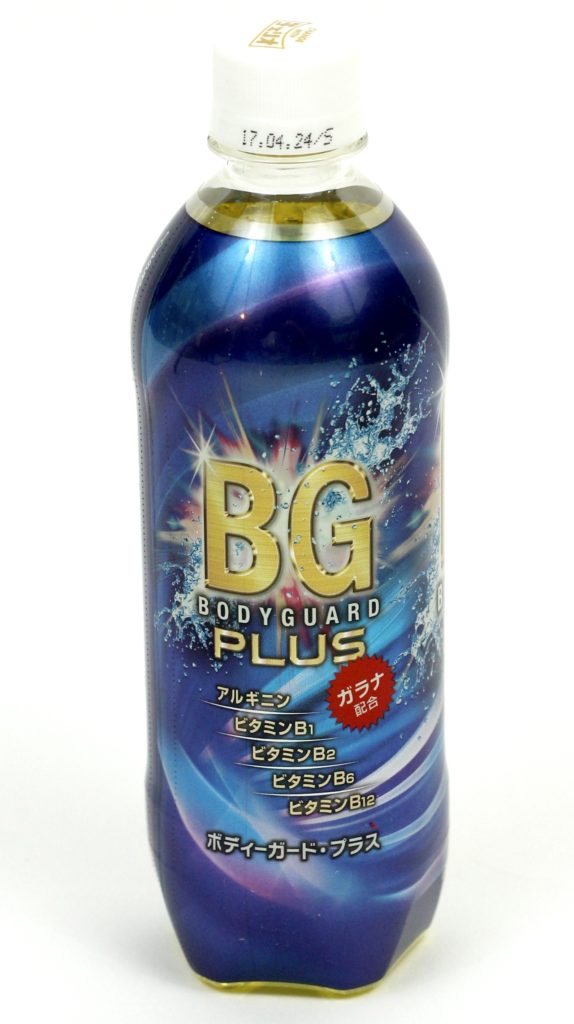 Bodyguard Plus |  A tropical fruit flavored energy drink that is great for athletes and exercise enthusiasts. Arginine, the active ingredient, plays an active role in circulation as well as muscle growth and function.
This is a carbonated energy drink that smells like… well, an energy drink. The bright neon yellow color was practically glowing and made me fear for my life… so naturally I made Jonathan try it. He said it is similar in flavor to Monster energy drinks, except the Bodyguard Plus has a stronger pineapple flavor. It also reminded him of SweeTarts.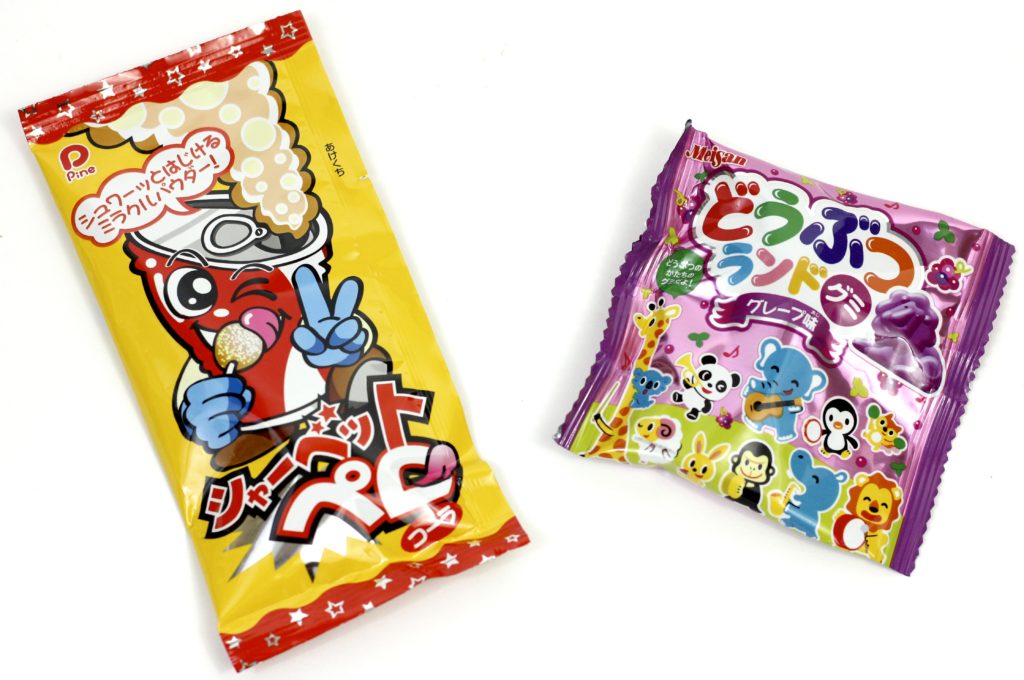 Bonus Item – Mystery Candy! 
Animal Land Gummy |  Aren't these kawaii? Gummies in fun animal shapes in a variety of fruit flavors are perfect for snack time!
I don't know what mystery candy I received… but if I had to guess, the candy appears to be similar to PopRocks? There's a lollipop inside (probably cola-flavored) that you use to dip into the powder in the bottom of the bag. I wish I took a picture of the back of the bag. There are three illustrations of the Cola guy first licking the lollipop, then dipping it into the powder, and licking it again with his eyes bugging out and saying something with exclamation marks. It was epic, and I'm so sorry I did not share the glory of it with you. The Animal Land gummies feel extremely soft, but alas, I am also saving this final treasure for my son. The gummy pouch is the perfect size package for little hands and is oh-so-cute!!
---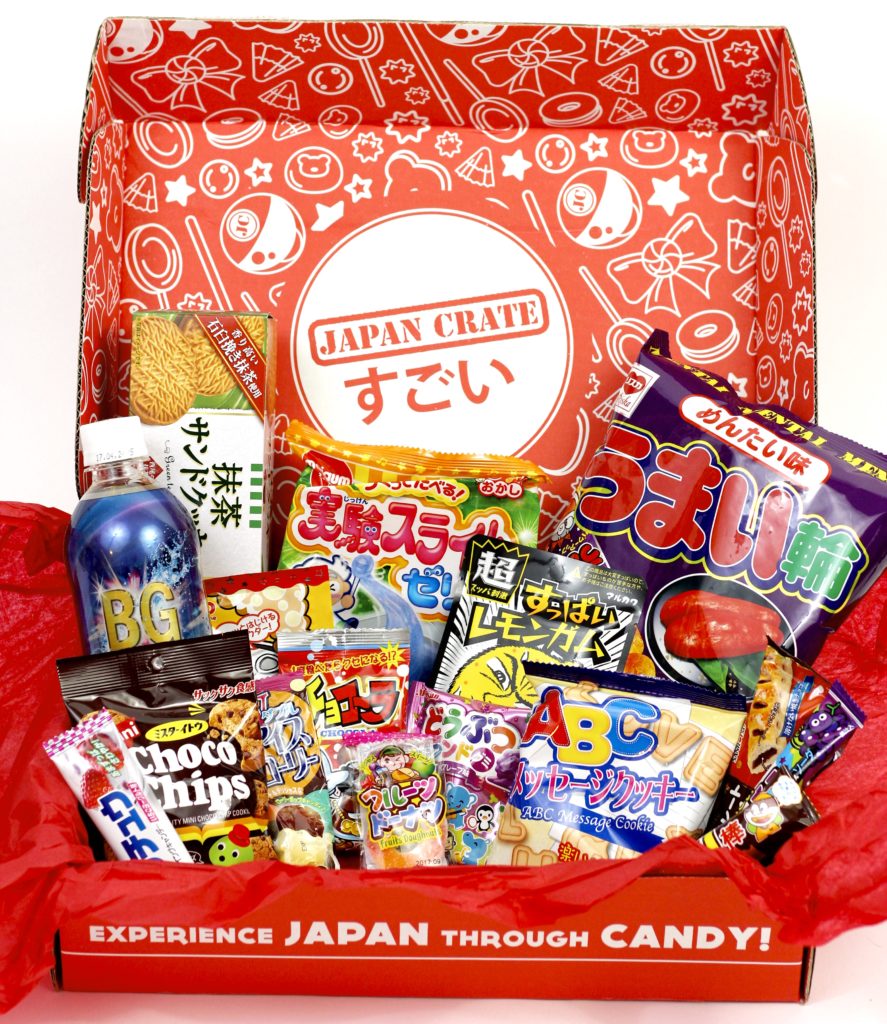 Final Thoughts
The Premium January 2017 Japan Crate was extremely impressive! I loved the wide diversity of items inside and certainly appreciated the salty snacks mixed in with the sweet ones. Yes, $30 might feel a little pricy for a box of snacks, but I had to consider that the Premium Japan Crate filled an entire month's snack quota for our house — so that cost was gone from our grocery budget in the month of January (2.5 pounds of snacks, people!).
The Japanese snacks are completely unique and fun without being so weird that we were afraid to try them. Almost every item in the box was a winner for us! The manga-style magazine was interesting and really fun to read. I liked getting more than a brief info page inside the box.
I highly recommend trying out the Premium Japan Crate. This would be perfect for sharing at parties too (talk about a conversation starter)! I love, love, LOVED our Japan Crate!
Wanna give it a try for yourself?
Save $3 off your first Premium Japan Crate today using code HOMESPUNCHICS! 
xo
Sarah