January 2017 Doki Doki Crate Review + Coupon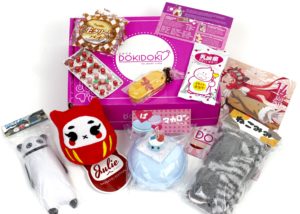 Doki Doki is a monthly Kawaii subscription box created by Japan Crate. Each month, subscribers will receive 5-7 fully licensed authentic Japanese items ranging from wearables, plushies, accessories, collectibles and more. Beginning February 2017, all subscriptions ship directly from Japan! Subscriptions start at $30.00 per month with free worldwide shipping.
The Homespun Chics received this subscription box for review. All opinions are 100% our own. This post contains affiliate links.
---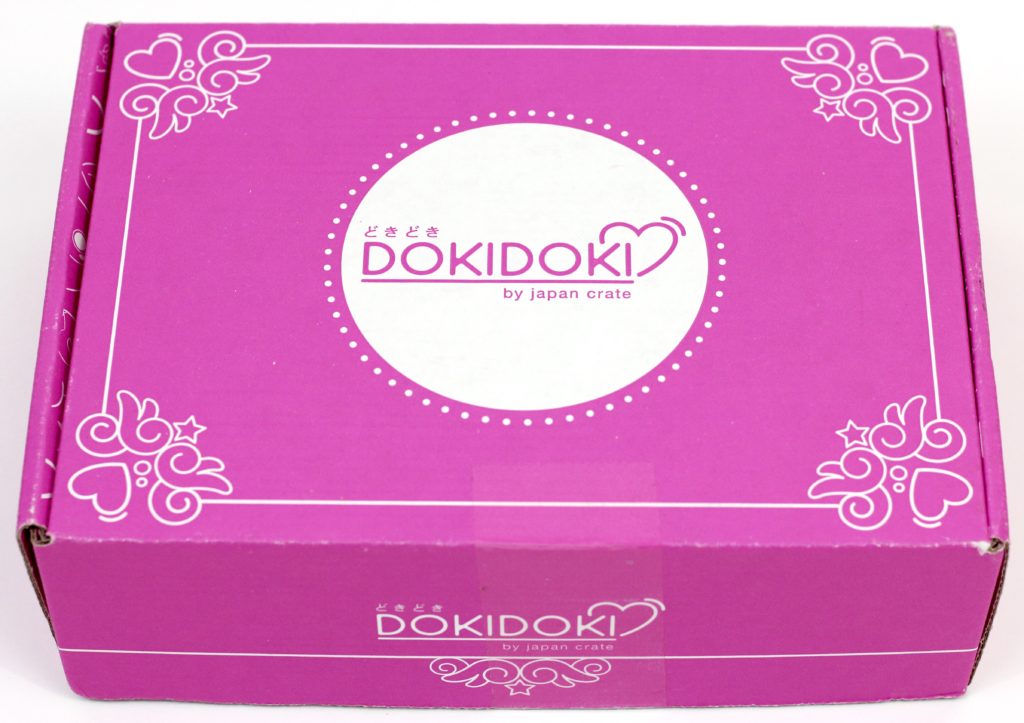 January 2017 Doki Doki Crate
I was really impressed with my first Doki Doki crate in December (see my review HERE) and was excited to see the new, super cute items inside this month's crate, including the monthly Hoppe-Chan! This was an excellent month and I admit I may have squealed with girlish delight as I went through each of the items…
The Cost:  $30.00* monthly (free worldwide shipping)
*Price break for longer subscription periods!
*Save $3.00 off your first Doki Doki Crate with code HOMESPUNCHICS!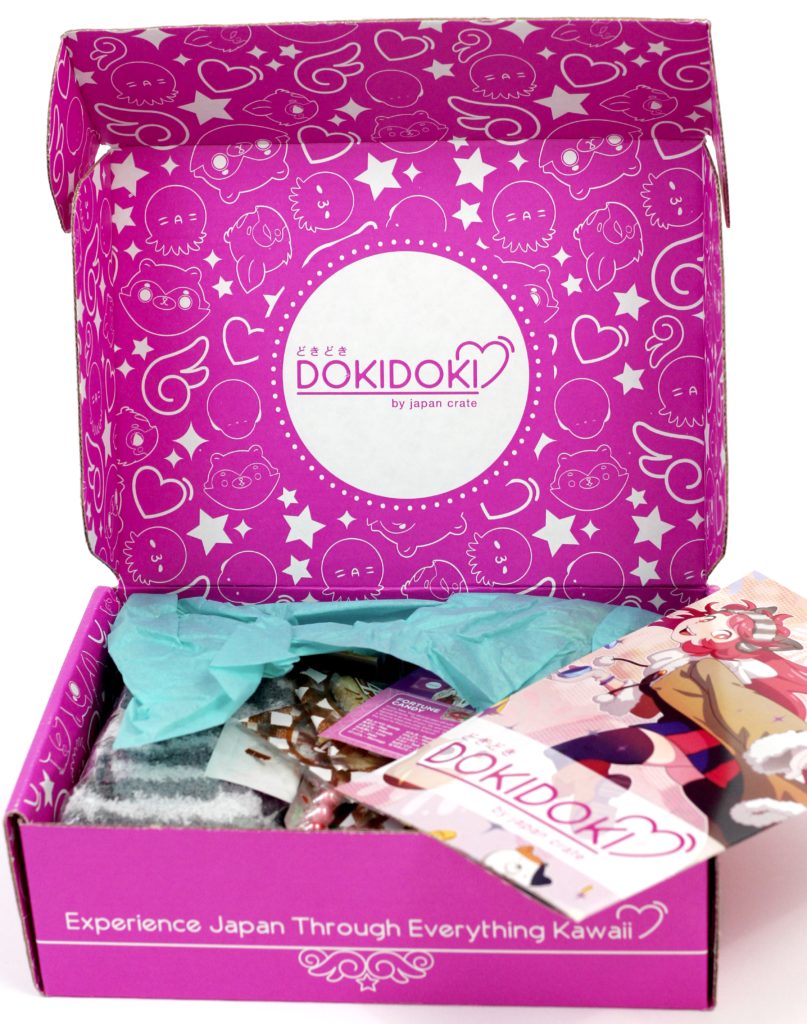 The Doki Doki Crate is SUPER kawaii and is filled to the brim with an assortment of cute goodies and treats.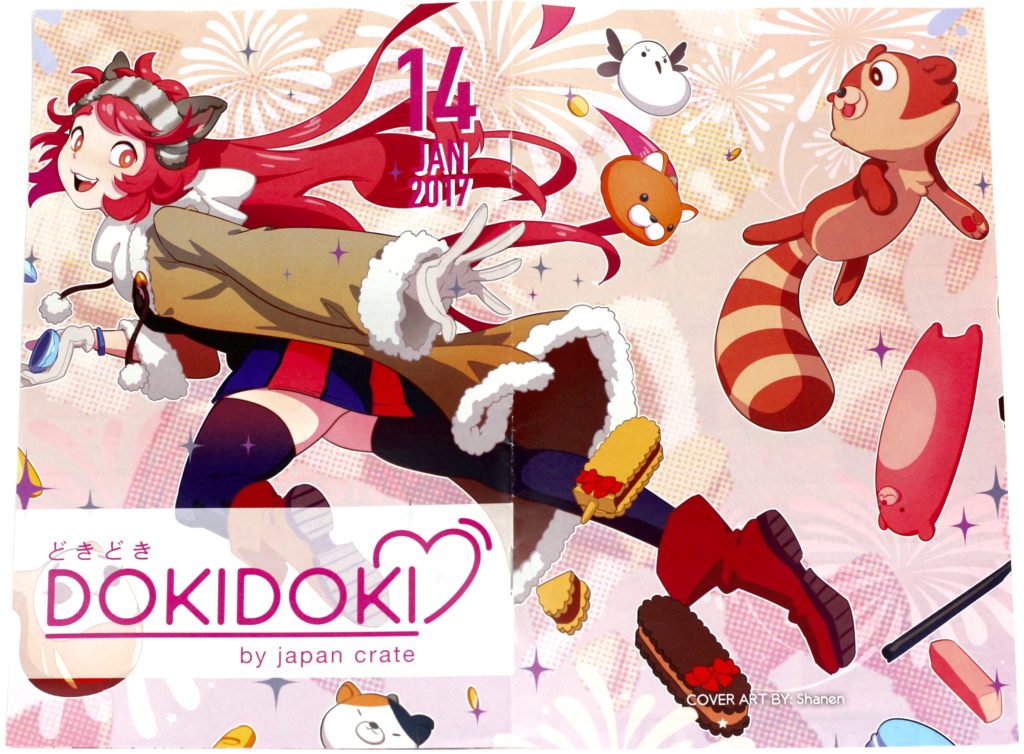 Every crate comes with a manga-style magazine that opens from left to right.The cover opens flat to reveal an illustration that features some of the items included in that month's crate! January's featured cover artist is Shanen.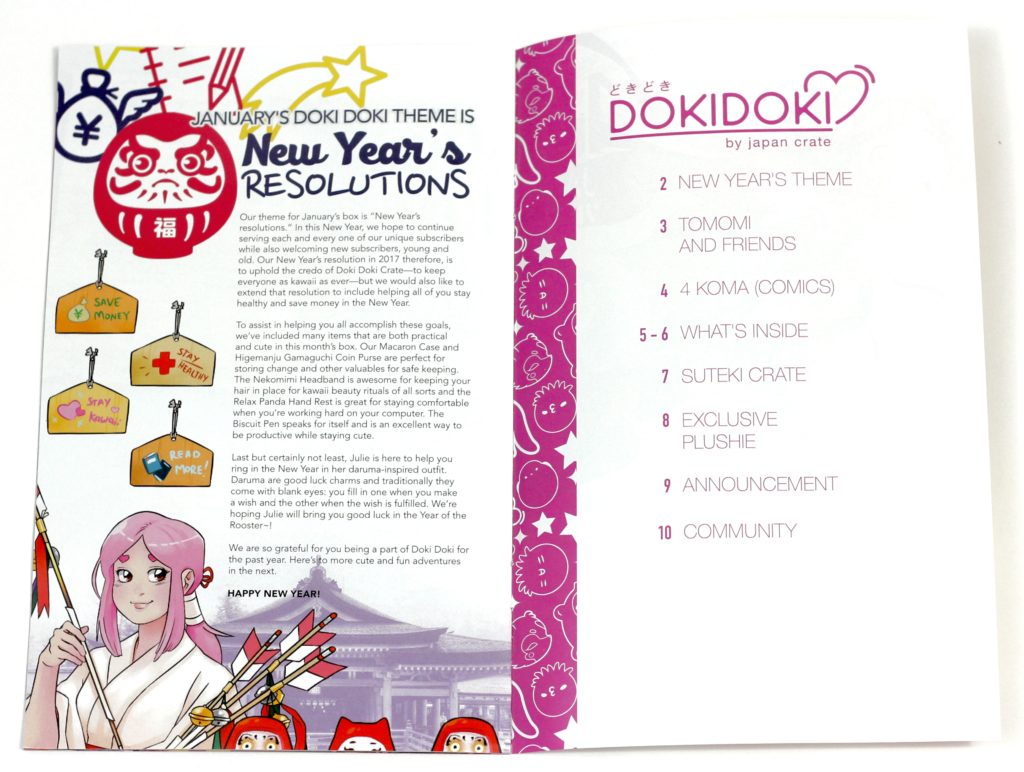 The magazine contains interesting information about Japanese traditions, a cute cartoon strip, details on the crate's contents, and a page describing the current month's Suteki Crate* prize!
*All Doki Doki current subscribers are automatically entered to win the monthly Suteki Crate, which is a giant prize crate filled with huge plushies, cool gadgets, and all things sparkling!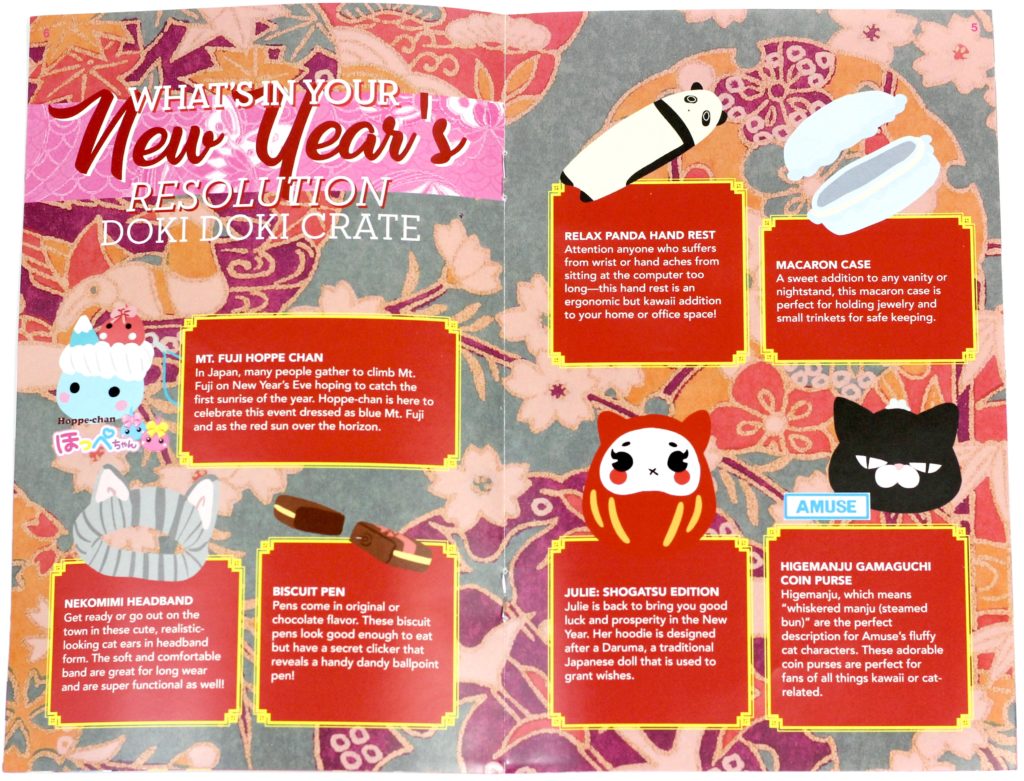 The center of the booklet details all of the items found inside. Subscribers received a notification via email that one of the items was held up in customs. Rather than delaying the crate shipments, Doki Doki decided to substitute a few yummy Japanese treats to replace the AMUSE cat purse (bottom right).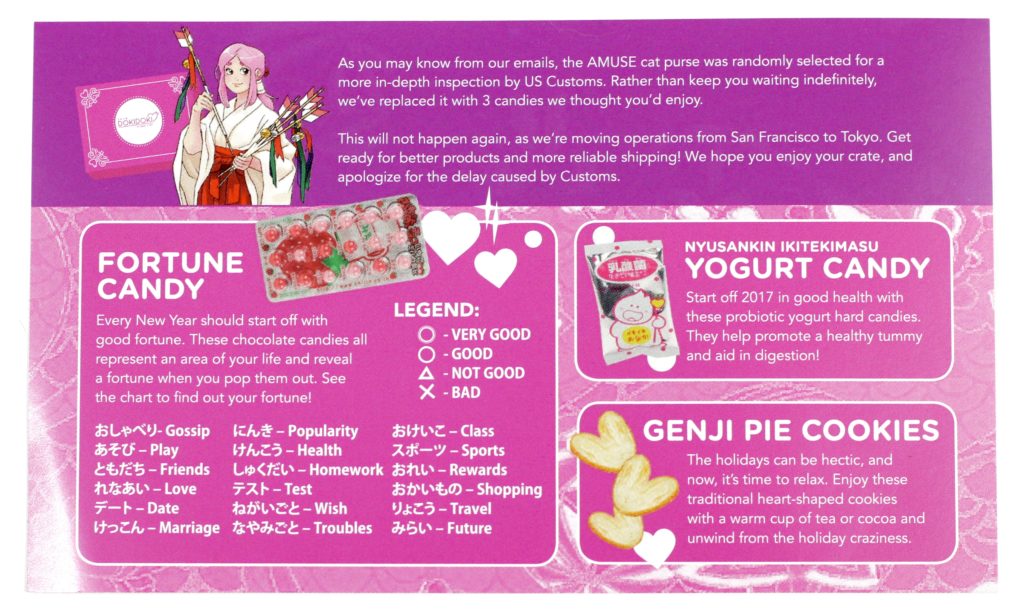 They included a nice little card detailing the new yummies. I like learning about the items inside the box, so I was pleased to see descriptions of the snacks and candies included on the card.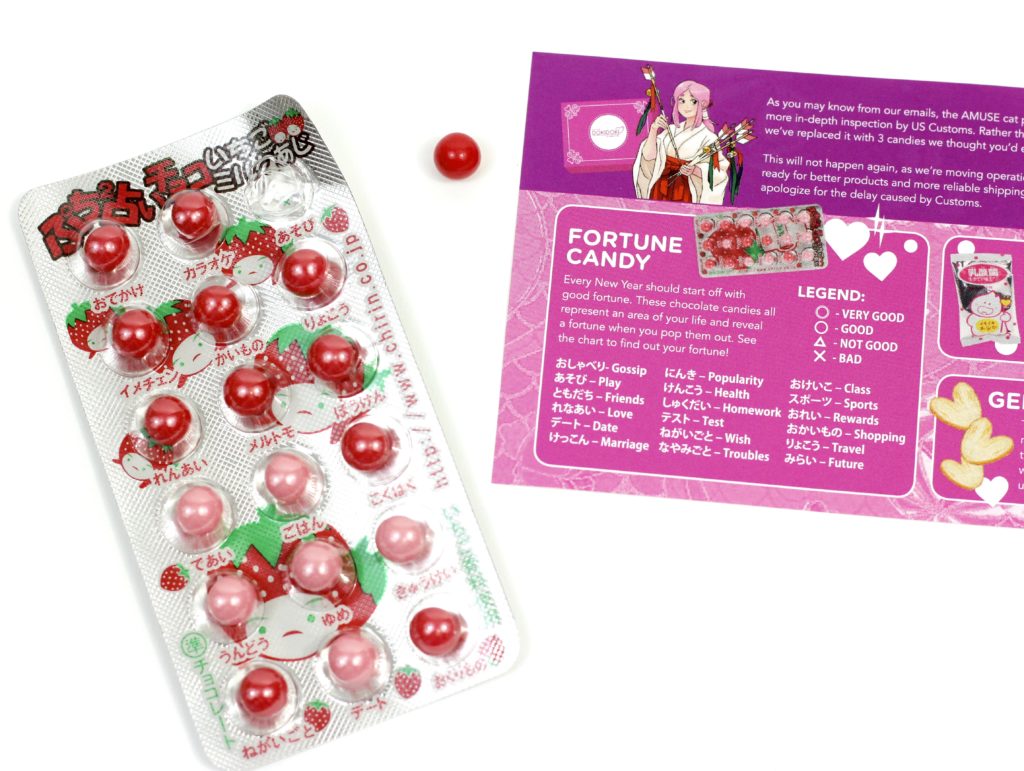 Fortune Candy |  Every New Year should start off with good fortune. These chocolate candies all represent an area of your life and reveal a fortune when you pop them out.
These are FUN! They taste like strawberry sixlets and are super addictive.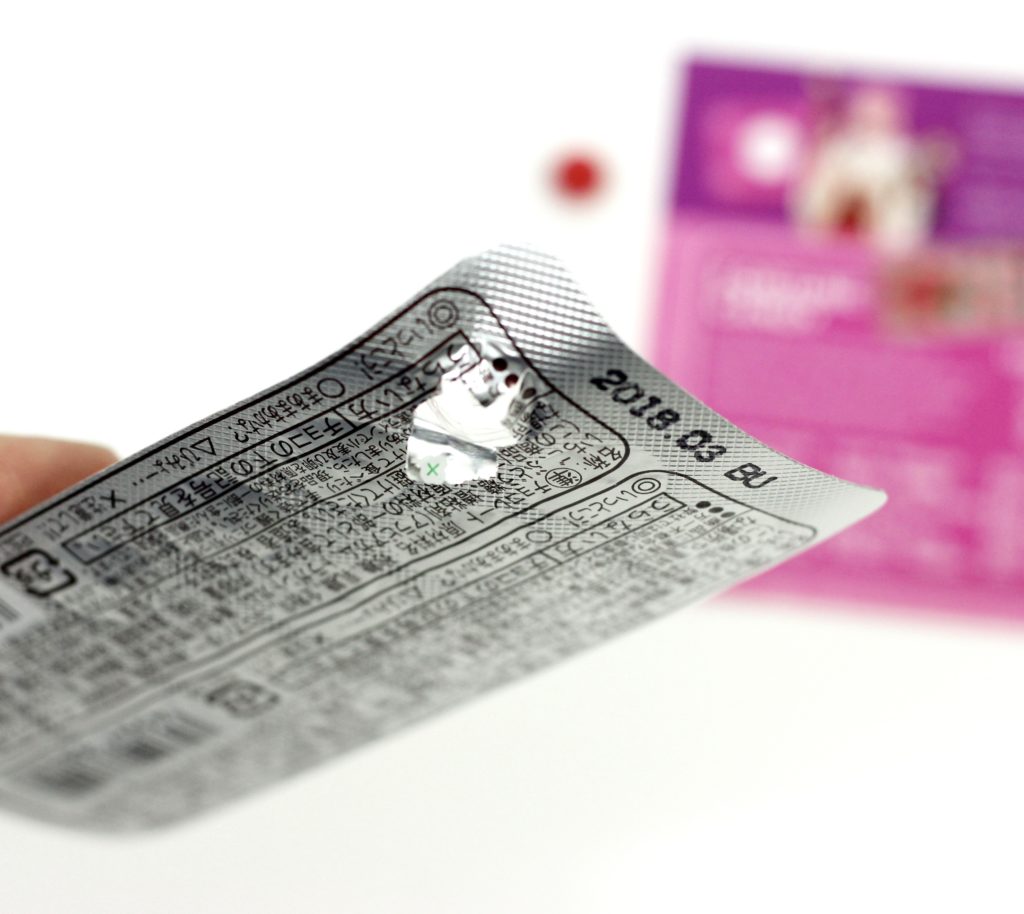 I used the chart found on the info card to help translate. First one I opened was "Play" and discovered an "X," meaning that I would have bad luck with playing this year. Ha!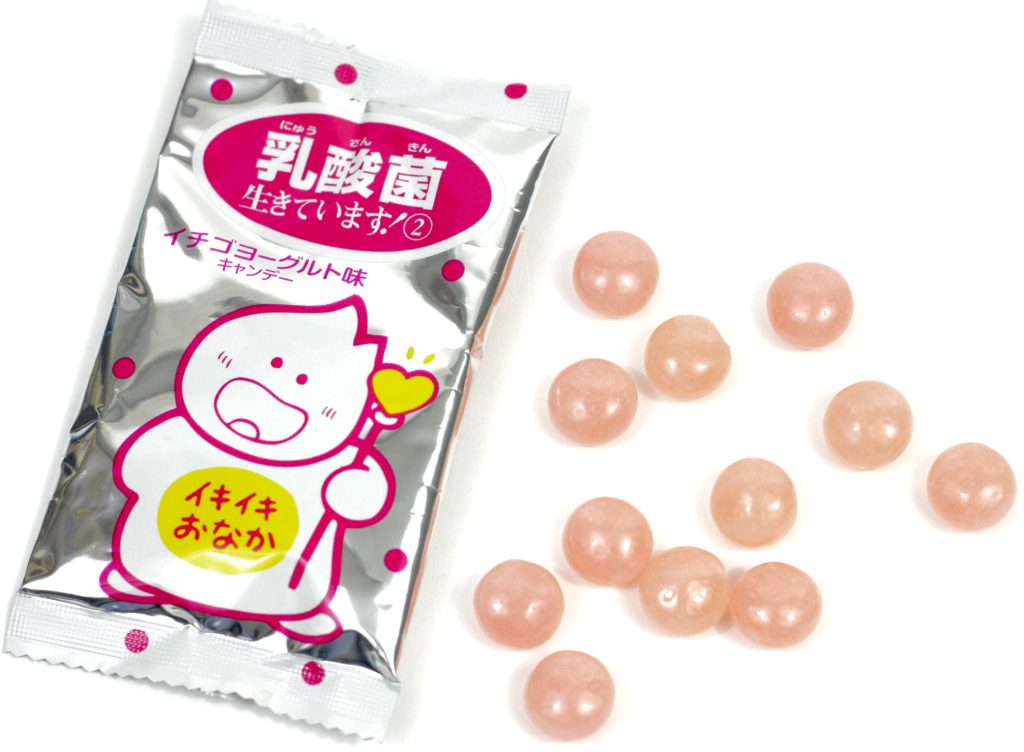 Nyusankin Ikitekimasu Yogurt Candy |  Start off 2017 in good health with these probiotic yogurt hard candies. They help promote a healthy tummy and aid in digestion!
Not going to lie, these don't have a ton of flavor. I asked my brother, Joe, to help me taste test and he agreed. At most, they taste sweet. As you get closer to the center, the hard candies get a bit tangy, but we couldn't place the flavor. Definitely not a bad candy, just different.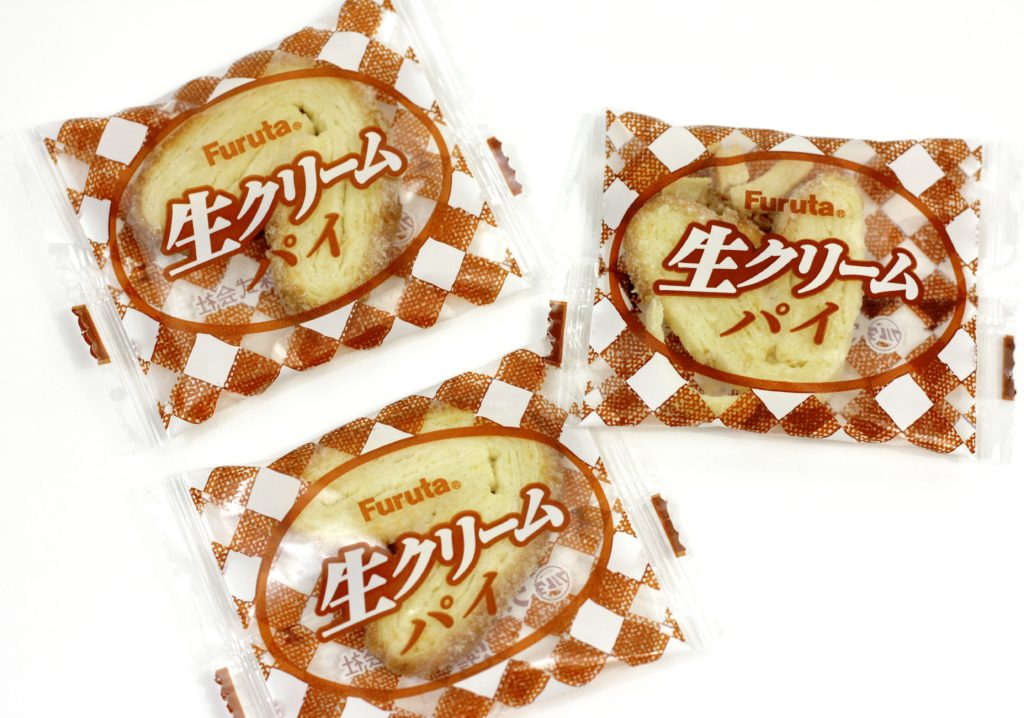 Genji Pie Cookies |  The holidays can be hectic, and now, it's time to relax. Enjoy these traditional heart-shaped cookies with a warm cup of tea or cocoa and unwind from the holiday craziness.
I'm so glad that we received more than one cookie because they are delicious! Each buttery, flaky cookie is rimmed with sweet sugar and tastes similar to the tins of Danish butter cookies my grandma always gave us at Christmas. I could be mistaken, but I can taste a hint of almond extract. These cookies also go great with a cup of coffee, by the way.  🙂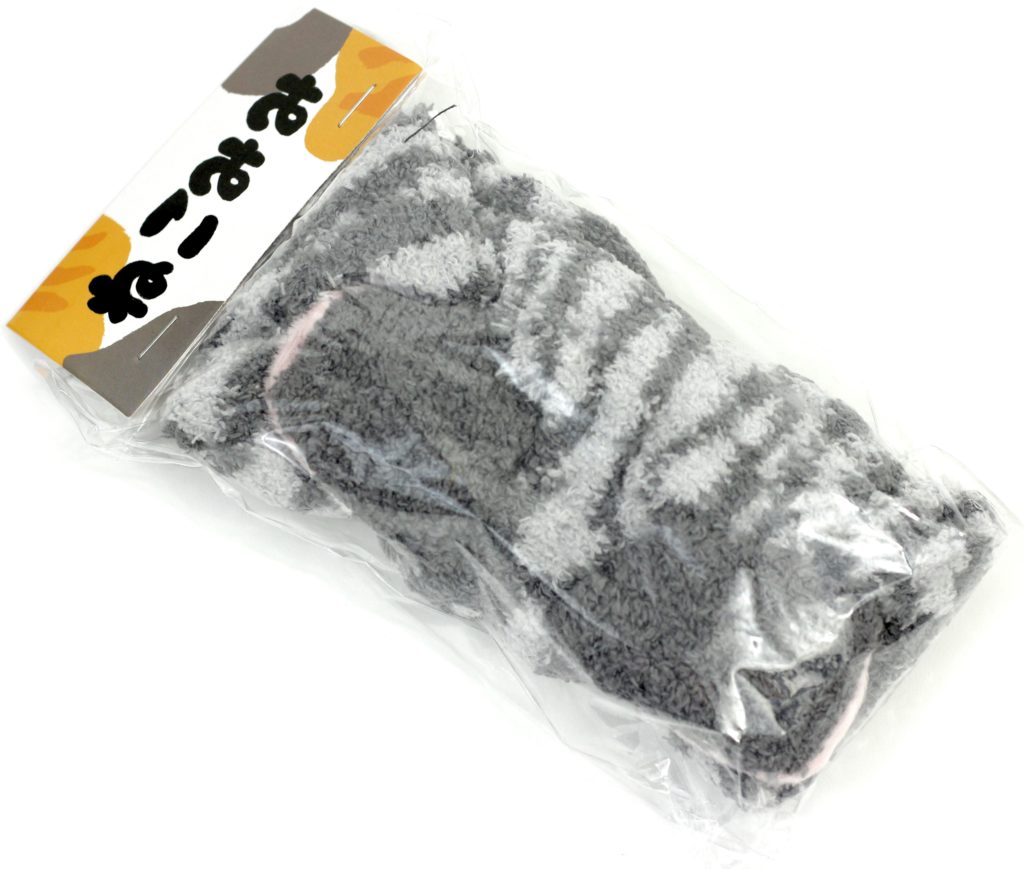 Nekomimi Headband |  Get ready or go out on the town in these cute, realistic-looking cat ears in headband form. The soft and comfortable band are great for long wear and are super functional as well!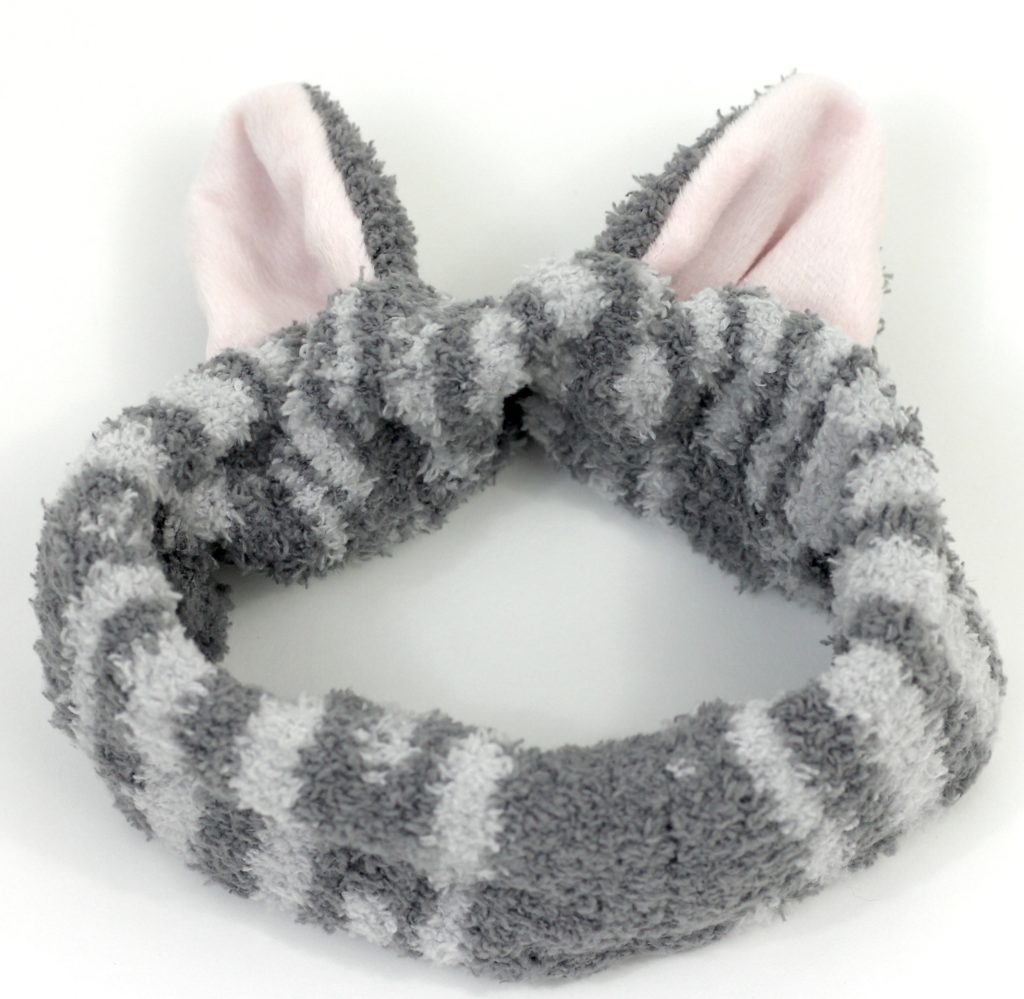 Hehehehehe! With this headband, I can transform into the ultimate cat lady! It works well for keeping hair out of your face when applying makeup or washing your face. The cat ears were a teensy bit close together in my opinion, but it could very well be that I have an abnormally large head. Who's to say?!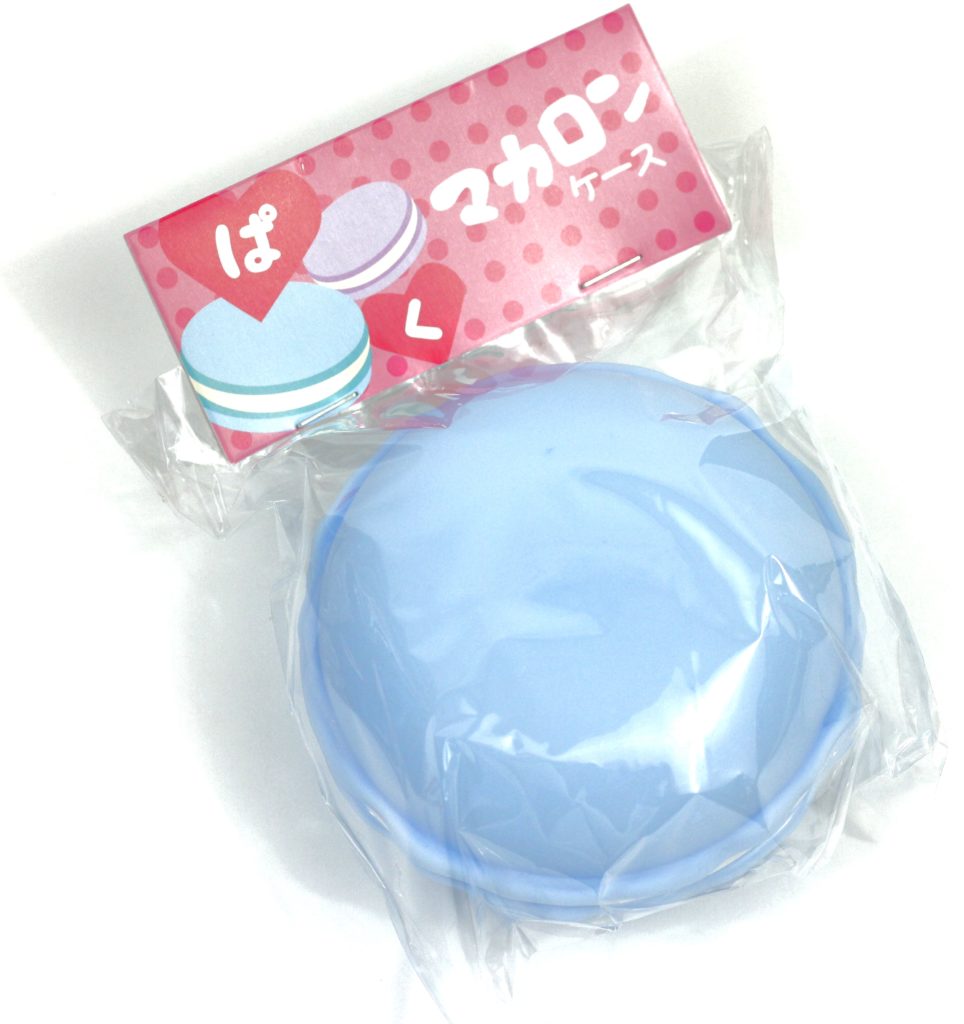 Macaron Case |  A sweet addition to any vanity or nightstand, this macaron case is perfect for holding jewelry and small trinkets for safe keeping.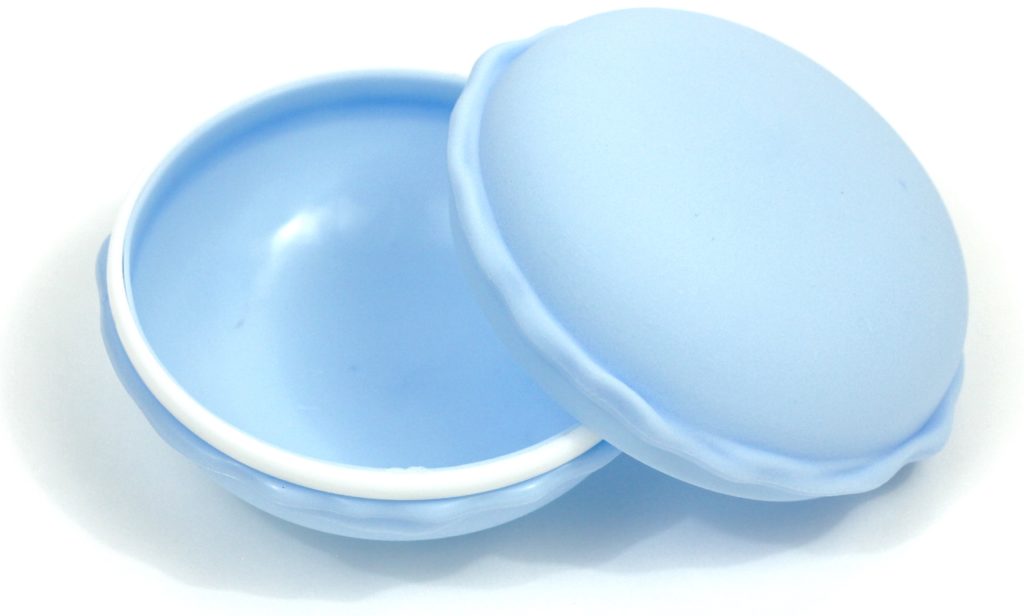 The little plastic container is about the size of a softball (except flattened) and is shaped like an adorable blue macaron! The container opens in the center and can fit any number of smaller sized doodads. I haven't figured out what I am going to do with this yet, but I'm thinking it would be perfect for storing some of my favorite washi tape rolls!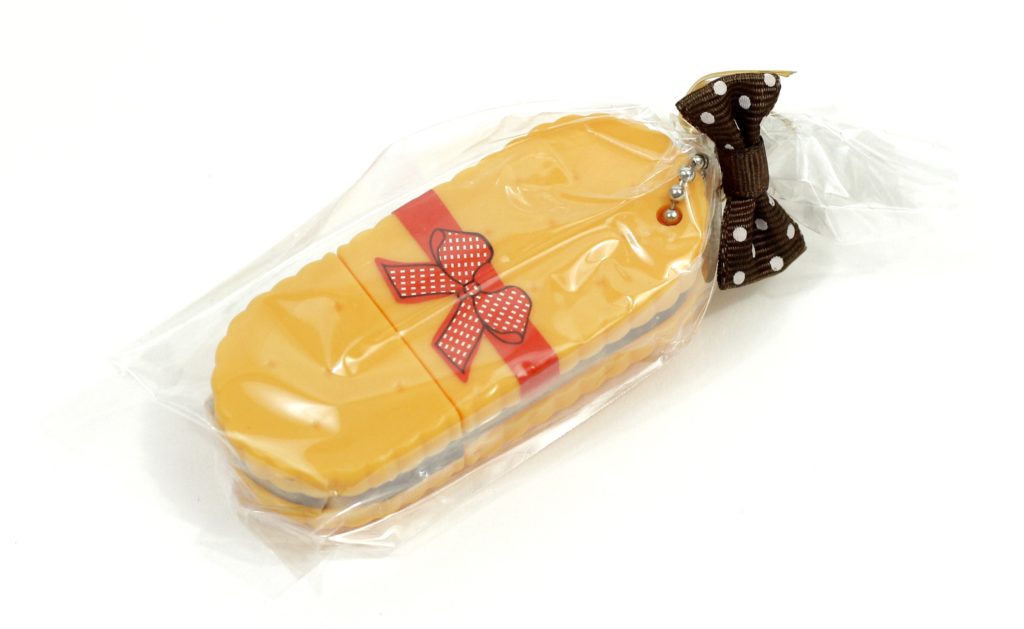 Biscuit Pen |  Pens come in original or chocolate flavor. These biscuit pens look good enough to eat but have a secret clicker that reveals a handy dandy ballpoint pen!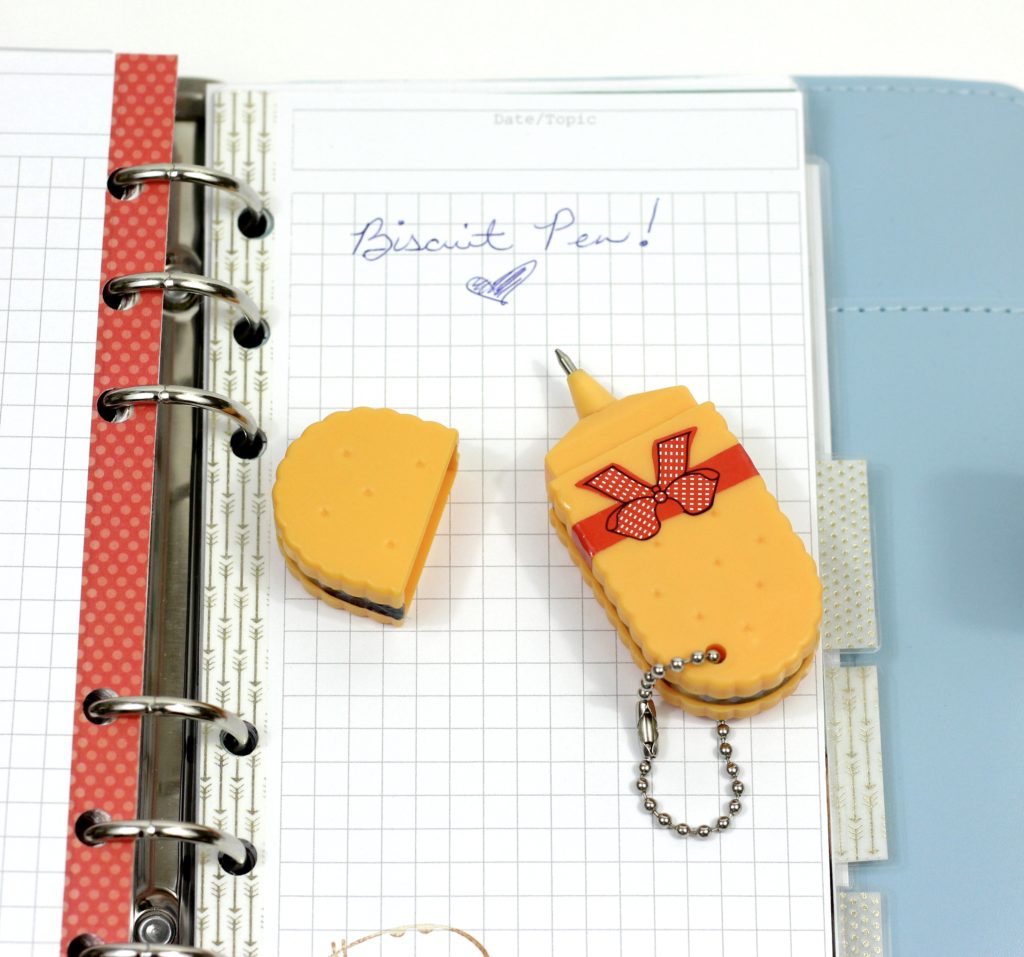 I struggled with this pen for ages before I realized I was trying to open it wrong. The secret to accessing the pen is to rock it sideways (against the creme-side) and not try to pull it out flat. Being the pen snob that I am, I'm not too fond of ball point pens in general, but also found the biscuit shape to be quite difficult to write with. The pen writes well enough and the ink is a vibrant blue. Plus side is that the pen comes with a keychain so it'd be easy enough to access on-the-go!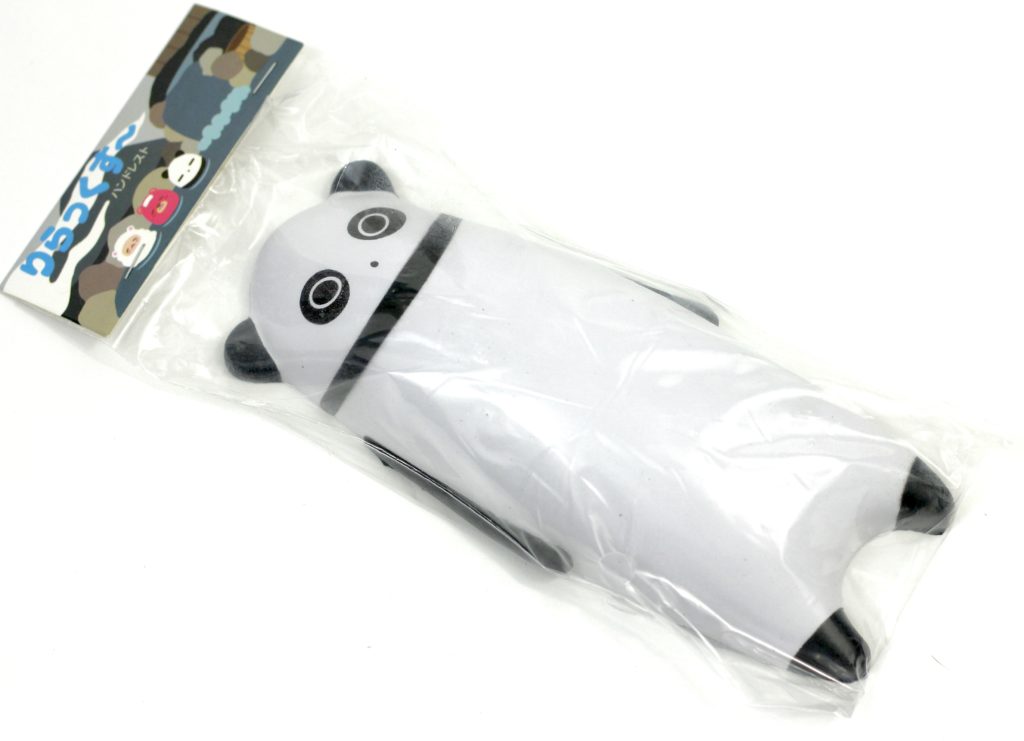 Relax Panda Hand Rest |  Attention anyone who suffers from wrist or hand aches from sitting at the computer too long — this hand rest is an ergonomic but kawaii addition to your home or office space!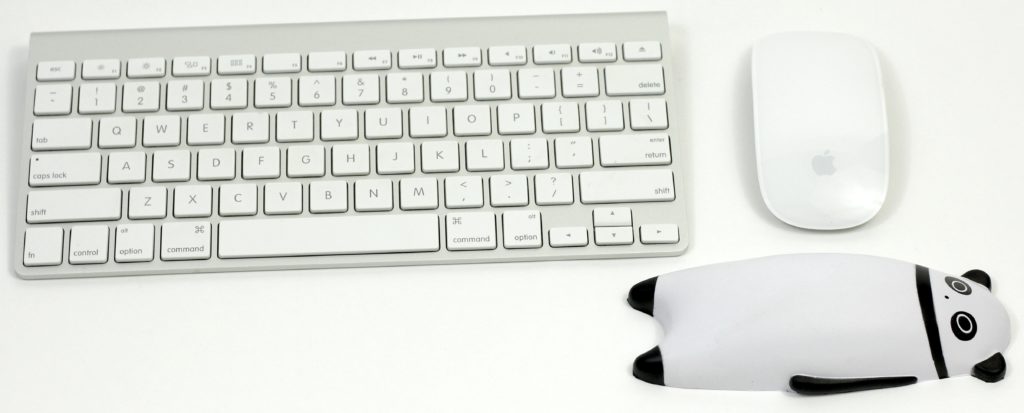 Well isn't this guy a little cutie? This hand rest would not work well for a keyboard but I found him to be perfect for using with my mouse! He's so precious and makes me smile every time I sit down at my desktop computer.  🙂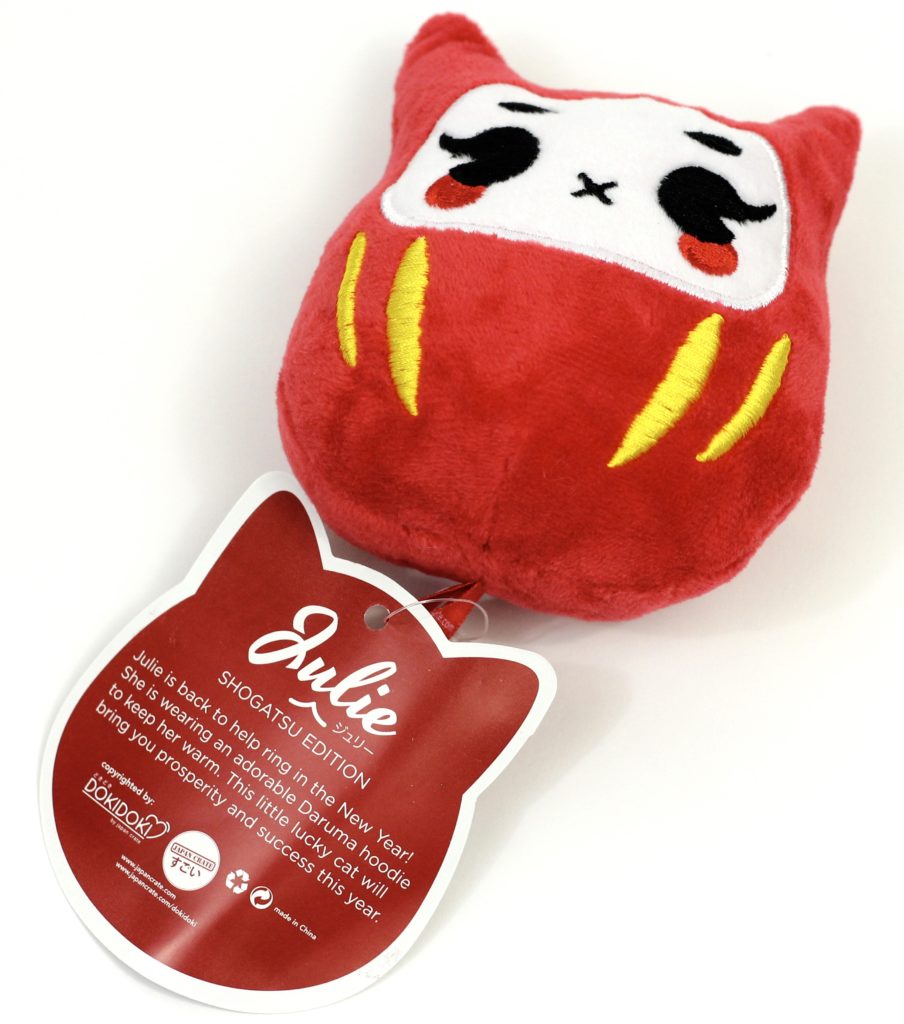 Julie:  Shogatsu Edition |  Julie is back to bring you good luck and prosperity in the New Year. Her hoodie is designed after a Daruma, a traditional Japanese doll that is used to grant wishes.
Julie is a feline character in the Doki Doki plush line that was first introduced in the September 2016 Doki Doki crate. This time around, she is dressed from ear to bean toe in her cozy Daruma hoodie. The plush is very soft and round (without a tail or limbs). She doesn't sit up very well but looks great propped up on a bookshelf!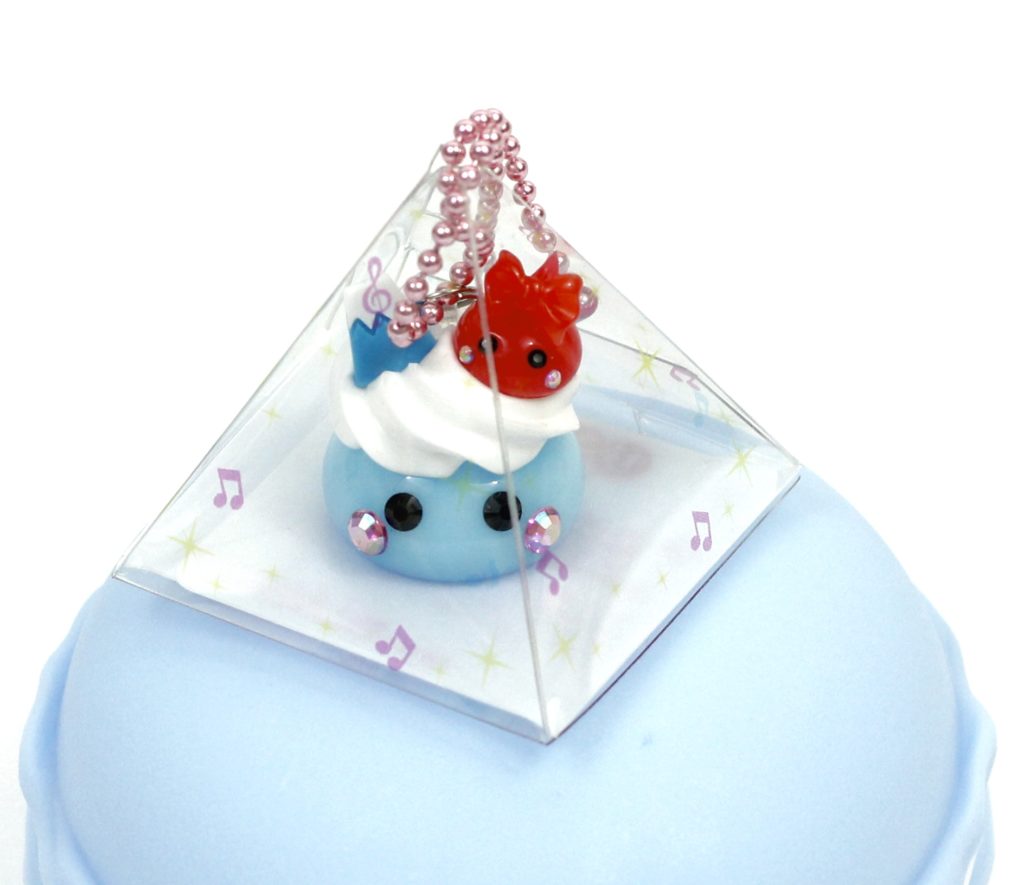 Mt. Fuji Hoppe Chan |  In Japan, many people gather to climb Mt. Fuji on New Year's Eve hoping to catch the first sunrise of the year. Hoppe-chan is here to celebrate this event dressed as blue Mt. Fuji and as the red sun over the horizon.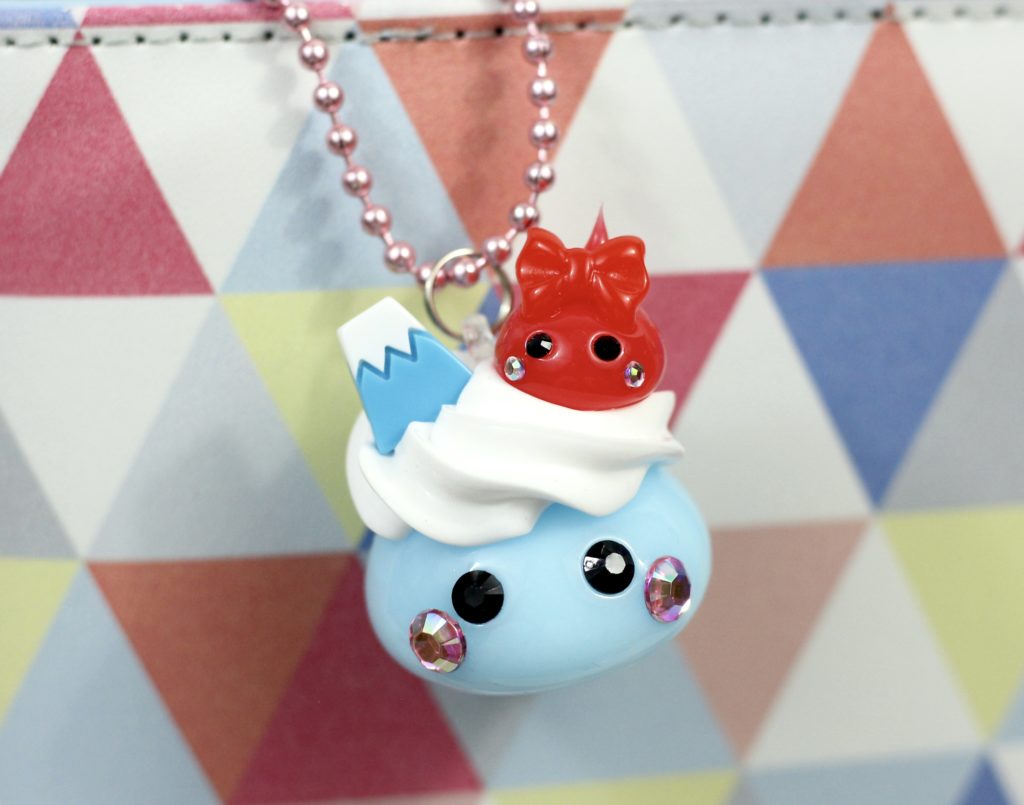 This month's Hoppe-Chan is SUUUUUPER adorable! She is pale blue with a dollop of whipped cream on her head and a snow-capped mountain tucked to the side. There's even a mini Hoppe-Chan with a bright red bow to represent the rising sun coming over the horizon.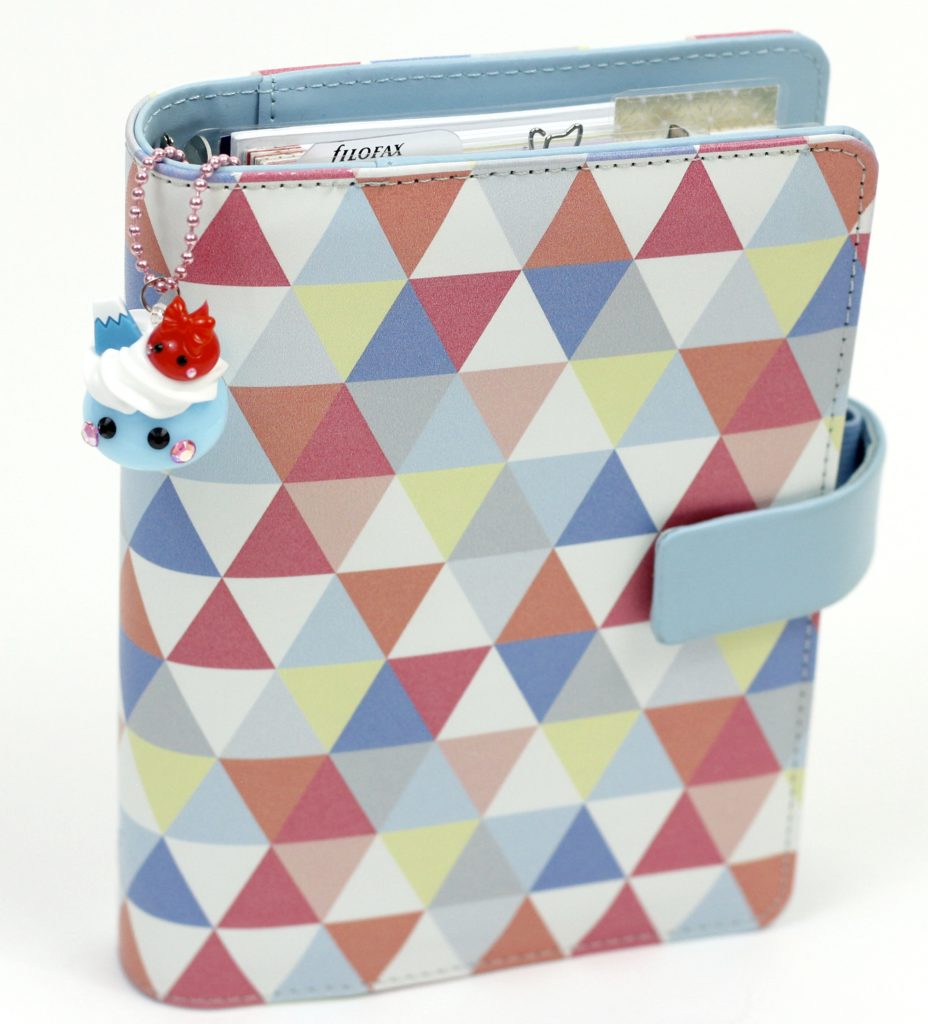 Her coloration matches my Filofax perfectly and I'm happy to have her bouncing along with me throughout the day. This is by far my favorite item from Doki Doki! She's just too stinkin' cute!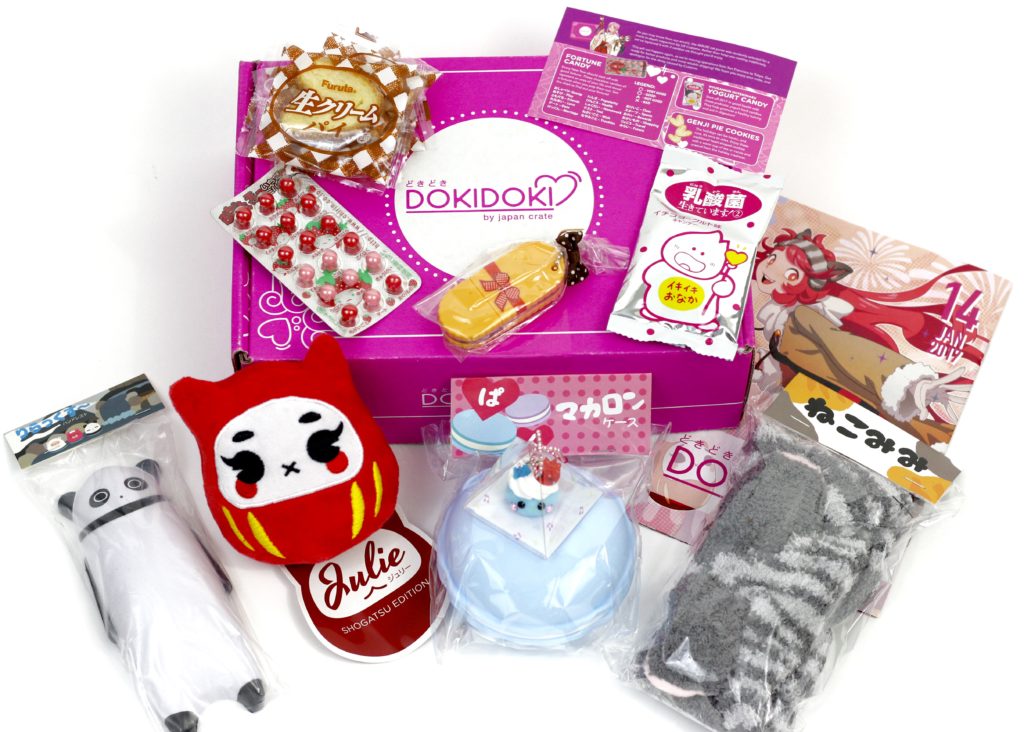 Final Thoughts
The January 2017 Doki Doki Crate was really fun! I'm such a sucker for anything kawaii and loved the variety of items. The panda hand rest is the most functional item and one of my favorites this month. Even though I would have loved the AMUSE cat bag, the candy and cookies were a lovely touch (not to mention, quite tasty). As I said earlier, my absolute favorite item was the Mt. Fuji Hoppe-Chan! She is the perfect addition to my planner and makes me smile every time I see her!
If you're hooked like me, you can save $3.00 off your first Doki Doki Crate using code HOMESPUNCHICS at checkout. 🙂
Let me know what you think of the January 2017 Doki Doki Crate in the comments below!!
xo
Sarah