February 2017 Love With Food Review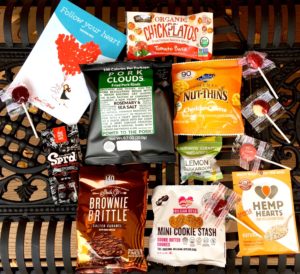 Love With Food is a monthly food subscription box that sends you a box of healthy snacks every month and donates to a food bank with every box that you purchase. The snacks they send are organic or all natural. "Snack Smart. Do Good." is the company's motto!
They have 3 levels of subscription boxes to choose from and you can cancel any time:
Tasting Box – $7.99 with 8+ snacks
Deluxe Box – $16.50 with 16-20 snacks
Gluten-Free Box – $19.99 with 10-12 celiac-safe and mostly dairy-free snacks
The Homespun Chics paid for this subscription box. All opinions are 100% our own. This post contains affiliate links.
---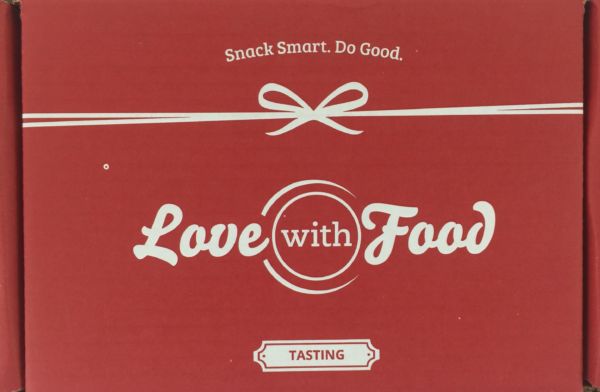 This review is for the February 2017 Love with Food Tasting Box. No product information sheet was included but the theme of the box was
Follow your heart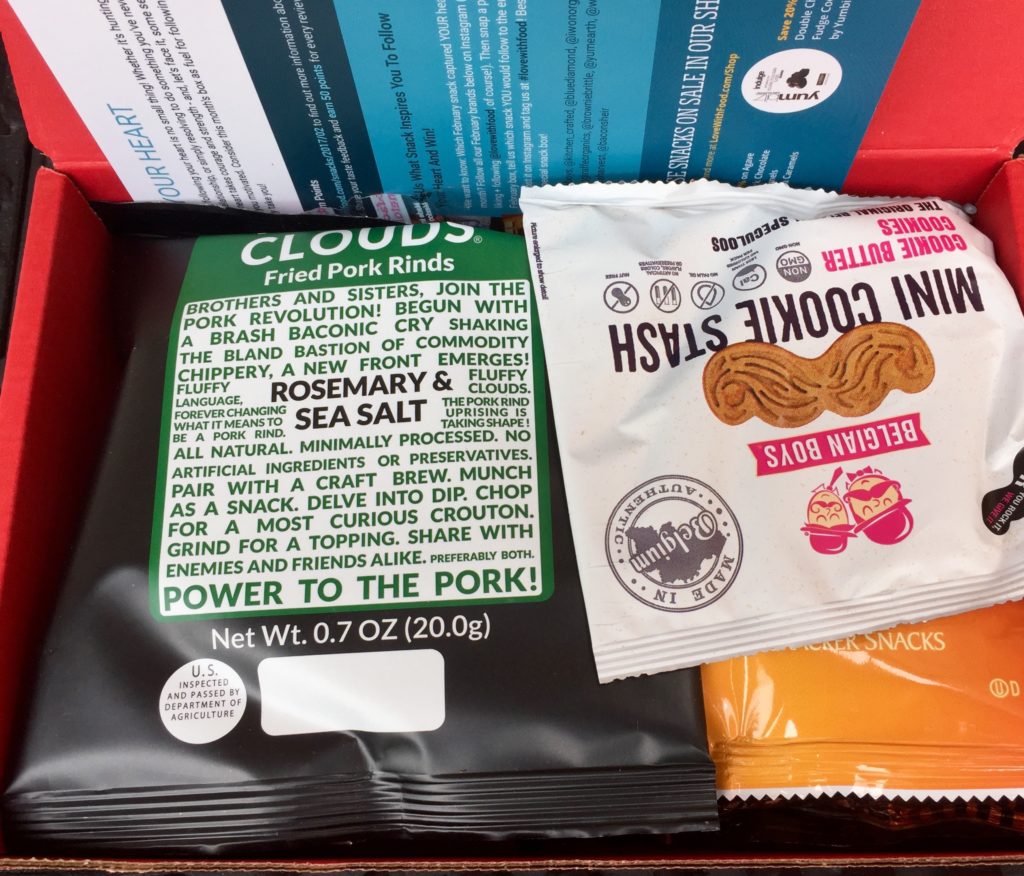 First peek! Hungry??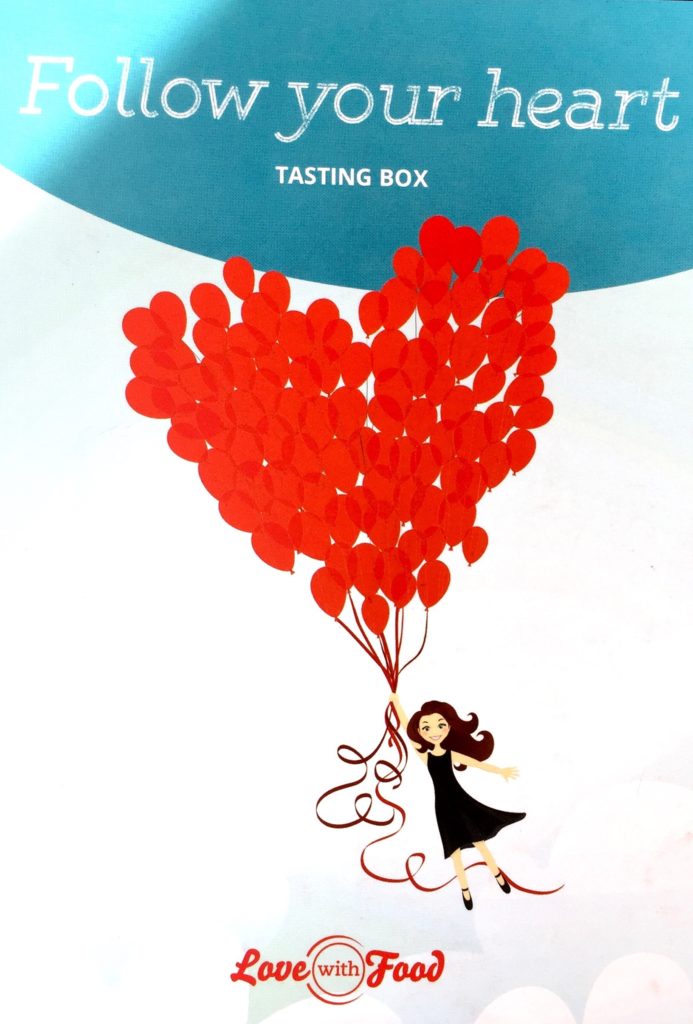 I love this image for the Valentine's Day month box!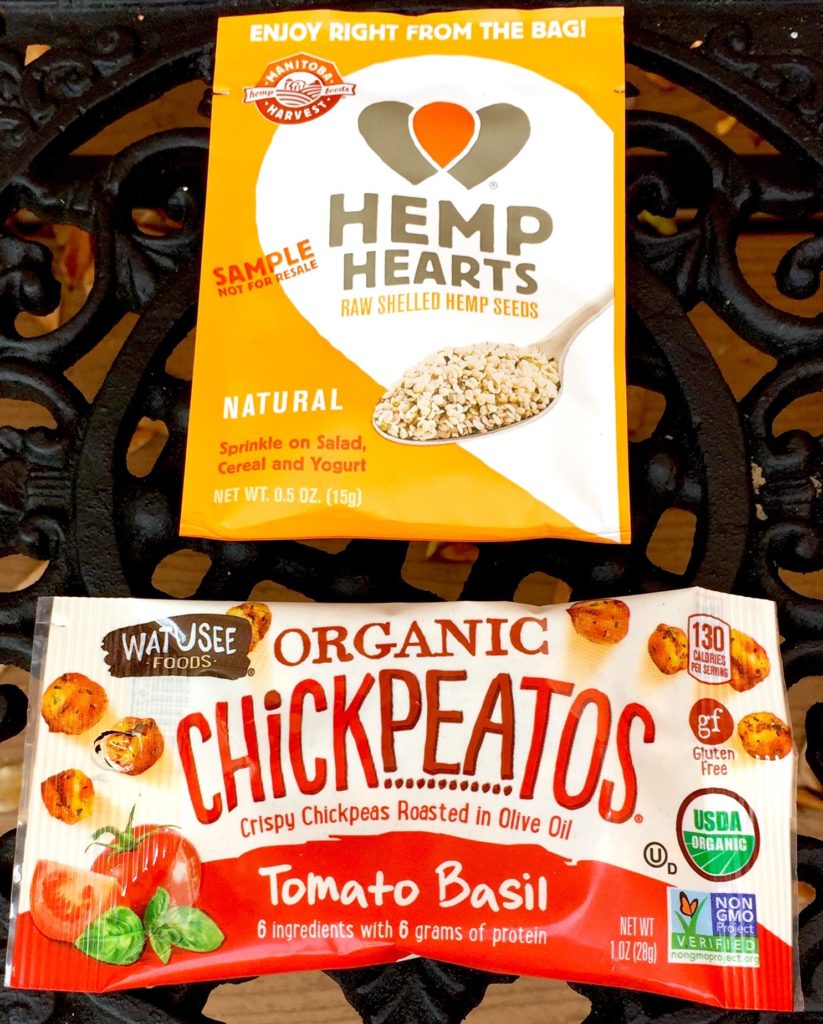 Manitoba Harvest – Hemp Hearts .5 oz
This is a sample packet of raw, shelled hemp seeds to sprinkle on your salads or yogurt. Or you can eat the right out of the bag. It has a nutty flavor and crunchy texture, plus is filled with protein, important minerals and omegas 3 and 6.
Watusee Foods – Organic Chickpeatos 1 oz
These are Tomato Basil flavored organic chickpeas roasted in olive oil – gluten-free, kosher, and vegan. There are only 6 ingredients in any flavor and they are seasoned with real organic spices, not chemicals. Plus they have 67% less fat than potato chips and 50% fewer carbs than pretzels.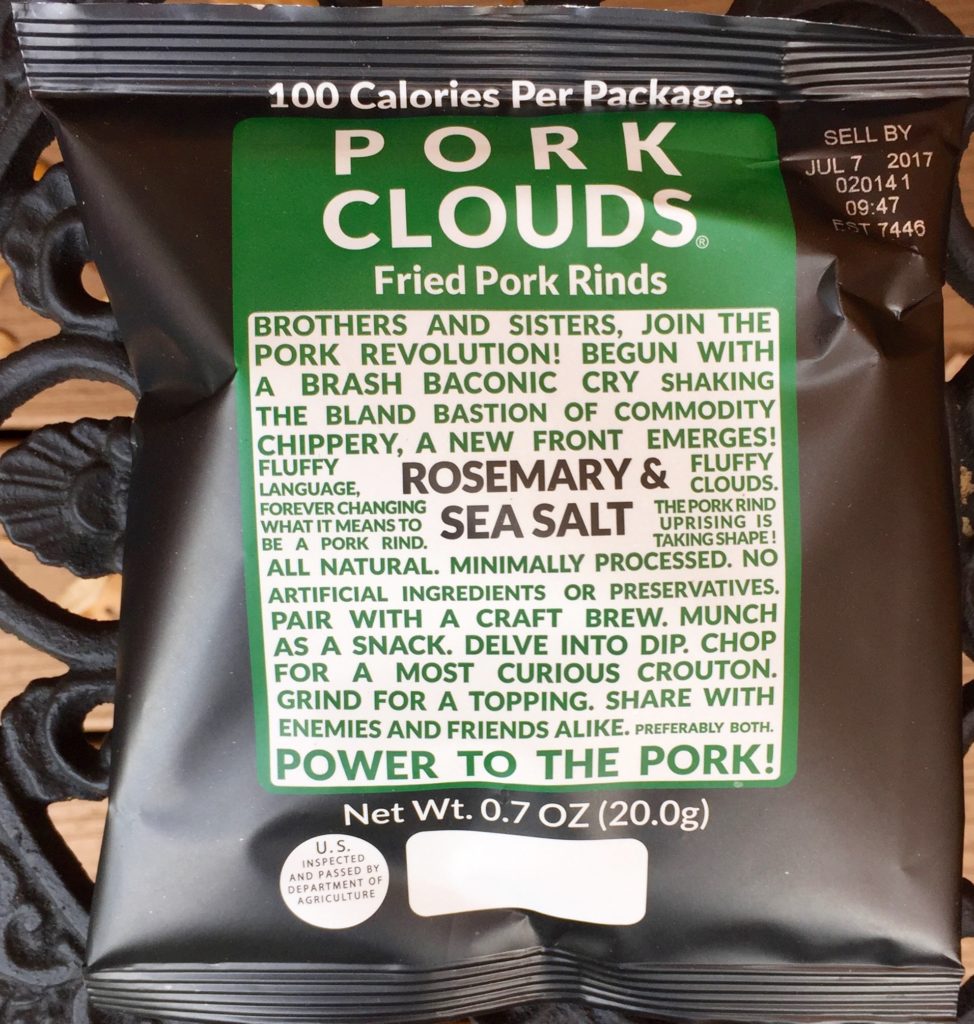 Bacon's Heir – Pork Clouds .7 oz
These are Rosemary & Sea Salt fried pork rinds that are cooked in olive oil. Each bag only has 100 calories. "The bacon taste you love in a lighter-than-air crispy bite" No carbs, of course. You either love pork rinds or you hate them! We think they are delicious!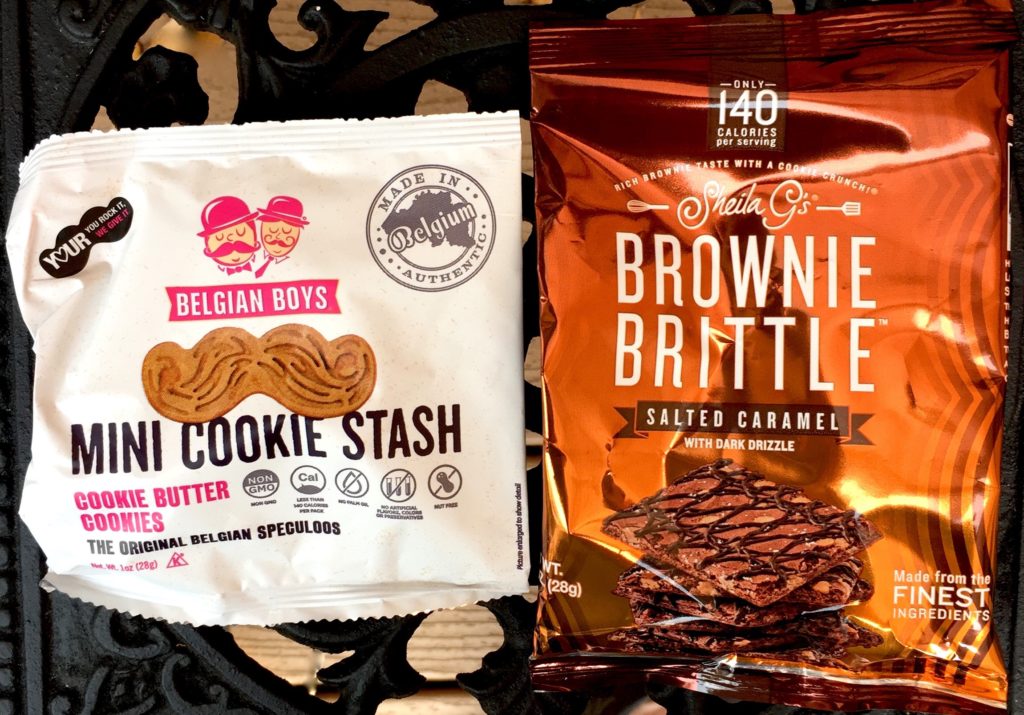 Belgian Boys – Mini Cookie Stash Cookie Butter Cookies 1 oz
These are The Original Belgian Speculoos and are non-GMO, nut free, and made with nothing artificial and with no palm oil. And they are really made in Belgium!
Sheila G's – Brownie Brittle Salted Caramel with Dark Drizzle 1 oz
Have you tasted brownie brittle yet? It is soooo good – rich brownie taste, nice and crunchy, and of course SWEET! Love it!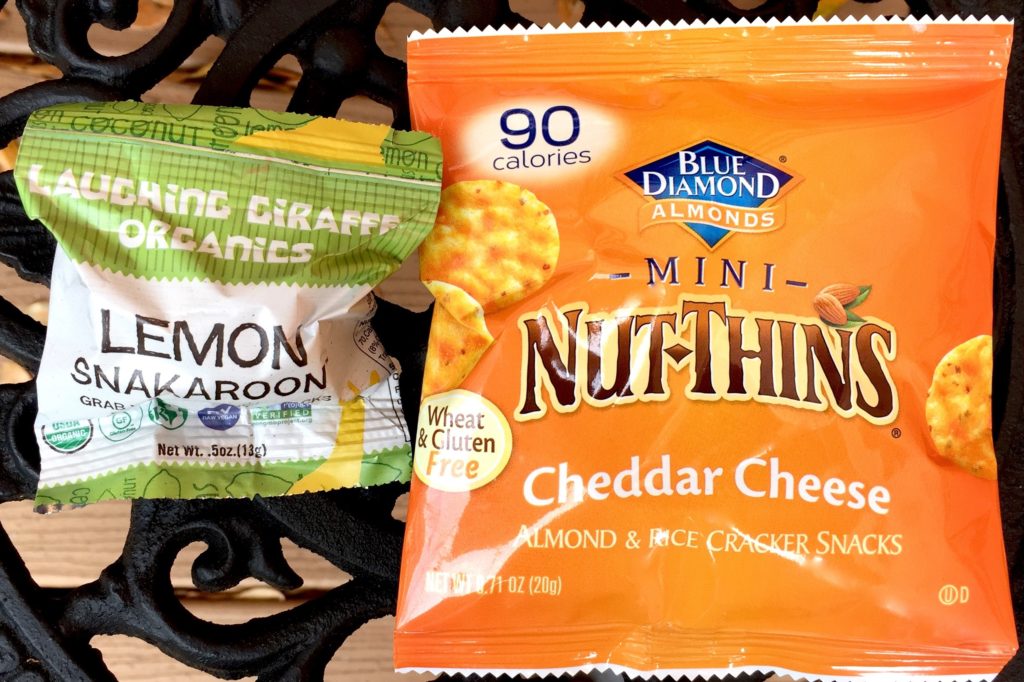 Laughing Giraffe Organics – Lemon Snakaroon .5 oz
This is a very lemony healthy organic cookie that is gluten-free, vegan, vegetarian, & non-GMO. The cookie is coconut-based and made with all unprocessed organic ingredients.
Blue Diamond Almonds – Mini Nut Thins .71 oz
These are cheddar cheese flavored almond and rice crackers that are wheat and gluten-free. And Kosher. With 3 grams of protein per serving, they're a great afternoon snack. These come in all kinds of different flavors, too – Hint of Sea Salt, Almond, Pecan, Smokehouse, Cheddar Cheese, Country Ranch, and Pepper Jack Cheese. No more boring gluten-free snacks!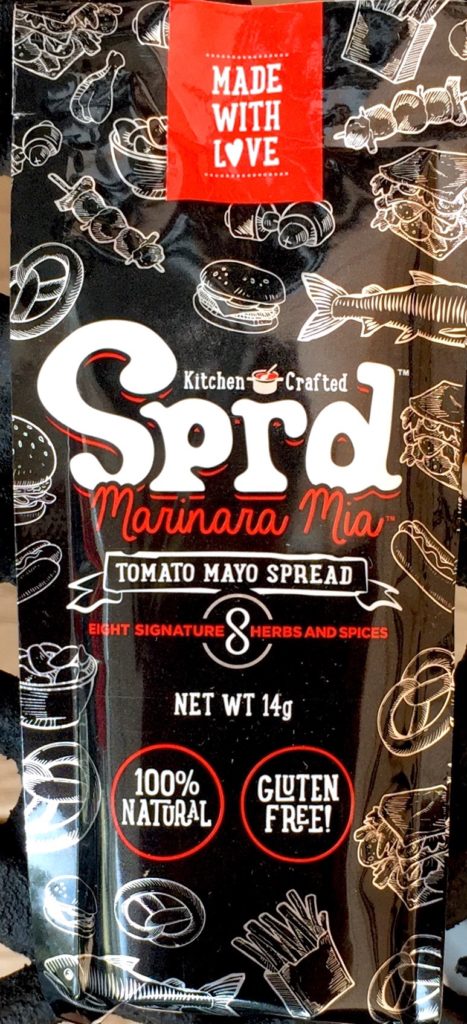 Kitchen Crafted – Sprd Marinara Mia 
This is a little sample packet of 100% natural, gluten-free tomato mayo spread that has a creamy, smooth texture for pairing with burgers, fries and whatever else sounds good to you! The condiment is a tasty blend of fresh tomatoes, all natural mayo, and 8 herbs and spices.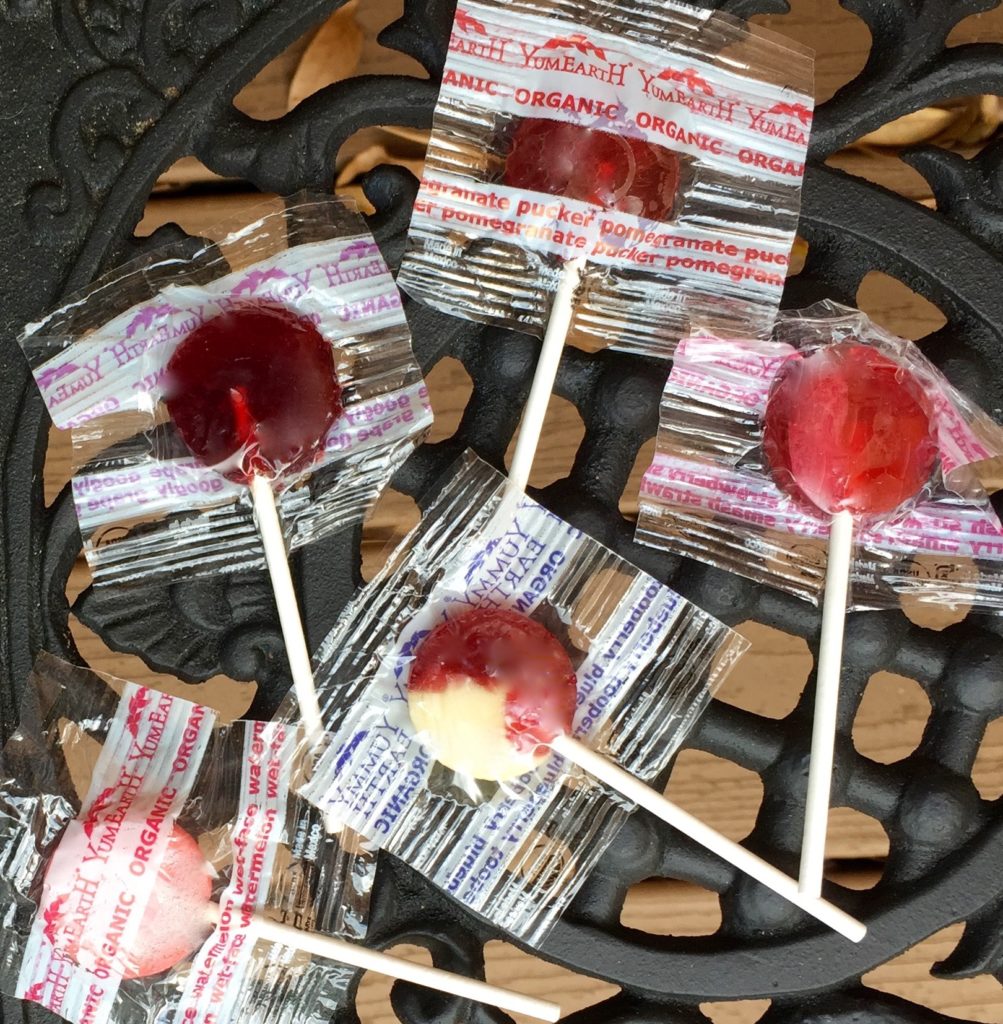 YumEarth Organic – 5 lollipops
These are the lollipops that Little G adores! I was so happy that they sent 5 for him! And these candies are gluten-free, dairy-free, peanut-free and contain no synthetic dyes, no artificial flavors, and no high-fructose corn syrup.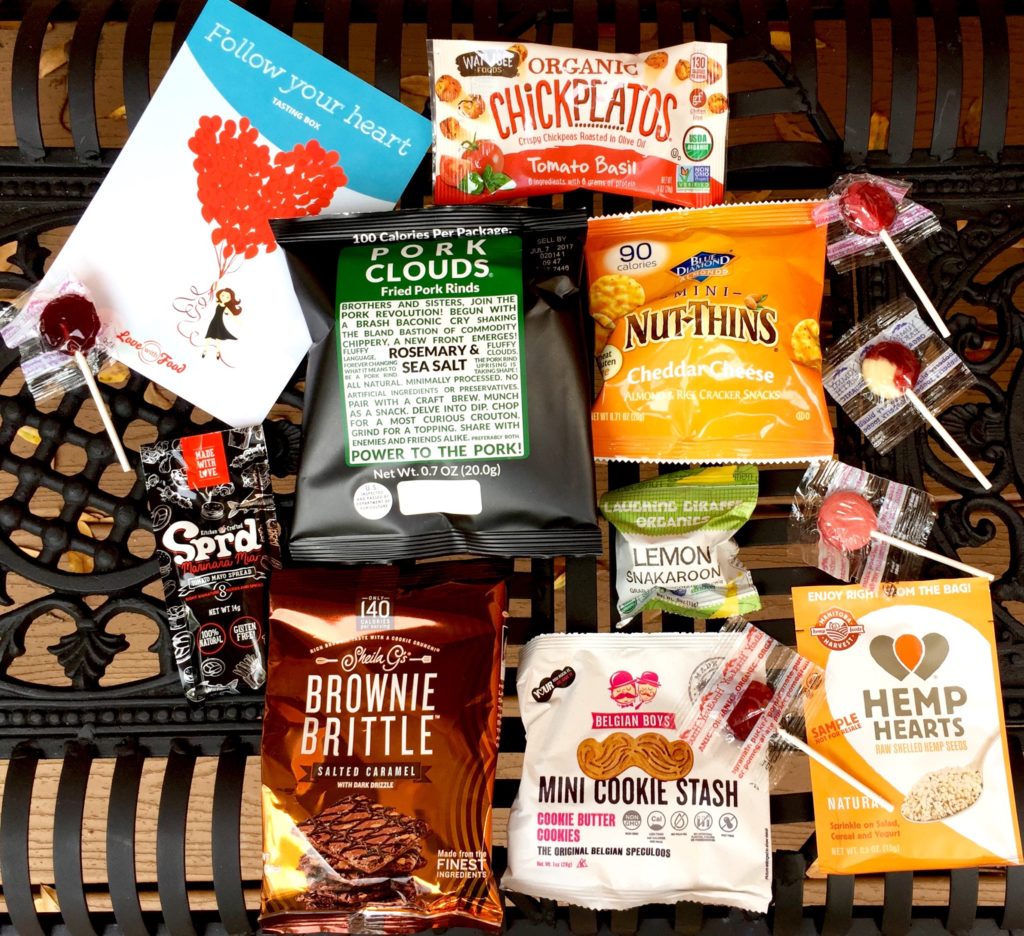 The February 2017 Love With Food box was a hit at my house this month! It is so fun to get a box of all kinds of different snack foods so that when you are in the mood for a particular taste – salty, sweet, chocolatey – you have just a little something right there to eat and move on. For the $7.99 price of the box, I don't think you can find a much better value out there.
What did you think of the February 2017 Love With Food box?