February 2017 Daily Goodie Box Review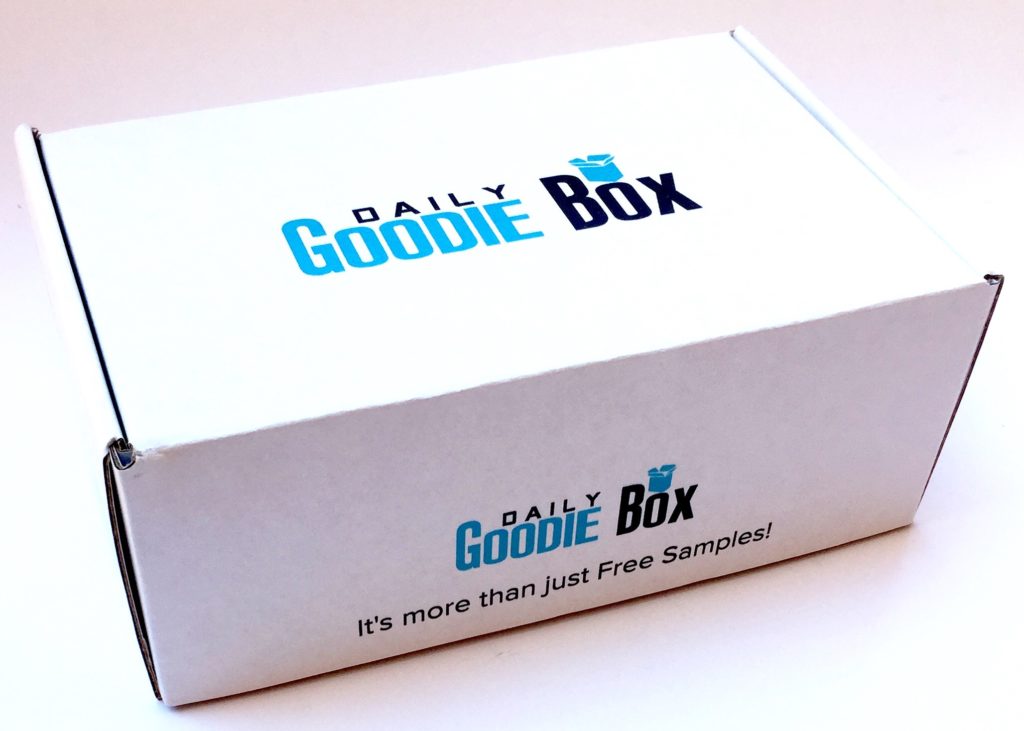 Site registration is simple. You just answer a few questions about your likes and demographics. If your answers match what the product manufacturer is looking for (among other things) you will receive a box. After your box arrives you simply log on and let them know what your opinions are about the items in your box. Easy peasy, right?
The Homespun Chics received this box for review. All opinions are 100% our own. This post contains affiliate links.
---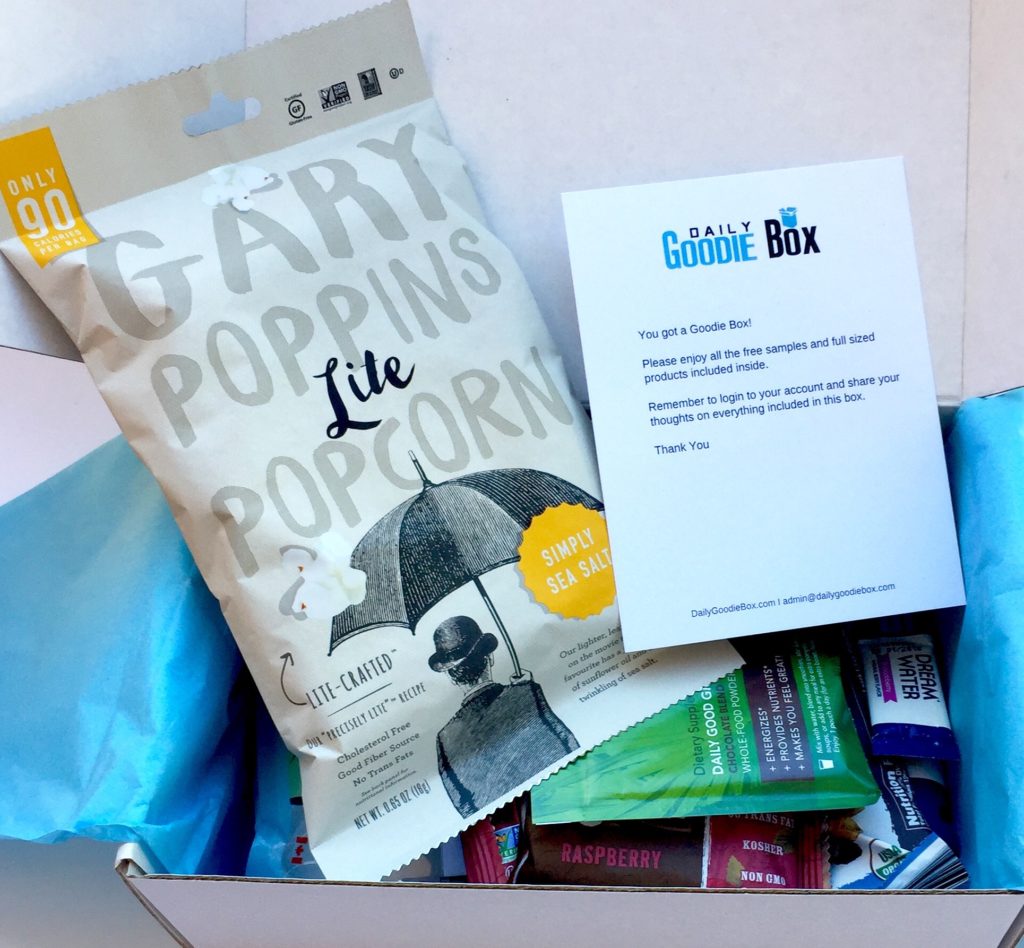 First peek into the February 2017 Daily Goodie Box! This is my favorite part – I can't wait to start looking through all the surprise products!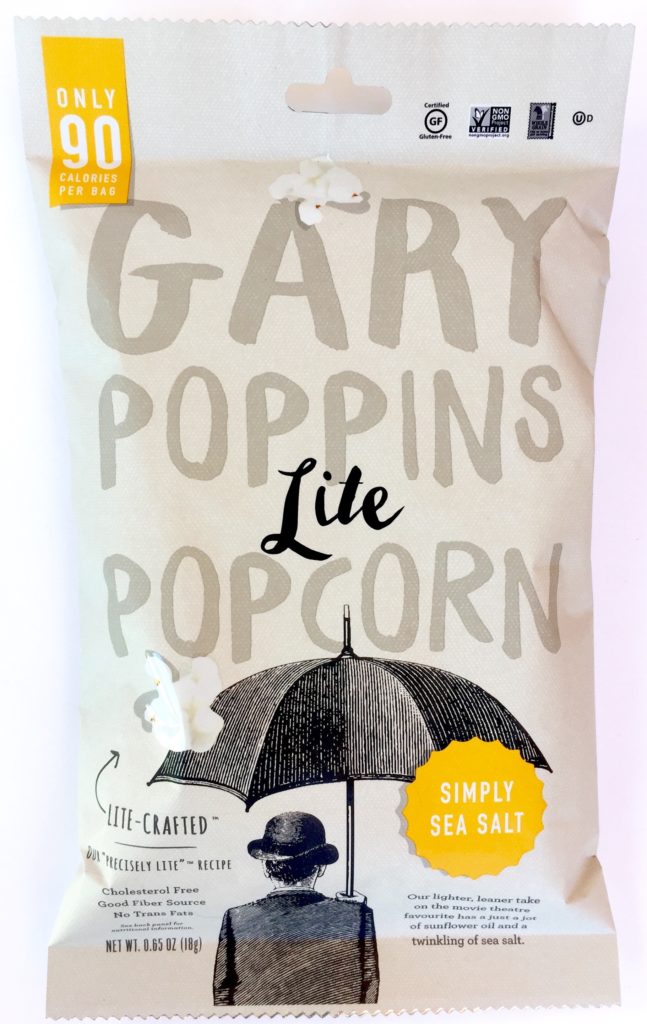 Gary Poppins Lite Popcorn in Simply Sea Salt .65 oz
This is a lite popcorn with no trans fats, seasoned with sunflower oil, coconut oil and sea salt in a one serving size bag. Perfect for a little snack in the car or in your lunch box! Very tasty!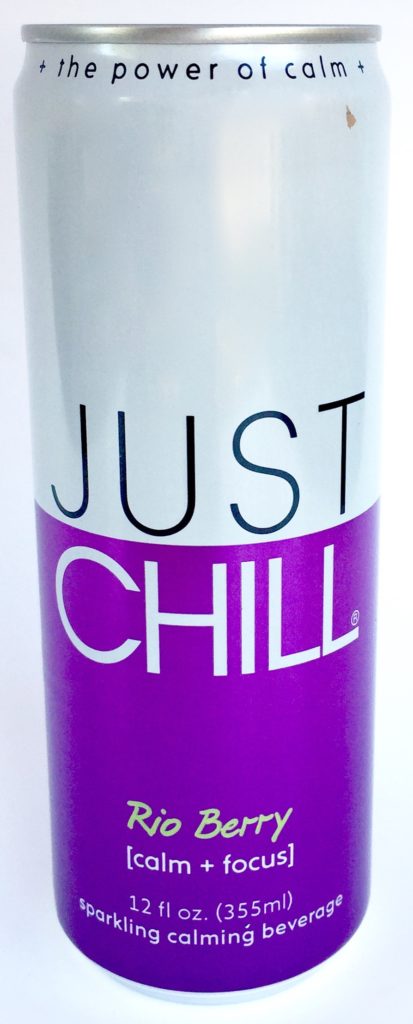 Just Chill sparkling calming beverage in Reo Berry 12 oz
This was a very tasty berry flavored stress relief drink to help with calm and focus. The functional ingredient is Suntheanine which is made to mimic the natural relaxing ingredient in green tea leaves.


Vermont Smoke & Cure – Cracked Pepper Beef & Pork Stick .5 oz
This is a gluten free meat stick made with vegetarian fed, hormone and antibiotic free beef and pork. When I saw the name "cracked pepper" I thought it might be too spicy but it was not and the flavor of the meat came through. Plus it did not taste greasy, another issue with some meat stick I have tried in the past.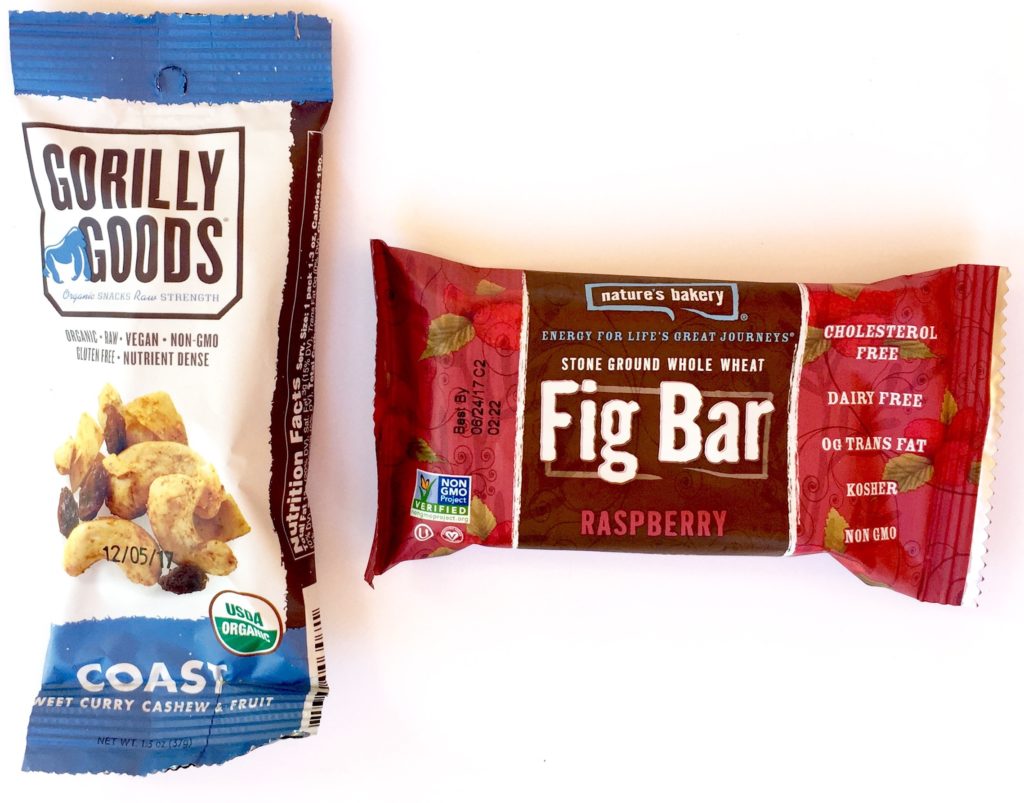 Gorilly Goods – Organic Snacks "Coast" 1.3 oz
This is a package of raw, organic cashews, raisins, and coconut in a sweet curry flavor. The snack is nutrient dense as well as vegan and non-gmo and has a great curry taste. Health food doesn't get much better than this!
Nature's Bakery – Raspberry Fig Bar 2 oz
These are like a whole wheat version of fig newtons but have yummy raspberry in the filling as well as fig. They aren't too sweet and taste more like fresh cookies than fig newtons.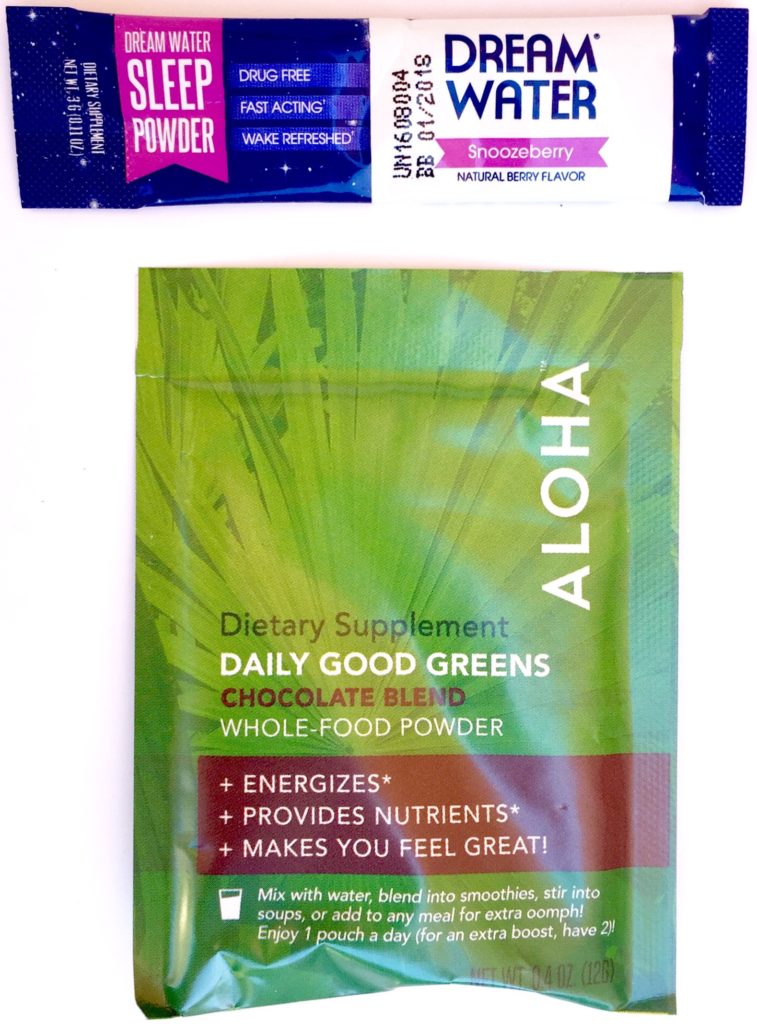 This is a berry flavored powder that has natural ingredients – GABA, Melatonin, and 5-HTP – to relax you and help you go to sleep and stay asleep. You take it 30 minutes prior to needing to relax or go to sleep, with or without water. Tastes a bit like a pixie stick. I took it and slept, not sure if it was because of the powder or if I would have done the same without it.
This is a packet of whole-food powder made with organic superfoods like spirulina, spinach, moringa, raspberries, and much more to add to your daily smoothie or to mix with milk or water. It is a dietary supplement meant to energize you and provide nutrients that you might not get in your every day meals. Chocolate is definitely the overriding taste, but you can also taste the rest of the veggies and fruits. I love veggies and fruits and I thought it was a very tasty additive to my morning yogurt.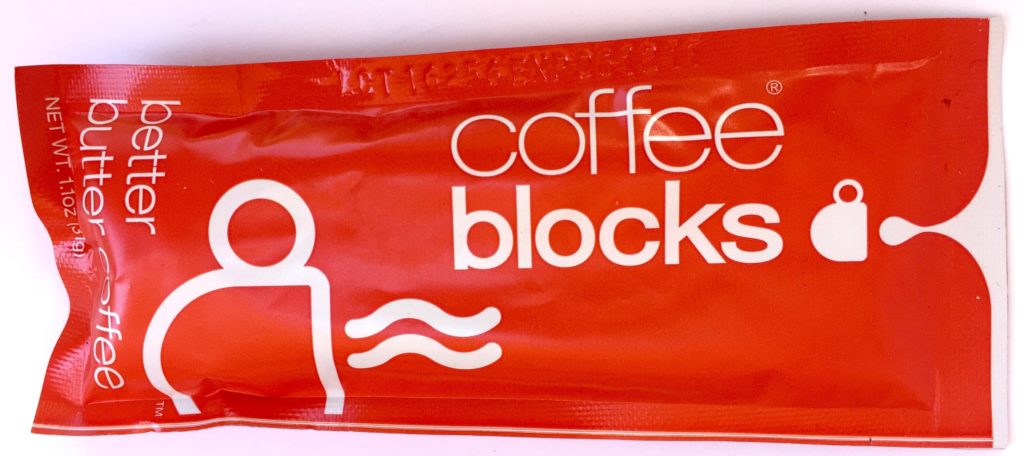 Coffee Blocks – Butter Coffee 1.1 oz
This is a packet of coffee that you squeeze into a cup and add 8 oz of hot water plus 4 oz of room temperature water. You need a LARGE cup. I was a skeptic about butter coffee, or about coffee that comes in a packet at all, and was quite pleasantly surprised at the result! Both my husband and I thought it was quite good – a mellow coffee with a buttery taste. And if you add some sweetener (we used Splenda) it almost tastes like a salted caramel flavored coffee!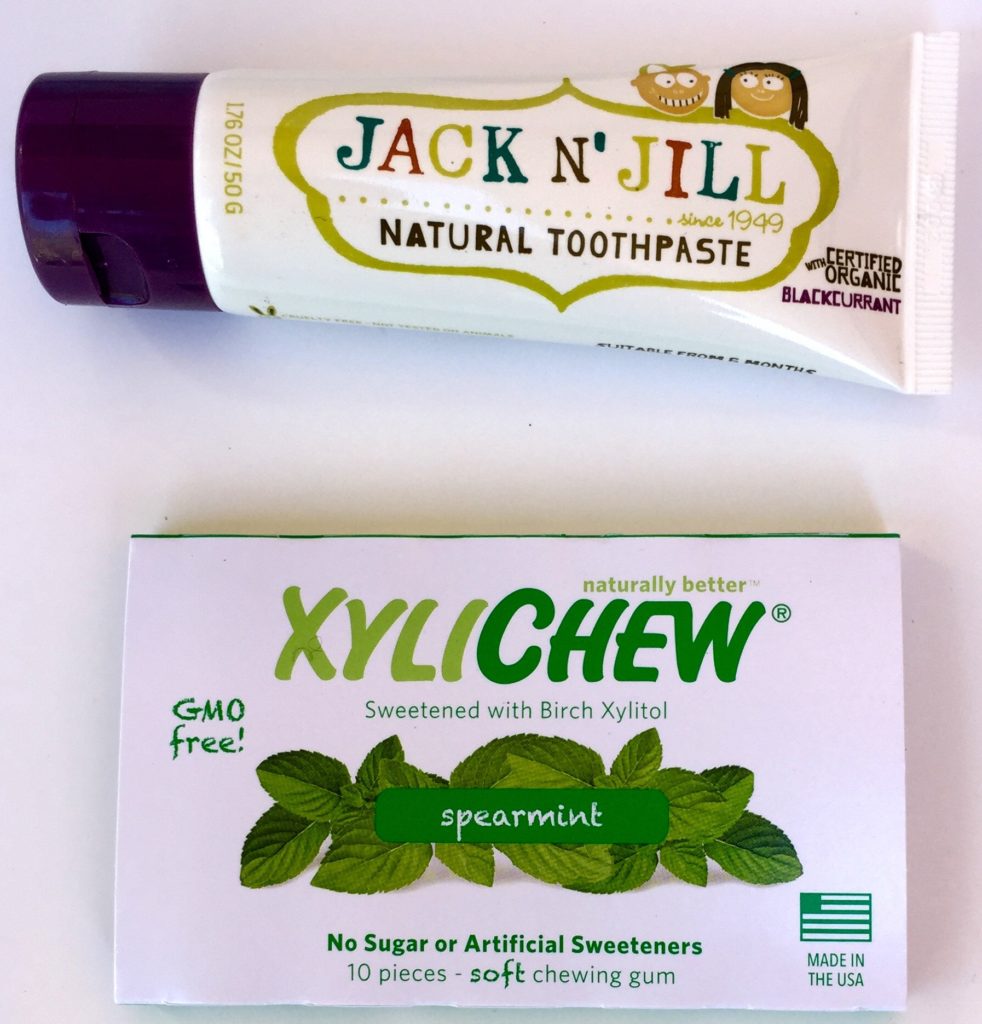 Jack N' Jill – Natural Toothpaste 1.76 oz
This is a full size tube of all natural toothpaste that is perfect for little ones. We received certified organic black currant flavor and it is suitable for children ages 6 months and up. Safe to swallow, SLS free, Fluoride free, no preservatives or added colors. Perfect.
This is a package containing 10 pieces of soft chewing gum sweetened with Birch Xylitol, a sweetener extracted from sustainable US forests. This sweetener slows acid production in your mouth to help protect your tooth enamel. It is a good spearmint flavor with no aftertaste.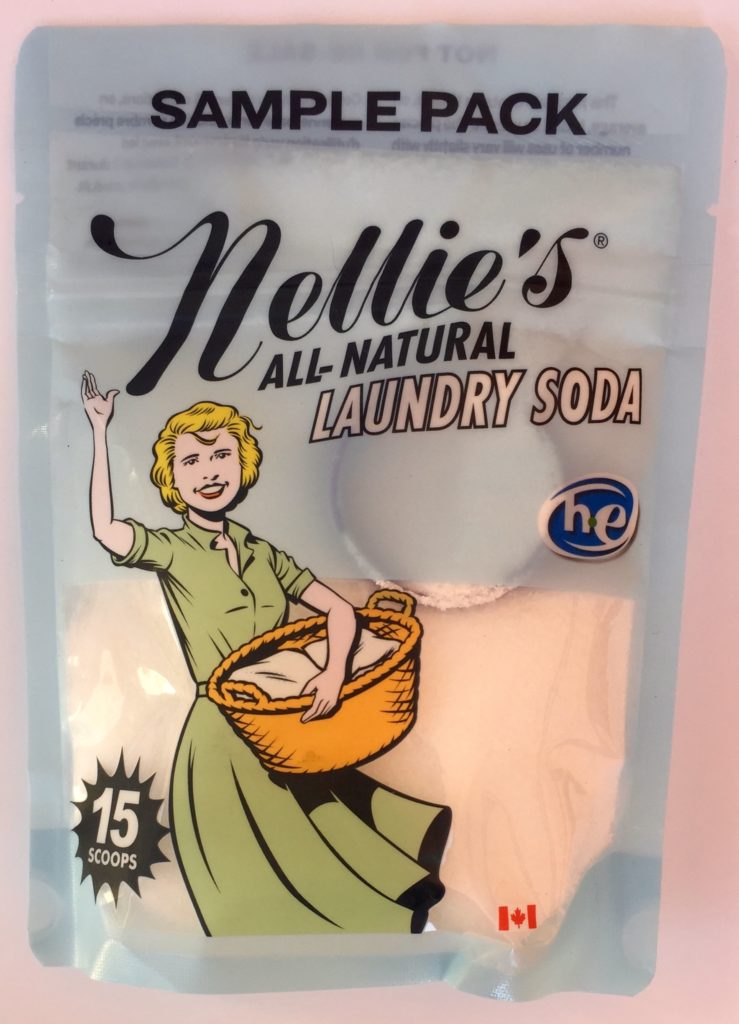 Nellie's All-Natural – Laundry Soda Pack
This is a packet containing 15 scoops of all natural laundry soda to enhance the cleaning ability of your laundry detergent. The soda dissolves easily in hot or cold water and there is a scoop for measuring inside the bag. It did not make my clothing stiff or leave any kind of residue on the laundry.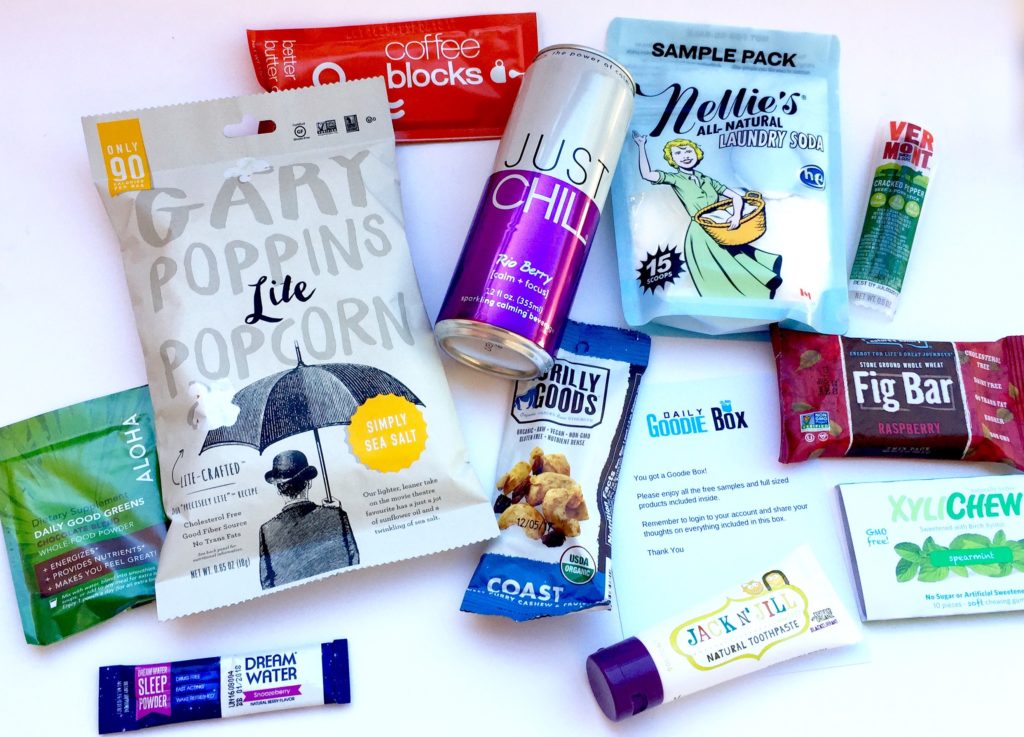 The February 2017 Daily Goodie Box was just full of new products for us to experience! I did not calculate a retail value as it was a free box, but I did want to point out that the Jack N' Jill toothpaste alone was a full size tube that sells for $6.99. There was not one thing in the box that we did not like and some of the products, such as the Daily Good Greens powder and the Butter Coffee, were items that sounded unpleasant to us but turned out to be surprisingly tasty! If you haven't given the Daily Goodie Box a try, go for it! The price is right and you might just find some new favorites!