February 2016 Peaches and Petals Review + 50% Off Coupon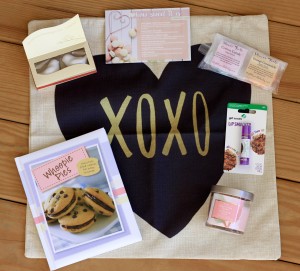 Peaches & Petals is a monthly subscription box for women that sends fun, hand-curated items that "exemplify the woman who's not afraid of adventure." Items may include beauty products, home decor, jewelry, trinkets, and fashion accessories! Each month, Peaches & Petals releases a spoiler item and/or theme, which is announced in advance of the next month's box.  The cost is $19.99 per month and now ships to all U.S. states, including Hawaii and Alaska!
The Homespun Chics received this box for review. All opinions are 100% our own. This post contains affiliate links.
---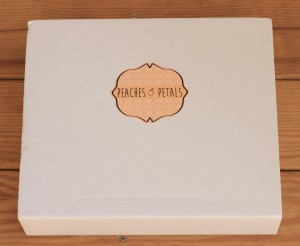 I have been really impressed with my Peaches and Petals boxes so far. Last month's box provided my family with the best recipe book (ever), which we have been using weekly ever since we got it! Since February is the month of love, I have high expectations for this box to 'woo' me!
Enter this code at check-out to save 50% off your first box!
(Valid on monthly subscription option only.)
Additional Subscription Options:
3-Month Subscription:  $59.97
6-Month Subscription:  $119.94
12-Month Subscription:  $239.88
All subscriptions auto-renew once the subscription term is finished. Cancellation is simple, so no worries if you're looking to just try it out at first!
🙂 Peaches & Petals is NOW SHIPPING to ALASKA and HAWAII!!
Subscribers in these locations will pay an additional $7.00 for shipping costs.
*A Note from the Peaches & Petals Team:

Our goals for 2016 is to make each box better and better. Filled with more value, and better quality. We are working with amazing local suppliers, who are interested in getting their product out to you, and in return, you could purchase larger sizes, and learn more about their company. Also, we will be introducing you to up-and-coming brands as well as staying on trend with the latest products on the market.

In order to do these things and to keep up with increasing shipping rates,our new subscription rate will be $19.99 per month. This will still be among the lowest priced lifestyle box on the market! New subscribers will incur the new fee at $19.99 effective January 15th. However, for our current subscribers prior to January 15th, we will continue your subscription at the introductory rate of $14.99 until March 15th, then it will switch to the new rate of $19.99.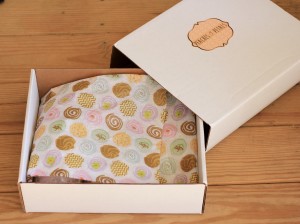 February 2016 Peaches and Petals Theme:  How Sweet It Is
I love that the tissue paper is always themed with the box! Yummy, colorful treats are featured this time!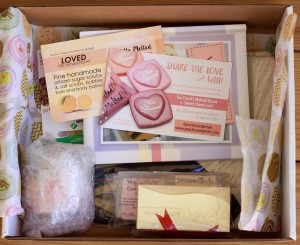 First peek and it smells divine! I love all the pretty pastels!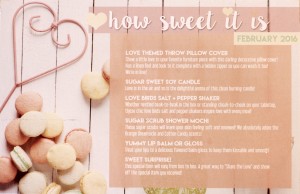 The information card is a high-gloss postcard which briefly details the items inside. The last item listed is a "Sweet Surprise!" Oh goodie!!!!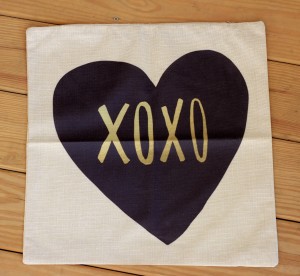 Love Themed Throw Pillow Cover – Value:  $7.99
This is such an adorable throw pillow cover! The linen cover looks like burlap and is printed with a black heart and gold writing.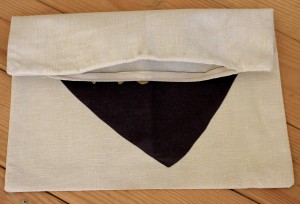 The zipper is concealed at the top of the cover. The info card also says it's machine-washable! I was not able to find my (many) throw pillows… I'm pretty sure they're all packed into the guest room closet, buried under heaps of old instruments and books. I'm scared to go in there.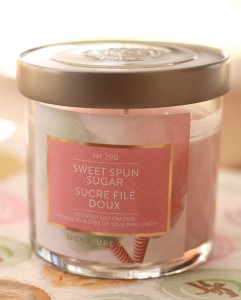 Signature Soy Candle (Sweet Spun Sugar) – Value:  $2.67
What an amazingly delicious smelling candle! Oh my lord, I want to gobble it up. It actually smells like cotton candy. Jonathan, his mother, and I fought tooth and nail over this candle. It's mine.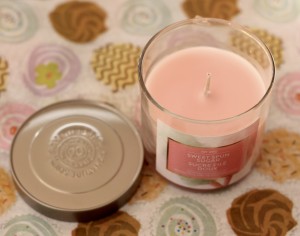 We have a candle addiction at our house and this sweet jar of yum will be used to mask the slight odor of kitty litter upstairs. Yes, we are those people. It comes with the territory.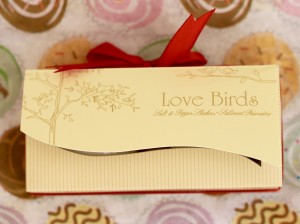 Love Birds Ceramic Salt & Pepper Shakers – $0.99
This is such a cute set of S&P shakers!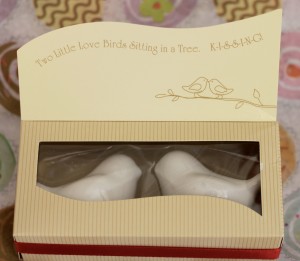 I mean, c'mon. Just look at this…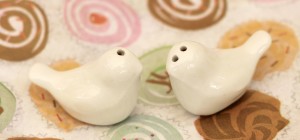 Jonathan says these would look great in a breakfast nook. These birdies are small enough to use as personal salt & pepper shakers or to have as decorative pieces on a dinner table; so long as your table is not constantly inhabited by felines like ours. We may be gifting these little treasures…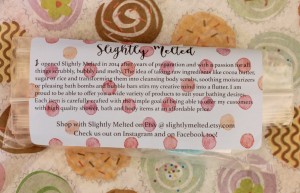 Slightly Melted Shower Mochi Sugar Scrubs – Value:  $3.90
Yummy smells! It's refreshing to see an Etsy company featured in a Peaches & Petals box. I think this is definitely a step in the right direction for P&P and am already loving these sugar scrubs.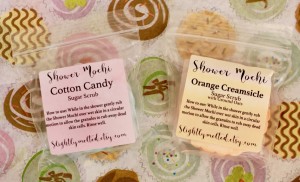 All subscribers received the same two scents, Cotton Candy and Orange Creamsicle. I can't tell which one I like the best; they're both heavenly!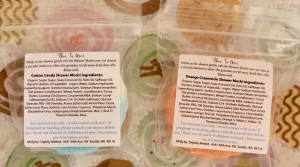 Both packages listed the ingredients for each scrub. (Awesome!)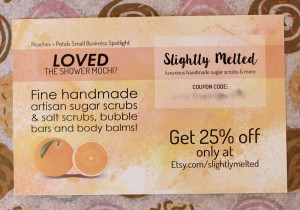 We also received a 25% Off Coupon for the Slightly Melted Etsy shop!!! Sweet!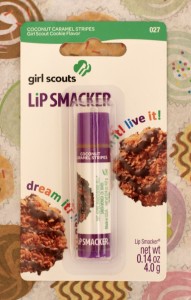 Girl Scouts Lip Smacker (Coconut Caramel Stripes) – Value:  $5.76
I love lip balm and I love girl scout cookies… this is definitely a win-win situation. I have a couple open tubes of lip balm that I need to finish before I can open this one. It's probably been two decades since I have owned / used Lip Smackers. How much fun is this??  🙂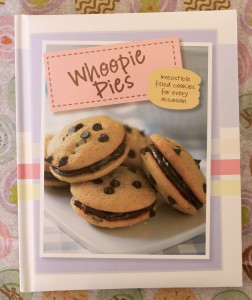 Love Food Whoopie Pies Book – Value:  $3.99
This is my "Sweet Surprise!" and I love it! Not everyone will receive the same surprise in their box. After last month's recipe book, I have complete faith that this book is going to be great. We have never made whoopie pies before so I'm really glad to have a resource to try new ideas!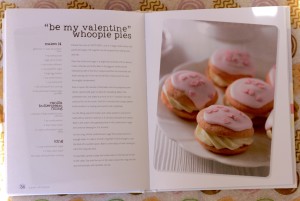 Every recipe comes with a beautiful photograph of the finished product. I am so glad to see these pictures since I am a visual person and typically just point and say, "I want that". The book is broken into a different sections, including an introduction to whoopie pies, recipes for the classic, super, gourmet, and party whoopies. Cute! We have absolutely got to try these. My poor KitchenAid mixer is collecting dust in the kitchen and needs something to do.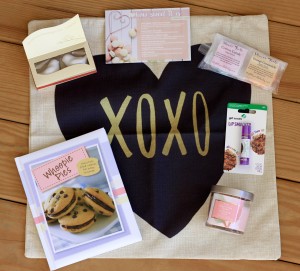 My Thoughts
February 2016 Peaches and Petals Total Value:  $25.30
This month's box was the most conservative one I've received based on overall value, but I felt the curation was extremely well done and I just loved everything in the box! The inclusion of an Etsy business deserves high praise and I feel P&P is definitely going in the right direction. I want about a hundred of those sweet spun sugar candles too, so now you know what to get me for my birthday. I can say with certainty that this is my favorite Peaches & Petals box so far!
Don't forget to use coupon code HOMESPUNPEACH to get your first box for only $10.00!!!
xo
Sarah
What did you get for your "Sweet Surprise" item?