Eternity Rose Review – Glazed Rose Earrings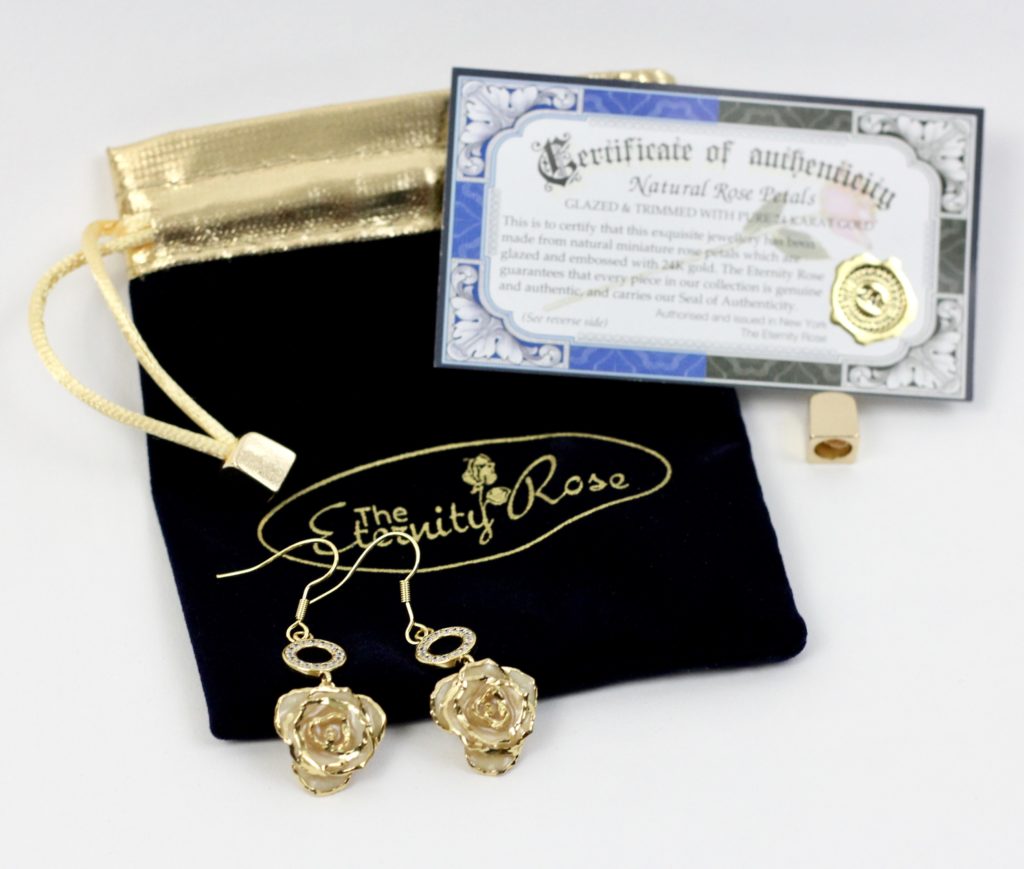 Eternity Rose is an Australian company that specializes in creating exquisite natural rose gifts for all occasions. They offer 24 karat dipped glazed roses, glazed rose jewelry and even golf balls and poker cards!
We grow natural roses, pick them at their perfect stage of bloom, and then coat them in genuine 24k gold, silver or platinum. We also preserve roses in their natural colour with glaze and gold-trimming, as well as rose petal jewellery. Every Eternity Rose product is designed to last forever. – Eternity Rose
We received a pair of white glazed rose earrings for our honest review. Our package took about a week to arrive from Australia. The earrings arrived in a standard brown packing box and was extremely well padded inside, ensuring the jewelry was completely protected during transport.
Once unwrapped, I found a beautiful (and gift-able) velvet bag with gold accents and the Eternity Rose emblem displayed in front. Inside, both earrings were carefully wrapped in tissue tied in gold elastic.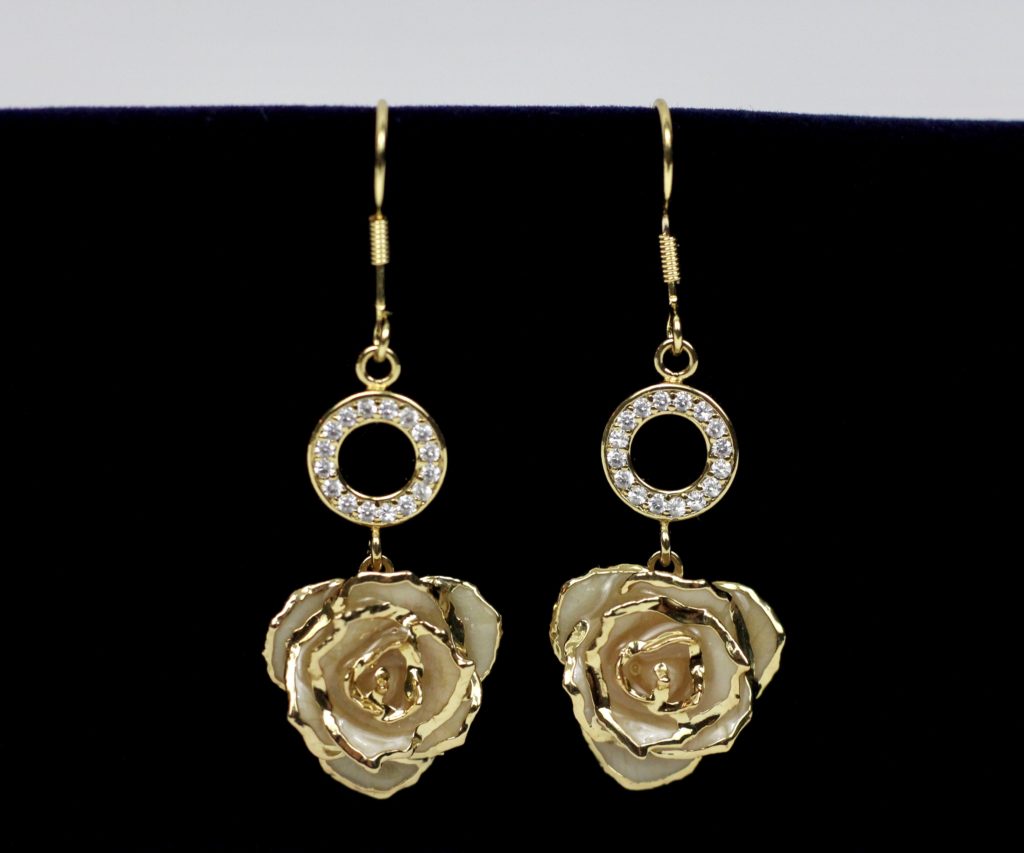 White Glazed Rose Earrings in 24K Gold
Cost:  $79.00 (includes free express shipping)
Wow, are these earrings gorgeous!! I chose white roses to coordinate with more of my outfits. I love being able to dress up otherwise casual clothes with fancy jewelry. The detailing is marvelous and the synthetic diamonds sparkled from all angles.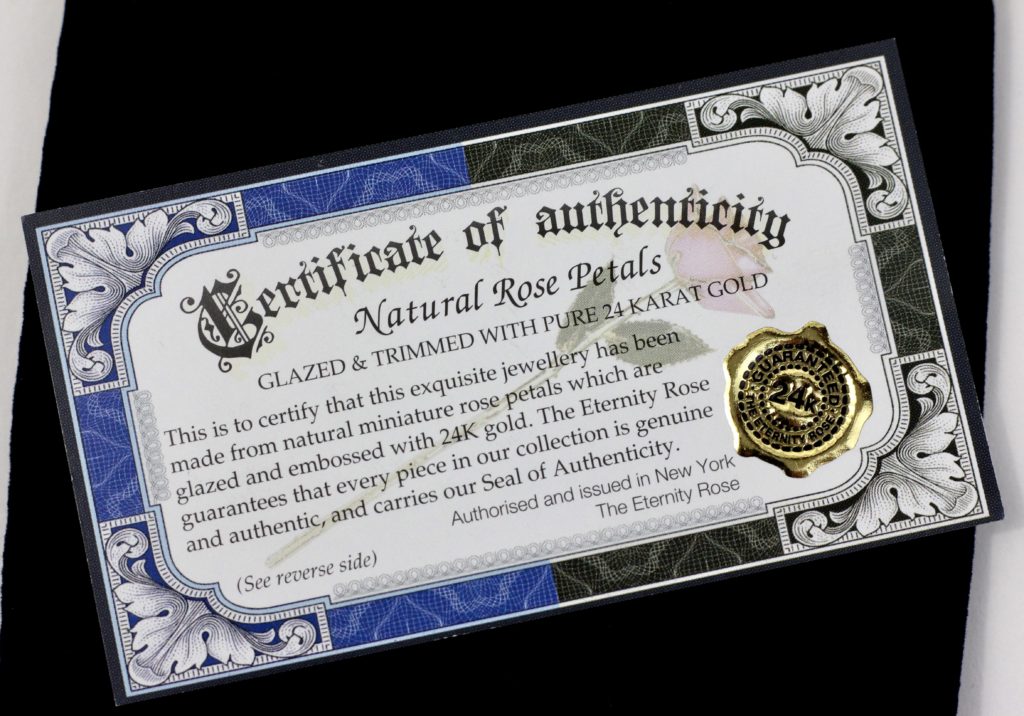 Every Eternity Rose gift comes with a detailed Certificate of Authenticity validating the purchase and guaranteeing the 24 karat gold embossing. The certificate definitely adds an extra touch of class and sophistication to the gift.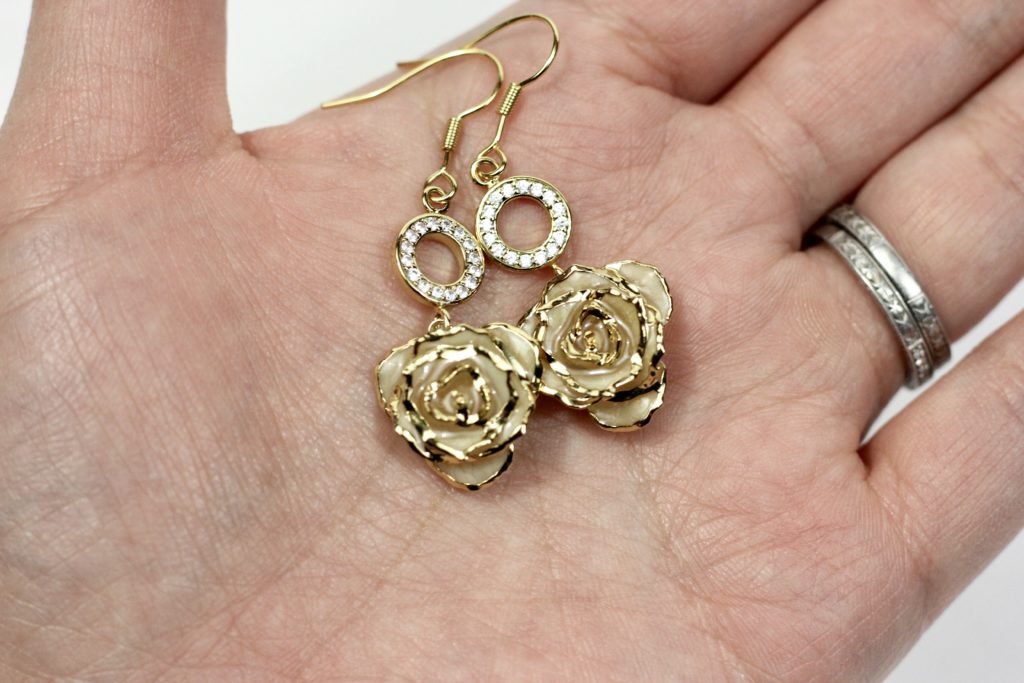 I admit, the earrings were much larger than I thought they would be. I prefer smaller earrings for my every-day outfits but definitely love to wear larger statements earrings when I go out with my girlfriends or on a date with the hubby. Basically any excuse to get dressed up deserves fancy jewelry!
Surprisingly enough, the white rose earrings are extraordinarily light and very easy to wear despite their larger size. I wore them out to an evening with the girls and everyone raved! My friend, Kim, almost took them from my ears and immediately texted her husband with a "subtle" hint for her perfect Valentine's gift. Ha!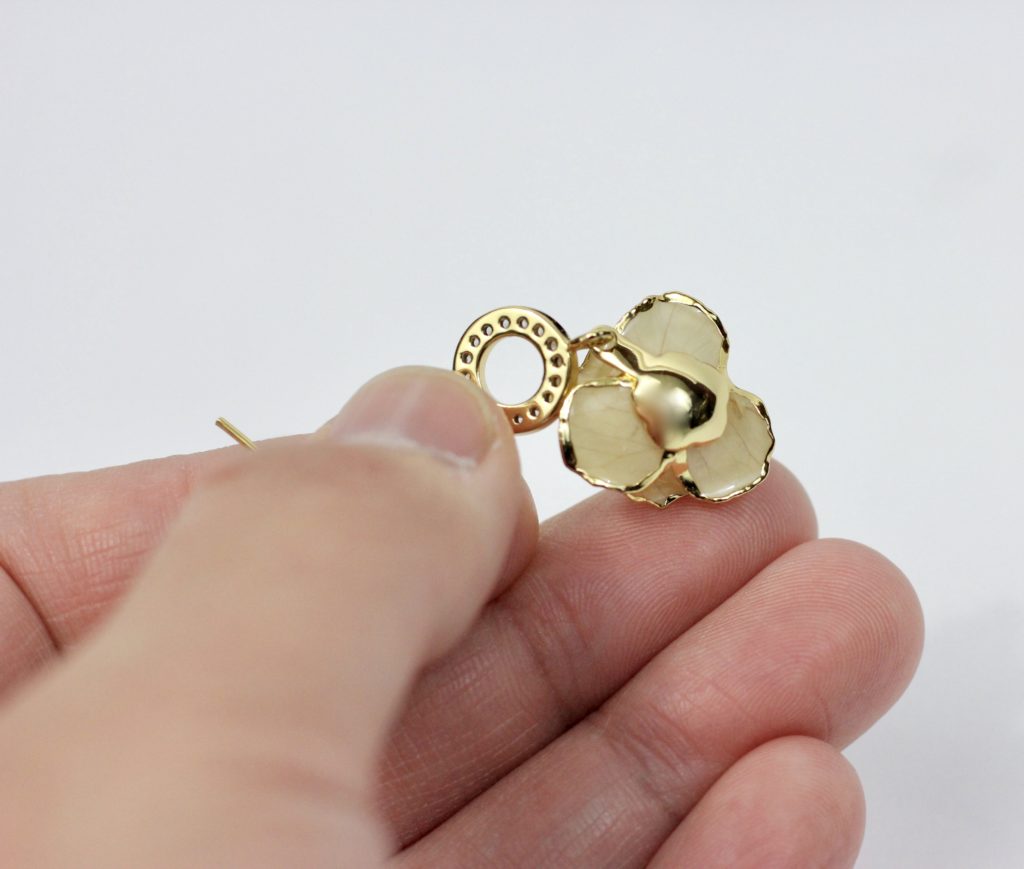 Each earring is formed with real miniature white rose petals trimmed with pure 24 karat gold. You can really see the veining on the petals when you flip the earrings over. Crazy!
I can honestly say that these are the most luxurious and unique earrings I've ever owned and are an absolute delight to wear. Eternity Rose has a number of other amazing rose gifts in addition to earrings that would make the perfect gifts for Valentine's Day! So ladies, drop those hints and take a peek at EternityRose.com.au