Dottiebox Mini November 2015 Review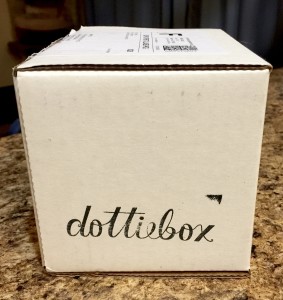 ♥

Homespun Holidays! 

♥

Dottiebox is a monthly subscription box for women featuring high quality handmade items, small businesses, and indie brands. Dottiebox is offered in two sizes: Regular $20/mo. + $6 shipping and Mini $10/mo + $3 shipping. Each box is carefully hand packed by the small Dottiebox team and is typically shipped within the first half of each month.

The Homespun Chics paid for this subscription. All opinions are 100% our own. 
---
♥

Homespun Holidays! 

♥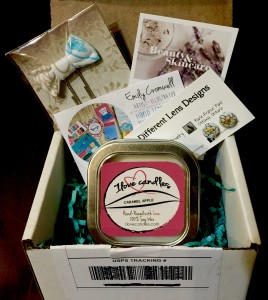 I love finding subscription boxes that I feel are perfectly matched to my style. I have been eyeing Dottiebox Mini for a while now and finally decided it was time to get my hands on this sweet little box! At $13.00 a month, I am really impressed with the quality of the items and the overall curation of the box. This would make the perfect gift or gift subscription to give to a wife, daughter, sister, friend – basically anyone who drools over the wonderous treasures found on Etsy.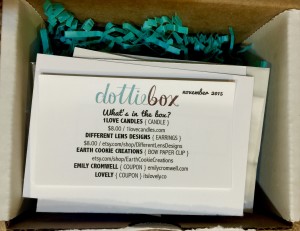 I have to start by saying this is the smallest, most adorable subscription box I've received. Each box comes with an information card detailing the items inside. The card itself is just bigger than a business card. (So cute!)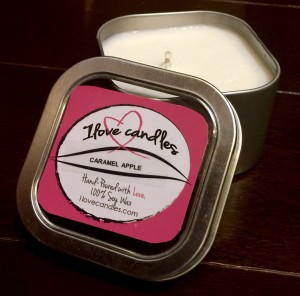 1Love Candles 8 oz. Candle Tin (Caramel Apple) – Value:  $8.00
I can't stress enough just how much we love candles at our house, so I was thrilled to see we received one in our box! The caramel apple scent smells divine and I am looking forward to lighting this on Thanksgiving! (Yes, I'm saving it for the holidays!) All 1Love candles are made with 100% all-natural soy wax and hemp wicks for a clean burn. Did you know they even have a subscription service? (Uh oh, I'm in trouble!) LOVE this candle, LOVE this company!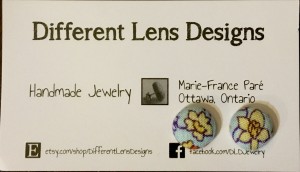 Different Lens Designs Button Earrings (Yellow Flowers) – Value:  $7.69
Okay, if I am in love with candles, I am stalker-obsessed with earrings (just ask my husband). I simply MUST receive at least one pair of earrings for my birthday and pretty much ask for them around every major holiday. I really love earrings that are unique, handmade, and/or are upcycled. These adorable button stud earrings are all of the above and I absolutely love them… so naturally I visited the Etsy shop and drooled over the full collection. I think what I love the most is the fact that all of the jewelry is upcycled and each item is completely unique. I quite literally wish I owned every single piece right now.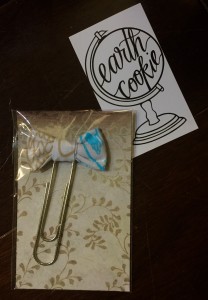 Earth Cookie Creations Bow Paper Clip – Value:  $2.00?
This is a really adorable (very large) paperclip with a cute, handmade cloth bow tied and glued to the top. At first I was perplexed as to how I could possibly use it, but I'm realizing that this makes a pretty cute bookmark in my planner. I'm not over-the-moon excited about it, but am still happy that this was made by an Etsy shop focusing on repurposing items to be used in her shop! I could not find this bow paper clip anywhere on the site, so I believe this was made exclusively for Dottiebox!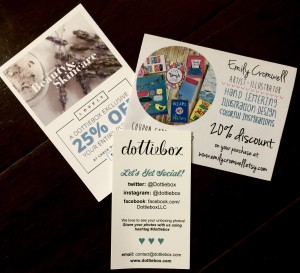 Lovely & Emily Cromwell Coupons
I consider these coupons as bonus items, and am happy that Dottiebox continues to support small businesses and artisans even with these little printouts! Everything offered on Lovely's website looks divine and ultra luxe (perfect beauty and skincare items for gifting!). Emily Cromwell offers really eye-catching original prints with bright colors and awesome hand lettering! I am considering using my Dottiebox discount to pick up some of her handmade cards to send over the holidays!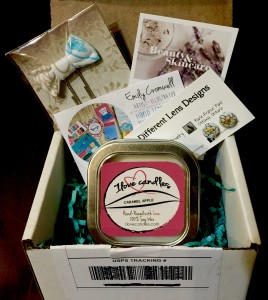 My Thoughts
I was expecting to maybe break even on the value, and am elated that my Dottiebox Mini has a greater value than what I paid. Everything I received is handmade and supports small businesses, which makes this box a real winner for me personally. Much to Jonathan's dismay, I think this one is a keeper! Maybe, if he's lucky, I'll get a gift subscription for Christmas!
xo
Sarah
What do you think of the November Dottiebox Mini??