December 2017 Pet Treater Box Review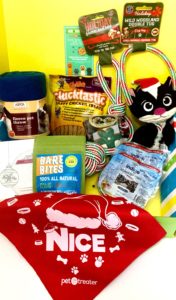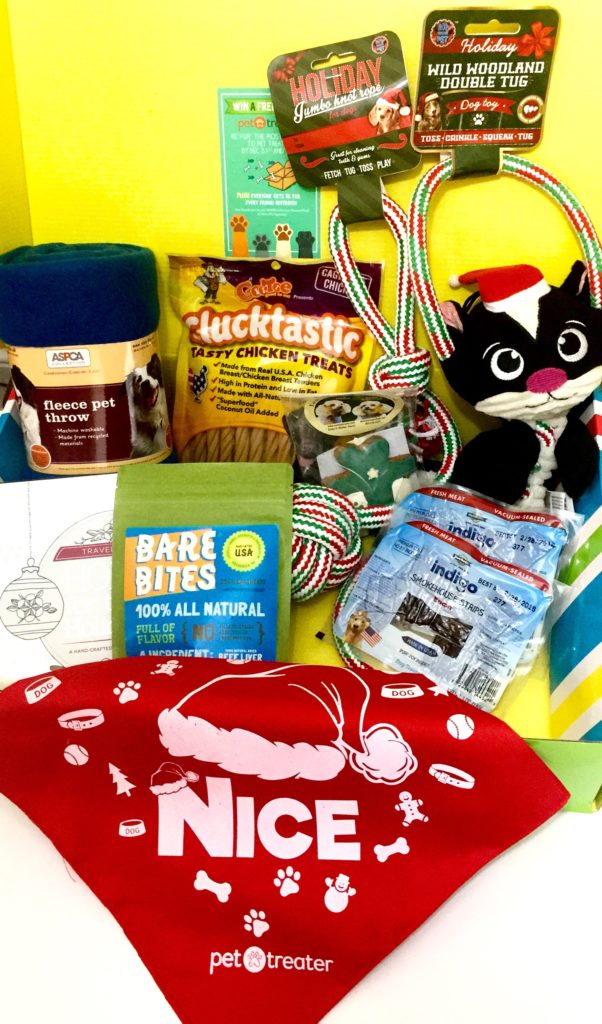 December 2017 Pet Treater Box
Pet Treater is a monthly subscription box for dogs that contains quality items for a fraction of the retail value. Box contents may include treats (made in USA or Canada only), interactive toys, accessories, grooming supplies, and more!
For every box that ships, Pet Treater donates a toy, bag of treats, or blanket to an animal shelter in need.
The Homespun Chics received this box for review. All opinions are 100% our own. This post contains affiliate links.
---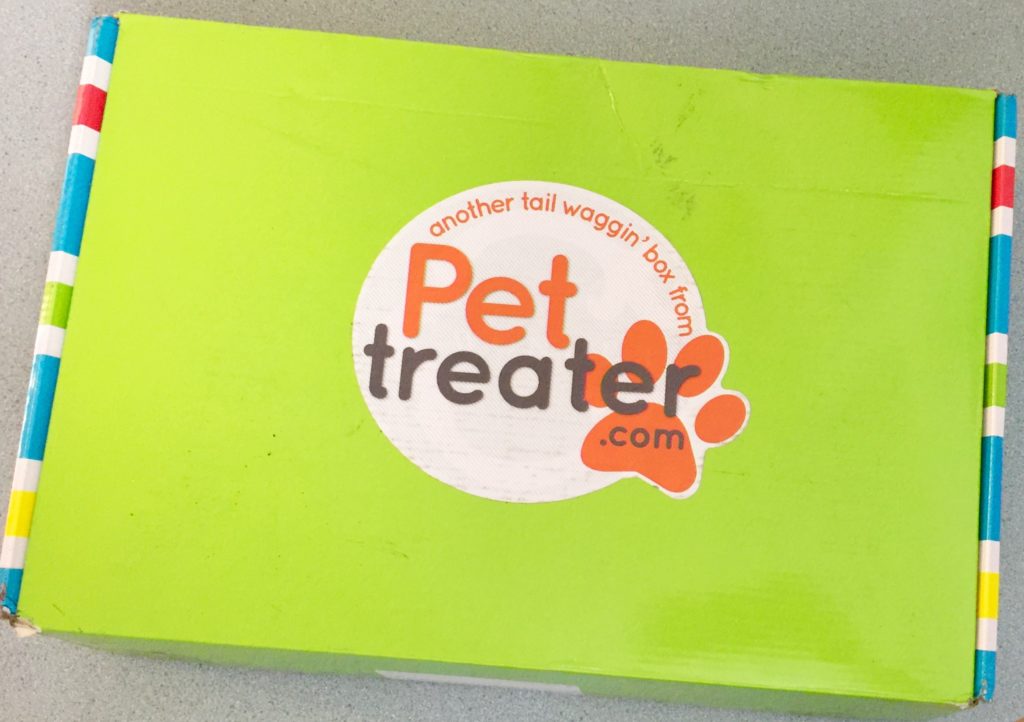 How It Works:
Dog Sizes:  Small (0 – 20 lb), Medium (21 – 50 lb), Large (51+ lb)
Pricing:  $34.99 TRY IT OUT Box (does not auto-renew), $24.99 for Month-to-Month, $22.99 for 3-Month, $21.99 for 6-Month, and $19.99 for 12-Month.
What's Inside:  Each month, subscribers will receive a fun, themed box filled with goodies like U.S. and Canada-made treats, plush toys, gadgets, grooming supplies, doggy wearables, and more! There's even a "human treat" included in every box.
*FIRST TIME subscribers will receive a first time box which will include past favorites and not the new items of the current month. Themed boxes will begin the following month.
SHIPPING SCHEDULE!
Monthly boxes ship between the 5th – 10th of each month.
*If you were billed after the 10th of the month, a box will not be shipped until the following month.
TRY IT OUT boxes (non-renewing purchase) will be shipped right away and items will include past favorites and not the new items from that current month.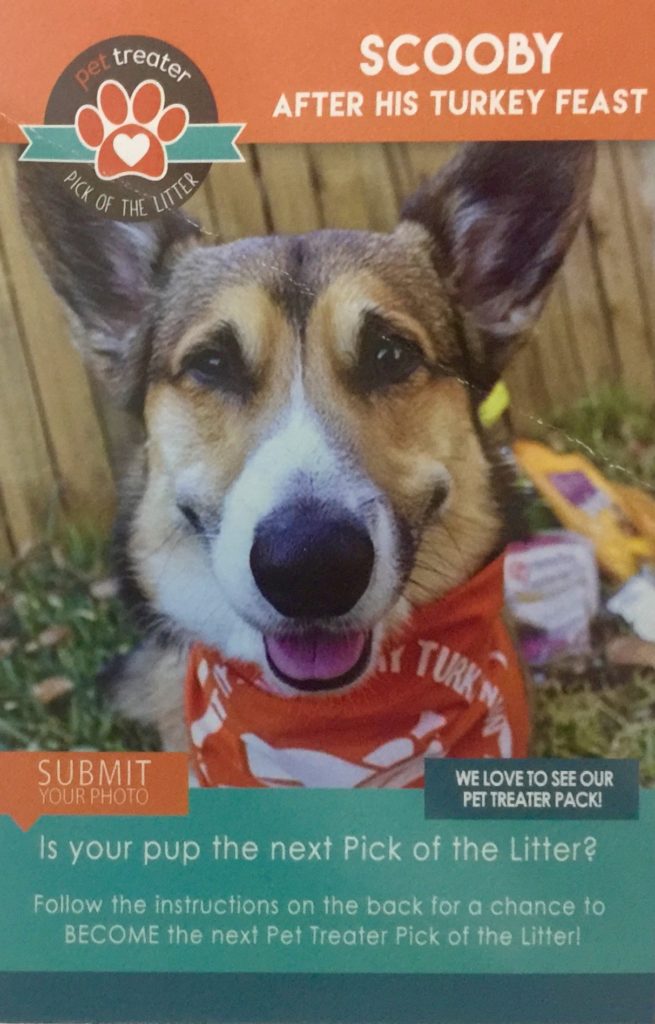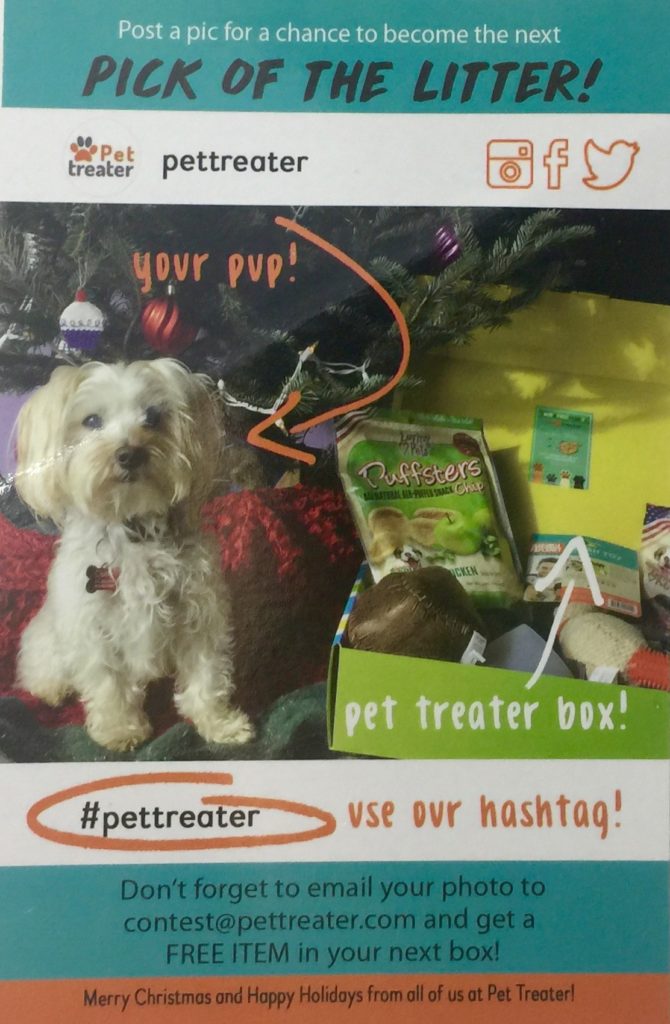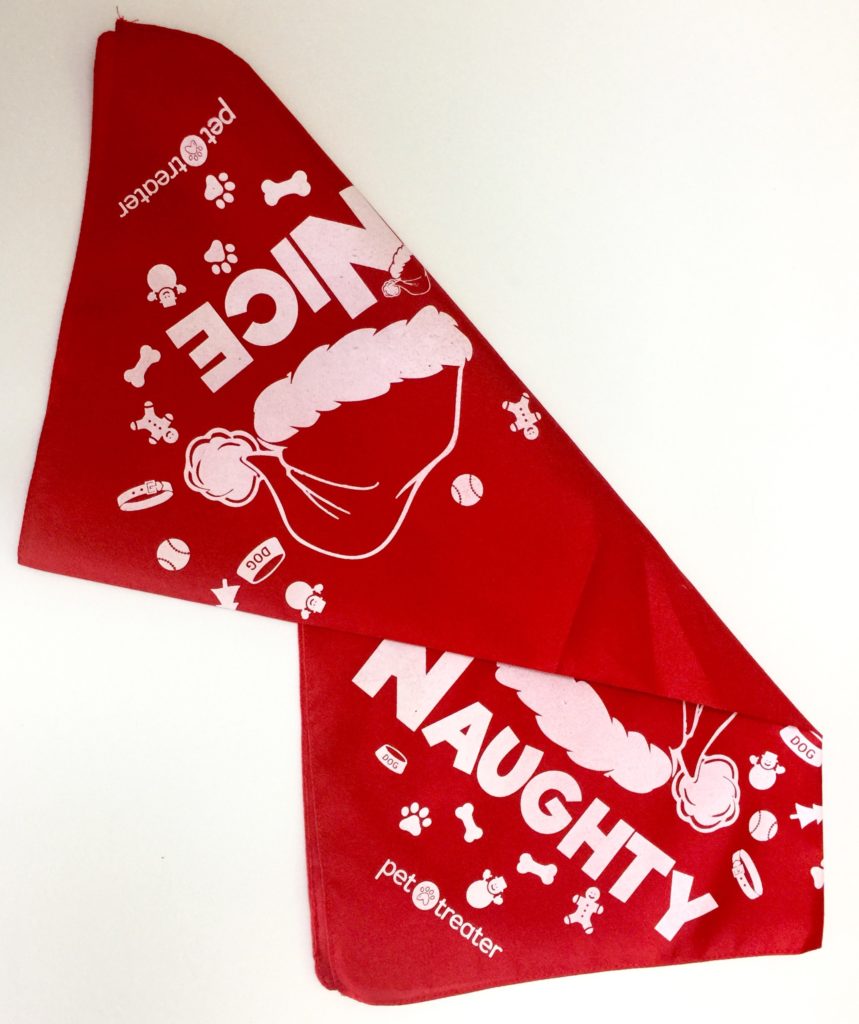 Pet Treater – Naughty or Nice Kerchief
This month's dog kerchief is a pretty red cotton one that says Naughty on one corner and Nice on the other corner. I guess the Naughty side is for you…if your dog is misbehaving it is generally your fault!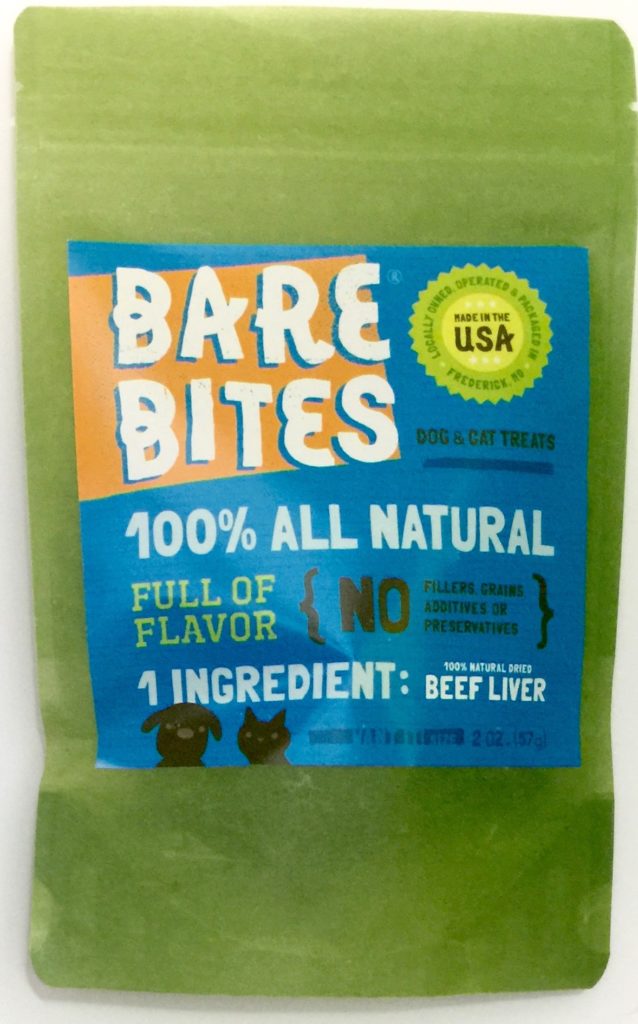 Bare Bites – Beef Liver Dog & Cat Treats 2 oz ($5.00)
This is a bag of 100% natural dried beef liver for both dogs or cats made with USDA beef. It contains no fillers, preservatives, or other ingredients.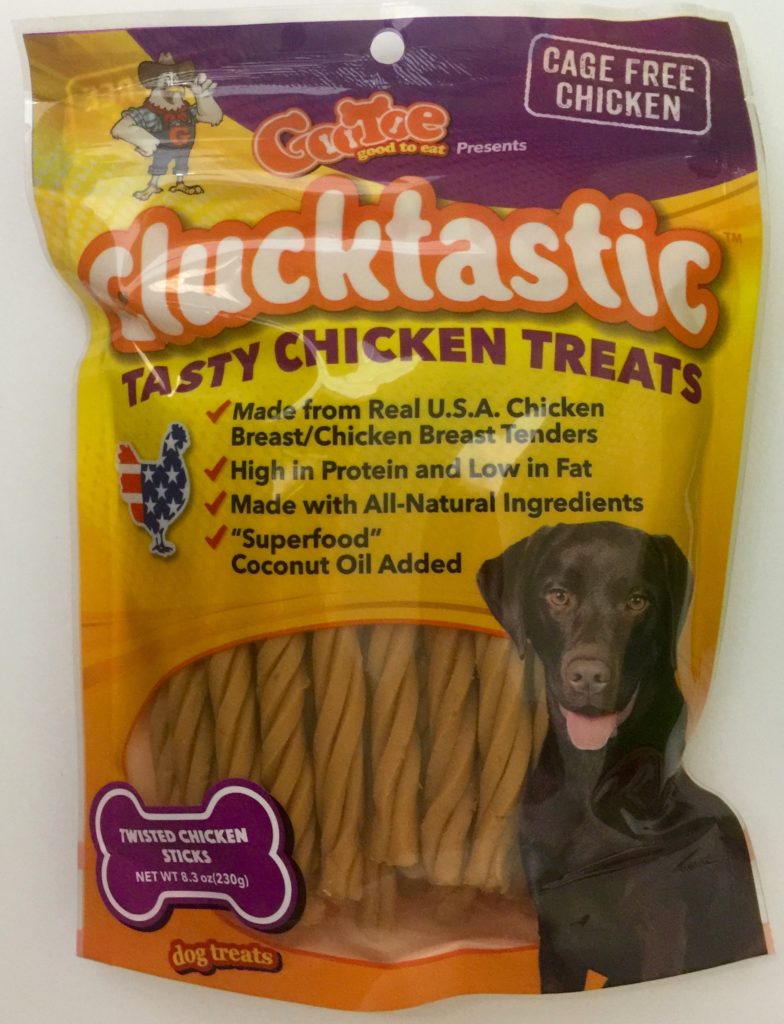 PetLife Americas – Clucktastic Twisted Chicken Sticks 8.3 0z (?$10)
These are chicken treats made with USA chicken breast with pea protein and coconut oil added. Each stick is about 4 inches long and has a fairly stiff consistency. I had a hard time finding this product but did find the company that manufactures it. It is a bit of a concern that neither Amazon nor any of the pet food stores carry any of their products. And there is no documented proof of coconut oil's health benefits for dogs. But they are made from cage-free chickens so it sounds like this company is trying to make the best treats they can provide.

PetSafe Indigo Smokehouse Strips Dog Treats – Chicken  & Bacon 1 oz each ($2.67 each)
These treats are vacuum-sealed fresh meat and contain no by-products, corn, soy, wheat or artificial colors or preservatives. They are made in the USA and are best by 2/18. The dogs LOVE them and these treats won't be around until February!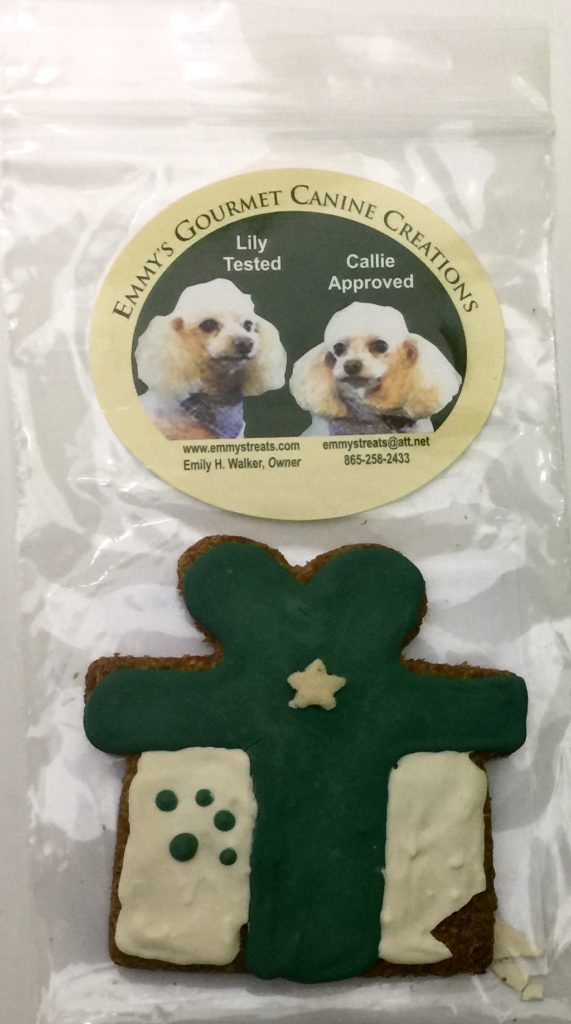 Emmy's Gourmet Canine Creations – Three Cheese Pleasers ($2.50)
All of Emmy's treats are made in Tennessee using fresh, high quality ingredients. This month we have a holiday gift with a bow. There are almost always Emmy's dog treats in the monthly Pet Treater box. This treat is already in the dogs' Christmas stocking!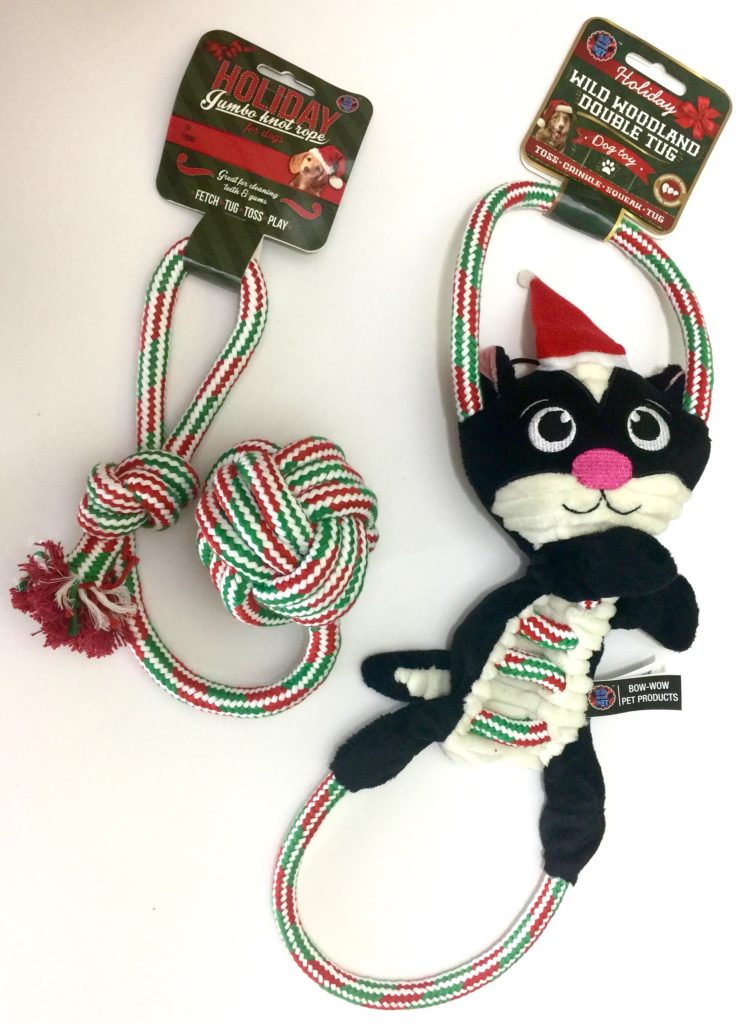 Bow Wow Pet – Holiday Wild Woodland Double Tug Dog Toy ($5.00)
This is a rope dog toy with a furry critter woven into the middle. Dogs can tug on the rope with their person and the head of the critter crinkles and has a squeaker.
Bow Wow Pet – Holiday Jumbo Knot Rope Dog Toy (?$5)
I could not find this toy anywhere but most of these rope toys go for around $5. It measure 14″ and has a knot on the end. Rocket eats rope toys so we will find a good home for these!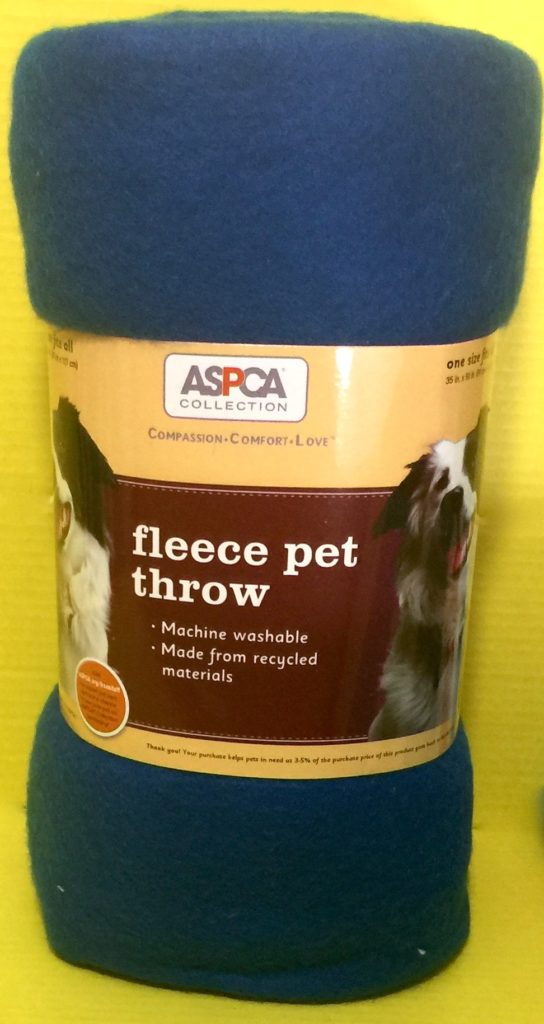 ASPCA – Fleece Pet Throw ($10.75)
This is a soft 35″ X 50″ fleece throw with a blanket stitch edging. It is made from recycled materials and is machine washable. Any pet or person would enjoy cuddling up in a warm blanket like this one!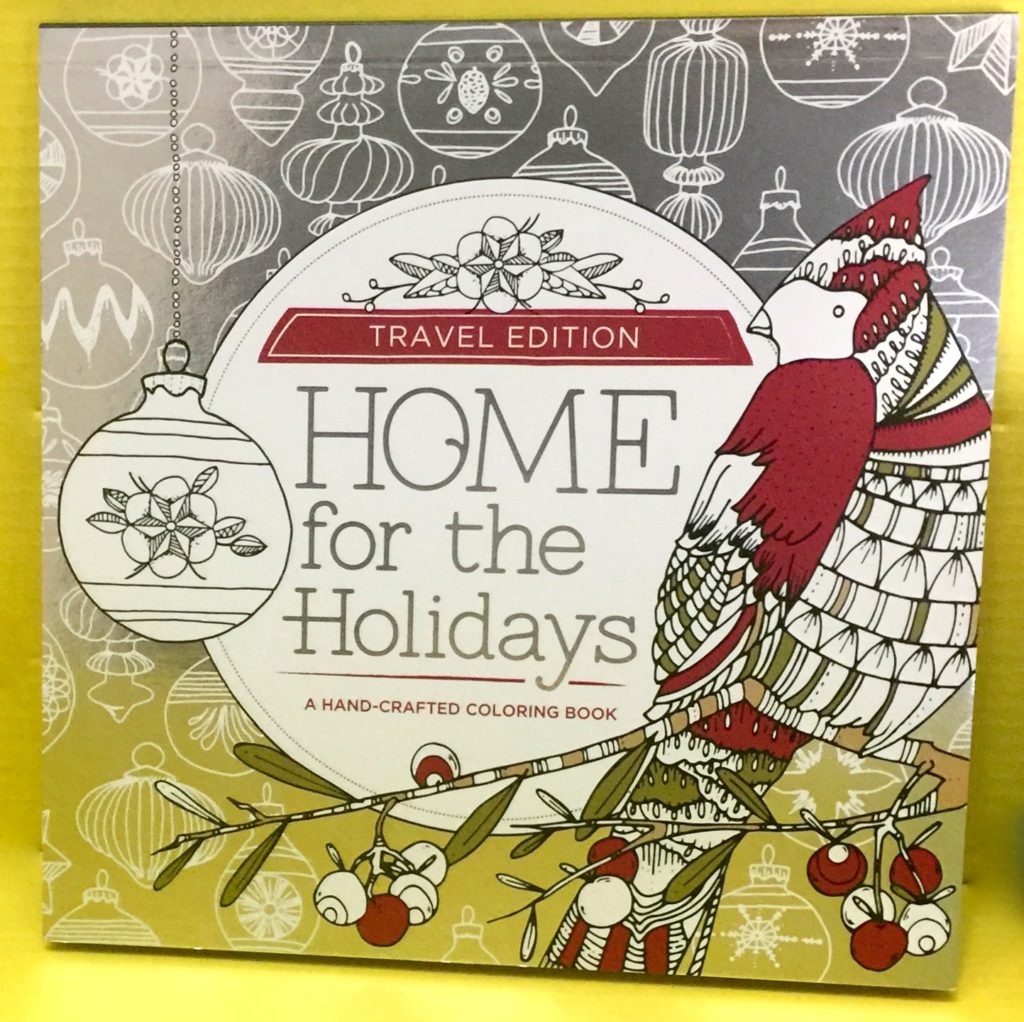 Spirit – Home for the Holidays: A Hand-Crafted Coloring Book by Galadriel A. L. Thompson (Travel Edition ) ($8.91)
This is a 7″ X 7″ travel version of the Home for the Holidays Adult Coloring Book with 36 thick pages that can be colored with markers or whatever you have on hand. The beautiful nature-themed images are a mixture of simple to complex line drawings.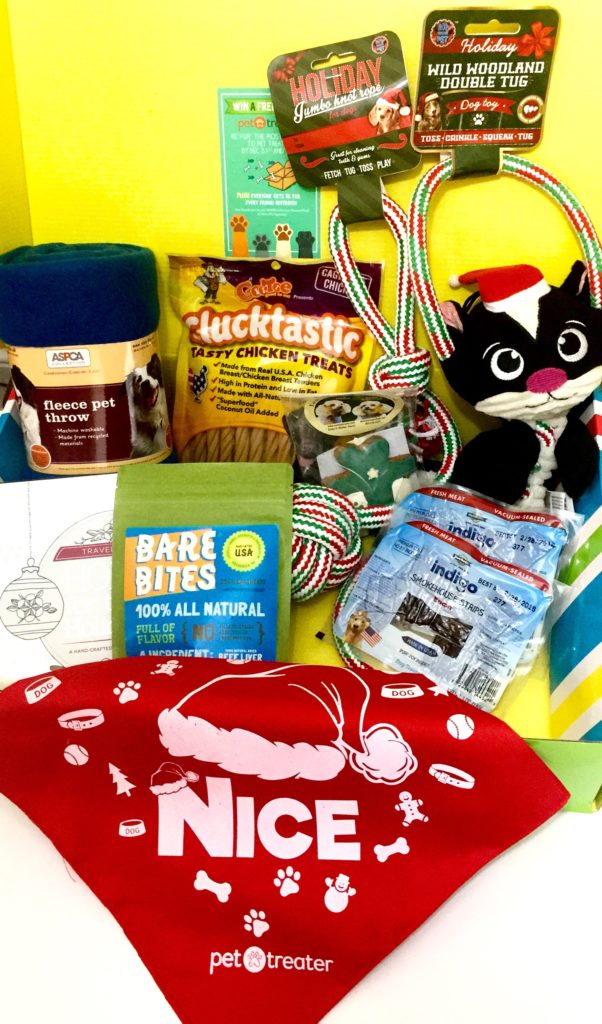 The December 2017 Pet Treater box was nicely holiday themed with quite a variety of dog treats. The toys are not what my boys can use but then my dogs are such heavy chewers! My granddog Beijing is always happy to enjoy any toy I send her way and will love these rope toys under the tree! We can always use another soft blanket and I LOVE the coloring book. I'll be taking it with us on our January RV trip to keep me busy during down time!
What did you think of the December 2017 Pet Treater box?