December 2017 Degustabox Review & Coupon Code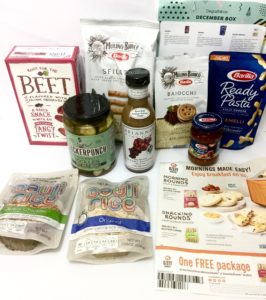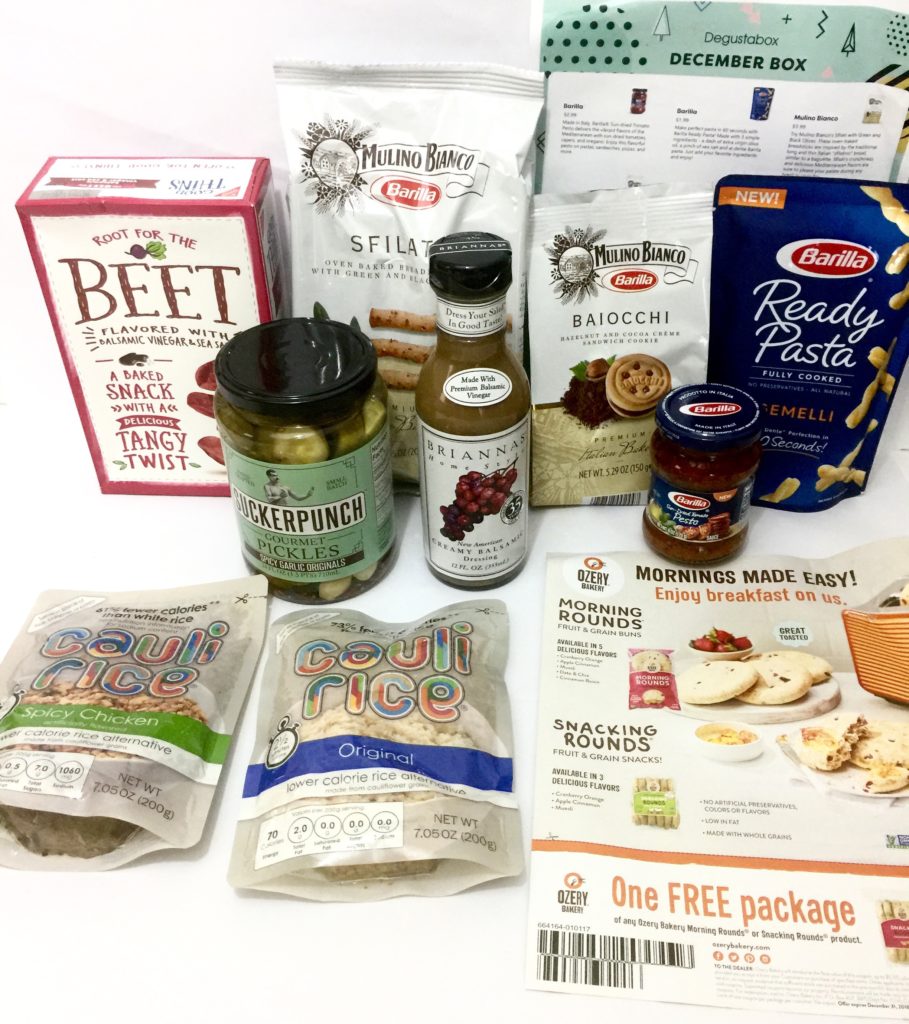 December 2017 Degustabox
Degustabox is a food subscription box that sends you 10 to 15 full-size surprise products each month at a price less than you would pay at the store for the items. The monthly cost is $19.99 with free shipping, charged on the 19th of each month.
There is no commitment and you can cancel the next month if you notify Degustabox before the 15th of the month.
 Use code MR6H4 to take 50% off your first box! You will pay $9.99 and shipping is free for a box of food worth over $30 – a really great deal!! 
The Homespun Chics received this subscription box for review. All opinions are 100% our own. This post contains affiliate links.
---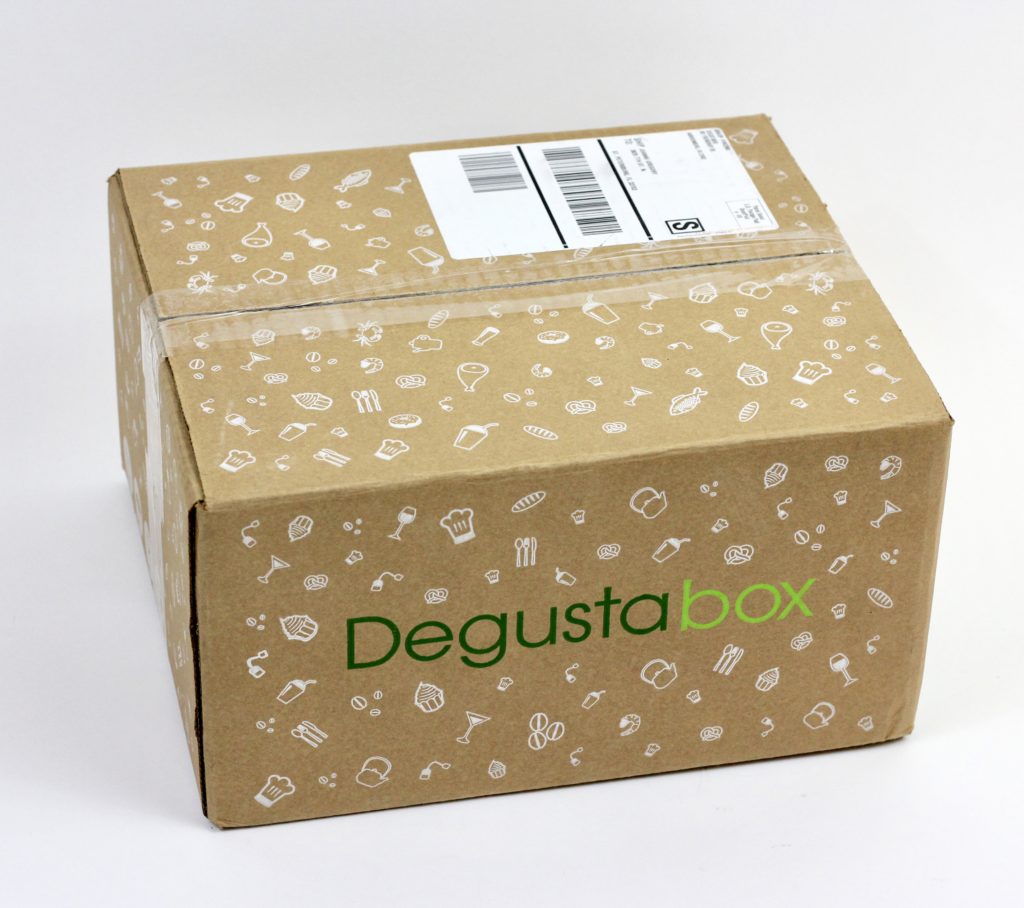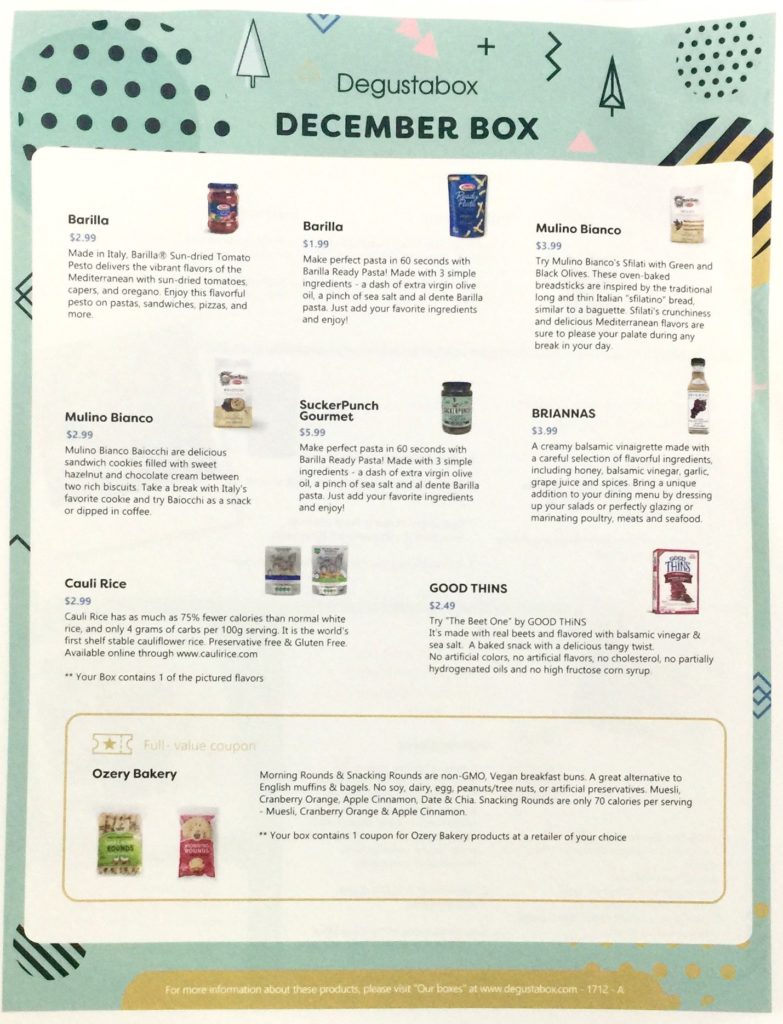 The December 2017 Degustabox information sheet is a full page glossy with photos, descriptions of each product in the box, and includes an accurate price for each item.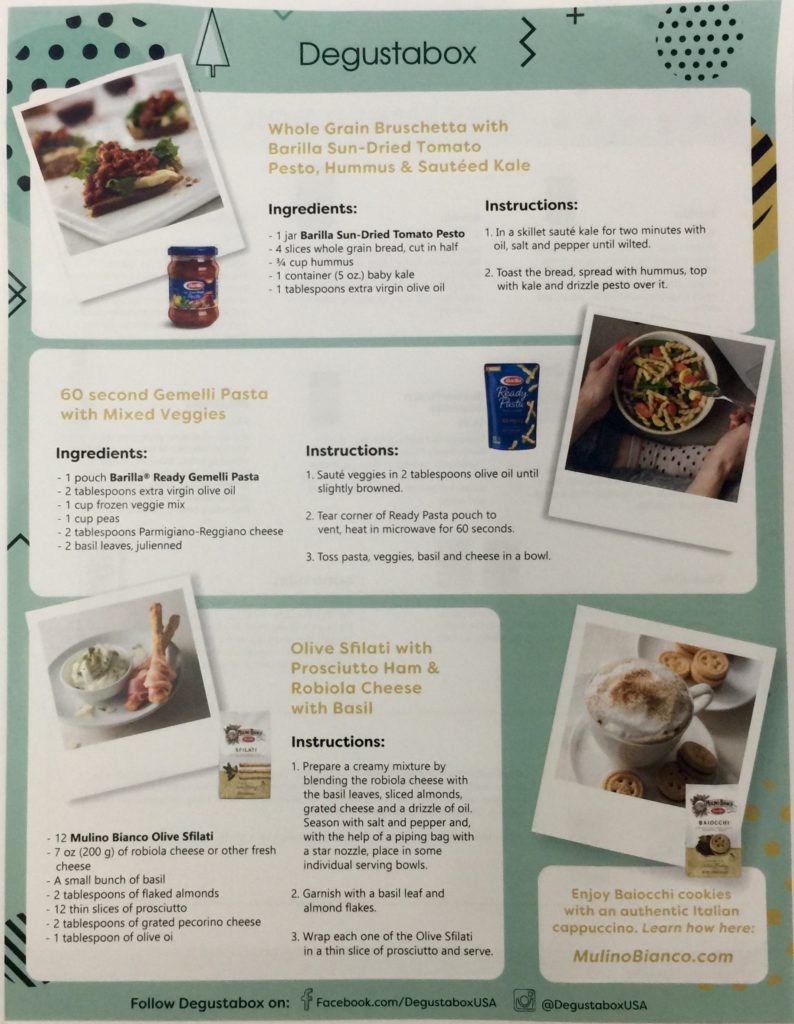 The back side of the product information sheet gives you several recipes using the Barilla products in this month's box.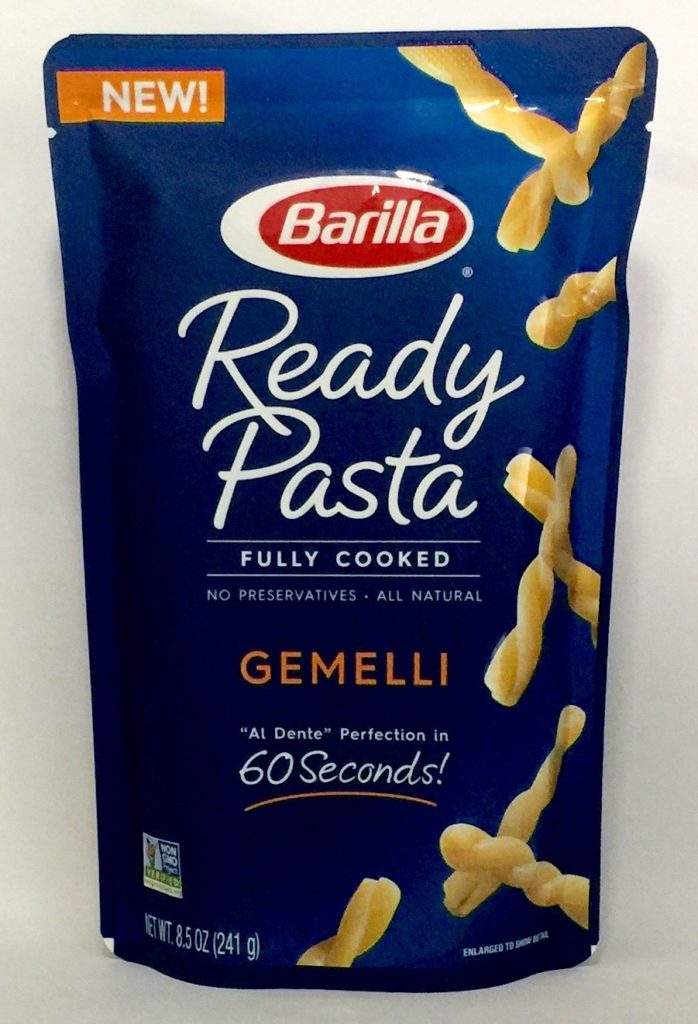 Barilla – Ready Pasta Gemelli 8.5 oz ($1.99)
This is fully cooked pasta that heats up in your microwave in its own pouch and is ready in 60 seconds with 2 one cup servings. The only ingredients are sea salt, extra virgin olive oil, & verified non-GMO gemelli. It contains no preservatives. So convenient and easy that you could just put this in your bag to fix a bowl of pasta for lunch instead of the same-old sandwich.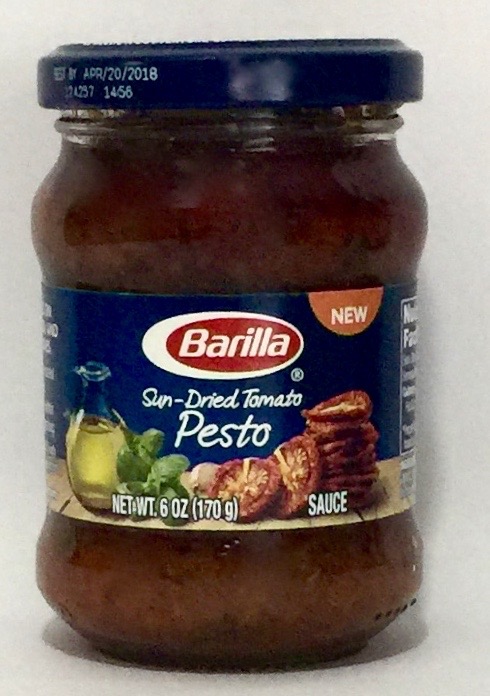 Barilla – Sun-Dried Tomato Pesto 6 oz ($2.99)
This is sun dried tomato pesto made with non-GMO ingredients. The ingredients sound like they just came out of your kitchen – diced tomatoes, sunflower oil, onions, sun-dried tomatoes, basil, salt, garlic, sugar, oregano, and capers. No preservatives. This all around great pesto sauce is delicious on pasta. My son loves it on his sandwiches!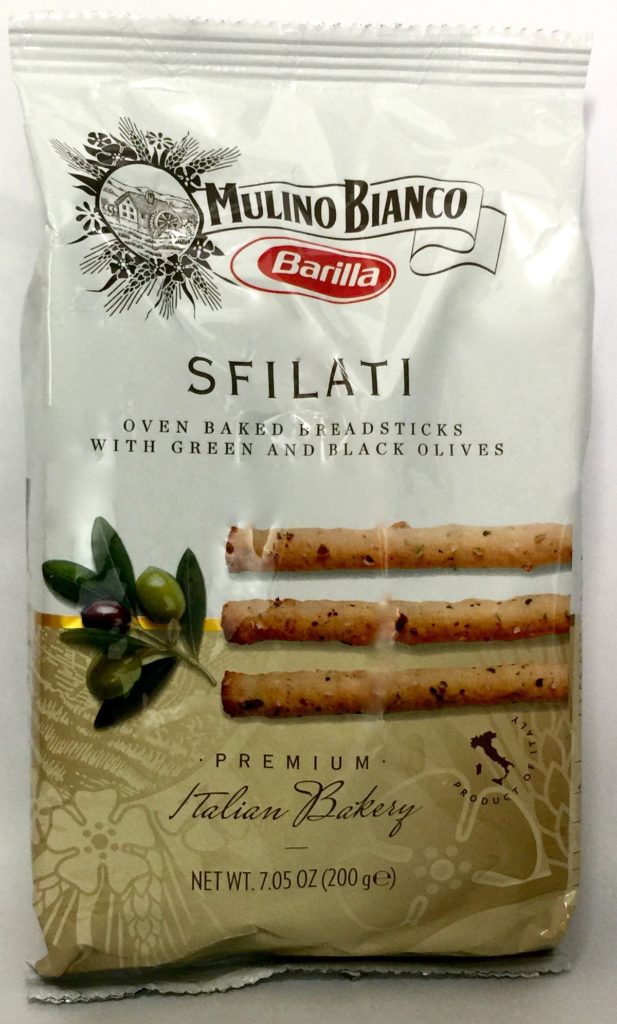 Barilla – Mulino Bianco Sfilati with Green and Black Olives 7.05 oz ($3.99)
These are crunchy oven-baked breadsticks, inspired by the traditional long and thin Italian "sfilatino" bread, similar to a baguette. They also come in a tomato flavor.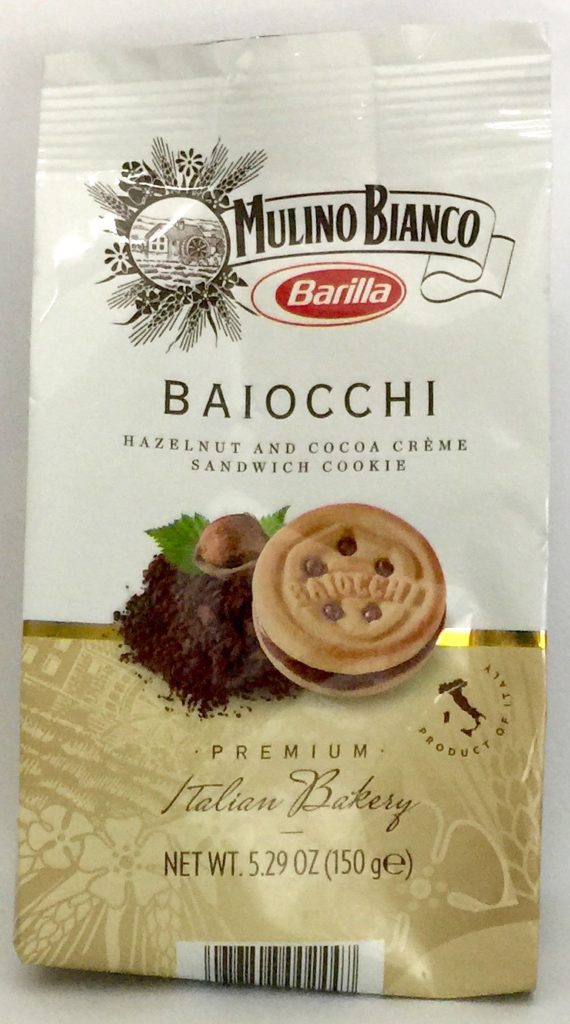 Barilla – Mulino Bianco Baiocchi 5.29 oz ($2.99)
These are hazelnut and cocoa creme sandwich cookies that are traditionally dipped in coffee. They contain no colorants, hydrogenated fats, or artificial sweeteners.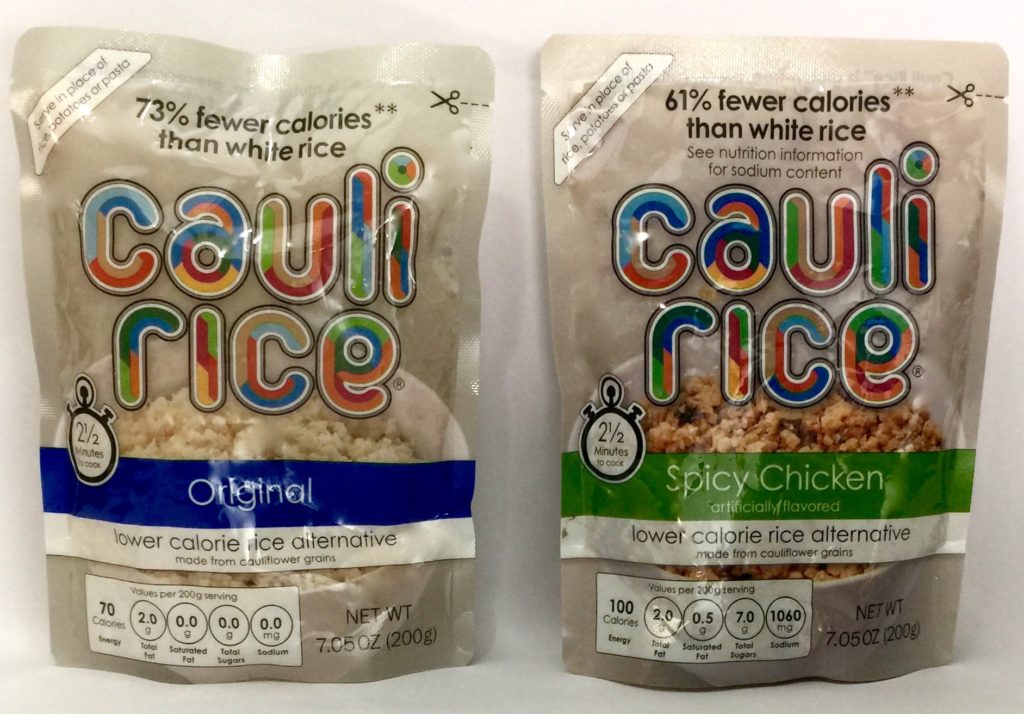 Cauli Rice – (2 bags) Original & Spicy Chicken 7.05 oz each ($2.99 each)
This is a rice alternative made from cauliflower grains with 73% fewer calories than white rice. You can microwave it right in its pouch or dry fry on the stove. Cauli Rice is gluten-free, preservative-free, and comes in a variety of flavors. You will receive one of the two flavors that I received in your December Degustabox.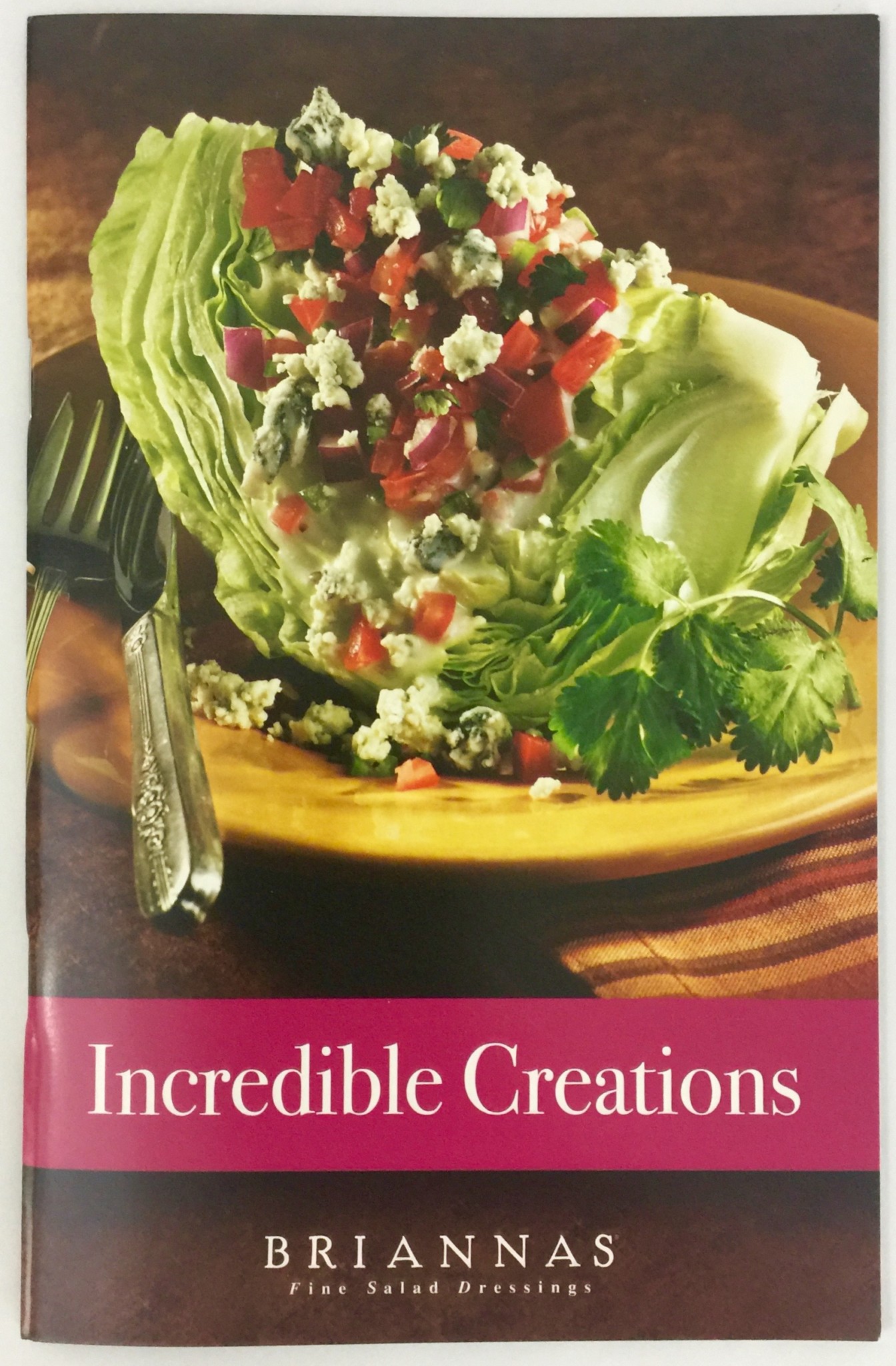 Briannas – Home Style New American Creamy Balsamic Dressing 12 oz (3.99)
I LOVE Briannas dressings! They are so tasty, come in so many different flavors, and can be used in so many different recipes. This one is a tasty Creamy Balsamic dressing made with all natural ingredients including premium balsamic vinegar, honey, garlic, grape juice and spices.
To go along with the Briannas Creamy Balsamic Dressing, Degustabox has included a Briannas "Incredible Creations" recipe booklet that is filled with lots of great sounding recipes. And on the first page is the Baja Shrimp Tacos recipe that I made last summer with Briannas Creamy Cilantro Lime Dressing! You can find the recipe and photos HERE. It was so easy and just delicious!!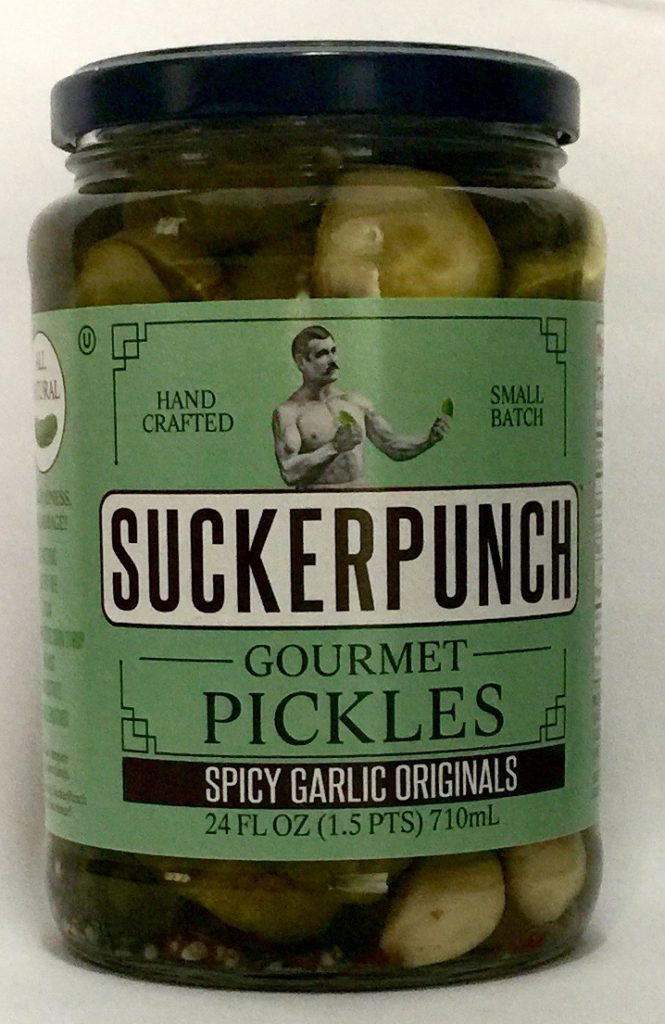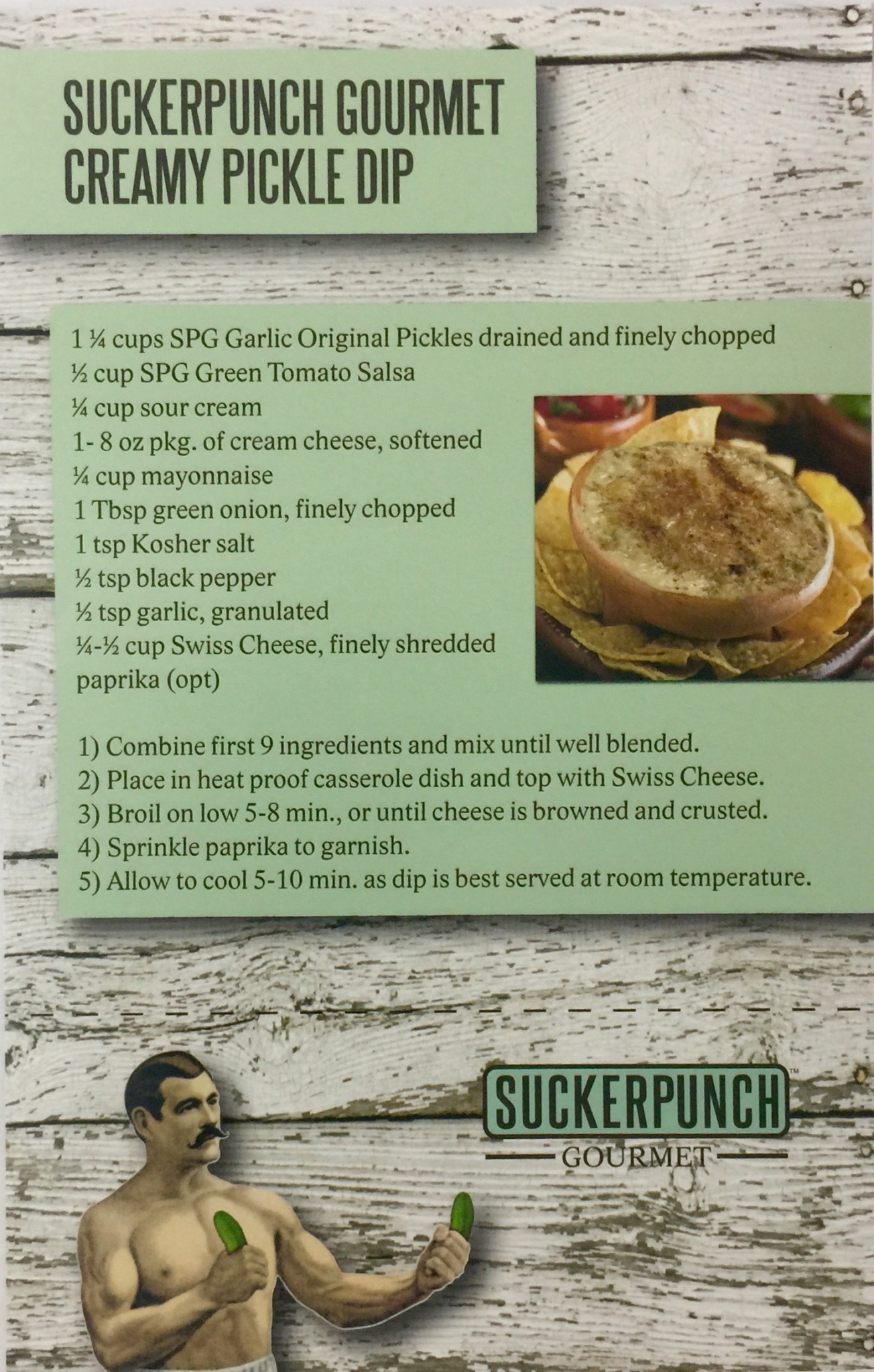 SuckerPunch – Gourmet Pickles Spicy Garlic Originals 24 oz (5.99)
These are hand crafted, small batch, all natural dill pickles made with a signature blend of 15 spices. Their motto is "All Goodness No Garbage!" and they contain no high-fructose corn syrup, no additives or preservative, are gluten-free and vegan. We have a coupon for $2 off your next purchase and, on the flip side of the card, a recipe for dip using your pickles!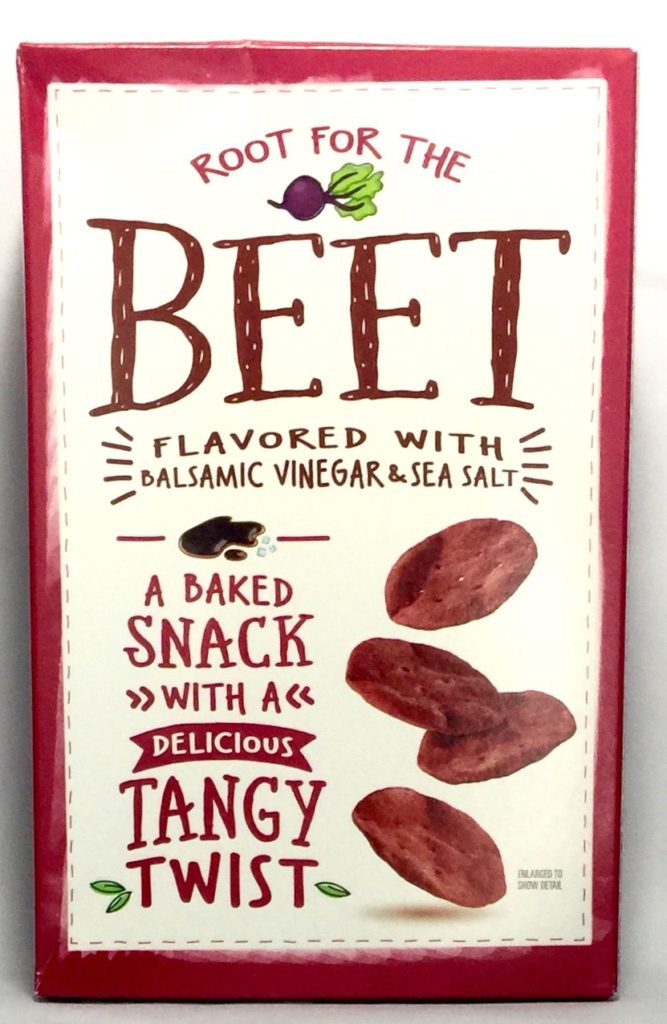 Nabisco – Good Thins The Beet One Snack Crackers 3.75 oz ($2.49)
These are potato, beet, and wheat snack crackers flavored with balsamic vinegar and sea salt, made with real beets and contain no artificial colors, flavors, cholesterol, partially hydrogenated oils, or high fructose corn syrup.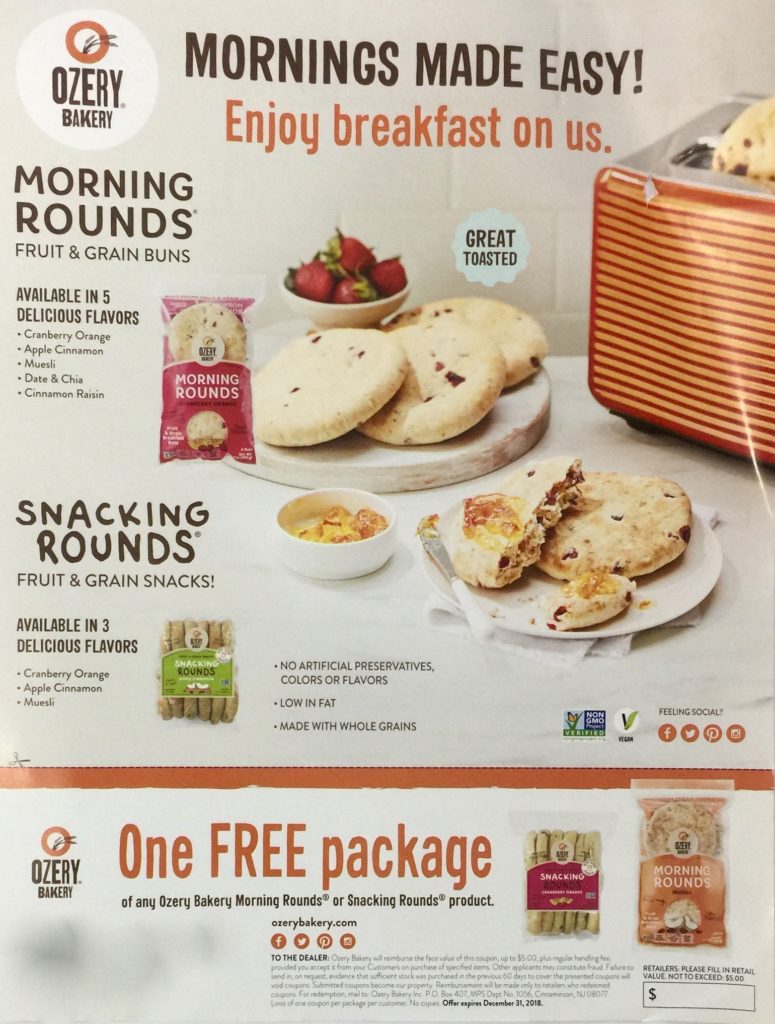 Ozery Bakery – Coupon for One Free Package ($5.00)
Ozery Bakery makes Morning Rounds & Snacking Rounds that are non-GMO and vegan and come in a variety of different flavors. Degustabox has included a coupon for one full size package of your choice of Ozery product.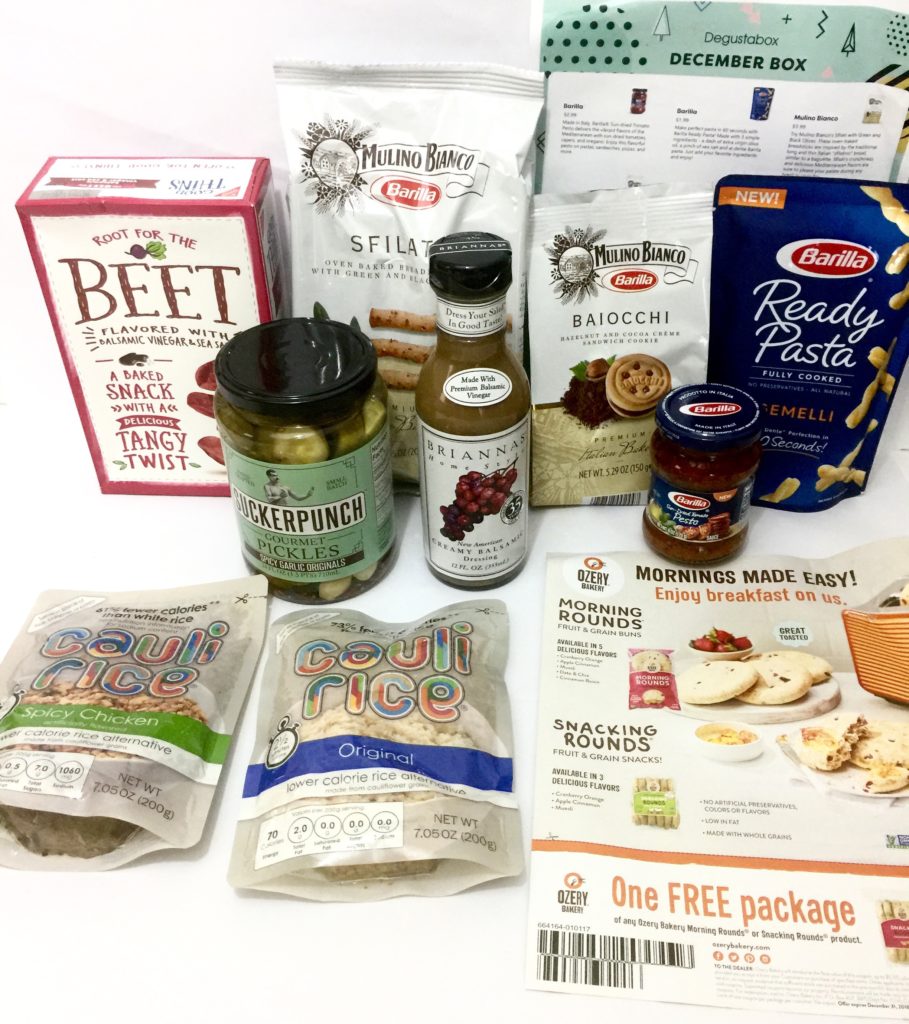 The retail value of the grocery products in the December 2017 Degustabox came to $32.42. Everything in the box, with the possible exception of the Cauli Rice (my hubby hates cauliflower), will be enjoyed by all of us this month. I love trying out new foods and new flavors of old favorites so Degustabox is one of my favorite subscription boxes! And you can't beat the price anywhere!
You can check out the Degustabox website and explore past boxes to get a feel for what you can expect. With no commitment and the value so much higher than the cost, Degustabox is really a sweet deal! Use code MR6H4 to get your first box for $9.99!