December 2017 CrazyCatLadyBox Review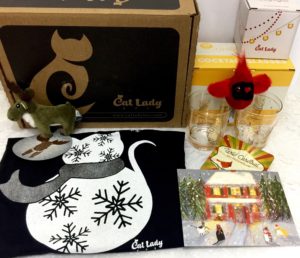 CatLadyBox is the first-ever monthly subscription box "purrfectly curated just for cat ladies"! Each box contains 2-3 unique cat-themed items for the modern day cat lady (jewelry, clothing, tchotchkes, art, home décor, and more) and if you upgrade to the CRAZY CatLadyBox, your felines will also receive 2 or more delightful gifts to tickle their whiskers.
CatLadyBox donates 5% of all profits to a different cat rescue organization each month plus supports independent artists and small businesses with their box contents.
The cost of the subscriptions: (the value will always be much more than what you paid)
The regular CatLadyBox – $34.99/month
The CRAZY CatLadyBox – $39.99/month
With all of them, you can sign up month-to-month or with a 3-month or 6-month plan where you prepay for that many boxes at a time. "The more you pay for ahead of time, the cheaper per box! The regular CatLadyBox can go as low as $31.33/month and the CRAZY CatLadyBox can be as low as $36/month." You can cancel any time or just skip a subscription period if you want.
The Homespun Chics received this subscription box for review. All opinions are 100% our own.
---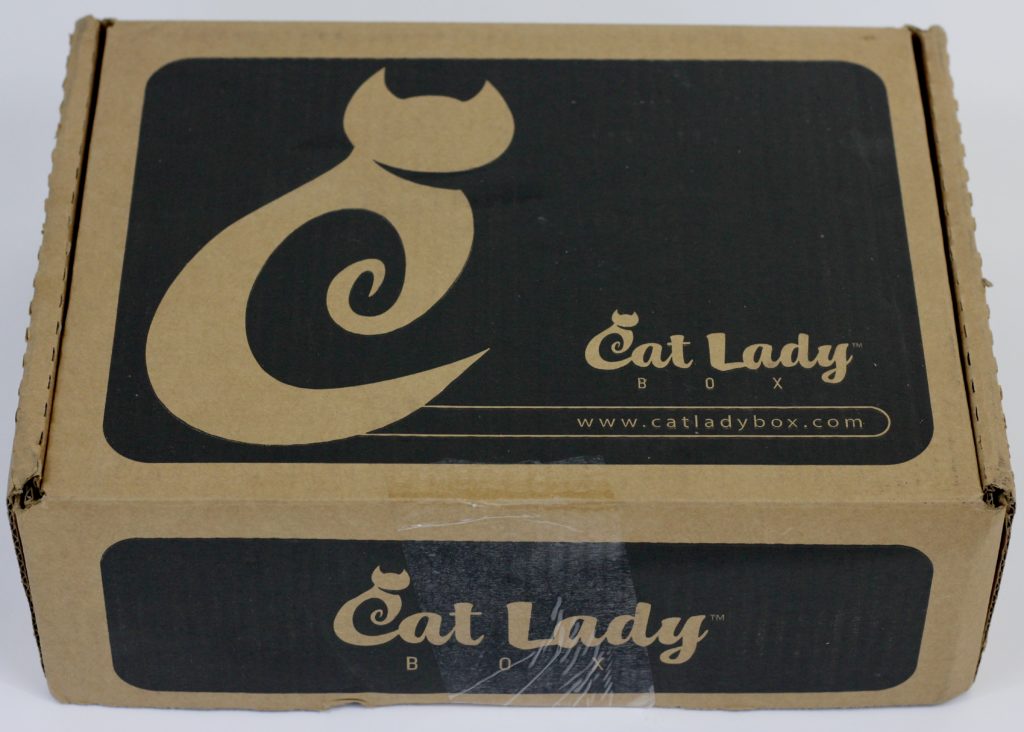 Theme: Meowy Holidays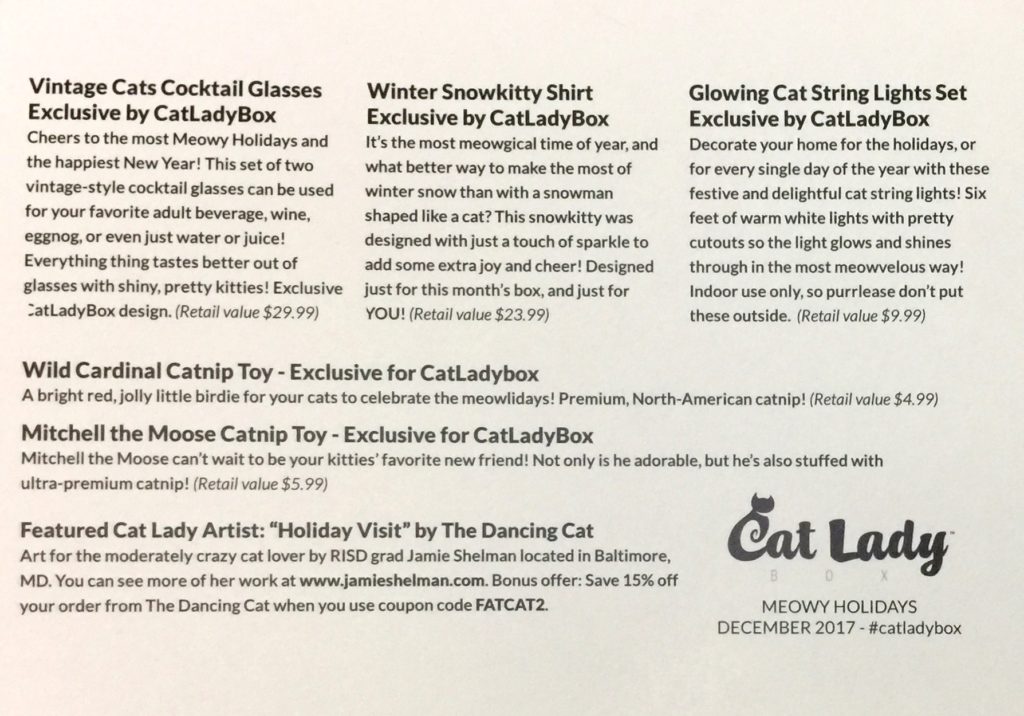 The product information card details everything in the box, including retail values. Everything curated for this month's theme was exclusive for CatLadyBox.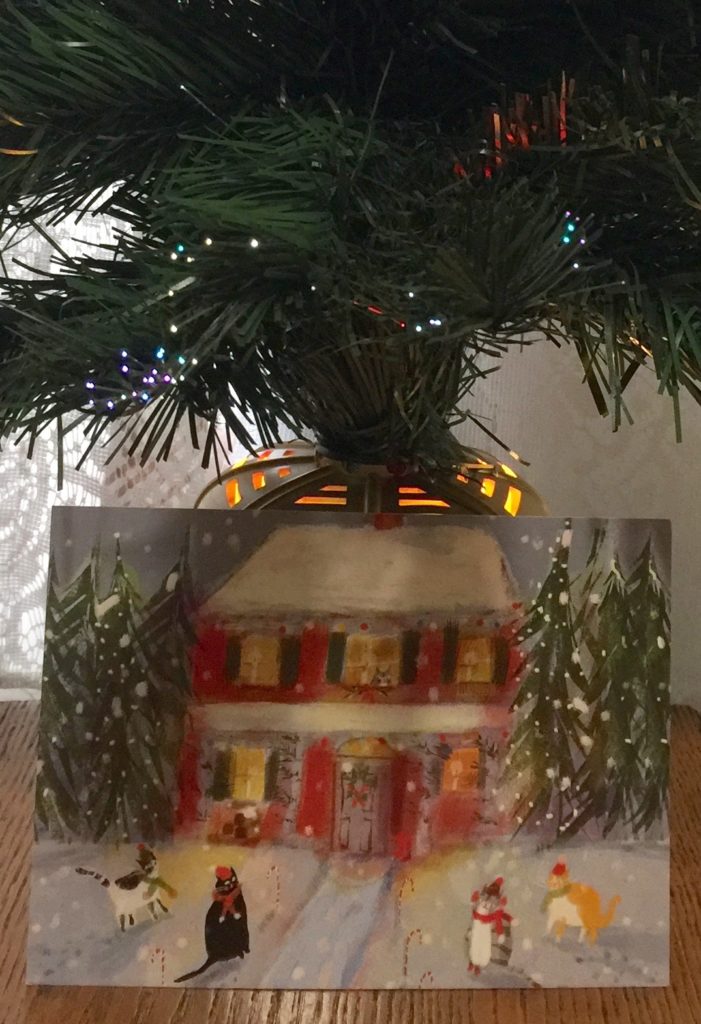 "Holiday Visit"
This month's featured cat lady artist is Jamie Shelman. Find her work at her website "The Dancing Cat" at www.jamieshelman.com, where she has cards, prints, tee shirts, calendars, and lots more. While you are visiting you can save 15% off your order with coupon code FATCAT2.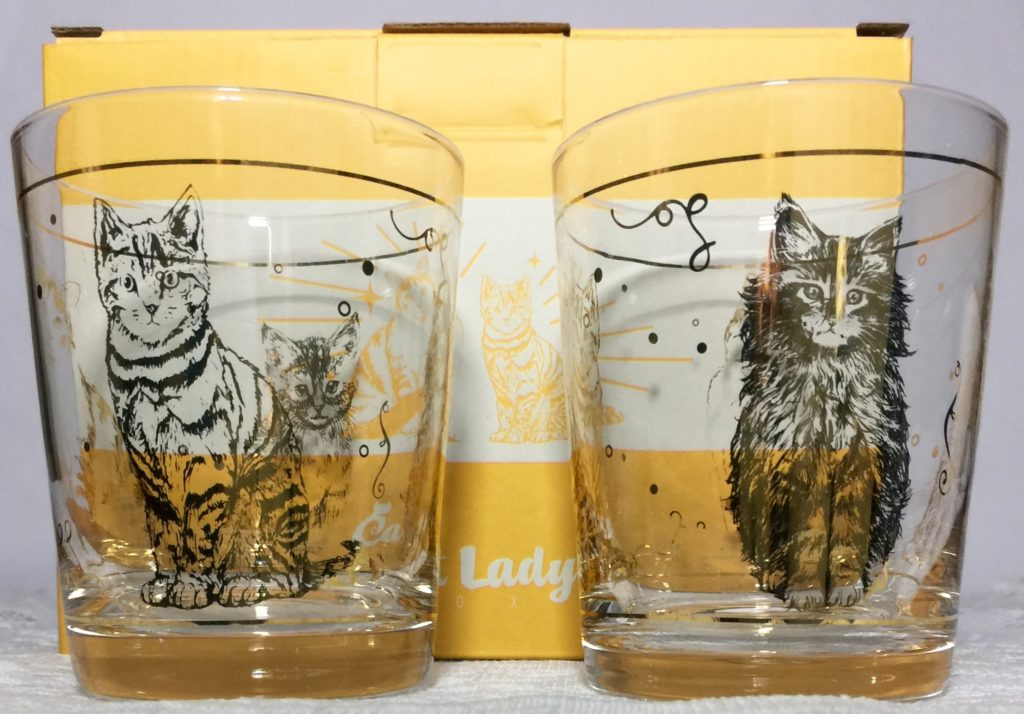 Vintage Cats Cocktail Glasses ($29.99)
Your holiday table won't be complete without this gorgeous set of 2 vintage style cocktail glasses with their shiny kitties all the way around! I took the photo at an angle so you could see the design but each of these classy cats are shiny gilt gold. Hand wash only so the gilt stays in place. LOVE these! And you can use them all year long as they don't have holiday designs, just beautiful kitties!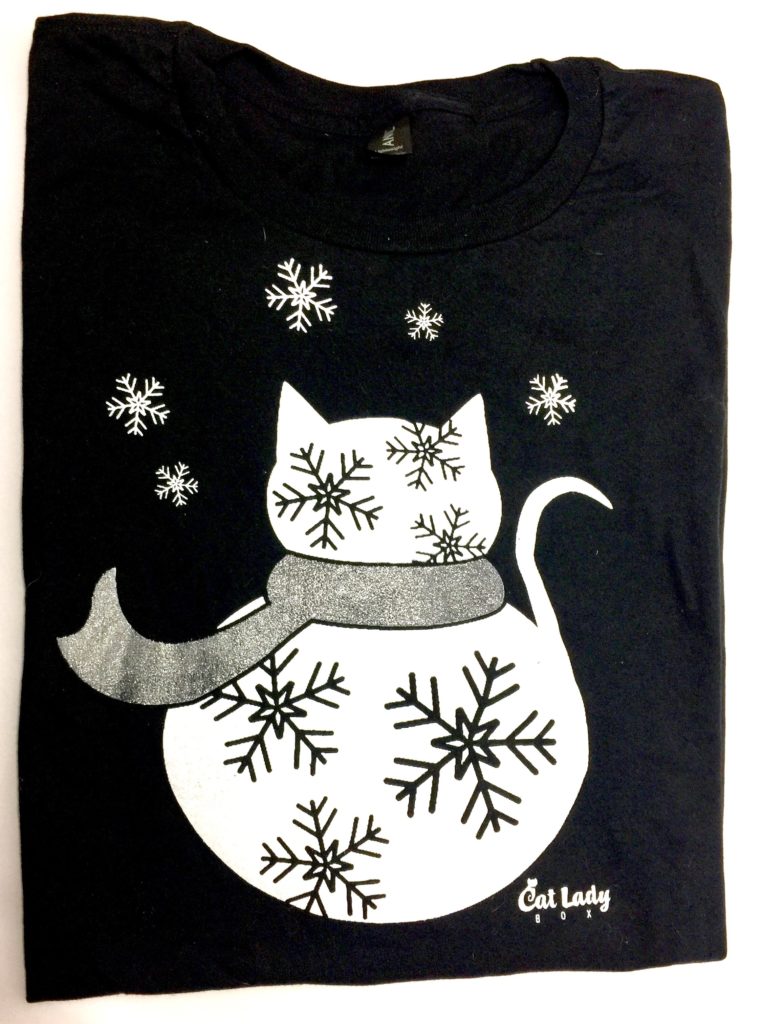 Winter Snowkitty Shirt ($23.99)
This is a 100% soft cotton short sleeve tee shirt with a great winter kitty design of a white cat with snowflakes and wearing a glittery silver scarf. It's a bit cold and snowy to wear it here today, but this shirt will definitely be with me next month as we travel down to FL. Cat Lady I am and I'll wear it proudly!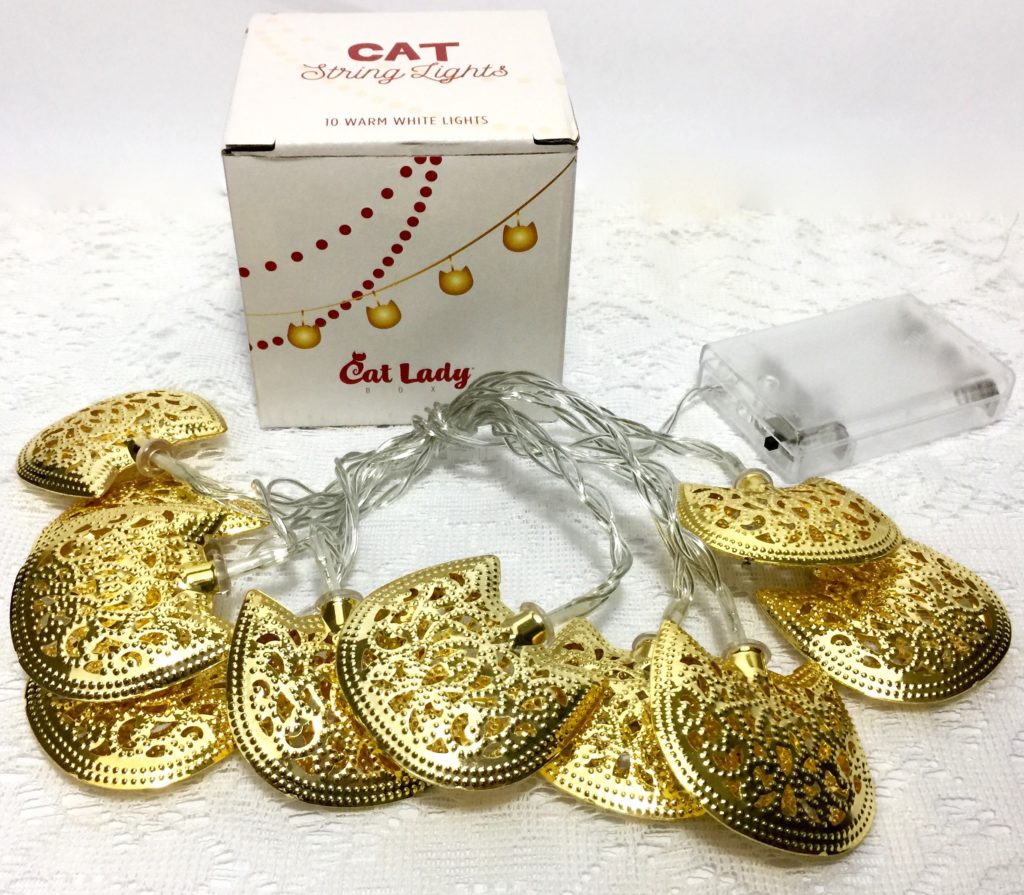 Glowing Cat String Lights Set ($9.99)
This is a shiny gold set of 10 cat-shaped warm white lights. The set is for indoor use only and measures approx. 6 feet long. It runs on batteries so you can hang the set anywhere.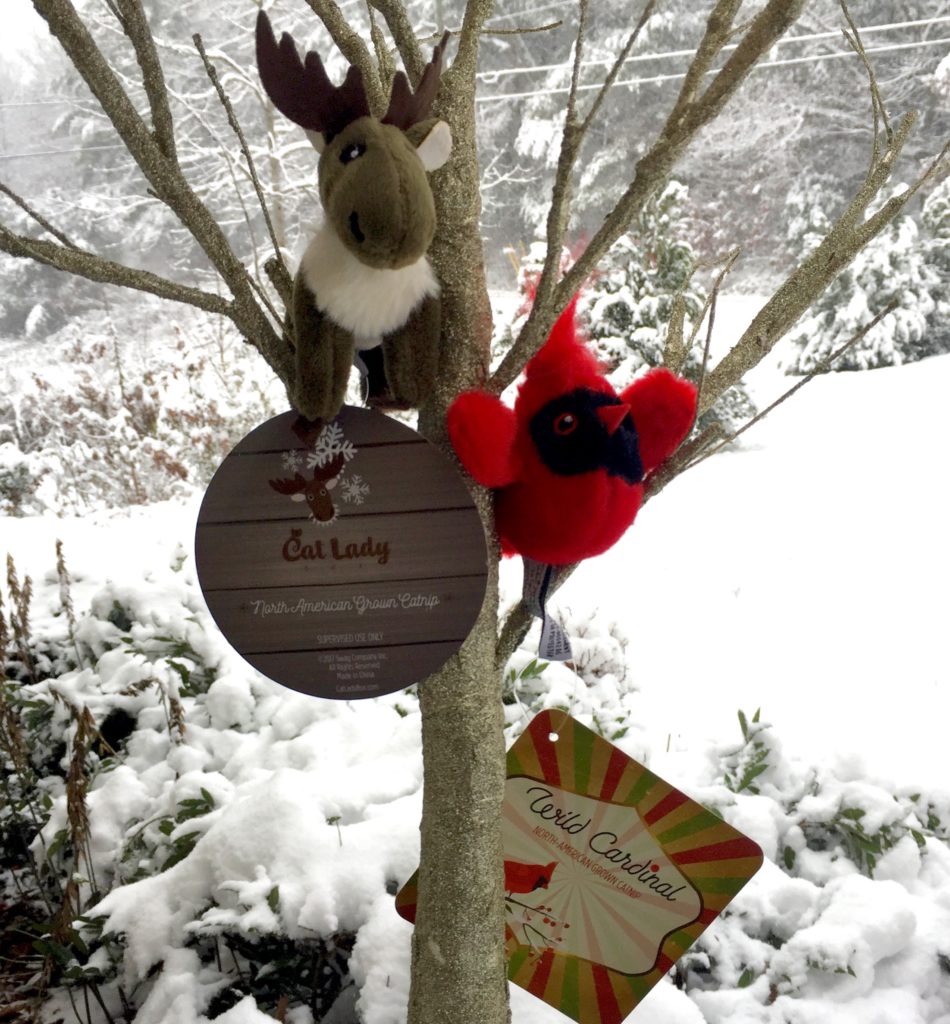 Wild Cardinal Catnip Toy ($4.99)
This sweet fuzzy red winter cardinal is filled with premium North American catnip. He would look great on your tree but I'm not sure the kitties would leave him there!
Mitchell the Moose Catnip Toy ($5.99)
Same for Mitchell the Moose! I love both of these kitty toys!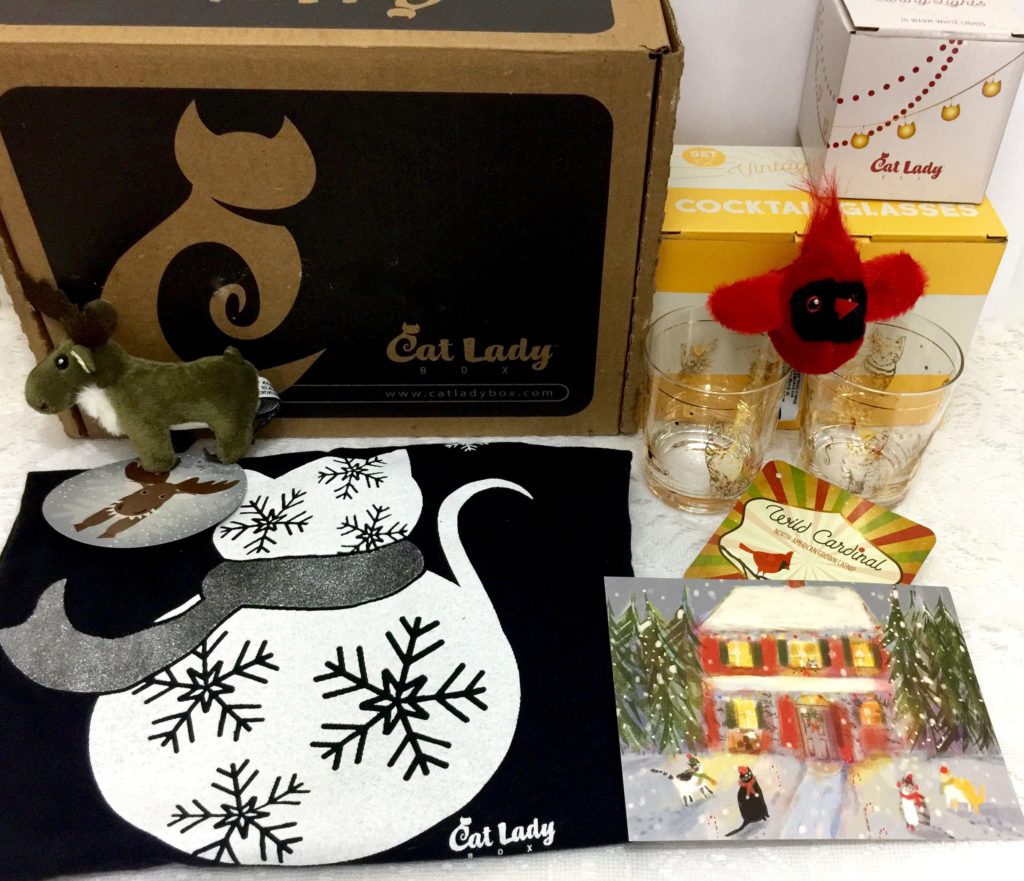 The retail value of the products in the December 2017 CrazyCatLadyBox came to $74.95. This was truly a delightful holiday box and I am just enthralled with each item that was designed and chosen! It would make a great gift for any cat lady, too!
Best wishes for a very happy Holiday Season from The Homespun Chics!