December 2016 My Texas Market Box Review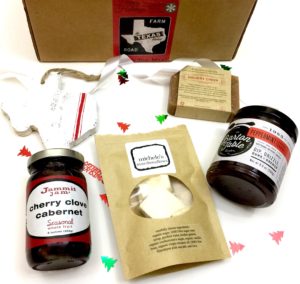 My Texas Market is a monthly subscription box that sends you 4-6 carefully selected products from Texas farmers' markets and local businesses. The small-batch artisan items fit a monthly theme and could be anything from foods, snacks, teas, candles, beauty products, crafts or any other thing you might find in a Texas farmers' market.
Their purpose is to expose customers to new products and companies while supporting local artisan businesses. Subscription costs are:
1 month – $35
3 months – $100
6 months – $195
Subscription prices do not include shipping or any applicable taxes. They do promise that the value of each box will be at least $35 -$40 but to not expect that they will send a hugely underpriced box of items. You can cancel at any time or just skip a month if you wish. And if you want to purchase more of something or add to your box, they have an online market with lots of things to choose from. And 10% of all profits are donated to the Houston Food Bank!
The Homespun Chics received this box for review purposes. All opinions are 100% our own. 
---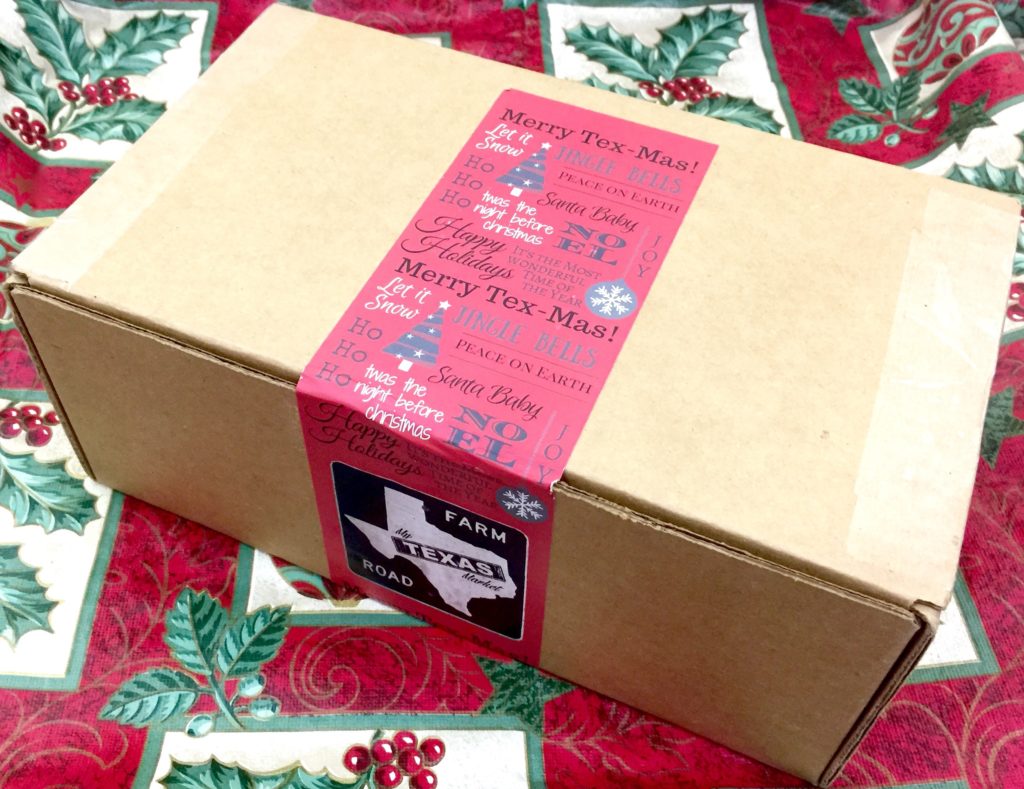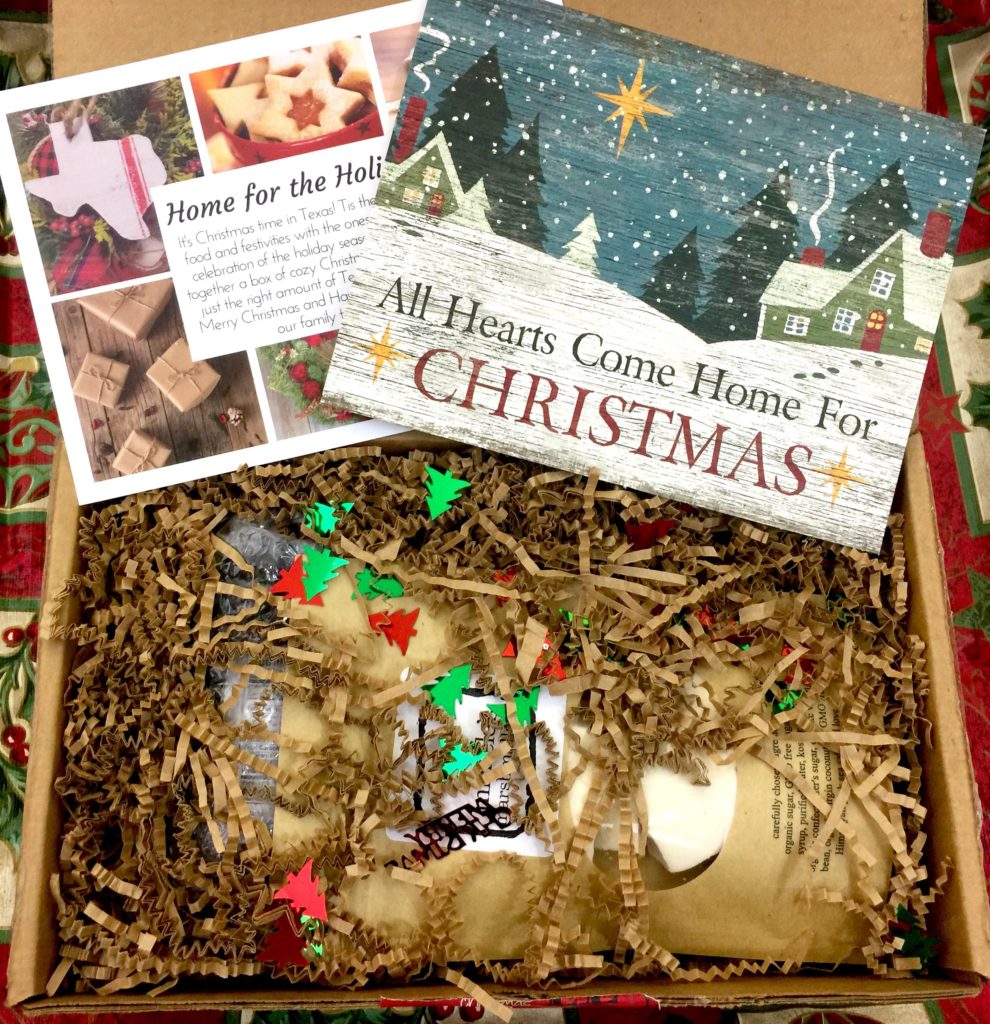 First peek – very festive and well packed! Everything arrived safely!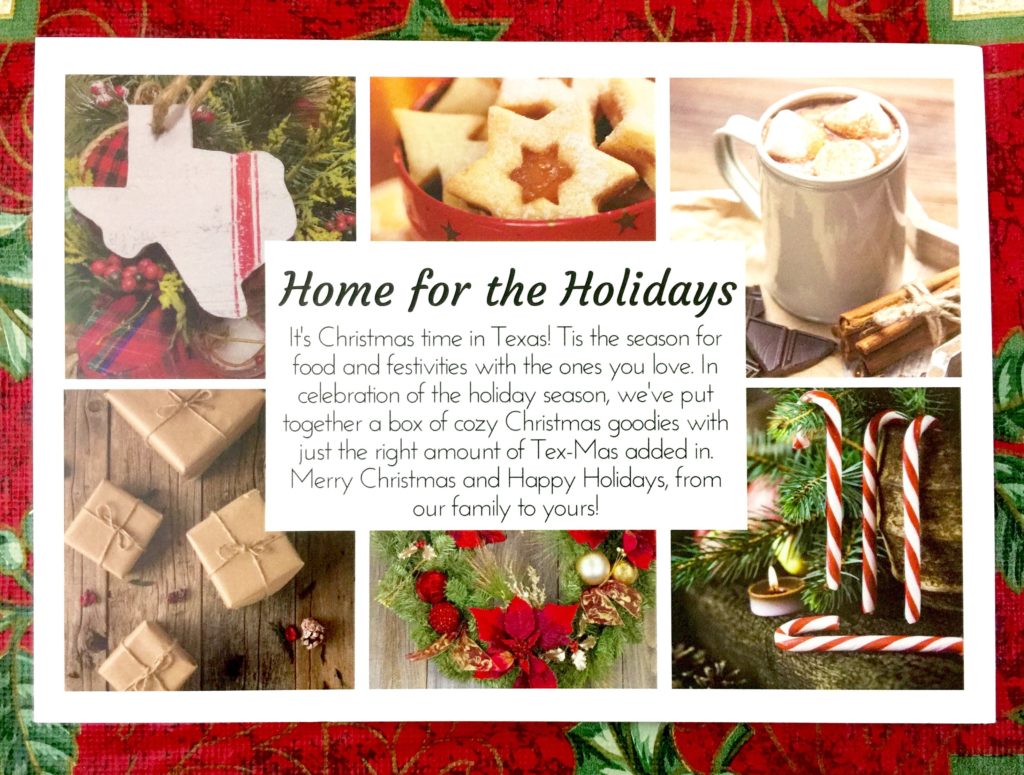 The theme of the December 2016 My Texas Market box is Home for the Holidays.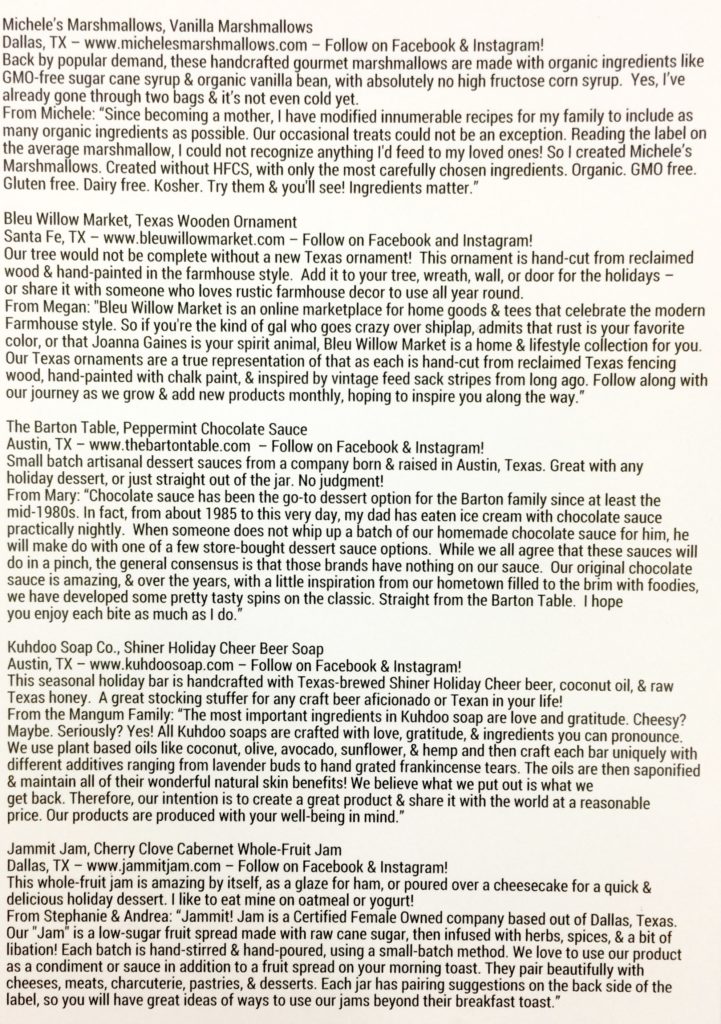 My Texas Market always sends a great product information card. They provide helpful information on each product and you can learn about the local Texas companies that produce each one.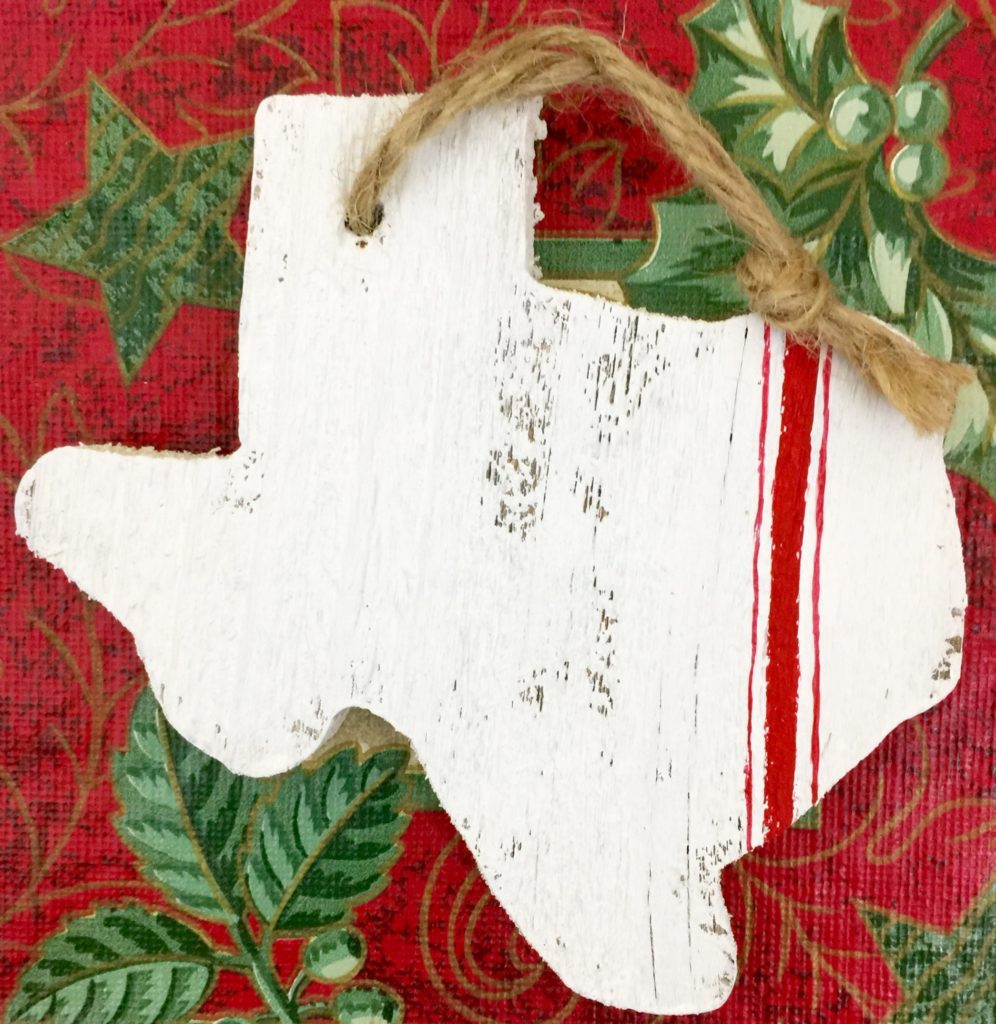 Bleu Willow Market – Texas Wooden Ornament
This is a lightweight wooden ornament in the shape of the Great State of Texas made from reclaimed wood and hand-painted in a rustic farmhouse style. You can hang it on your tree or anywhere in your house year-round. We have our last year's Texas ornament hanging on our refrigerator and this one will hang right next to it!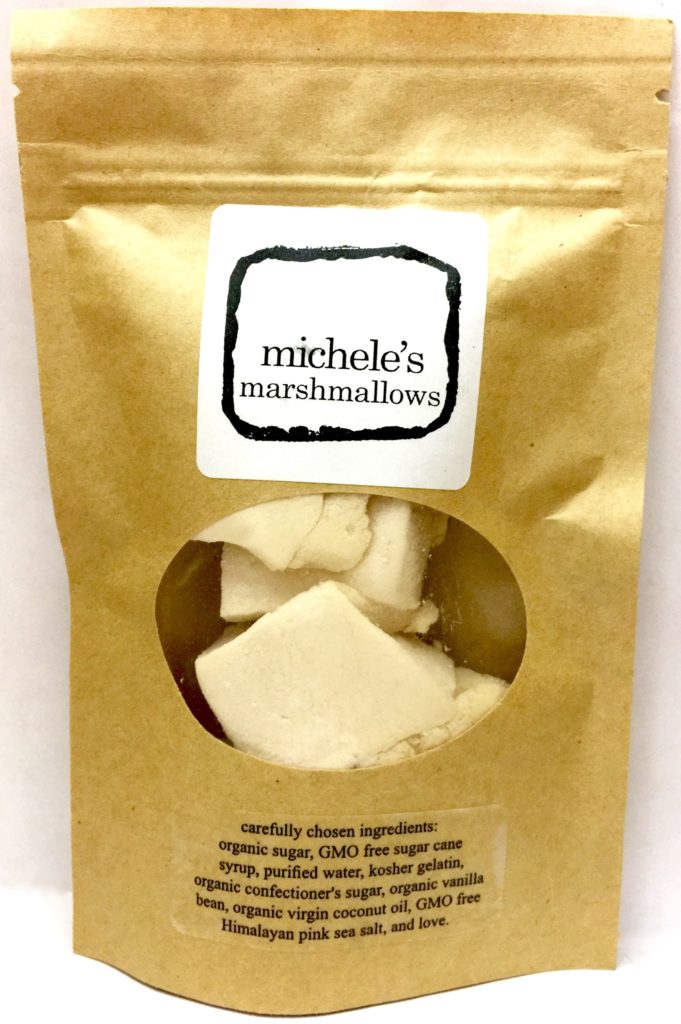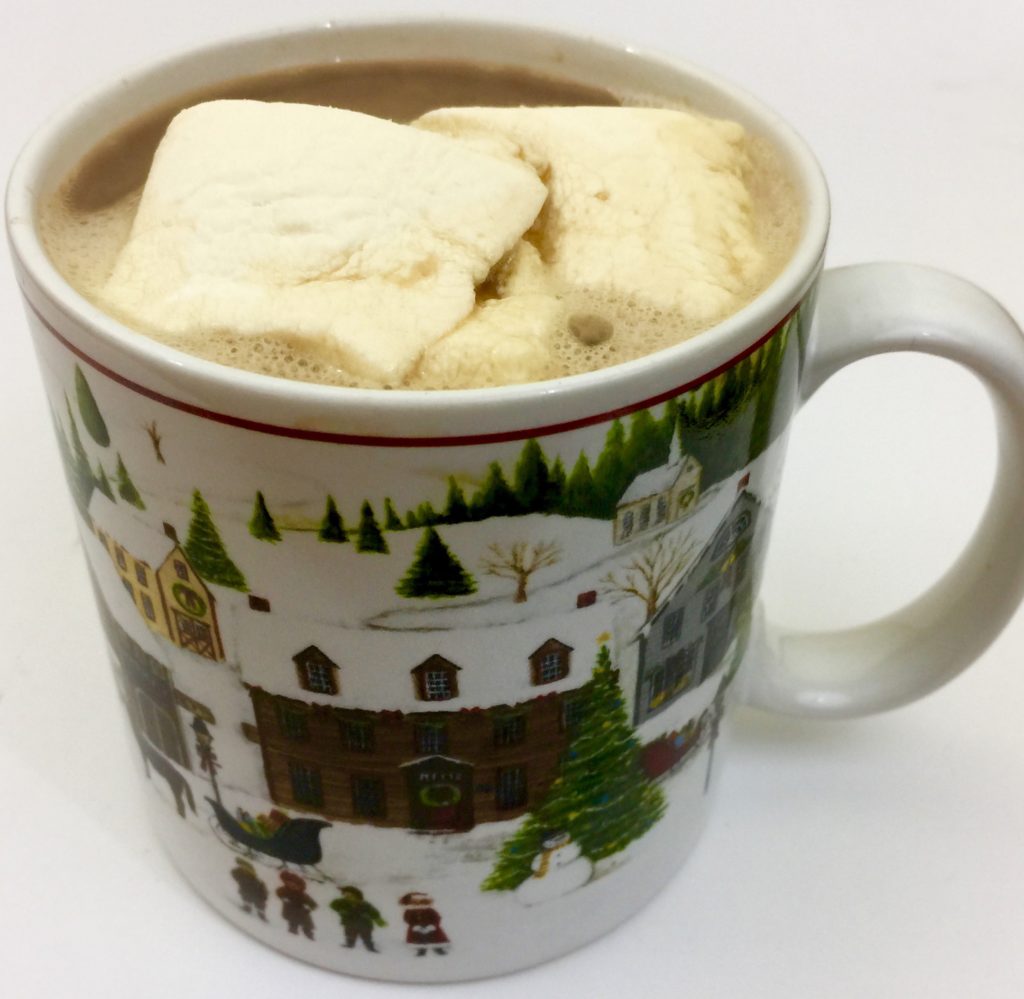 Michele's Marshmallows – Vanilla Marshmallows ($8)
We received the peppermint flavor of these in last December's box and the vanilla flavor is just as sweet and tasty! Perfect on top of my hot chocolate and just as perfect as a stand-alone treat. These are hand-crafted, organic, gourmet marshmallows made with organic ingredients and NO corn syrup by a mom who wanted the best for her family.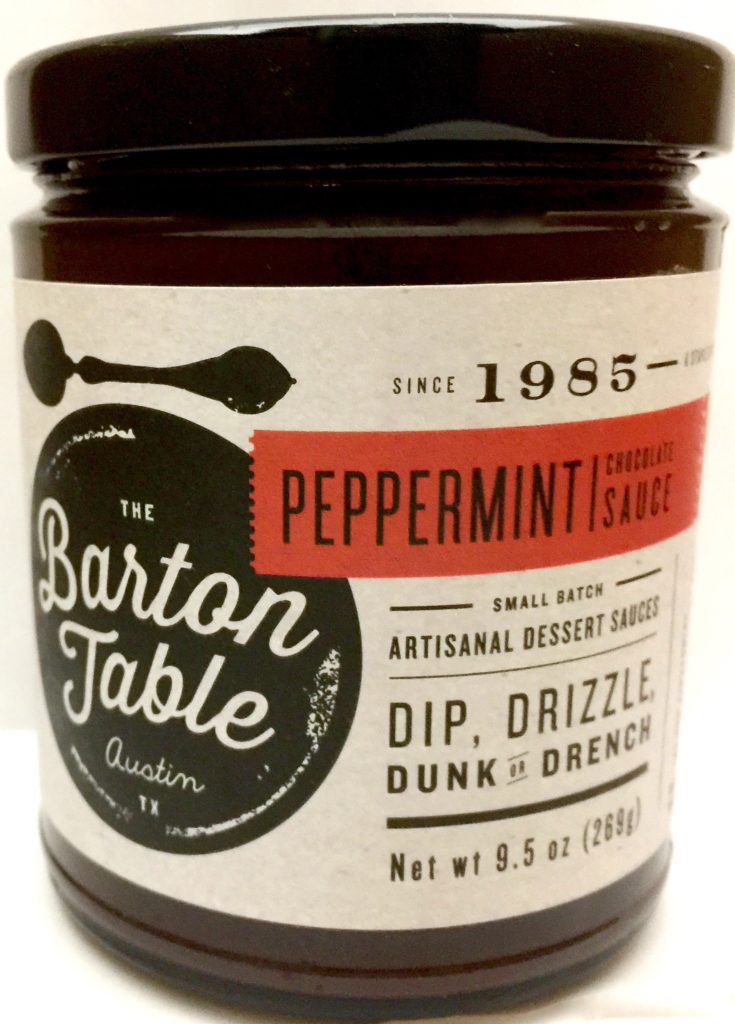 The Barton Table – Peppermint Chocolate Sauce 9.5 oz ($9.99)
Small batch made in Austin (the coolest city there ever was!) from heavy cream, sugar, chocolate, butter, salt, and peppermint oil. I'm not sure I'm worthy to eat this but I'll do my best!
"Let our peppermint chocolate sauce take you back to your second grade holiday party. Remember that giant sugar cookie that you slathered with chocolate icing and peppermint sprinkles? It's like your perfect cookie went to grad school."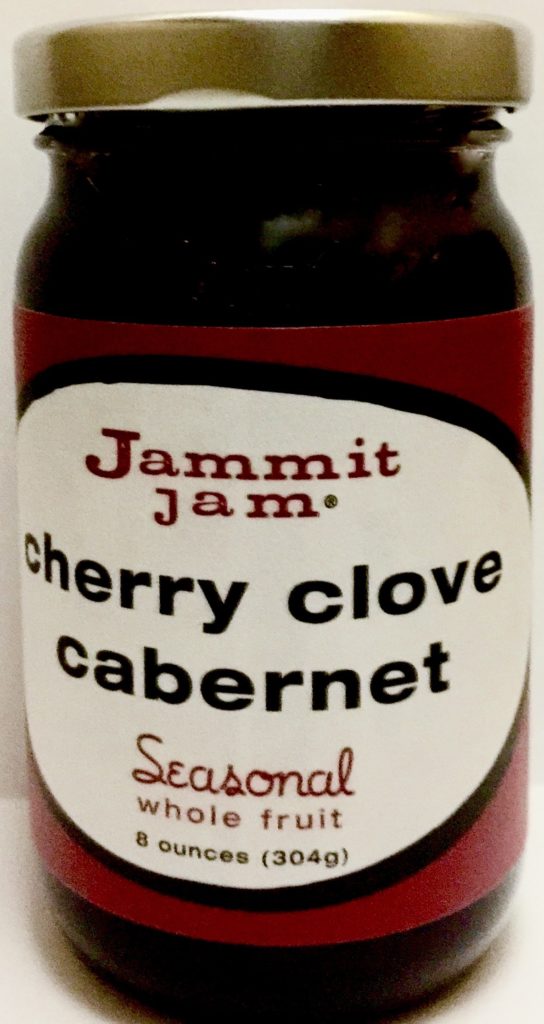 Jammit Jam – Cherry Clove Cabernet Whole-Fruit Jam 8 oz ($8)
This is a delicious whole fruit jam spread made with cherries, pure cane sugar, cloves and a touch of Cabernet. Delicious over crepes, paired with Gouda, used as a sauce for pork or duck, or as a dessert sauce over a store-bought cheesecake.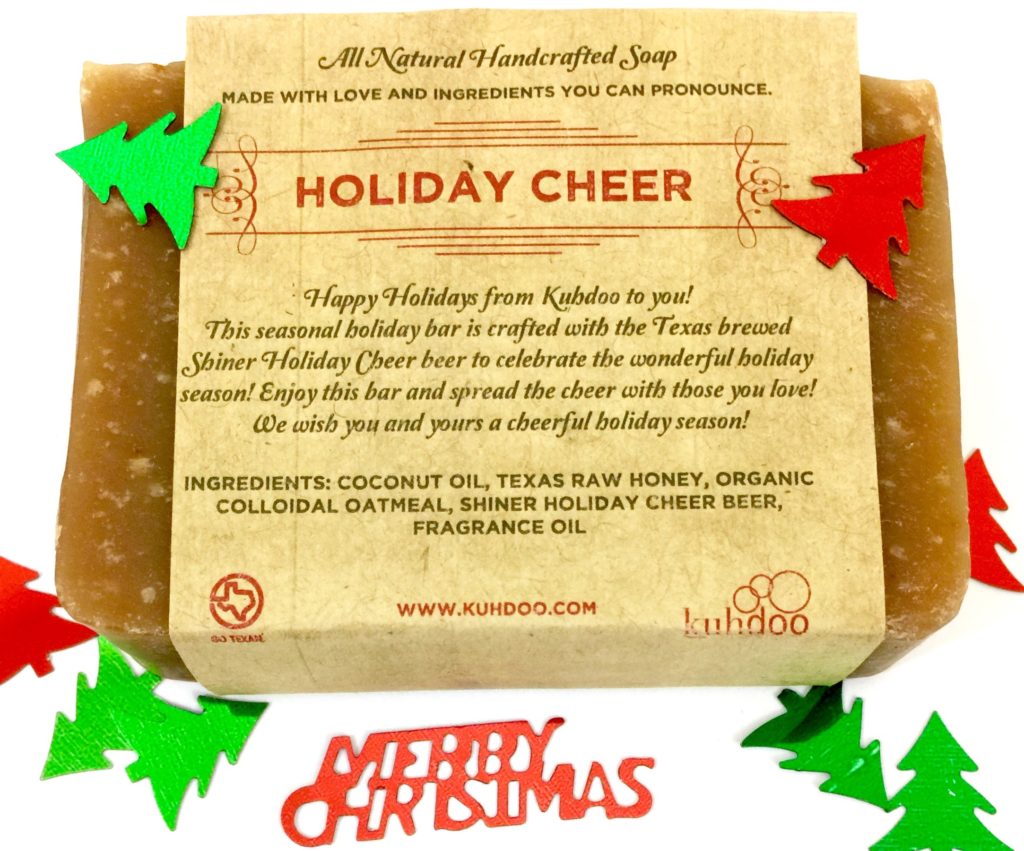 Kuhdoo Soap Co. – Holiday Cheer soap ($6)
A holiday soap made with beer, coconut oil, and raw Texas honey. Made in AUSTIN. How cool is this?? And it smells great!
"All Natural Handcrafted Soap made with love and ingredients you can pronounce…This seasonal holiday bar is crafted with the Texas brewed Shiner Holiday Cheer beer to celebrate the wonderful holiday season."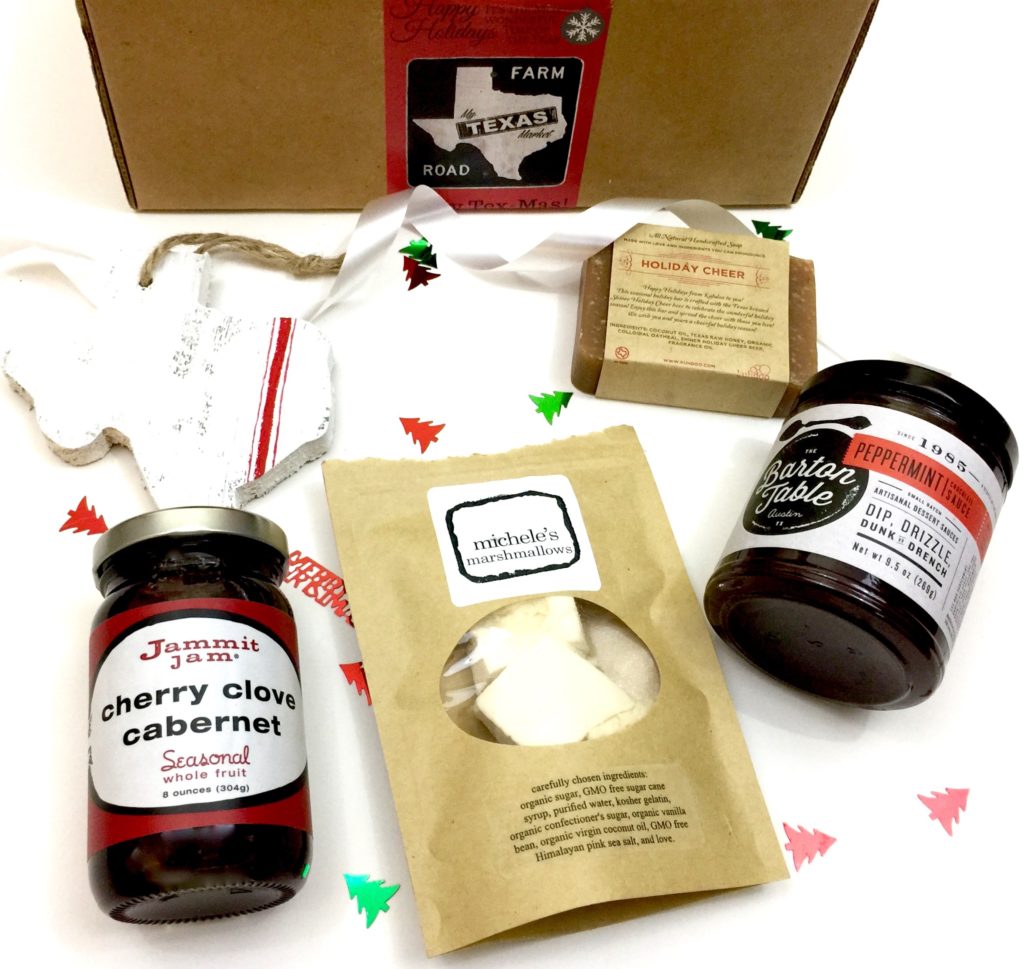 The December 2016 My Texas Market box was like opening a Christmas present! My husband hovered over me and enjoyed each and every item as I unwrapped it and exclaimed about it! I can't come up with a favorite – they are all my favorites – but of course the chocolate has to top the list with the marshmallows right close behind. Another WIN for My Texas Market!
Looking for a last minute Christmas gift? Head over to My Texas Market and take a look at their online shop of things from past boxes. Not sure about those things? Search our website to find our review of each one! You can create your own box with no subscription required, order a gift card so your recipient can create their own box, or purchase a subscription.