Quick & Easy Crock Pot Tandoori Chicken!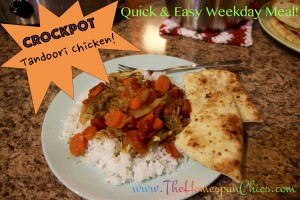 This easy meal is fast becoming a household favorite. We love treating ourselves to the tantalizing scents and tastes of Indian cuisine… not to mention the garlic naan. (Never EVER forget the garlic naan.)
Now that Little G is older and eating "real" food with us, we figured out quickly that most plates offered in authentic Indian restaurants are just too spicy for toddlers (not to mention dining in public with a two-year old is about as fun as getting a root canal). Luckily for us, Jonathan found an amazing recipe for Tandoori Chicken & Vegetables in my Better Homes & Gardens slow cooker recipe book. This meal has all of the flavors we crave while being mild enough for Little G to enjoy it. Bonus points for being budget-friendly and ridiculously easy to prepare ahead of time.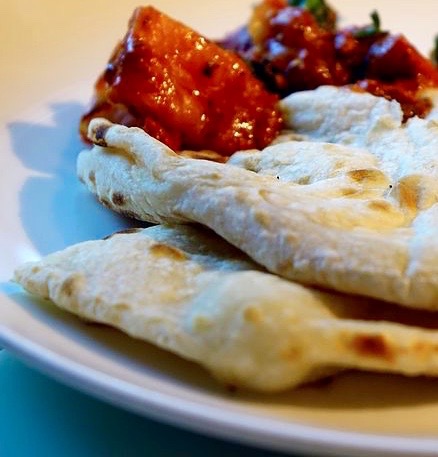 Crock Pot Tandoori Chicken and Vegetables
Prep Time:  20 Minutes
Cook Time:  Low 4 Hours, High 2 Hours
Makes:  4 Servings
Crockpot Size:  4- to 5-quart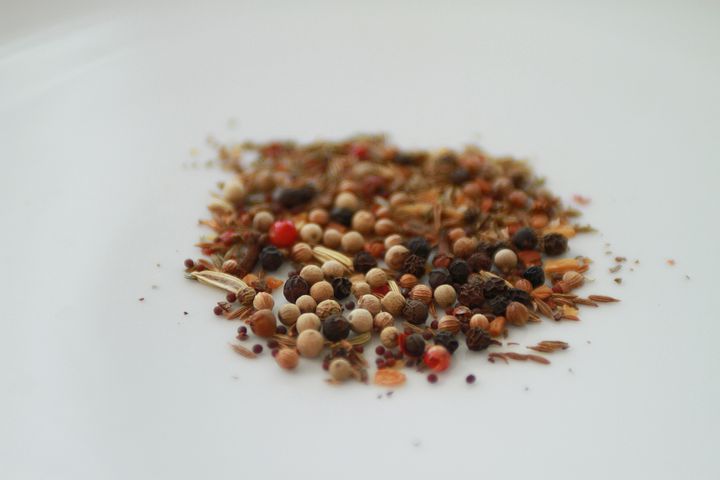 INGREDIENTS
3 to 5 carrots, thinly sliced
2 medium onions, halved and thinly sliced
1 ½ teaspoons garam masala
½ teaspoon garlic salt
¼ teaspoon ground ginger
¼ teaspoon ground turmeric
¼ cup olive oil
2 pounds skinless, boneless chicken breast halves (about 3)
     or 2 ¼ to 2 ½ pounds skinless, boneless chicken thighs
1 14 ½ ounce can diced tomatoes with basil, oregano and garlic, undrained
1 cup uncooked jasmine basmati rice
2 cups water
1 package garlic naan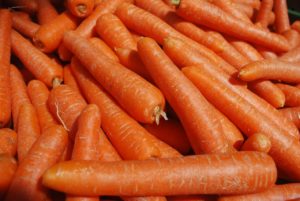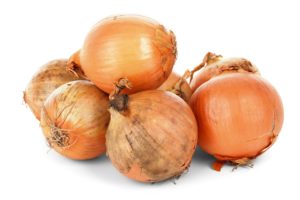 DIRECTIONS
Drizzle olive oil to coat the base of the crock pot. Add in thinly sliced carrots and onions; set aside.
In a small bowl combine garam masala, garlic salt, ginger, and turmeric.
Place chicken on top of vegetables in crock pot. Sprinkle mixture evenly over chicken, rubbing spices into meat to coat full surface. Flip chicken over and repeat. Pour undrained tomatoes over chicken.
Cover crock pot and cook on low-heat setting for 4 to 5 hours or on high-heat setting for 2 to 2 ½ hours.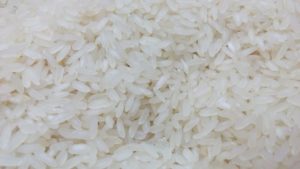 Prepare rice 20-30 minutes prior to serving
Add 2 cups water into medium pot. Stir in 1 cup uncooked rice. Heat on high uncovered until boiling.
Add a pinch of salt, reduce heat to medium high, and cover pot with lid. (Be sure to cover any air vents in lid – we cover the vent by laying a folded dishtowel directly on the lid.)
Cook rice for 20 minutes, remove from heat, uncover and fluff with fork.

Heat garlic naan 5 minutes prior to serving
Preheat oven to 425 degrees F
Place garlic naan on baking sheet and bake for 3 to 5 minutes. (Place directly on oven rack for slightly crisper naan.)
Remove from oven and cut naan into individual portions.
—
SERVE chicken and vegetables with hot jasmine basmati rice. Spoon cooking liquid over chicken and rice to moisten. Grab a slice (or two, or three) of garlic naan and ENJOY!
xo
Sarah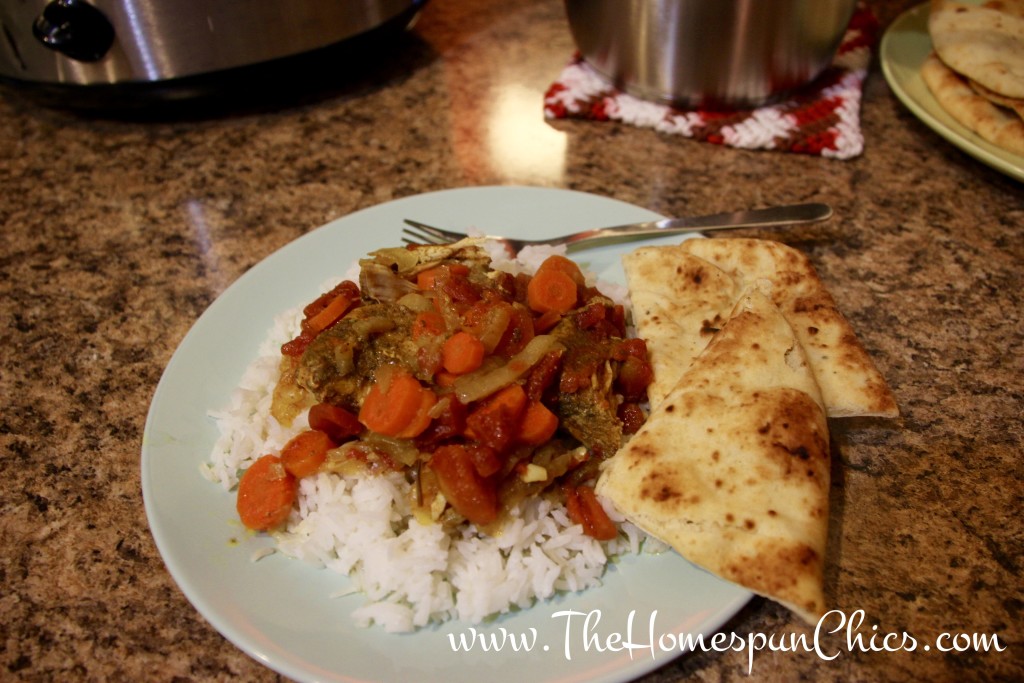 Have you tried this meal yet? Tell us what you think!