Cream Cheese and Mushroom Enchiladas Recipe
Cream Cheese and Mushroom Enchiladas
All families have favorite recipes and this is one of ours. I have been fixing this dish occasionally since my kids were young and I really can't remember where it came from. But when you mention to your adult children that you are preparing cream cheese and mushroom enchiladas for dinner tonight and the response from all of them in separate phone conversations is "OH YUM!" – you know it was a good choice!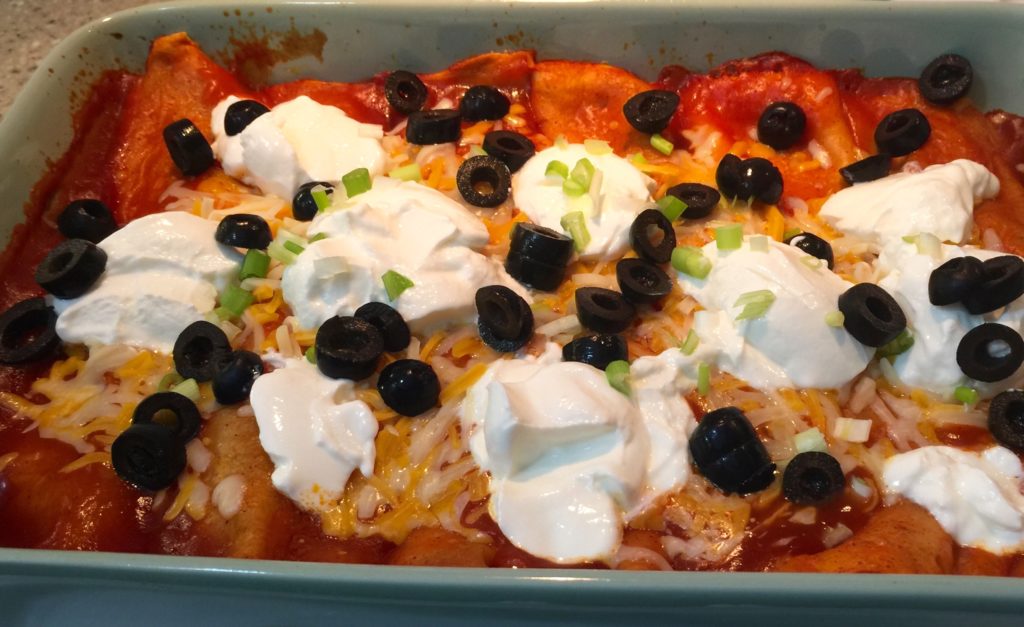 Ingredients:
12 oz fresh mushrooms, diced
2 tsp chili powder
2 tbsp butter
8 oz cream cheese
3/4 cup green onions, thinly sliced
1 cup sour cream
7-8 flour tortillas
19 oz can red enchilada sauce
3/4 cup shredded Mexican cheese blend or Monterey Jack cheese
Directions:
In large saucepan or frying pan, cook the mushrooms with the chili powder in the butter on medium high for 4-5 minutes, until the mushrooms are tender and liquid has evaporated. Add the cream cheese and stir until melted. Then stir in 1/4 cup sour cream and most of the onions (save a few onions for garnish).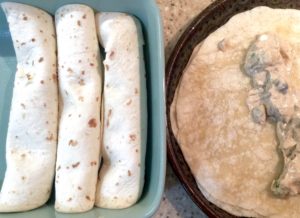 Spoon about 1/3 cup of the mixture into each tortilla. Roll up and place seam side down in greased baking dish. Spoon the enchilada sauce over top. Cover and bake at 350 degrees for 30 minutes.
Take out of the oven and top with cheese, dollops of remaining sour cream, & a few remaining onion pieces. Put it back into the oven and bake uncovered 4-5 minutes, until the cheese is melted. Serve with a green salad if you want to feel virtuous!