Color Your Own Beautiful Art Poster with The Original DoodleArt!
The Homespun Chics received this product for review. All opinions are 100% our own. The following contains affiliate links. If clicked on and a purchase is made I may receive a small commission (at no cost to you) to support this blog. 
Color Your Own Beautiful Art Poster with The Original DoodleArt!

Are you looking for a creative and relaxing way to unplug and de-stress? PlaSmart has The Original DoodleArt posters for your coloring pleasure! These beautifully detailed posters come with a set of 12 non-toxic dual-tipped (calligraphy tip & fine tip) marker pens. The pens have one wide tip for coloring larger areas and the other side has a precision tip for detail filling. You don't have to be an expert to enjoy coloring your favorite scenes, either – these posters are for any skill level and provide over 70 hours of coloring pleasure for anyone ages 8 and up.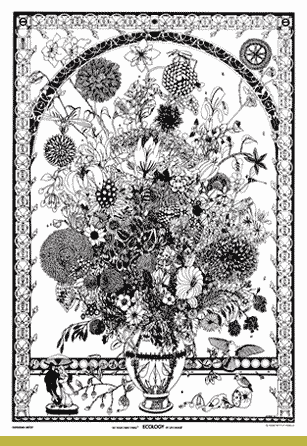 The DoodleArt concept was originally brought to life in Canada in 1972 by Glenn Anderson. His first print (shown above), drawn by Len Masse and titled "Ecology," was "an intricate fantastical work featuring a bordered vase of flowers with birds and insects flitting about, all under a wrought-iron arbour." DoodleArt became a craze among the young people in Canada and "Ecology" sold over 1 million copies.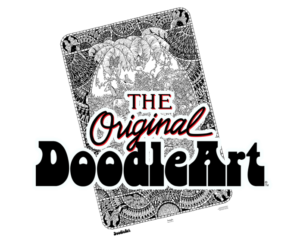 More beautiful art prints followed in that era and the DoodleArt craze went all over the world. Many of those same DoodleArt prints are available today alongside brand new images to color. All posters are still printed and assembled in Canada.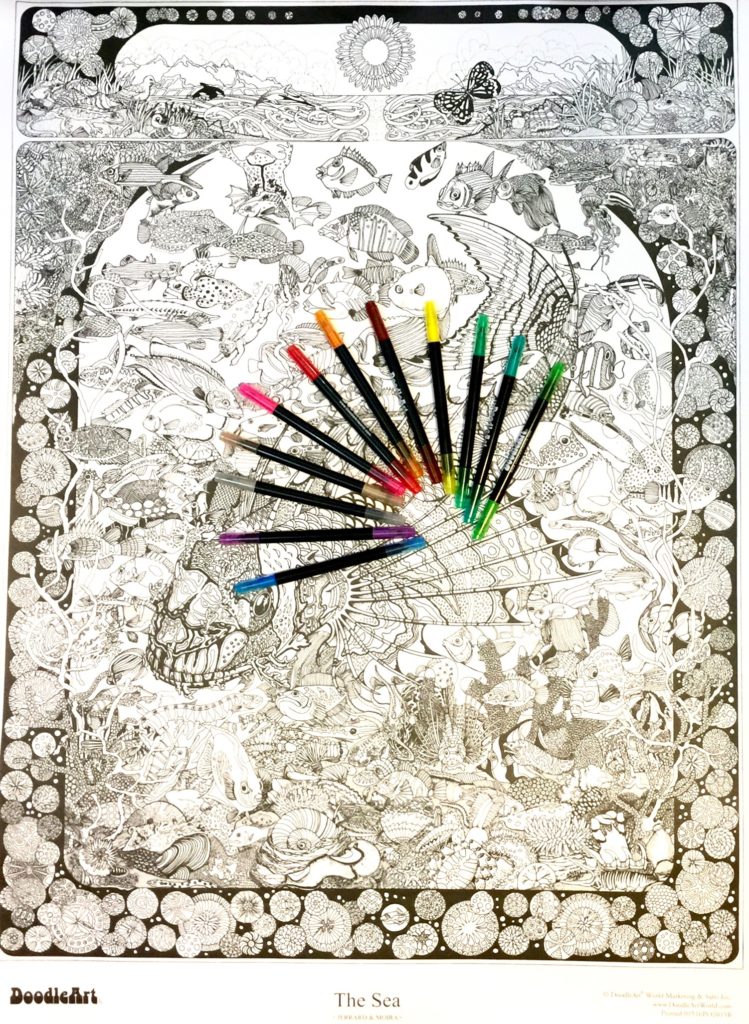 I received "The Sea" full size poster kit to review. This beautiful super-sized black and white poster image measures 24″ X 30″ and was illustrated by Jerrard Smith and Moira Carlson. It depicts all kinds of sea life as well as a glimpse of the land and sky above. If sea life isn't your passion, there are more DoodleArt posters to consider:
Aquarium
Fairy Tales
Jungle
Pirate's Treasure
Zombies
And if you don't think you can commit to a full size poster, DoodleArt also has several mini-poster kits that each contain 4 different intricate posters measuring 11″ X 17." All of the DoodleArt posters are printed on 10% recycled, FSI certified, 100 weight paper and are of archival quality.
PlaSmart has toys that are simple and fun for kids of all ages!
Be sure to visit them at the PlaSmart website!
Facebook  Twitter Instagram Pinterest  YouTube