Citrus Lane September 2015 Review
Citrus Lane is a monthly subscription box geared towards babies, toddlers and preschoolers. Each box is tailored to suit your child's age and gender, delivered right to your front door! Boxes include 4-5 quality items (books, toys, snacks), and sometimes even have samples, coupons and special treats for the parents!
The Homespun Chics paid for this subscription. All opinions offered are 100% our own without endorsement or compensation from any company.
---

September 2015 Box for 2-Year Old Boy
Little G couldn't believe his eyes when he saw this month's box sitting on our front porch. He already opened the September Mystery Box earlier in the week and was not expecting a second box to arrive! I paid $14.97 using a special email offer from Citrus Lane (reg. price $29.95 for monthly subscription).
Each month's box comes with a full-color card detailing the items in the package. As I was reading the descriptions, oohing and aahing over the contents, Little G was on a mission . . .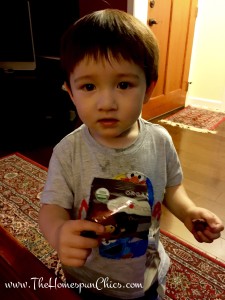 That little sneak took the chocolate cookies and started eating them before I could snap a picture of the opened box!! Ack! He's SO lucky he is cute.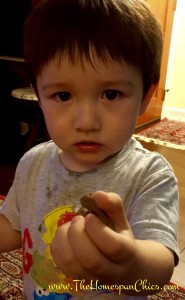 MySuperCookies Chocolate Heroes Individual Pack from MySuperFoods – Value:  $1.50?
These cookies are so darn cute, all organic, and apparently extremely delicious (Little G devoured them within a minute and a half). They are not overly sweet and are packed with a ton of healthy grains and superfruits. MySuperFoods has an awesome cause and was created by two moms hoping to change the way American children snack by making fantastic, healthy treats! These are probably the healthiest cookies Little G has eaten in his life. Check them out and grab a box!
Hohner Puppy Slide Whistle – Value:  $10.00
The second item out of the box was the slide whistle. I have no idea how Little G knew that this was an instrument, but he instantly began making music and spazzing out like any two-year old. It is made from BPA-free plastic and makes high and low sounds when you move the tail. It is easy for little hands to hold and play and provides HOURS of entertainment!
Melissa & Doug Wooden Story Blocks – Value:  $9.99
These storytelling blocks are such a great idea! I don't think Little G is quite there yet in terms of being able to tell stories, so we needed to stash this for when he gets a little older. This game can be played with one or two players by rolling a block from each category and then making up a story using the pictures that landed face-up. Sounds fun! I can't wait until we start making up silly stories together!
Here We Go Round the Mulberry Bush from Barefoot Books – Value:  $9.99
This book is based on the traditional song "Here We Go Round the Mulberry Bush" and follows four children from Europe, Africa, India and China as they get ready for school! The illustrations are adorable and bright and captivate my little guy.
It even comes with an Enhanced CD which includes an audio singalong sung by Fred Penner and an animated video you can watch on your computer! Little G loves singing songs at school and was instantly dancing and singing to the music! The video has the same illustrations as the book with singalong text at the bottom of the screen. This was a huge hit with our little guy!
September 2015 Monthly Subscription Box Total Value:  $31.48
---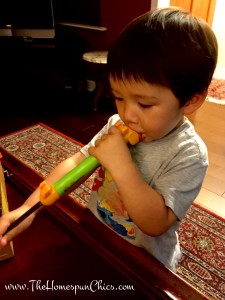 Our Thoughts:
The major hit of this box is the Puppy Slide Whistle, followed in close second by the chocolate cookies. Little G loves music and really gets a kick out of playing the whistle! The book is perfect for reading or singing when he is tired and restless. We cannot wait to use the storytelling blocks once he's older!
I paid $14.97 for this month's box and received a total value of $31.48.
I am satisfied with the value of this box, especially considering the price I paid with the special coupon. Citrus Lane always introduces us to new items and great companies. I will be keeping my eye out for more MySuperFoods snacks on the store shelves from now on!
What was your favorite item in this month's box? Let us know in the comments down below!
xo
Sarah & Little G