Citrus Lane August 2015 Review
Citrus Lane is a monthly subscription box geared towards babies, toddlers and preschoolers. Each box is tailored to suit your child's age and gender, delivered right to your front door! Boxes include 4-5 quality items (books, toys, snacks), and sometimes even have samples, coupons and special treats for the parents!
The Homespun Chics paid for this subscription. All opinions offered are 100% our own without endorsement or compensation from any company.
---
August 2015 Box for 2-Year Old Boy
(with Bonus Mystery Box!)
Wowza! This is the only subscription box that our household can't seem to live without. After making the hard decision to cancel our month-to-month subscription over the summer, Citrus Lane sent out a promotional email enticing me to go ahead and get "just one more" box for Little G… and of course, much to Jonathan's chagrin, I folded.
The promotion going on was 30% off my first box PLUS receive a bonus mystery box for free!  Our total cost for this month's order was $20.96.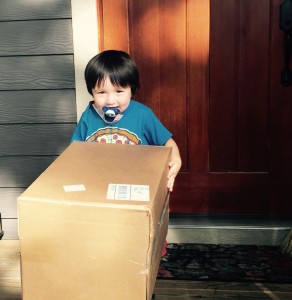 Little G was so excited to see a package sitting at our front door. He ran right over to this huge box and began carrying it around! (It was almost as big as him!)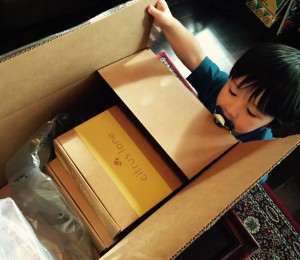 Opening it up, the first thing I noticed was how well the boxes were packaged. Both the monthly subscription box and the mystery box were safely contained in one shipping box with plastic packing bags holding them in place.
---
August 2015 Monthly Subscription Box
This box was perfectly suited for my busy two-year old son. I don't know how they manage to know what Little G is interested in each month!

If you've ever purchased a Citrus Lane box before, you'll recognize this handy little card that comes in every package. Not only is it extremely cute, but it also provides a short description of each item in the box and often has exclusive promotions in case you are interested in purchasing additional items from the featured companies. This box also came with two special offers from Gathered Table and Smalltalk App.
Janod Funny Kit (Crocodile) – Value:  $13.20 (£8.50)
We absolutely LOVE Janod. All of their toys are designed in France and are made from durable wood with sleek, modern designs that are built to last. Oddly enough, I could only find this little guy available in the UK. He is super cute and can be entertaining either as a figurine or as a puzzle that can be taken apart and put back together. This toy is the perfect size to stick in your bag or car for play time while running errands or going out to dinner!

Petit Collage My First Block Puzzle (Woodland) – Value:  $13.00
This chunky puzzle is comprised of four blocks made out of recycled paper printed with vegetable inks. There is a different picture shown on each side (all adorable). This puzzle would make the *perfect* gift for one of Little G's new friends. The modern, simplistic design is eye-catching and the puzzle is packaged perfectly for gift-giving.

Bumkins Reusable Snack Bags 2 Pack (Vehicles) – Value:  $6.95
Who doesn't love snack bags??? Not only are they reusable, but these baggies are made out of the same great material as their bibs, which means they are waterproof, machine washable and dishwasher safe! These could not have come at a better time. Little G has outgrown his little snack cups, or rather, his snack choices have outgrown them… I am so pleased to have a couple reusable bags for his road snacks!

Babyganics Pure Mineral Sunscreen (sample) – Value:  $0.30?
We do not have many occasions for sunscreen, but I love the Babyganics brand. The sanitizer wipes are one of our household staples. It is nice to have received a sample from this company, which even came with a $1.00 off coupon! I will be giving this to one of my mom friends.
August 2015 Monthly Subscription Box Total Value:  $33.45
(not including special promotions listed on card or $1.00 off coupon)
---


Bonus Mystery Box!
Who doesn't love an extra surprise?? This Mystery Box was a COMPLETE success. Little G was so excited, he could hardly contain himself.
MudPuppy Puzzle Wheel (Things That Go) – Value:  $11.99
I cannot begin to explain how much I ADORE this puzzle. Little G instantly demanded  that I open it. He is at a phase now where he loves all "things that go" anyway, and quickly got to work showing me that he knows all of the colors, animals AND modes of transportation contained within this puzzle. [Insert Proud Mommy Happy Dance Here] I love that the puzzle pieces are slightly different in shape so they need to be placed in the correct spot to fit. Another perk is that the opposite side of the puzzle has solid colors and acts as a "new" puzzle!

JJ Rabbit dipPLATE (Red Piglet) – Value:  $9.99
We already have this plate in blue from a previous Citrus Lane box, which is when we found out that it is the perfect shape for those oddly-shaped highchair trays. These plates are very cool. Besides being a fun shape, each plate is biodegradable, made from plants, and is dishwasher safe!! (Side Note: This plate seriously looks like a cow to me…)

Alex Rub-a-Dub Bath Toys (Jungle) – Value:  $10.95
We have so many bath toys, I had every intention of gifting these at the next toddler birthday party… however Little G had other plans. No sooner had I taken this picture than Little G quickly grabbed the carrying case and began ripping at the tag to try to open it so he could play with the animals.These are very, very cute cartoon-like animals that are now being used as "regular" play toys out in the living room. Little G loves carrying them around the house in their case, whispering "night night" when he puts them away.
Bonus Mystery Box Total Value:  $32.93
---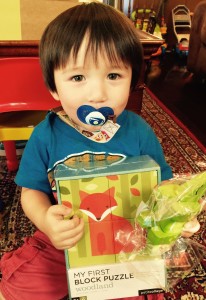 Our Thoughts:
Little G and I were head-over-heels for the August Citrus Lane package! Due to the special promotion*, we received a total value of $66.38 worth of amazing toddler goodies for only $20.96.
This month's featured companies are some of our favorites and the puzzles continue to be a HUGE hit around the house. The only items I could've done without are the sample sunscreen and the bath toys (again, we have just too many…)
We are SO tickled, in fact, that we already purchased the September box!
(We are hooked again!)
Let us know what you think! What did you get in your August box?
xo
Sarah & Little G

*Without the promotion, a normal month-to-month subscription is $29.95.