CatLadyBox October 2015 Review + 10% Off Coupon Code!
CatLadyBox is the first-ever monthly subscription box "purrfectly curated just for cat ladies"! Each box contains 2-3 unique cat-themed items for the modern day cat lady (jewelry, clothing, tchotchkes, art, home décor, and more) and if you upgrade to the CRAZY CatLadyBox, your felines will also receive 2 or more delightful gifts to tickle their whiskers. CatLadyBox donates 5% of all profits to a different cat rescue organization each month plus supports independent artists and small businesses with their box contents.
The Homespun Chics pays for this subscription and receives no compensation for use of coupon code. All opinions offered are 100% our own.
---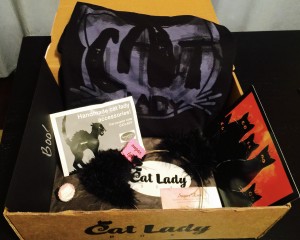 October 2015 CatLadyBox
"Happy Meowloween!" Oh, CatLadyBox, how I love thee. This month's box is simply purrfect for October. I think I squealed like a little girl when I first opened the package. (I know this because Little G has been mimicking me.)
The cost is $34.99 for the CatLadyBox (less for multiple-month subscriptions). The CRAZY CatLadyBox is $39.99 per month, which has everything in the CatLadyBox plus thoughtfully curated kitty accessories and/or treats.
COUPON CODE:  HOMESPUN
Enter this code to receive 10% off of ANY length subscription for either the CatLadyBox or CRAZY CatLadyBox!!!  (Offer valid until 12/20/15)
(HUGE thank you to Dorian, an official Cat Lady and founder of the CatLadyBox, for providing our readers with this special discount!)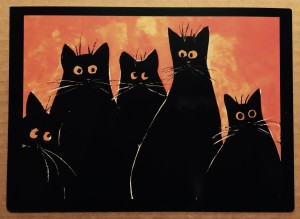 Black Cat Halloween Art Print postcard by Denise Every – Value:  $5.00
This is such a cute and fitting print for the October box. These adorable kitties are looking a bit spooked, don't ya think? Each month CatLadyBox features a different artist on the front of the information card. I consider this an added bonus in the box, as I am able to interchange the cards in a frame on my desk and enjoy the artwork until the next month! Denise's Etsy shop is so colorful and fun! I love her whimsical style and think she captures each animal's personality in her all of her paintings.
The back of the card has a description of the items contained in the box and the reason for hand-selecting each item for this month's box.
The founder, Dorian Wagner, writes a letter for each month's box welcoming the subscriber to the CatLadyBox family, explaining their mission, and further describing what is in the box (as well as what is included in the Crazy CatLadyBox). I love this added touch!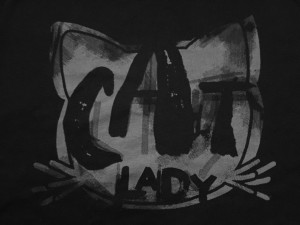 Purple Craze Cat Lady T-Shirt by CatLadyBox – Value:  $24.99
This is one of the softest shirts I now own and I LOVE the graphic! The print is actually a light purple, but I was attempting to take photos after the sun already set below the mountains (so it looks very black here).  Each subscriber must choose a women's shirt size when creating an account. I never know with women's sizes, so I chose an XL to play it safe (most women's shirts tend to run a bit small). To my surprise, this shirt ended up being true to size and was loose-fitting on me! Good to know:  I was able to log into my account and easily update my subscription to a smaller shirt size for future orders.
Deluxe Fuzzy Cat Ears by sugarlux – Value:  $12.99
Ooooh man! We are taking Little G to Brevard's Halloweenfest this weekend and I am TOTALLY going to rock these out! This cute headband is really comfortable and the ears are made out of feather boa-material wrapped around wool felt. The headband I received was gold-colored and really stands out in my dark hair! This is a total win and arrived just in time!
Adjustable Cameo Kitty Ring by msformaldehyde – Value:  $8.50
This large ring is super cute, but it's not something I would normally wear. I will say that the kitty cameo reminds me of my sweet childhood kitty, Daisy, so naturally I adore it and will keep this ring. Like, forever. I especially like that it's adjustable so I can choose which finger I'd like to display the ring.
---
 
Our Thoughts
This box was a huge win for me this month. I really enjoyed everything that I received and am going to have so much fun wearing the handmade cat ears for Halloween with Little G man! Even though I don't normally wear large jewelry items, I still like the cameo ring a lot. CatLadyBox rocked the Halloween theme this month and I can't wait to see what will arrive in November!
I received a value of $51.48 worth of adorable items for only $34.99.
What do you think of the items in this month's box? Let me know in the comments below!  🙂
xo
Sarah