CatLadyBox August 2015 Review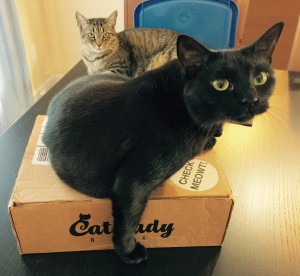 CatLadyBox is the first-ever monthly subscription box "purrfectly curated just for cat ladies"! Each box contains 2-3 unique cat-themed items for the modern day cat lady (jewelry, clothing, tchotchkes, art, home décor, and more) and if you upgrade to the CRAZY CatLadyBox, your felines will also receive 2 or more delightful gifts to tickle their whiskers. CatLadyBox donates 5% of all profits to a different cat rescue organization each month plus supports independent artists and small businesses with their box contents.
The Homespun Chics paid for this subscription. All opinions offered are 100% our own without endorsement or compensation for this review.
---

August 2015 CatLadyBox
Cat. Lady. Box. I am still ridiculously excited that this subscription box exists! A month-to-month subscription for the CatLadyBox is $34.99 (less for multiple-month subscriptions). The Crazy CatLadyBox is $39.99 per month, which includes carefully curated kitty accessories and/or treats that my five sweet kitties simply do not need (but may want really badly). I was head-over-heels in love with this box from the moment I read about it. My only hesitation was trying to justify the cost, knowing full well that anything contained in this box would only perpetuate my kitty addiction and would be a treat solely for myself. Luckily for me, while struggling with my inner turmoil, my fingers were already signing in and purchasing the next month's box.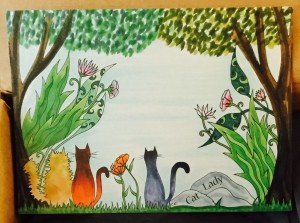 Colorful Cats with Flowers Postcard by Ablaze in Color  – Value:  $5.00
I adore this print. The artist, Carolyn Flynn has such a fun, whimsical style. Her medium is pen and ink and she has many different prints and original pieces for sale in her Etsy shop. (I want them all!)
The back of the card has a description of the items contained in the box and the reason for hand-selecting each item for this month's box.
The founder, Dorian Wagner, also added a letter in the box welcoming the subscriber to the CatLadyBox family, explaining their mission, and further describing what is in the box (as well as what is included in the Crazy CatLadyBox). These little details are what separate this box from other subscription boxes out there.
Cat Print Scarf by Triple T Studios – Value:  $14.99
My mom and I both love this scarf! This is a lightweight, chiffon scarf that will add a touch of class to any outfit. I love the simple cat silhouettes and the fact that the pattern is subtle.  I plan on letting mom borrow this for her next cruise (fancy dinners, anyone?)… I'm just not sure if I'll ever get it back.
Refined Cat Wallet by Triple T Studios – Value:  $39.99
I absolutely love this wallet. It is made of faux leather and features five adorable kitty cats embroidered on the front. FIVE. It must be fate that this wallet is now in my life. The wallet is large enough to hold cash, cards, change, and even (most) cell phones! It has a zipper closure to keep everything secure inside and includes card slots on both sides of the wallet, which is perfect for separating my personal cards and ID from the cards I use for work. Additionally, this stylish wallet was presented in a lovely, sturdy box that I simply must find a use for at home. This is a high-quality wallet that I would not normally purchase for myself and am so glad it was in this month's box!
CatLadyBox Ultimate Cat Lady Car Magnet – Value:  $2.00?
The magnet is just purrfect. Magnets are my new obsession and I already found the perfect spot on my small filing cabinet at work for this little gem. All of my coworkers find my extreme love for cats a bit odd, but I think this one pairs nicely with the wooden magnet I received from my mother-in-law that says, "My therapist has whiskers."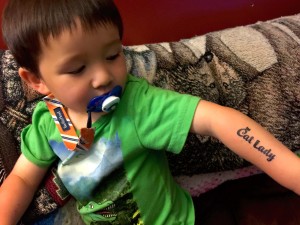 CatLadyBox Temporary Tattoo – Value:  $0.50?
I can appreciate the idea of including something super fun like temporary tattoos in the box, but at first glance I was bummed that there was something here that I just wouldn't use… that is, until I looked up from cooking dinner to see Jonathan applying it to Little G's arm! They were giggling up a storm and when I walked over, Little G kept pointing to his arm and saying, "Kiiiitty! Hi Cat Lady! A box! Look, mommy!" So thank you, Dorian, for supplying our little family with some cuteness and laughs!
---
Our Thoughts:
All five of our cats had a chance to test out the actual CatLadyBox… box. Here are their quick reviews:
"I can get down on this." – Rambo
"Smells like a Cat Lady was here." – Tidbit
"The sticker told me to "Check Meowt!" so I did. I regret nothing." – Cooper
"What do you mean you didn't get the CRAZY CatLadyBox?" – Katie
"Wait, what are we talking about again?" – 아기 고양이 (agi goyang-i "baby cat")
I received a value of $62.48 worth of extremely catified items for my kitty obsession for only $34.99
Despite going over-budget for my personal splurges last month, I thoroughly enjoyed everything in this box. I already switched my goods over to the new cat-tastic wallet and am patiently waiting on the gorgeous Appalachian fall weather to hit so I can break out the scarf! I was so impressed with the value and quality of items contained in this box that I went ahead and purchased the next available box (October)!
What do you think of the CatLadyBox? Let us know in the comments down below!
xo,
Sarah & cats