Boot Track Maple Gift Basket Review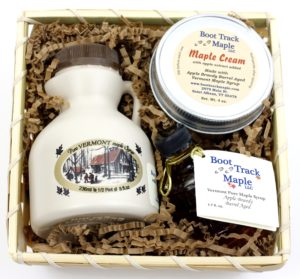 $26.00
Pure Vermont maple syrup is one of my major weaknesses and I will take any opportunity to indulge in its sweet goodness. Maple syrup in greek yogurt? Done! Maple syrup over bacon? Duh! Maple syrup on fruit? Yup, been there. Needless to say, I was thrilled to receive this beautiful little gift basket of Vermont pure maple syrup products from Boot Track Maple, LLC!
Boot Track Maple, LLC was founded by siblings Matthew King and Melissa Minor. They grew up around the maple sugaring business and decided to go into business together to continue the tradition of selling Vermont pure maple syrup and Vermont maple products. Boot Track Maple is produced by Minor Family Maple, LLC, owned and operated by Melissa and her husband Adam. The entire family is involved in producing maple syrup each year, including their two daughters who are in training with the maple sugaring operation!
Melissa and Matthew are very involved in the day to day production of the maple syrup. Melissa works in the woods before the sugaring season fixing pipeline from storms over the summer. She helps tap the maple trees and boils the sap into maple syrup. Matthew repairs and maintains pipeline, taps the maple trees, and walks lines when the sap starts to run to check for vacuum leaks. Both siblings handpick the best color and flavor of maple syrup to be sold at market. They do not blend syrup to achieve a certain grade. All of this hard work leads to honest, Grade A pure Vermont maple syrup.

Boot Track Maple Syrup is Grade A: Amber Color with Rich Flavor
Typically made mid-season. This syrup has a smooth, full-bodied flavor of a classic maple syrup. It is ideal for all around uses and is perfect for gifting!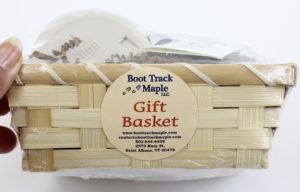 The gift basket arrived shrink wrapped with all three items neatly placed in a pretty little square basket. I loved the presentation and think this would make a wonderful gift for any occasion.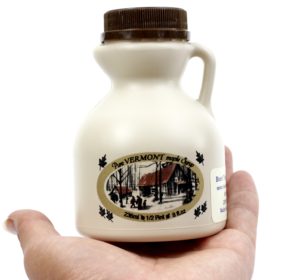 Vermont Pure Maple Syrup Half Pint Jug| $7.95
Did you know that it takes 43 gallons of sap at 2% sweetness to make ONE gallon of pure maple syrup?? I picked up this tidbit from Boot Track Maple's amazing Instagram account (found HERE)! I received an adorable half pint plastic jug of this heavenly maple syrup and am eager to try it out with the family at our Sunday brunch this weekend! 🙂 If my math is correct, that means took about 2.69 gallons of sap to make this little jug of pure maple syrup. Holy moly!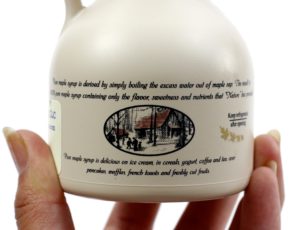 The back of the jug briefly tells how pure maple syrup is made and offers suggestions for ways to enjoy it. I love the beautiful illustrations and embellishments detailed on the plastic bottle!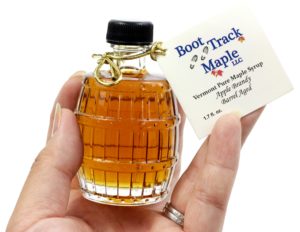 Apple Brandy Barrel Aged Vermont Pure Maple Syrup (1.7 fl oz) | $5.95
Matthew and Melissa wanted to find a way to set Boot Track Maple apart from other sellers and experimented with aging their pure maple syrup in a local distiller's apple brandy barrels. The result was magnificent!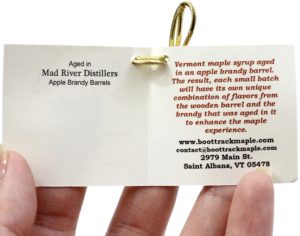 The pure maple syrup is aged in small batches using apple brandy barrels from Mad River Distillers. I am pleased to see that Boot Track Maple sources brandy barrels from a local distiller rather than purchasing from out-of-state. (Local sustainability, represent!!) I am saving this small bottle for a special occasion… I'm thinking Jonathan and I should enjoy this over breakfast pancakes on our anniversary this month! Oh, and don't you just adore the mini glass barrel bottle?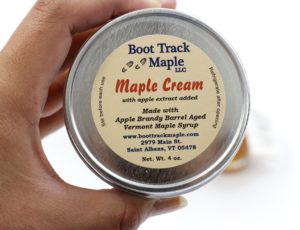 Maple Cream with Apple Extract (4 oz) | $10.00
Jonathan and I have never heard of, or tasted maple cream before now. It is made with Boot Track Maple's Apple Brandy Barrel Aged Vermont Pure Maple Syrup with apple extract added. It smells like sweet maple candy and tastes heavenly. (Speaking of maple candy… Boot Track Maple offers hard candies too! You can find their Maple Cubes HERE for only $4.00 a bag!)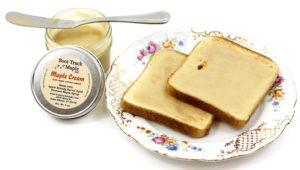 The maple cream needs to be stirred thoroughly when opened. Once mixed, it has a similar texture to smooth peanut butter, thick and velvety. We toasted a couple slices of bread and spread the maple cream over top for a quick, tasty treat! Boot Track Maple even suggests adding a dollop to your morning coffee, which I will be doing first thing tomorrow morning. The maple cream is SO good; I'm salivating just writing about it.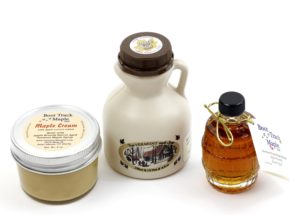 My Thoughts
Boot Track Maple has blown me away with their gorgeous packaging, unique products, and FLAVOR! I can (and do) buy Vermont pure maple syrup from my local grocery stores but have never tasted such rich, bold flavors before. I love that this company is owned and operated by a family raised on maple sugaring and that the tradition is being passed down to their children!
This unique gift basket would be perfect for sending to loved ones on special occasions and is very affordable at only $26! I love the variety that I received and the portions are perfect for sampling. Hostess gift, anyone?
There are currently 13 different gift baskets available for purchase online at www.boottrackmaple.com ranging in price from $12.00 – $37.00. The Grade A Vermont Pure Maple Syrup is available in both glass and plastic jugs and can even be purchased in tiny bottles for party favors! Boot Track Maple ships within the U.S. only.
🙂
*The Homespun Chics received this product for review. All opinions are 100% our own.