Bookroo November 2015 Review + $4 Off Discount!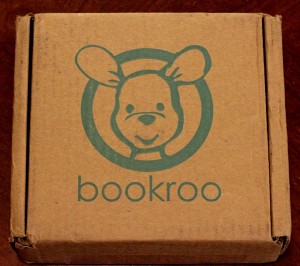 ♥ Homespun Holidays! ♥
Bookroo is a monthly children's book subscription box containing either (3) board books or (2) picture books. Bookroo is run by a team of three brothers and their wives. Each month's boxes are carefully curated with unique selections designed to nurture, encourage, and champion a child's love of reading. Boxes start at $19.99 per month with free shipping.
The Homespun Chics paid for this subscription. All opinions are 100% our own. This post contains referral and affiliate links.
---
♥

Homespun Holidays! 

♥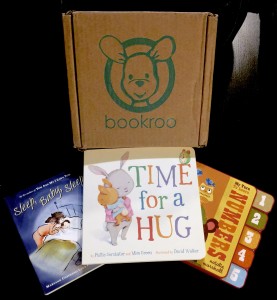 I found Bookroo while searching for brilliant holiday-worthy gift ideas. I was so excited to learn about Bookroo and knew it would make the perfect holiday gift for children and parents alike! Little G loves picking out his favorite board books from the shelf and climbing up on my lap for reading time. We have a collection of well-worn favorites, but we always love to pick up new books for  Little G discover. At Bookroo, each month's boxes contain unique, beautiful books that are hand-selected, gift-wrapped, and delivered right to the front door!
Month-to-Month Subscription Cost:  $19.99
(less for longer subscription periods)
Book Options:  Select to receive either (3) board books -OR- (2) picture books
(No coupon needed. just click the link and the $4.00 Off discount will be automatically applied at checkout.)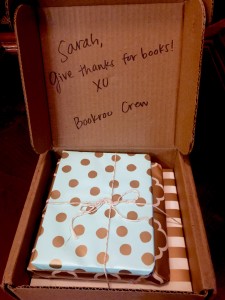 We received this box just before Thanksgiving and with all of the holiday craziness going on, I quickly stashed it away for Little G to open once things died down. We finally opened the box this week and both of us were excited to see what was inside! I chose to receive the box with (3) board books, since Little G is still a bit rough on picture books. Little G's jaw dropped when he saw his carefully wrapped books laid out before him. He whispered, "wooooowwww," and stood admiring his box of goodies for well over a minute! (The silence of this moment was amazing.)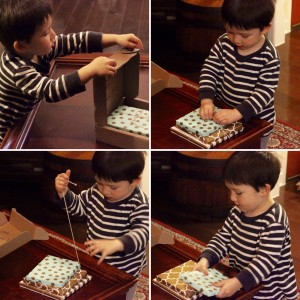 Little G very tenderly untied the twine and started opening his books slowly one-by-one.
Too cute!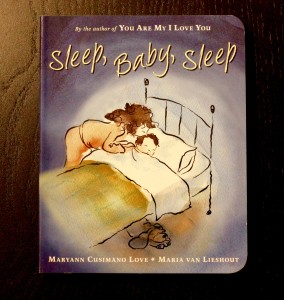 Sleep, Baby, Sleep by Maryann Cusimano Love – Value:  $6.99
If a parent could vocalize all her deepest hopes for her child, this is what she might say…
Every parent has hopes and dreams for their children– that they will play and explore, learn and grow. That they will experience life's many wonders and persevere through its many challenges. That they will one day leave the protection of home and go off into the world–strong, happy, knowing that they are always loved.
Sleep, Baby, Sleep was the first book that we opened. With easy rhythm and gorgeous illustrations, this sweet book was a delight to read! Little G laid quietly in my lap, holding my hand and helping turn pages as I read the entire book to him. This is a perfect bedtime story for sleepy-eyed todders. Thumbs up!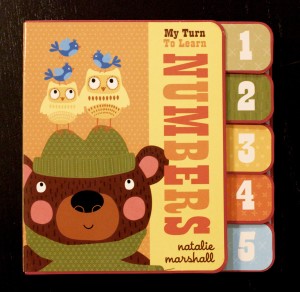 My Turn To Learn Numbers by Natalie Marshall – Value:  $5.58
Explore the exciting world of numbers, brought to life through this irresistibly adorable tabbed board book. My Turn To Learn Numbers uses simple, colorful images and bold, lively scenes to teach early counting concepts. The tabbed edges and thick, strong pages make it easy for young readers to flip through the book by themselves, revealing fun, colorful answers on every spread. Featuring a unique format and bright, bold art and design, these books offer an interactive reading and learning experience that can withstand even the most "hands-on" readers!
 Little G couldn't wait to play with My Turn To Learn Numbers. He loved the feel of the chunky pages and easy-to-grab page tabs. The colors are vibrant and there was plenty for us to talk about within this nature counting book. I just love the illustrations on every page and already put this book in our "go-bag" for quick trips into town. Proud Mama Moment:  Little G can (mostly) count up to 20! Woohoo!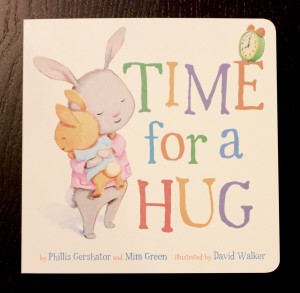 Time for a Hug by Phillis Gershator & Mim Green – Value:  $6.95
From the moment Little Bunny wakes up in the morning until the moon comes out and the stars shine, every hour includes a warm hug from Big Bunny. Whether they bake or build, bike or hike, a caring hug always feels just right. This is a book that is generous with love, and full of the sweetest illustrations you've ever seen.
Time for a Hug is Little G's favorite book! The pictures and story are so sweet; we have read this book every day since we received it. The best part is when Little G hugs me so tightly when it's time for a hug!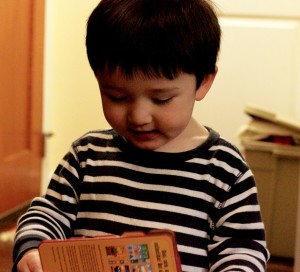 Our Thoughts
November 2015 Bookroo Total Value:  $19.52
We have received several subscription boxes over time, but this has been Little G's absolute favorite! There is nothing better than seeing his eyes light up over a box of new books! I am impressed with Bookroo's curation of November's box. The total value falls just short of the box purchase price, but does not include the cost of shipping. This in mind, we received three fantastic books that Little G loves and has never read before! We are excited for December's box and hope for some holiday-themed selections!
I highly recommend this adorable children's book subscription! This would make the perfect gift for your little bookworm! Be sure to take advantage of the special offer and save $4.00 off your first box by clicking this link!
xo
Sarah & Little G
What do you think of Bookroo?  🙂