Bacon Corn Chowder – A Warm Family Dinner Soup!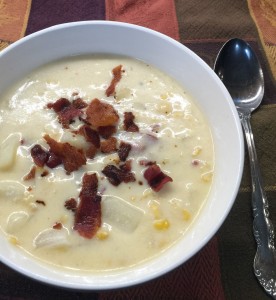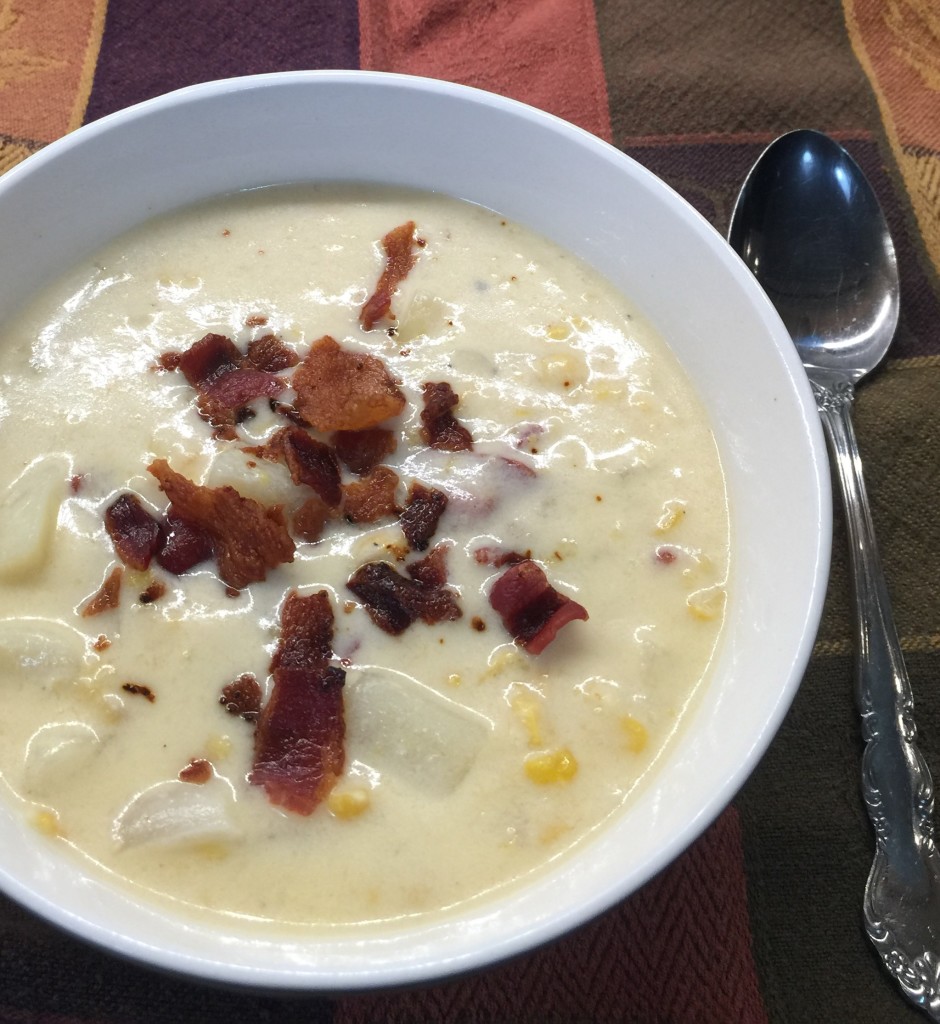 This is a tasty family dinner soup that is inexpensive & easy to fix. Pair it with a green salad and some fresh bread (preferably warm!) and you can feed a few more! It has been a cool weather staple for decades at our house and it never fails to satisfy hungry tummies and warm the soul just a bit.
Ingredients:
8 slices bacon*
1 onion, chopped
4 cloves garlic, minced
2 cans creamed corn
1 can whole potatoes, cubed
1 can (12 oz) evaporated milk
1½ cups water
1 tsp salt
½ tsp pepper
1 cup cubed cheddar cheese
Directions:
Saute bacon until crisp. When bacon is done, remove it and set aside.
Remove all but 2 Tbsp fat from pot.  Add the onion to the pot and cook until limp. When the onion is almost finished, add the garlic and cook another 5 minutes.
Place the onion, garlic and the rest of the ingredients except the cheese and bacon in a 4 qt. saucepan. Simmer, covered, for 20 minutes.
Add the cheese and bacon, crumbled, and cook another 5-10 minutes, stirring often as the cheese melts.
All done!  Spoon into your soup bowls and serve – you can save a few pieces of bacon to crumble on top if you want to be a bit fancy!
*See post http://www.thehomespunchics.com/saving-my-bacon-another-kitchen-hack/ to learn how to have 8 pieces of bacon easily available!!