August 2017 Pet Treater Box Review + Coupons!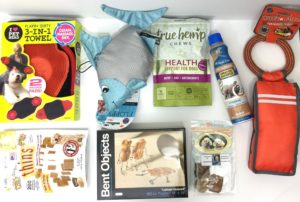 August 2017 Pet Treater Box
Pet Treater is a monthly subscription box for dogs that contains quality items for a fraction of the retail value. Box contents may include treats (made in USA or Canada only), interactive toys, accessories, grooming supplies, and more!
For every box that ships, Pet Treater donates a toy, bag of treats, or blanket to an animal shelter in need.
The Homespun Chics received this box for review. All opinions are 100% our own. This post contains affiliate links.
---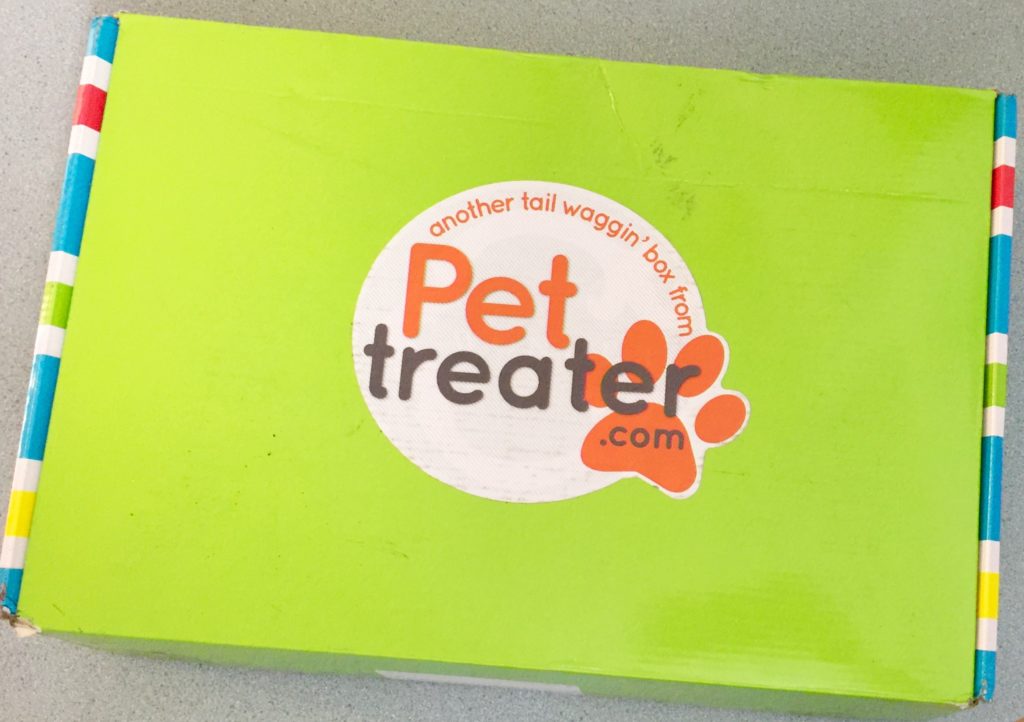 How It Works:
Dog Sizes:  Small (0 – 20 lb), Medium (21 – 50 lb), Large (51+ lb)
Pricing:  $34.99 TRY IT OUT Box (does not auto-renew), $24.99 for Month-to-Month, $22.99 for 3-Month, $21.99 for 6-Month, and $19.99 for 12-Month.
What's Inside:  Each month, subscribers will receive a fun, themed box filled with goodies like U.S. and Canada-made treats, plush toys, gadgets, grooming supplies, doggy wearables, and more! There's even a "human treat" included in every box.
*FIRST TIME subscribers will receive a first time box which will include past favorites and not the new items of the current month. Themed boxes will begin the following month.
SHIPPING SCHEDULE!
Subscribers asked and Pet Treater listened! Pet Treater has officially simplified the shipping schedule from 3 cycles per month down to just one! 🙂
Monthly boxes will now be shipping between the 5th – 10th of each month.
*If you were billed after the 10th of the month, a box will not be shipped until the following month.
TRY IT OUT boxes (non-renewing purchase) will be shipped right away and items will include past favorites and not the new items from that current month.
Coupons!
$5.00 Off First Box: 

PT-5OFF
*Enter this code at check-out to receive $5.00 off your first box of any length subscription!
2 FREE pints of Puppy Cake Ice Cream in first box: BARKICECREAM 
(Note:  Offers do not combine and are only good for NEW subscribers.)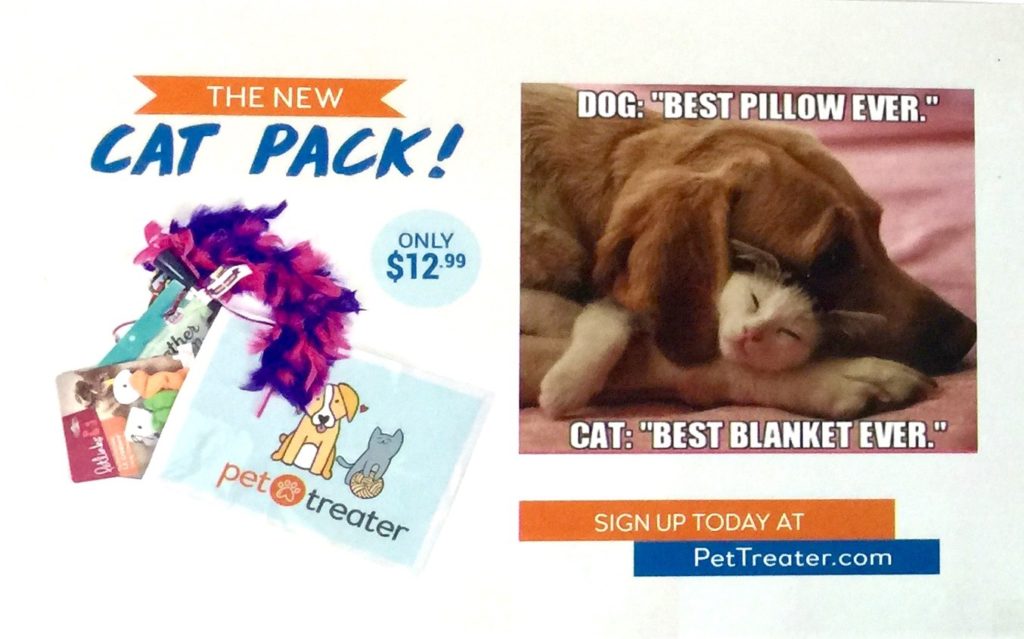 Pet Treater has a brand new Cat Pack subscription box coming out in September!
This bag of Cat-tastic goodies will start shipping September 2017! Sign up by September 7th to be included in the fist month of the Cat Pack. 
Use Coupon Code: LOVEMYCAT to get the first month for ONLY $9.99.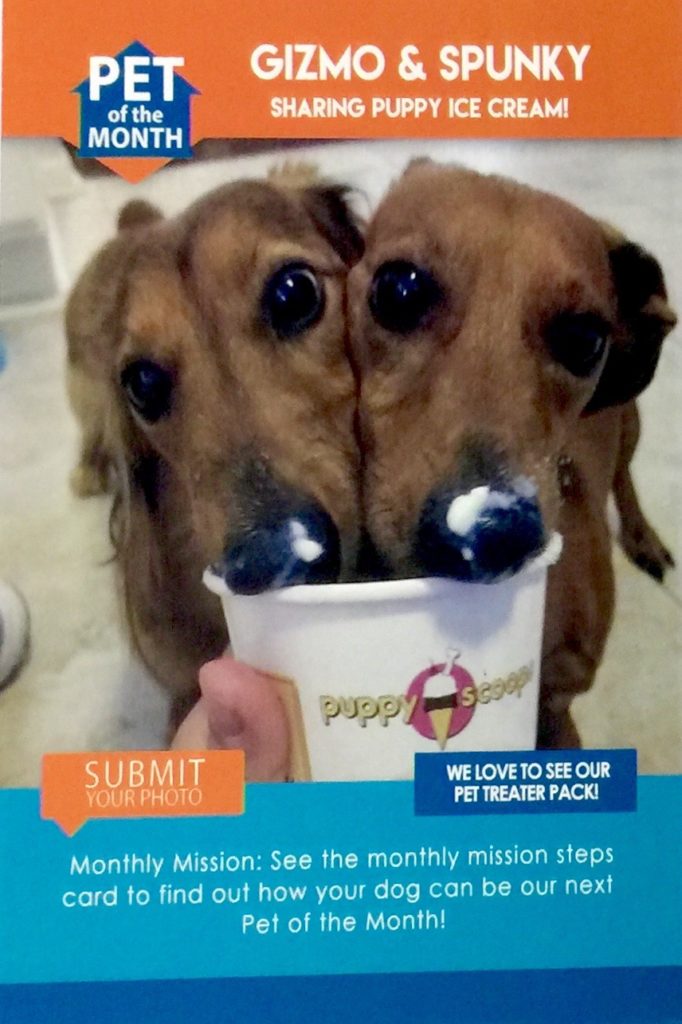 The August Pets of the Month are Gizmo and Spunky! Subscribers can email a photo of their pet enjoying the current month's bounty for a chance to be the next featured Pet of the Month!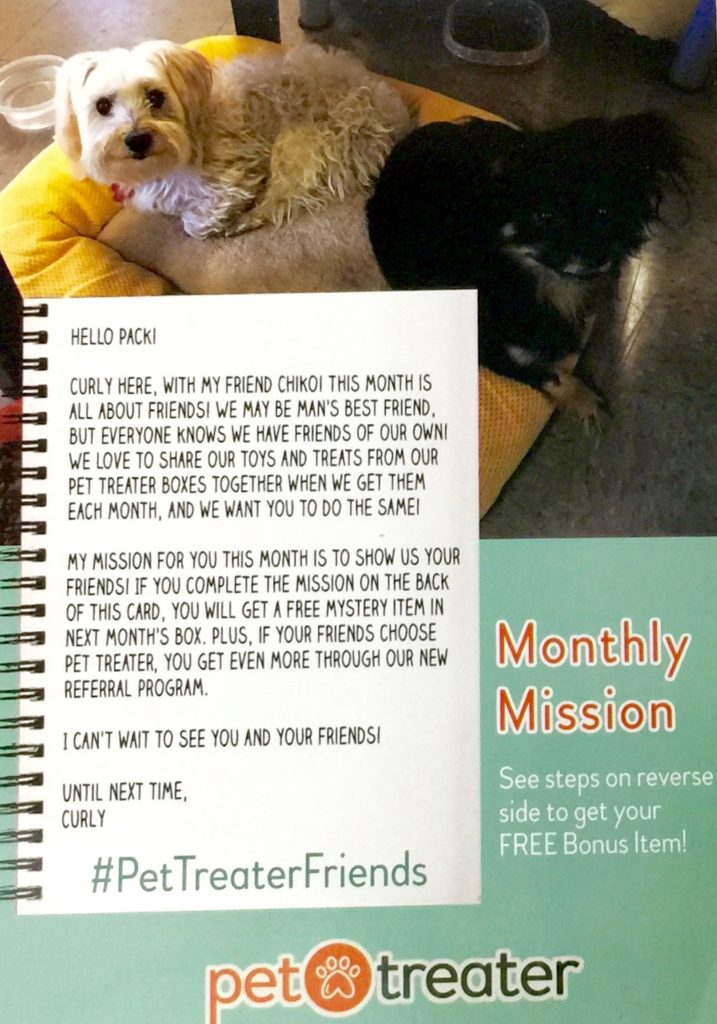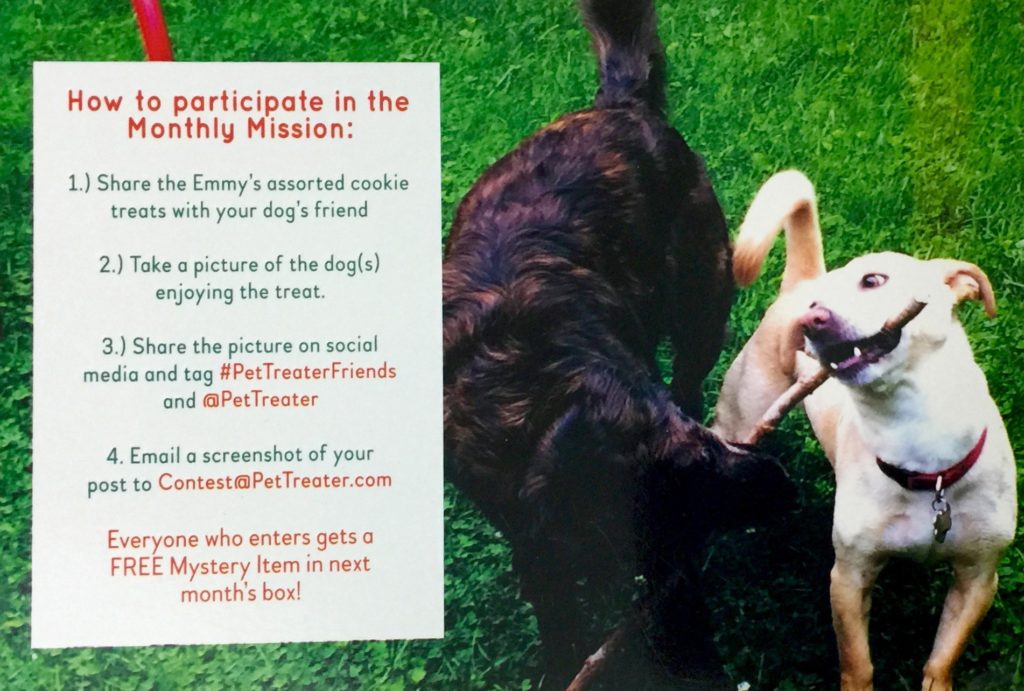 You can get a free Mystery Item in your September box when you take a picture of your dog eating the Emmy's Assorted Cookie Treats you received in your August box and share on social media using #PetTreaterFriends & @Pettreater. See the directions above!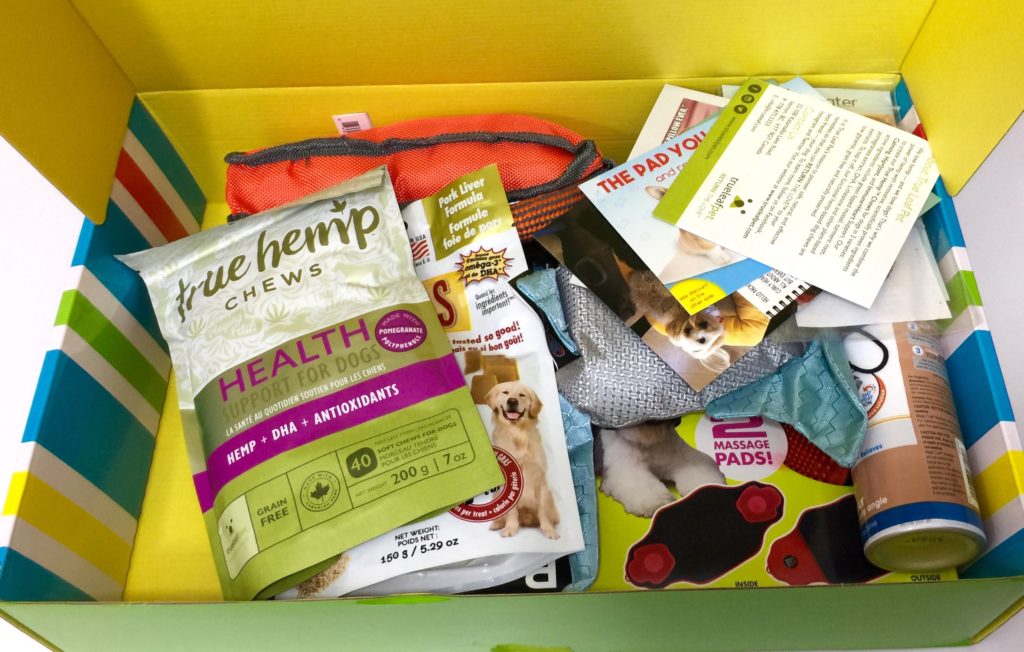 First Peek! Looks like lots of toys, treats and other doggie stuff!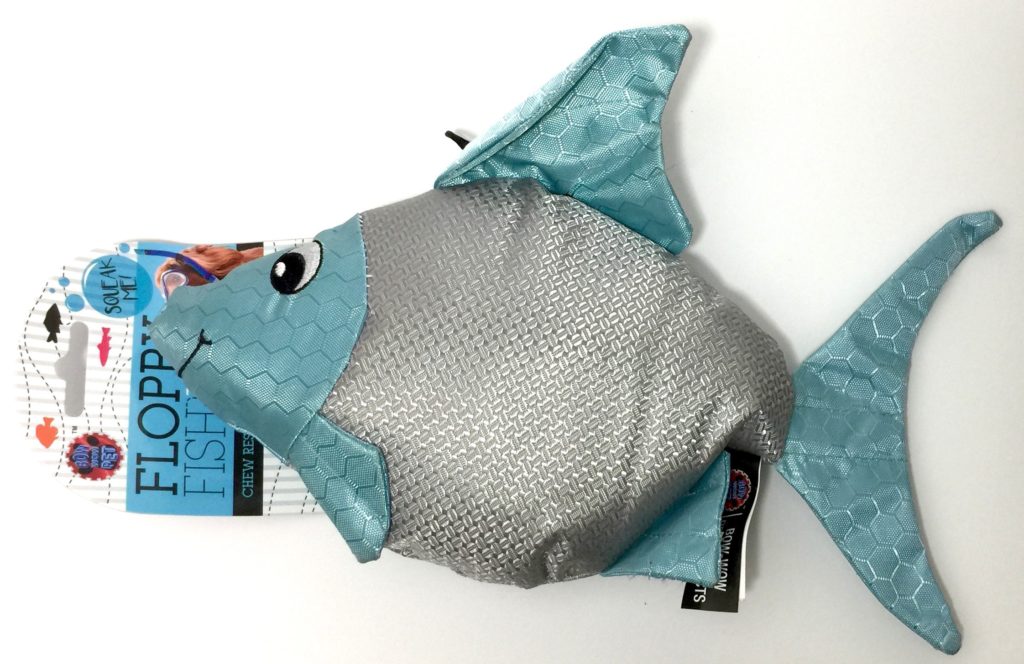 Bow Wow Pet – Floppy Fish Dog Toy ($6.99)
This is an 11″ long fish shaped squeaky toy made with chew resistant material. I'm not even going to try this with my boys as the material would never be resistant enough for their teeth but will send it to my sweet grand dog Beijing!

Bow Wow Pets – Canteen Ruff & Tuff Toy for Dogs ($5.00)
This dog toy is also made of chew resistant material and has reflective strips. The top is a circle of nylon rope, making this a great tugging, fetching, and just chewing toy. Plus it has a squeaker, too!
I (HEART) Pet Head – Playin' Dirty 3-In-1 Towel ($9.99)
This is an all in one clean, dry, and massaging towel that has textured mitts to clean and a microfiber towel. It is gentle to your dog's skin and helps to dry your dog's coat quickly. I think my boys would enjoy this if they have to endure a bath, which isn't too often.

Four Paws – Magic Coat Spray-On Shampoo with Oatmeal 7 oz ($13.98)
This goes right along with the towel! The spray-on shampoo is a hypoallergenic formula that contains oatmeal to soothe the skin. Plus it moisturizes and helps to relieve itching. You can spray in on from any angle. Love this! And I'm going to use it next time we bathe the boys.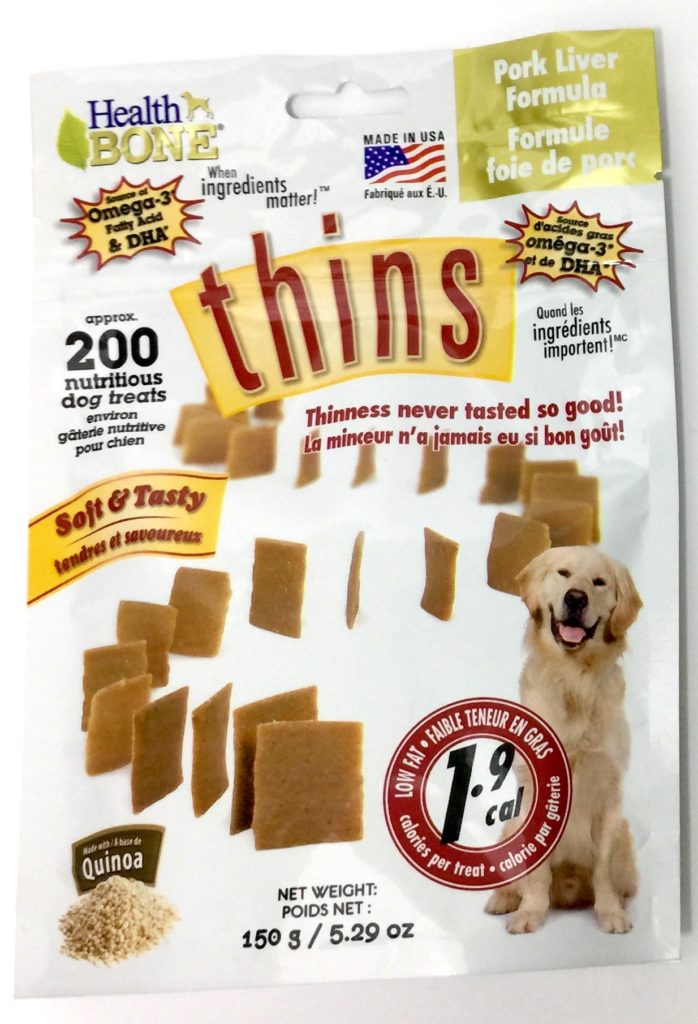 Health Bone – Pork Liver Formula Thins Dog Treats 5.29 oz ($9.83)
These mini dog treats are soft and thin. They are made with pork liver, potato, yellow peas, quinoa, fish oil, dried honey, pumpkin, and some other things that I can't identify. They claim to help your pet not to gain weight because they are so small. Nice spin!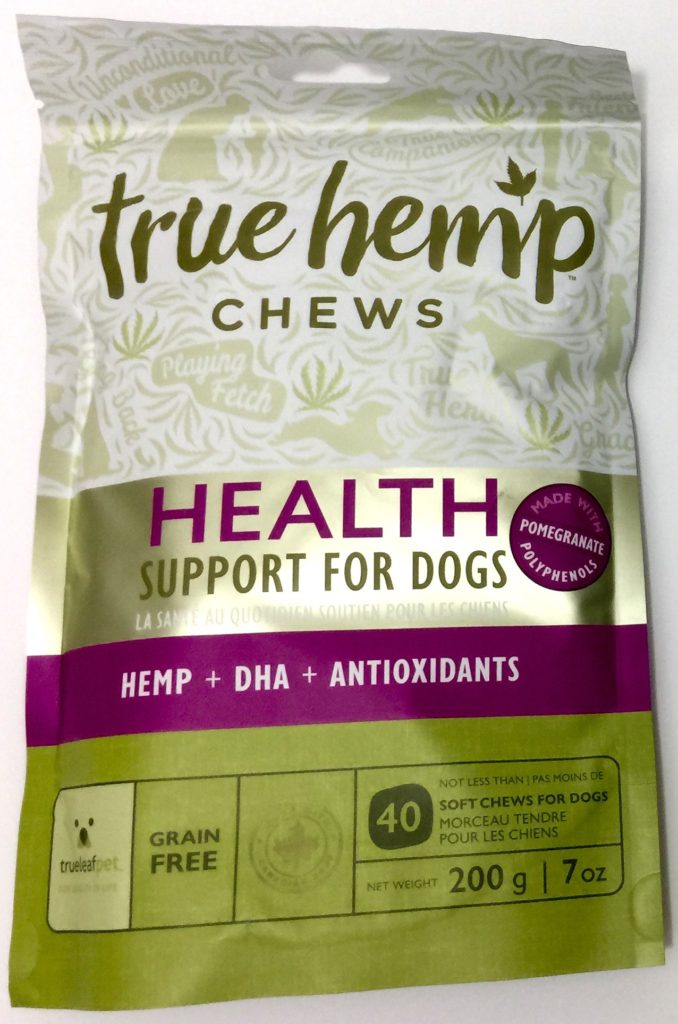 True Hemp Chews – Health Support Soft Chews For Dogs 7 oz ($17.99)
These soft chews are grain free and contain hemp, DHA, & antioxidants to protect pets from naturally occurring cellular damage by supporting the body's response to inflammation. The main ingredient is salmon. This company also makes chews to help with calming and hip/joint issues.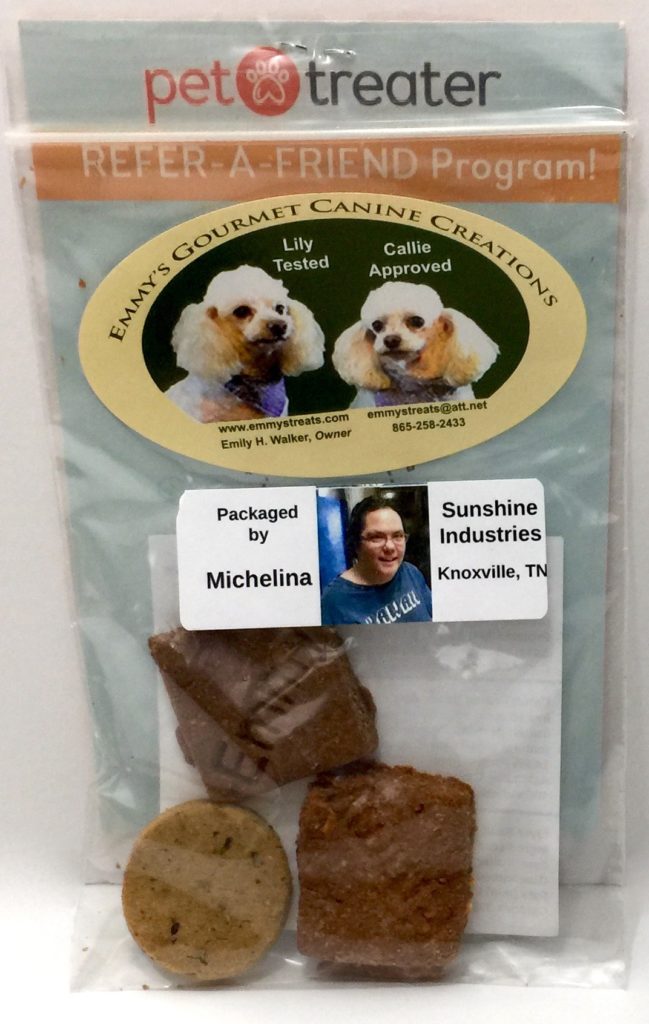 Emmy's Gourmet Canine Creations – Three Cheese Pleasers (2.50)
All of Emmy's treats are made in Tennessee using fresh, high quality ingredients.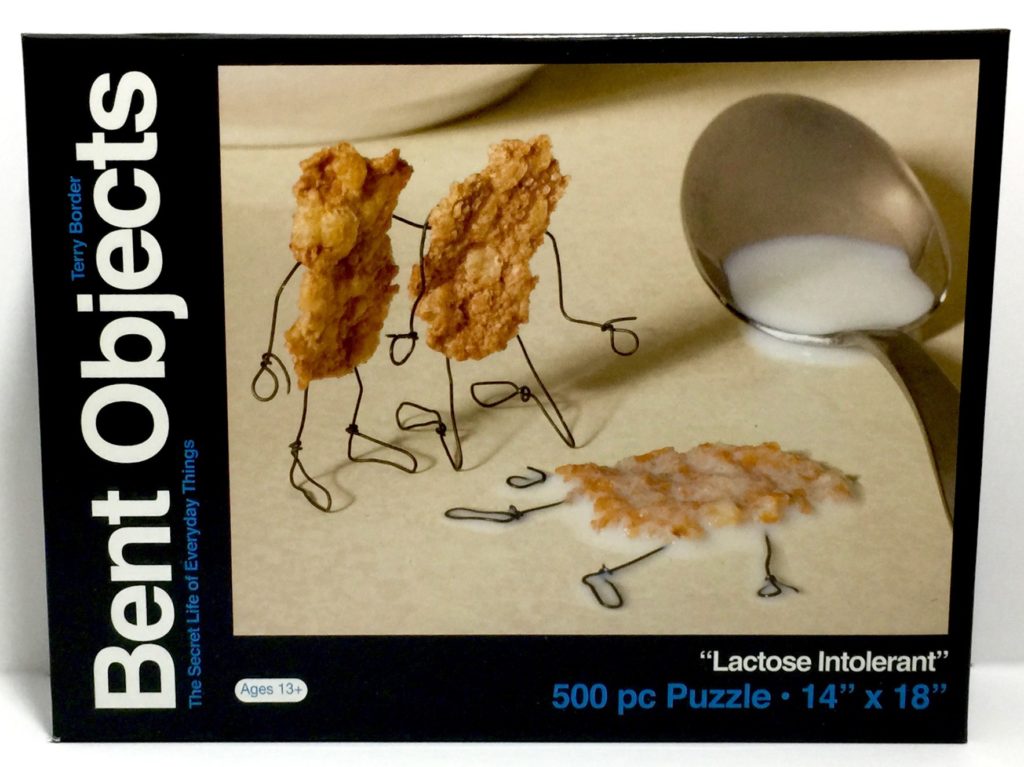 Bent Objects – Lactose Intolerant 500 pc Puzzle ($6.89)
This is a cute puzzle – a Pet Treater For Your Human monthly addition to the box! It measures 14″ X 18″ when put together.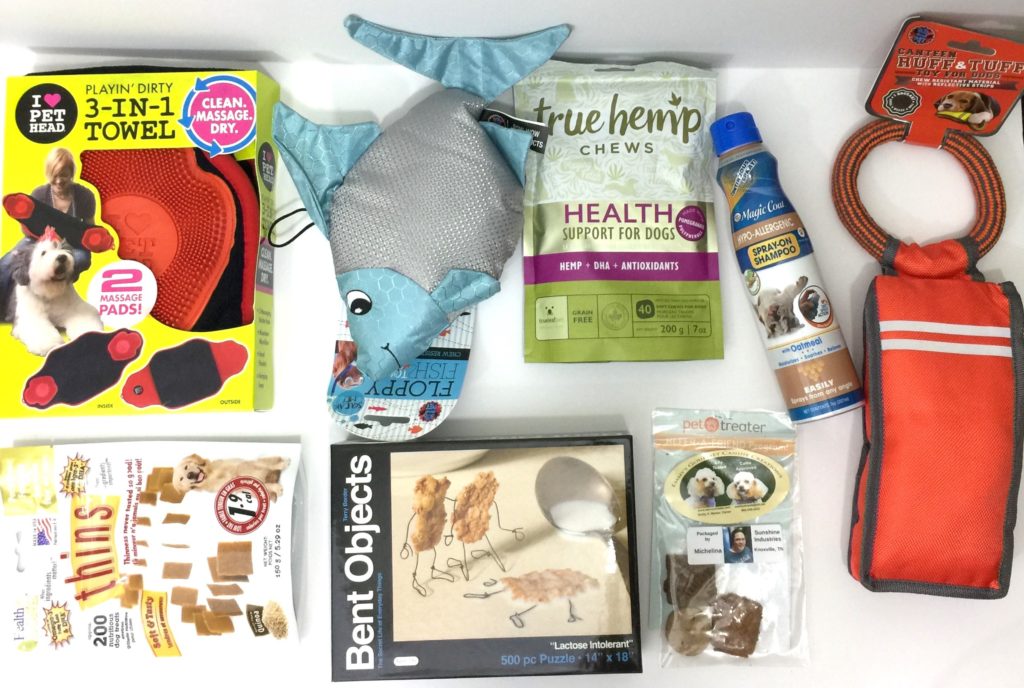 The retail price of the product in the August 2017 Pet Treater box came to about $73, making this subscription box a true bargain for the price paid. My boys will love the treats and though they hate their baths, both the towel and spray shampoo are just the ticket! It was a really full box of dog things and another great month for Pet Treater!