August 2017 Degustabox Review & Coupon Code
August 2017 Degustabox
Degustabox is a food subscription box that sends you 10 to 15 full-size surprise products each month at a price less than you would pay at the store for the items. The monthly cost is $19.99 with free shipping, charged on the 19th of each month.
There is no commitment and you can cancel the next month if you notify Degustabox before the 15th of the month.
 Use code MR6H4 to take 50% off your first box! You will pay $9.99 and shipping is free for a box of food worth over $30 – a really great deal!! 
The Homespun Chics received this subscription box for review. All opinions are 100% our own. This post contains affiliate links.
---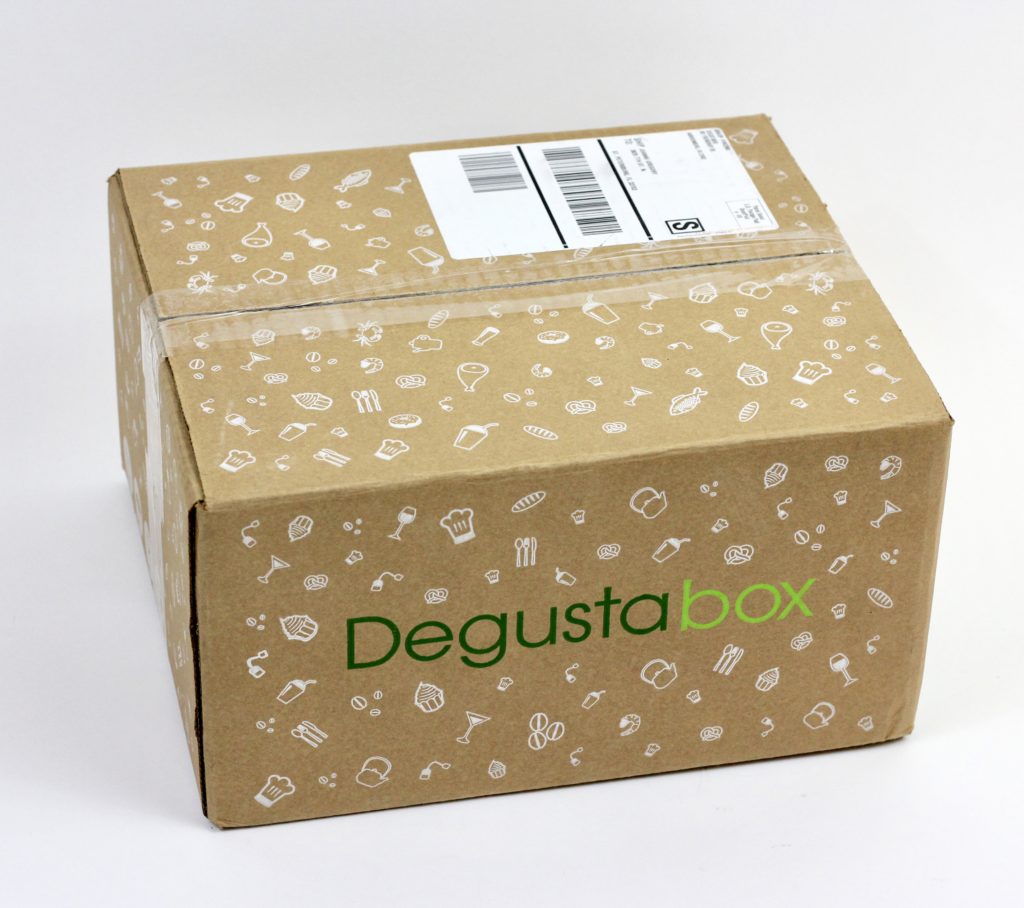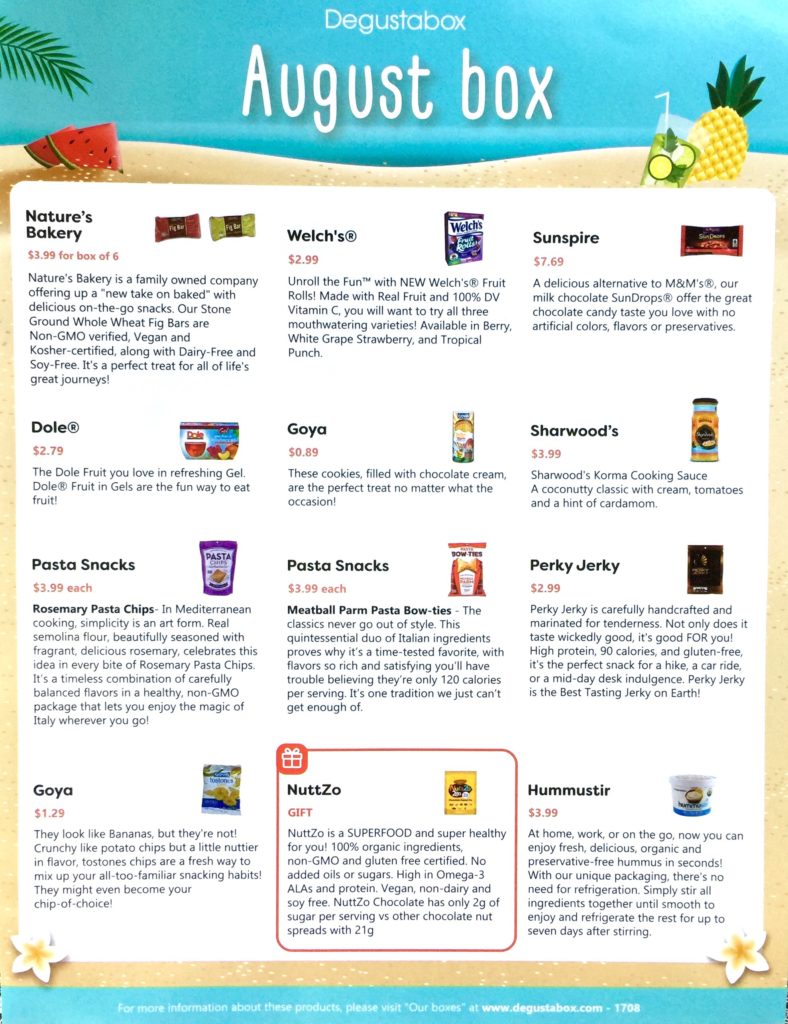 The August 2017 Degustabox information sheet is a full page that gives you photos, accurate pricing, and descriptions of each product curated for the box.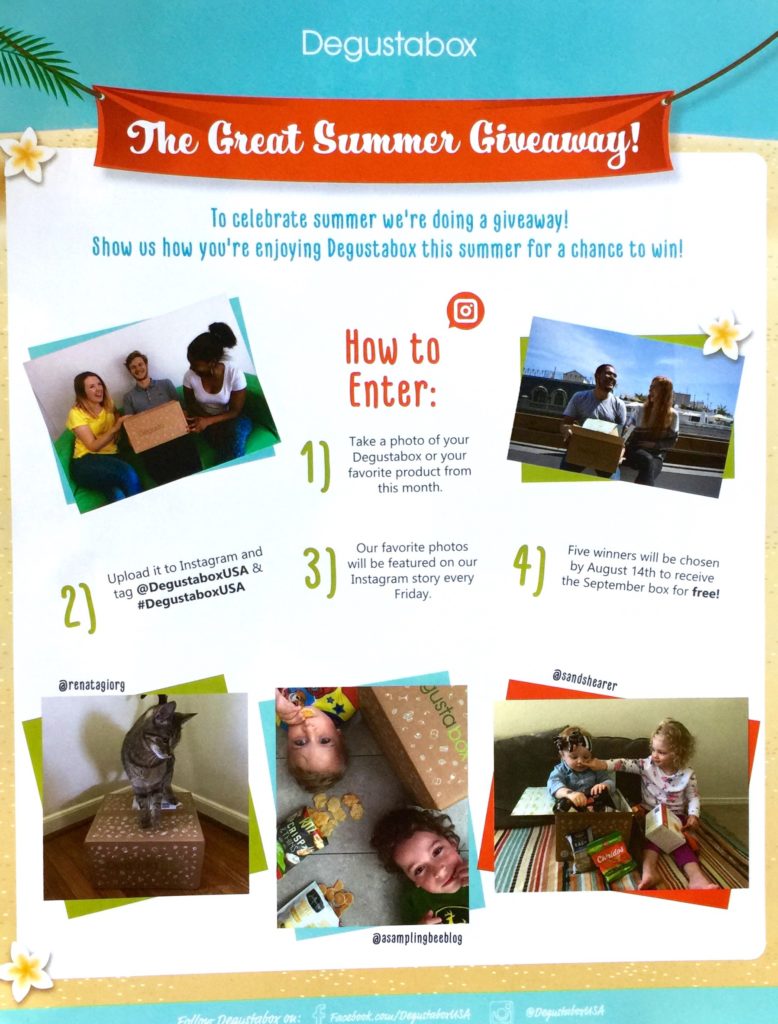 Interested in winning a free September box? Just follow the instructions on the back side of the product information sheet to enter. Sounds like the chances are good – they will pick 5 winners!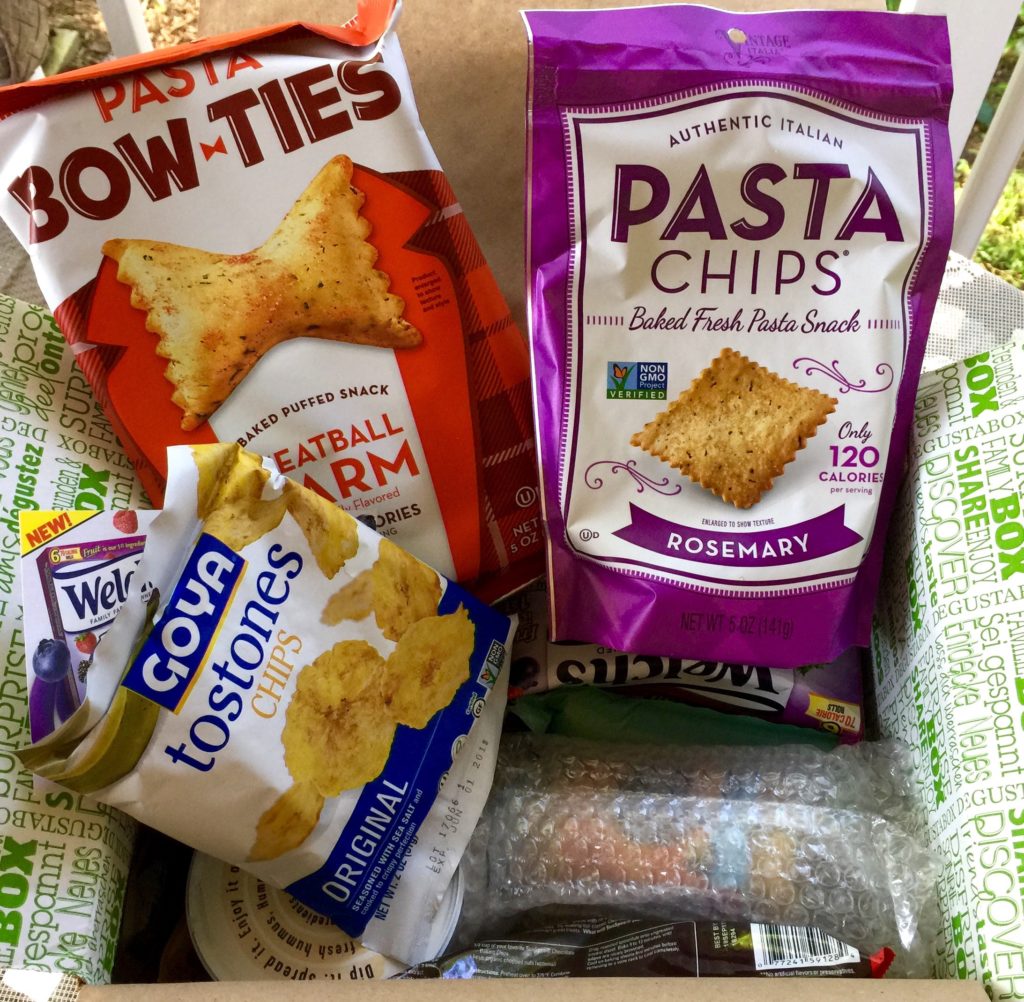 First peek! Degustabox always sends you a box just packed full of all kinds different foods!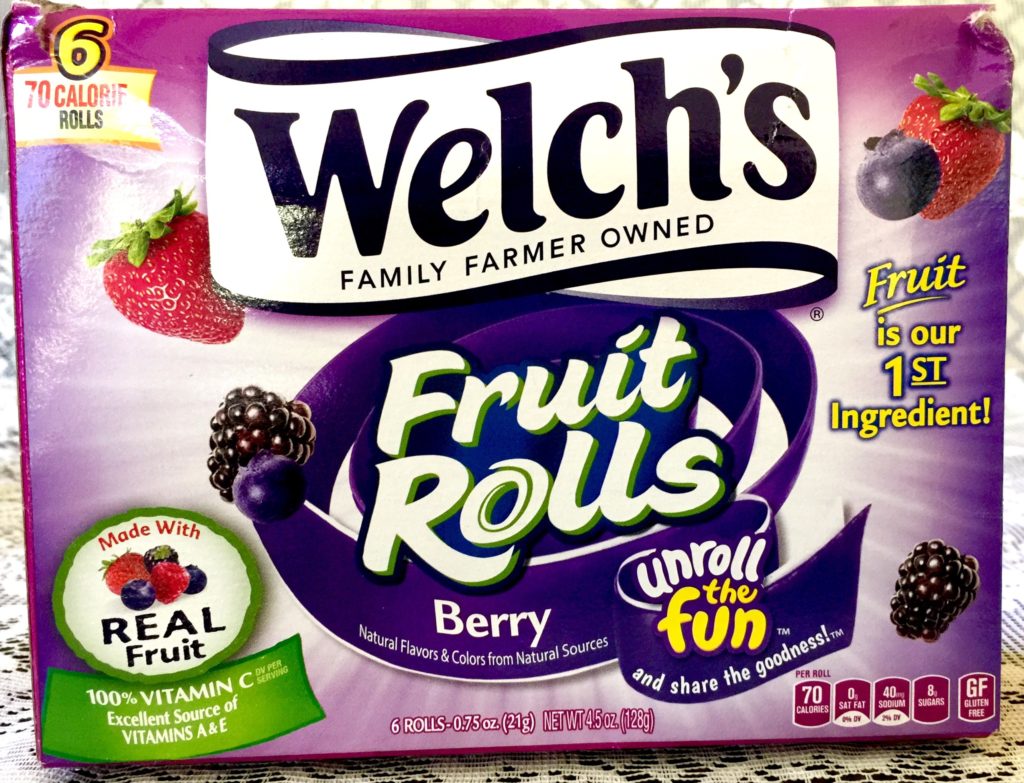 Welch's – Fruit Rolls Berry Flavor – pkg of 6 ($3.00)
Fruit rolls were a frequent snack for my kids when they were growing up and now Welch's has fruit rolls made with real fruit puree as the first ingredient. These contain no artificial flavors, colors, or preservatives but they do have corn syrup if that is a concern for you. They also make these fruit rolls in Tropical Punch and Strawberry flavors!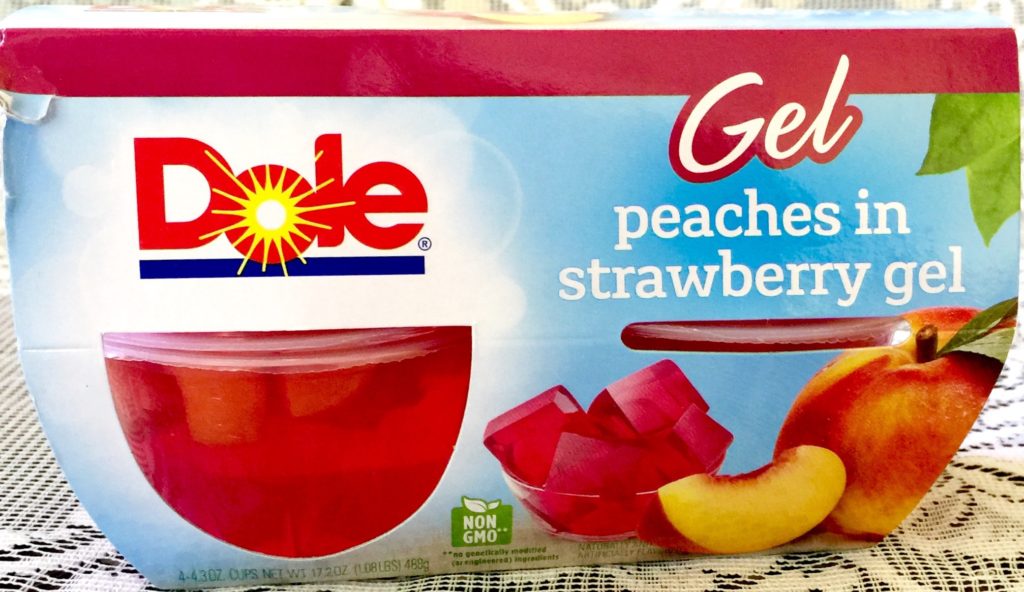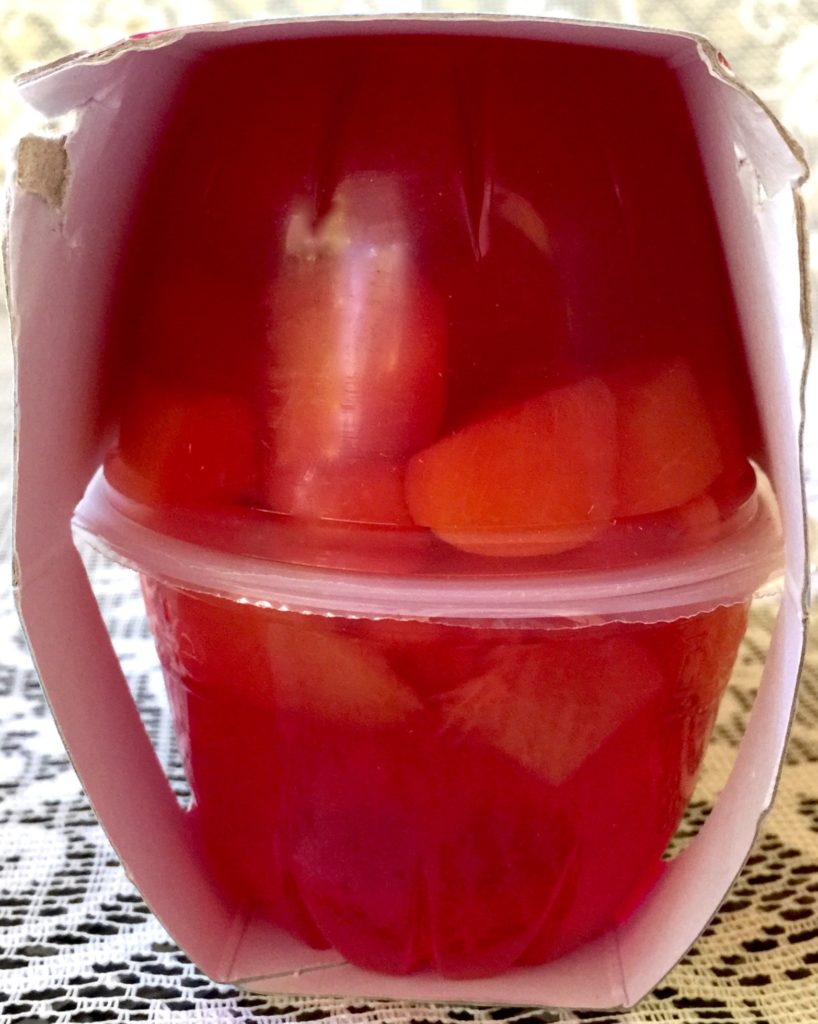 Dole – Fruit in Gel – Peaches in Strawberry Gel flavor – pkg of 4 ($2.79)
These fruit in gelatin cups are so delicious! Dole uses sun-ripened diced peaches and the gelatin is made with real sugar, all put together in BPA free packaging. All the ingredients are non-GMO, too.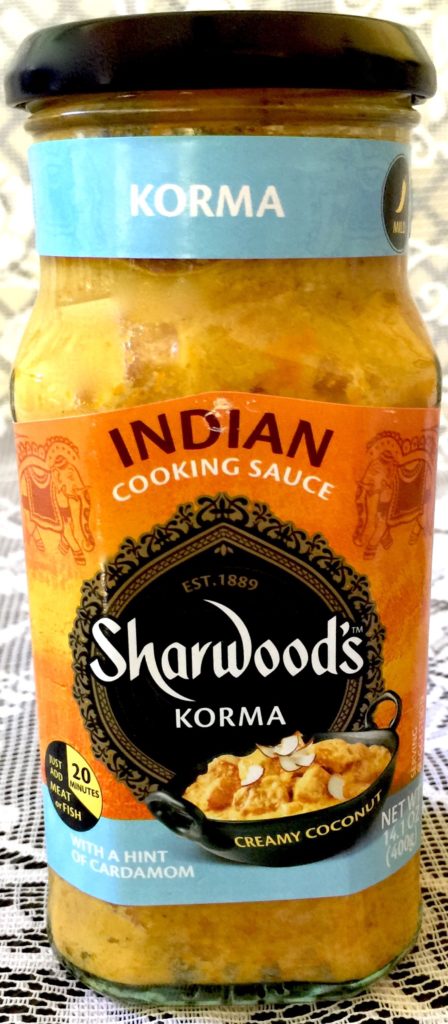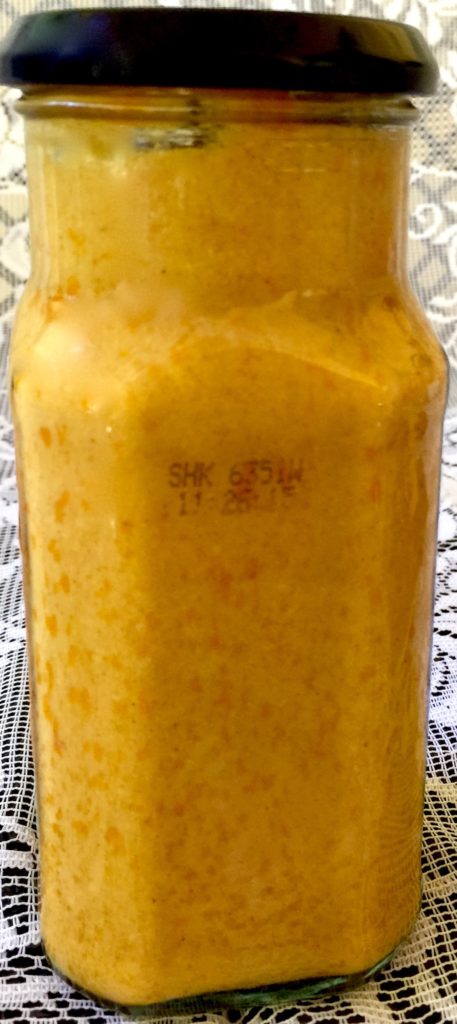 Sharwood's – Korma Sauce 14.1 oz ($3.99)
This is an Indian cooking sauce that is creamy coconut tomato sauce with a touch of cardamom. You can create a stir-fry meat or fish dish with this in just 20 minutes! Serve with rice and maybe a piece of flatbread.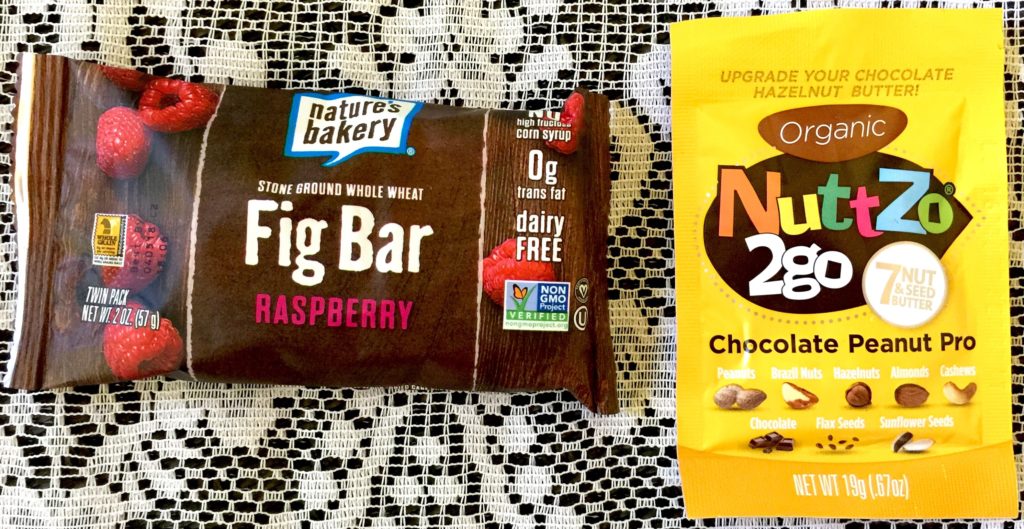 Nature's Bakery – Raspberry Stone Ground Whole Wheat Fig Bars 2 oz ($.67)
These are good-for-you snack bars that are made with only non-GMO ingredients and contain no high fructose corn syrup, dairy, trans fats, or artificial anything. If you worry about what your children are eating for snacks, you won't have to worry about this one.
NuttZo – Dark Chocolate Peanut Pro 2GoP .67 oz (Gift)
This is a single serving size packet of organic 7-nut and seed butter made with peanuts, almonds, cashews, chocolate, flax seeds, brazil nuts, hazelnuts, sunflower seeds, and sea salt. It is Kosher, non-GMO, and gluten free. It was invented by a mom who adopted 2 nutrient-deficient kids from the Ukraine and the company supports Project Left Behind to help orphans around the world.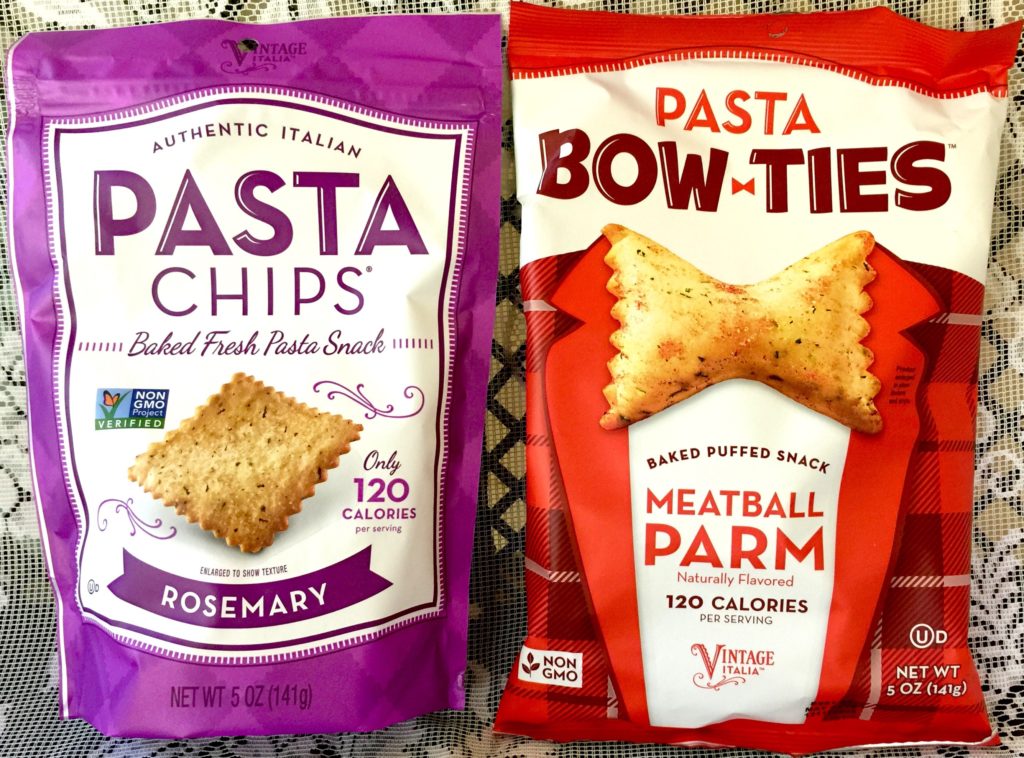 Pasta Chips – Rosemary 5 oz ($3.99)
Pasta Chips Bow-Ties – Meatball Parm 5 oz ($3.99)
These are authentic Italian baked fresh pasta snacks with 20% less fat than peta chips and 60% less fat than potato chips. They are non-GMO and made from Durum Wheat Semolina flour. I love the different flavors – and they are basically guilt-free!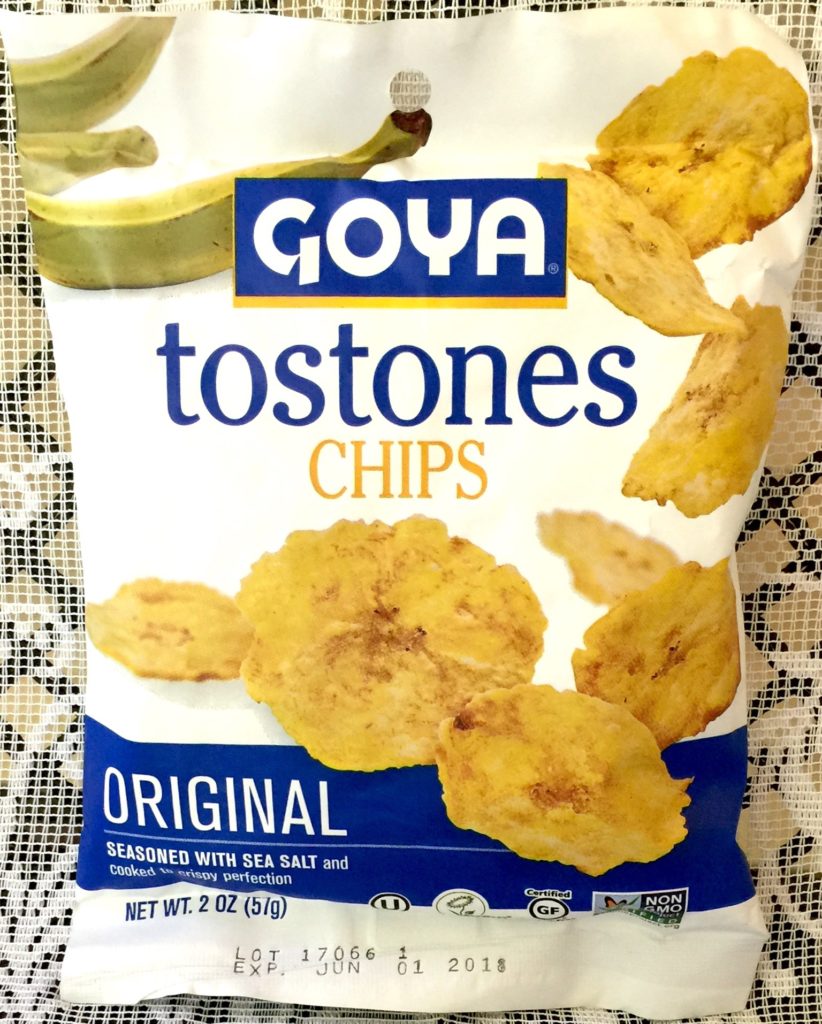 Goya – Tostones Chips 2 oz ($1.29)
These are chips from Ecuador and look like banana chips but are made from tostones (plantains). I have had  fried plantains many times and they do taste like bananas! The tostones chips are crispy and seasoned with a little sea salt. And very tasty!

Goya – Golden Maria Sandwich Cookies 5.1 oz ($.89)
These are sweet little sandwich cookies with chocolate filling. What's not to love?? Once you open the package you will devour each one!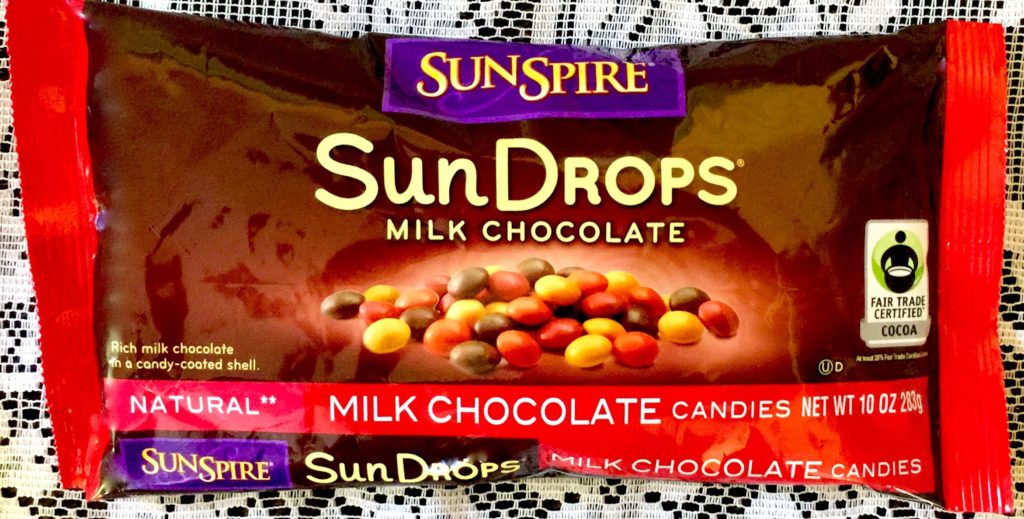 SunSpire – Sun Drops Milk Chocolate Candies 10 oz ($7.69)
These are delicious milk chocolate candies in a candy shell but with no artificial flavors or preservatives. The chocolate is made from Fair Trade Cocoa, too. We opened the package and ate all of them in one evening!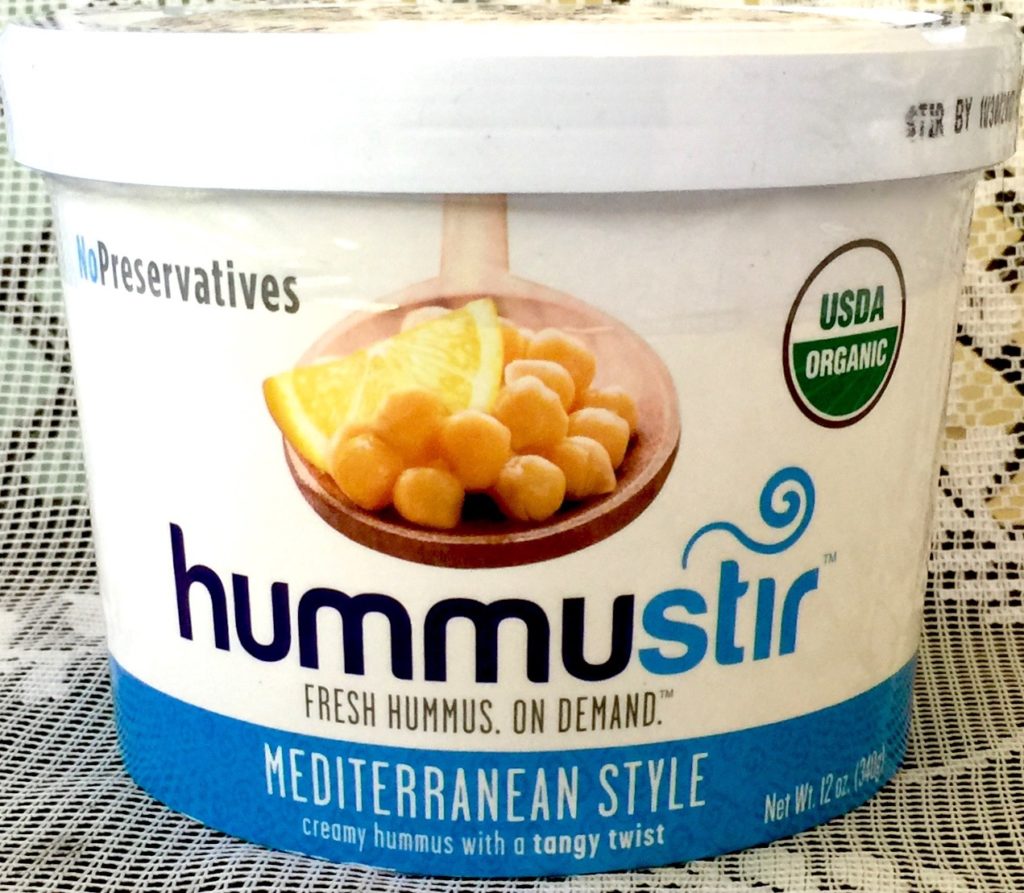 Hummustir – Mediterranean Hummus 12 oz ($3.99)
This is fresh, organic, and preservative-free hummus that you mix together from the packets in the box when you are ready to eat it. Then you can store the rest in the refrigerator for up to 7 days. I love this concept – no need for refrigeration before it is ready so you can take it along wherever you go! This company makes several other varieties, too – Classic, Village, and Blazin'.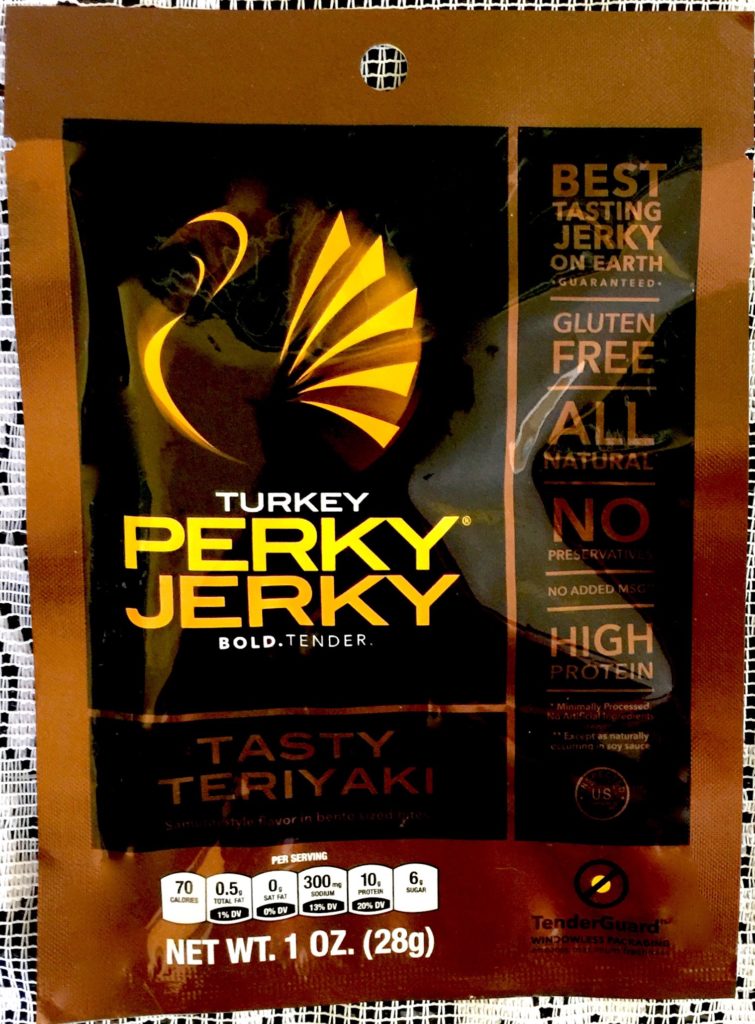 Perky Jerky – Tasty Teriyaki Turkey Jerky 1 oz ($2.99)
This is tasty and all-natural turkey jerky that is low in fat, high in protein, and contains no nitrates. The meat is handcrafted and marinated overnight to give it that "Samurai style flavor"!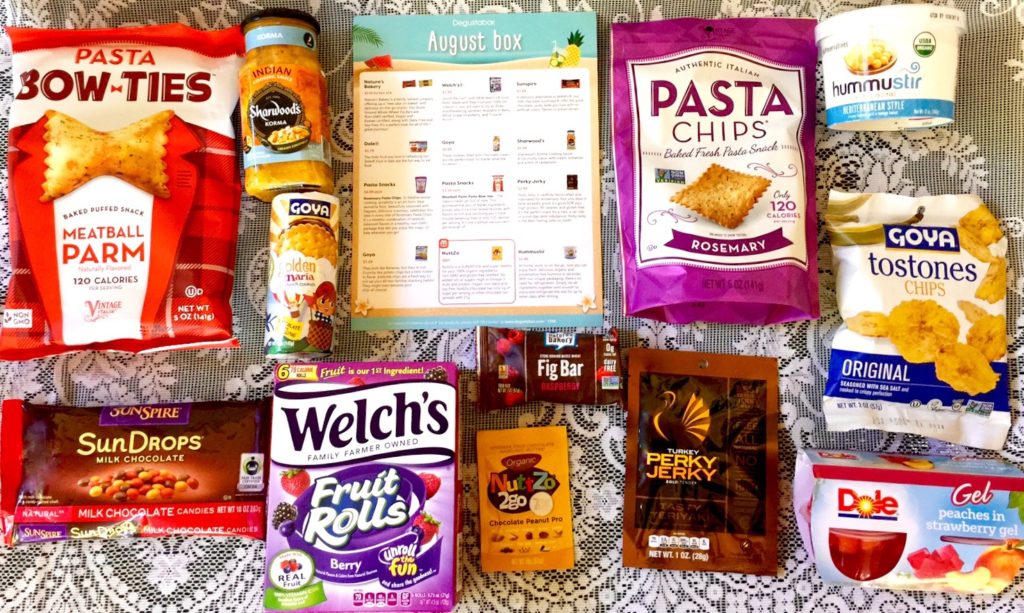 The retail value of the products in the August 2017 Degustabox came to $35.28. Everything in the box was so tasty and the only thing we were a bit iffy about was the fig bar – it was just too darn healthy! I have to say I have never received a Degustabox that was a disappointment and it is so fun to try out new brands and new varieties of old favorites every month.
You can check out the Degustabox website and explore past boxes to get a feel for what you can expect. With no commitment and the value so much higher than the cost, Degustabox is really a sweet deal! And you can use code MR6H4 to get your first box for $9.99!