August 2017 CrazyCatLadyBox Review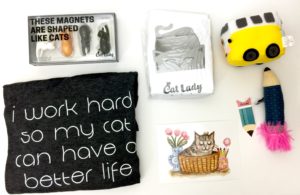 CatLadyBox is the first-ever monthly subscription box "purrfectly curated just for cat ladies"! Each box contains 2-3 unique cat-themed items for the modern day cat lady (jewelry, clothing, tchotchkes, art, home décor, and more) and if you upgrade to the CRAZY CatLadyBox, your felines will also receive 2 or more delightful gifts to tickle their whiskers.
CatLadyBox donates 5% of all profits to a different cat rescue organization each month plus supports independent artists and small businesses with their box contents.
The cost of the subscriptions: (the value will always be much more than what you paid)
The regular CatLadyBox – $34.99/month
The CRAZY CatLadyBox – $39.99/month
With all of them, you can sign up month-to-month or with a 3-month or 6-month plan where you prepay for that many boxes at a time. "The more you pay for ahead of time, the cheaper per box! The regular CatLadyBox can go as low as $31.33/month and the CRAZY CatLadyBox can be as low as $36/month." You can cancel any time or just skip a subscription period if you want.
The Homespun Chics received this subscription box for review. All opinions are 100% our own.
---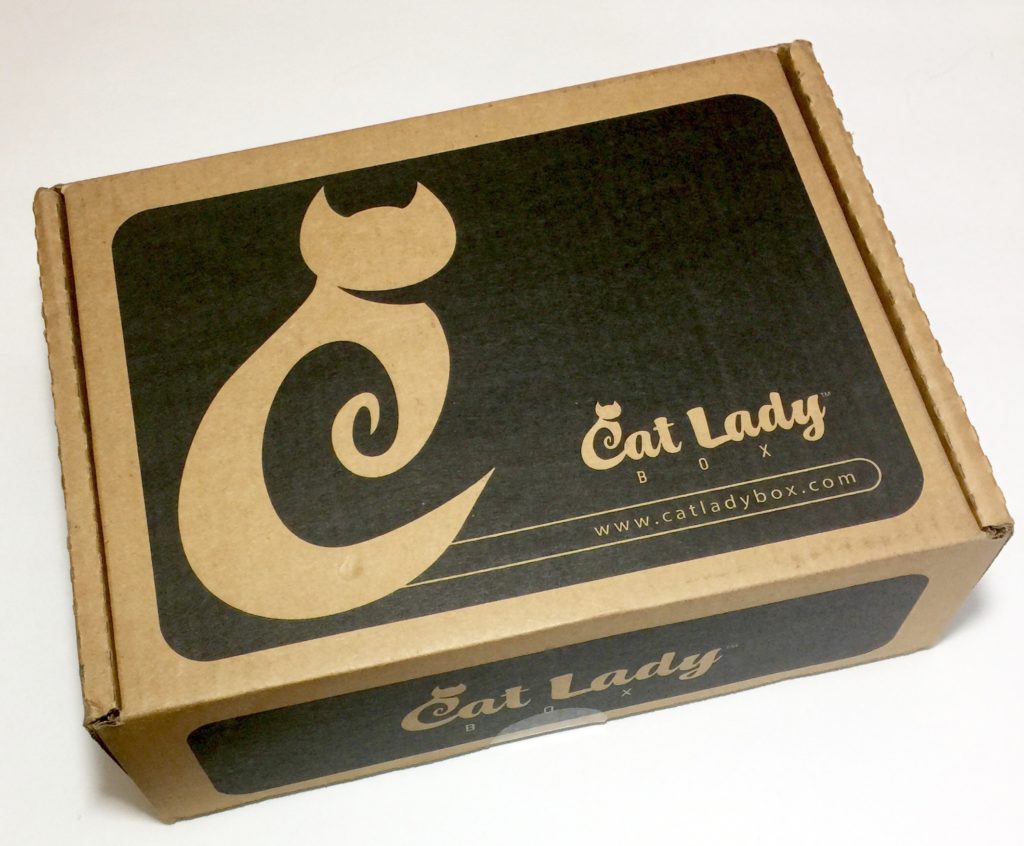 Theme: From The Desk Of The Cat Lady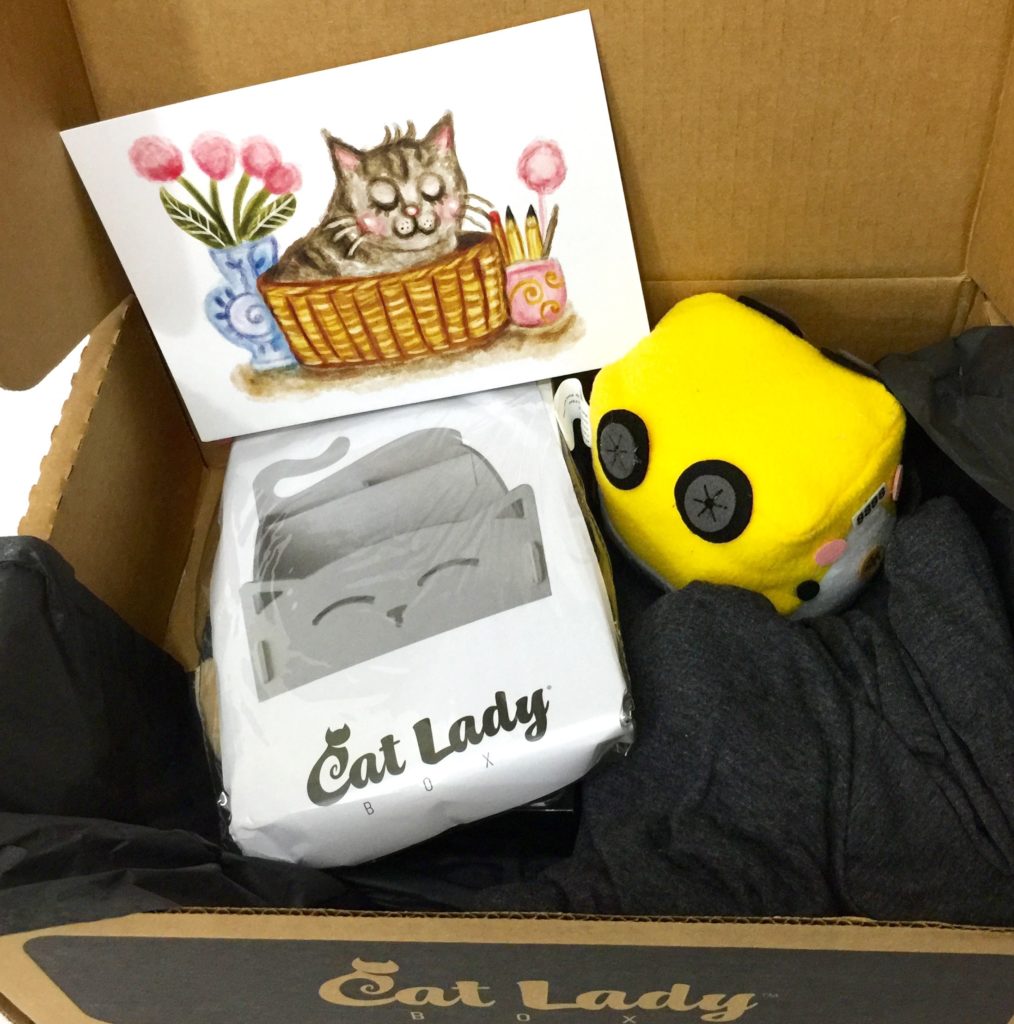 First Peek! I know my kitties are going to love their new toys!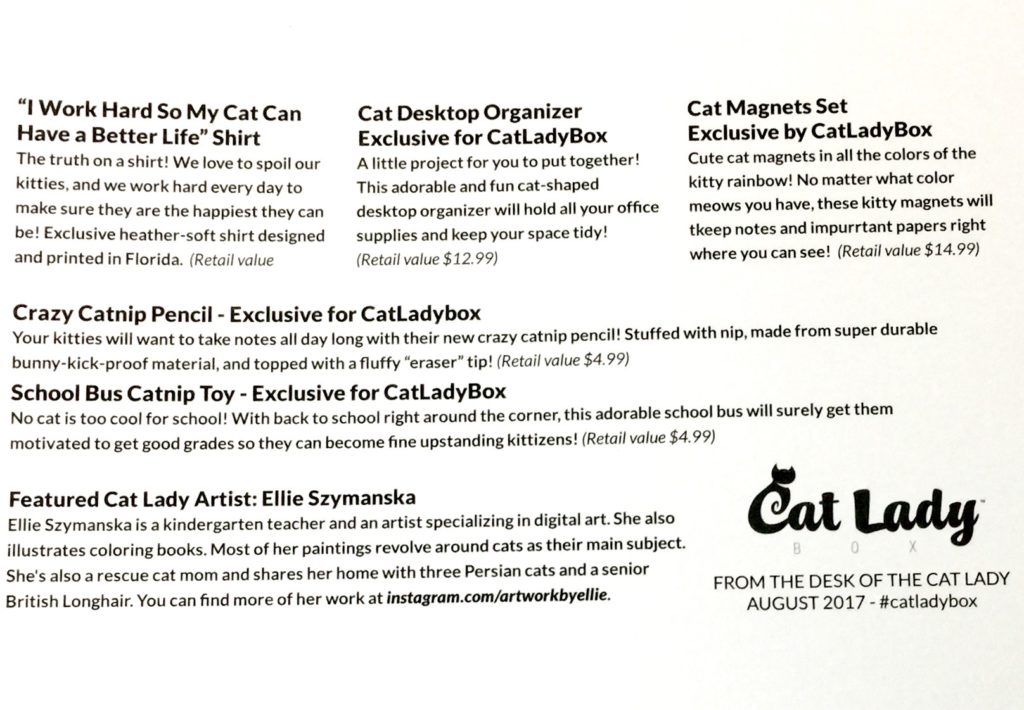 The product information card details everything in the box, including retail values. Everything is exclusive for CatLadyBox except the tee shirt.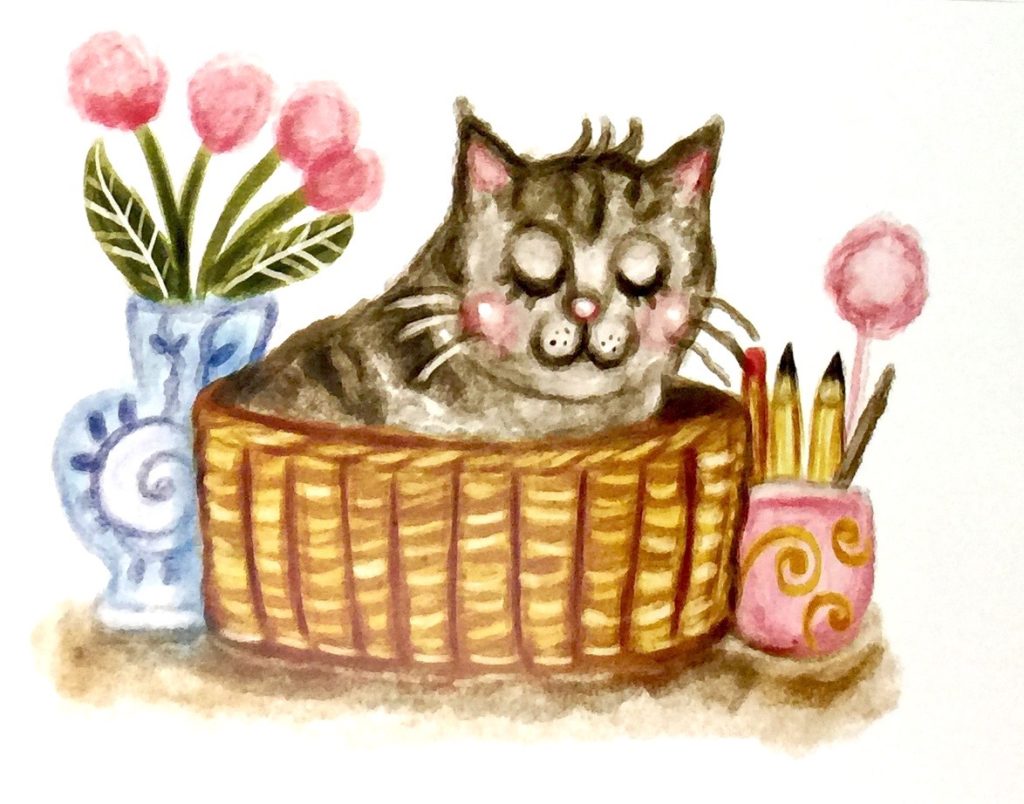 This month's featured cat lady artist is Ellie Szymanska, a rescue cat mom who teaches kindergarten, creates digital art, and illustrates coloring books. I LOVE this illustration! You can find her work at instagram.com/artworkbyellie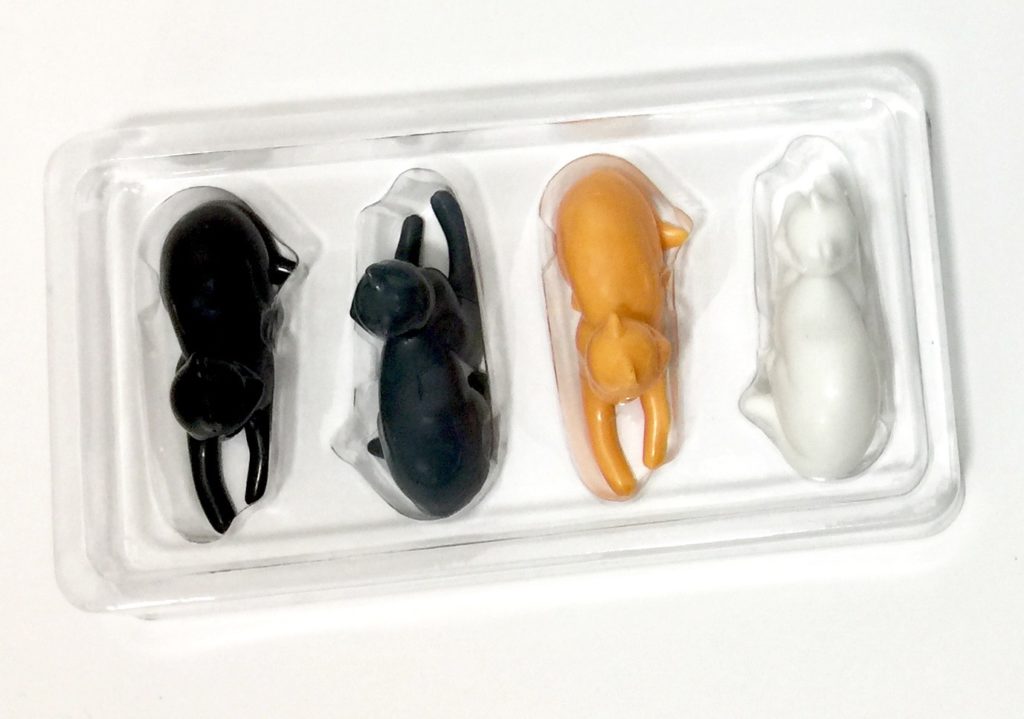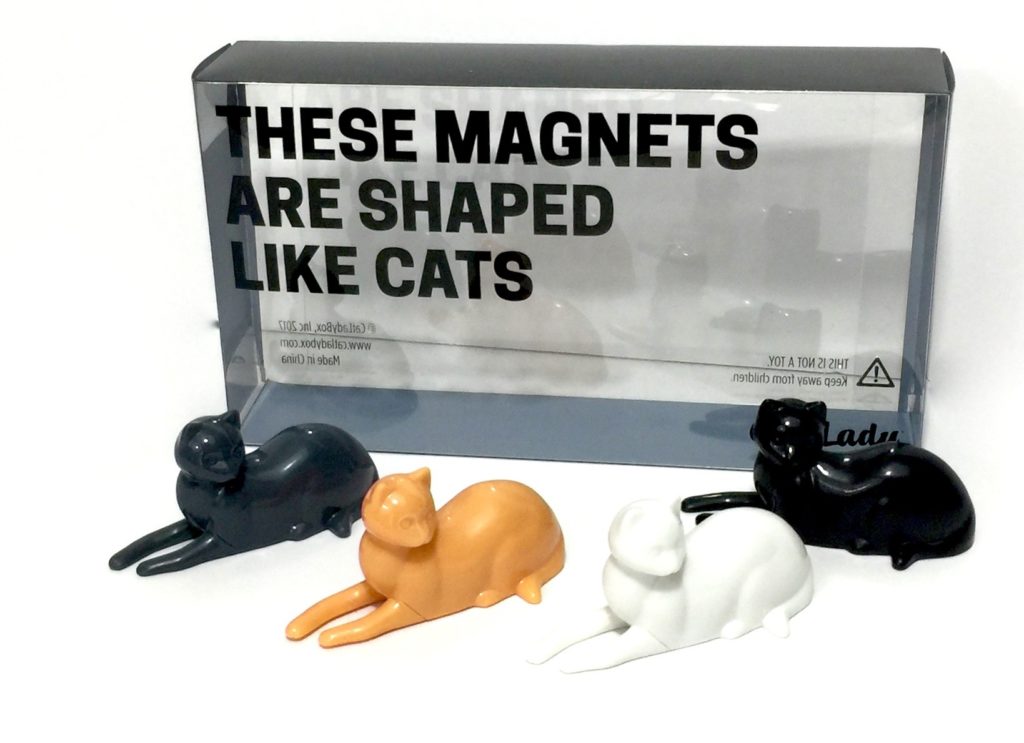 Cat Magnets Set  ($14.99)
These sweet kitty magnets come in a set of 4 different colors and each one has 2 little magnets on their undersides. I don't know about you, but I never have enough magnets to keep things out in the open so I can find them!
"I Work Hard So My Cat Can Have A Better Life" Tee Shirt ($19.99)
This is a really, really soft tee shirt with a true-to-life saying on the front. Cooper says it is the least I can do for him – and why don't I work harder? The tee runs true to size and the gray color not only matches my pants but doesn't show too much dirt or cat hair!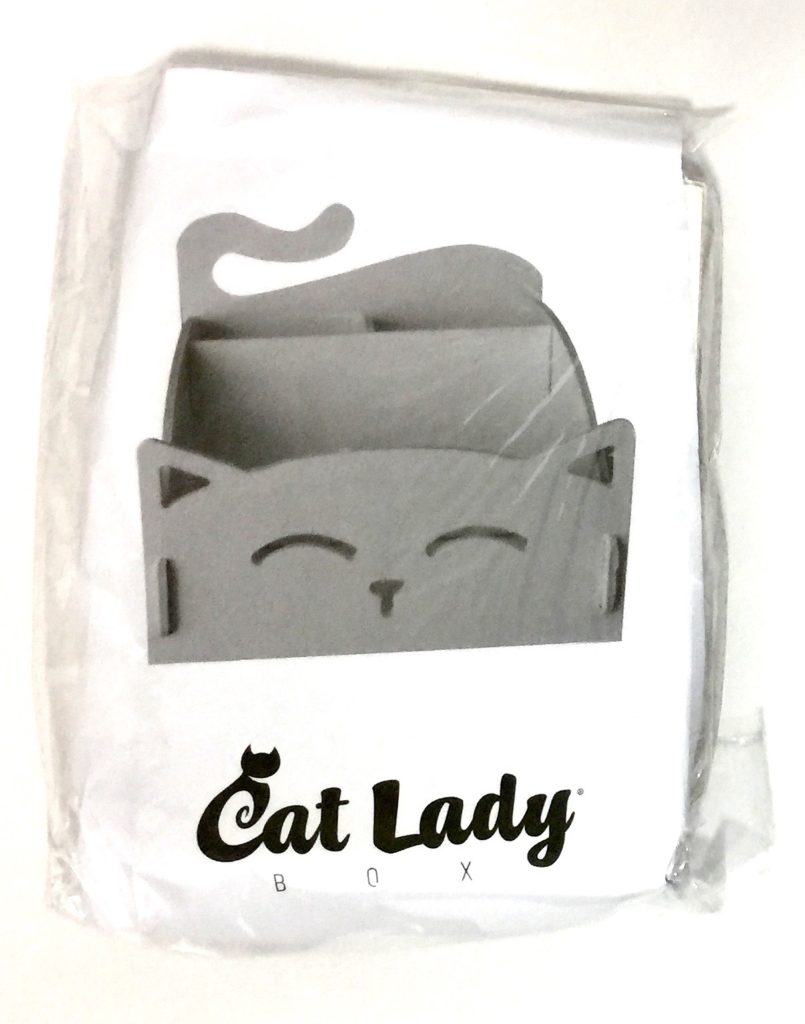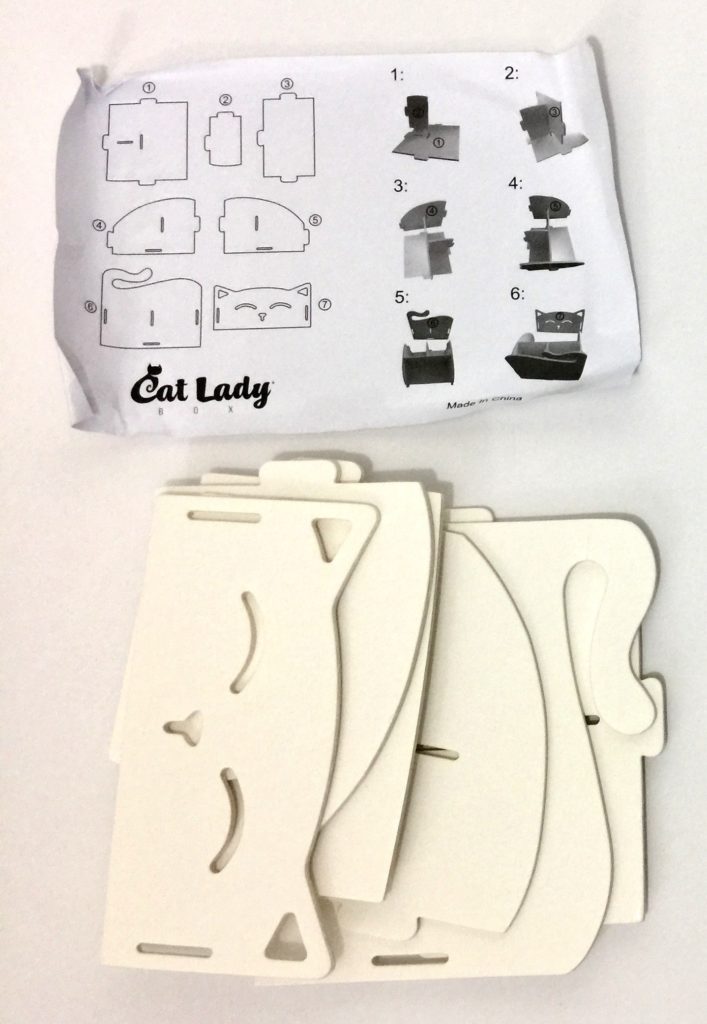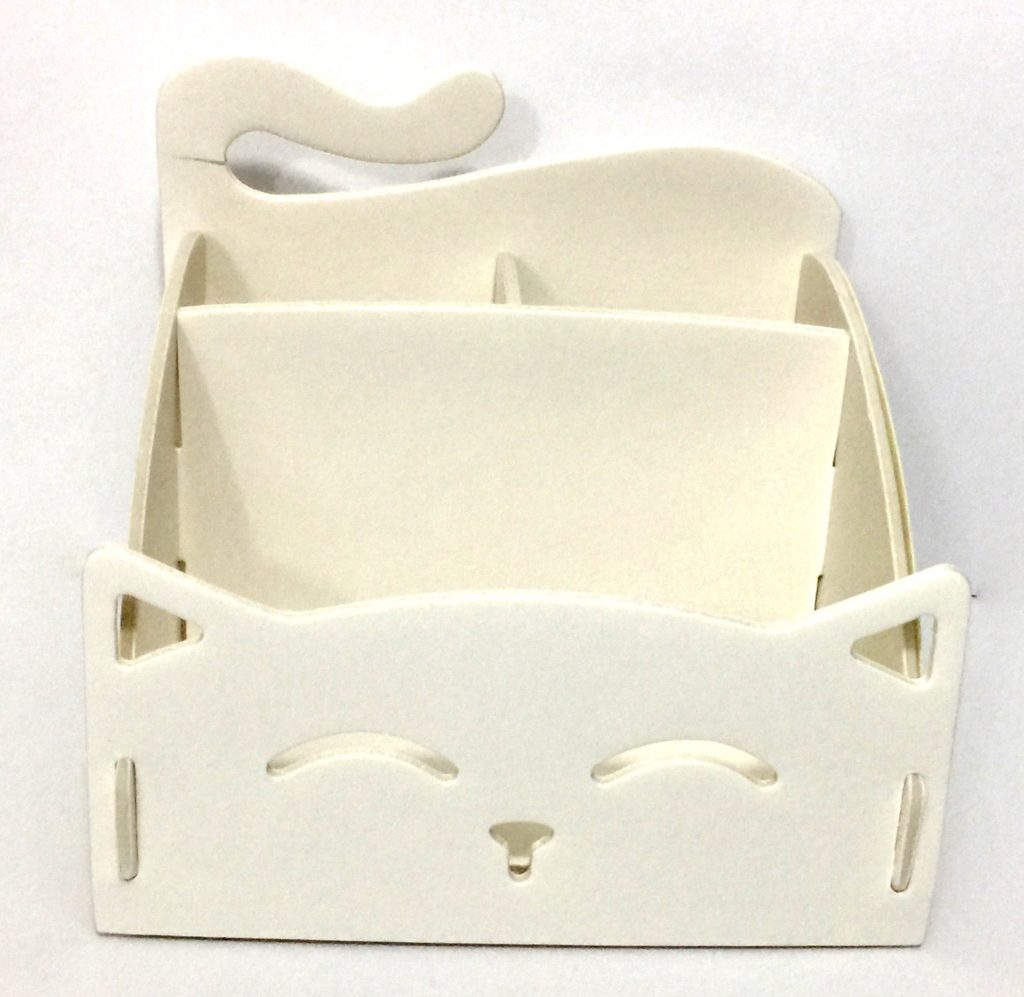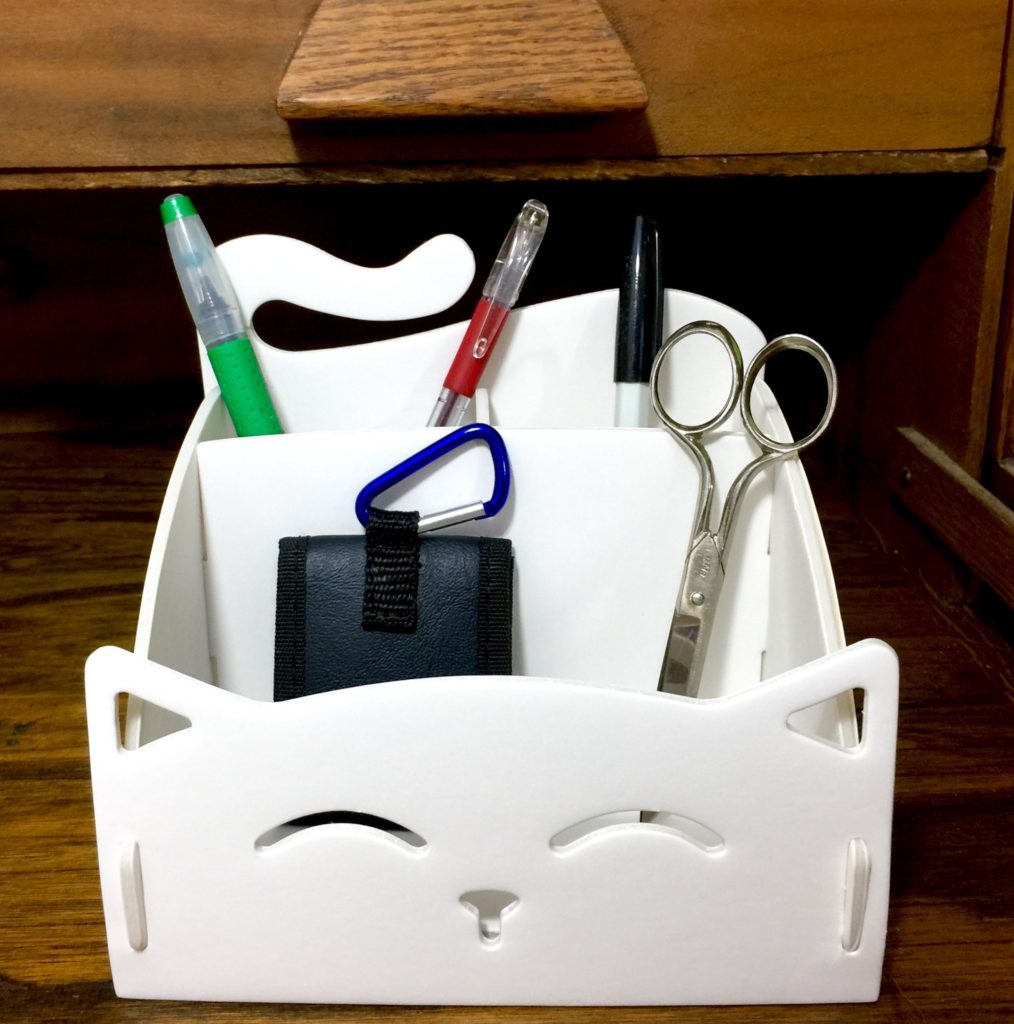 Cat Desktop Organizer ($12.99)
This was a fun and easy project to make! The cat desktop organizer is made of foam board and the pieces fit together with the help of the easy to follow directions that come in the package. It makes a great addition to my desk!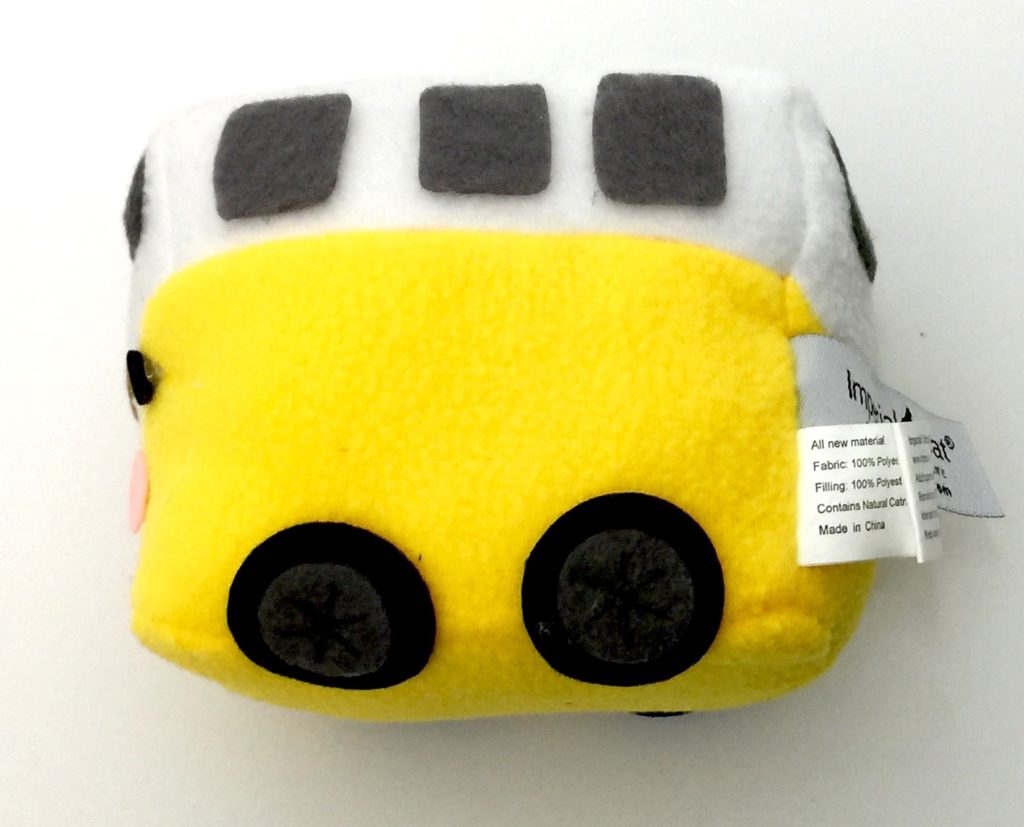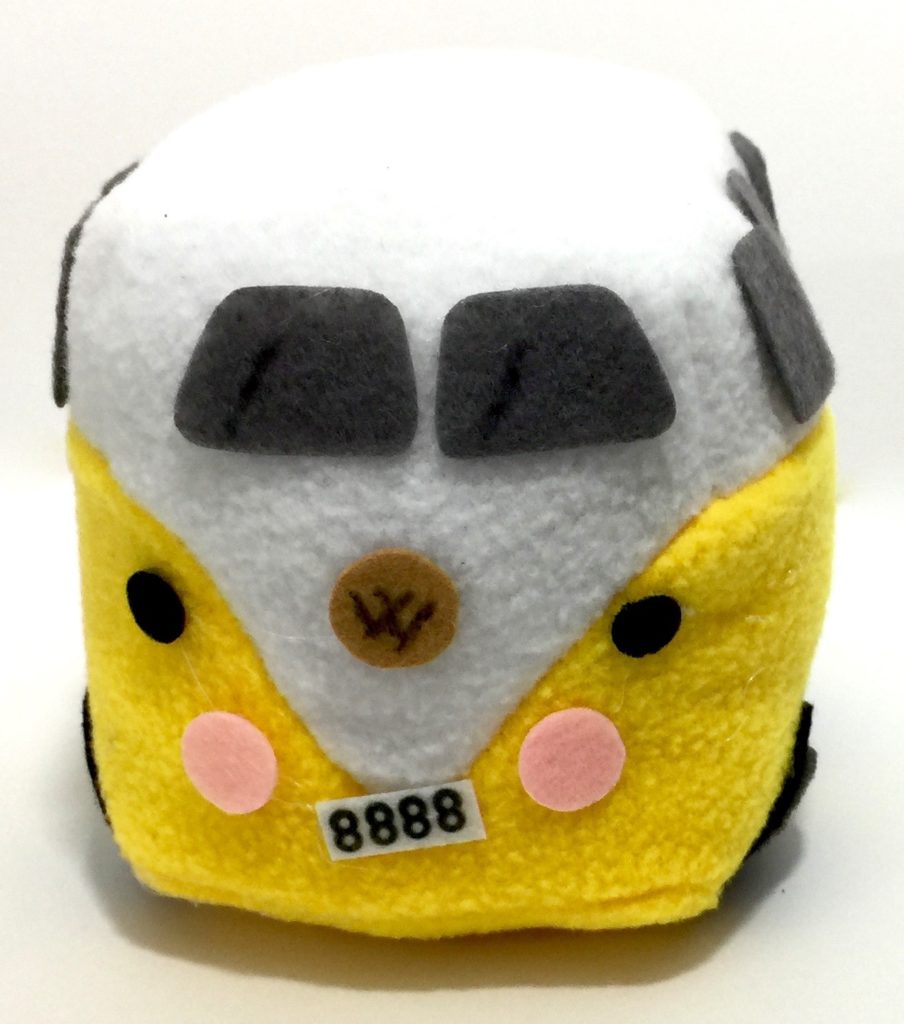 School Bus Catnip Toy ($4.99)
Just in time for back-to-school! The catnip might make them a little (more) crazy, but I do hope my cats get inspired by the thought of going off to kitty school in a little yellow bus to learn all about better hunting skills, the art of begging, and 101 different sleeping positions!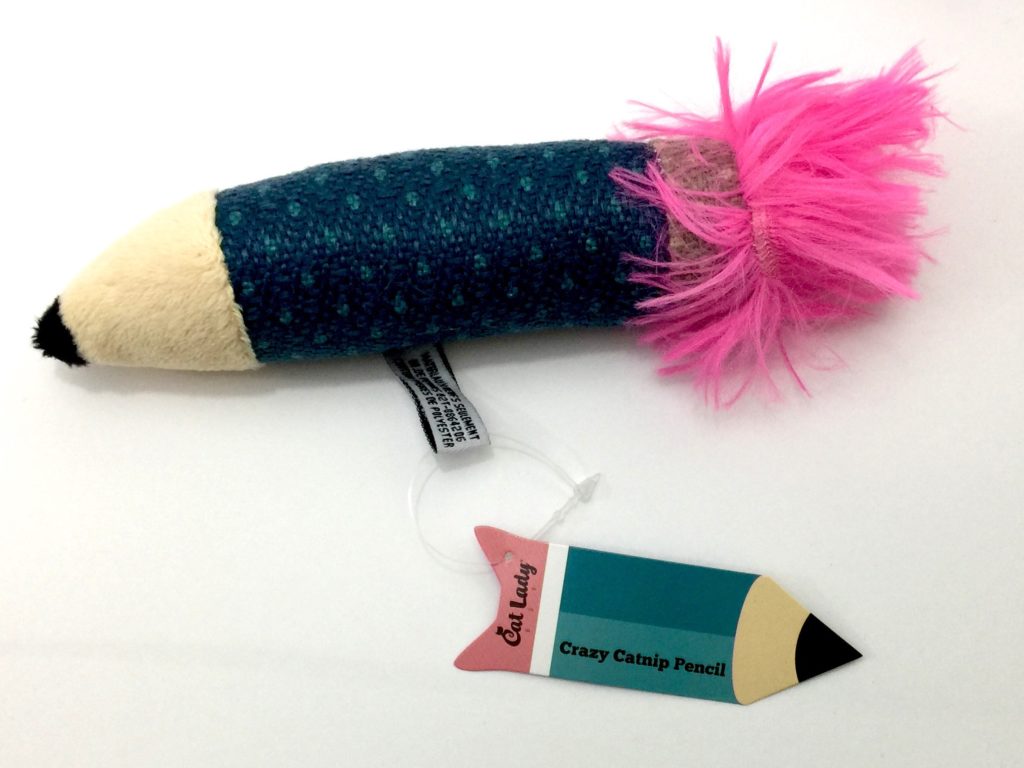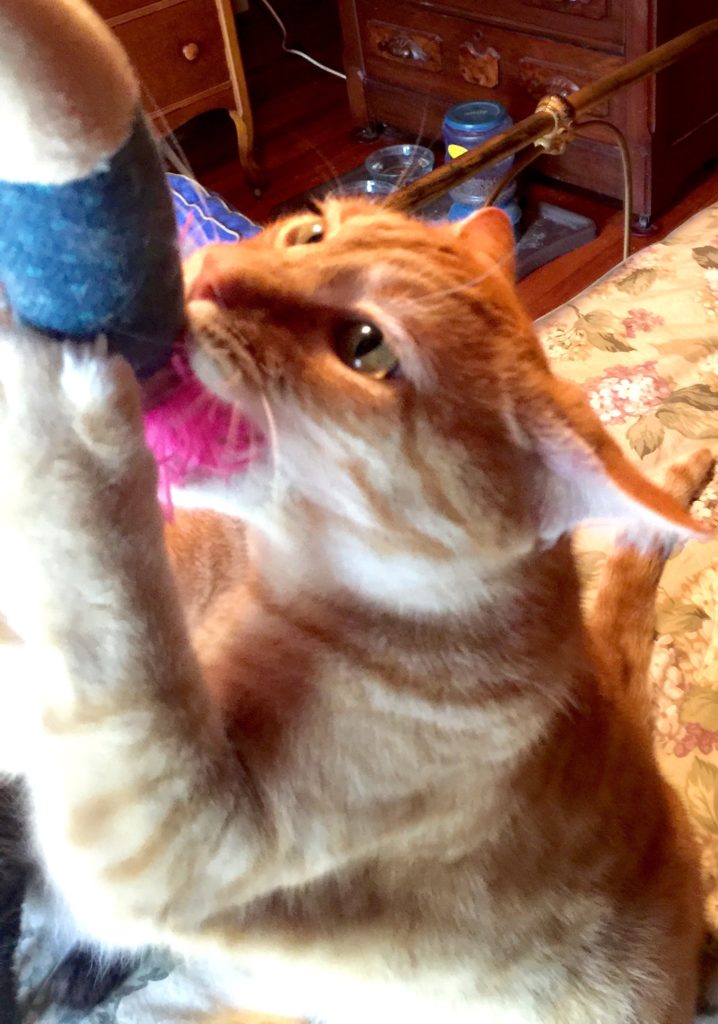 Ginger thinks if he just eats this toy, no one else will get their paws on it!
Crazy Catnip Pencil ($4.99)
This is the toy that the kitties can take along on their school bus! They loved the pink fuzzy topper and, of course, the catnip!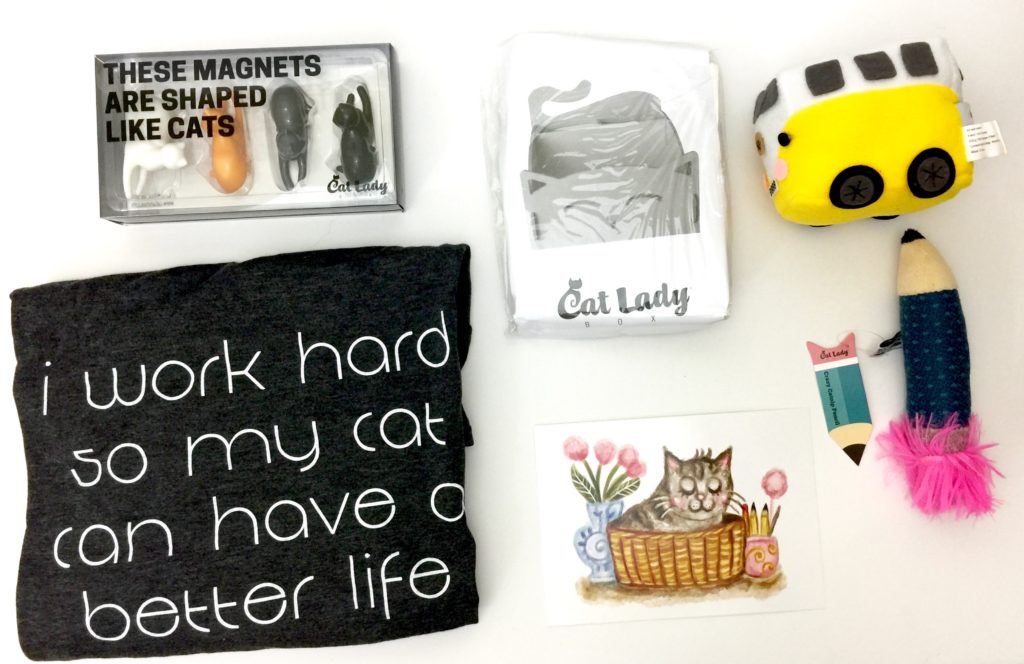 The retail value of the products in the August 2017 CrazyCatLadyBox came to $57.95. I love how they were all curated perfectly to the month's theme and (always) love the quality of the items that we received in our CatLadyBox! SuLin, Khaki, Chairman Meow, Ginger, Cooper, Tidbit, Katie, Rambo, and Agie all loved their new toys – but declined the offer of going off to kitty school. Is that even a thing??
Have you tried CatLadyBox? Check out our reviews of past boxes! Head over to the website to subscribe or to just order something from past boxes that you would love to have!
Mmmm! Khaki getting a major catnip whiff!