August 2016 Cozy Reader Club Review + Coupon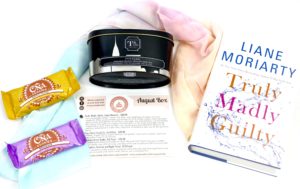 Cozy Reader Club is a monthly subscription box service that provides you with everything needed to nestle down with a good book for some meaningful "me" time. Each month, subscribers will receive 4-6 items including a recently released hardcover women's fiction novel, artisan coffee, tea or hot cocoa, beautiful handmade items, and gourmet handcrafted treats. All boxes feature handcrafted, artisan goods from local small businesses throughout the USA. The cost is $64.95 per month + shipping. Cozy Reader Club currently ships to the US and Canada only.
The Homespun Chics received this box for review. All opinions are 100% our own.
---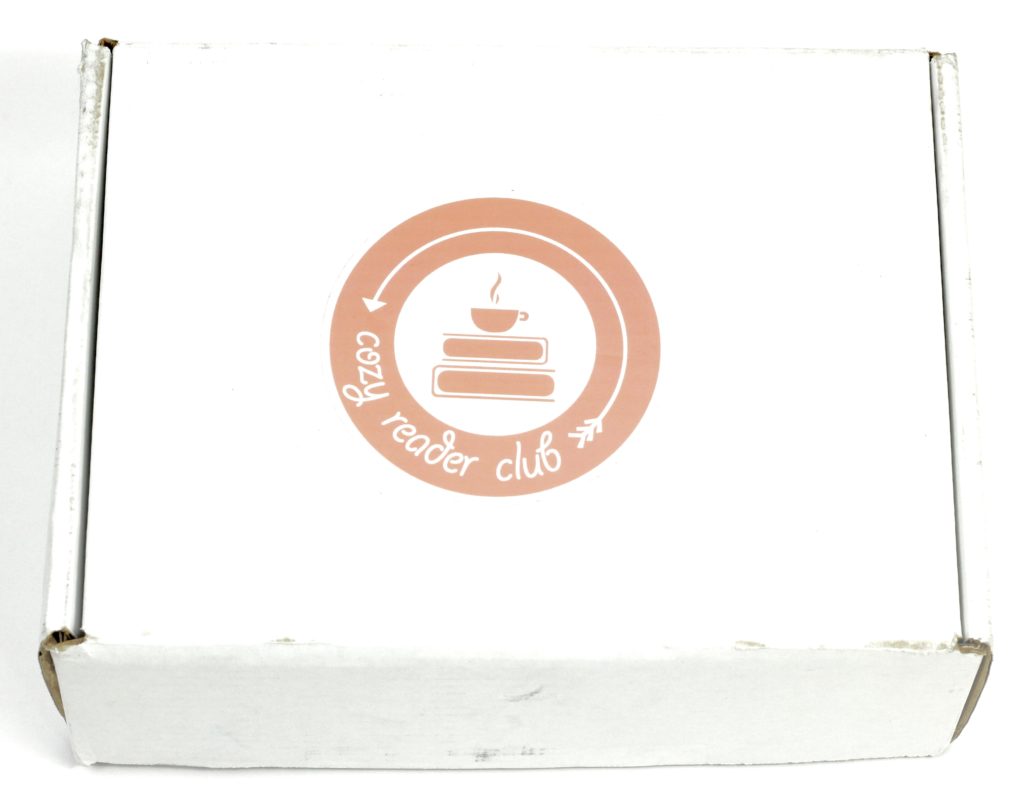 August 2016 Cozy Reader Club
The secret longing you have for some alone time…some "me" time. The secret debate you have with yourself about whether you should take some time and do whatever you damn well please. To put aside the stress for a moment, slip into your cozy bed and just relax for a few minutes. But here's a little secret…  "Me" time is within your reach.  And no it's not selfish.  It's essential.  – Cozy Reader Club
Cozy Reader Club is the perfect subscription for tired working moms like me who have lost sight of the importance in self-care. If there was ever a time in life that I needed some "me" time, it is NOW! Life has been crazy hectic with mom out of town, orchestra starting up again, work craziness and our blog's anniversary! I finally had the opportunity to (frantically) grab for my August Cozy Reader Club – almost halfway through September – and hide away to enjoy some quiet time with all of the beautiful items I received.
The Cost

:

September boxes are sold out! Reserve your space by September 30th to receive your first box in October!
*Save $5.00 off your first box of a month-to-month subscription!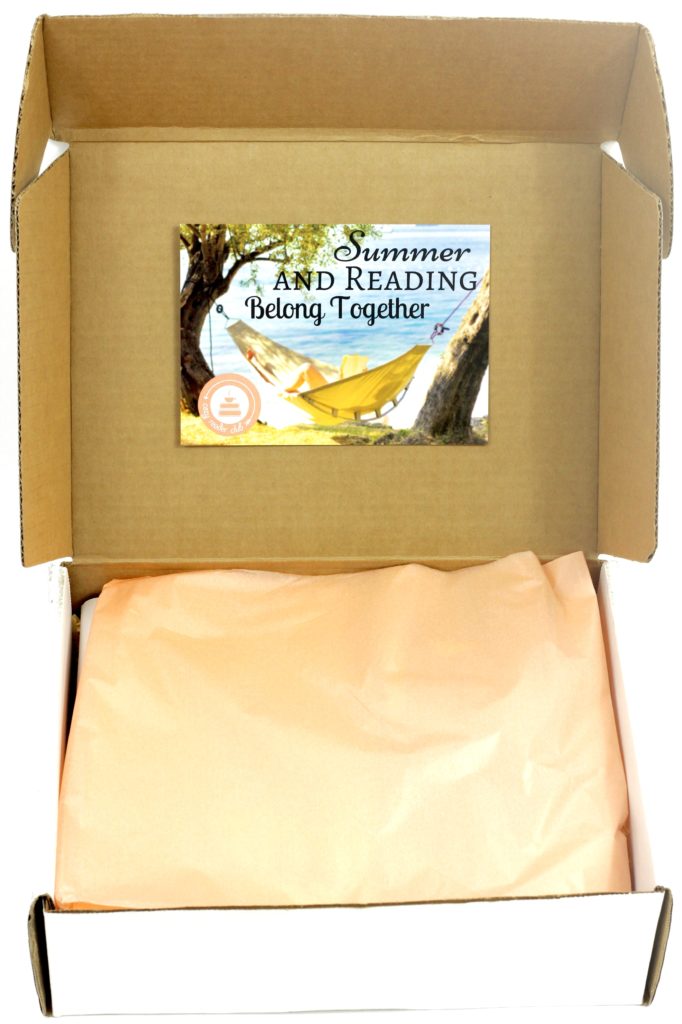 The August box arrived with a very clean presentation. I liked the slightly shiny peach-colored tissue paper with the box's theme card attached to the box top.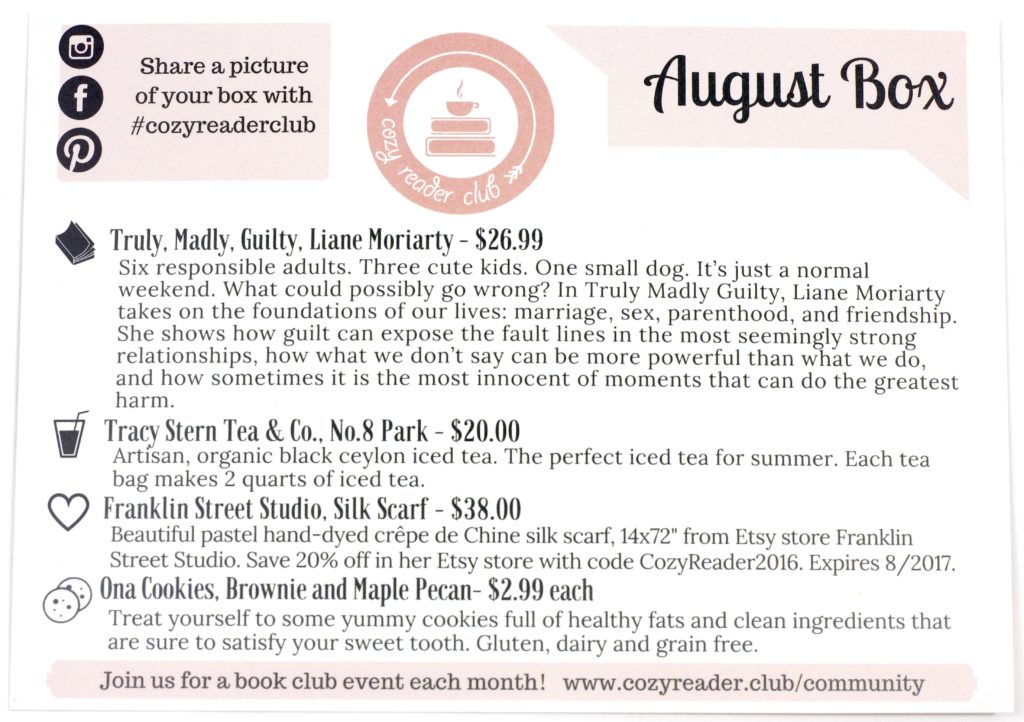 The back of the theme card revealed a list of the items contained inside this month's box, including brief descriptions, coupons (when available) and retail values. I love the fonts and clipart chosen for the info card. 🙂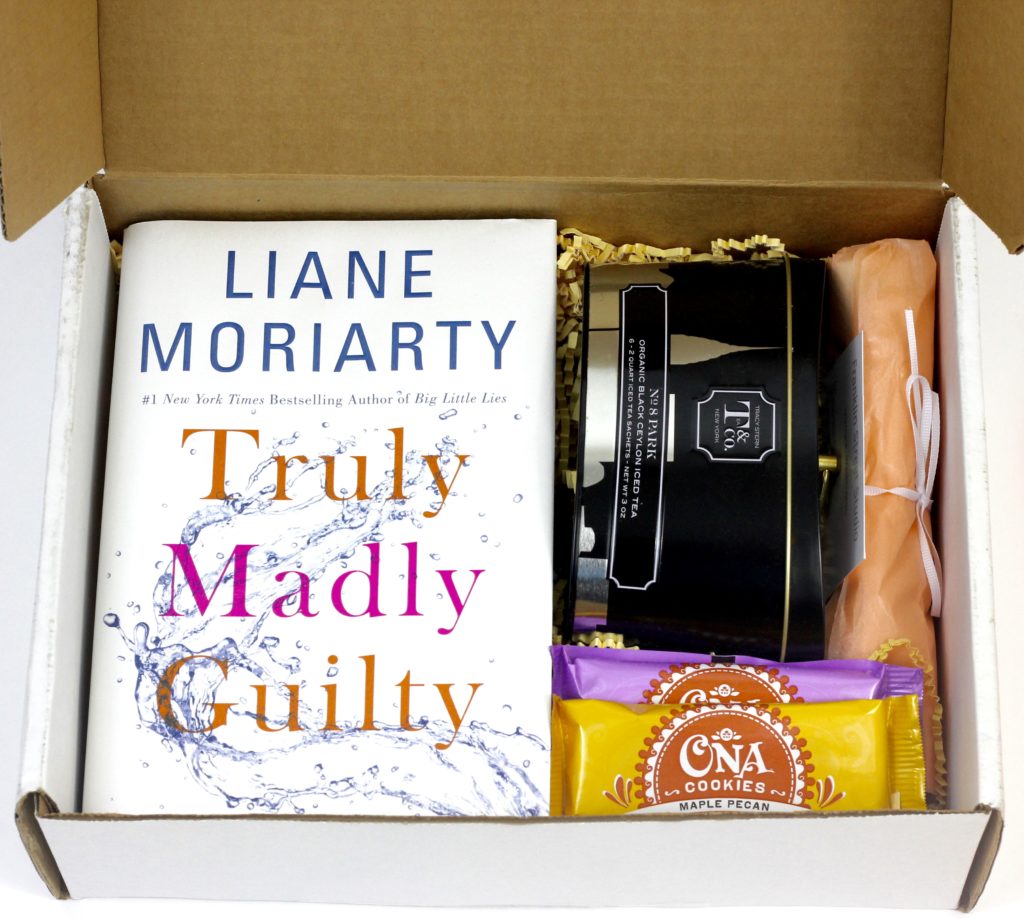 First peek under the tissue!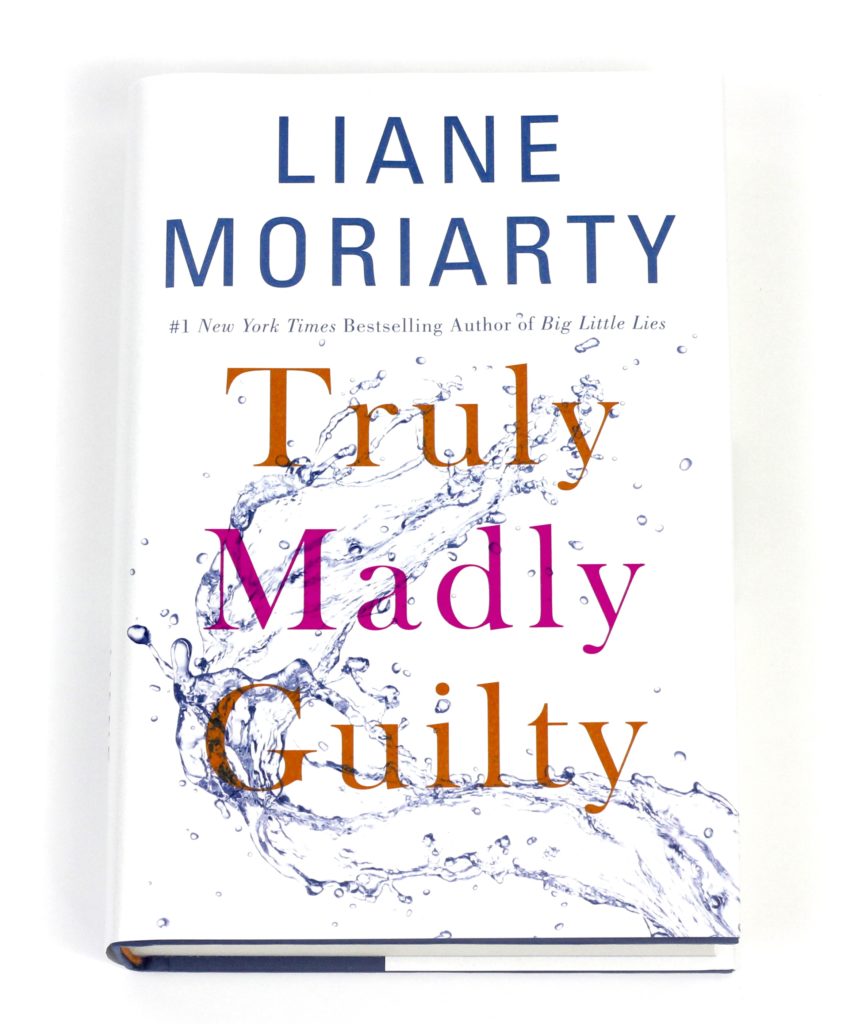 Truly Madly Guilty by Liane Moriarty | Value:  $16.19 
I do not typically read pop fiction, but this book's description definitely piqued my interest. I really enjoy a good mystery book and YA fiction. I read the first few chapters of the book without feeling "pulled in." I felt like Moriarty inserted way too many descriptive details that got in the way of her plot. At this point in my life I have a very limited amount of time to get lost in my books, so every moment counts. Unfortunately, I felt I needed to set Truly Madly Guilty aside for the time being so I can read other books in my stack. This one just didn't work for me. Have you read this book?? What did you think — is it worth me coming back to it??
Six responsible adults. Three cute kids. One small dog. It's just a normal weekend. What could possibly go wrong?

In Truly Madly Guilty, Liane Moriarty turns her unique, razor-sharp eye towards three seemingly happy families.

Sam and Clementine have a wonderful, albeit, busy life: they have two little girls, Sam has just started a new dream job, and Clementine, a cellist, is busy preparing for the audition of a lifetime. If there's anything they can count on, it's each other.

Clementine and Erika are each other's oldest friends. A single look between them can convey an entire conversation. But theirs is a complicated relationship, so when Erika mentions a last minute invitation to a barbecue with her neighbors, Tiffany and Vid, Clementine and Sam don't hesitate. Having Tiffany and Vid's larger than life personalities there will be a welcome respite.

Two months later, it won't stop raining, and Clementine and Sam can't stop asking themselves the question: What if we hadn't gone?

In Truly Madly Guilty, Liane Moriarty takes on the foundations of our lives: marriage, sex, parenthood, and friendship. She shows how guilt can expose the fault lines in the most seemingly strong relationships, how what we don't say can be more powerful than what we do, and how sometimes it is the most innocent of moments that can do the greatest harm.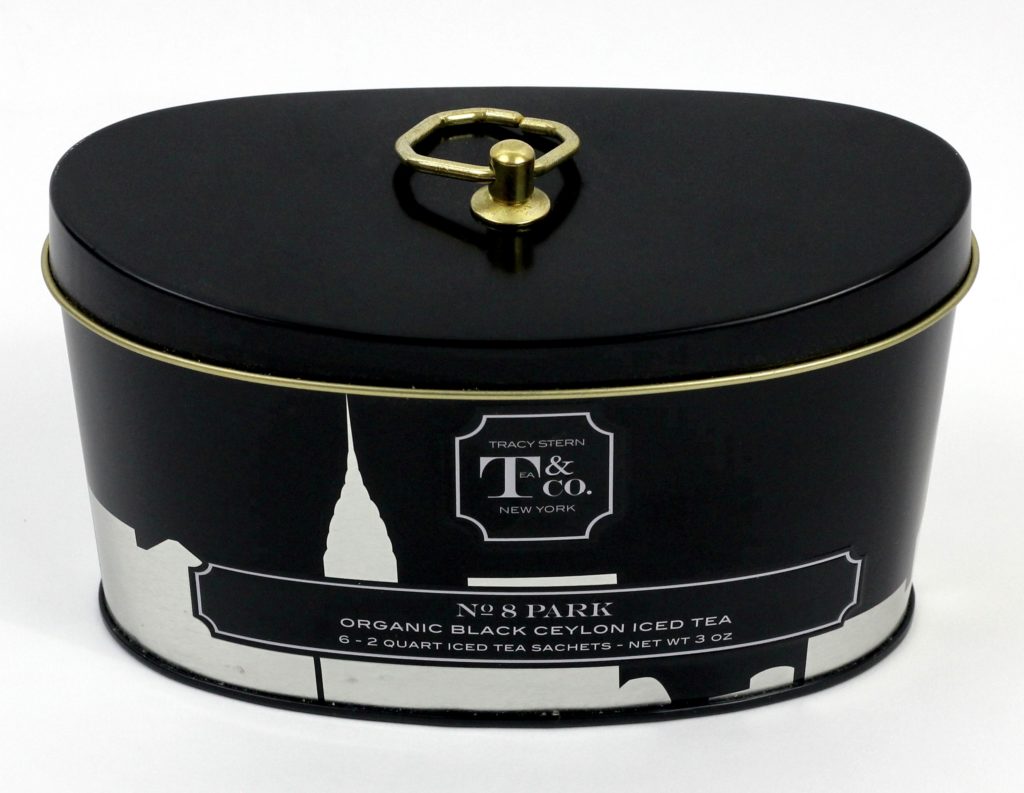 Tracy Stern Tea & Co. No. 8 Park Organic Black Ceylon Iced Tea | Value:  $20.00
This is the most gorgeous tin of tea bags I have ever beheld. I haven't heard of Tracy Stern Tea & Co. before, so obviously I had to look them up and see what sets them apart from any other tea company… Here's what I got:
This tea is stylish. — No, I mean really really stylish. "This avant garde collection represents the quintessential style of its founder and her reflections on international fashion, travel and high culture. Tea & Co. is a gift to tea aficionados with the most discerning palates."
All Tracy Stern Tea is organic and kosher.
The tea bags are very large, meaning you only need one sachet per pitcher!
This is an ICED tea company!
There are refills available for only $8.50 (Yes, you're paying $11.50 for the beautiful tin!)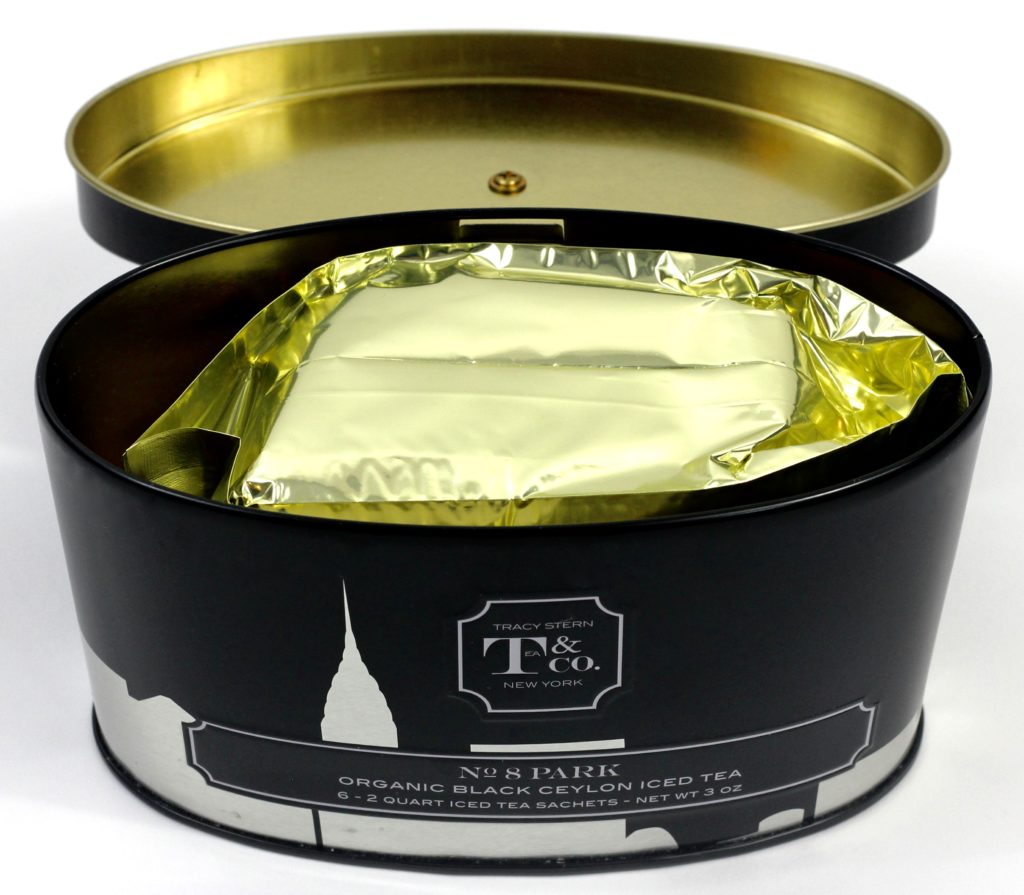 There is a gold foil bag inside the tin which contains 6 large iced tea sachets. I have not opened it yet because I'm not sure when I will be using this tea. First I kind of need to buy a pitcher. (No judging.) I drink coffee, water and hot tea. I never had a reason to purchase a pitcher before now!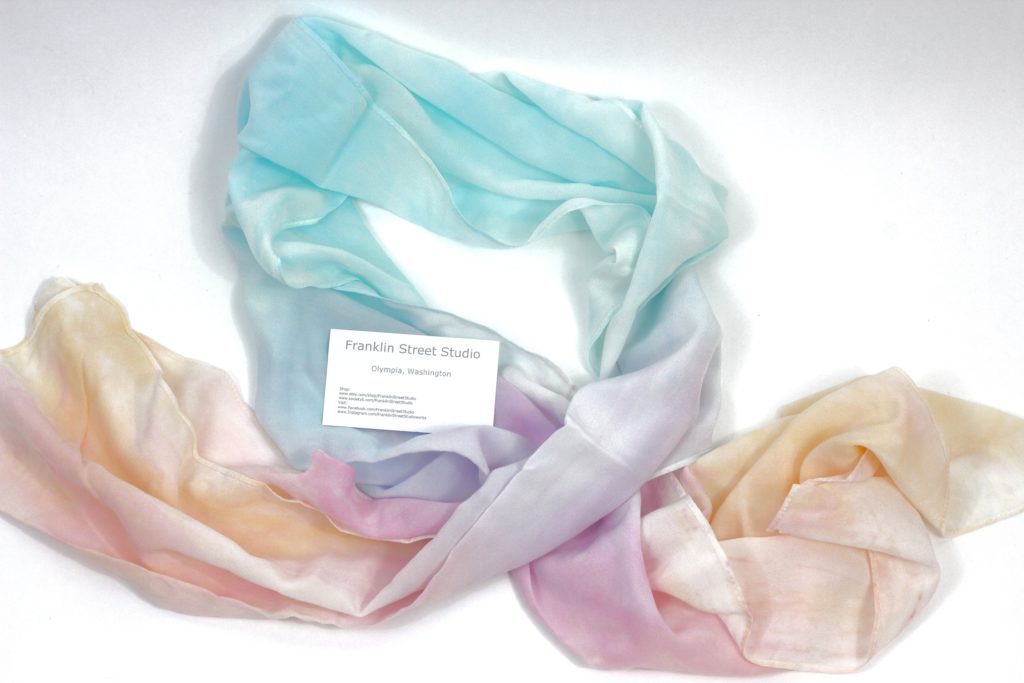 Franklin Street Studio Pastel Tropical Beach Silk Scarf | Value:  $38.00
This scarf is just stunning! It is made from silk de chine and is hand painted by Joy Nguyen in Olympia, WA. The scarf measures 14″ x  72″ and will look beautiful layered under a light jacket this fall. The pastels are lovely and the crepe finish gives the silk scarf a subtle shine. I can't wait to wear this when it gets just a little cooler!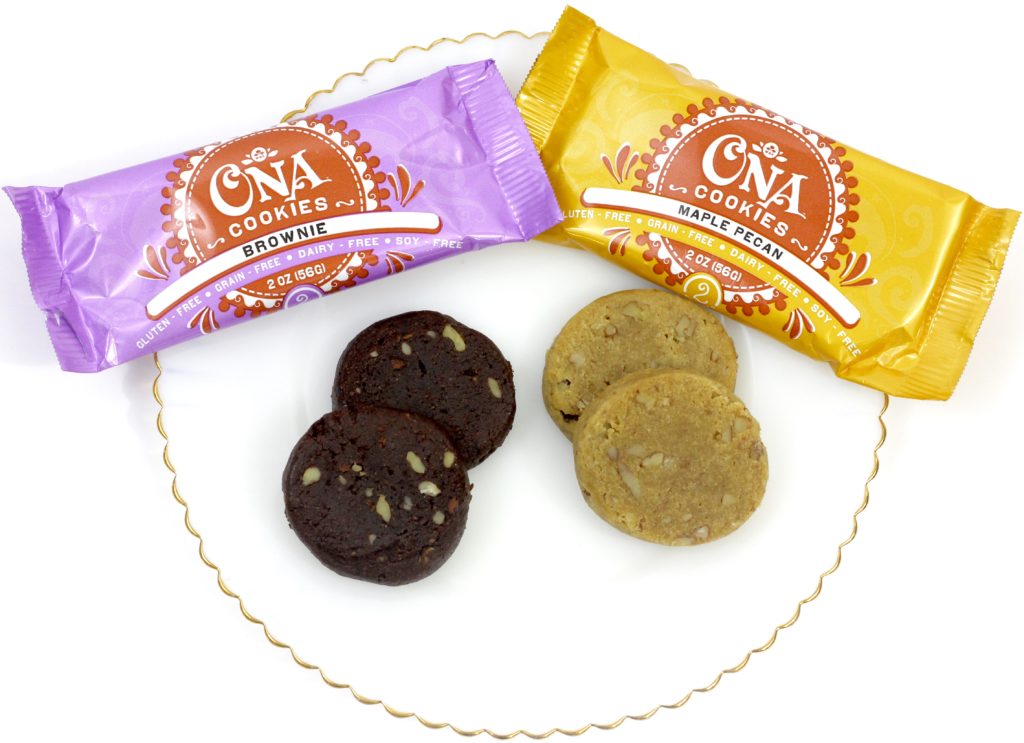 Ona Cookies – Brownie (2 oz) & Maple Pecan (2 oz) | $2.58 each
I admit I was very skeptical of gluten-free, grain-free, dairy-free, soy-free cookies… That description doesn't exactly scream "party time!" to me but nevertheless I gave them a whirl. The cookies were very dense, moist, super healthy, and filling.
The brownie flavor was not my favorite, honestly. I am all about some chocolate, but straight cacao nibs are a bit too bitter for my taste. The walnuts created a great texture, but the cookies had the taste of a power bar more than a dessert. On the other hand, the maple pecan cookies were fantastic! I love maple syrup and the pecans were flavorful without being overpowering. I would consider purchasing another pack of the Maple Pecan Ona Cookies if I saw them at the store. I am glad I got to sample this brand of cookies. They're pretty good!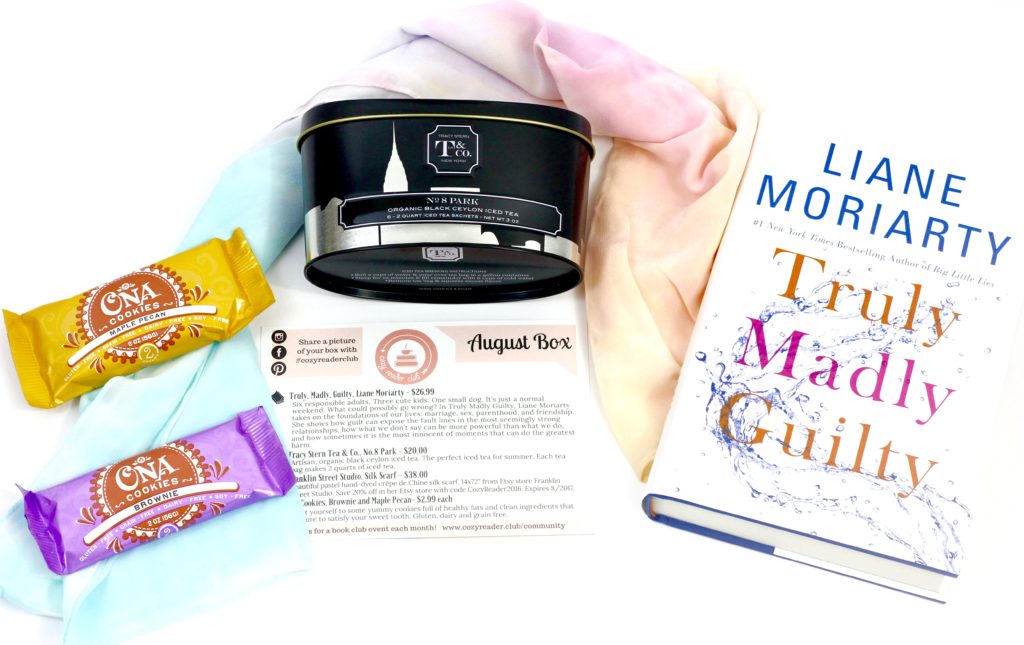 My Thoughts
I didn't know what to expect in my August 2016 Cozy Reader Club box and I was SO impressed with the quality and beautiful curation. This is such a delightful box that really does provide everything you need for some "me" time. I am a little disappointed with the book choice since I just could not get into the story but then again, I have a pretty substantial stack of books to be read anyway. 🙂
My favorite item has to be the silk scarf. It is SO pretty. (The pictures do not do it justice!) The tea already comes gift-ready so I will most likely be giving this to a friend… who already has a pitcher… And then I will come over and drink the tea with them. I did really enjoy the maple pecan cookies and think they'd be great with a cup of coffee in the morning or with hot tea in the evening. Either way, yum.
Cozy Reader Club is a little bit pricier than my monthly "me" budget would allow, but if I were a totally normal, not-crazy person who didn't spend every penny on a toddler, six cats, and a dog… I could totally justify buying this box just for me. It is completely worth it!
If you're interested in trying it out for yourself, use coupon code READCOZY to save $5.00 off your first box! You can also pause or cancel your subscription with zero hassle, so no worries there!
xo
Sarah